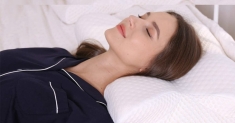 Best Pillow for Migraines: Proven Therapeutic Solutions & Tips
Hello and welcome to my blog! In this article, I tell about therapeutic pillows that really help against headaches. I selected the most effective products from three categories to help you choose the best pillow for migraines. I describe each model's specifications to let you understand what you need to look for when shopping for a pillow for headache and neck pain.
In the framework on this composite review, I studied and tested over 20 pillow models, but only 7 of them got into the article due to their high quality and positive therapeutic effects.
Unfortunately, many offers don't provide the claimed effect or even worsen the situation. That's why I recommend you to visit your doctor to understand the real nature of the problem and only then choose one of the pillows from my article.
After reading, you will be able to see the real difference between models and understand what will match your specific requirements. I wrote this article with an intention to solve the pains of an average user who doesn't have medical education and relevant experience. As a therapist with studies in sleep medicine and severe insomnia anamnesis, I know the topic well enough.
Best Pillow to Prevent Headaches: Top 7 Products
Here are the seven most effective pillows for preventing headaches. Despite the high ratings of these products, I tested them personally and talked to practicing specialists. As usual, the majority of the tested items didn't get to the final version of the article because of particular issues.
Orthopedic Contour Pillows
These pillows are designed to cradle your head, neck, shoulder, and sometimes arms to let you train your body to align properly. They are usually made of memory foam that provides a sustainable effect and keeps the needed orthopedic shape for years.
HOMCA Memory Foam Cervical Pillow for Sleeping – Double-Sided Hollow Cushion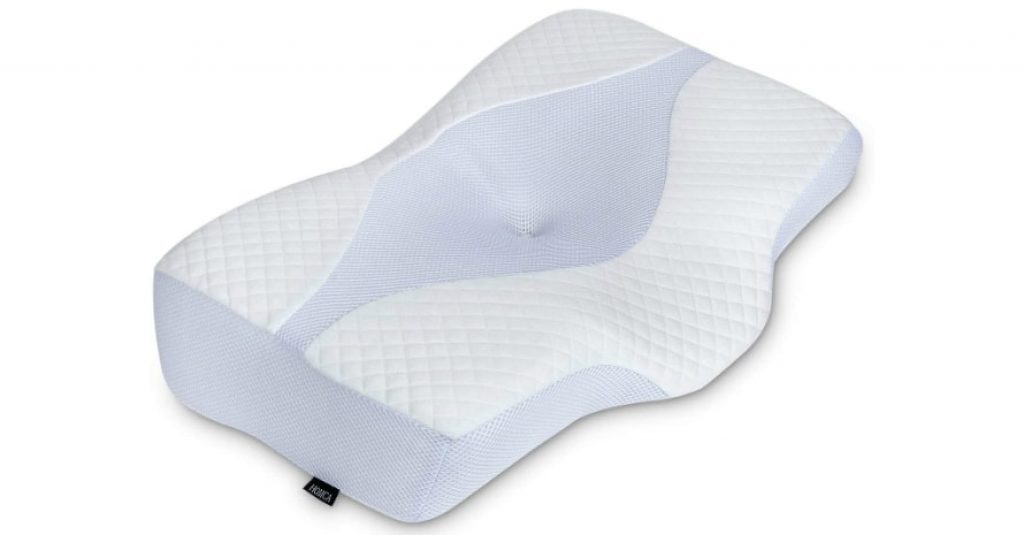 HOMCA company manufactures high-quality products for healthy sleeping and recreation, and this cervical pillow is one of their best-sellers. I noticed it because of the ergonomic design that's a bit different from traditional cervical designs.
The item has neck supports on both sides, which lets you choose the best height for your case without the need to adjust the filler or order another product. The lower side is 3.5 inches, while the higher side is 4.2 inches. Both neck supports are equidistant from the central hollow that is designed to cradle your head on the right level to train proper alignment.
Using this model, you can sleep on your side and back, which is the best sleeping position for headaches. Due to slanted sides, you can also rest your hands on the frame to stretch your shoulder muscles.
HOMCA memory foam has a micro-porous structure that provides excellent air circulation, while the pillowcase is made of breathable mesh and soft cotton. You can easily remove it and machine wash to keep the item fresh much longer.
I recommend this cushion for reducing headaches caused by wrong alignment and lack of cervical support. It's a high-quality contour pillow with standard dimensions. It's not the best choice for chest sleepers, but it's good enough for others.

---
PROS:
Double-sided design;
Special dip for head;
Excellent for side and back sleeping;
Easy-to-wash pillowcase;
Breathable memory foam.
CONS:
Can be too firm for some users.
---
Coisum Back Sleeper Cervical Pillow – Universal Cervicogenic Headache Pillow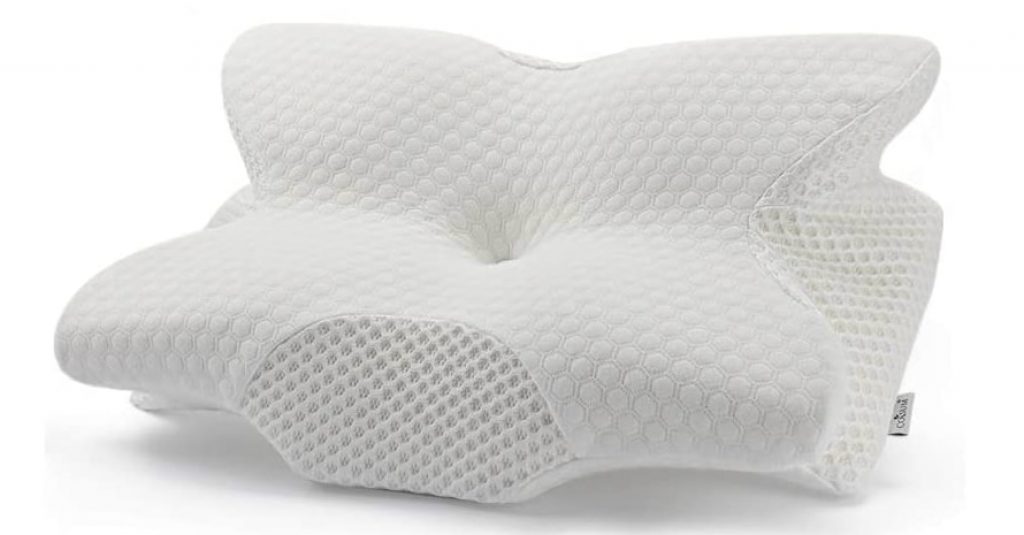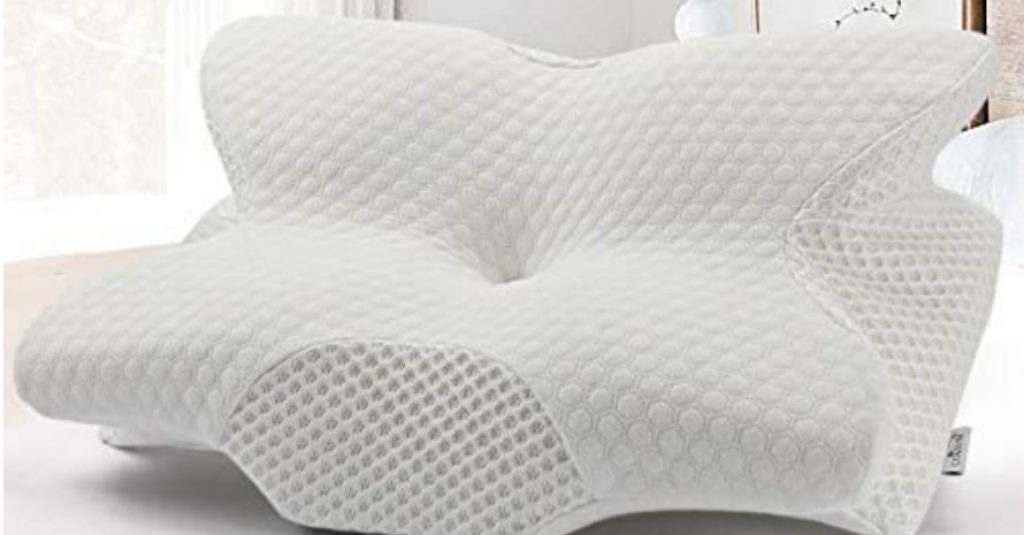 Coisum cervical pillow has an ergonomic design with three areas and two sides for low and high neck postures. The 3.54" end is perfect for smaller users, while the 4.33" end is high enough for everyone else. Besides, it cradles your head with the hollow in the center. As a result, your head doesn't strain your neck at all.
If you are used to sleeping on your side, shoulder seizures on both sides will make it easier for you to relieve shoulder pain, while if you like sleeping on your back, the same relaxing effect is provided by the wedge extension on both sides. The deep ergonomic rests on the sides are very convenient for stretching your arms.
Due to the medium-firm 60-density memory foam, the pillow doesn't bend too much, but still conforms to your shapes for the best result. The foam has a 3-5-second rebound, which is good for your muscles when you change positions as the material fills the gaps not too fast, providing zero irritation.
The item comes with a special pillowcase that repeats the weird shape of the cushion and lets you maintain the pillow clean from the outside. The mesh structure of the hypoallergenic fiber is very soft and lets air flow freely so that your skin won't sweat and get irritated. The inner case is an anti-mite cover that prevents mites from getting inside.

---
PROS:
Convenient arm rests;
Double-sided design;
Anti-mite cover included;
Washable mesh pillowcase;
Medium-firmness foam.
---
Cradle Me Cervical Pillow – Patented Butterfly Pillow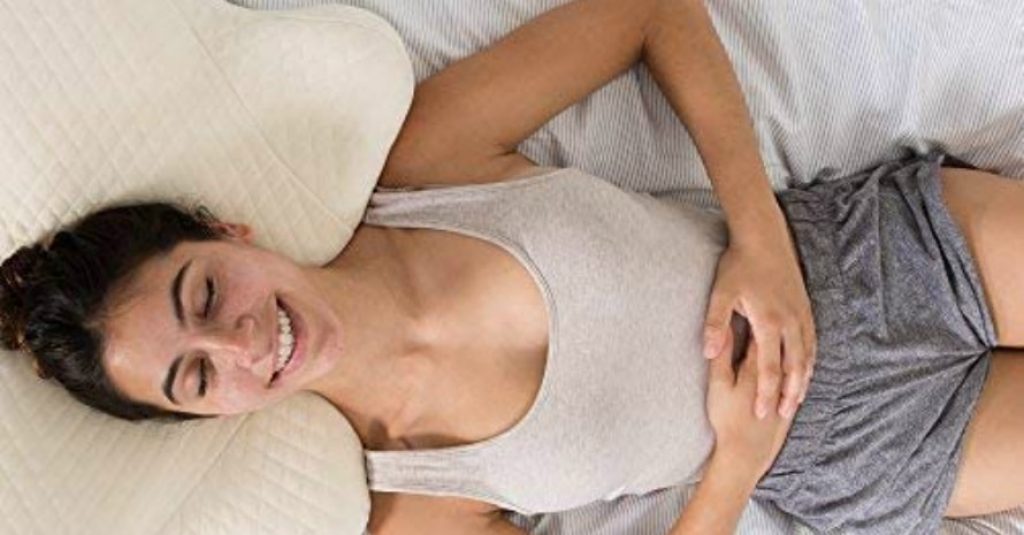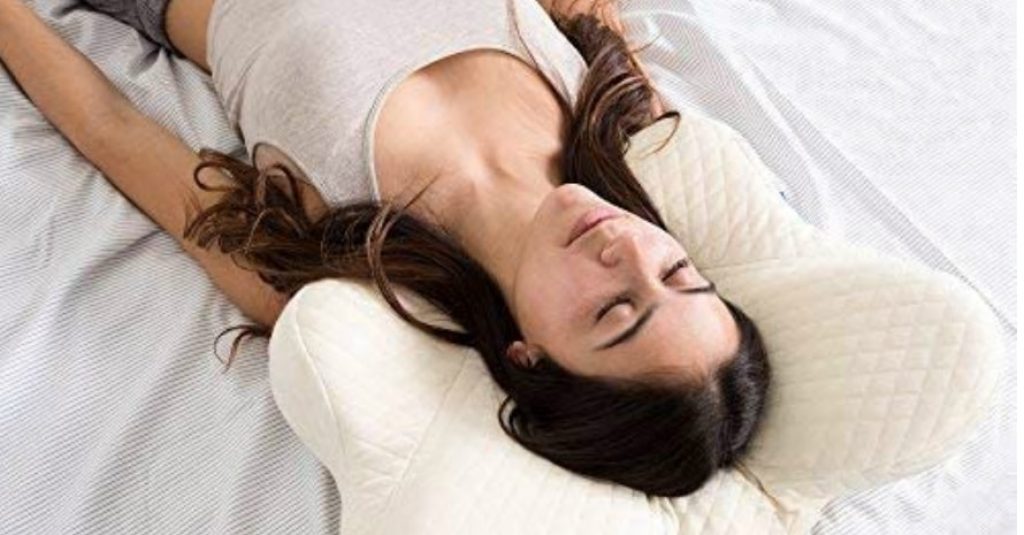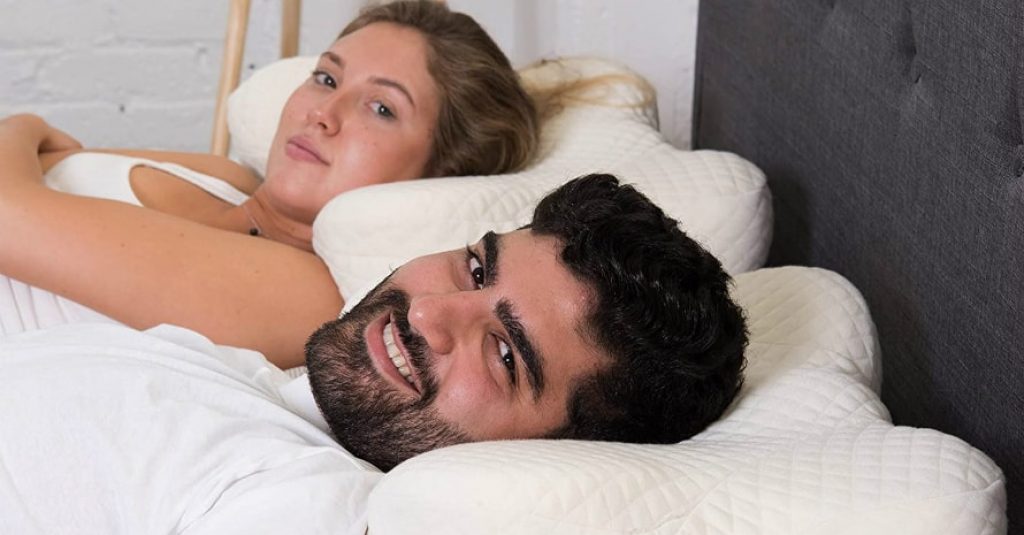 Cradle Me pillow brand was founded by a young California-based startup Lofty. The manufacturer is focused on creating affordable solutions from premium materials. It really costs around $5-10 more than offered by competitors, but the brand provides a full money-back guarantee.
Besides, it's one of those rare memory-foam pillows that doesn't require long aeration before use as it doesn't include any smelly materials. It means that you can use the pillow right from the box.
Both the foam and the cover are hypoallergenic, don't produce dust, and prevent mites. The density of the material is quite low, which is good for early and medium problems. The manufacturer doesn't claim the density, but I think it's around 40 as the feeling isn't too soft, but not as firm as the medium cervical pillow by Coisum.
The design of the cushion is good for side and back sleeping as you can alternate sides for high and low neck support. The butterfly shape includes different heights so that you can stretch your arms, rest your neck, and get your head fixated without tension.
There's no hollow for your head, but the soft foam conforms to the position quickly and without deformation of other parts. If you like flat-centered pillows more than hollow ones, this can be your choice.

---
PROS:
Soft malleable memory foam;
Flat-centered butterfly design;
Breathable structure;
Odorless materials;
High-quality contouring.
CONS:
Can appear too soft for deep problems.
---
Memory Foam Pillows
Memory foam is a progressive material that doesn't lose shape for years. Pillows made of this material are designed to conform to your head, neck, and shoulders and return to the initial shape immediately when you wake up.
Milemont Memory Foam Pillow – №1 Amongst Best Pillows for Tension Headaches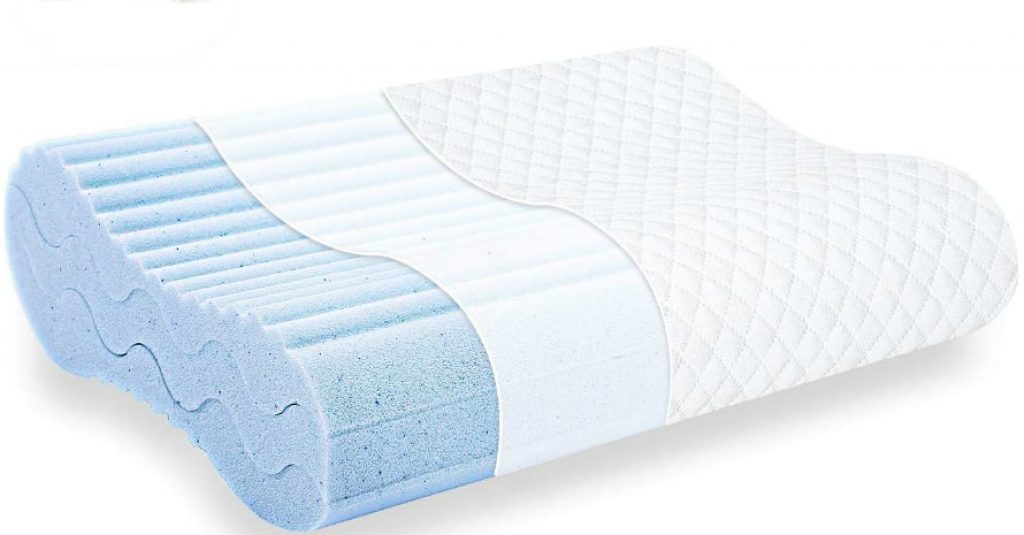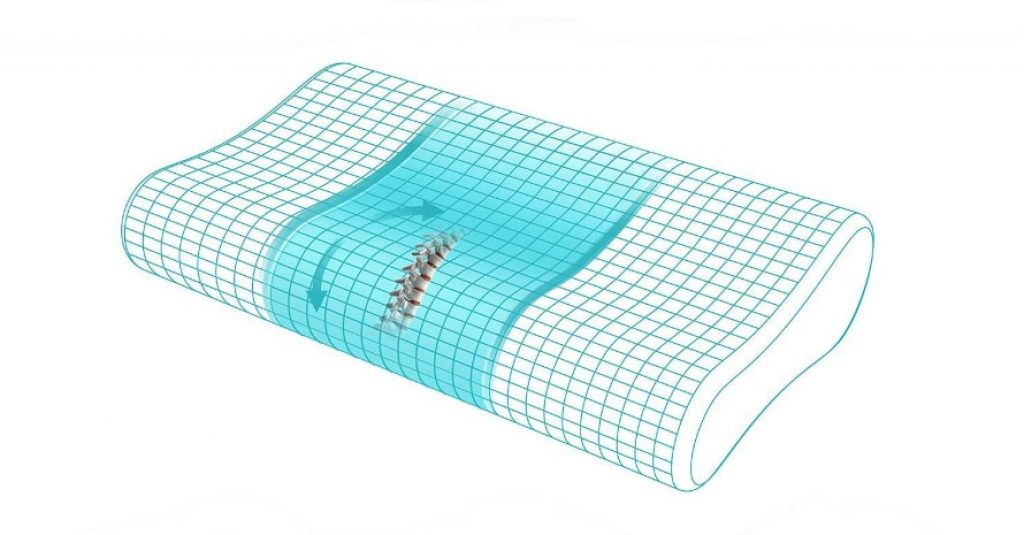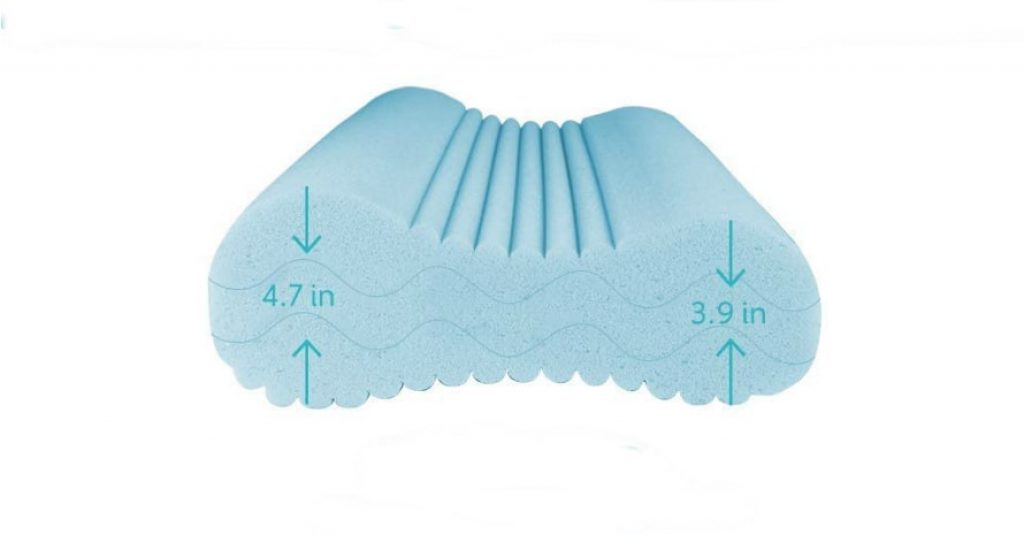 Besides, it's the second most popular cervical pillow made of memory foam. Such a high rating is achieved due to the surprising universality of this item. First of all, it's available in several variations. There are 3 standard sizes, including the queen, king, and standard dimensions.
Secondly, it's effective against all types of tension pain, including tension-triggered headaches. Due to the simple shape and medium firmness of the material, you don't have to train new sleeping habits. I mean that you can even sleep on your belly if you want. Of course, as a therapist, I don't recommend this posture, but this pillow doesn't strain your muscles when your neck is curved, so it's possible to escape inconveniences independently from your habits. The higher roll is suitable for side and stomach sleepers, while the lower roll is convenient for sleeping on your back.
The memory foam filler of this cushion is manufactured with the use of patented air cell technology. Although other models with foam filler in my article are also breathy and cool, this one has even better airflow due to large ventilation halls that penetrate the entire filler.
I recommend this cushion as a universal tension headache pillow for treating all common causes of pain. Depending on a model, you can adjust four heights (from 3" to 4.7") and start training proper alignment. Unfortunately, it takes up to 3 hours for the pillow to get in shape when you take it out of the box.
---
PROS:
Bamboo fabric covers;
Excellent cell ventilation;
Four adjustable heights;
1-year manufacturer warranty;
Washable covers.
CONS:
It takes a few hours for it to get in shape from the box and to lose odor.
---
Cooling Shredded Memory Foam Bed Pillows for Sleeping – Classic-Shaped Solution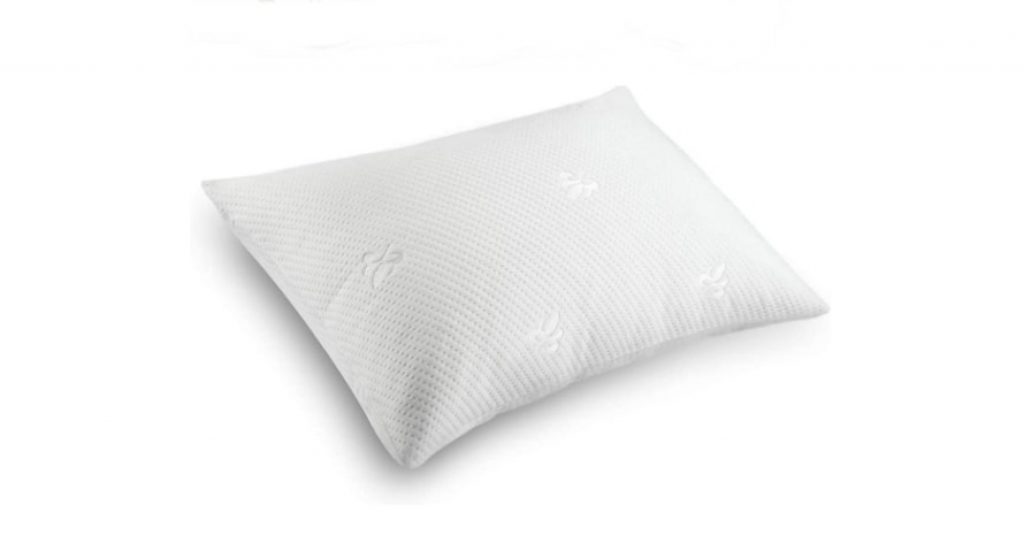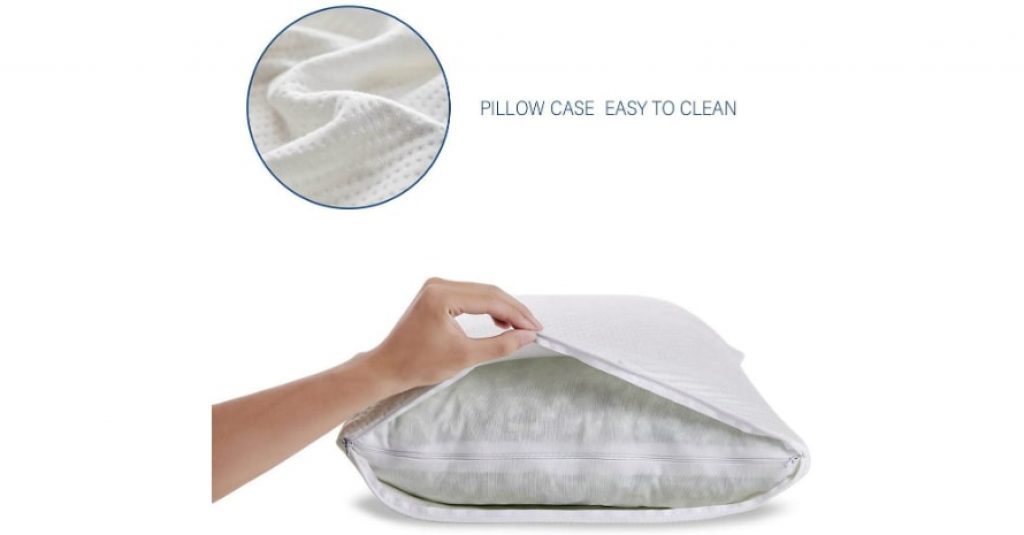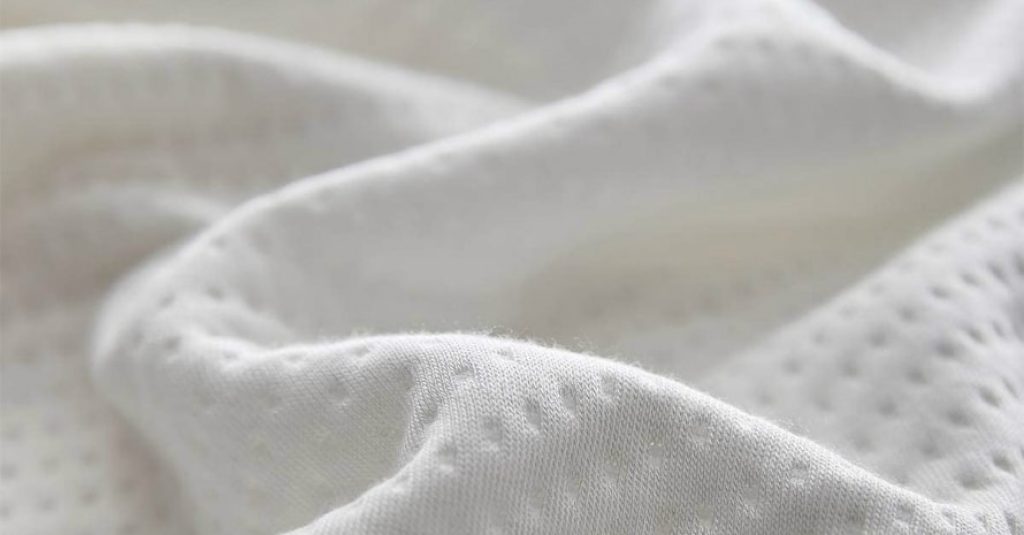 If you're not ready for all those weirdly-shaped memory foam pillows or they don't solve your problem as claimed, you may try this classic-shaped model. Unlike contour pillows and adjustable models with a limited number of heights, this one is stuffed with shredded foam.
It means that you can remove any amount of foam to adjust any height you need without changing the firmness. It's very convenient to adjust the height due to double covering, which lets you wash the outer pillowcase while you're adjusting the main one. The pillowcase is made of natural bamboo fiber.
Another benefit of the shredded filler is the enhanced air circulation. This material type is highly breathable and provides a cooling effect nightlong. The structure of the fiber doesn't prevent air circulation but protects the filler from mites, dust, and dirt.
It's a convenient standard-size pillow with a therapeutic effect that will work out for all types of sleepers. Unlike feather and silicone, shredded memory foam can easily conform to your shape, and you can customize it if it feels too high or too low. The only minus is that you have to wait several days for the foam to lose the smell.

---
PROS:
Bamboo fiber pillowcase;
Classic shape with memory foam;
Excellent air circulation;
Removable filling for height adjusting;
Washable pillowcase.
CONS:
No ergonomic contour;
The smell goes away during several days.
---
Buckwheat Pillows
Pillows filled with buckwheat hulls are good at holding the same firmness independently from the quantity of filler inside the pillowcase. Besides, it's an all-natural solution that doesn't have chemical odors and doesn't cause allergy in the majority of cases.
Beans72 Organic Buckwheat Pillow – All-Natural Travel-Size Option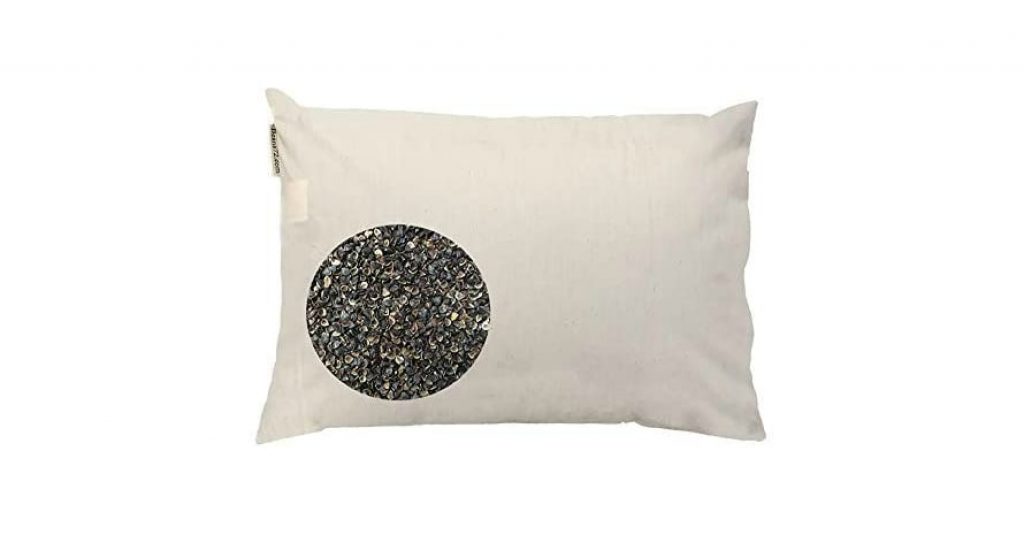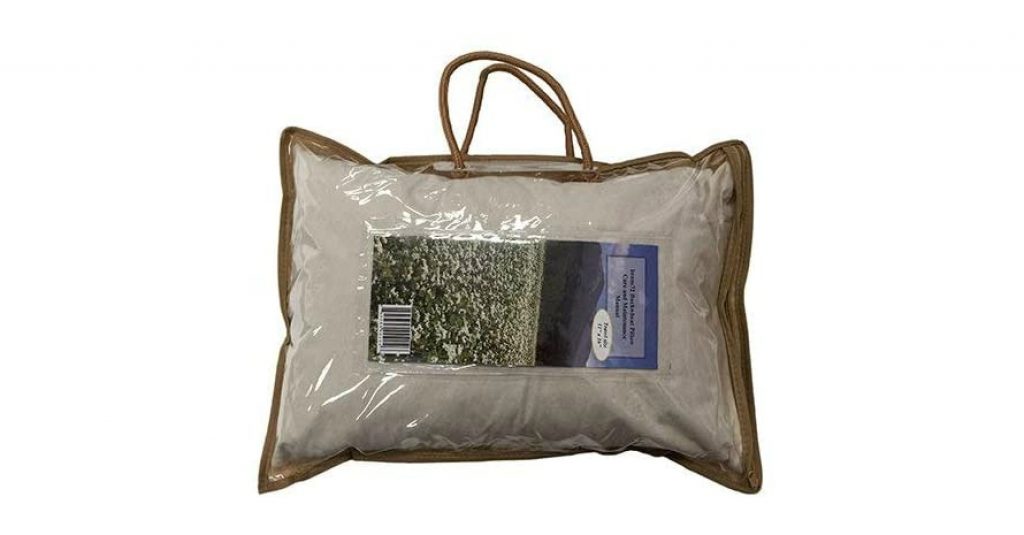 Thich cushion filled with buckwheat hulls is an excellent option for traveling as its sizes are just 11×16 inches, which is much smaller than standard models. Nevertheless, it is convenient enough and offers excellent conforming features.
I've already taken it to a couple of trips to sleep on the train, and I really enjoyed the feeling. The hulls are quite firm but conform to your shape quite easily. Of course, memory foam does it a bit faster, but the difference isn't too significant.
The pillowcase is also made of all-natural unbleached cotton that feels nice to the skin and doesn't cause irritation. The combination of these materials provides good air circulation and the absence of chemical smell during the first days of use.
The only flaw of buckwheat is the tendency to produce a small amount of dust over time. The hulls rub each other and erase. This happens very slowly, but some users may have an allergic reaction, so watch your feelings. On the other hand, buckwheat is even more sustainable to collapsing than other materials, including memory foam.
I recommend this product to everyone who is looking for a travel-size solution with therapeutic effects. It can be applied in train, plane, and car and help you prevent headache and neck stiffness.
---
PROS:
Effective travel-size model;
Al-natural components;
Sustainable to collapsing;
Relieves tension headaches and stiffness.
CONS:
May produce small amounts of dust.
---
ComfyComfy Premium Buckwheat Pillow – Classic All-Natural Cushion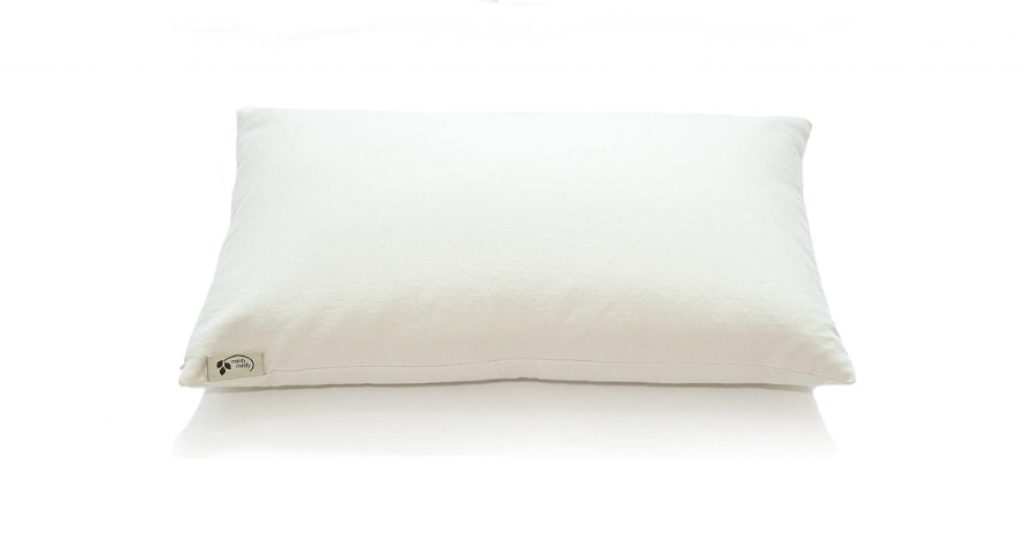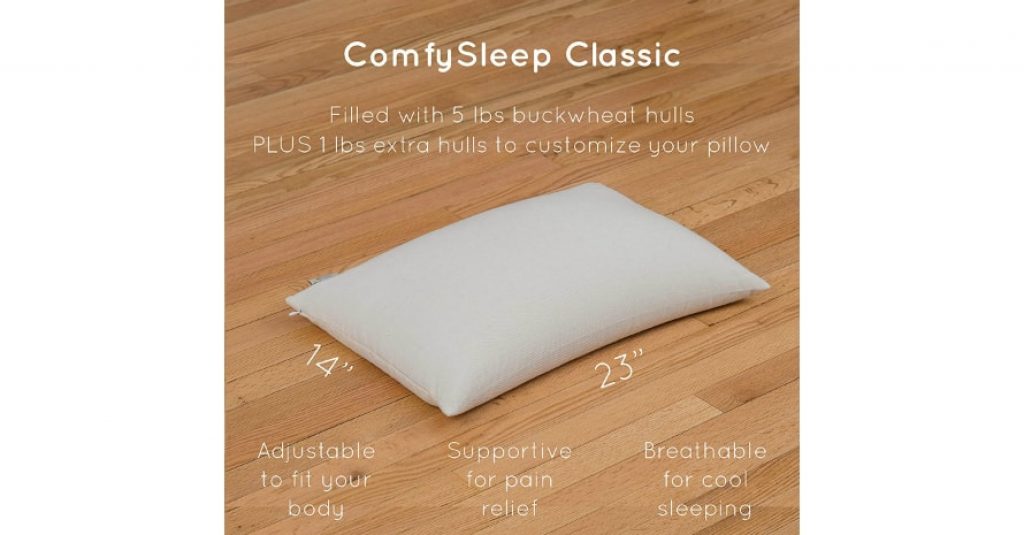 Similarly to the previous model, this one has a classic shape, but the dimensions are almost twice as big and can weigh up to 6 lbs, depending on your needs. The default-height pillow includes 5 lbs of hulls from the box, but you can add up to 1 lb more from the additional pack. If it feels too high, you can remove as much filler as you want.
The therapeutic effect is achieved due to the shape flexibility of buckwheat. This material easily conforms to any shape but remains firm at the same time.
No matter how much filler is inside the pillowcase, the firmness is always the same. It's a worthy solution for muscle relaxation and headache relief, as it's easy to customize and doesn't take long to get adjusted.
---
PROS:
One lb of extra hulls for height customization;
Standard dimensions;
Easily conforms to your shape;
Doesn't collapse over time.
CONS:
It's rather expensive;
May produce dust over time.
---
Common Questions About Headache from Sleeping Wrong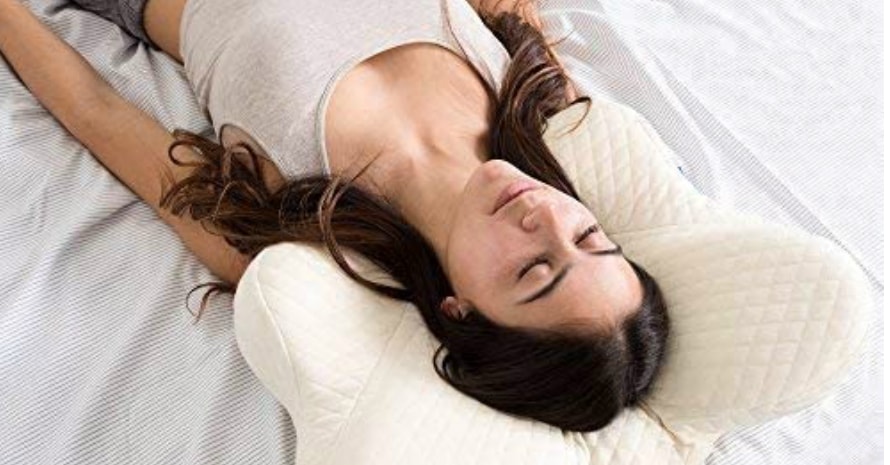 Many readers ask me questions about headaches and sleeping, so I decided to dedicate this section to most common of them. The information below will help you to cut off all the common reasons and reconsider your routines.
Can sleeping wrong cause headaches?
The relation between sleeping wrong and headaches is a complicated topic, but my practices and experience of my colleagues from around the US prove that the quality of your sleep is one of the common reasons for periodic or even consistent headaches. American Migraine Foundation expertise also proved that over 50% of migraine cases are caused by various sleep issues. One of the most common problems is harmful sleeping habits.
In my practice, many people who used to be stomach sleepers managed to resolve headaches by training to sleep on their side or back. Properly selected pillows helped them to achieve the result faster and with fewer inconveniences. However, healthy sleeping postures aren't always the key to success, especially when your pillow is of the wrong shape, too soft, too firm, or deformed because of its age.
It's also important to review your daily and evening routines as there are many habits that can cause migraines. Here are some questions that you have to answer yourself to understand your problem better:
Do I drink enough water during the day?
Dehydration is a common morning migraine trigger. It can be easily solved by consuming enough water, vegetables, and fruits during the day. But don't drink right before going to bed as it may cause facial swelling and irritation because of the need to wake up and get to the bathroom.
Do I get too much stress?
People exposed to stress every day are more likely to have headaches. If you feel stressed out every evening, it's time to start applying anti-stress practices, such as yoga, meditations, working out, jogging, and alike.
Do I consume too much alcohol too often?
The hangover is one of the most common headache reasons worldwide. If you drink too much during the day, your blood vessels may expand too much, or you may get dehydrated when alcohol level drops back to normal. The painless quantity of alcohol is different for everyone. If you face headaches after a small glass of something, try to replace your average portion with green tea or water.
Why does sleeping in give me a headache?
Many people are prone to headaches because of oversleeping. While the recommended amount of sleep for adults is 7-9 hours, the real amount may differ depending on your daily activities and individual sleeping recommendations. Sometimes, the reduction of sleep time can help to get rid of migraines.
However, you shouldn't cut the time too dramatically to avoid a negative reaction of the entire body. Don't sleep below 6 hours, and try not to sleep more than 9 hours if you don't really need it. Together with fixing your habits, this may lead to positive results and overall life quality improvement.
How can I stop waking up with a headache?
The irony is rather cruel, as headaches that make it so hard or even impossible to sleep usually have to be treated with good sleep. If you want to stop waking up with a headache, you can change your pillow to see if it's the reason for your problem. That will let you narrow down the list of possible causes. If the pain doesn't go away, you may need to reconsider your sleeping habits.
If the problem doesn't go away after training healthier sleeping habits and reconfiguring your bedding, you may need to see your doctor who will figure out what are the underlying problems. Such cases may require additional exercise, medication, or even surgical treatment. Fortunately, this happens quite rarely, and the majority of issues are solved by proper pillows, new habits, and simple workouts.
Is my pillow causing headaches?
Unfortunately, even expensive pillows from trusted retailers can become a reason for severe headaches. Wrong pillows are a common cause of strain in neck muscles. It is caused by a lack of neck support. Your pillow must support your neck in a neutral position. Too soft and too firm cushions can fail to provide the needed support and make your head throb.
In this case, you have to look for a new pillow that's designed to contour your head, support your neck, and let your shoulders rest. It may be a trial and error process, but you should really handle it to avoid problems in the future. Consistent headaches caused by wrong sleeping and uncomfortable bedding may lead to a wide range of more serious issues.
Train to Sleep
Although this sounds a bit weird, you have to train your body to sleep properly if it fails to do it for any reason. Using the best pillow for headaches and healthy sleeping practices, you can resolve pain naturally and invest in quality sleeping for years upfront. In most cases, you will need a week or two to adjust to the new sleeping style, but it's much better than additional time-taking visits to your doctor.
Do you know about any other self-applied techniques that help to cope with headaches? You are welcome to talk about it in the comments. You can also ask me questions about reviewed products or somehow related to the topic. I read and reply to all the relevant questions as soon as I can. Keep safe and stay tuned for more articles about healthy sleeping.
Last update on 2022-12-01 / Affiliate links / Images from Amazon Product Advertising API