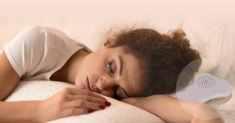 Best Pillows With Speakers to Buy Right Away
Hello, and welcome to my blog! For many years I had to deal with insomnia and struggled to find the best way to fight it. Insomnia affects millions of people around the world today. As well as nervous breakdowns and different diseases, it can be a consequence of chronic fatigue and daily overexertion. One of the best techniques to get rid of it is sound therapy. It doesn't matter what you listen to — your favorite music, a solo instrument (for example, a Tibetan bowl), the sound of waves, or podcasts. All this has a calming effect on the nervous system, creating a pleasant background noise and helping you to distract from obsessive thoughts. It is scientifically proven that such therapy alleviates physical and psychological pain, reduces stress and anger, and as a result, improves sleep quality.
If you decide to do sound therapy yourself, then you will need pillows with speakers. They are a great alternative to regular headphones, which can cause discomfort in the ear if used for a long time. In this article, I reviewed the top 7 items, which, in my opinion, are the most convenient and will help you deal with sleep disorders. You will also find a detailed guide on how to choose the best model and answers to the most popular questions about cushions with speakers my readers usually ask me.
In addition to technical characteristics, the choice of the right device is also affected by your sleep pose, individual susceptibility to sounds, and foreign objects under a pillow. Moreover, if you sleep with a partner, you should take their comfort into account. In this case, you will need a fine sound tuning model so that extraneous noise does not bother the person next to you.
Top 7 Best Pillows with Speakers
In this section, there are not only pillows with built-in speakers, but also individual speakers that you can use with any cushion that is convenient for you.
C Crane Company PS2 Pillow Speaker — Easy to Use Under Pillow Speaker
If you're looking for easy-to-use speakers for a night's sleep, then C Crane Company PS2 Pillow Speaker is a great choice. It is a universal model that you can put under your pillow or on the bed next to you. It comes in a soft plush case, so you will not feel discomfort if you lay on it at night. If necessary, the cover can be removed completely, since the speakers are covered with padded foam.
Like the previous model, it is compatible with any device that has 1/8 standard jack. The cord is smooth to the touch and has a length of 6.5 feet. Through it, the speakers are charged from the player; no need to buy batteries or a charger. Unfortunately, there is no volume control in this model. You will have to adjust it using your listening device. The unit itself is quite thin (only 0.3 inches), so you won't feel it under your pillow at night. Besides, you can always take such a small device with you on vacation or a business trip.
If you are used to listening to music at high volume, these speakers will seem pretty quiet to you. Since they are padded with foam and tucked into the case, the sound is muffled. And if you hide it under the pillow, you may not hear anything at all. However, the perception level is different for each person. But in general, the street noise or a working fan can easily drown out the sounds from the speakers.
Since this model has only one speaker, it may be uncomfortable for those who prefer to sleep on their backs. Some users recommend that you lay straight to this item for a better experience. So it suits side or belly sleepers more.
---
PROS:
Removable case;
Compact size;
No batteries needed.
CONS:
There is no volume control;
Its case and lining absorb sound.
Sangean PS-300 Pillow Speaker — The Best Pillow Speaker for the Money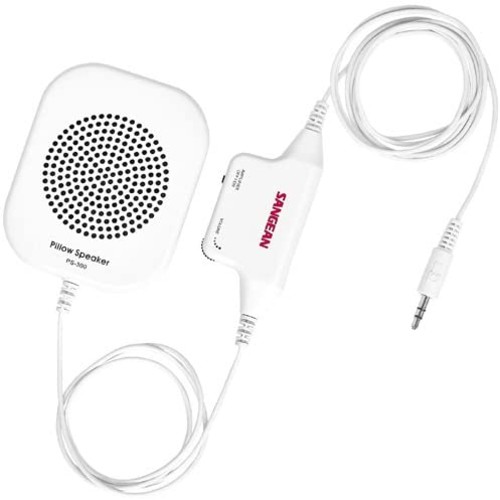 Among all the models on my list, the Sangean PS-300 Pillow Speaker is the most budget-friendly. It is not a pillow, but a separate flat speaker connected to other devices using a wire with a standard 1/8-inch jack. This unit is compatible with all gadgets that have appropriate input. You can even connect it directly to your TV.
Cable length, like in most wired devices, is 6.5 feet. It is quite thin, and it will likely come off at the junction with the unit after several months. Unfortunately, it cannot be repaired or replaced – the battery of your listening gadget powers the device. However, if you want to use a sound amplifier, you will have to purchase one AAA battery. It is not included in the package and is needed exclusively for the control unit.
The cable has small volume control and an on/off button for the amplifier. If you turn it on, you can listen to sounds, music, and podcasts with your partner. Most users noted that when the amplifier is on, the battery discharges quite quickly. However, it's good that there is such a function. The product can be put under a pillow of any thickness or used by people with hearing impairments. Without the amplifier, these speakers produce acceptable sound quality. You can enjoy listening to podcasts or white noise, but this device is not the best for clean music.
Thanks to a flat square shape, you will practically not feel this item under your pillow, despite its not having a cover. The compact size (2.75 x 3.4 x 0.57 inches) makes it an excellent travel and business trip companion. However, the whole design seems a little flimsy, which makes the device short-lived.
Moreover, one speaker may be inconvenient for those who prefer to sleep on their backs. For such sleepers, the sound will seem too muffled.
---
PROS:
There is a built-in volume amplifier;
Compact size;
Budget-friendly.
CONS:
The amplifier requires a battery;
Flimsy design.
PillowPlayer Pillow Speakers & Pillowcase with Speaker Pockets — Radio Pillow Speaker with Pillowcase in the Kit
PillowPlayer Pillow Speakers & Pillowcase with Speaker Pockets is a set of three items: two speakers and one pillowcase. A pillow is not included, but the pillowcase has a standard size (20 x 24 inches) and fits most cushions. It is made from a mixture of 60% cotton and 40% polyester. Inside there are two small pockets into which speakers are inserted.
It is done so that the device does not move inside the pillowcase, but you can actually use it with any other pillowcase. Just place the speakers on the sides of the cushion. Given that this pillow headphone is removable and not sewn in, you can move them as you wish. If you mostly sleep on your side, just put both speakers in the center.
Since a pillow is not included, you can take a pillowcase and speakers with you on a trip and use them with hotel pillows. It is very convenient because, on business trips and even vacations, you need to have at hand a tool to fight insomnia. Users note that this device has a fairly low volume. According to the manufacturer's recommendation, it is better to place the speakers on top of the pillow so that the sound is not muffled. In my opinion, it is not very convenient, since they do not have a soft cover or padding, and the pillowcase itself does not provide sufficient amortization.
The speakers are wired, do not support Bluetooth connection, and have a standard jack 1/8, compatible with many devices: from smartphones to radio and TV. Like previous models, they use your player as a power source and are charged from it; no batteries or special charger required. The cable is 6 feet long and has built-in volume control so that you can place your listening device in any convenient place, not necessarily next to the bed. The length of the cable connecting the two speakers is 28 inches, which allows you to use them on any other pillowcase or pillow larger size.
---
PROS:
Extra-long cable;
Compatible with many devices;
Speakers are removable.
CONS:
Pretty quiet sound;
The pillowcase is nothing special.
Conair Sound Therapy Pillow — Comfortable Pillow With Speaker Built in
Unlike previous models, the Conair Sound Therapy Pillow has an integrated control unit. Ten already uploaded sounds on the device can be used in your therapy sessions: heartbeat, sea waves, rain, white noise, etc. The pillow itself has a standard Queen size, the pillowcase is made of 100% cotton, and the filling is polyester. Unfortunately, the pillowcase cannot be removed to wash or replace it. The manufacturer indicates that this product is spot clean only. If you regularly wash your pillowcase, for example, if you sweat a lot at night, it's better to choose another item.
This music playing pillow is of medium density and gives an average level of support for the head, while it is enough so that you do not feel the speakers under it. But what is really convenient is that this product has a built-in timer. If you wish, you can continuously listen to music or set the shutdown time for 15, 30 or 45 minutes. There is also a volume wheel and on/off button.
The kit includes a cable with a regular 1/8 jack, with which you can listen to music and other sounds from your listening device. The cable itself is not very long. It may be enough to put the phone on a nightstand, but there is a chance of accidentally hitting it in a dream with your hand and dropping the device. However, the unit does not charge via this cable. For its run, AA batteries are required, and they are not included, which is convenient. Moreover, they discharge quite quickly.
On the one hand, it's very convenient to have a device with everything you need: a pillow, a pillowcase, and speakers. On the other hand, it is difficult to make it convenient for absolutely all users. The density and thickness are very subjective factors, especially in such a challenging matter as a struggle with a sleep disorder. If it doesn't matter to you which cushion to sleep on, then the Conair item will be a great solution.
---
PROS:
There is a built-in timer;
There are ten loaded sounds;
Reasonable price.
CONS:
Runs on batteries;
Spot clean only.
Pyle PPSP18 Bluetooth Pillow Speaker — Wireless Pillow Speakers for TV
Pyle PPSP18 Bluetooth Pillow Speaker stands out among other models for its design. It is a thin pillow of elongated shape (14.9 x 5.1 x 1 inch) with built-in speakers. The product does not replace a full-fledged cushion but perfectly fits under it. Such a form of the product ensures that the device does not move if you often toss and turn in a dream. It is so thin and lightweight (just 0.5 lb) that you can put in your bag and take it with you on a trip.
This unit supports Bluetooth connection and can be used with any device that also supports it (phones, tablets, TVs). The model comes with a small remote control. You can adjust the volume, pause a song, put tracks in random order, and turn it on and off.
Unfortunately, this item does not have a built-in timer. If you need it, here is a good tip: you can set a timer on your smartphone or TV.
This device has a built-in memory of 1 GB. You do not have to connect your player to it; you can just upload the desired track. So you can leave your phone, or other listening device charged somewhere else. By the way, there is a small collection of nature sounds that you can use for your therapy before bedtime. The speakers are powered by a built-in battery (500 mAh, Lithium 3.7V).
And although one of the goals of such a Bluetooth pillow speaker is to give your ears a break, you can connect your headphones to it if needed. This option is suitable for those who use public transport a lot. You will not disturb other passengers while listening to soothing sounds for sleeping.
---
PROS:
Supports Bluetooth;
Compact and lightweight;
Has a built-in memory card.
CONS:
There is no built-in timer;
More expensive than wired models.
ZEEQ Smart Pillow — Multifunctional Sound Therapy Pillow
ZEEQ Smart Pillow is the most multifunctional device on my list. Unlike previous models, there is not one, not two, but eight speakers. Because of it, the pillow is a little heavier than similar products from other companies. Its weight is 7 lbs, and its dimensions are 5.5 x 26.5 x 16.75 inches. Unfortunately, such a pillow is not the most suitable option for those who travel a lot. Unless, of course, you use a private car. And, despite such a number of speakers inside the cushion, you do not feel them with your head because of the rather dense memory foam fill.
As I have already mentioned, products in which all-inclusive are most often not universal. However, the ZEEQ's pillow is an exception — you can adjust its density and height as you wish by pulling out part of the filler. As the memory foam inside is cut into pieces, the pillow may feel a little lumpy, although it does not interfere with a comfortable rest. The topcoat is hypoallergenic; it can be removed and washed if necessary. One regular white polyester pillowcase is also included. This pillow's distinctive feature is its excellent thermoregulation: the materials used keep the product cool throughout the night.
This device works on battery power, which lasts for about two weeks of regular use, and is charged using the included USB cable. The speakers are compatible with many devices thanks to the support of Bluetooth-connection and IFTTT platform. However, the manufacturer recommends using it with iOS devices for better connection quality. ZEEQ has also developed iOS and Android apps so that you can monitor the quality of your sleep.
Other useful features include snoring monitoring. You can adjust its sensitivity, and the device will vibrate gently when you snore to wake you up and make you change your pose. Snoring is monitored through a very sensitive microphone, and sometimes the gadget wrongly responds to any active movement of your body or head. There is also a built-in sleep tracker that monitors your night activity, an alarm clock that wakes you up in the appropriate sleep phase, and a music timer. All these functions can be customized using a small remote control.
---
PROS:
Adjustable height and density;
8 built-in speakers;
Multifunctional.
CONS:
Not all functions work correctly;
Works better on iOS devices.
The Original Sound Pillow — The Best Speaking Pillow Overall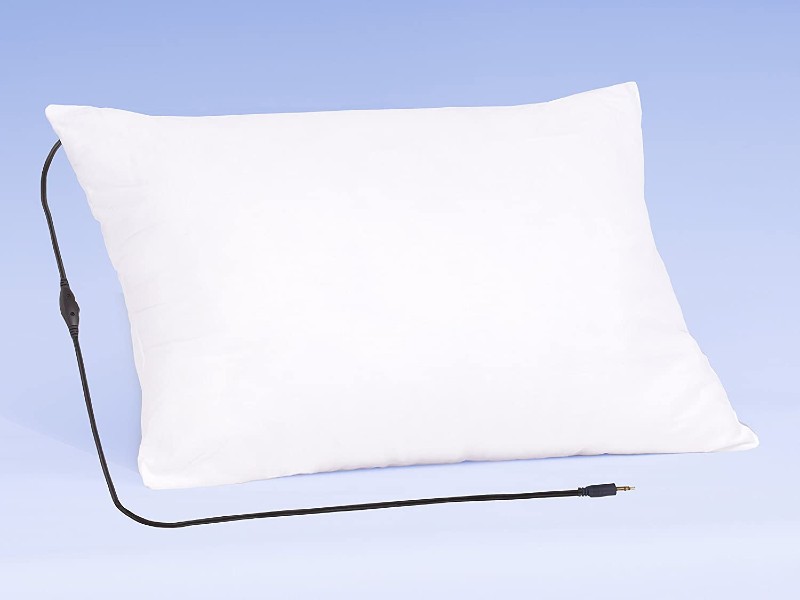 The Original Sound Pillow is a pillow with integrated speakers connected to your device with a 1/8-inch headphone jack. The kit does not include an MP3 player; however, you can use it with any personal listening gadget, even with a smartphone or tablet. You do not need to recharge the speakers or buy batteries, as they are charged from the device you use.
The pillow does not support Bluetooth connection; it can be used only with a jack cable. The length of the cord is approximately 6.5 feet. It may vary slightly in a specific product. These speakers are easy to use and run. You just need to insert the jack into your player, pick a song, and play it. There is a volume control on the cord, but you can also adjust it using your listening device.
The pillow is twin-size and has dimensions 22 x 15 x 6 inches. It is made of hypoallergenic materials: a cover is made of a mixture of cotton and polyester (50/50), and the inner filling is Spun Poly Fiberfill (not memory foam). The pillow is thick enough so that it can greatly drown out sounds from the speakers. Make sure that the volume on your player is set properly.
The manufacturer claims that the volume of tracks in free apps is usually quite low (especially white noise) and may not mask other extraneous sounds. Also, this pillow's thickness should be taken into account for people who use hearing aids, as doctors recommend taking them off at night. Perhaps they should think about a thinner model or purchase separate speakers and use them with another pillow.
The softness and convenience of the product largely depend on individual needs. But most buyers noted that this pillow is quite soft to the touch, may not be stiff enough to support the head. The speakers are placed on the pillow's sides, so if you sleep on your back or stomach, it is a great option. However, side sleepers may want to make the sound louder.
---
PROS:
Hypoallergenic;
No batteries required;
Compatible with any device with a headphone jack.
CONS:
Thick; drowns out the sound;
Too soft.
Sound Cushion Buyer's Guide
In this section, you will find all the necessary information on choosing the most suitable product for sound therapy.
Things to consider before buying a pillow with speakers
When writing this pillow speakers review, I focused on several important criteria:
Sound quality. The sound should be clean enough, given that you will listen to it through several layers of fabric. Some products are good for nature sounds and various noises; some are better and more suitable for listening to music.
Volume. Better buy a pillow speaker with volume control. Susceptibility to sounds is very individual, but loud music is harmful to everyone. Besides, if you have a sleeping partner, you need to adjust the volume so that the noise does not interfere with them.
Pillow material. Fillings of pillows are different (feather, microfiber, memory foam, etc.), and each sleeper has its own preferences. If you already have a favorite pillow, choose either individual speakers or speakers with a pillowcase in the kit.
Power source. Some products are powered by your listening device; some use built-in rechargeable batteries or replaceable ones.
Cord length and durability. The cable should be long enough to put your phone or player on a nightstand next to your bed. If you often toss and turn in a dream, the cord should be thick and reliable.
Benefits and disadvantages of pillows with speakers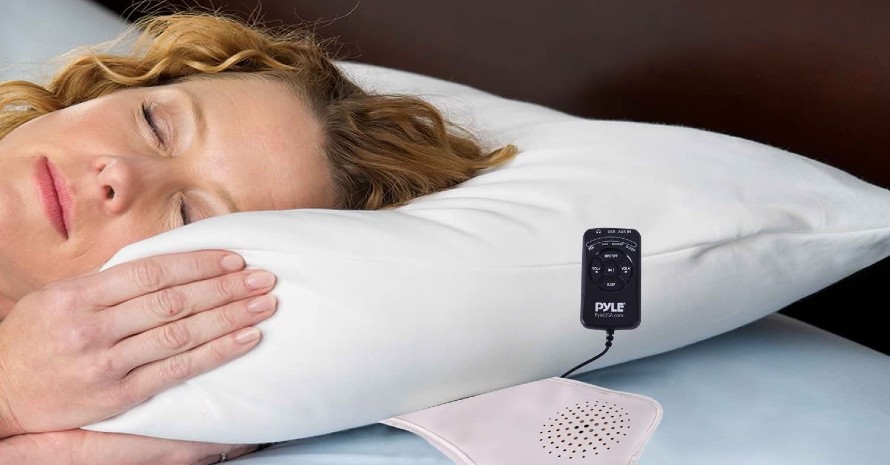 Any pillow that plays music or portable speakers is a great alternative to headphones. With their help, you can create background noise, escape from restless thoughts, and calmly fall asleep. People who suffer from constant stress, chronic pain, or depression regularly experience trouble sleeping. Using such pillows as part of sound therapy, you can alleviate these conditions. Besides, if tinnitus prevents you from falling asleep, a sound from the speakers can mask it.
Among disadvantages of such devices is their relative fragility and low sound quality. Not all products are water and stain-resistant or can withstand your restless night's sleep. Also, pillow speakers rarely produce the same excellent sound as stationary ones.
Sound quality may disappoint you if you prefer to listen to music before going to bed rather than noises or podcasts.
Types of pillows with speakers
There are several basic types of pillows with speakers and pillow speakers on the market. They may differ slightly in function and control system, but in general, they can be divided into three main groups:
Pillows with built-in speakers. They are perfect for situations where you need a new cushion. They come with different fillers and sizes.
Flat pillows. They are usually small in size, have a flat profile, and easily fit under your main pillow. Such a product will almost not be felt under your head when you sleep.
Portable speakers. They are good in that you can place them in any convenient place and take them on a trip. Many of them come in soft cases, so you can even lay down right on them with your ear.
FAQs About Pillows with Speakers
Here I have picked the most frequently asked questions about pillows with speakers and portable speakers. Feel free to ask your question in the comment section below this article.
Can pillow speakers get connected to my TV?
It depends on the model of your TV. Most modern devices have a standard input for 1/8-inch jack. When buying speakers, be sure to check the cable's length that connects the speakers to the TV. The standard length is about 6 feet. If it is insufficient, choose a different model or purchase a special extension cord. If your TV supports a Bluetooth connection, then it is better to buy a wireless model.
What sound is the best for sound therapy?
Since sound therapy's main goal is to make you relax, distract attention, and calm the nervous system down, each person picks for themselves their individually preferable sounds. In such sessions, therapists often use the sounds of nature (the sound of rain, sea waves, rustling leaves, etc.). There is a special white noise pillow with loaded tracks that create even noise.
Also, sometimes therapists use the so-called pink noise — the sounds of a heartbeat or neural activity. Among the musical instruments that help to cope with insomnia, it is worth noting Tibetan bowls, chimes, gongs, and tuning forks. Some people find it easier to fall asleep under a monotonous lecture, audiobook, or podcast.
Are pillows with speakers safe?
Pillows with speakers are entirely safe; they do not injure your ears and do not harm your overall health. You can be sure that the equipment will not overheat, or a short circuit will occur due to sweat drops. It should only be noted that some models have small parts that can be torn off, so you should not give these pillows to children under three years.
Will my sleeping partner hear the sound?
The sound susceptibility is very individual. It all depends on your partner's hearing ability. Most devices are designed specifically for personal use. It is understood that the sound emanating from the speakers can only be heard by someone who lays near them.
However, to avoid possible inconvenience, choose items that have volume control. So you can adjust it as necessary. Or you can purchase a device with one speaker. Such models have a more directional sound, compared to dual-speaker ones.
Final Remarks on Picking Pillows for Sound Therapy
Many people who suffer from sleep disorders surf the Internet in search of a solution to their problem. If you are on my blog, then I recommend you try sound therapy. Proven effectiveness, safety for health and the absence of side effects make it a real find. At such sessions, you can use any tracks that you like: from full-fledged musical compositions to white noise, the sound of Tibetan bowls, and even audiobooks.
To make such sessions more comfortable, get pillows with speakers inside or portable speakers for pillows. As you understand from my article, there are many options for such devices on the market. They differ in their sizes, functions, and technical specs. Learn all the features that you should pay attention to before buying a gadget. I hope my review will help you choose the most suitable item and find a peaceful night's sleep.
Do you use sound therapy in your fight against insomnia? Which speaker pillow model do you like? Do you listen to the built-in sounds, or do you prefer to create your own playlist? Share your favorite tracks with other readers!
Last update on 2022-12-01 / Affiliate links / Images from Amazon Product Advertising API