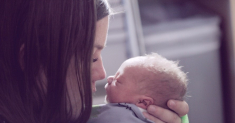 Best Sleeping Nursing Bra: 7 Deals To Pay Attention To
Motherhood is a magnificent period of a lifetime. The first months when a young mother learns to care for her baby properly, breastfeeds, and recovers after childbirth, play a significant role in their lives. And what's more important is the breast's health. This largely depends on the correct selection of underwear and compliance with simple rules developed by leading mammologists. In this article, I'm going to help you with finding a suitable nursing bra option.
A nighttime nursing bra is an indispensable thing for a mother. It works in several directions at once: it helps preserve the breast`s beauty, removes the excess burden from the spine, and, most importantly, makes the feeding process as comfortable as possible.
From the definition itself, it is clear that this is underwear designed for the convenience of feeding a baby. Also, it ensures the health of the female breast in this difficult, but undeniably beautiful period. Many expectant mothers want to know what a nursing sleep bra looks like and how it differs from a regular bra. At first glance, there are no differences from the usual bra, so keep on reading the guide and learn about the peculiarities.
What Is a Pregnancy Sleeping Bra?
The breastfeeding sleep bra has an elastic cup with some "extra", as the breast of a nursing mother can grow in size up to 3 times per day. Besides, the free space between the bust and the bra will allow you to put special laying that absorbs leaking milk easily.
It is made of more elastic and, most importantly, natural breathable materials. There are no seams on the cup that irritate the nipple, which gets a little injured during every feeding. The nighttime nursing bra usually has a wider belt and straps. This allows you to free your shoulders of excessive weight and distribute it as evenly as possible.
Most types of maternity sleep bra are made from natural materials such as cotton. Manufacturers also offer mixed materials of cotton, elastane, microfiber, and polyamide fibers. Synthetic materials increase the wear resistance and reliability of clothing.
For sleep, it is also better to prefer underwear made from natural or mixed fabric. Some models are made of soft and thin lace. This option, if the material does not cause skin irritation, is also suitable for use.
The color scheme of underwear for expectant mothers is very diverse. There are bras in bright saturated colors (for example, red, pink, blue, or green), as well as bras of soft pastel shades. But the most popular are the basic colors of bras – black, white, and beige. Choose the color of the underwear for your clothes or depending on your mood.
The most important difference is the detachable laying for feeding a baby. Thanks to this little trick, you can feed your baby whenever and wherever without exposing your breasts completely. The layer is easily unfastened with one hand and allows you to hold the child with another easily.
This is the difference between a nursing bra and your usual underwear. Many mothers appreciated this invention, and it's time to learn more about types of sleeping bras during pregnancy.
A Nighttime Nursing Bra — The Most Common Types
A model with a fastener between cups is quick and convenient. Thanks to several positions of the fastener, you can adjust the size. It's especially comfortable during the nighttime. All you have to do is to unzip the covering layer and feed the baby.
However, if you decide to wear a nursing bra with zippers in the daytime, it won't be very convenient since the fasteners can be seen through the tight or light-colored clothing.
A bra with a clasp located on the strap allows you to release one breast to feed the baby.
But you need to take into account that you also need to choose the one that opens the entire breasts and not just the nipple. So the bra fabric will not press on the lower part of the bust, and it will be more convenient for the baby to feed on.
Using an elastic bra, you can bare your breasts by simply pulling the cup back. The convenience of this option is that the fabric adapts well to changing the size of the breast.
The nursing bras for large breasts are manufactured of the lightest materials, making them practically weightless, so they are really comfortable for small or medium breasts. One of the most popular options for breastfeeding sleep bra is a top. Among its advantages is the absence of seams on the breasts, wide straps, and elastic material that stretches well.
Top 7 Sleeping Nursing Bras: The Best Nursing Bra Review
Before proceeding to the guide itself, take into account some basic rules for choosing the best sleeping nursing bra.
Give preference only to products made from natural fabrics. Your breasts during lactation are more sensitive than usual; therefore, the skin can react to low-quality products with allergies.
If you're trying on a bra in the physical store, move in it, bend over, raise your hands, try to unfasten the cup — you should feel comfortable in any position.
The best cup option for a nursing sleep bra is without stitches, especially at the nipple level.
Make sure that the cup can accommodate special breast pads that will absorb excess milk. It will be perfect if the product has a special pocket for such layings.
When choosing a model with a zipper, check for valves to prevent pinching of the skin.
You can purchase at least several models of nursing bras at once to change them when they get dirty.
Like any woman, you want to look good and feel attractive. Therefore, decide whether you need lace on your bra for breastfeeding or can temporarily live without it. It is important that it does not rub, does not irritate your skin and sensitive skin of a newborn baby.
Amazon Bestseller
CAKYE 3 Pack Maternity Nursing Bra for Sleep: Best Maternity Sleep Bra Deal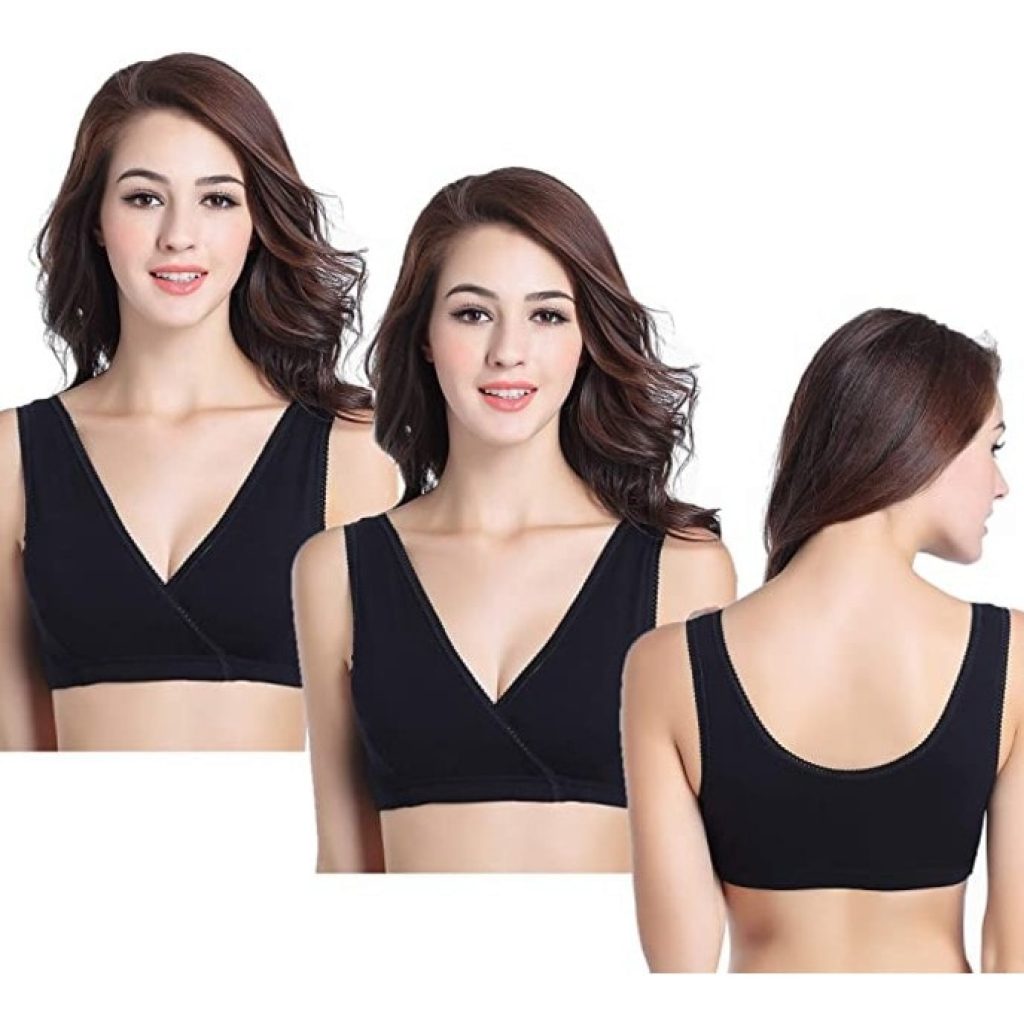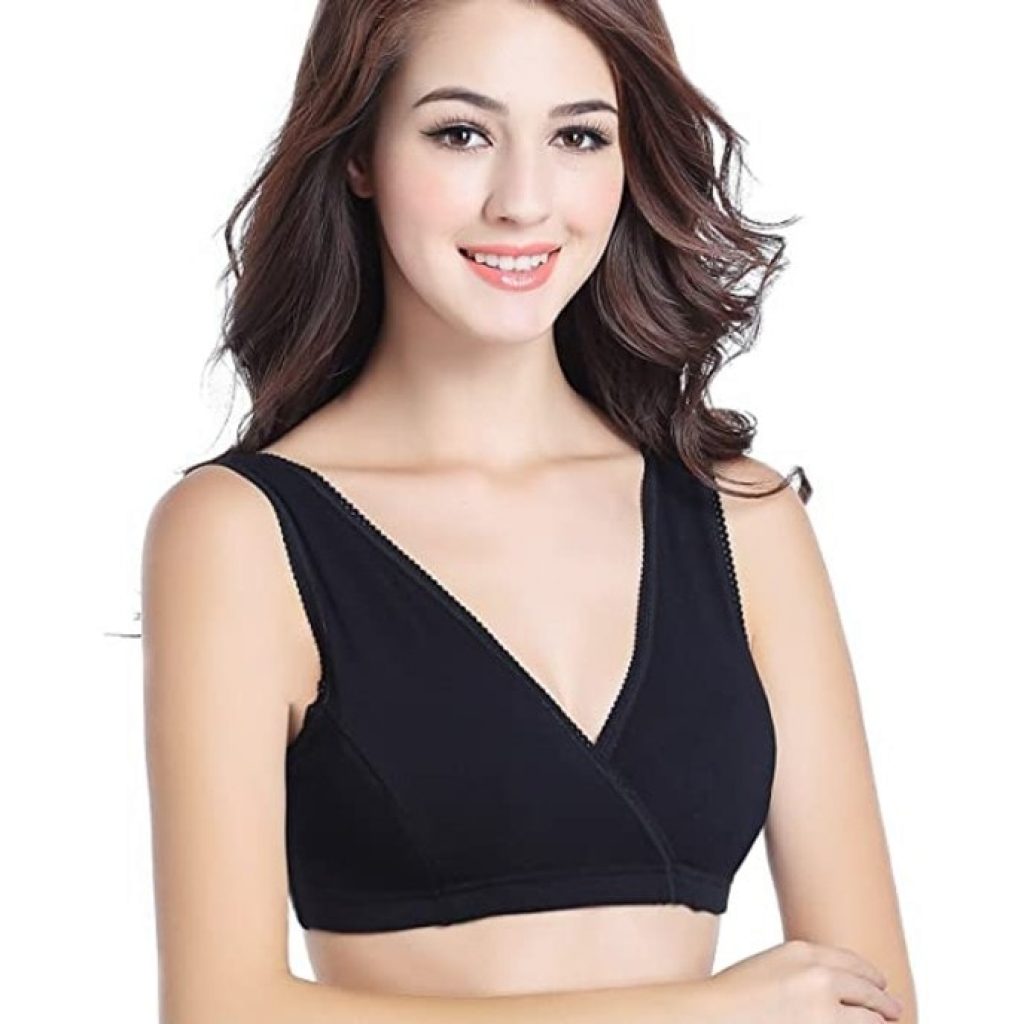 A soft cup top is perfect for feeding your baby, providing easy access to your breasts. It is ideal for everyday wear and sleep, thanks to the absence of bones and coarse fasteners. Wide fabric harnesses will remove the tension from the shoulders and back. It is an extremely convenient basic model of a bra for feeding for mothers and pregnant women.
The product is made with a smooth, seamless material and is completely invisible under clothing. This version of a nursing bra reliably supports the bust thanks to the inserts of breathable perforated foam. This type of seamless bra for pregnant and lactating mothers is soft, elastic underwear that is comfortable to wear throughout the pregnancy and breastfeeding period. Due to the special knitting of different densities, the bra creates additional support from the sides and under the breast, which provides extra comfort for the large breasts of a pregnant woman or a nursing mother.
CAKYE 3 Pack Maternity Nursing Bra for Sleep...
【EASY ACCESS FOR NURSING】~ Criss cross front with easy one hand pull-aside breastfeeding access - No underwire, No hooks or snaps to mess with, You can move comfortably day or night.
【ULTRA-SOFT COTTON FABRIC】~ With ultra-soft, stretchy fabric, this nursing sleep bra is designed for fluctuating breast sizes, allowing extra room for when your milk comes in, it never constrict or squeeze your breasts.
【THE CHEST IS DOUBLE-LAYERED】~ The bra has built-in pockets, you can insert the nursing pads. (3 bras per pack)
---
PROS:
Tender material that is pleasant to the skin;
A universal model that fits all breast sizes;
Convenient fastener.
---
BRAVADO DESIGNS Women's Body Silk Seamless Nursing Bra – Best Sleeping Nursing Bra for Pregnant & Postnatal Moms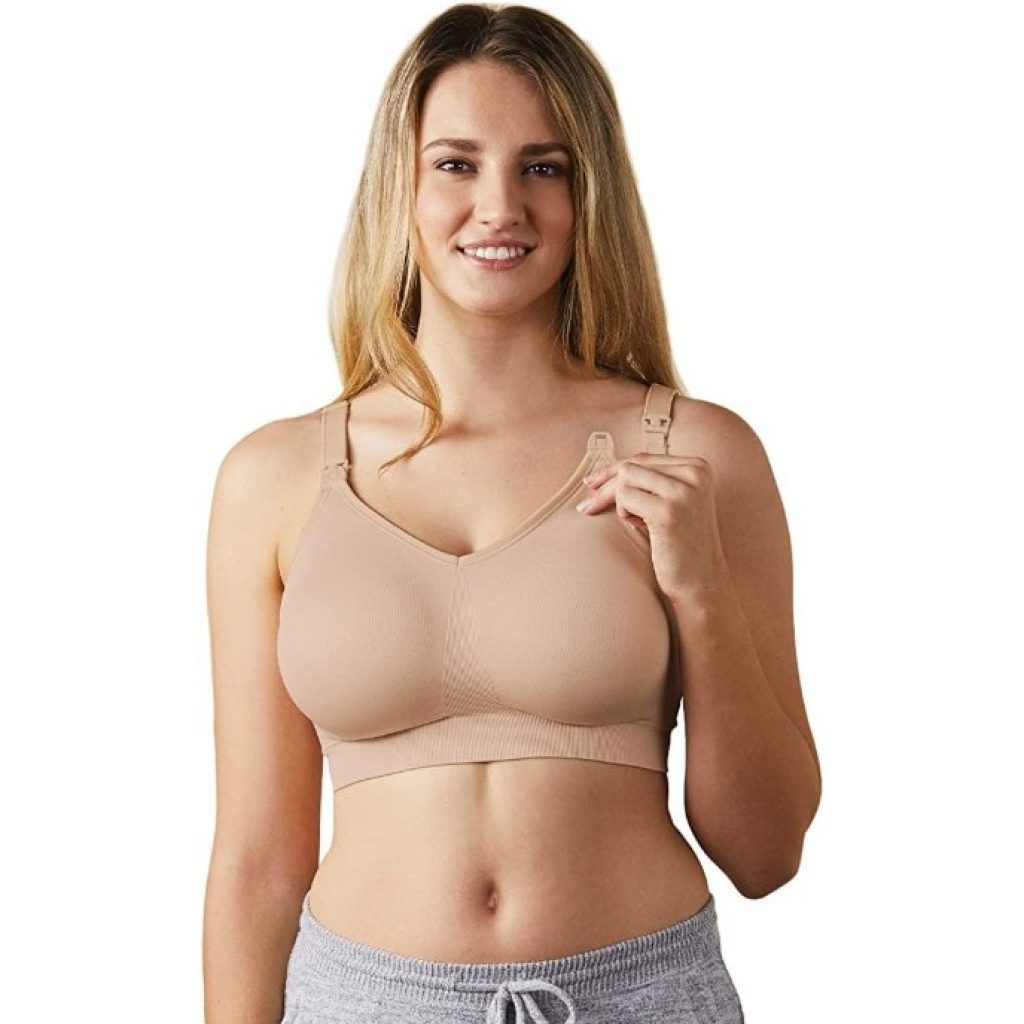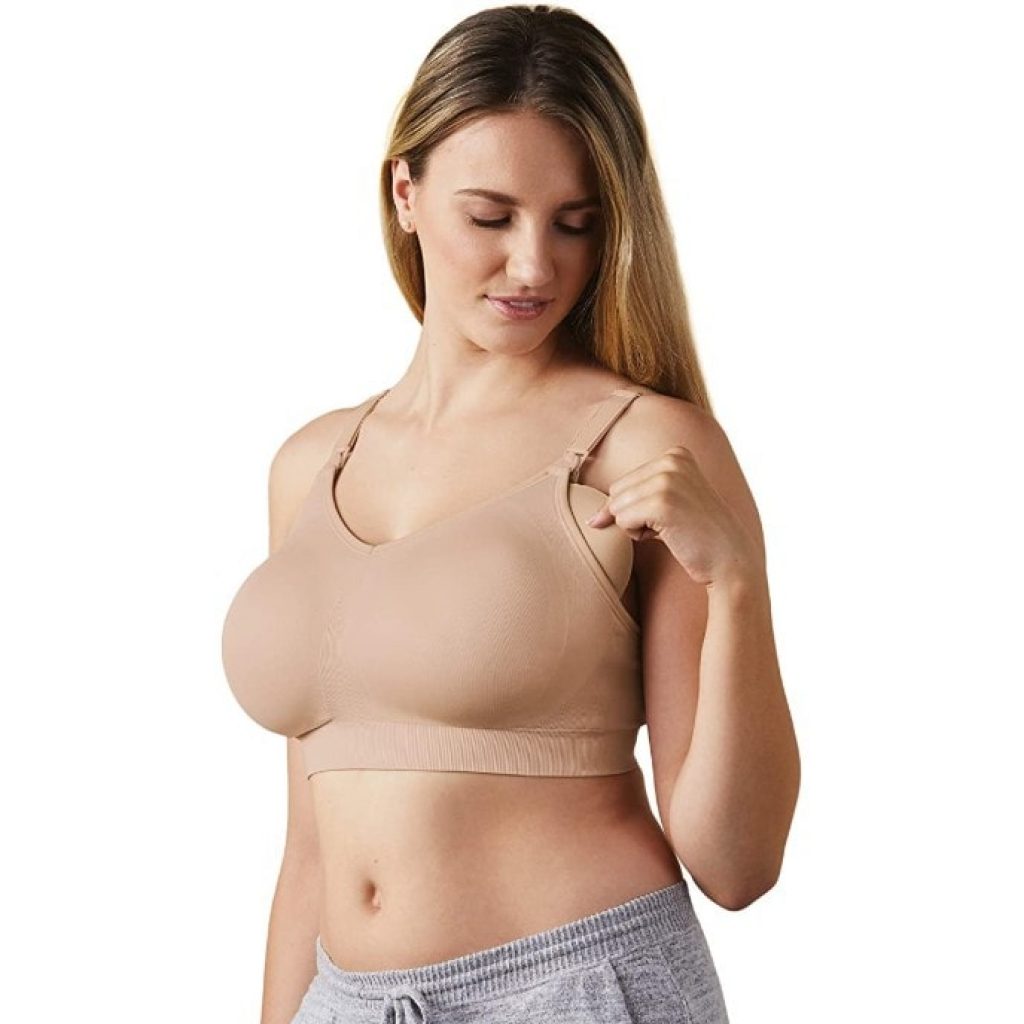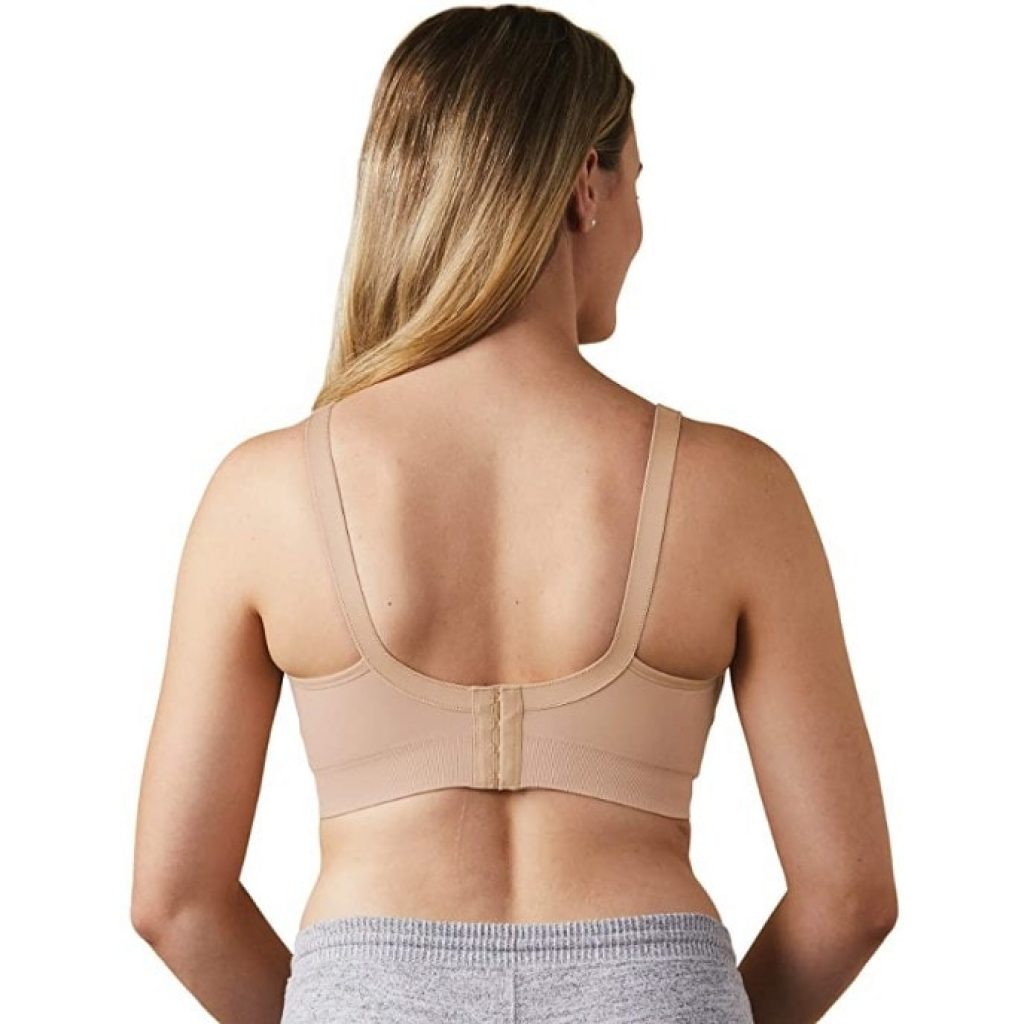 Bravado Designs is a bra with soft pitted cups that provides comfort and support for the lactating breast. The material is made of 60% cotton and 40% polyester with a soft matte coating. The fabric is comfortable and pleasant to the body. It is hypoallergenic and breathable and does not provide irritating. Thanks to the polyester addition, the bust is maintained and does not lose shape. The model also doesn't cause stretch marks on the skin.
In this model, the cup consists of two layers. The upper layer unfastens and exposes the breast completely or only in the area of the nipple. The clasp is attached to the straps and opens with a light push. A stretchy seamless bra for pregnancy and lactation is suitable for the most sensitive skin. It has soft pitted cups with a removable seal, instead of which you can also put special absorbent lactation pads.
BRAVADO! DESIGNS Body Silk Seamless Wireless...
MOM'S CHOICE AWARD WINNER - An iconic and best-selling maternity and nursing bra that's loved by moms worldwide. This luxuriously soft, wire-free and seamless nursing bra provides the comfort you crave during pregnancy and breastfeeding as it accomodates your changing breast size.
SEAMLESS AND WIRE-FREE - Designed with 4-way stretch fabric that hugs your changing shape. Provides breast support without the discomfort of an underwire, making it the perfect wireless bra for maternity and nursing.
MOLDED AND REMOVABLE FOAM CUPS - Molded cups provide a natural shape without compression, maximizing lift and breast separation. Soft and flexible removable foam cups offer nipple discretion and allows you to adjust the level of modesty - option to wear with or without!
---
PROS:
Good quality fabrics;
Excellent support;
Comfortable to wear.
---
Kindred Bravely French Terry Racerback Nursing Sleep Bra: The Most Comfortable Nursing Bra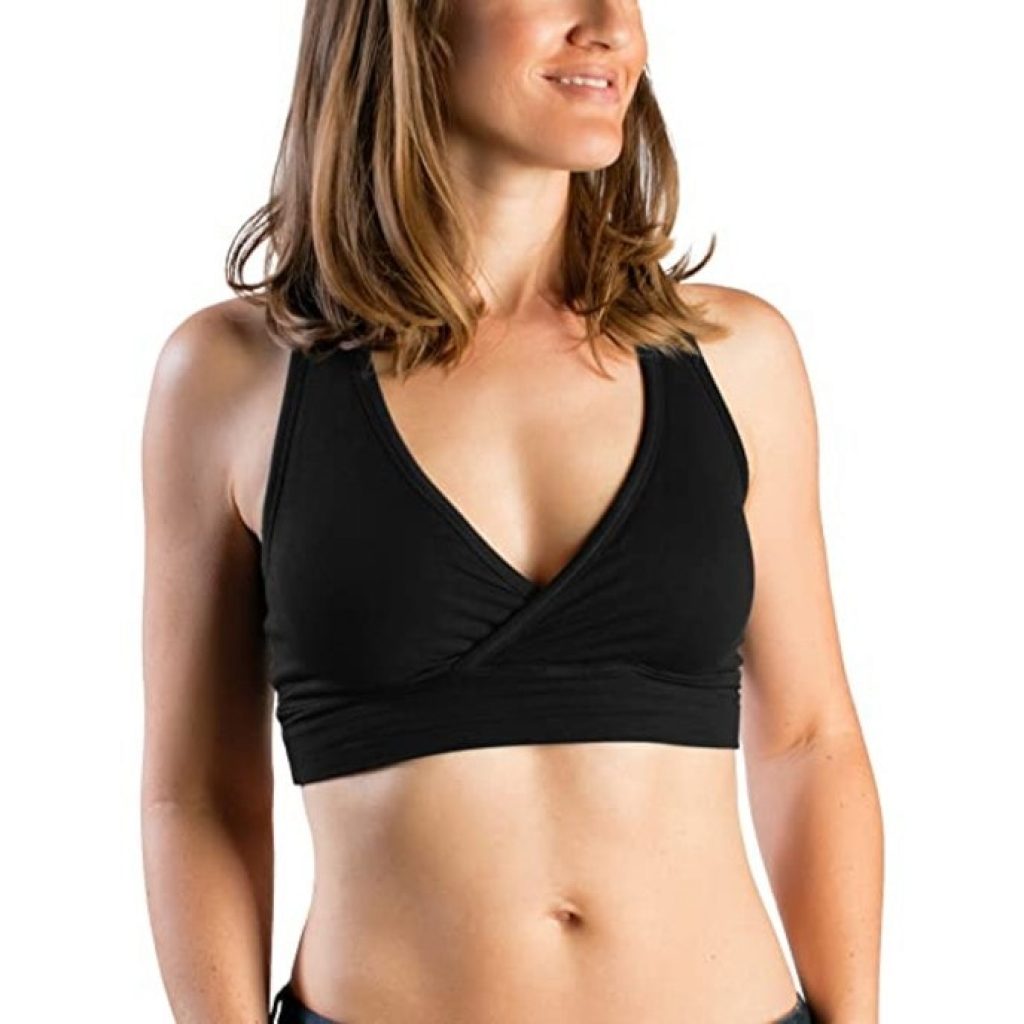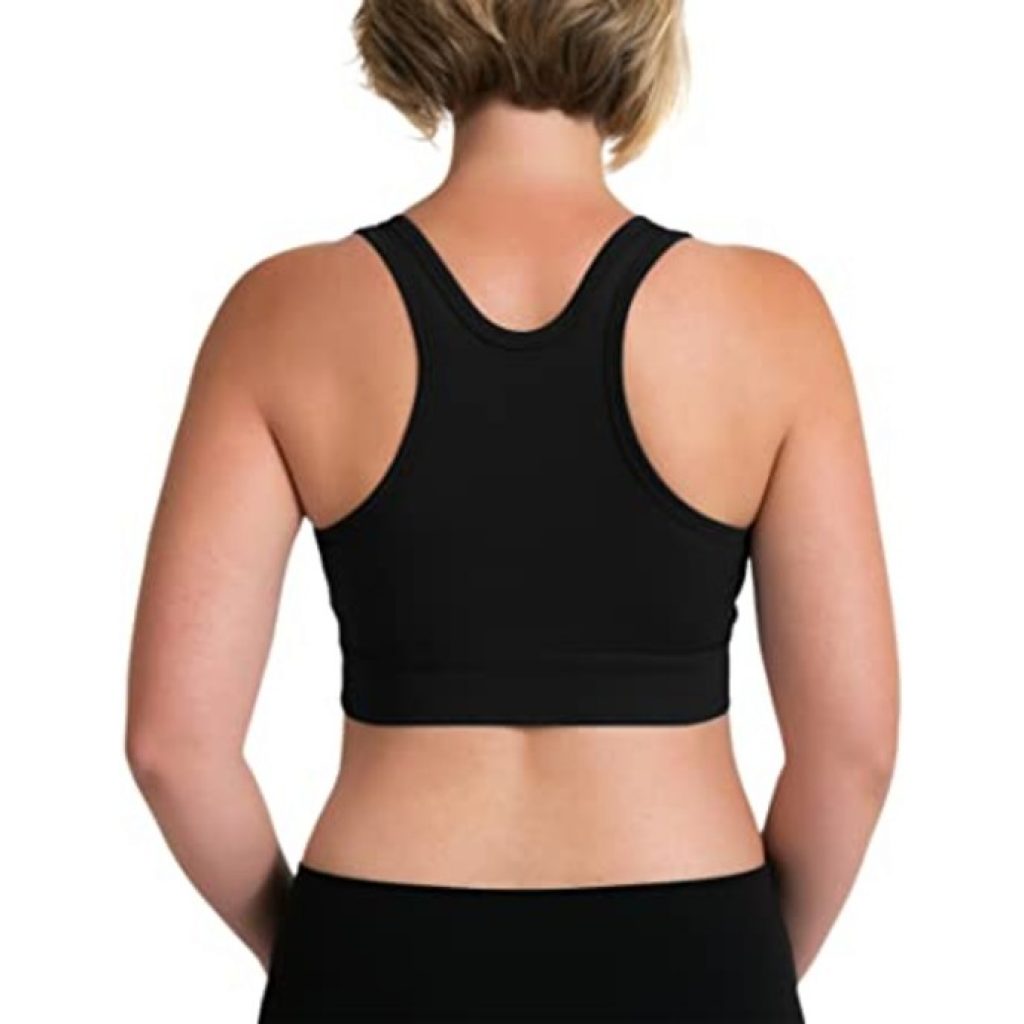 It is one of the most common and practical models. This bra does not have fasteners and seams; it is made of elastic material, which provides easy access to the breasts: you just need to remove the piece of fabric to expose the breast. The soft cup top is ideal for feeding your baby, providing easy access to the chest. It's also perfect for everyday wear and sleep, thanks to the absence of bones and rough fasteners. The one-piece back and wide straps do not press but support the breasts perfectly. If they swell, which often happens during lactation, the elastic cups will adjust to the new size. I've heard about this bra from a friend of mine, and she said that this is the best maternity bra she had during her two pregnancies.
Soft and stretchy material is super comfy, and the bra fits perfectly as well. This nursing bra with a dense, seamless cup is made of natural soft material. The wide straps and the cross-shaped arrangement of the cups for easy access to the breast when feeding the baby allows the cup to open especially wide due to its triangular shape. The chest remains firmly supported even with the cup open, thanks to the lateral support system. Due to the seamless dense cups and straps without decor, this bra will look good if you wear it under any clothing.
Sale
Kindred Bravely French Terry Racerback Nursing...
AWARD-WINNING COMFORT - The ultra-soft French Terry Racerback Bra is a wire-free nursing bra with no clasps or hooks to mess with. No wonder it's been named a Mom's Choice Award Winner!
A NURSING MOM'S BEST FRIEND - This nursing sleep bra features easy pull-aside breastfeeding access so you can move comfortably day or night. With ultra-soft, stretchy fabric, this nursing sleep bra is designed for fluctuating breast sizes.
IDEAL FOR SLEEP - The French Terry Racerback maternity bra offers gentle support during pregnancy while you sleep. Great for midnight nursing sessions and for keeping breast pads in place.
---
PROS:
Elastic;
Convenient access for feeding;
A wide flexible band under the breasts.
CONS:
It won't provide essential support for very large size of the bust.
---
Cake Maternity Women's Nursing Bra: Pregnancy Sleeping Bra for Sporty Mommies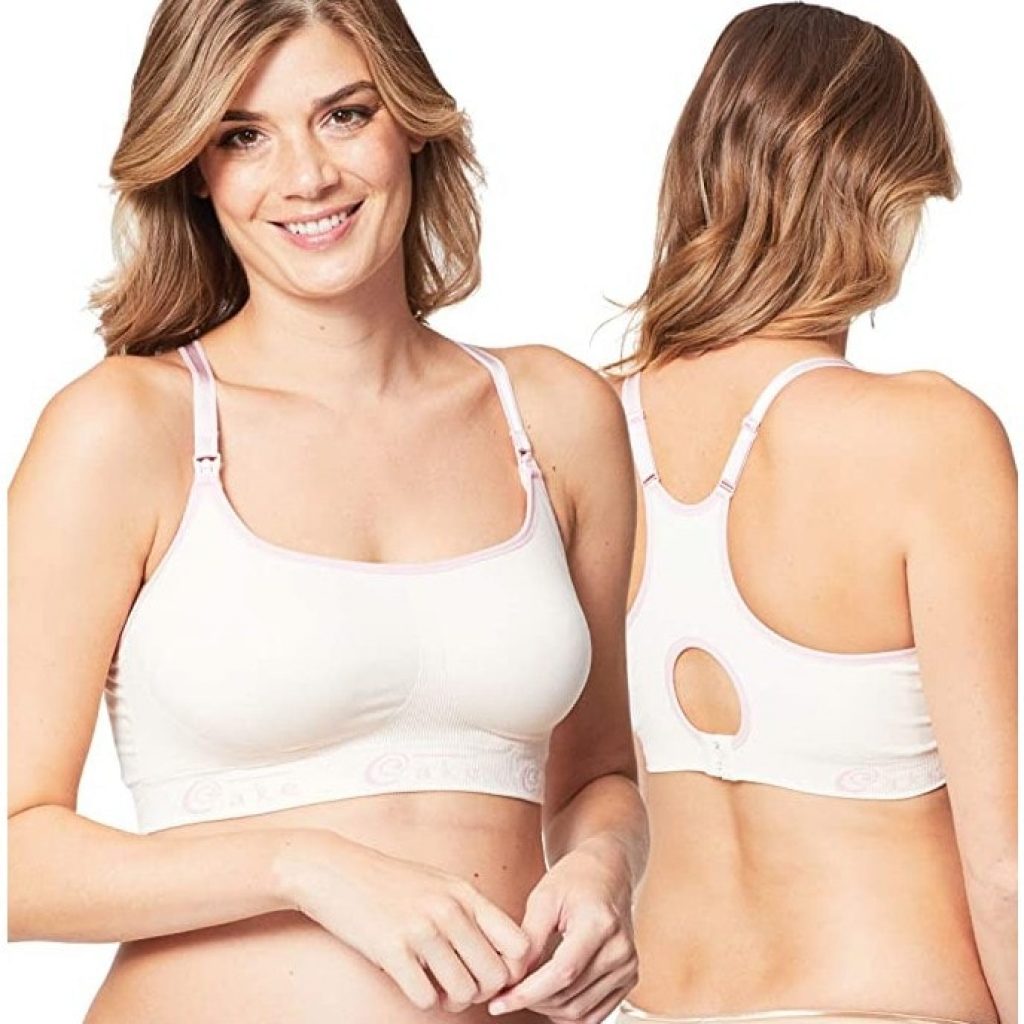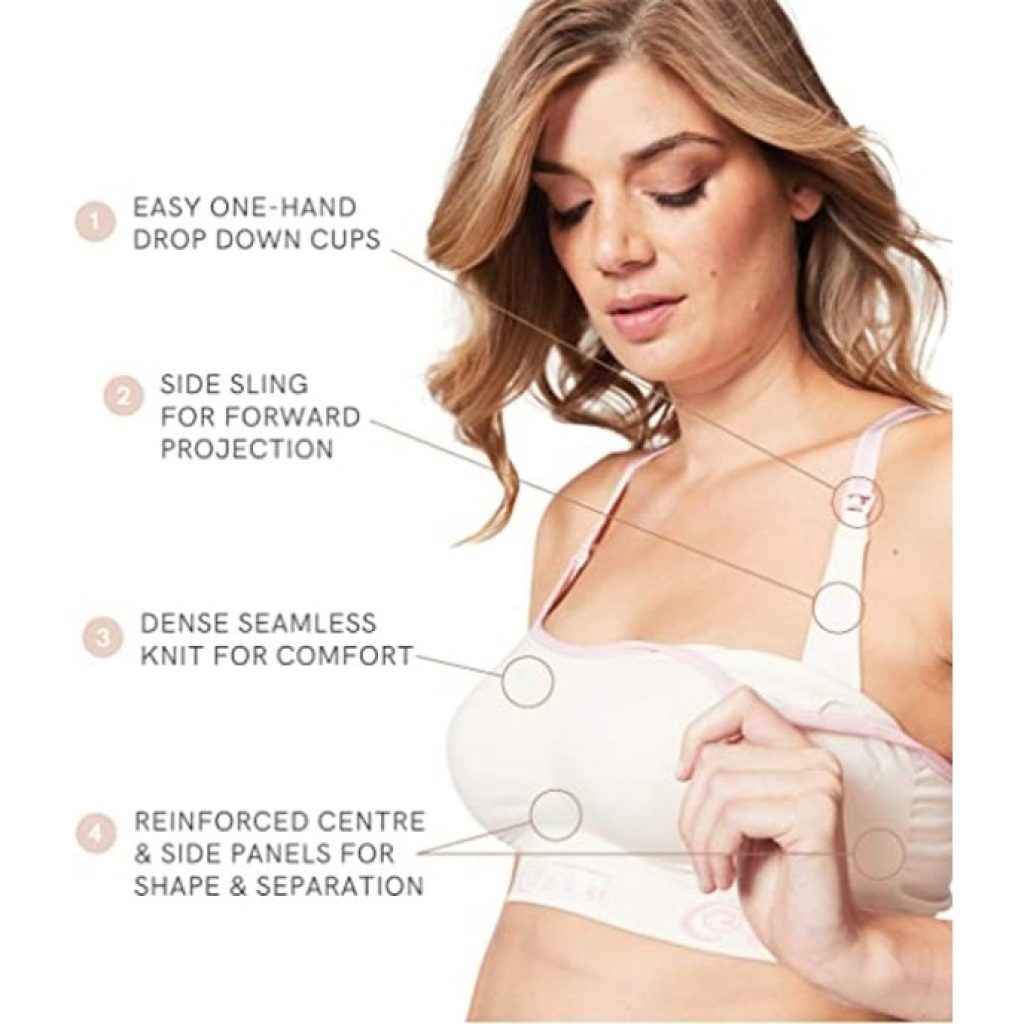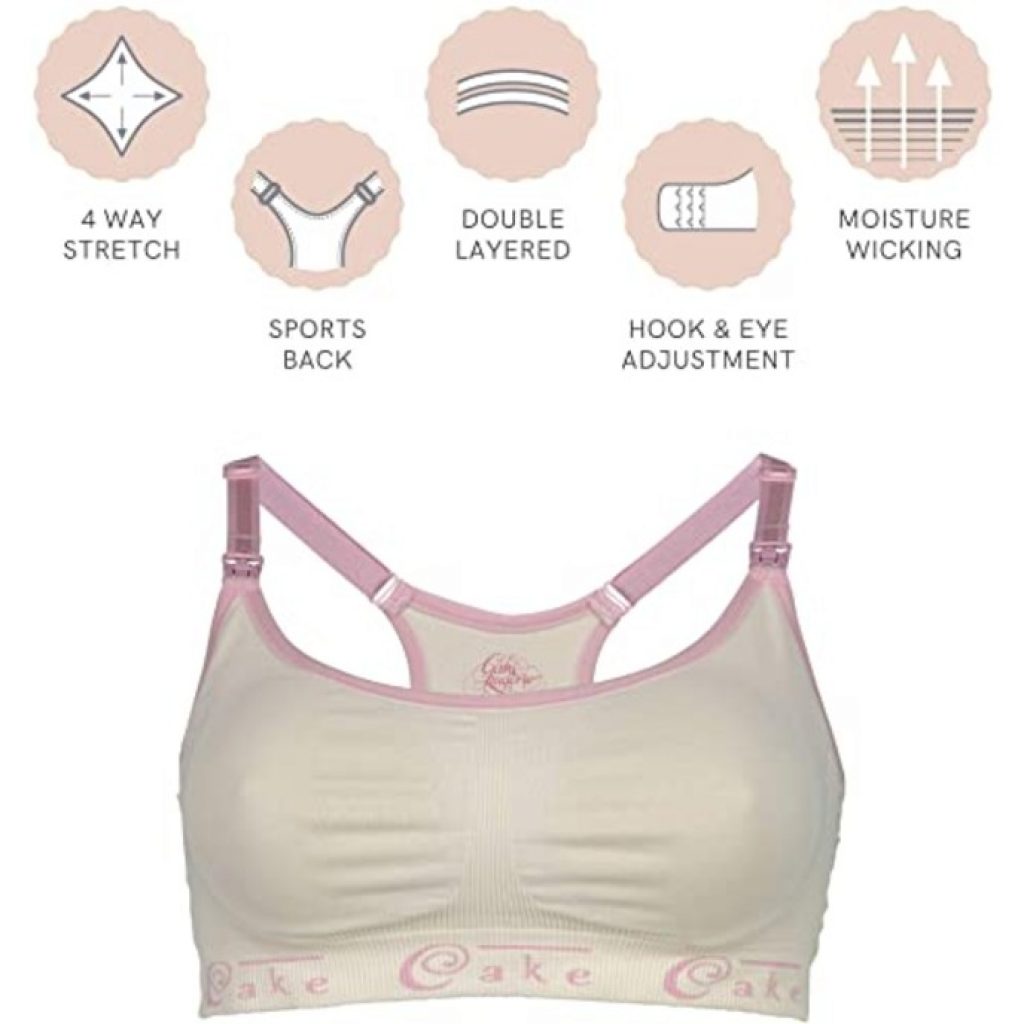 Female breasts become larger before childbirth and will continue to grow even more during breastfeeding. But using a simple bra of a larger size won't provide you with needed functions and proper breast support. A nursing bra made with hypoallergenic fabrics does not irritate the skin or rub it, and the absence of bones and stiff seams prevents compression of the lactating breast. Cups are slightly larger in such underwear, which makes changes in breast size for a woman almost imperceptible.
This nursing bra is a very comfortable and indispensable element of maternity underwear. It is made of soft, breathable fabric, which contains elastic fibers. This allows the linen to change according to the physiology of a nursing woman during the whole period. Such type of nursing bra has the elastic material that is easily stretched to expose the bust. You can just shift the cup sideways or down.
The bra is very cozy to wear, has no seams, and fits owners of breasts of any size. Due to the wide elastic band under the cups, the bra supports the breasts and provides the shape-preserving feature. To access the breast and feed the baby, unclasp the special fastener, and remove the upper layer of the bra. By the way, the covering layer has space for leakage-protection pads, so it is possible to wear it in the daytime as well. I also had this bra during my breastfeeding period, and I liked it a lot.
Cake Maternity Cotton Candy Wirefree Nursing Bra...
FOR THE MINDFUL MAMA: Ideal during your pregnancy & for breastfeeding, Cake Maternity is consciously made with love by mamas for mamas. This wireless nursing bra is a labor bag essential, also one of your pregnancy must haves & postpartum essentials. Ideal as pregnancy gifts for first time moms too. From nursing bras to maternity clothes - Cake has got you covered! Designed in Australia.
UNIQUE NILIT6.6 SOFTEX MICROFIBER & OEKO-TEX CERTIFIED: This maternity soft cup nursing bra is densely knit with high quality yarn, which provides a cooling effect & soft silky natural second-skin feel. Apart from its superior comfort, this high tensile NILIT yarn will hold its shape during the frequent feeding & wash after wash. This wireless nursing bra is Oeko-Tex certified to be free from harmful substances, which reassure that the garment has been verified as non-irritating to the skin.
FOR SUPPORT & SUPERIOR COMFORT: This luxurious double layered full coverage nursing bra with shaped cups and structured panels, provide an ideal rounded shape and the best support possible for a no wire bra. Designed to be worn as an all rounder lounge, sport, yoga, sleep bra. Other moms say it is the best nursing bra to pack along to your hospital bag as a labor and delivery essential.
---
PROS:
Convenient to use;
Soft materials;
It preserves the form of the breasts.
CONS:
Poor wearing-out resistance.
---
Amazing Pack of Sleeping Bras During Pregnancy: HOFISH 3PACK Full Bust Seamless Nursing Maternity Bras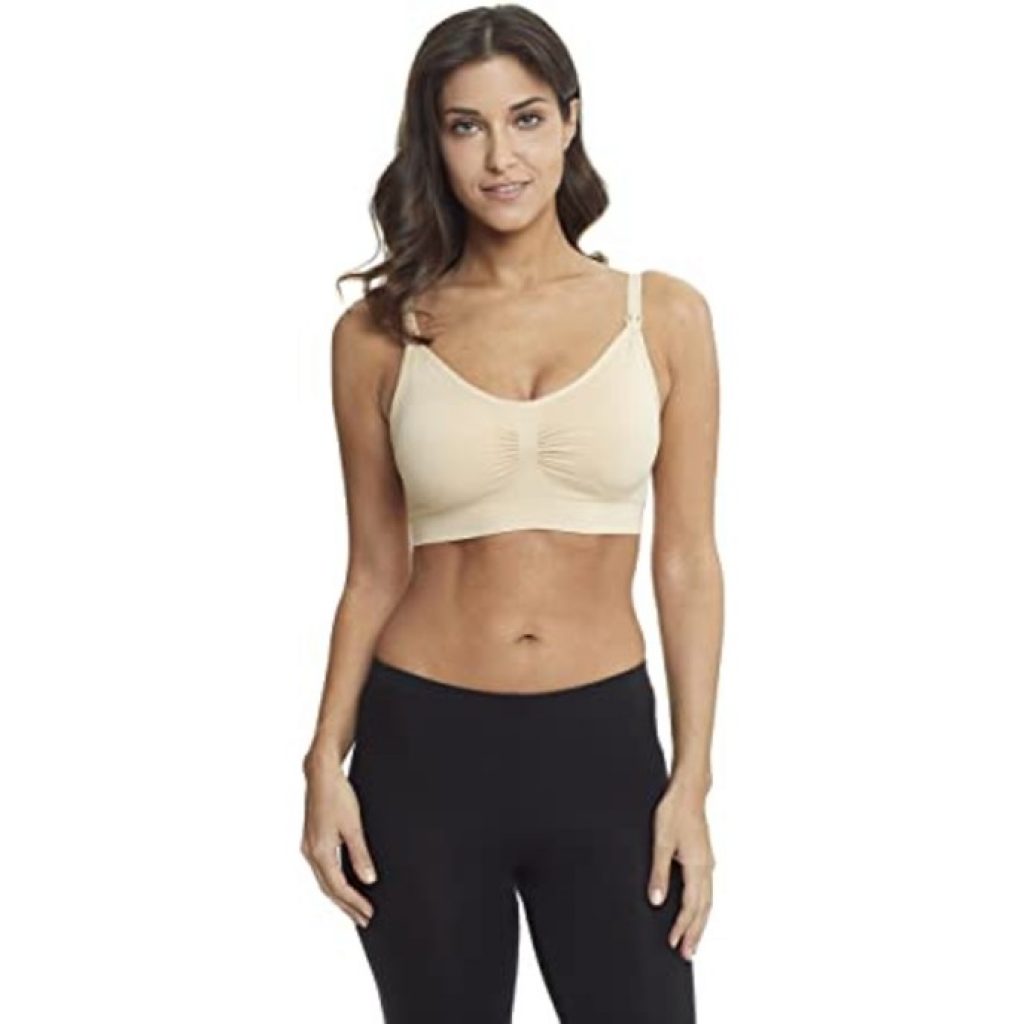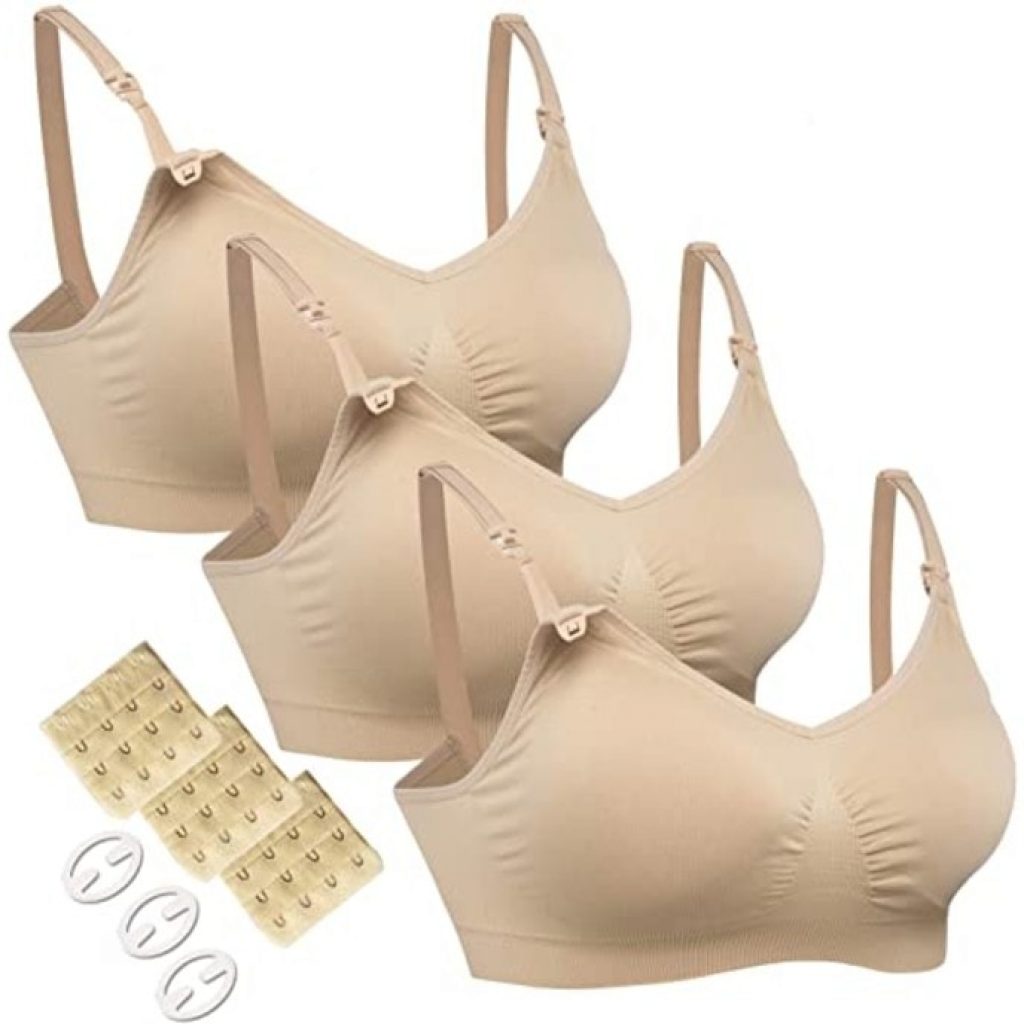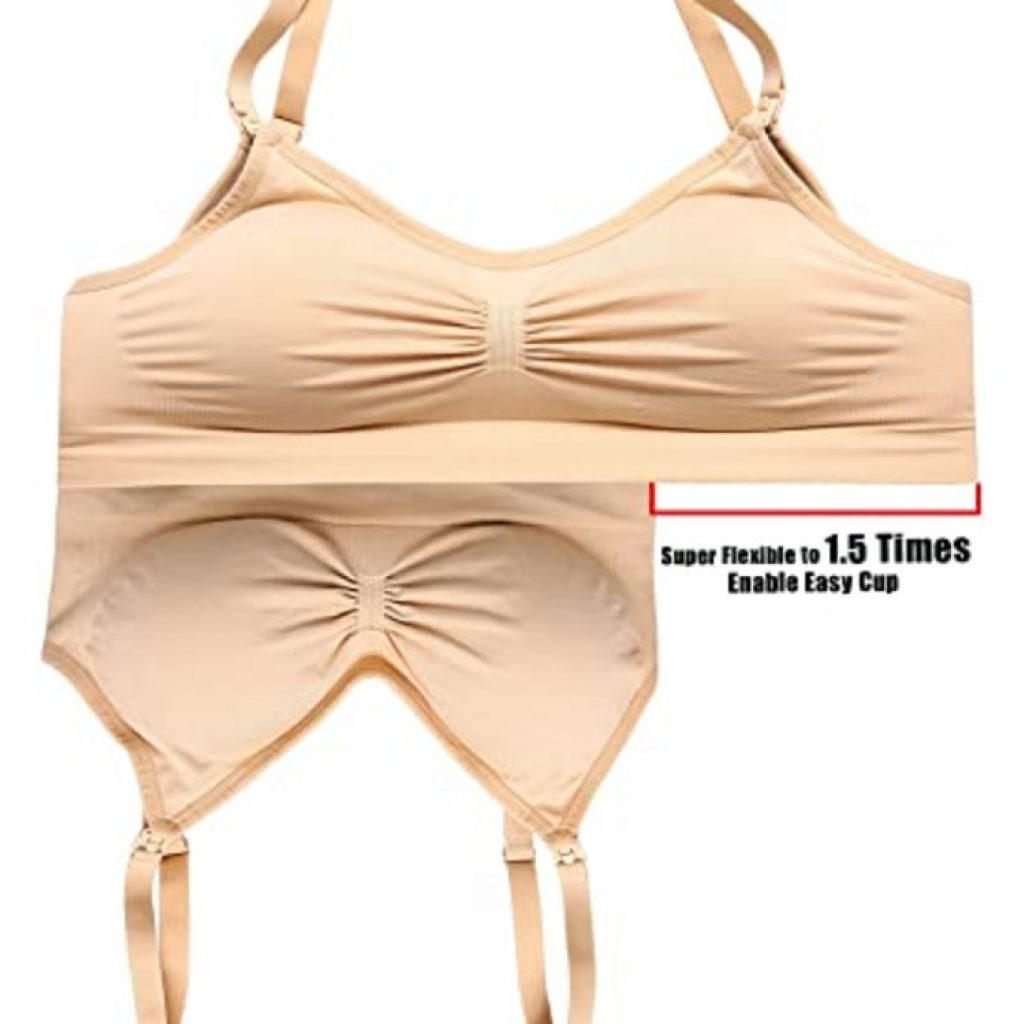 The bra is designed for nighttime wearing. This bra is a must-have for those who love tops. The item is made of soft elastic material, which includes 90% nylon and 10% spandex. The Hofish is an amazingly soft nursing bra with an elastic molded foam microfiber cup for your convenience. The lace in the middle allows you to change its appearance from the elegantly rounded classic style of the bra to a sporty, or adjust to the size of your breasts.
The very popular soft cotton formula provides good bust support every day. Seamless cups have on/off clasps that make cups easy to open. Two hooks with three different levels at the back for fastening are convenient for wearing and taking off. The seams of the bra are flat and soft and do not irritate the skin. The cup is unfastened by a light clicking on the button. Inside there is a special side panel that supports the bust and does not provide stretch marks on the skin. The straps are thin and completely unseen underneath your clothes so that you can wear the bra even in the day time.
Sale
HOFISH Women's Seamless Nursing Maternity Bra Push...
Package Including:3PCS Bras+3PCS bras clips+ 3PCS matching bra extenders to ensure maximum comfort
One-hand Access, Adjustable Shoulder Straps, Hook & Eye Closure.Easy drop cups for convenient feeding
Seamless, Side Widening, Super Supporting
---
PROS:
Comfortable to wear at any time of the day;
A pack of 3 is a profitable deal;
It provides effective breast support.
CONS:
Might not provide enough support for large breasts.
---
Daisity Women`s Seamless Sleep Nursing Bra: Convenient Option of a Quality Nursing Sleep Bra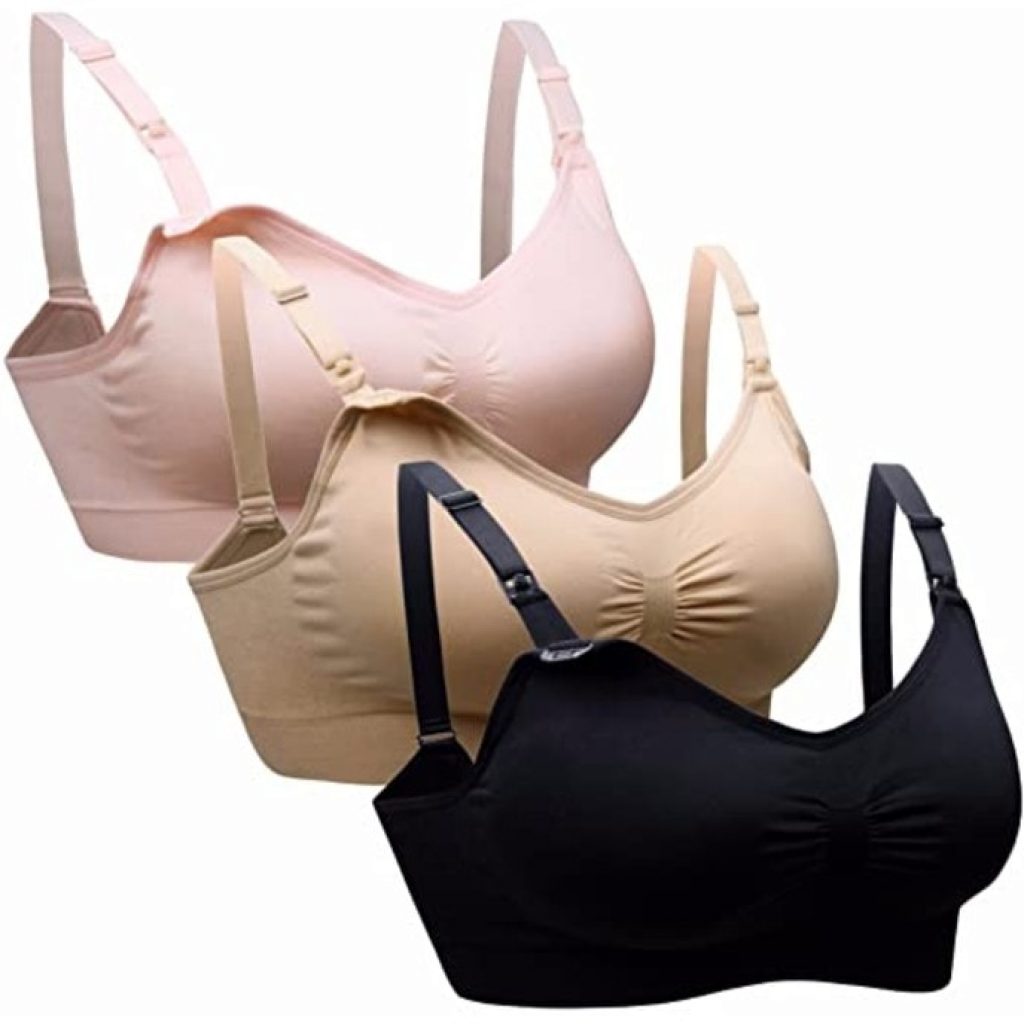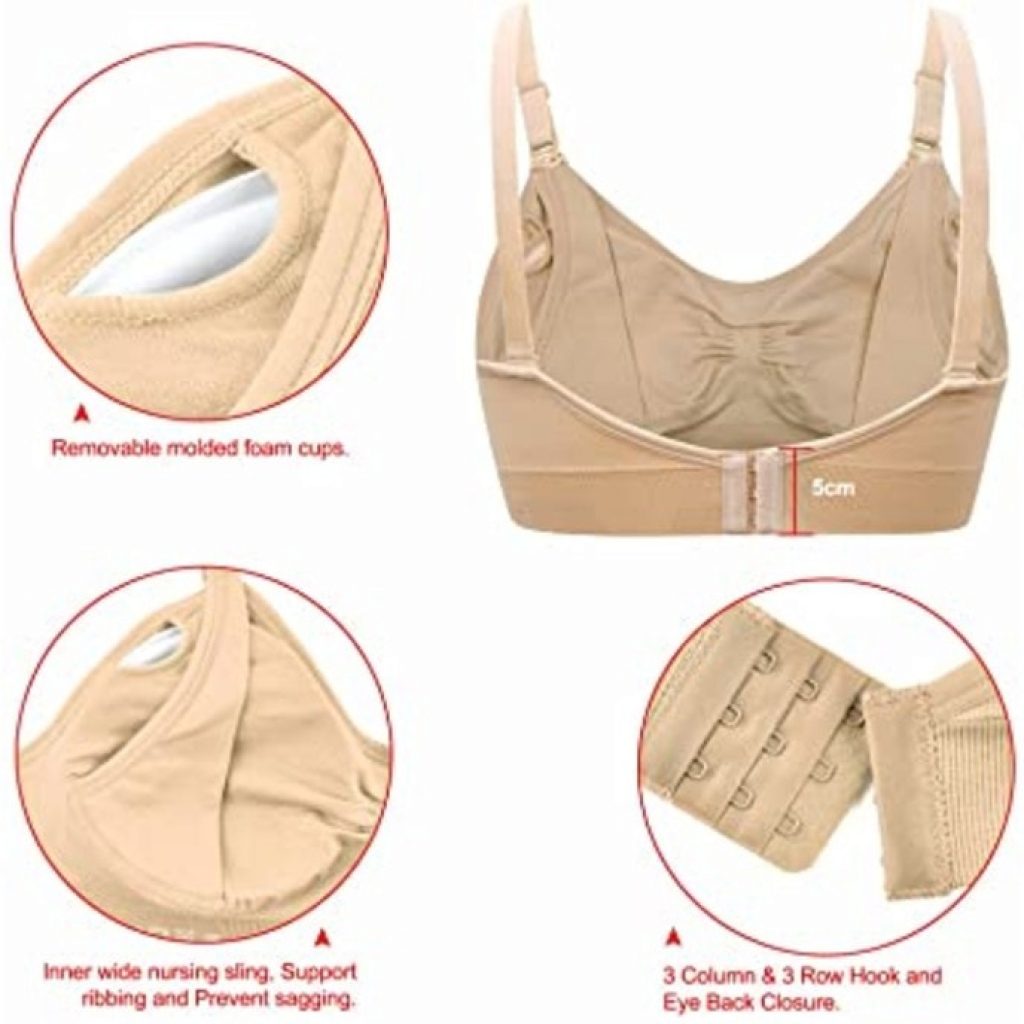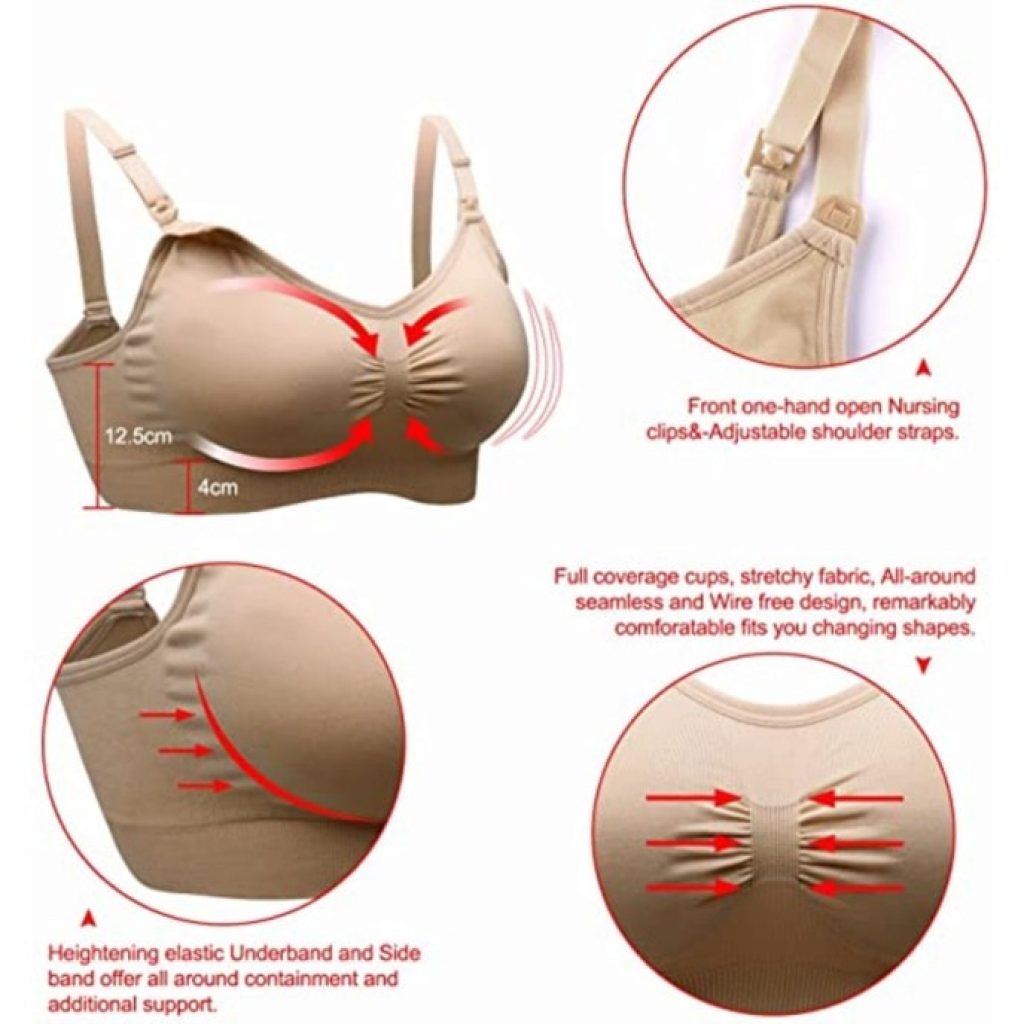 This model is great for supporting breasts on weekdays and breastfeeding at night. At night it's worth putting on a comfortable "breathable" bra for sleeping. It will hold the bra pads in needed place and make the feeding process more comfortable. There are many different models of sleeping nursing bras, but this Daisity option is definitely one of my favorites. The cups are soft and made using seamless technology. It has no stitches, so it does not rub the skin. To feed the baby, simply open the clasps of the bra, and move the cup to access the breast.
This bra for feeding is made of high-quality cotton linen. The convenient design evenly distributes the tension on the back and front. It's easy for a new mommy to feed her baby in such a bra by quick clips unfastening. A double layer of cotton on the front provides optimal breast support. Elastic material quickly adapts to the changing size of the bust. Support is provided by tightening the fabric at the bottom and sides, as well as thanks to the wide and soft straps. The straps are adjustable in height and also have fasteners at the base. You can recline one or both cups.
DAISITY Womens Seamless Sleep Nursing Bra for...
The Daisity Maternity Seamless Nursing Bra with Removable Pads helps you to feed your baby with less effort. It has adjustable straps for getting the fit just right. It has removable pads that help prevent leaks from showing through.
This adjustable nursing bra is made from a blend of cotton and spandex to be strong and soft and to give a stretchy fit. The seamless design helps to prevent irritation. An inner cup sling delivers added support when your breast is out.
This nursing bra is great for light work outs during and after pregnancy. Easy to open nursing closure.
---
PROS:
Amazing for wearing during day and night;
Fits both large and small breast sizes;
Seamless technology.
CONS:
Thin straps might not protect your back from the pressure of lactating breasts.
---
Medela Nursing Bra for Sleep and Breastfeeding: One of the Best Nursing Bras for Large Busts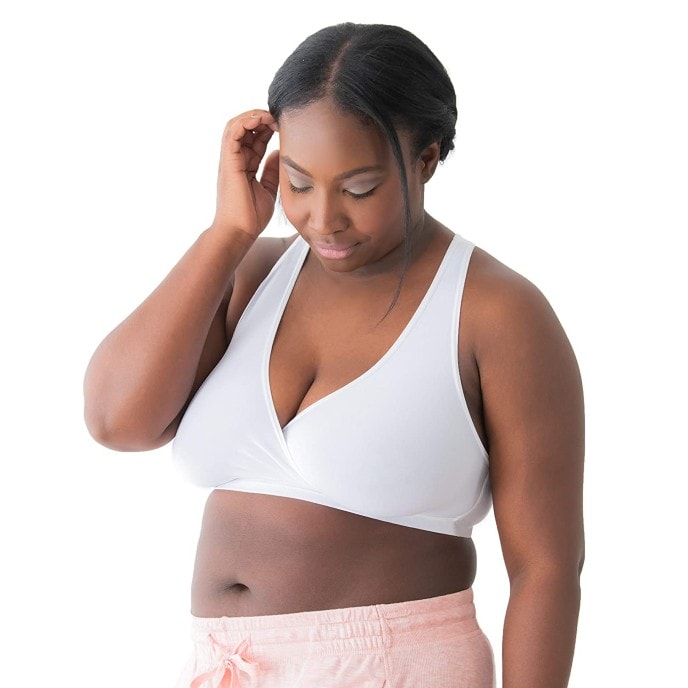 This is a bra with crossed front fabric cups. It is sewn from light, breathable material, which is almost not felt and does not cause discomfort. The soft-cup bra is ideal for breastfeeding, providing easy access to the chest. The item is suitable for everyday wear and sleep, thanks to the absence of bones and rough fasteners.
For mothers who practice joint sleep with a child, a night bra will be a real salvation. This underwear is functional, convenient to use, and I recommend it, especially for women with very large breasts. It is worth considering that the breast of a nursing mother changes in one-two sizes. Therefore, the space under the breast for feeding should remain unchanged. In this case, the Medela bra is one of the best options to choose from. The elastic material repeats the shape of the breast and correctly supports it.
Medela Nursing Bra for Sleep and Breastfeeding,...
CRISSCROSS FRONT: The seamless design with crisscross front makes the Medela Nursing Bra easy to handle during those nighttime feedings. The racerback style with wide rib band promotes added comfort.
WICKING PROPERTIES: This nursing bra is infused with an improved fabric blend designed to keep moisture away from the body.
FOUR-WAY STRETCH FABRIC: For added comfort and flexibility, the Medela Nursing Bra for sleep and breastfeeding is made from four-way stretch fabric that adapts to your changing body.
---
PROS:
Sporty style bra;
Convenient for day and night wearing;
Soft material.
---
For your convenience, let's recollect the basic parameters for choosing a perfect nursing bra:
The material of manufacture.
It must pass air well and not soar, remove excess moisture and not cause allergic reactions. Consider some beautiful models made of cotton, in which 5-10% elastane or lycra is added. These options are usually simple sporty bras with increased wear resistance.
When your breast swells with milk, your back gets extra tension. In nursing bras, wide straps are used to hold even large breasts well. As a rule, fasteners have from 2 to 4 fastening positions, which will allow you to adjust the size of the bra.
Material and processing of cups.
The cups` main purpose is to be soft, not to squeeze the breasts, and to open easily for feeding. It is better if there are no seams in the cup or, in extreme cases, they are not located on the nipple line.
In Case You Still Have Questions
It is natural for future mothers to have a lot of questions during preparation for motherhood and birth-giving. Many queries are also associated with underwear, and I will try to answer the most common ones.
Should I wear a bra at night while breastfeeding?
The night is the time when your body recovers actively. Therefore, at night it is vital to provide the breast with the necessary fixation and not to squeeze the milk ducts. Excessive compression of the breasts, especially when it comes to sleep without proper underwear and on the stomach, leads to stagnation of milk. The most "favorable" result, in this case, is a decrease of milk arrival, and the unpleasant one is the formation of tumors and surgical intervention. Doubt whether you need to remove a bra for breastfeeding at night? Change it to a special nighttime nursing bra to protect yourself from unwanted problems.
How do nursing bras work?
Specialized underwear gives optimal breast support and reduces the risk of stretch marks by almost 90%. What is a nursing bra for? To make it convenient to breastfeed and maintain the health of a mother. To expose the breast in a regular bra, you need to unfasten a bra on the back, raise the cup, i.e., almost take it off because the second breast is exposed. In a nursing bra, you can simply unfasten the cup with a clip, pull one (!) cup down, without exposing your chest completely. Therefore, the breasts are almost completely closed. And if you feed the baby at night, it simplifies the process significantly.
When to buy nursing bras during pregnancy?
It is best to buy a breastfeeding sleep bra at the end of pregnancy (from about 36-38 weeks) when the breast is almost ready for milk production; you can take care of the purchase of a nursing bra.
A nursing woman will need at least 2-3 such bras: one is on you, one — in the washing machine, and one — in the closet. If you have a little more, then you can wash them less often. And, of course, you must not forget to take them with you to the hospital. A couple of weeks after the birth, when your breasts have reached their final sizes, be sure to take care of expanding the collection of nursing bras.
How many sleeping nursing bras do I need?
It all depends on your preferences and finances. Modern nursing bra models look lovely and sometimes aren't that good in milk leakage protection. Doctors recommend having at least two nursing bras. For example, you wear one and have another one in your closet just in case anything happens. Or you can change the bra when you're going to sleep since your breast needs proper fixation as well.
Taking care of health during pregnancy is the main task of a woman. Special vitamins, mineral supplements, comfortable clothes, and the "right" maternity underwear provide a future mother with essential care. The choice of underwear is directly related to changes in the woman's body. Therefore, you should change the usual underwear to a special one.
How to Choose the Most Comfortable Nursing Bra?
Every woman planning to become a mother should know how to choose the best nursing sleep bra. This is necessary not only to reduce pain but also to maintain the original shape of the bust.
Although the bras of nursing mothers are similar in appearance to ordinary ones, there are significant differences between them. First of all, we are talking about strengthening some elements: breasts support and special cups, wide straps, paddings, more hooks for fastening.
Wearing ordinary bras instead of specific ones (for example, a cotton nursing bra) is not the best solution since the breast can change its size several times a day during the feeding period. Also, with an ordinary bra, you will not be able to remove it in one motion to feed the child, and this often causes some discomfort.
I hope this guide has enlightened some essential questions about choosing the best sleeping nursing bra. Is there anything I missed? Please, tell me using the comments section. I'd love to hear about your breastfeeding experience as well. Have you tried making a DIY nursing bra? Feel free to share your advice!
Last update on 2022-05-26 / Affiliate links / Images from Amazon Product Advertising API