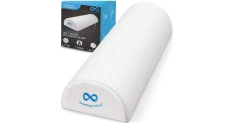 Memory Foam Half Moon Bolster Pillow Review
Everlasting Comfort is a brand of a larger US-based company specializing in home products for health and wellness, in particular pain solutions. The latter is also the case with this half moon shaped bolster pillow – according to the manufacturer's website, it can relieve knee, back, leg, and sciatic pain.

Memory Foam Half Moon Bolster Pillow
PURE MEMORY FOAM - Our memory foam leg pillow is pure with no additives and is made from the exact same material as the world's best memory foam manufacturers.
This is a versatile article that can be used for neck or back support as well as placed under or between your legs. The latter option is known to relieve the strain on your lower back.
Memory Foam Half Moon Bolster Pillow Details
| | |
| --- | --- |
| Manufacturer | Upper Echelon Products LLC |
| Country of production | Designed in the USA, Made in China |
| Size | One Size |
| Product Dimensions | 21 x 8 x 4.5 inches |
| Weight | 1.5 pounds |
| Cover Material | Bamboo |
| Material | Therapeutic Foam Wedge |
The effect is achieved through an ergonomic half moon shape and the use of pure memory foam, a material that conforms to your neck and head contour. The contoured shape, as opposed to the conventional bag-like down pillow, makes a healthy sleeping surface for your cervical spine.
This pillow comes with a breathable, machine-washable, and dryable cover. It goes with a lifetime replacement guarantee.
Best For
This pillow by Everlasting Comfort might prove beneficial to people suffering from pain in their lower back, neck, and shoulders, as well as legs and knees. Sleeping with a pillow under your knees is also advised if you suffer from persistent pain along the sciatic nerve, known as sciatica.
Pregnant women stuck sleeping on their sides might appreciate the ability to place a memory foam pillow between their knees or ankles to relieve their lower backs, too.
The highly personalized shape that the material's ability to "remember" brings about means it can be used regardless of your body shape.
Not Recommended
Extremely hot sleepers might find that the memory foam in this pillow retains too much heat, especially when used for neck support. It is also not the best option for outdoor use as the material is not water-resistant.
Half Moon is not the kind of pillow to use when sleeping on your stomach as this style requires a very flat one to prevent a steep curve in your back.
Also read:
Takeaways
Everlasting Comfort's half moon pillow is a great way of fine-tuning your sleeping position if you suffer from chronic pain in your lower body or if you are a pregnant woman who needs to relieve her lower back. Made of 100% memory foam, it adjusts to your shape perfectly for optimum comfort.
Have you already tried using a pillow to relieve pain? Please share your story in the comments!
Memory Foam Half Moon Bolster Pillow Review: What's Good and What's Not
This is a generally excellent product that deserves 10/10 for its orthopedic design. The memory foam plus cover combination scores 9/10 because it lacks water-resistance and might feel a bit too hot but is flexible and not likely to cause allergy. Finally, I'm giving it an 8 for comfort because some people will find it unwelcomingly hard but it does a great job of killing pain.
PROS
Versatile
Relives knee, leg, back, and sciatic pain
Healthy neck support for back sleepers
Comes in a washable cover
Lifetime warranty
CONS
Pricier than some competitors
Might feel too hard if you aren't used to contour pillows
Add your review
|
Read reviews and comments