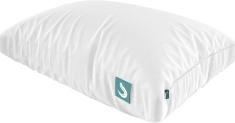 Founded in 2016, Sleepgram is a highly specialized Californian-based company that's best known for its "three-in-one" pillow. The flagship product has been getting a lot of attention, so I've decided to test it and share with you my unbiased Sleepgram pillow review.
Sleepgram Pillow
FULLY ADJUSTABLE PILLOW with LONG-FIBER - ADD or REMOVE inserts to adjust to your comfort, perfect custom made pillow each time - for all sleep positions. Allows greater ventilation than adjustable foams - Promotes proper alignment allowing deeper sleep through the night.
The reason it's referred to as three-in-one is that it consists of two parts which can be used separately or together, offering you a total of three support levels. The two inserts also differ in loft. That is, you decide how firm and how high your pillow is going to be this time. The outer part bears two zippers to save your time making the adjustments.
Sleepgram Pillow Details
| | |
| --- | --- |
| Manufacturer | Sleepgram, LLC. |
| Country of production | Designed in the USA, Made in China |
| Size | Standard |
| Product Dimensions | 26 x 18 x 8 inches |
| Weight | 3.5 pounds |
| Fabric Type | 100% Cotton |
| Included Components | Cotton, Premium Microfiber, Polyester |
| Hypoallergenic | Yes |
The pillow comes in Queen and King sizes and features a polyester-lined cotton cover, which is a breathable and dust-proof combination that contributes to dust mite prevention. Since the tiny insects are a common cause of dust allergy, a Sleepgram pillow is a welcome solution for people who suffer from this condition and/or asthma. Inside, there is a microfiber filler – a hypoallergenic alternative to down.
Best For
The Sleepgram pillow was obviously made with combo sleepers in mind, that is, people who change position in their sleep.
Apart from the sleeper's body weight and subjective preferences, sleeping experience is further influenced by how firm the mattress is as well as the shape of your neck curve. With the flexibility that Sleepgram offers, it will fit most body shapes, including children's', in the supine position.
It also offers good support for petite to medium-heavy side sleepers. Those who tend to sleep on their stomach will benefit from the ability to leave just one of two inserts, which reduces the stress that the posture puts on your back.
Not Recommended
Side sleepers, especially bigger ones, might find it too soft even at the firmest setting, especially when placed on a not-so-firm mattress since the maximum support level it offers is medium-firm.
While really versatile, Sleepgram is not the best pregnancy option out there as it doesn't offer full-body support.
Also read:
Summing it Up
Sleepgram has gone a long way to make its pillow a one-size-fits-all solution. It combines intuitive design with healthy material and offers a lot of flexibility for most sleeper categories unless they like their pillows extra firm.
Are you a combo sleeper? If yes, what do you feel your pillow lacks?
Those who've tried Sleepgram are very welcome to share their opinion in the Comments section!
Sleepgram Pillow Review: A Therapist's Opinion
In my opinion, Sleepgram deserves a full 10 for design because it's easy-to-adjust and flexible. As for material quality, it does tend to go flat without regular fluffing but is hypoallergenic and reasonably durable, which makes it a 7/10. Finally, I'm giving it 8/10 for comfort due to the almost infinite adjustment potential that still lacks a bit in terms of firmness.
PROS
Adjustable loft
Three levels of firmness
Hypoallergenic materials
Machine washable
Clever double-zipper design
CONS
Not inexpensive
Might lack firmness for heavier side sleepers
Add your review
|
Read reviews and comments