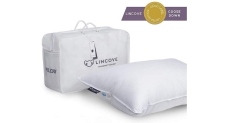 White Down Lincove Luxury Pillow Review
The down pillows are one of the fluffiest and most efficient items. Most people think that feather makes the pillow long-lasting and warm. However, this firm type may wear out quickly. Down is a layer that geese have underneath their feathers – it keeps the heat inside and protects animals from moisture. That's why its features are perfect for sleeping pillows.

Lincove 100% Canadian White Down Luxury Sleeping Pillow
HIGH QUALITY MATERIAL - Durable 600 Thread Count Cambric Woven 100% Cotton Casing is the perfect blend of luscious softness and durability. Fluffed with a 100% Canadian White Down for an ultimate experience while sleeping, along with 800 fill power accentuating the premium quality.
The Lincove pillow is RDS certified. That means that the provider guarantees that the down material was made without any unnecessary harm to animals. A manufacturing process is controlled from the beginning and until products reach shops. The pillow is light and airy. The filling takes up almost all the cushion space. Such a design makes a pillow fluffy, but at the same time, it doesn't make the item heavy.
Your primary sleep disorders will disappear with this pillow, and you will have a warmer sleep. A blanket is not the only thing that is responsible for keeping you warm during the night. Down saves your heat much better than synthetic materials. And the body temperature becomes better controlled with the Lincove pillow. Besides, it helps you to get the right sleeping position and breathing. It doesn't matter what sleep style or nocturnal habits you have. A goose-down pillow molds to your body contour and supports your neck and head.
White Down Lincove Luxury Pillow Details
| | |
| --- | --- |
| Manufacturer | Lincove |
| Country of production | Designed / Packaged in the USA |
| Size |  Queen – Soft |
| Product Dimensions | 20 x 30 inches |
| Weight | 1.15 pounds |
| Fabric Type | 100% Cotton |
| Fill Material | 100% White Down, 100% Cotton Shell, 800 Fill Power, 600 Thread Count |
| Hypoallergenic | Yes |
What is inside is surely important, but the pillowcase also plays a big role. It is made of high-quality cotton. This fabric is perfect for your skin – it won't cause the allergy and is pleasurable to lay on. Besides, you may also buy the pillow protector separately. I recommend you to do this because it protects your cushion from house dust mites that worsen asthma and breathing problems. It's significant if you want the pillow to serve you for long.
Best For:
Stomach sleepers
Back sleepers
Side sleepers
People with gentle skin or hypersensitivity
Not recommended:
Children (could be too firm for kids and teenagers)
Also read:
Let's Recap
This pillow is ideal for people who have gentle skin or hypersensitivity. I think it will be a great gift for your loved one or a friend. Have you ever slept on a down pillow? Did it feel comfortable or not? What do you think about the Lincove cushion? I'm waiting for your comments.
White Down Lincove Luxury Pillow Review: A Cushion for Every Body
The pillow that is fluffy and light at the same time is an excellent choice for the sleeping cushion. Lincove cushion will fit everybody and give you the support you need. This goose-down pillow keeps you warm during the whole night, and besides, the cotton pillowcase provides the comfort you need.
PROS
Fluffy and lightweight;
Made without harming the animals;
Keeps you warm;
Supports your neck and head no matter what sleep style you have;
Has a cotton pillowcase.
CONS
Can be too firm for some people.
Add your review
|
Read reviews and comments