You will not believe how the most random things can affect our mood, health, and, subsequently, our quality of life. When I just started studying sleep, and the factors that influence it, I did not expect that everything from your sleeping pose to the material of your pillow affects how deep and safe your dreams are. It subsequently affects your mood in the morning and even the purity of your skin.
While looking for a high-quality organic cotton pillow, such characteristics as filling, orthopedic materials, ergonomics, height and density are often more confusing rather than helpful. There are so many types of pillows that choosing a perfect one is hard. You always risk getting a non-natural cover that causes allergies, a non-breathing pillow, or an uncomfortable height that causes headaches in the morning. All the unpleasant sensations in the neck and soreness of the body, which you can't just get rid of, are usually caused by an uncomfortable, staffed pillow. That is why you should pay attention to choosing a right, organic pillow.
Amazon Bestseller
Top 10 Best Organic Pillows
There's no need to stress the importance of the right fabrics and materials for filling and cover of your pillow. When it comes to a cushion, it must be of the highest quality inside-out. Harmful fillers can cause allergies or be toxic. Some of the materials can not only cause headaches but also bad acne, due to bacteria and dust that is gathered inside of the pillow. That is why you need to be extra cautious when selecting a personal pillow to guard your sleep. Here are some of the best organic pads to choose from.
100% Organic Latex Contour Pillow for Neck Pain – Best Non Toxic Pillow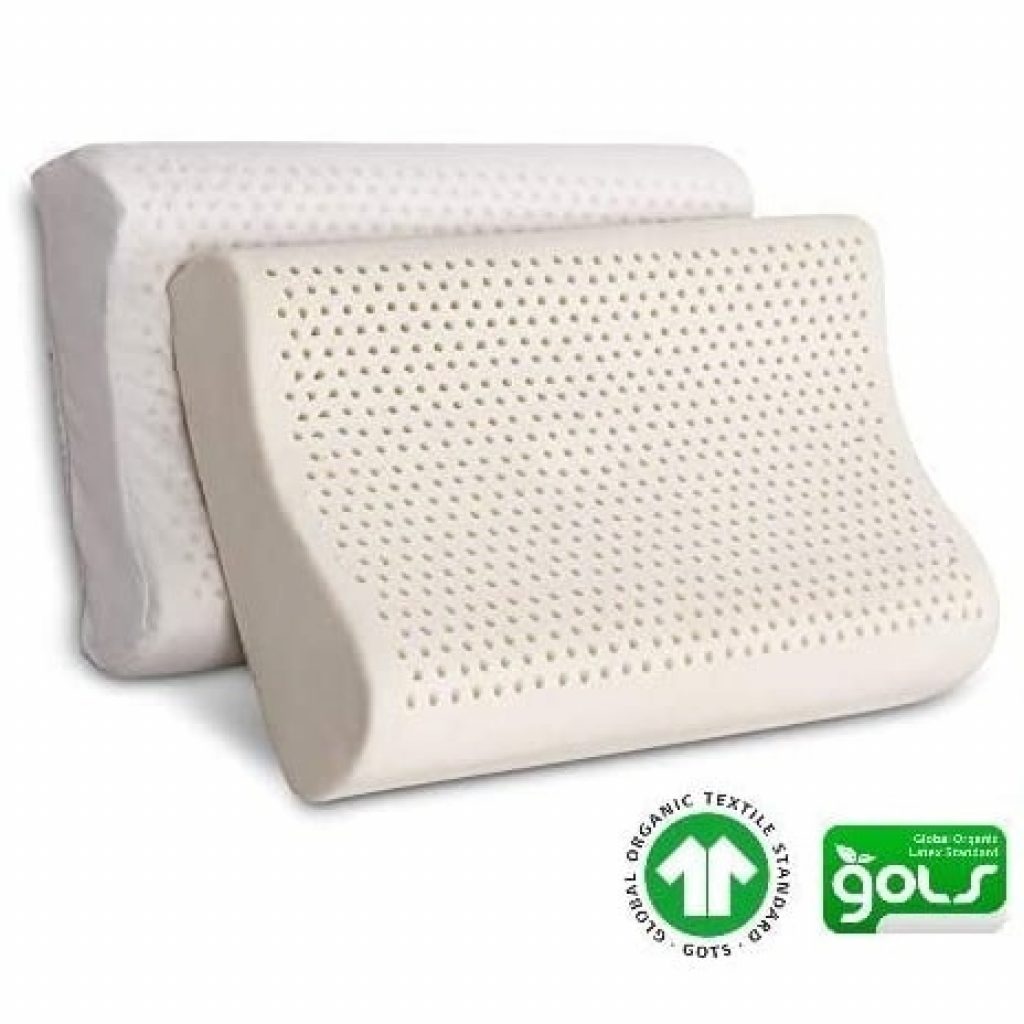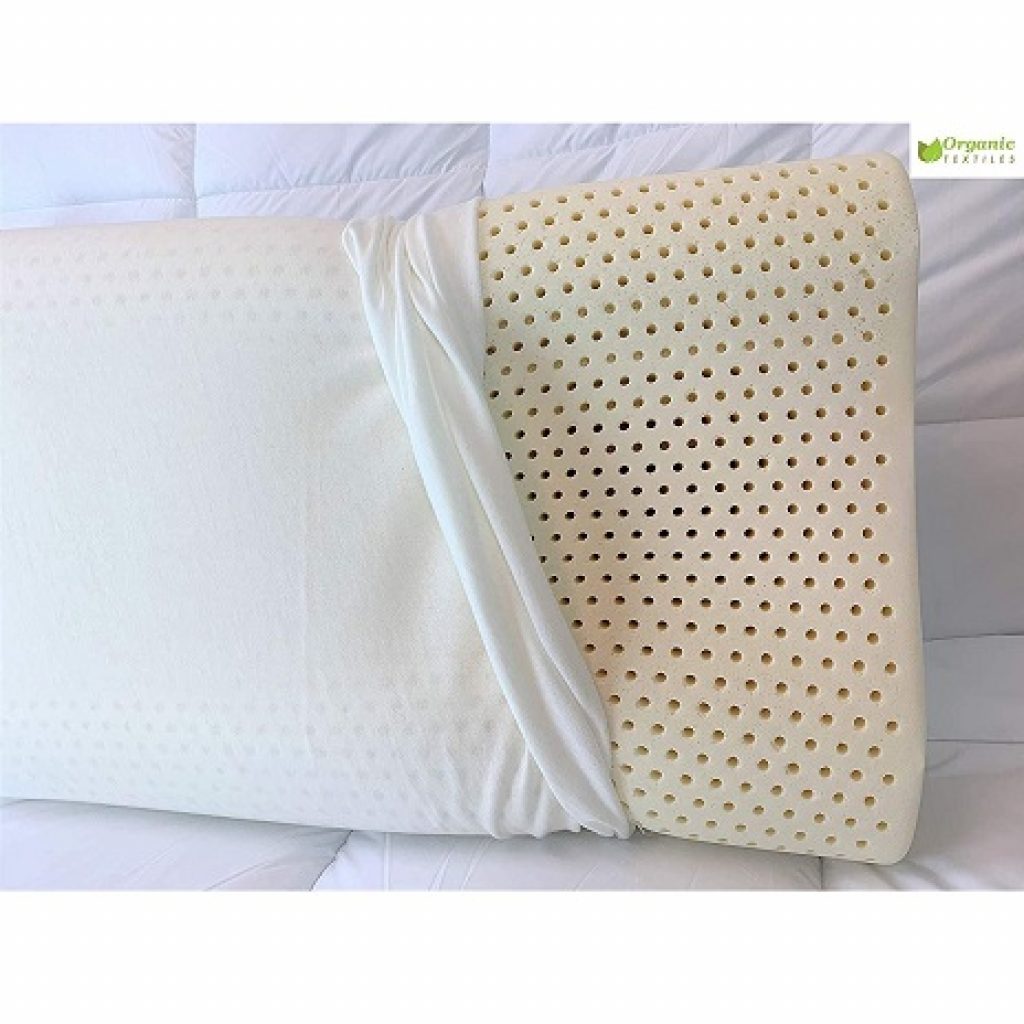 An organic pillow should be made from suitable fabrics and provide the necessary qualities for a good sleep. It includes its density, softness, comfort for the spine, and the neck's bends to avoid unpleasant pain caused by sleep. The manufacturers tried to make this pillow of perfect height and width so that your neck rests calmly.
The pillow is made from an organic latex material, approved by GOTS, which means you shouldn't be afraid that the fabric has been processed or can cause allergies. Latex foam does not allow dust mites or bacteria to take root but also pleasant to the touch. The organic cotton coating will provide a comfortable sleep without overheating the pillow.
So you can be sure that the pillow will serve you for years. It's made from harmless materials. The cushion cover is removable and machine-washable, so the pad will not lose its outwardly presentable appearance for a long time.
The company has been developing a variety of bedroom fixtures using only natural organic materials approved by quality control. I especially like the cushion design, which goes with a deflection in the middle of the cushion. It adapts perfectly to the shape of your head, and the neck does not get tired even if you sleep on your side. You will immediately feel the difference in sleep quality when using this pillow.
After a couple of days, the pain in my neck and shoulders disappeared, and my mood in the morning ceased to be so gloomy. Moreover, this is rather a cheap option among orthopedic contour pillows, while it is utterly harmless to the environment. Latex Contour is a soft but supportive pillow suitable for those who have sensitive vertebrae and who like to sleep in not the best postures for the spine and suffer from neck pain.
PROS:
Perfect height for neck pain relief;
The cheap option of an orthopedic pillow;
Machine washable cover.
CONS:
Hard to find a cover that fits.
Beans72 Organic Buckwheat Pillow – Healthiest Pillow for Side-Sleepers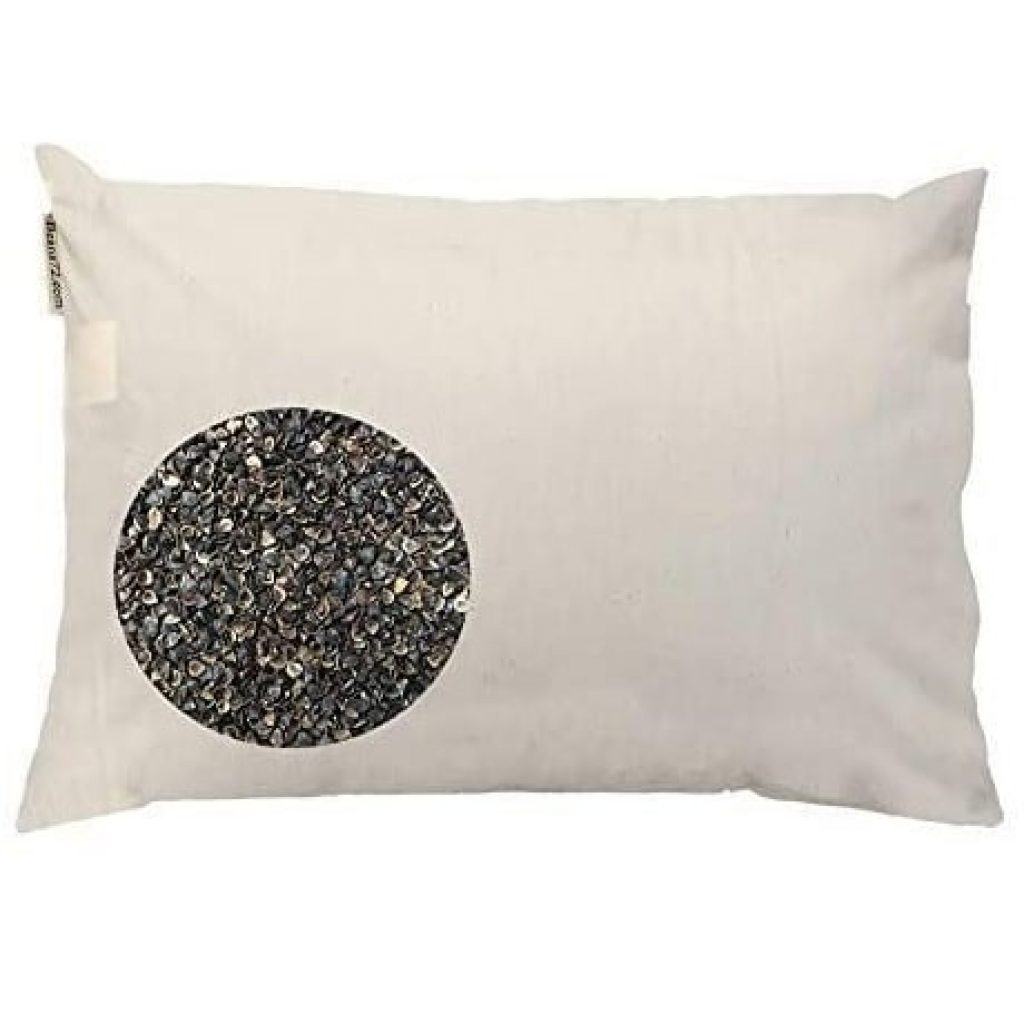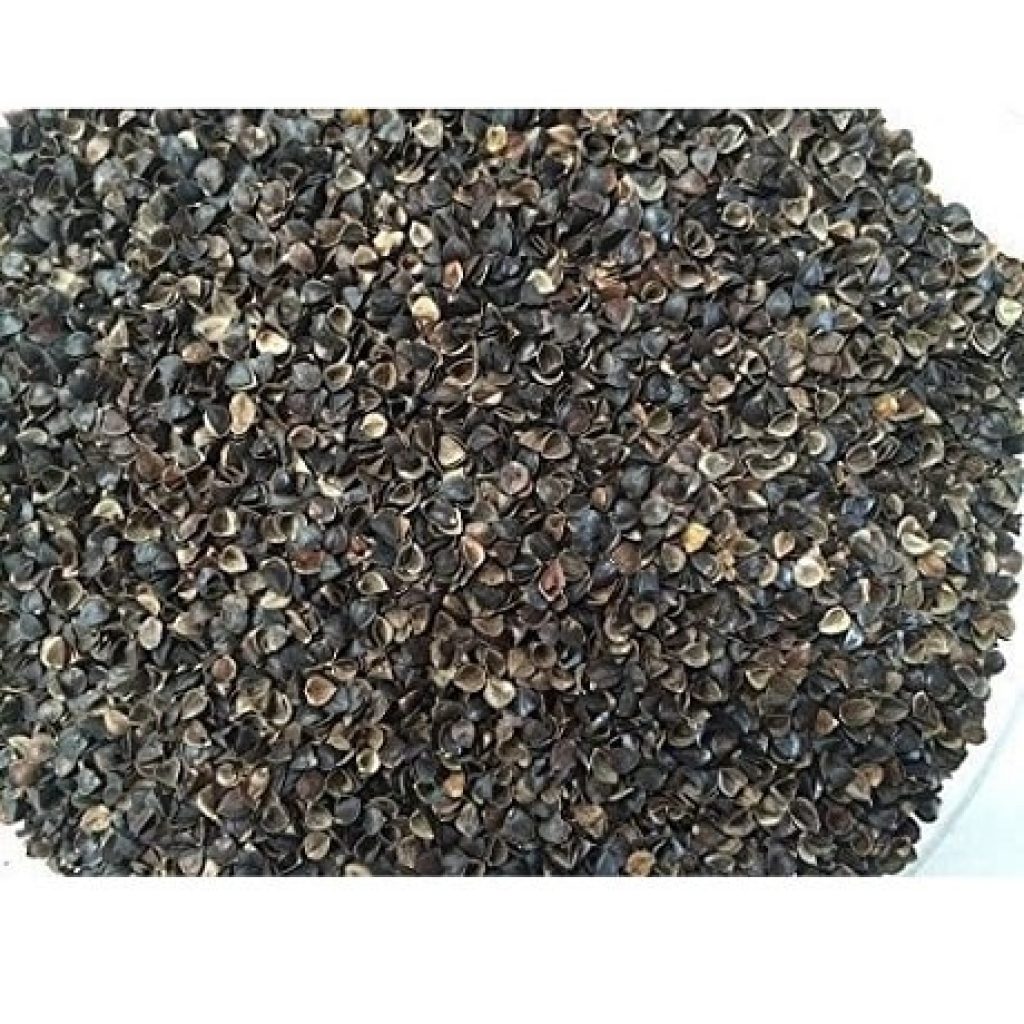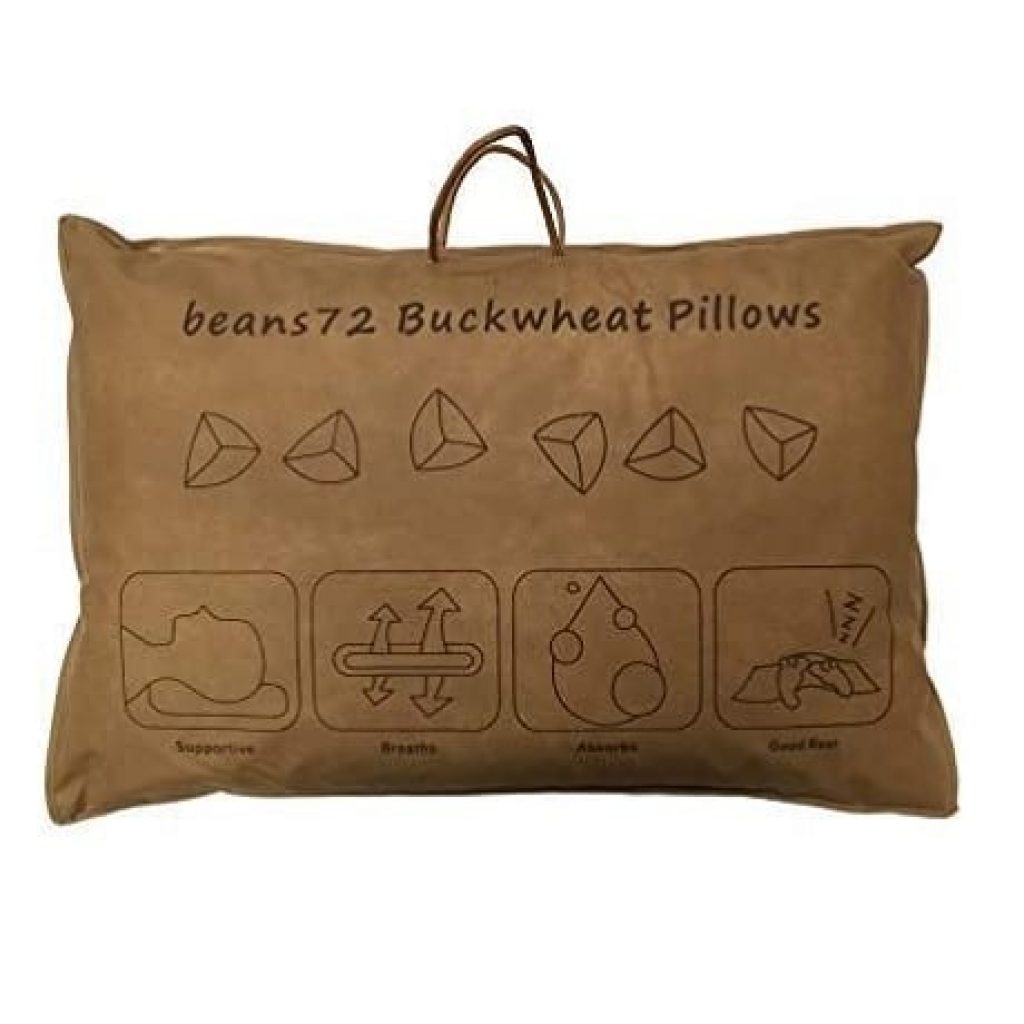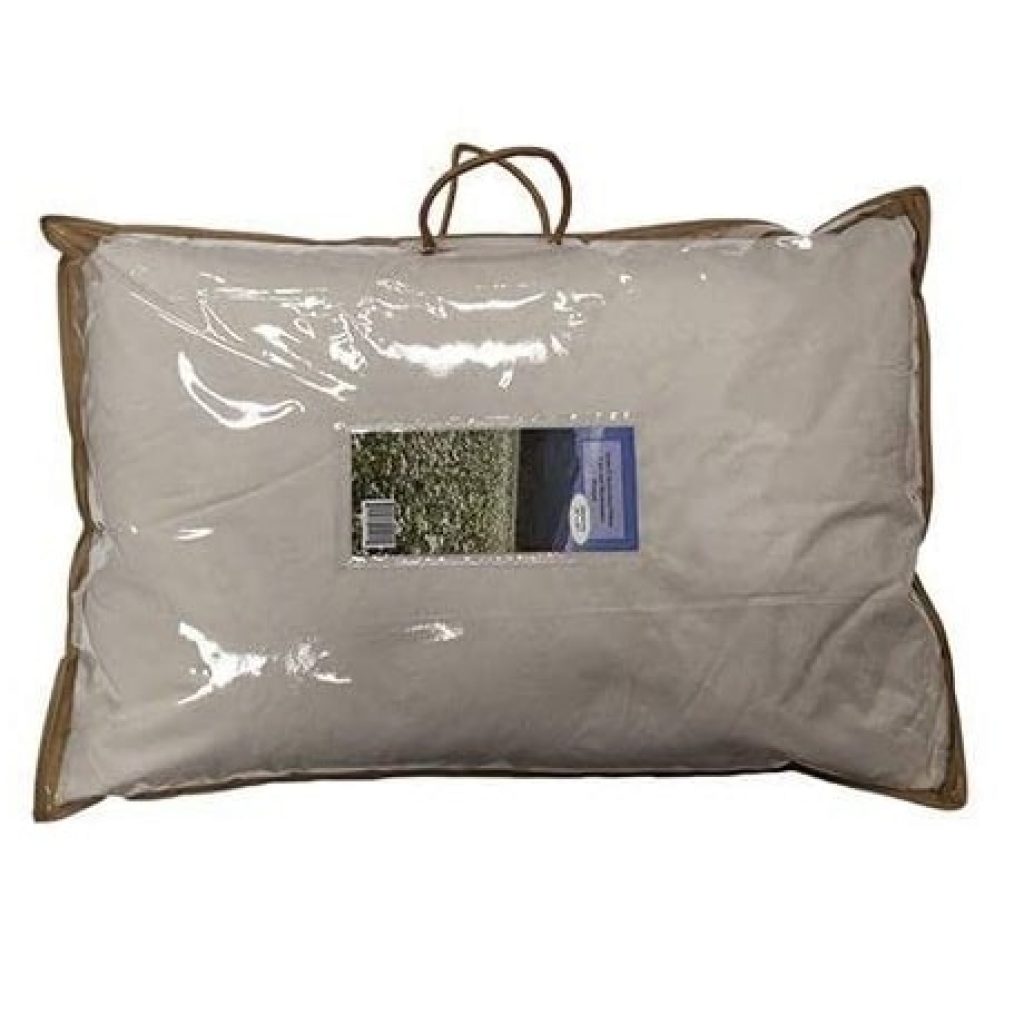 A filling can be very diverse when it comes to organic pillows. One of the unusual at first glance, but very comfortable for your sleep, is a buckwheat husk filling. This pillow is surprisingly soft and comfy. With an unbleached cotton shell and buckwheat husk, this pillow will last forever. It will help relieve tension in the muscles and relieve stress, but you need to get used to it. Do not worry; buckwheat husk has no unpleasant odors and makes almost no noise.
The husk is quite dense but does not clog the case, so the air circulates quickly and cools down the pillow. The pillow maker sews them manually, so buying it helps local business.
Everything is complete without pesticide treatment, so if you are not allergic to buckwheat, this pillow is entirely harmless. The cushion has a clasp, so if it is too stuffed for you, you can adjust its density and height. It is a very high quality sewn, and it perfectly fits in the eco-friendly interior of the bedroom. The pillow does not go astray and does not heat up, so sleeping is calm and comfortable.
PROS:
No odors;
Don't overheat during the night;
Antiallergic materials.
CONS:
Eco Friendly Pillows: Mother Sheep Organics Organic Wool Toddler and Kids Pillow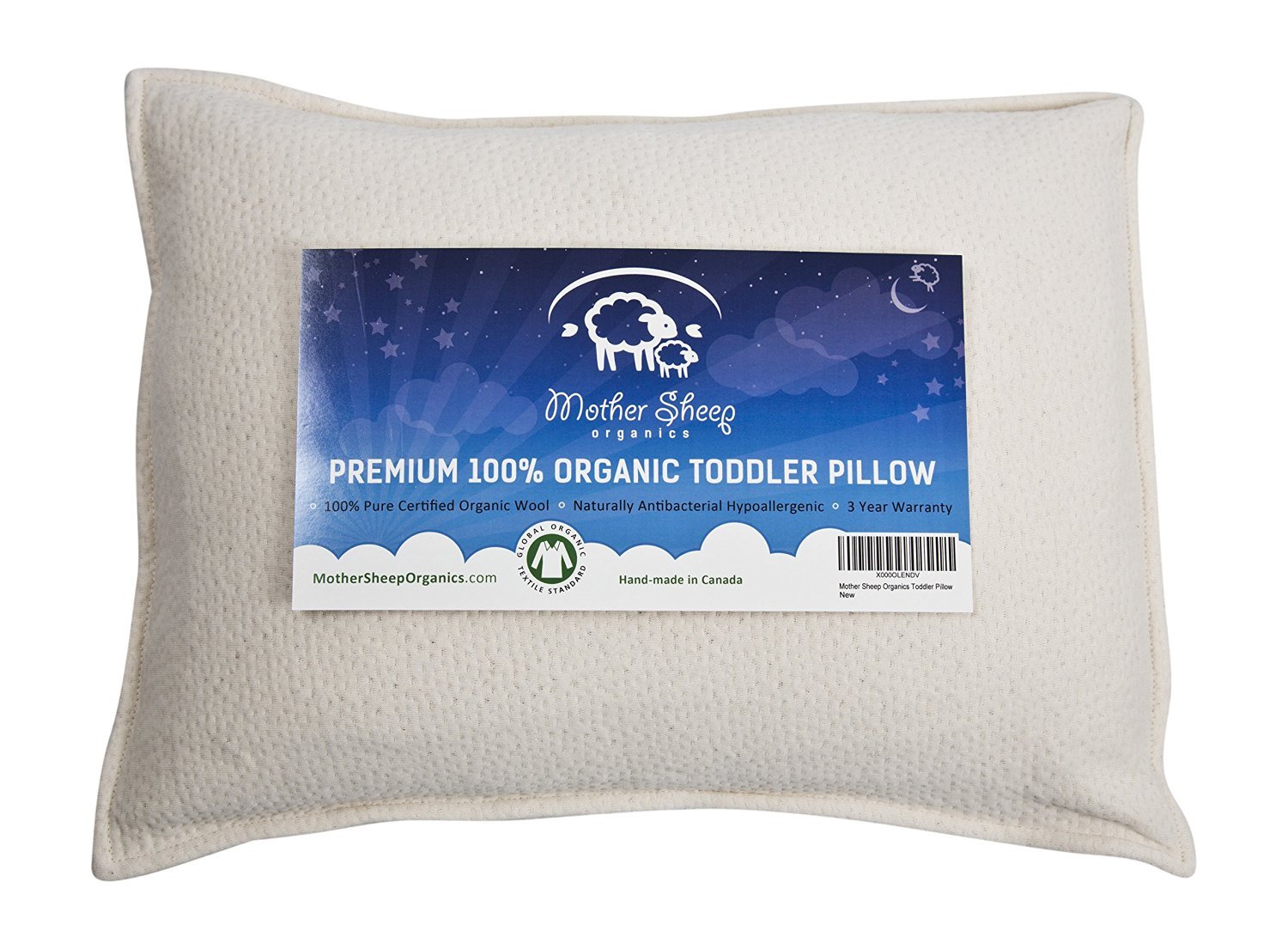 These woolen pillows provide a soft and comfortable sleep. The wool is 100% natural and organic, so there is no need to worry about synthetics or toxins. Wool for filling is carefully collected from Argentinean sheep, it is airy and soft. It can not be washed so that the fur does not sit, but you can regularly wash the cover from cotton. It is delightful, natural, and comfortable to sleep on. The manufacturer cares about the quality of the products and makes sure that the production is environmentally friendly and harmless.
This pillow controls body temperature. Therefore it will not heat up, and you will not wake up at night because of it. It is ideal for children from two years old and will be a good option for the first pillow of your baby. It does not sag and not too high, easily adapts to the position of the body. Wool quickly absorbs moisture, does not allow dust mites to get divorced. The pillow is a little flat and ideal for a small child since it does not bother the neck. You can safely take it on a trip.
PROS:
Anti-allergenic;
Comfy for traveling;
Easy to wash and dry.
CONS:
Kid outgrows the pillow pretty quick.
PureDown Natural Goose – Best Organic Pillow for Neck Pain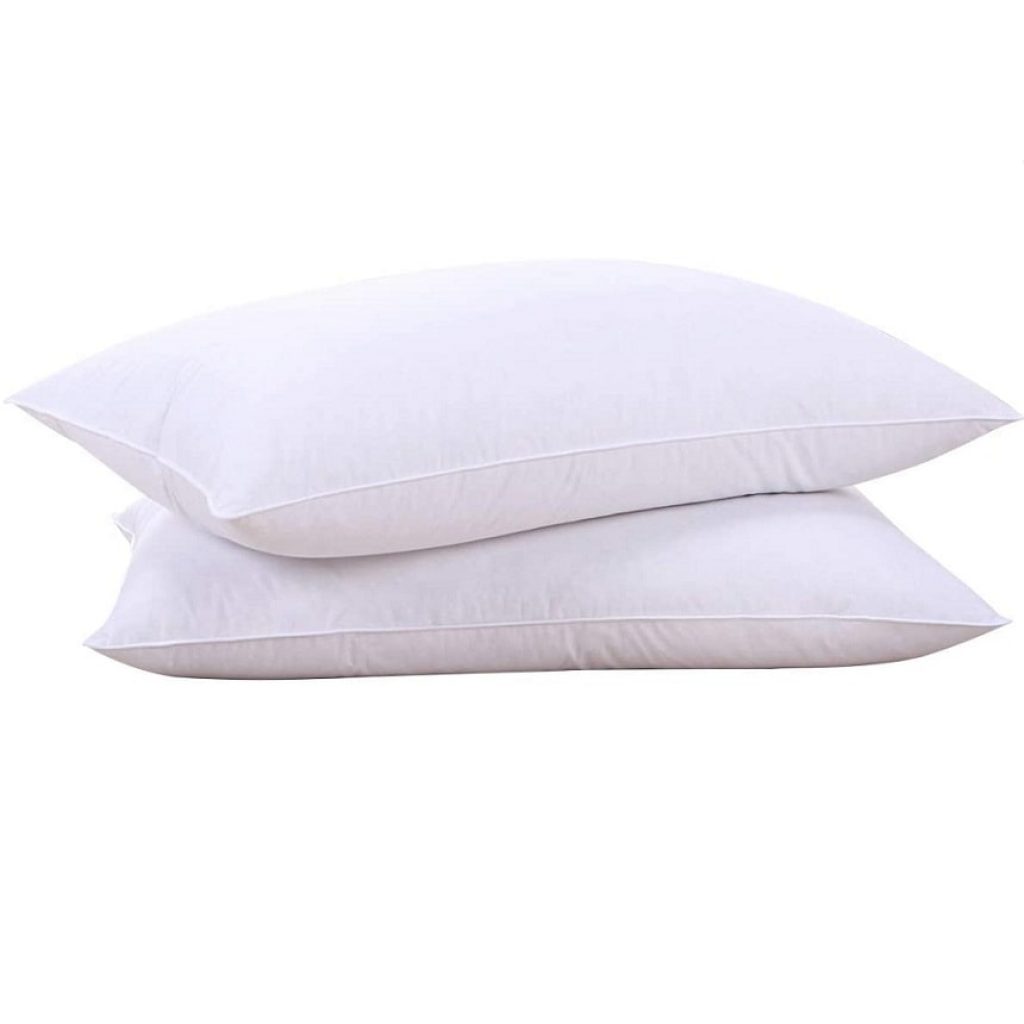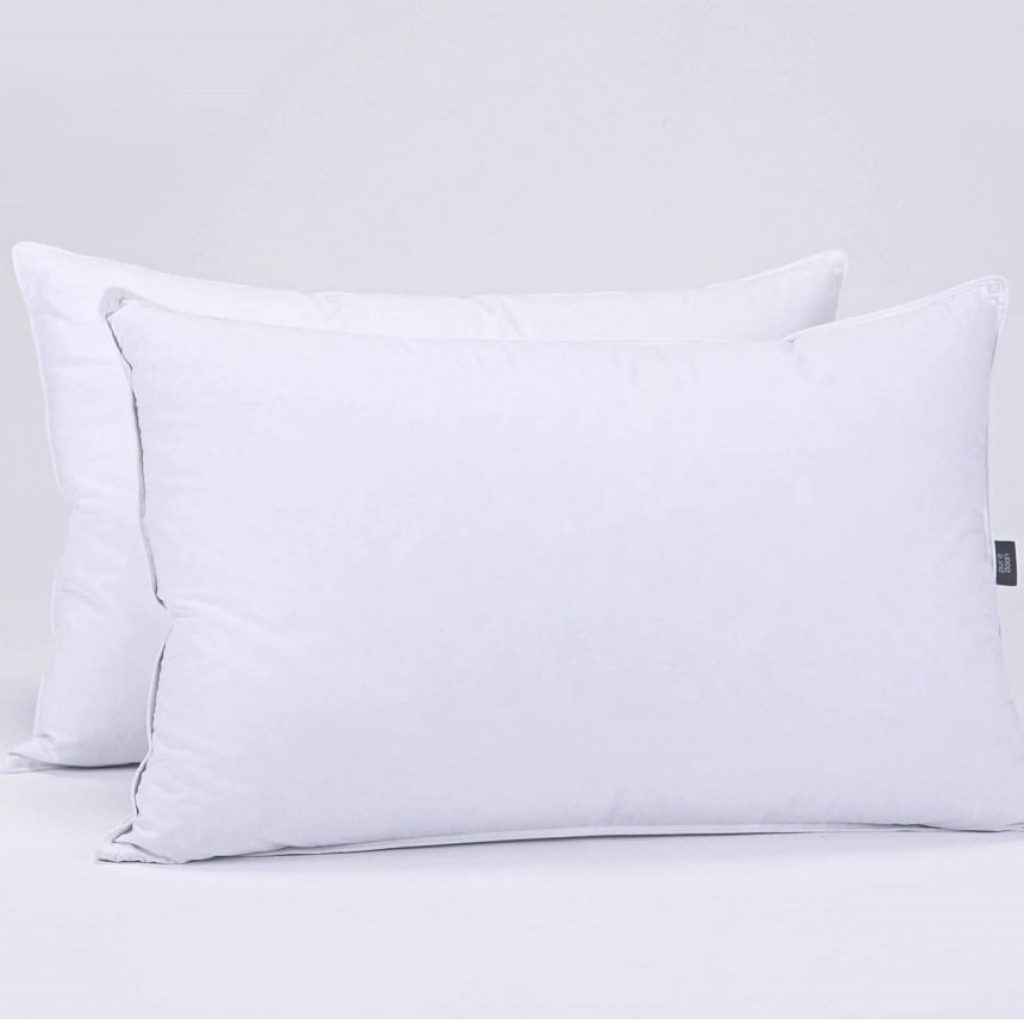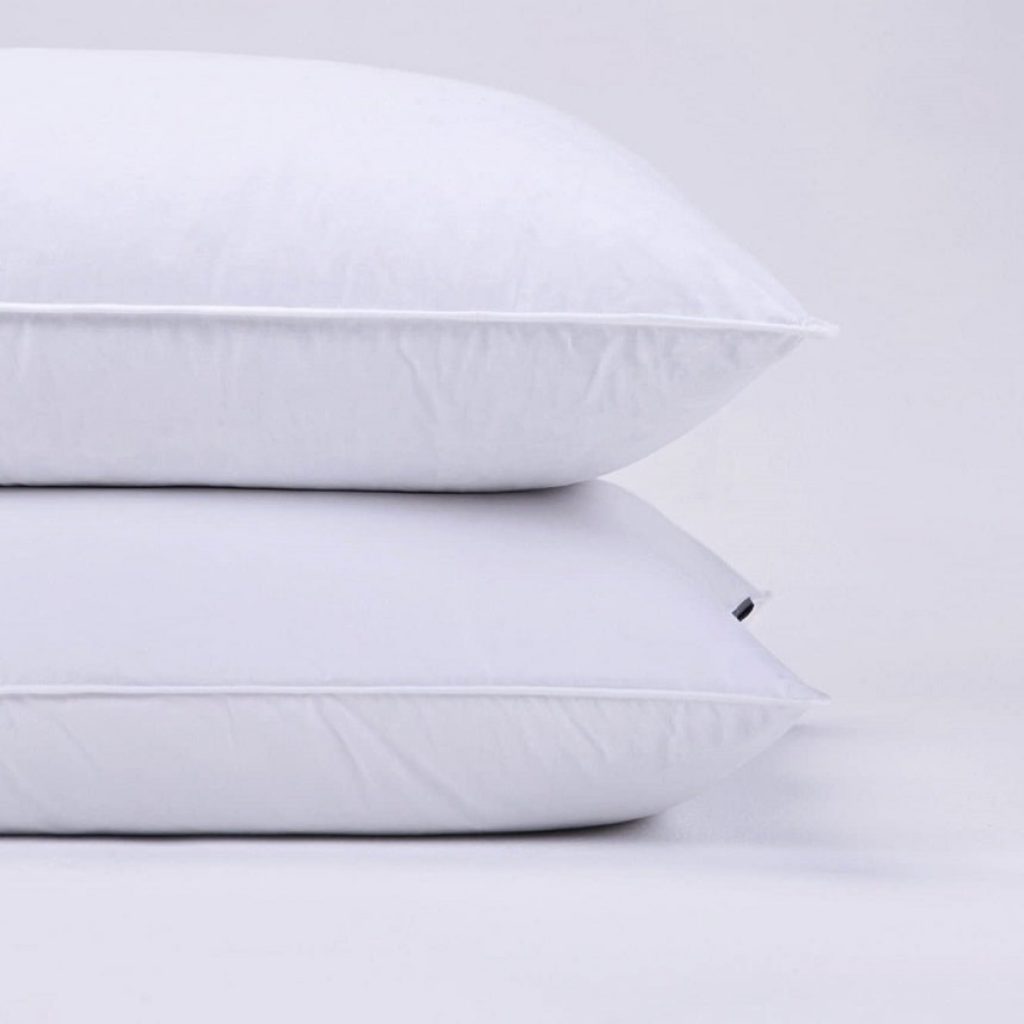 There is nothing better than a classic goose down pillow. High-quality materials and a crispy cotton shell, create a soft and comfortable atmosphere for a good sleep. The pillow does not sag, it is quite lush and silky. The pillow filler is 100% filled with a goose feather and fluff, which has been overrun and cleaned manually.
Of course, you should not buy down pillows if you are allergic to down, but in all other cases, Puredown is an excellent choice for sound sleep lovers. You can sleep in any position, on your side or back; this pillow will not harm your neck. If it is high, you can manually adjust the density of the fluff by removing the excess. It has no flaws and fully justifies its price.
PROS:
High-quality materials;
Crispy and cool materials;
100% goose feather.
CONS:
The high price due to the quality of materials.
Hypoallergenic Pillow for Side and Back Sleeper – Chemical Free Pillow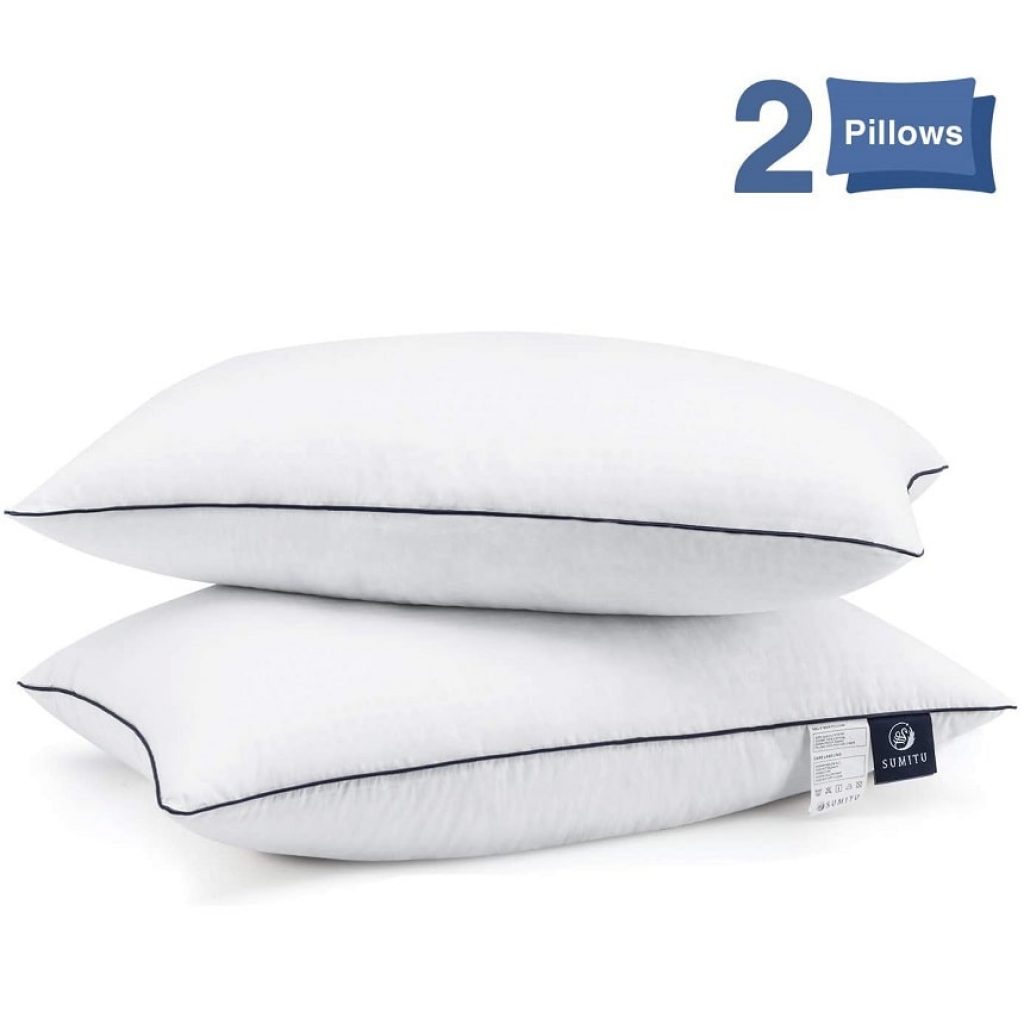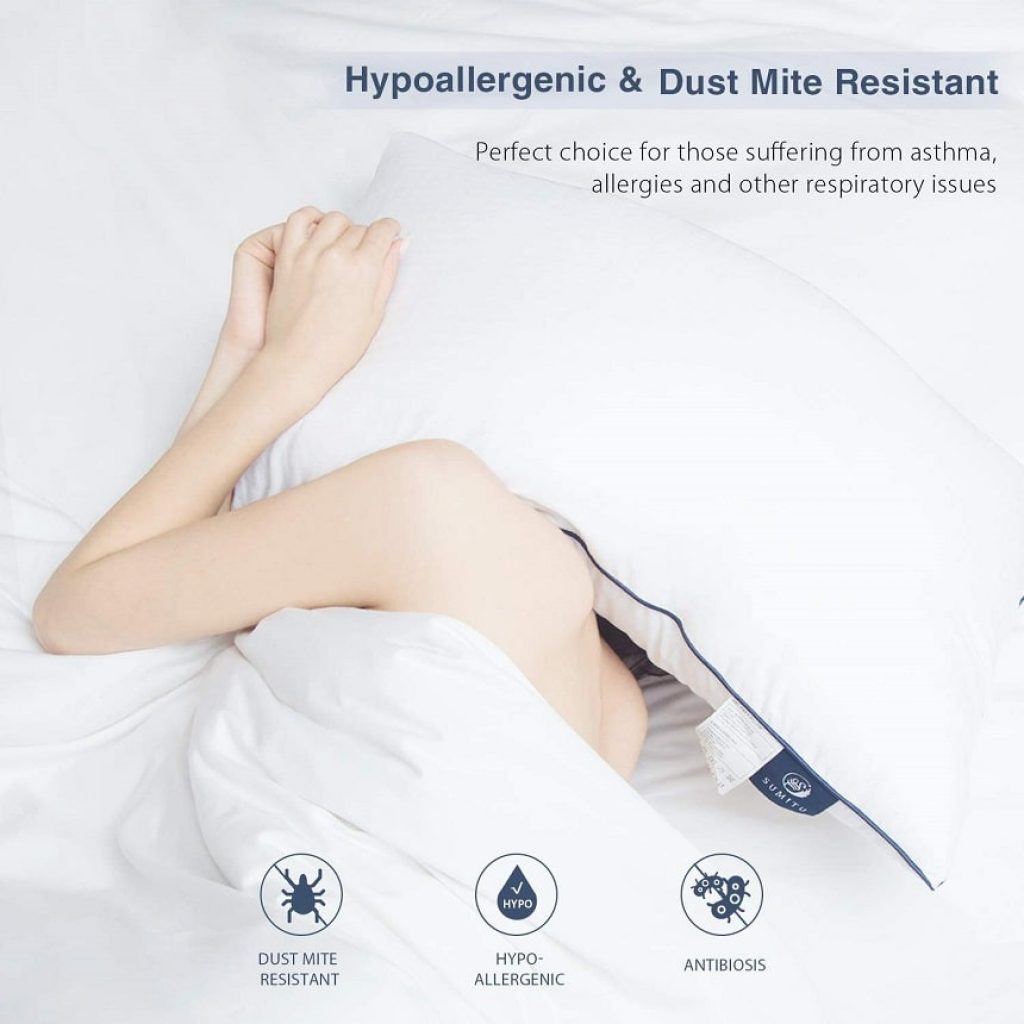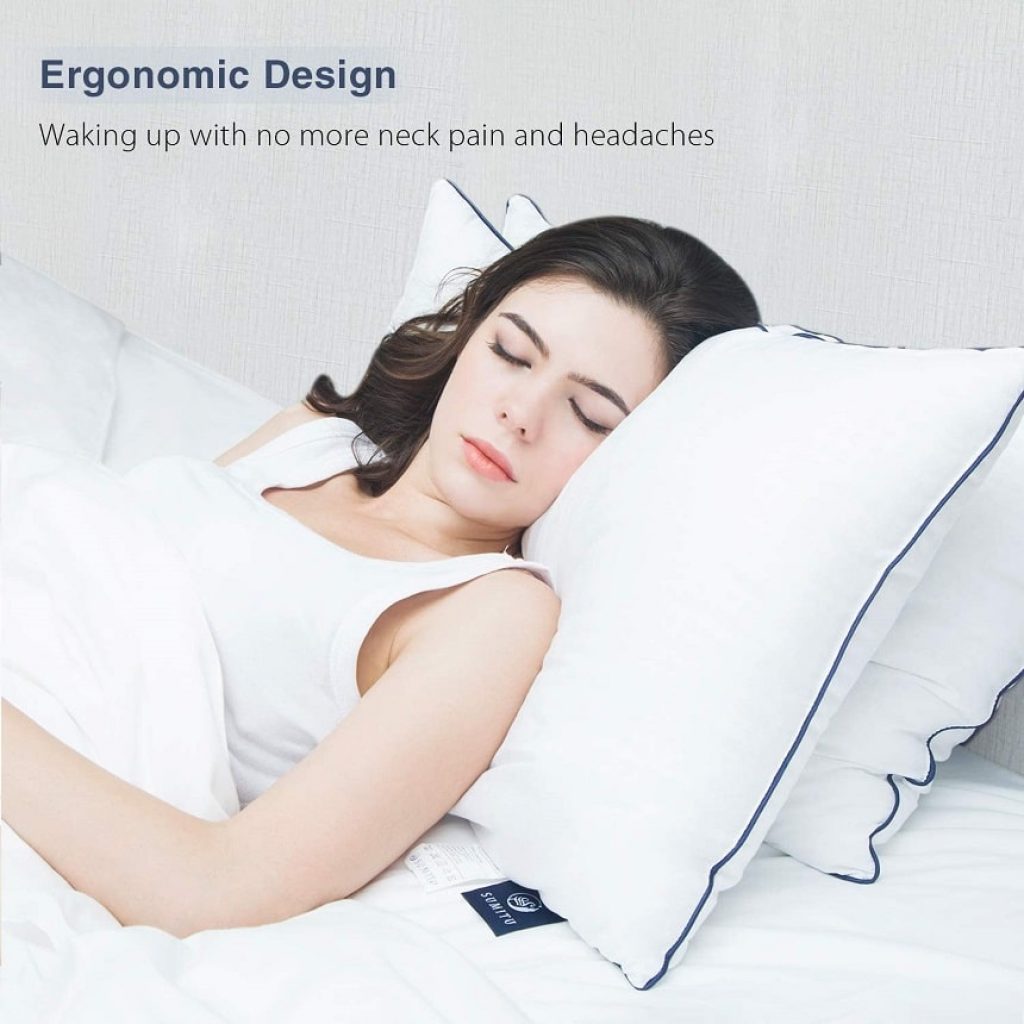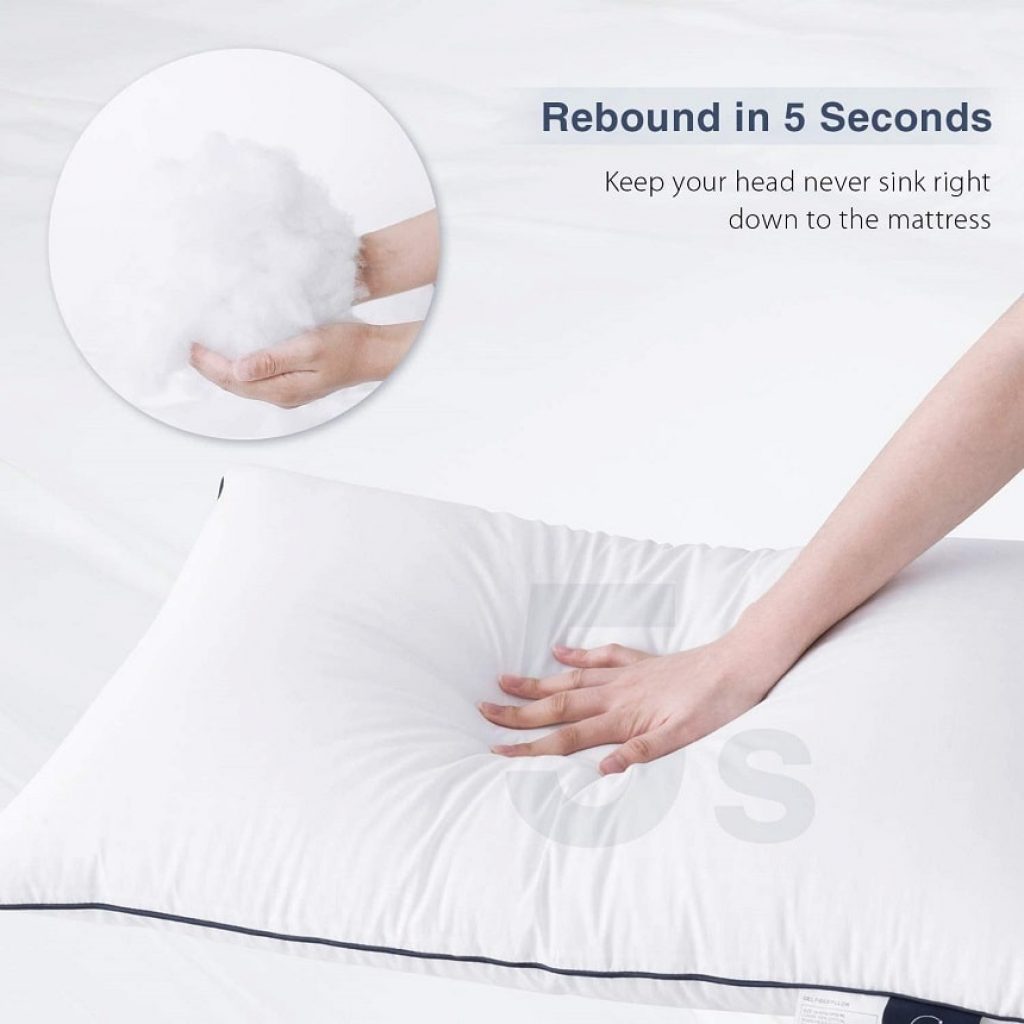 The pillow will never become flat because the dense filling will not allow your neck to lose its sense of support. Cushions are resistant to allergic reactions and are protected from dust and household allergens. Therefore, if you partially suffer from spring allergies to dust, pollen, and animal fur, this pillow will be real salvation from any pathogens of allergies or asthma. The pillow is easy to wash in a washing machine; it does not lose its properties.
You can sleep both on your side and on your back without losing your sense of comfort. High-quality organic cotton will not interfere with breathing, will not overheat, and will bring the feeling of a 5-star hotel. The pillow does not lose its thickness, and if you change the head's position, it quickly regains its shape. At the same time, the lightness of this pillow will make you forget about waking up during the night. Organic cotton filled pillows may be too high for those who sleep on their backs and cannot be adjusted, but it is ideal for those who like to sleep on their sides.
PROS:
Best organic pillows for side sleepers;
Machine washable;
Protects you from allergies.
CONS:
100% Bamboo Pillow Inside & Out – Organic Pillows Made in the USA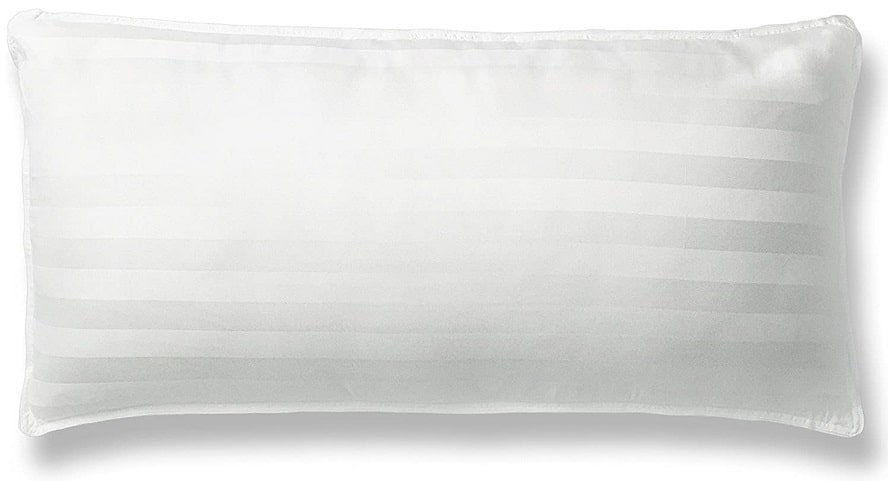 If you've never tried bamboo-filled pillows, this pillow will help you get the most out of bamboo. This ultra-soft cover and dense filler from bamboo and viscose makes the pillow soft in feeling, but ideally thick to support the back and neck. The pillow is wholly protected from allergic agents, so the bed will become an island protected from the risk of developing an allergy. These good quality pillows can adjust their height, so it will be perfect for you.
Therefore, I am glad that there is an internal zipper in this pillow to regulate the pillow filling's density and thickness quickly. Make the pillow perfect for yourself and enjoy a well-deserved sleep after a long day. Besides, bamboo fiber is the ideal organic filling for pillows. Bamboo's nature prevents the cushion from losing shape and keeps it cool much longer than other pillows. Viscose coating is much softer than cotton, so if you are not a fan of coarse cotton, you will be pleased with the pillow's silky feel. You can easily wash the coating. Pillows with a bamboo base help to relax tension in the cervical vertebrae and wake up fresh and rested.
PROS:
Hypoallergenic;
Resistant to allergens and dust;
Soft and supportive back.
CONS:
Viscose coating can be too smooth.
PineTales, Premium Organic Buckwheat Pillow – All Natural Pillows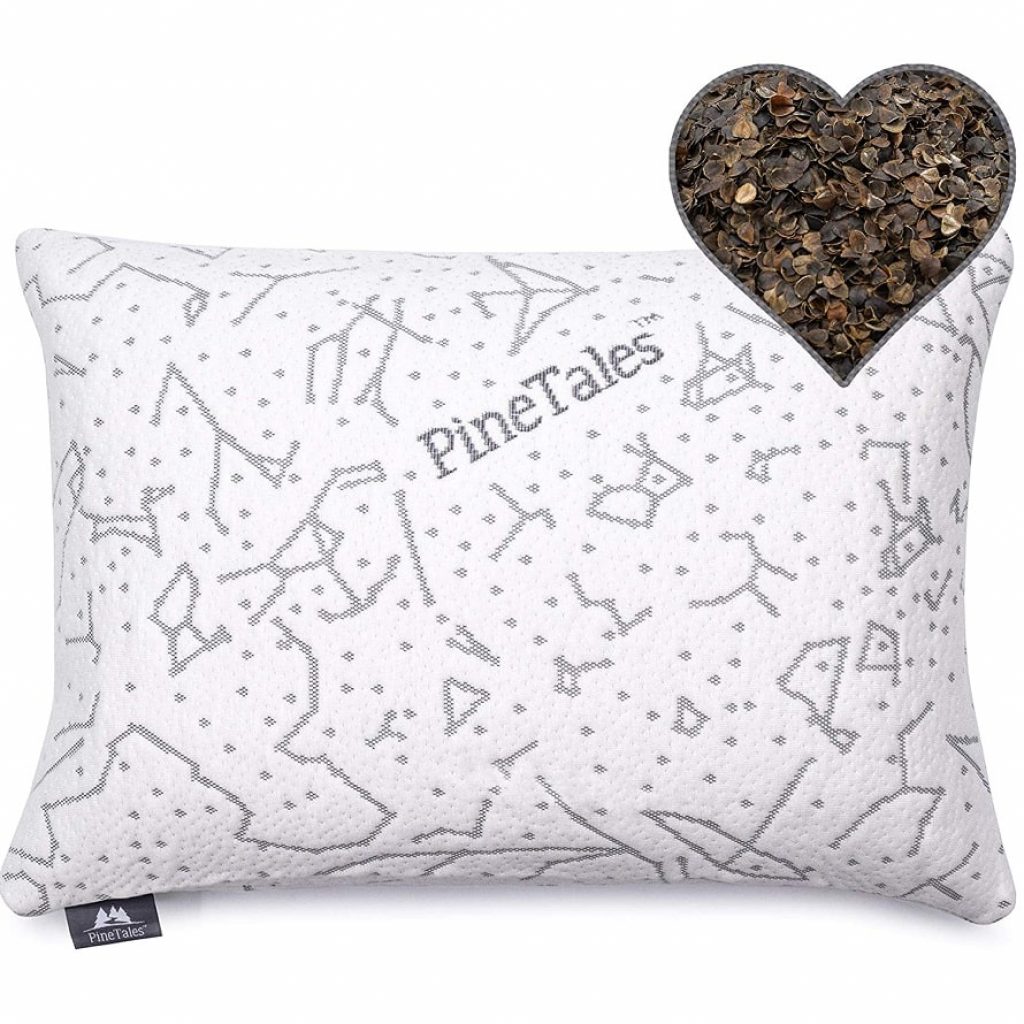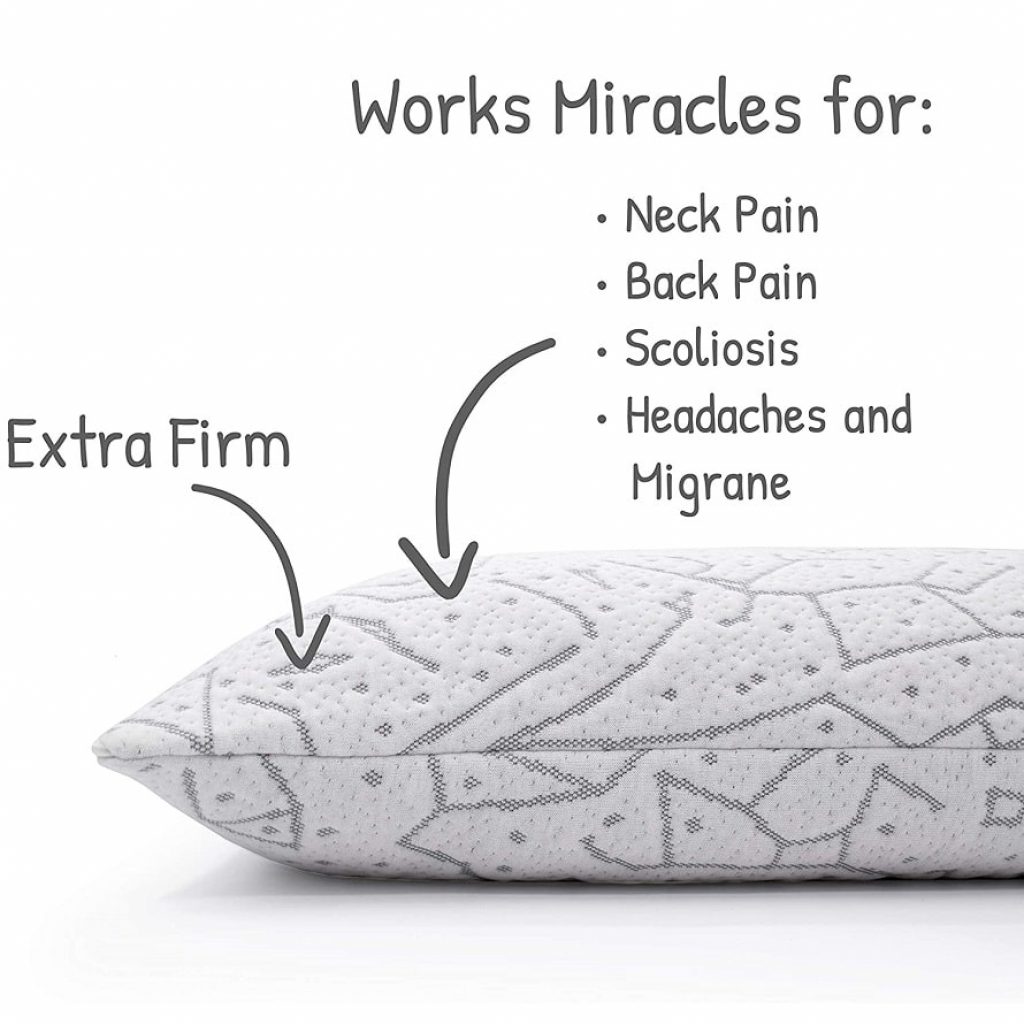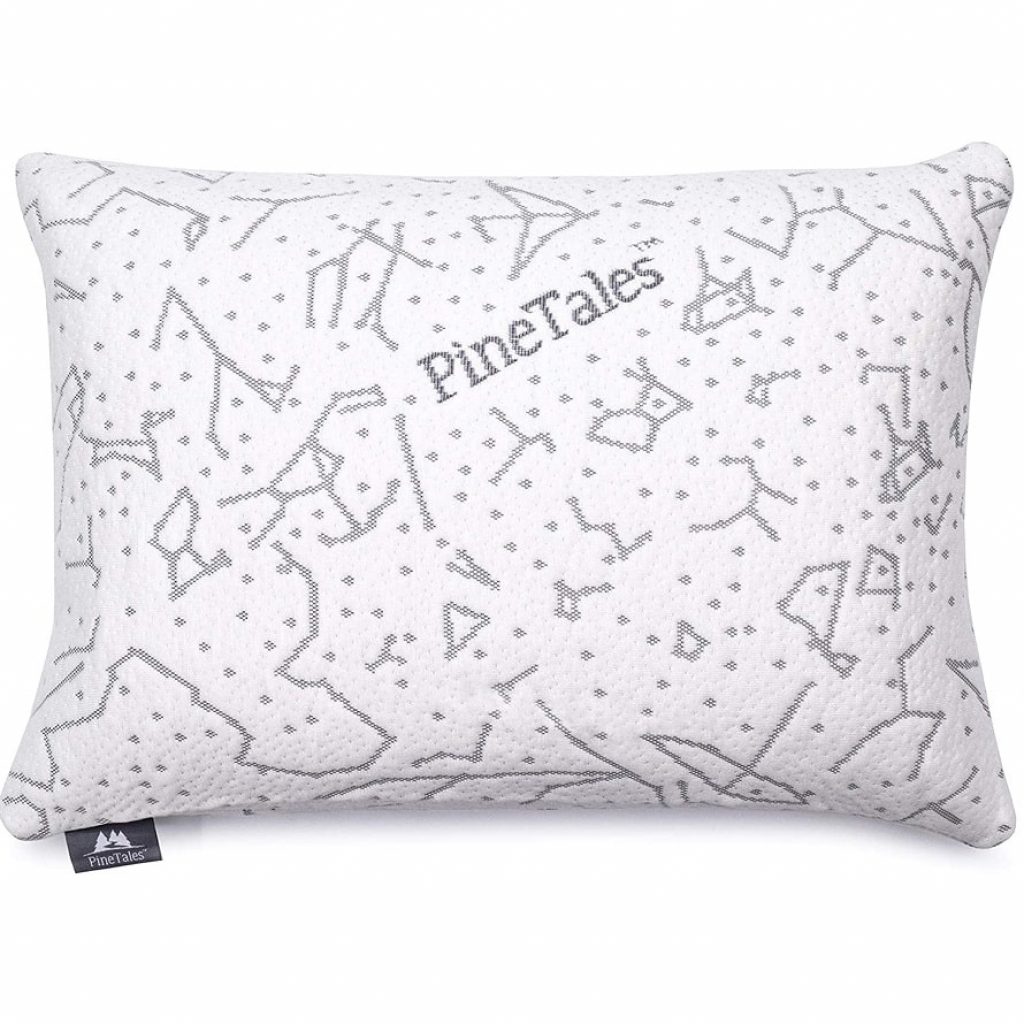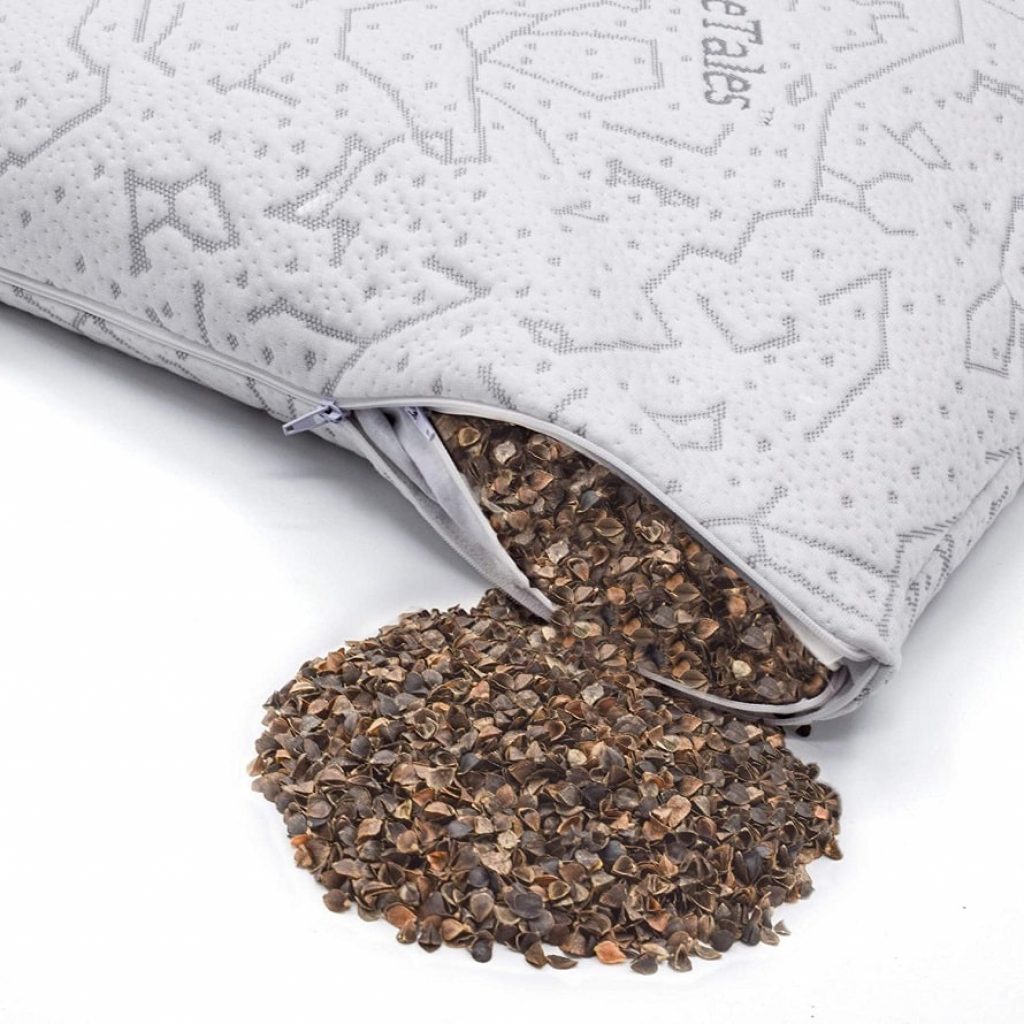 Buckwheat-filled pillows are not widely known, so it's probably the time to appreciate their benefits for back pain relief and healthy sleep. Now, when we are provided with more organic materials for any products, we discover a great variety of benefits that some materials can provide.
If you are not a fan of overly soft pillows, this option will be just for you. Buckwheat husk will remove pain in the neck and head, helping support the neck during sleep. In addition to buckwheat husk, you will get a pillow with a bamboo coating that will control the pillow's stable temperature.
You can easily customize the pillow to your needs, removing excess filling if it is too high for you. At the same time, the pillow is sewn in standard sizes, so you can easily pick up your pillowcase. I am glad that the pillow is sold at a fair price, and you do not overpay for its naturalness or convenience.
PROS:
Excellent price for a pillow;
Reduces pain in the neck and back;
Can adjust the height;
Cools down quickly.
CONS:
You will need some time to get used to buckwheat filling.
Bean Products Standard Organic Kapok Pillow – Best Among Sustainable Pillows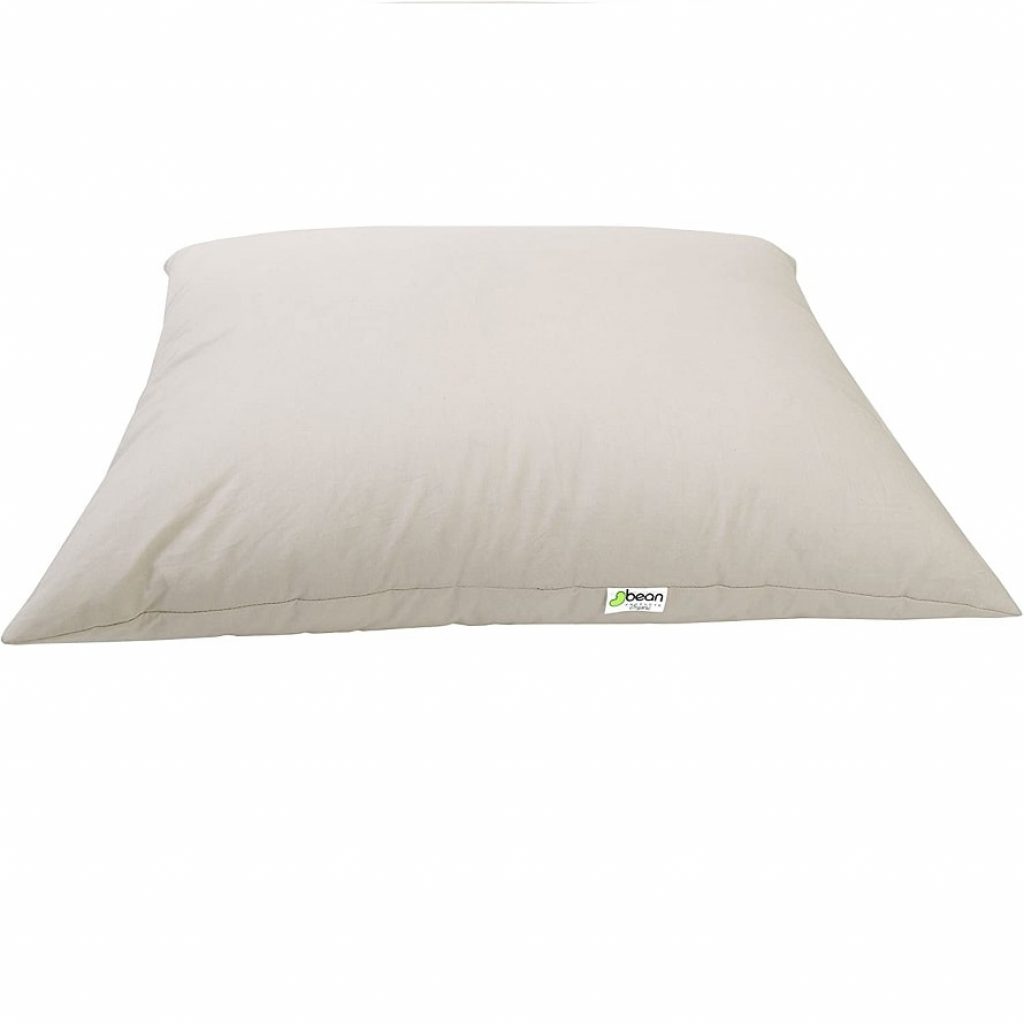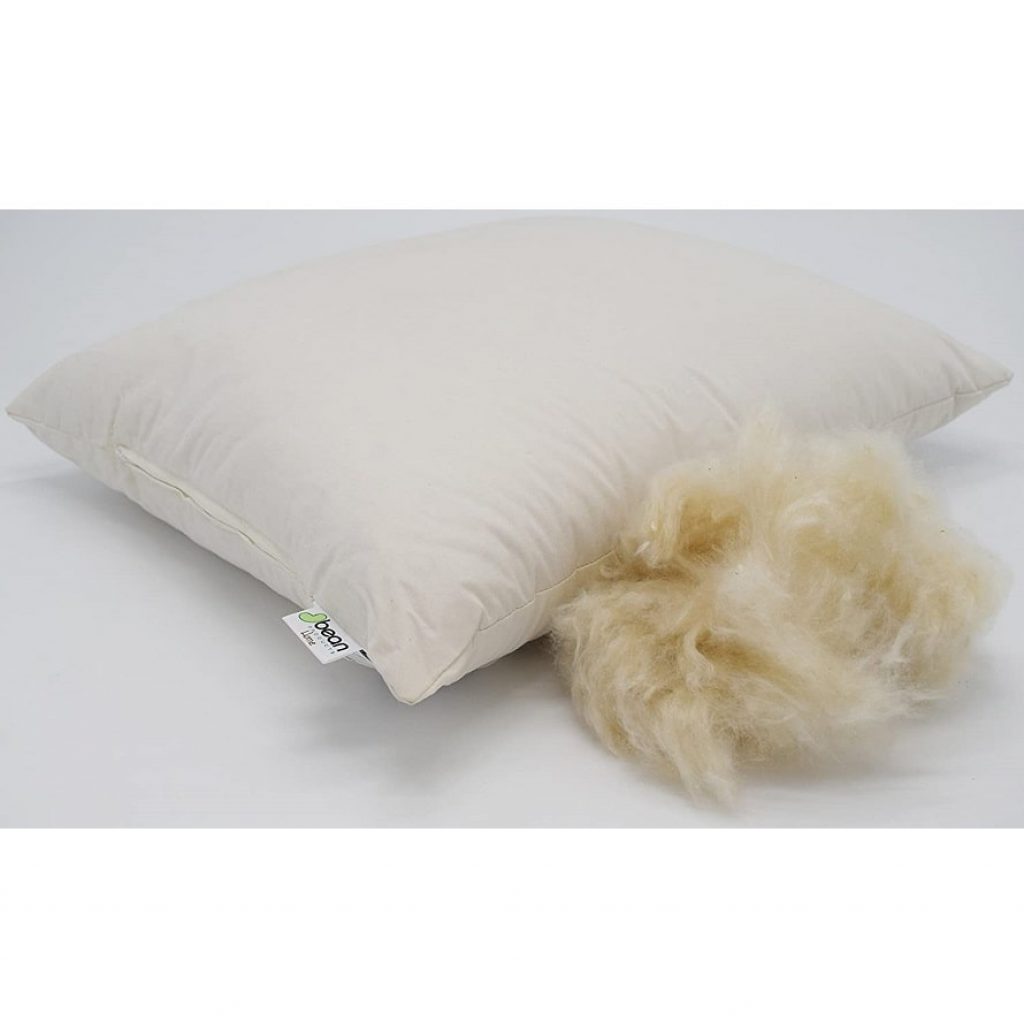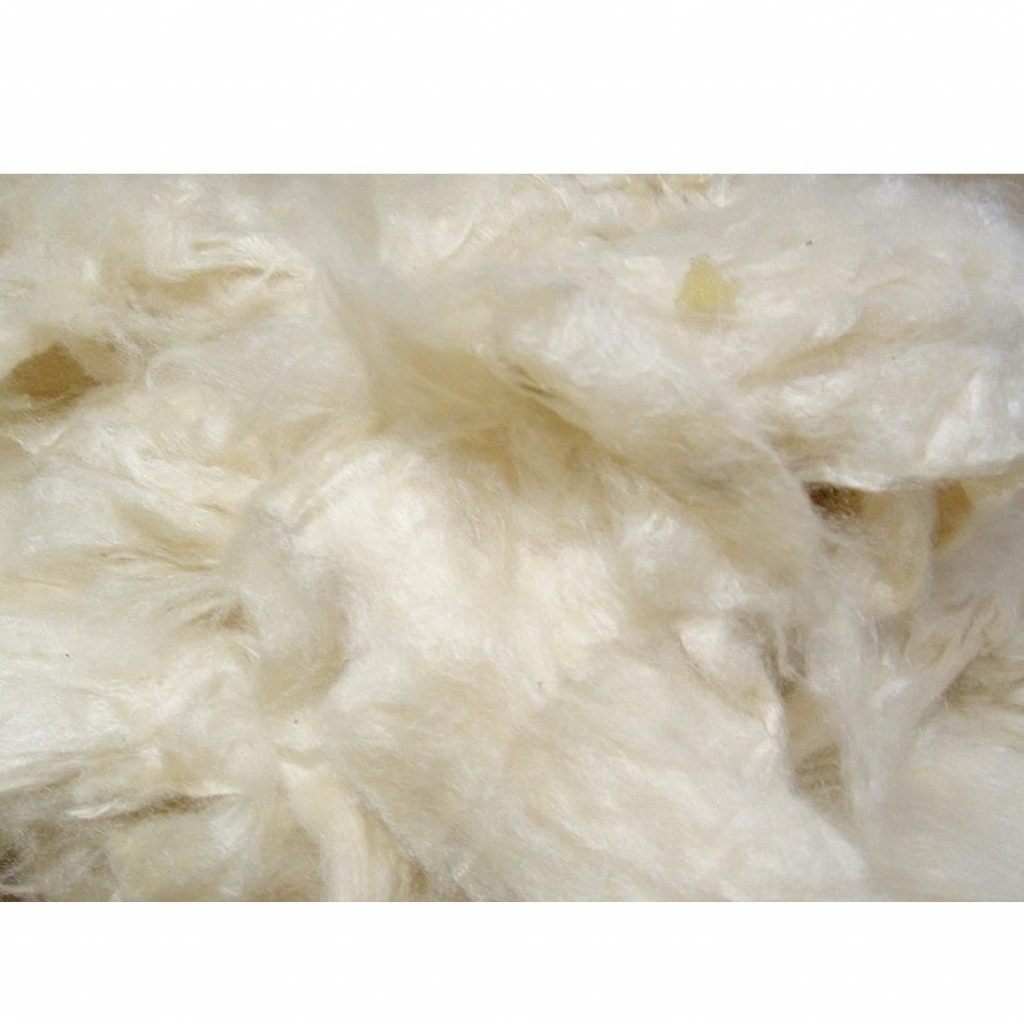 Cotton is a classic organic bedding material. Therefore, if you do not want to experiment with pillows made with bamboo or buckwheat husk, and pillows with fluff or with a memory effect do not give you the necessary comfort, you can purchase a cotton pillow that will not let you down. It is moderately soft and protects your neck during sleep.
The Kapok pillow is made exclusively with raw material without using chemicals. Pillows are made according to all requirements, so you get high quality at a reasonable price. If the pillow is too stiff, you can remove excess filling. Kapok gives the fluff and soft feeling, so your head will rest in the clouds, without "diving into the pillow" effect. At the same time, the quality of the Kapok does not allow fungus, bacteria, or dust to start in it. It will last a long time, as it does not sag and is easy to clean.
PROS:
100% organic cotton;
Soft materials, cloud-like feeling;
Antibacterial and anti-allergic.
CONS:
Cools down pretty slowly.
Cozsinoor Hotel Collection Pillows for Sleeping – 100 Percent Cotton Pillows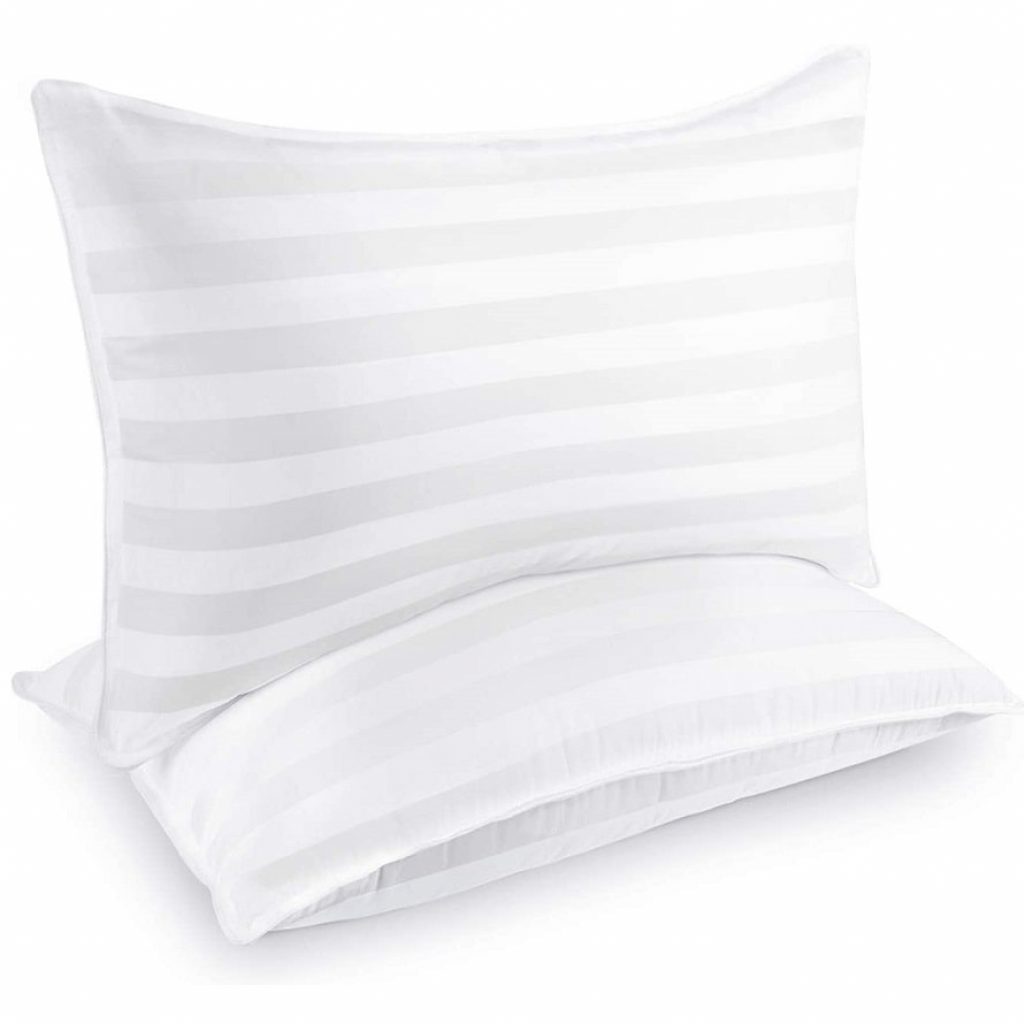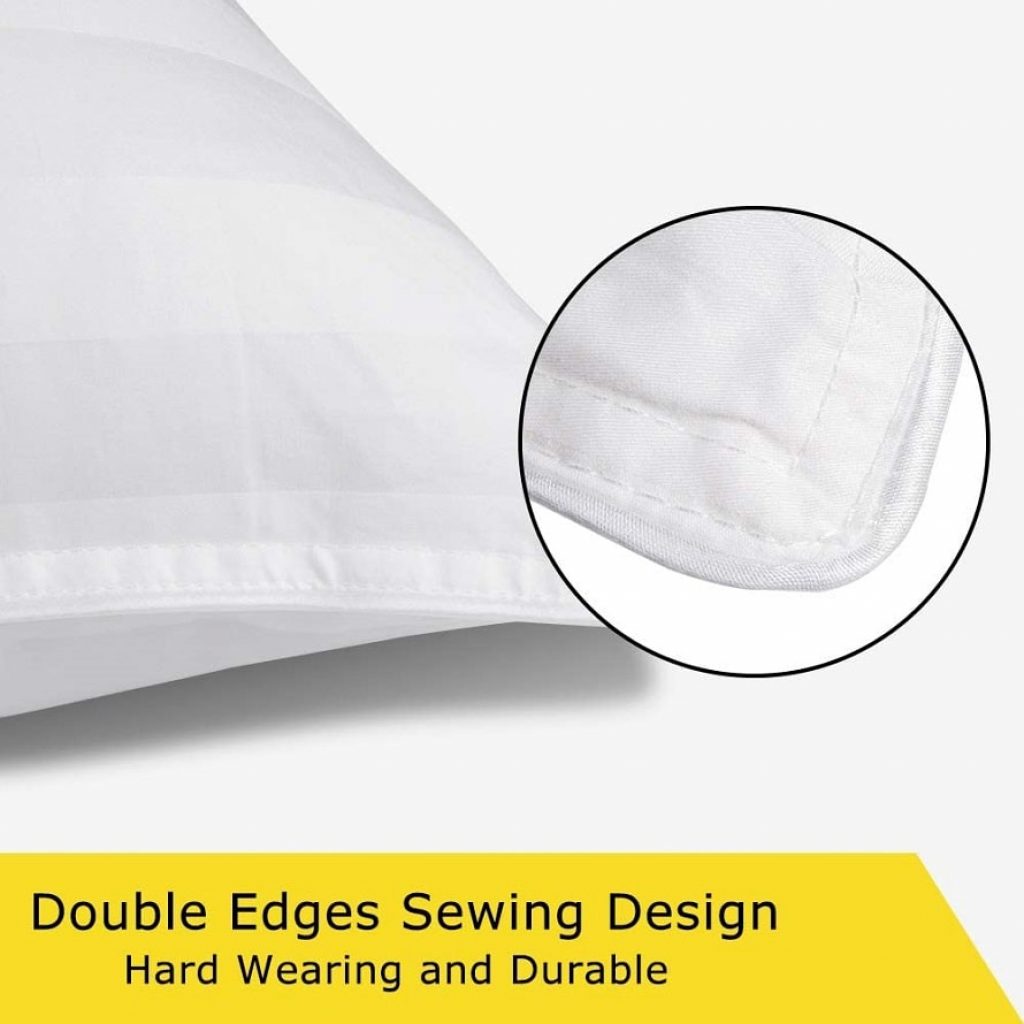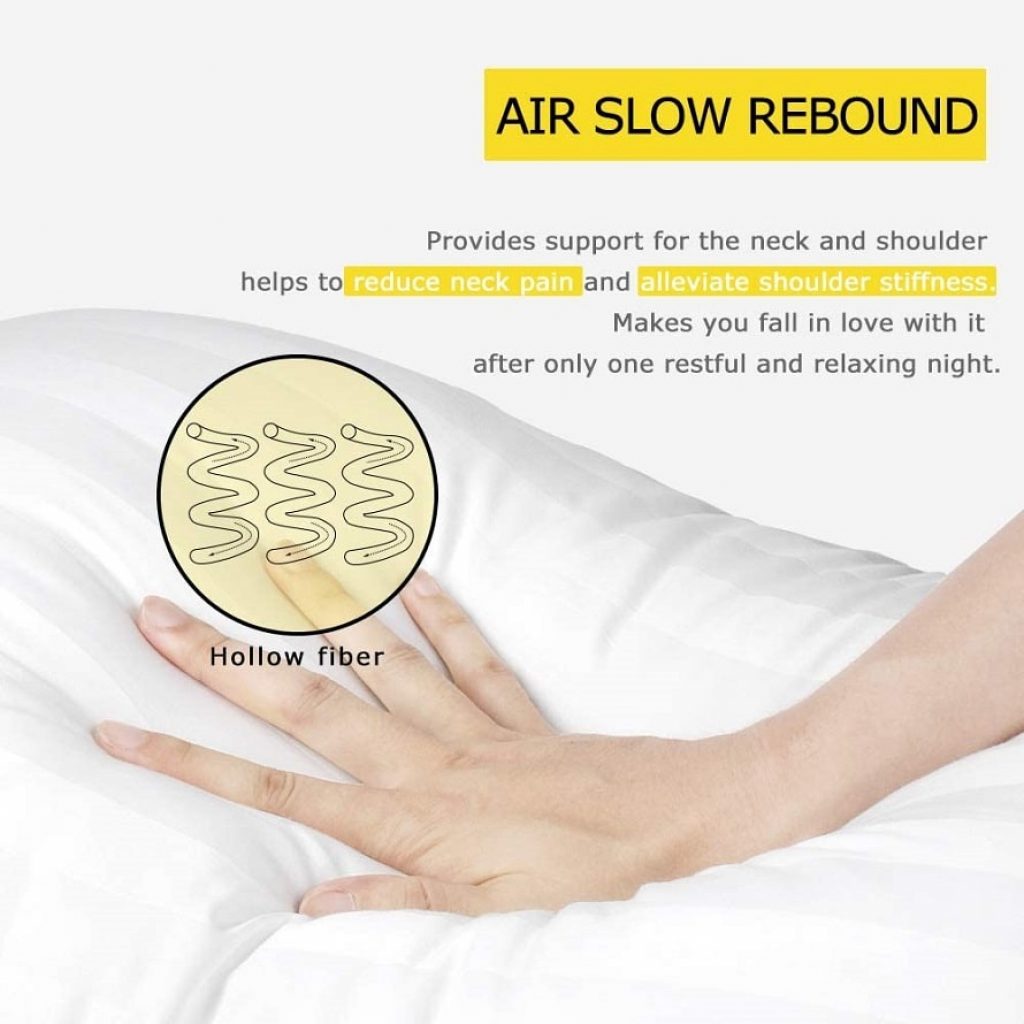 It is another 100% cotton pillow that will delight lovers of classic pillows. It resembles pillows with goose down, as the filling is ultra-plush and imitates grandmother's down pillows. But at the same time, it is wholly organic and made from satin cotton. Therefore, the pillow is always fresh, absorbs moisture. In this case, it is completely hypoallergenic. Soft cotton takes the form of your natural body curve and helps your body relax while relieving stress. The pillow will always remain fluffy and smooth, even after washing.
COSSINOOR has selected materials that minimize the possibility of waking up during the night due to poor sleep, allergies, or discomfort. If you want the effect of a 5-star hotel at home, this pillow recreates it. Quality sleep, natural fabrics, and soft filling are needed for a good rest in bed.
PROS:
Quality materials;
Hypoallergenic;
Helps the body to relax.
CONS:
Price is comparably high.
Little One's Pillow – Best Organic Toddler Pillow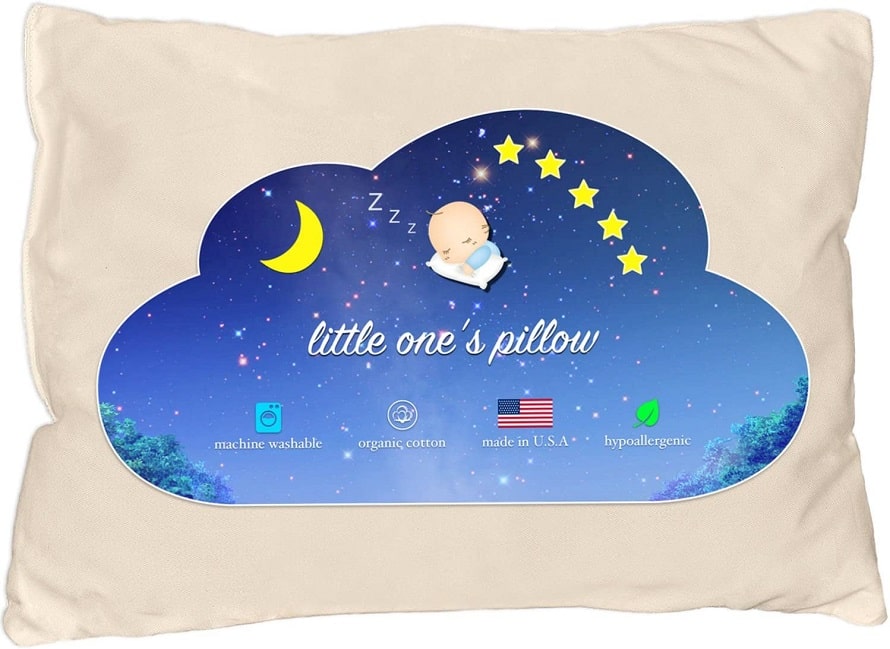 When choosing an organic kids pillow, you need to be extra cautious not only regarding materials of the fabric and the filler but also your kid's characteristics. You cannot buy an adult pillow for a small child. But if you are looking for an organic pillow option for your baby, this pillow is a good option. It is made with a high-quality organic cotton shell with a hypoallergenic filler. It is very easy to machine wash, which is essential for any children's things. Besides, the pillow is not high and not too hard, so the child will be comfortable sleeping, with secure support for his back and neck during sleep.
The pillow was tested and created according to pediatricians' requirements, so do not worry about its safety for your child. The pillow is compact and does not use too much filler to adjust to the child's small head. Thus, the child will be able to sleep in natural poses, and the pillow will only slightly adjust and support his body in a dream. Moreover, all the materials, of which the pillow is made of, are entirely natural, breathable, and soft. It was made without chemicals, latex or BPA and is 100% safe.
PROS:
High-quality organic cotton shell;
Hypoallergenic filler;
No chemicals, latex, or BPA.
CONS:
Only for toddlers, size is not adjustable.
FAQs About Organic Pillows

Why Are Organic Pillows the Best of All?
Currently, we have a wide range of options for fabrics and materials, each of which has special characteristics to ensure better sleep. Pillows with a memory effect, orthopedic pillows of any shape and style, pillows with cooling are all excellent, but unfortunately, so many chemicals are used in the manufacture of pillow materials that it becomes dangerous to sleep on them.
Besides, such pillows can become dust collectors in which fungus, dust, bacteria, and mites habitat. All this does not help a comfortable sleep or your health in general. That is why it is worth returning to natural materials that will be clean and hypoallergenic, helping the body to relax in a dream. Organic pillows are more flexible, hygienic, and very rarely tolerable with bacterias. They do not require too complicated care and can be easily washed in the machine.
Types of Organic Pillows
Best healthy pillows can be called organic only when both cover and filling materials are sustainable and natural. The filler can be of plant and animal origin. You can choose what is most comfortable for you as there is a wide number of choices of organic materials.
Plant materials include cotton pillows, a little less often – pillows with bamboo, buckwheat husks, algae, and lavender. Some of them may have a light but distinctive smell, such as pillows with lavender. Although they have a calming effect, this type of pillow is not for everybody and rather peculiar.
Buckwheat husks filling helps relax muscles and improve blood circulation. Bamboo is an environmentally friendly product that requires almost no processing. At the same time, it keeps a cool temperature and does not absorb odors, so this is the best option for tropical summer weather.
The main thing that you should consider when choosing a filler for a pillow is for the material to be hypoallergenic, hygienic, be thick enough to help take on the shape of the body and not go astray, losing shape. Therefore, you can also find options such as algae or herbs among the fillers. Some herbs share the effect of aromatherapy, relieving stress, headaches, and making sleep more sound.
In addition to materials of plant filling, there are many options of feather or wool pillow organic fillers. One of the most common and classic options is a goose feather. Usually, sheep wool is also used.
Are Memory Foam Pillows Toxic?
From the moment when orthopedic pillows were created, people seem to have forgotten about organic pillows for some time. After all, a foam-like substance with body memory properties helped to reduce muscle tension. Over time, with the development of cheaper technologies, low-quality alternatives began to appear that did not last long. They do not retain the ability to take on the shape of the body and are made from low-quality materials. Cheap options can be quite harmful or consist of chemicals.
At the same time, high-quality materials used in pillows with a memory effect are not toxic after production. But in the process of material production, chemical emissions are released into the air; therefore, environmentally conscious people tend to refuse inorganic pads and choose organic hypoallergenic pillows.
What Is the Best Material for a Pillow?
The best natural pillows' material should, first of all, be safe for your health. It should not cause allergies or irritation, be pleasant to the skin, and not cause itching. If we talk about the filling, it should be soft, but at the same time fresh and cool to ensure the sound sleep.
If you hesitate which organic materials to use, one of the best materials that you should pay attention to is buckwheat husk. It was used as a filling for pillows in ancient Japan. It has massage properties that reduce pain and discomfort in the neck and head. It also has an orthopedic effect. It takes time to get used to such a pillow. But the reward is remarkable.
If it is not for you, choose what you feel comfortable sleeping on, whether it is goose feather, cotton, or bamboo. The main thing to consider is the difficulty of cleaning, as well as the risk of allergies. Then pay attention to the height of the pillow and whether it prevents you from sleeping. There is nothing worse than being tired even after a long sleep and all because of a poorly selected pillow.
Is My Pillow Safe?
To make sure the pillow is safe for you, you need to check it yourself. Harmful fillers, excessively high pillows, and soft cushions do not provide for better sleep and cause health and productivity issues. Spine breaks, neck pain, and even headache can be a result of a bad pillow.
Before buying a pillow, make sure that you are not allergic to the materials and that its size fits you. Besides, it's better to go for pillows without flame retardant, which absorbs water and easily maintains the cool temperature of the materials.
Summary: Why You Need to Change Your Pillow to Organic One?
The morning does not begin with coffee. The morning starts with the first thought with which you wake up. And no one wants to wake up even more tired than before going to bed. If you're going to start your day with a clean and unclouded mood, take some time and effort to organize a nice place for sleep. And this includes all the little things from drawn curtains to a clean pillowcase and pillow filling.
What can be sweeter than a good sleep, and more pleasant than a good rest? Sleep is a necessary process for our body that influences our mood, ability to work and whole well-being. High-quality sleep can be achieved by good habits and fine accessories for sleep. It includes the quality of the pillow you use as well.
A pillow shouldn't be overlooked as it affects the quality of your sleep, and apparently, your life as well. As with all things, a premise for a good purchase is the quality of materials. Besides that, there are many aspects to consider when choosing organic bed pillows: the form and filler materials properties.
Last update on 2023-09-27 / Affiliate links / Images from Amazon Product Advertising API