Back pain is a big problem that affects almost half of adults in the US. This condition is contributed by various factors like overweight, sedentary lifestyle, and other health conditions. Regardless of the cause, maintaining the right posture while sitting or sleeping can help to alleviate the problem.
Pillows can come in handy to help maintain the right posture and relieve your back pain. They use various approaches to correct sleeping posture, reduce pressure on your back, and relieve back pain. However, since people have different sleeping positions, there is no one fit all pillow to address the problem. You need to find the best pillow for back and neck pain based on your sleeping position to relieve your back pain.
As a certified therapist, I have studied sleep medicine, an area of research I decided to venture into after years of suffering from insomnia. While at it, I've been trying various medicines, including sleeping techniques and natural medicines. I have concluded that the quality of sleep is dependent on many factors, both internal and external. So, in this blog post, I will discuss one of my observations – pillows for back pain – that will help you to deal with back pain and improve your sleeping patterns.
So read on for a review of the best pillows for back pain for different sleeping positions. I will discuss the various items for pregnant women, as well as pillows that you can use in your car, recliners, or office chairs.
Amazon Bestsellers
Top 7 Pillows for Back Pain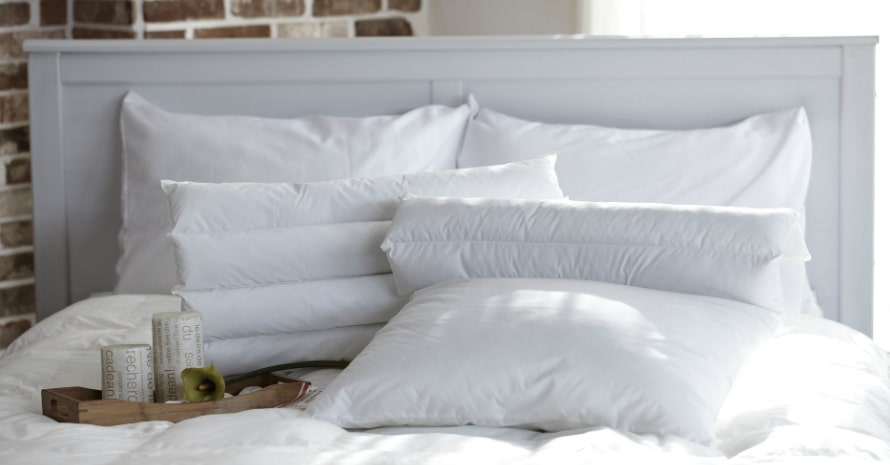 There are many types of pillows out there that you can use to relieve back pain. Getting the right one that works best for your needs is the first step to successfully addressing the back pain problem. Below are some of the best pillows to consider for back pain.
ComfiLife Orthopedic Knee Pillow – Best Pillow for Lower Back Pain
This top-quality pillow is a product of ComfiLife. This brand is known for manufacturing items that offer comfort, including knee pillows, seat cushions, pillow protectors, and many others.
The ComfiLife Orthopedic Knee Pillow is a well-designed pillow that you place between your knees while sleeping. This helps to correct sleeping posture and relieve pressure on your lower back to prevent sciatic pain. Its ergonomic design ensures it can fit perfectly between the knees. Therefore, the product puts your hips, legs, and spine in proper alignment for improved circulation and to relieve knee pain.
This pillow is highly durable. It is made using 100% premium high-density memory foam, which provides extra comfort for a long time without going flat. Its quality is fully guaranteed as customers are offered a 100% money-back guarantee if they are not satisfied with the product.
You don't have to be stressed while cleaning this pillow as it features an easy-to-clean non-slip cover. The breathable zippered cover is machine washable to make your cleaning work easier.
Positives:
Ergonomic shape for extra comfort
Highly durable; won't get flat easily
Comes with an easy-to-clean breathable cover
Adaptable memory foam allows it to fit well between knees
Can be used in different sleeping positions
Negatives:
Not ideal for people who toss a lot
QUEEN ROSE Pregnancy Pillow with Bamboo – Body Pillow for Back Pain
This pregnancy pillow is a product of QUEEN ROSE. This brand sells items that help future moms to have a nice sleep.
This product is ideal for pregnant women to have the most needed rest. You don't have to use multiple pillows to get a comfortable sleep, and QUEEN ROSE is a full body pillow that gives you everything in one place.
The pillow is highly durable and supportive thanks to its 100% premium bamboo material that provides long-lasting resilience. It's also made from cooling content that makes this breathable pillow comfortable because you won't sweat regardless of your sleeping position.
What you'll love about this pillow is its flexibility. It has a movable design that allows you to turn with ease, whether you are watching television or feeding your baby. It is also detachable, so you can use it separately to provide support to your head or legs.
This pillow is perfect, even for those people who toss and turn while sleeping. It features a detachable secure belt to ensure the pillow does not move when you turn during your sleep.
Sleeping on this pillow provides full back support. Consequently, it will help in improving blood circulation, relieving back pain as well as supplying gravida and fetus blood flow.
Positives:
Can be used in many sleeping positions
Made from durable bamboo material
Provides full back support
Made from cooling cotton to prevent sweating
Ideal for those who toss and turn
Negatives:
Can be short for tall people
EPABO Contour Memory Foam Pillow – A Great Example of Orthopaedic Pillows for Back Pain
 EPABO is the manufacturer of this Contour Memory Foam Pillow. This brand sells various pillows, including sleeping pillows and travel versions. If you love luxury sleep, then this pillow is right for you. The pillow is made from premium fabric to provide you with the much needed therapeutic relief from neck pain.
The pillow is also created with comfort in mind. It features an ergonomic shape with contours to support and correctly align your head, neck, shoulder, and back, thus giving you an entirely new level of comfort. It is also made from high-quality breathable memory form to allow proper circulation to keep you free from sweating.
The pillow comes with a hypoallergenic rayon/polyester blend case that is soft and smooth for a good night's sleep. Besides, the material protects the pillowcase from dust mites. The EPABO Contour Memory Foam Pillow is also highly durable and made from chemical-free materials.
Positives:
Has an ergonomic shape with contours for extra comfort
Breathable form to keep you cool and dry
Soft pillow case with dust mite protection
Made from chemical-free materials
Provides therapeutic relief
Negatives:
May not be good for back sleepers
LoveHome Memory Foam Lumbar Support – Amazing Pillow for Lower Back Pain
LoveHome Memory Foam Lumbar Back Cushion is manufactured by a reliable company LoveHome. The brand is a top seller on Amazon, selling various products like lumbar pillows, beach shorts, and seat cushions, among others.
This back cushion is perfect for office chairs, car seats, and recliners. It helps to alleviate lower back pain resulting from sitting in your car or office chair for a long time. The Lumbar support cushion supports your back to ensure you get a good posture for perfect spinal alignment.
The pillow features an ergonomic design that offers sturdy support to your back. It's made from quality foam that never flattens out. Instead, it takes the shape of your back to provide the utmost comfort.
If you are suffering from Lumbosacral lower back pain or Spondylosis, and you're observing the best pillows for back pain, then this is the right pillow for you. In fact, chiropractors advise Spondylosis patients to use it for surgery recovery.
This pillow features two adjustable straps to keep the lumbar cushion in a perfect position on the chair and another strap to prevent it from sliding down. There's also a breathable 3D ventilative that promotes air circulation to keep you cool and prevent sweating. The ventilative is also washable to ensure your cushion remains ever clean.
Positives:
Ergonomic design for sturdy back support
Quality material that doesn't flatten out
Best for Spondylosis surgery recovery
Breathable 3D ventilative to prevent sweating
Features an easy-to-clean pillow casing
Negatives:
Knee Pillow for Side Sleepers – Practical Pillow for Back Pain
Knee Pillow for Side Sleepers is a high-quality pillow manufactured by 5 STARS UNITED. This brand produces and sells a variety of products, including kitchen appliances, toys, and beauty products, among others.
With this knee divider, you get to separate your knees when sleeping. This allows you to align your body perfectly and prevent exerting pressure on your spine during sleep. The result is a therapeutic effect that will make you wake up the next day feeling rejuvenated. The pillow is perfect for side sleepers and pregnant women.
Doctors recommend this pillow for restless legs syndrome, after surgery or medical treatment, and for pregnant women to relieve stress from the waist. This knee pillow is made from high-quality heavy density materials that make it durable and comfy. The product has a thermal dependence, which makes it soft when exposed to body heat for comfortable sleeping time, making it a perfect addition to bed pillows. The pillow features a hypoallergenic pillowcase that is breathable and easy to clean.
Positives:
Highly durable
Thermal dependence for extra comfort
Washable and easy to clean
Breathable to prevent sweating
Gives a therapeutic effect
Negatives:
May not be ideal for people with big knees or legs
Back Pain Relief Memory Foam – the Best Pillow for Back and Neck Pain
This Back Pain Relief Pillow is manufactured by the BeautifulLife brand. The brand is a top seller of high-quality products on Amazon.
This product is an effective orthopedic pain relief. It is made from 100% high-quality visco-elastic memory foam that offers maximum comfort and support to hips, legs, lower back, ankles, and other parts of the body. It is an ideal choice for pregnant women, and patients recovering from surgery.
The pillow is multipurpose. You can use it as a knee divider for support, as lumbar support for chairs, recliner, car seat, or as a semi roll wedge to support your ankles to help reduce varicose veins and sciatic nerve pains. It is also ideal for relieving neck pain, spine, ankle stress, back pain, and spine.
Quality is another perk of this pillow. It is a firm pillow with a dual-layer to make it long-lasting and to provide fantastic hip, knee, and back support. It also comes with an easy-to-clean breathable organic cotton casing.
Positives:
An effective orthopedic pain relief
Multipurpose
Made with a firm dual layer
Durable
Features an easy-to-clean casing
Negatives:
It's a little firm for memory foam
TruContour Lumbar Pillow for Sleeping – Best Pillow for Back Pain with Adjustable Feature
TruContour Lumbar Pillow for Sleeping is a product designed to support the lower back while in bed. This premium-quality lumbar pillow is manufactured by TruContour, a brand that produces exceptional quality items.
This pillow is designed with an excellent shape that fits the natural shape of the back to enhance spine posture in different sleeping positions and to prevent back muscles. The medical-grade form also provides better support and comfort.
Unlike other similar products, the Lumbar pillow features an adjustable height which users can modify by adding or reducing foam pads. This pillow comes in two sizes, the light lumbar which has two pads and the super lumbar that consists of three foam pads. It also comes with an easy-to-wash outer cover.
Positives:
Great shape that fits the natural shape of your back
Features an adjustable shape for the utmost comfort
Machine washable outer cover
Comes in two sizes for more flexibility
Negatives:
Too soft and not contoured
Have Your Back Pain Questions Answered!
Below are some most discussable questions concerning these products. Read them and find out useful information
Pillows support the torso, hips, and promote proper spine alignment. This removes excess pressure and prevents overcompensation on nearby muscle groups. As a result, the spine remains in a natural position that leads to complete relaxation and relieving of back pain.
Pillows come in different sizes and shapes depending on their intended use. Some of the common types include:
These pillows are meant to be sandwiched between the knees for side sleepers. Others are wedge-shaped to be placed below the knees.
These are designed to ease lower back pain by offering support to the spine to allow it to stay in its natural position while sitting or sleeping. They are shaped to be placed along the inner curve of the spine near the lower back.
Body pillows are designed to conform to the shape of the whole body. This provides support and ensures your spine remains in the natural position to relieve back pain.
Another name for these pillows is viscoelastic foam. These pillows are built denser and with more viscosity for extra comfort. The pillows can be used to support both the head and neck.
The best pillow for the upper back is the body pillows that offer support to the spine and ensures it remains in its natural position. The snuggle form and the edge wedge can also help with upper back pain.
Choosing the right pillow can help alleviate back pain problems. When selecting a pillow for back pain, you should consider several factors like pillow shape, size, thickness, and material composition.
Choose the Right Pillow to Address Your Back Pain Problem
A good pillow is a wise investment to help alleviate your back discomfort. Hopefully, from the guide above, you've gotten the inspiration when selecting your ideal pillow for back pain. While there are many models available, the ones mentioned above are among the top models manufactured by the best-rated brands on the market.
From the best pillow for lower back and neck to the body pillow for back pain, there are more than enough options mentioned in this article to relieve your back pain. Whether you are back sleeper, side sleeper, or live a sedentary life where you have to spend the better part of your day in the office chair, you should be able to find the right pillow from top picks. The best thing is to know your needs before buying a particular pillow.
Last update on 2023-12-02 / Affiliate links / Images from Amazon Product Advertising API