Hello, and welcome to my blog about healthy sleeping! This time I would like to share my reviews of the most effective and highly rated products to help you choose and buy the best pillow for neck pain and headaches. The models I've selected can really help you to solve the problem, but you have to select wisely to achieve the needed effect.
I'll tell you about the best items from different categories and describe their purpose and features in detail so that you can use the article as a guide. I've also tested these products before writing and compared my findings to positive and negative reviews of other buyers. As a result, I was able to write concise but comprehensive pieces to let you select therapeutic pillows for neck pain and headache that will actually work in your case.
Product
Top pick
Title
Core Products Tri-Core Cervical Support Pillow for...
Tempur-Pedic TEMPUR-Ergo Neck Pillow, Large...
EPABO Contour Memory Foam Pillow Orthopedic...
Amongst my reviews, you will find a cervical pillow, ergonomic support pillows, adjustable height pillows, and an organic cylinder neck pillow. Below the reviews, you can find the FAQ section with my extensive responses to the common questions related to this product category.
Top 6 Best Pillow for Neck Pain and Headaches
Here are the most effective items in four main categories of pillows that are designed to help against neck pain and headache. These are not only top rated pillows for neck pain, but products reviewed through the prism of my therapeutic knowledge and personal experience.
Core Products Tri-Core Cervical Support Pillow – High-Quality Cervical Support Pillow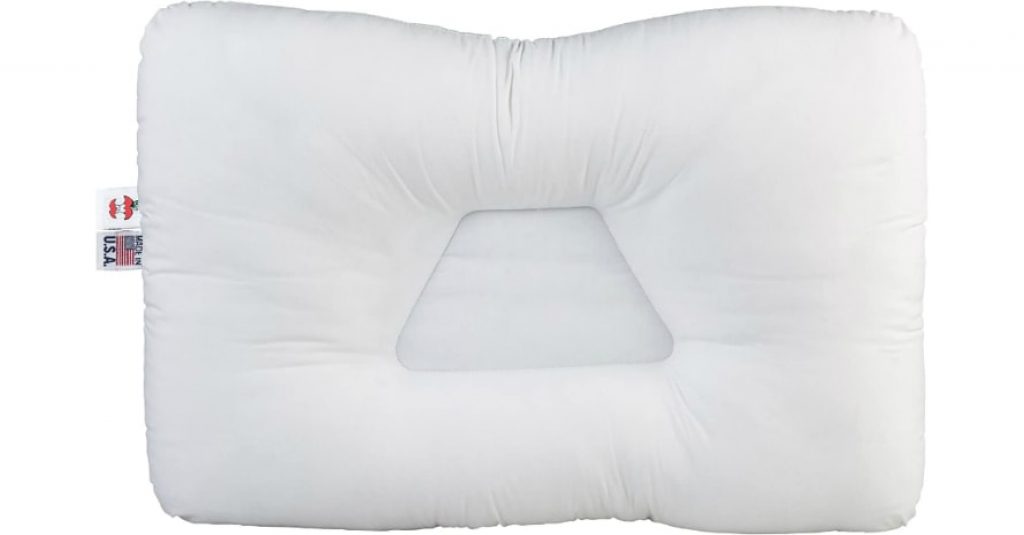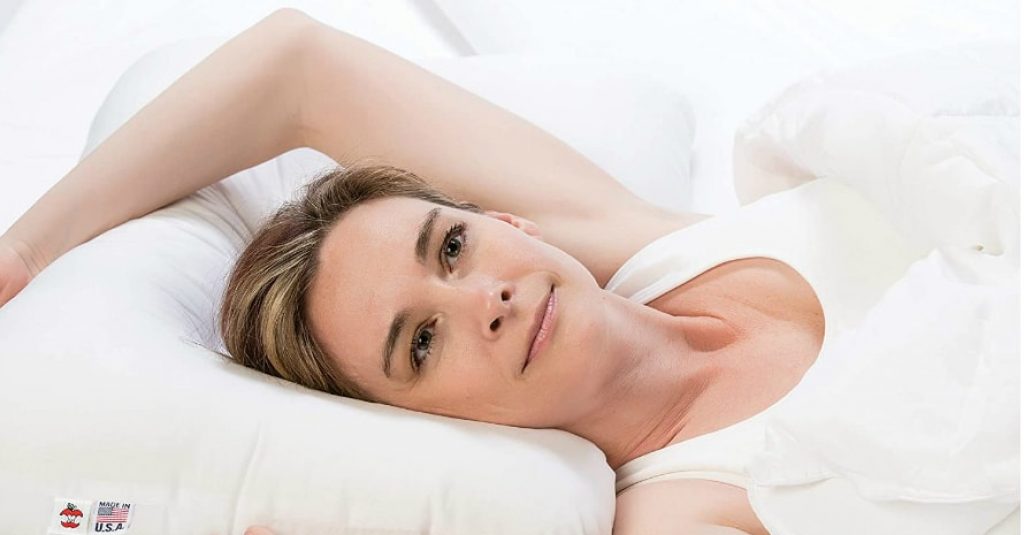 Core Products is a leading manufacturer of therapeutic products in the US and Canada. By the way, the idea of the company came to its founder, Phil Mattison, when he had a sore neck. The pillows by his sub-brand Tri-Core are considered the best amongst all cervical support pillows on the market.
The Tri-Core pillow is designed to correct the spinal posture of your neck when you sleep. The shape of the item is intended to support your head and neck properly when you sleep both on your back and side, which means that you can change poses during the night without decreasing the effectiveness of therapy.
The center of the pillow has a deepening that creates 4 rolls around. The smallest cervical bottom roll is purposed for gentle neck support when you lie on your back. At the same time, your head is supported by the larger upper roll and side rolls. You can also use side rolls to rest on both left and right sides.
The filling is made of certified pure synthetics that provide excellent air circulation and cannot cause allergy. The cover is also made of hypoallergenic cotton and polyester. The size of the cushion matches standard pillowcases, so you can seamlessly replace your normal pillow with this one.
This product will help you to restore the initial spine curvature and reduce pain significantly faster. However, you may have to adjust. If it feels too uncomfortable, you have to alternate and average thin pillow with Tri-Core to get the best result and achieve proper muscle restoration.

PROS:
Standard-sized solution;
Convenient shaped center;
Supportive rolls on all sides;
Virgin materials;
Effective against a variety of conditions.
CONS:
May require adjusting.
Too big for small children.
Ergonomic Support Pillows
Ergonomic support pillows have a special curve that creates two horizontal rolls with a deepening in between. This design provides neck contouring and firm support for your head, letting you align the entire spine.
Tempur-Pedic TEMPUR-Ergo Neck Pillow – Firm Neck Support Pillow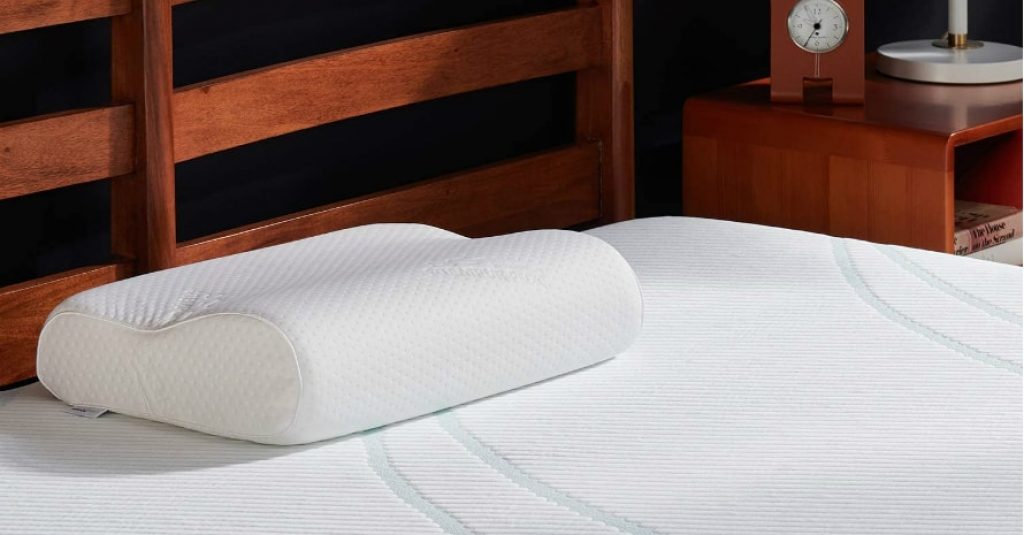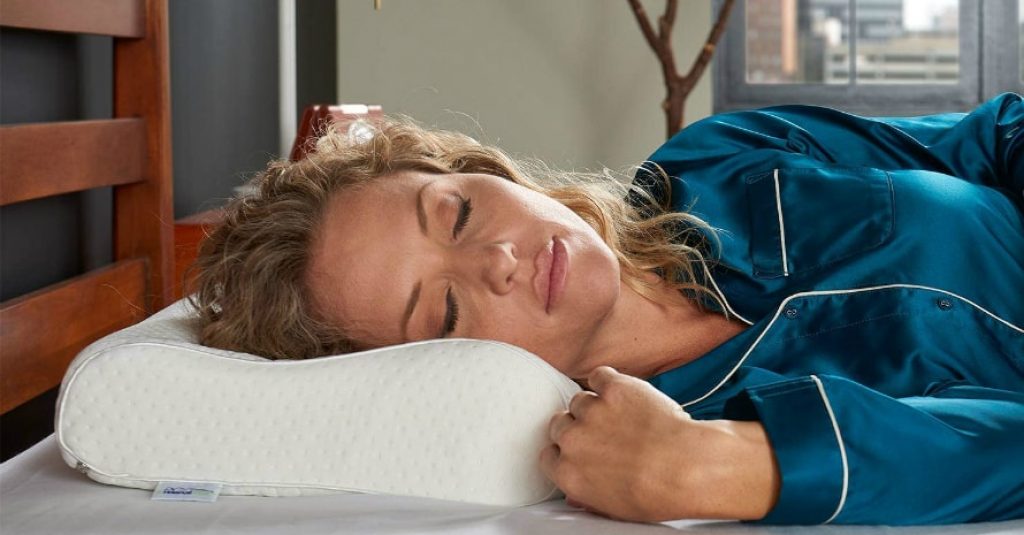 Tempur-Pedic is a successor of a NASA's 90s research project that was established to create super-durable cushions that would reduce lethality in accidents. Today, the company distributes high-quality mattresses, cushions, and other products related to the category all around the world.
TEMPUR-Ergo is a contoured ergonomic pillow for neck support. Its shape is designed to conform to your natural curvature and provide a therapeutic effect. Every time you go to bed, the foam repeats your body shape and returns to the initial shape immediately when you get up.
Due to the rectangular shape and squishy material, the cushion adapts not only to your head but to shoulders as well, the ultra-durable TEMPUR material remembers its NASA past and never loses shape. Unlike feather pillows, you can use it several years in a row and achieve the same alignment effect every day.
Pillow measurements are a bit non-standard, so you may need to look for new cases. The sizes are 20" and 12.8", while the profile thickness is available in 4.75-inch, 4-inch, and 3-inch formats. It's an excellent solution in case you are facing regular problems and need constant therapeutic support.

PROS:
Ultra-durable TEMPUR material;
Available in 3 sizes;
Firm feel;
Fits all body types;
Perfect for side and back sleepers.
CONS:
EPABO Contour Memory Foam Pillow – Shaped Cervical Pillow for Neck Pain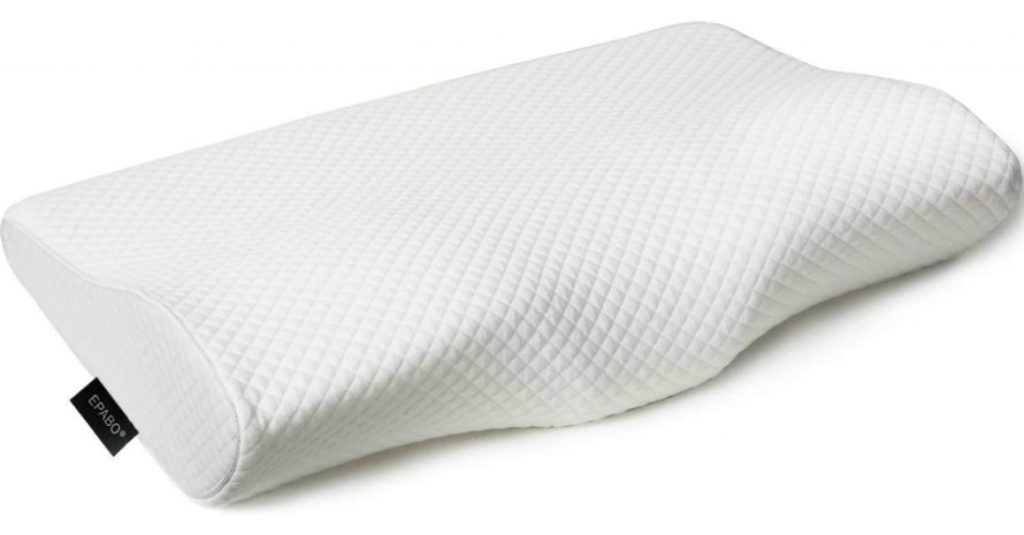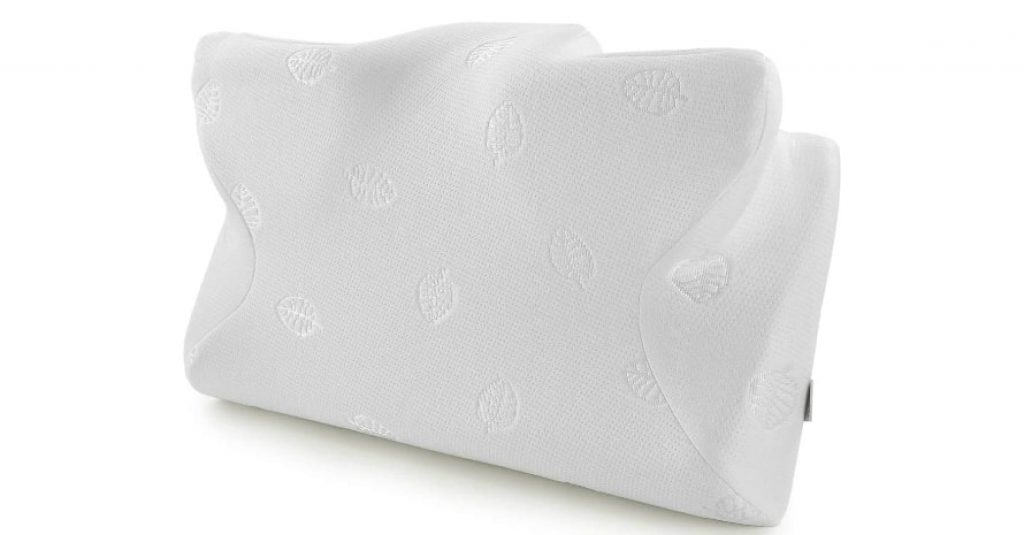 This ergonomic cushion by EPABO has a unique contoured design created to provide extra support for your neck. The central part of the higher roll has an ergonomic contour for your neck, which is meant to repeat the natural shape of your neck and support the curvature without gaps.
It's stuffed with refillable memory foam, which can be partly removed so that you can adjust the height and receive maximum conform in accordance to your body configuration.
EPABO patented foam isn't very squishy but provides excellent support. However, it may take time until your muscles adjust to the right spine posture. The firmness feels really good if you are a back sleeper.
The foam requires rare machine washing, and it doesn't lose its properties even after multiple washing ups. The pillowcase can be washed separately as it's easy to remove it due to the hidden stainless zipper.
Still, you have to read the washing recommendation to preserve the silkiness of the surface. And always remove the memory foam core before washing.
I recommend this pillow to side, back, and even stomach sleepers, as it's easy to adjust the height to your properties. The foam isn't too firm, which is good for situations when adjusting to a firm pillow feels too painful.

PROS:
Adjustable height;
Removable silky pillowcase;
Clustered memory foam is easy to adjust;
All-natural bamboo fiber;
Good for all sleeping poses.
CONS:
Adjustable Height Pillows
Sometimes it is urgent to have an adjustable solution that lets you experiment with height to achieve the needed result without the need to order a different product. Adjustable height pillows are also flatter than memory foam cushions which is crucial sometimes.
Pancake Pillow with Extra Pillow Case – Adjustable Tension Headache Pillow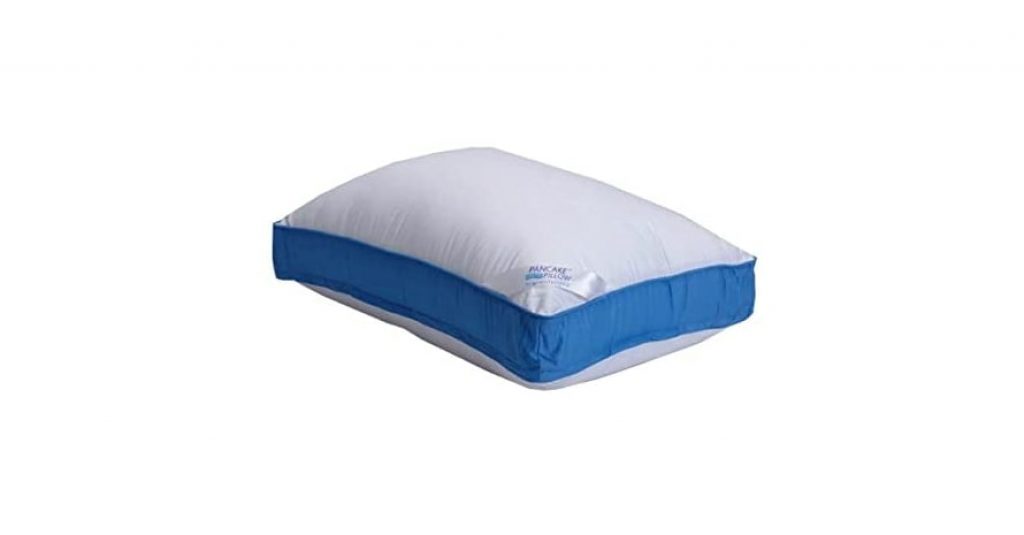 Pancake Pillow Case is a cheap item that is very easy to adjust due to the layered stuffing. The standard case comes with 6 separate layers which you can configure to achieve any thickness that feels comfortable enough.
The material of layers is relatively soft but is able to form a supportive cradle under your head anyway. Besides, it's flexible enough to let you hug the frame with your arms as well. As a result, you can adjust it for sleeping on your back, side, and belly.
If you feel good sleeping on thin cushions, I recommend you to cheat a bit. You can order this model along with a storing bag that actually works as a full-value pillowcase but for a much lower price. As a result, you get 2 convenient medium-thickness cushions with a therapeutic effect for a very low price. If you need an even thicker one, you can just order additional layers or take the unused layers of your partner.
I recommend this product both to people who need the thinnest solution and those who want to make the thickest pillow for particular purposes. It's available in a flat King pillowcase and a more puffy Queen case.

PROS:
Lightweight model;
Compact size;
Wide range of settings;
CONS:
Nature's Guest Orthopedic Contour Pillow – Excellent Refillable Orthopedic Pillows for Neck Pain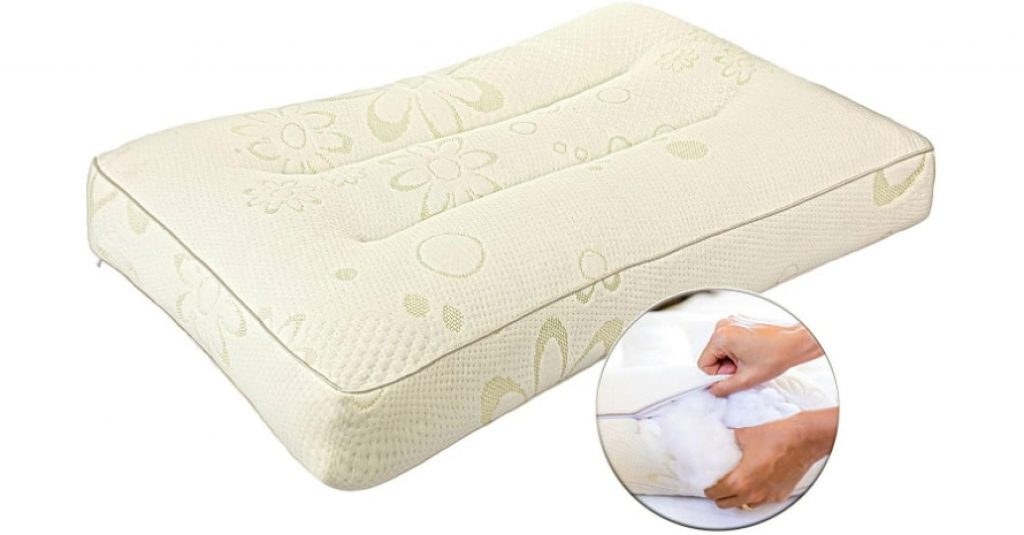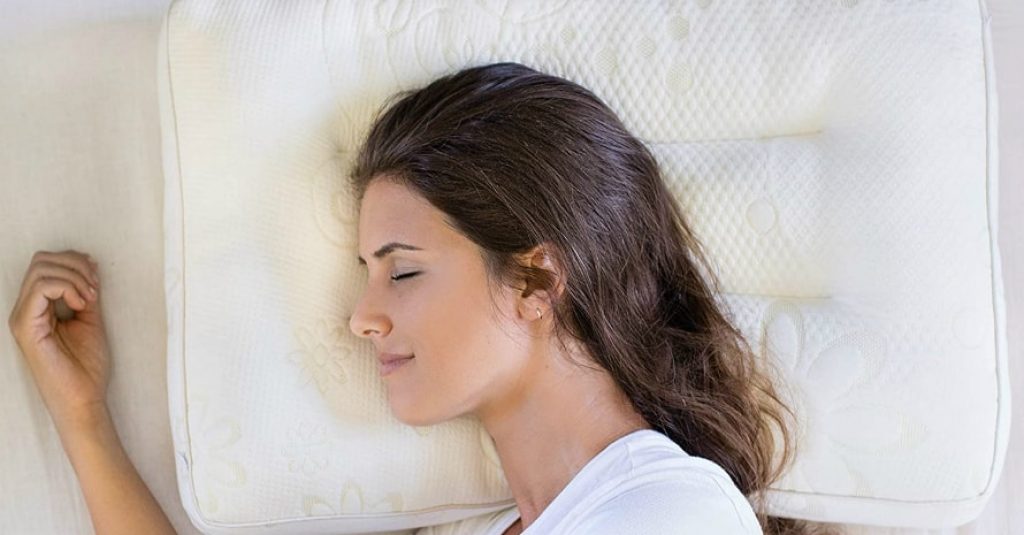 Nature's Guest is a US-based company focused on the creation of orthopedic pillows for back, side, and stomach sleepers who are facing back and neck pain. Unlike the previous solution, their pillows are divided into 3 lines, which lets you achieve different resistance strengths.
You can swap the layers to achieve contouring effect for better head cradling, enhanced cervical support for neck pain, or a more convenient side-sleeping experience.
You can fill each layer with any amount of fiber filler to experiment with shapes or ask your orthopedist to adjust the right height in each sector for you. The filler is protected by dual zippers, so it won't get out if one of the zippers remains open by accident. The filler material is 100% odorless polyester that doesn't cause allergy, so it's a good alternative to feather-stuffed flat pillows.
I like that this cushion is quite big, but also very soft and lets you rest with your head and shoulders at the same time. Adjust it properly, and you will feel much more comfortable during the night. It's a good solution if you don't like firm and non-adjustable models. It's the best pillow for neck and shoulder pain when you need full control of the effect.

PROS:
Fully adjustable 3-section contour;
Can be both soft and supportive;
All low and medium heights achievable (up to 5 inches);
Double zipper;
Odorless materials.
CONS:
More expensive than the previous adjustable solution.
Sachi Organics Buckwheat Cylinder Neck Pillow – Cylinder-shaped Natural Cushion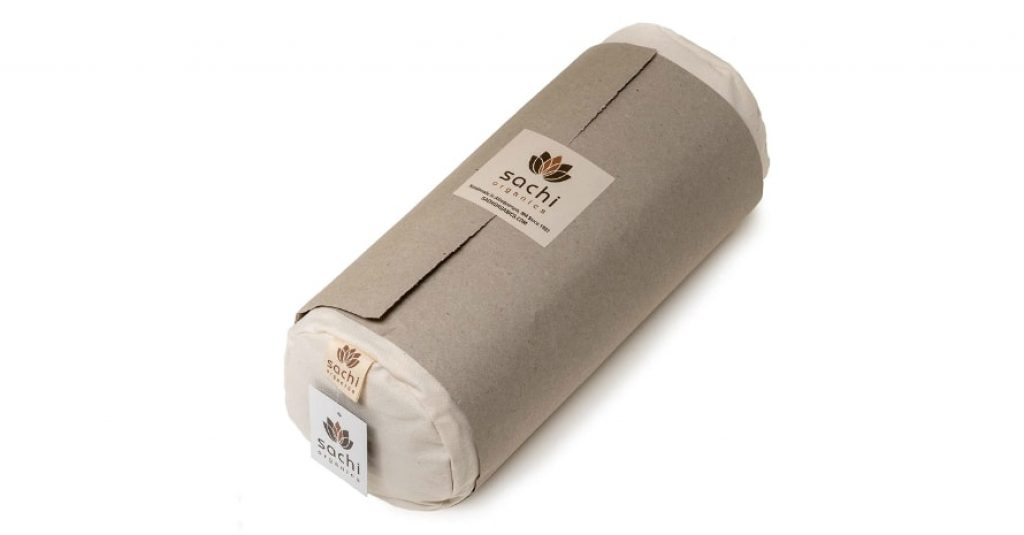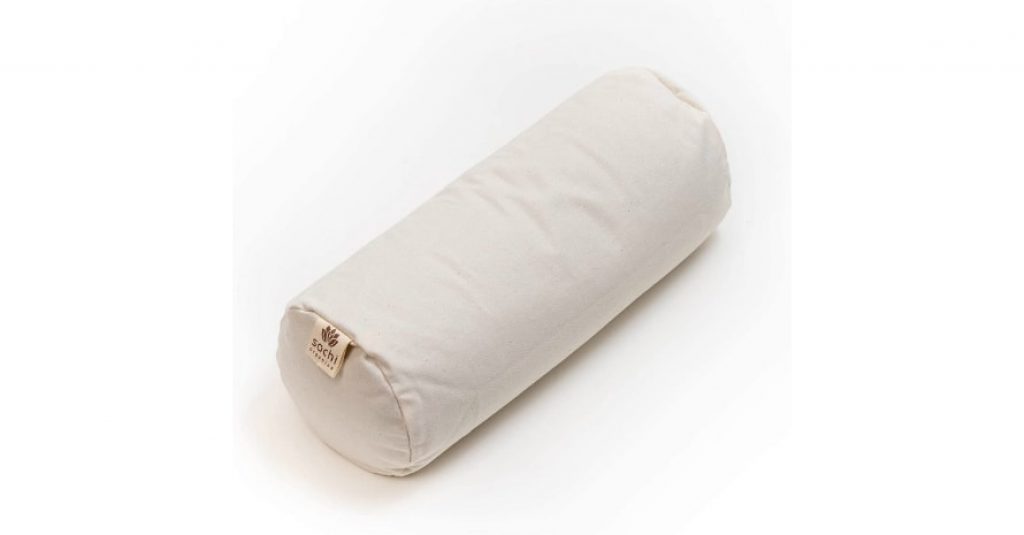 The last but not the least item in my article is this cylinder pillow filled with buckwheat hulls. As a therapist, I've always been skeptical of tall sorts of items made of raw organics, but this one conquered my favor. Sachi company has been manufacturing organic products for over 30 years already, so I was testing their pillow with excitement.
The cylindrical shape is excellent for reducing neck and shoulder tension. Due to the loose structure of the filler, you can easily adjust the height. Unlike synthetic fillers, buckwheat hulls don't lose firmness, even if you make a very thin layer. At the same time, it doesn't become too firm when you fill it to the top. The cylinder easily adapts to the shape of your neck and shoulders, letting you relax without the need to adjust to the shape.
The pillowcase is also made of natural organic fibers and sturdy cotton canvas. You can remove the filler and wash it in the washing machine. It's a perfect solution for seekers of all-natural items with high adjustability and excellent effect.

PROS:
All-natural item;
Filled with buckwheat hulls;
Easy to adjust;
Washable canvas pillowcase.
CONS:
It's a bit difficult to remove the hulls completely for cleaning.
Frequent Questions About Pillows for Neck Pain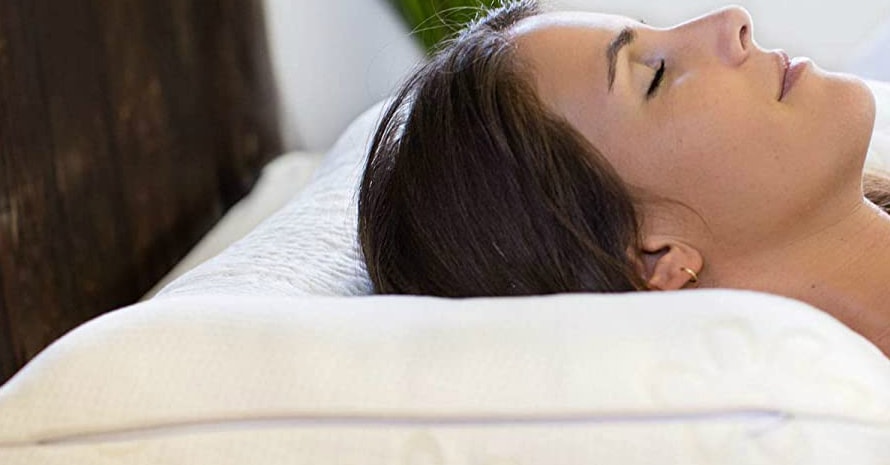 My readers and other people, who know about my current specialization, often ask me what they should know to get the right product, how to use it properly, and some other things. I gathered the most common questions to answer them once and for all.
How to find the right pillow for neck pain?
Choosing a pillow to prevent neck pain, you have to consider your favorite sleeping position and remember that the best positions for your neck are on your side and on your back. If you usually sleep on your side, the best solution is to use a pillow, which has a rise under your neck, keeping your spine straight. When you're traveling by plane or train, take a horseshoe-shaped pillow along. However, it shouldn't be too large not to pull your head forward.
If you mostly sleep on your back, a rounded pillow for supporting natural neck shape will work well. Still, such a pillow should have a flattened rest for your head too. For example, weather pillows are good at conforming to the natural neck shape, but you have to change such pillows every time you notice that they lose initial properties.
Another variant is a pillow filled with so-called memory-foam. The foam can conform to your neck and head shape and help to train proper back alignment. On the contrary, you should avoid pillows that keep your neck flexed the whole night long as it may result in severe pain in the morning.
In case you usually sleep on your belly, you have to train yourself to sleep on your back or side. Even if the habit lasts your entire life, you can retrain it within 20 days. Otherwise, your spine will continue to suffer.
How to sleep on a pillow for neck pain?
Sometimes it's impossible to keep in the same position overnight as all people tend to change their position at least once per night. However, the result of your sleeping will remain positive until you sleep on your side or on your back. The back position is the most neutral and is more likely to let your neck muscles relax. Sleeping with your face to the ceiling, you reduce pressure on your neck and the entire spine. Sleeping on your side is also not dangerous and lets your neck rest in a natural pose and use your arms for extra support.
If you are using a feather pillow, you can sleep in any convenient pose (but not on your stomach) because this type can instantly conform to your pose. If it's a memory-foam item, you'd better try to sleep in one position for most of the time to let it remember your shape. Some people also feel relief when sleeping on their left side as this position is relaxing for stomach muscles and the rest of your body, so you can try it too.
Independently from the position you prefer, your neck has to be in one line with the rest of your spine. Alignment is key to a healthy sleeping style and pain reduction, so you should try to find the proper pillow height and shape to let your muscles feel free to relax.
How do you get rid of neck pain while sleeping?
There's no universal answer to this question, so you have to try different solutions. Start from the easiest one and try to change your sleeping position first. If it doesn't help, consider changing your pillow to a lower one.
You can also try sleeping on different materials, such as feathers, silicone, or memory foam. But don't get frustrated if the pain doesn't go away immediately as it usually takes up to a week until the situation resolves positively.
The best way to solve the problem quickly is to match the type of your pain with the pillow shape and stick to my recommendations. If you are consistent, you will achieve the result fast enough and won't harm yourself.
How to relax neck muscles while sleeping?
Relaxation of neck muscles during sleeping can be a matter of single night or last for several days in a row, depending on your case. Usually, the best solution is to get a lower pillow, which isn't too hard and adapts to your shape. Don't listen to those people who tell you to sleep without a pillow as it may lead to harder neck pain. Pillowless sleep doesn't have to be applied without a prescription by the doctor.
How long does neck pain usually last?
Average cases of a stiff neck last from 1-2 days up to a couple of weeks. Typical symptoms may include a continuous pain in your neck, head, shoulders, and sometimes arms. The better treatment you choose, the faster you can get rid of annoying pain and return to your average routines.
What else can I do to help myself reduce pain?
You already know what to do while sleeping, but I also recommend you to use some tips during the day. You can do some gentle stretching exercise to reduce pain:
Try to touch your shoulders with ears. Do it 10 times and slowly;
Put your scapulas together slowly and hold for a sec. Repeat 10 times;
Push your head back and forth, hampering movement with your hands. Repeat 10 times into each side;
Roll your shoulders backward slowly. Repeat 10 times.
You can also ask your partner to make you a soft massage. What you shouldn't do is perform painful and potentially harmful actions. I recommend you to refrain from intense training until the pain goes away.
Sleep Well
So what is the best pillow for neck pain? It depends on your particular problem and the features offered by each model. Using my comprehensive reviews and tips, you can shop for the best pillow for neck problems and headaches right now. Take features of each item into consideration and always avoid dubious products as they may be ineffective or even make things worse. You can also consult your doctor to make sure that your choice is right.
Have you ever used at least one of the pillow types from my reviews? If yes, please, share your experience with my readers and me in the comments section. There, you can also ask me questions related to the topic of the article. I will gladly reply as soon as I can. Sleep well, and always take care of your health!
Last update on 2023-09-27 / Affiliate links / Images from Amazon Product Advertising API