Sleep is a time of calmness, inner peace, and rejuvenation that fuels us up with power and zeal for the day to come. But it can turn into an actual nightmare when an allergy breaks into our lives.
Most allergies are caused by various natural and animal-derived factors. However, there are such that come from bedding itself and, most frequently, from the most essential thing that provides aid for our sleep – a simple pillow.
For those of you, who know what it's like to be driven mad by allergen-containing pillows, I've prepared a suggestion list of truly wondrous allergen-free pillows that can improve your night rest.
Amazon Bestseller
Top 5 Best Hypoallergenic Pillows to Improve Your Slumber and Wellbeing
How can a person be allergic to pillows? They can't. They are allergic to what a pillow can contain, or sometimes, to what can live there. A lot of old cushions have natural fillings, like feathers, buckwheat, shredded foam, microbead, etc. If not washed and cleaned regularly, they provide a good environment for bitsy bugs called 'dust mites' whose wastes irritate our nasal sensors causing suffering.
Choosing a pillow that is free of any harmful stimuli is not only an accessory but a necessity.
For this, let's dive more deeply into allergy-free pillows.
Coop Premium Adjustable Loft Pillow — Non-Allergenic Pillow King
Coop Adjustable is a fabulous combination of polyester and bamboo-induced fabrics. The company's motto is to provide customized bedding items for people whose sleep is constantly interrupted by tossing around and being sensitive to allergen-containing materials. I have already added one pillow to my bedroom bedding and one to my living room sofa. And it feels great!
Created using eco-friendly materials and suitable for vegans, the product cares about your back and neck by aligning them properly, which provides you with a perfect sleeping position.
The pillow is a balance between what feels comfortable and right for your posture. This is ensured by the in-built memory foam that embraces your customized body dimensions and guarantees a perfect form for your upper spinal vertebrae and neck muscles. The sinking-in feeling comes right after the first use along with the gentle firmness of the foam.
The product has been through a sufficient number of safety tests pillows for people with allergies. They prove that the item completely excludes any chemical or toxic, synthetic components.
The natural and non-animal-derived filling provides security for people who suffer from allergies because the pillow microenvironment is rather irresistible to pillow bugs and dust mites, making it allergen-free.
The manufacturers are so secure about their creation that they give a five-year warranty for it. Meaning, if the item is used properly, according to the instructions, and it loses its shape, integrity, or other properties, it can be returned with a complete refund.

PROS:
Doesn't include any animal-derived components;
Has stylish and neutral coloring; suitable for both beds and couches;
Lightweight;
Comes with a washable pillowcase;
Doesn't lose its puffiness over time.
CONS:
Beckham Hotel Collection Gel Pillow — Family Option Best Pillow for Allergies
If you have an incidental neck stiffness problem or even major neck strains, then you may need a firmer solution, like this one. I've advised buying one of these to my clients more than once, and have never received a bad review.
The Beckham Gel Pillow is an extra-plush bedding pillow with its one of a kind fashionable case. The covering material is resistant to dirt, body oils, and odors. In case it does get dirty, it's easily washable in a washing machine at a medium temperature.
The gel, which comprises the main filling of the item, is another firm and soft material used for supporting the head without fixing it completely or letting it loose. In addition to this, the item is suitable for people who have occasional or underlying breathing problems. Due to its airy filling, the product allows the sleeper to breathe freely regardless of their position.
An interesting feature added by the manufacturers is the pillow's cooling capacity. The gel and fibers inside barely accumulate any warmth from your body temperature. This allows the product to maintain the same level of heat so that there is no need to flip it over impatiently in the middle of the night.
It's, indeed, one of the best pillows for allergy sufferers, for the material is not only unfavorable for mites and other bugs but completely mold and fungus resistant. Moreover, the formula doesn't include any chemicals, thus making the pillow child-friendly.

PROS:
Odor-free;
God for individuals with respiratory conditions;
Comes in packs of two;
Possesses antibacterial properties.
CONS:
WonderSleep Premium Pillow — Unlike Other Allergy Proof Pillows
Throughout my practice, I've met people who were in desperate need of non-medicine pain and pressure relief after major surgeries or due to underlying conditions. Stumbling upon one of these products, I was pleasantly surprised.
The Wonder Sleep Pillow has similar characteristics to other bedding products, but it is also imbued with an array of benefits that can help out people seeking help.
First, the pillow has a manual refill option. It allows users to change the volume of the pillow's filling without any professional assistance. How? Well, both the case and the item are equipped with zippers that make it childishly easy to disassemble the product and put it back together. An additional filling can be either bought from the manufacturer or extracted from the pillow that comes as a nice bonus. By adjusting the amount, the user can customize it according to their needs, varying from stiff and bouncy to plush and soft. This also ensures a safe and easy washing process, where you don't have to be afraid of ruining the filling. Just remove it before washing and stuff it back after the clean-up.
Second, thanks to the double-layered technology of the product, it provides the user's head with a slight tilt up. Now, the head is not only aligned with the rest of the spinal cord but is uplifted guaranteeing the necessary rest for the neck and upper back muscles.
Viscose Rayon and polyester act as great bacteria and mite repellents. The two materials combined make up a truly incredible specimen of allergy proof pillows.

PROS:
Provides a refill option for better adjustability;
Washing-proof; designed for regular cleaning;
Deters pests and parasites;
Comes with a warranty.
CONS:
Kool-Flow ADJUSTABLE Bamboo Pillow — Hypoallergenic Memory Foam Pillow Miracle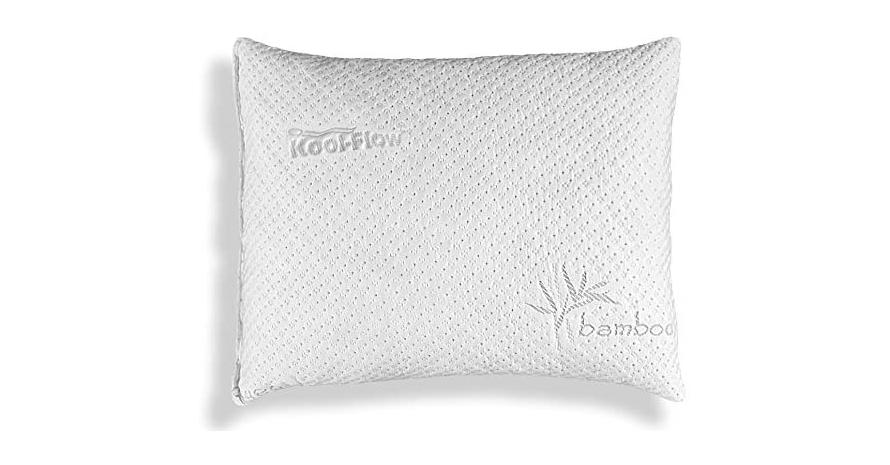 The Kool-Flow product is probably the best pillow for allergies and asthma. I've never had a chance to try it myself, but I've heard plenty of positive feedback from my long-time clients.
Produced by a US national brand Xtreme Comforts, the pillow is made of 100% natural elements based on shredded bamboo foam. It's been dragged through a variety of independent labs' testings and has been certified as one of the most eco-friendly bedding products that are often recommended to pregnant women. This is backed-up by the company's three-year award-winning spree provided by Wirecutter.
Its safety and neutrality also place the product on a top spot of the best non-allergenic pillows on the market today. Unlike many others, the pillow is equipped with a no-odor bamboo pillowcase that deprives the item of any possible factory or foam scents.
The option is contrived specifically for people who are in the habit of tossing around and changing their sleep position during the night. Regardless of whether you prefer slumbering on the back, side, or right on top of the belly, you won't feel the difference thanks to the product's breathing and lightness technology that puts it among the most suitable pillows for asthma sufferers.
Besides, its in-built shape-return mechanism ensures the pillow's everlasting volume that is restored right away should you take the head off the puffy product. This also leads to its anti-flatness property, saving the product from wearing off too fast and making it a buy-once-and-for-all purchase. Don't be afraid of squishing or deforming it, it's practically impossible; on the other hand, a simple 15-minute spin in a dryer will fix it right up.
I would highly counsel you to try out this comfort if you're searching for a home, safe-to-use means of dealing with nocturnal respiratory complications.

PROS:
Compact, can be taken along for a car trip;
Therapeutic effect for the neck;
Unlikely to fold or deform;
Odor-free.
CONS:
Requires regular cleaning.
KUNPENG Foam Pillow — the Best Pillow for Allergies and Light Sleep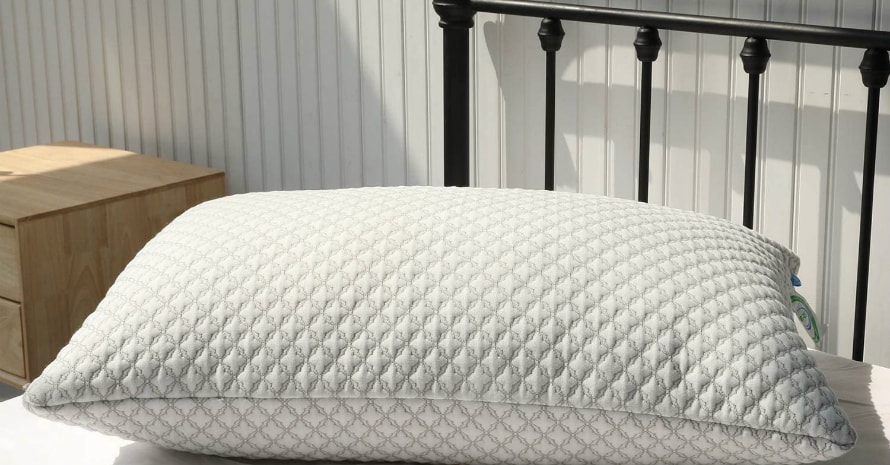 Among many anti allergy pillows, the Kunpeng product marvelously stands out as an effective substitute to old down, feather, or buckwheat pillows due to its composition and reliability.
The bland of materials is split equally between the renowned Memory Foam on the inside and luxurious Velvet Fiber on the outside. The top surface layer is embedded into a stylish 3D cover that resembles silk to the touch. The cover is very water and moisture resistant and doesn't collect any condensate, which protects the pillow from absorbing sweat, body oils, and fats, as well as saliva. As a result, the fiber lasts longer and doesn't require cleaning; moreover, it doesn't become a 'feast' environment for dust mites and bed bugs.
Compared to a multitude of similar products, the filling has the property of gathering into granules and clusters. Due to this, the fabric takes on the exact shape of one's head and doesn't give off that one-brick feeling.
The item is designed to be muscle support for the upper torso and the head, taking pressure off the shoulders. However, you can use it even for your legs and back. It's a good trick I learned myself as a little relief after long and exhausting yoga and fitness sessions.
As the pillow is unpacked, it takes around 24-35 hours for it to unfold completely. It's usually compressed into a vacuum packaging to ensure complete cleanliness and purity for personal use. Should you find a deficiency or manufacturing mistake in the product, you can always return it using your 5-year warranty. Moreover, if you find the pillow not suitable or it just doesn't feel right, you can send it back thanks to the 120-day satisfactory policy.

PROS:
Doesn't absorb moisture;
Very comfortable to carry; can be taken on trips;
Completely hygienic, for personal use only;
Has a superb return policy
CONS:
Difficult to wash due to its unremovable filling.
FAQs
Which Pillows Are Hypoallergenic?
Allergies are a common immune reaction to natural stimuli produced by plants, trees, or mildew, a source of pollen. After penetrating your body through nostrils or eyes, they cause tiny inner inflammation which leads to runny nose, cough, tearing, etc. However, some people are sensitive not only to pollen but also to animal fur, insects, and their wastes. Some microscopic mites like to reside in human bedding, and especially in feather, buckwheat, or any other kind of old pillows.
A hypoallergenic pillow is a piece of bedding that excludes any possibility of even the slightest insect infestation. Due to the synthetic fiber that makes up the filling of a pillow, an allergen-free pillow creates an extremely unfavorable environment for such pests to breed and live.
How Do Hypoallergenic Pillows Work?
As described in the previous answer, hypoallergenic pillows are very unpleasant for dust mites. Another useful feature of the product is that it's considerably resistant to water and moisture which mites love and need. More specifically, it doesn't collect it inside but causes it to evaporate rapidly.
One more trait that makes an anti-allergy pillow is the material. In order to be safe for people, such bedding pieces are normally made of fabrics that people are the least allergic to like silk, velvet, or wool. As some individuals can still be sensitive to such materials, choosing a hypoallergenic pillow is an individual task.
How Long Do Hypoallergenic Pillows Last?
I believe it's a very tricky question. The reason for this is that such a pillow doesn't usually have an expiration date, and it can last as long as the material it's made of is intact. Considering it's made of synthetics, it can endure many years of service, but it's highly individual because you'd have to rely on the manufacturer's conscientiousness. I suppose, no pillow will be good after 10 years of constant use.
How to Clean Hypoallergenic Pillow Covers?
Most modern anti-allergy pillows are meant to be long-lasting and, therefore, equipped with zippers on their cases that ensure easy undressing. The pillowcases are completely machine-washable. You generally need a medium temperature cleaning (60?) and might well add some detergent or softener.
The Bottom Line
Having an allergy is a real struggle that impedes one's peaceful night sleep. And obtaining a hypoallergenic memory foam pillow might be the solution a lot of people are so desperately in need of. Not only does it prevent that excruciating sobbing and sneezing but it also ensures a comfortable and neck-friendly rest.
The variety of such products can be bedazzling with options, and choosing one is not an easy task to do. For this, I'd recommend doing considerable research to make sure that you pick a pillow that feels just right for you.
Nonetheless, I hope this article has been helpful and has given you a fresh perspective on good old pillows. Have you ever happened to use such products? Or, maybe, you've already found the best pillow for allergies? Don't hesitate to comment down below or add any other information that other readers might find useful.
Last update on 2023-05-30 / Affiliate links / Images from Amazon Product Advertising API