In childhood, it is crucial to take care of every little thing that can affect the baby's health and growth. Sleep should be comfortable and calm; nothing should prevent the baby from sleeping. The baby needs a sound and healthy sleep, which is precisely influenced by all bedding, as well as the pillow itself.
The height of the pad, its density, and material can only harm the child with a careless choice. Another important reason why you should pay special attention to the choice of kid-sized pillows is the spine. If it is too high, then not only a slight kink occurs, which affects blood circulation, but also the formation of an incorrect location of the bones of the spine.
Learning about sleep deprivation patterns and bad sleep habits lead me to realize that there are many dangerous things for our health that we face during childhood. That is why it's crucial to be attentive to any little things to ensure a healthy sleep for the child, starting from sleep hours to pillows. Below you will find the pillows that have passed the control of the most prominent critics in this world – moms.
Amazon Bestseller
Top 7 Best Pillows for Kids
When choosing a pillow, it is vital to consider many criteria, including your child's height, age, the quality of the materials the pillow is made of, its packing density, and much more. The following seven products have passed all the parameters of the right pillow and provide the extra mile to provide comfort and health for your baby. I tried many myself, changing them as my children grew. Some of my friends advised me. I hope this information helps you find the perfect soft pillow for your child.
Easy-care Hypoallergenic Toddler Pillow: Little Sleepy Head Toddler Pillow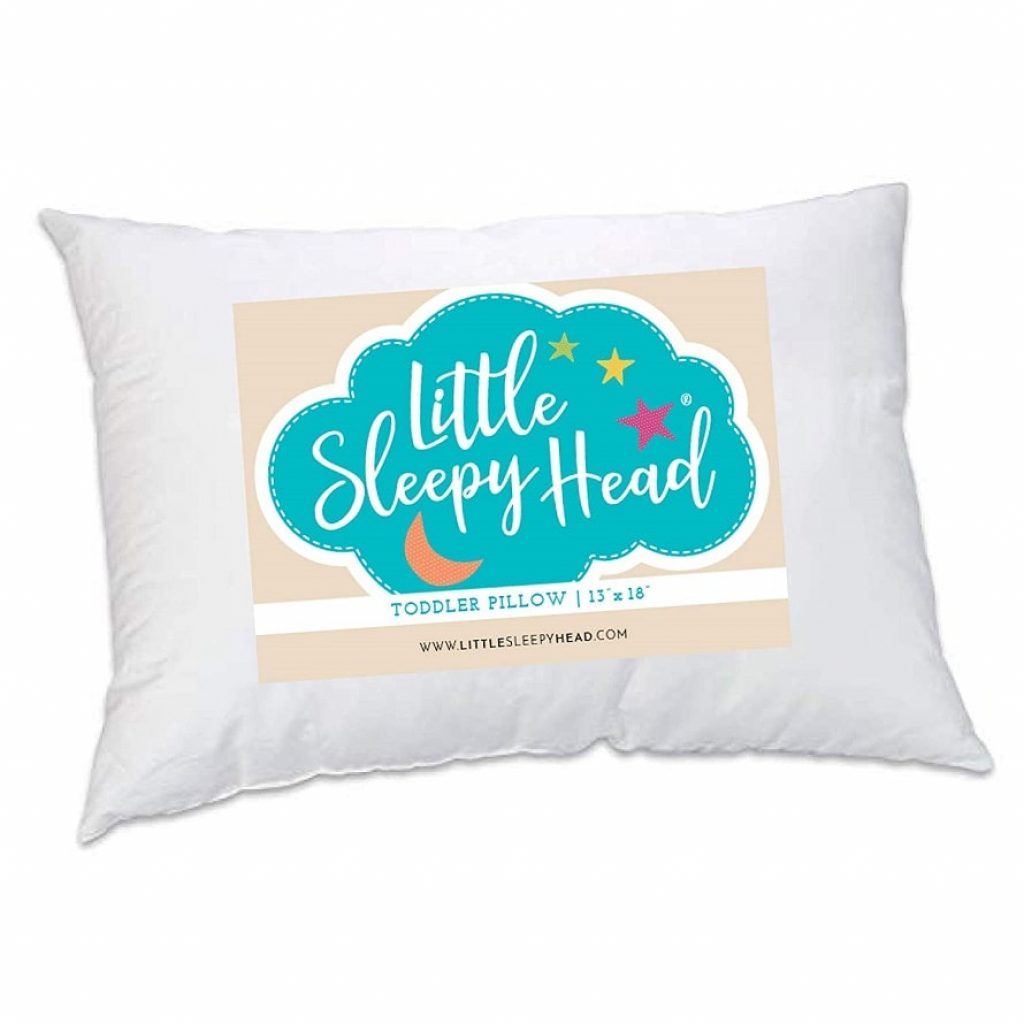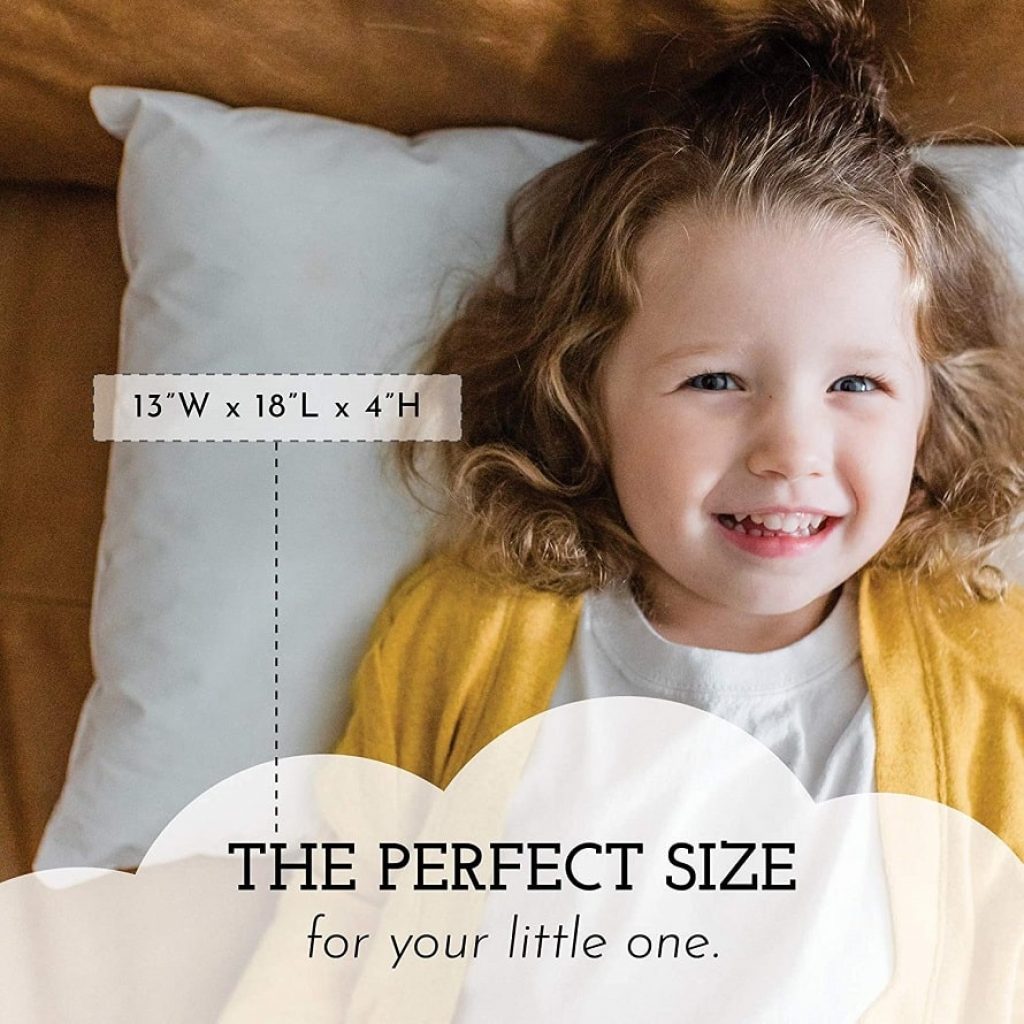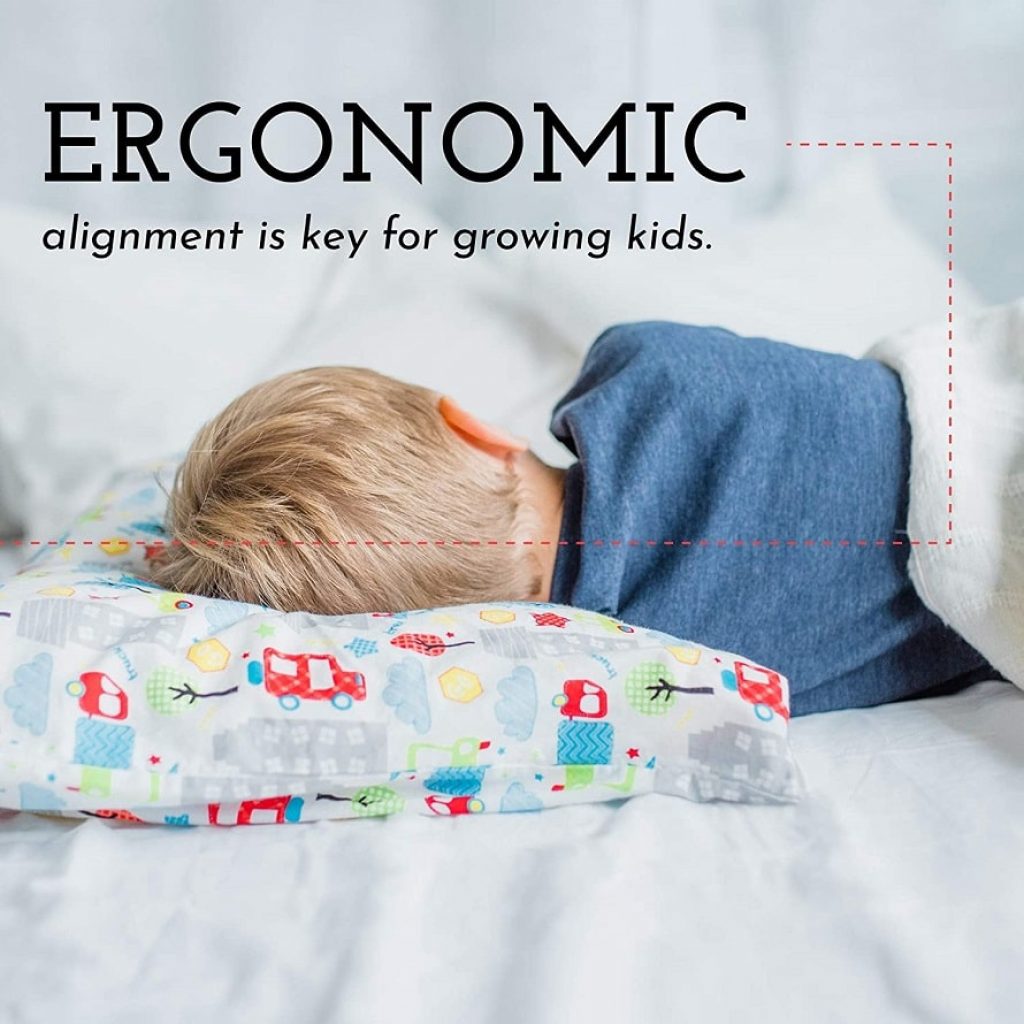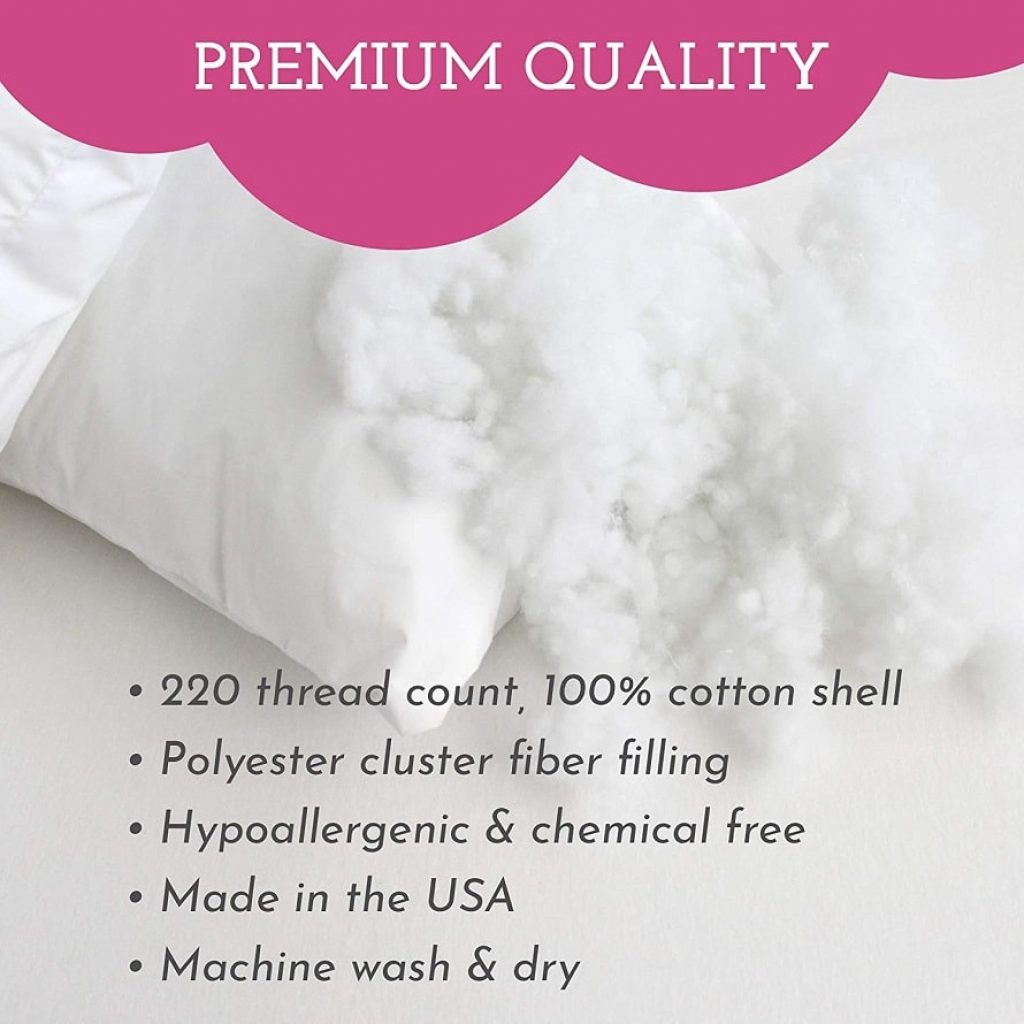 It is cotton. It is soft, comfortable, and perfect in size for a small child. The pillow is dense and soft for sleeping comfort but does not deform. It retains its shape over time, thanks to the filler in this pillow – these are polyester fibers.
It is sold without a pillowcase, so you can choose the color that you want or use an existing one. This hypoallergenic pillow is easy to wash and dry in a cold water machine, so it will not cause problems in caring for it. Forget about standard pillows when it comes to your baby. He needs a pillow that is personally tailored in size and age, which will not be too soft or hard and will not put pressure on the spine. Quality pillows are always a little expensive, but it's worth it. This option is ideal in the ratio of material safety and comfort, so feel free to take it if you want to accustom your child to a pillow.
PROS:
Hypoallergenic filler;
Natural fabrics;
The shape of the pillow is not deformed.
CONS:
Comfy Toddler Body Pillow: Toddler Pillow Organic Cotton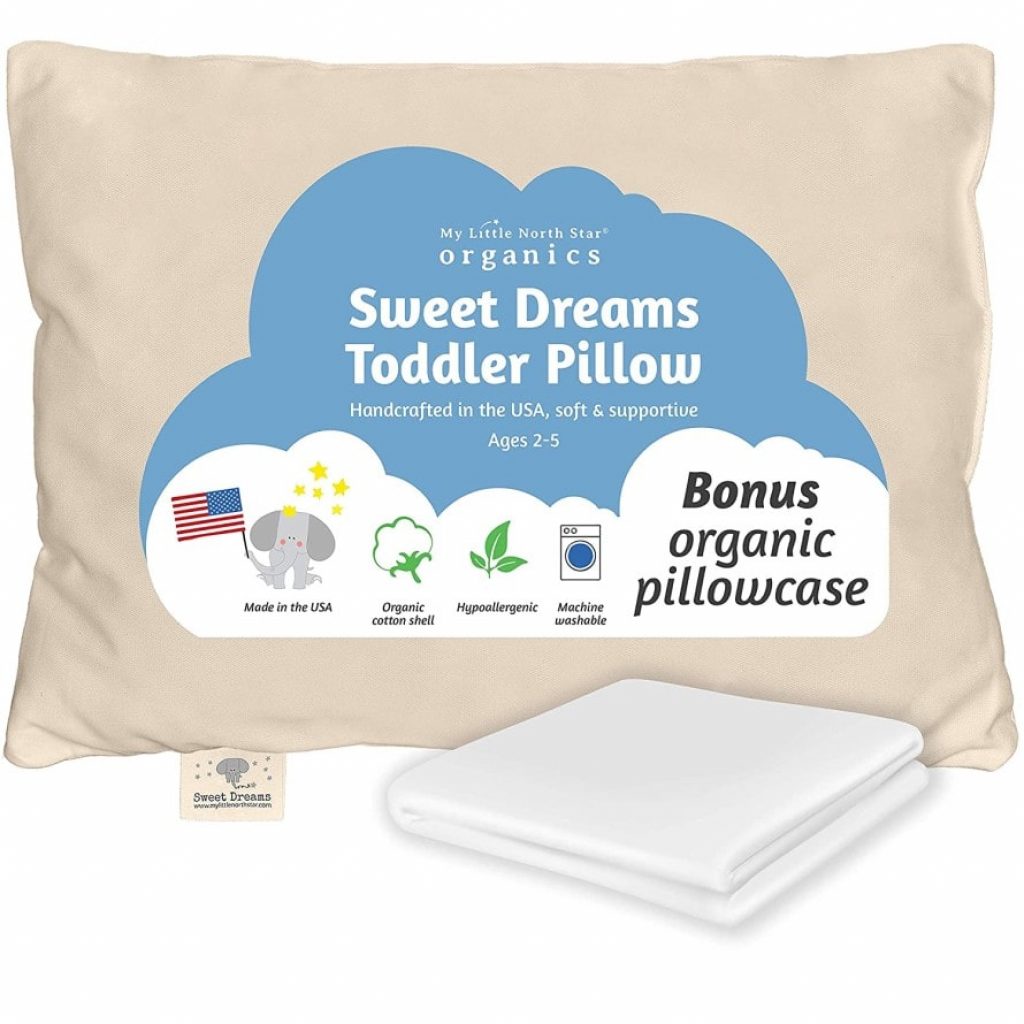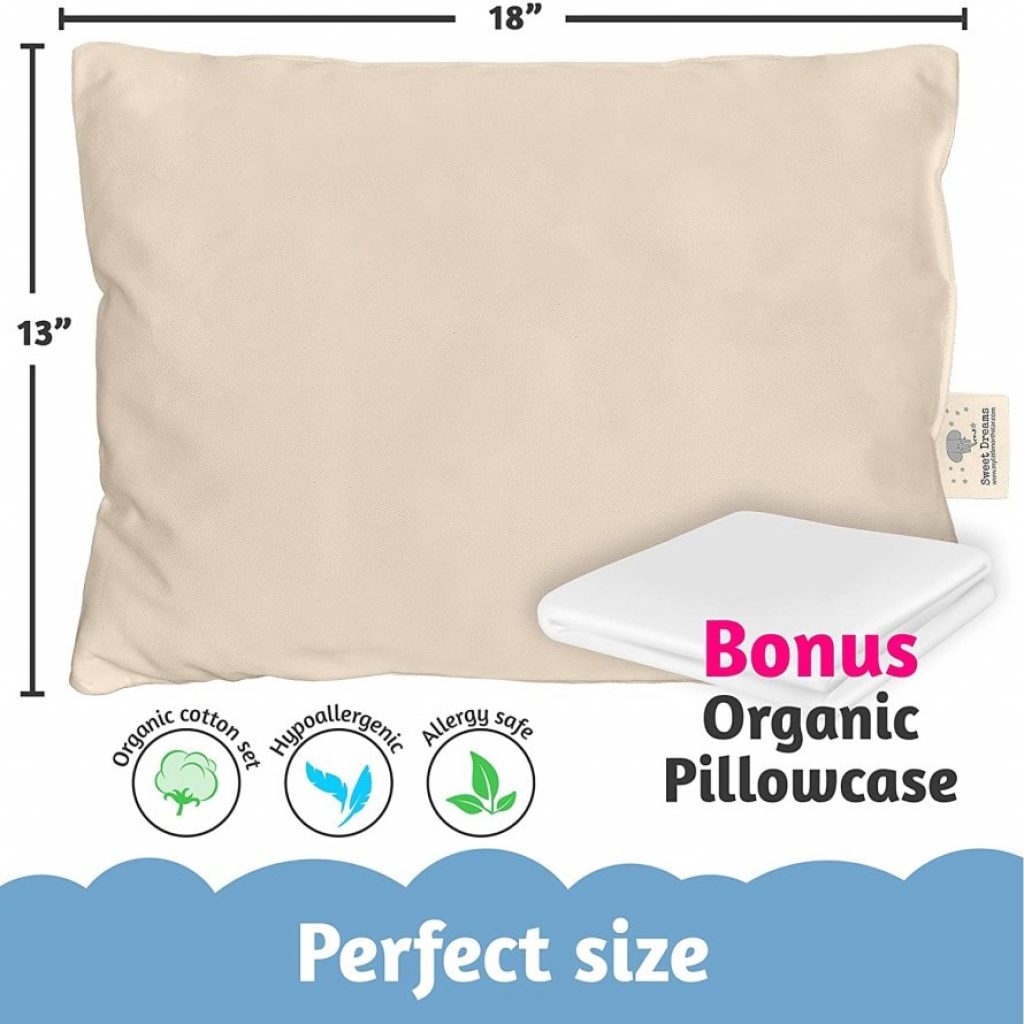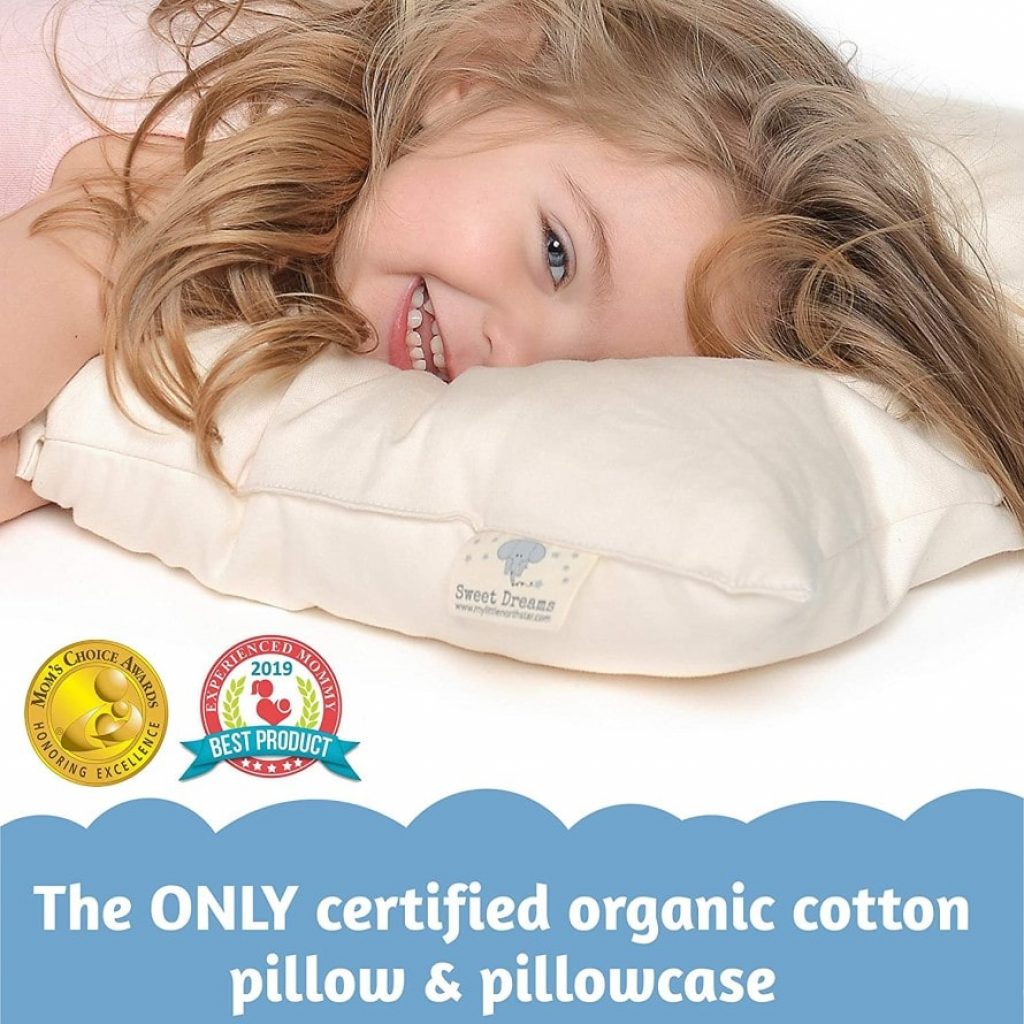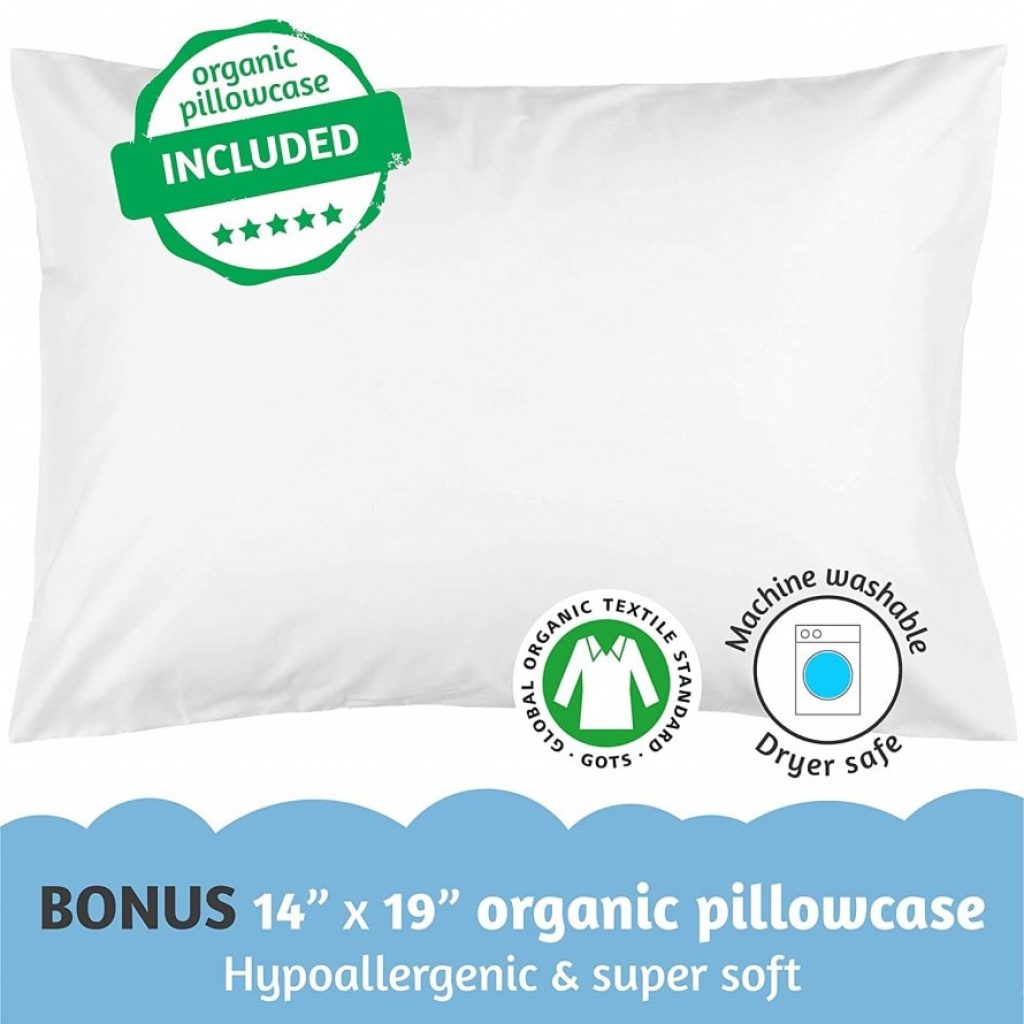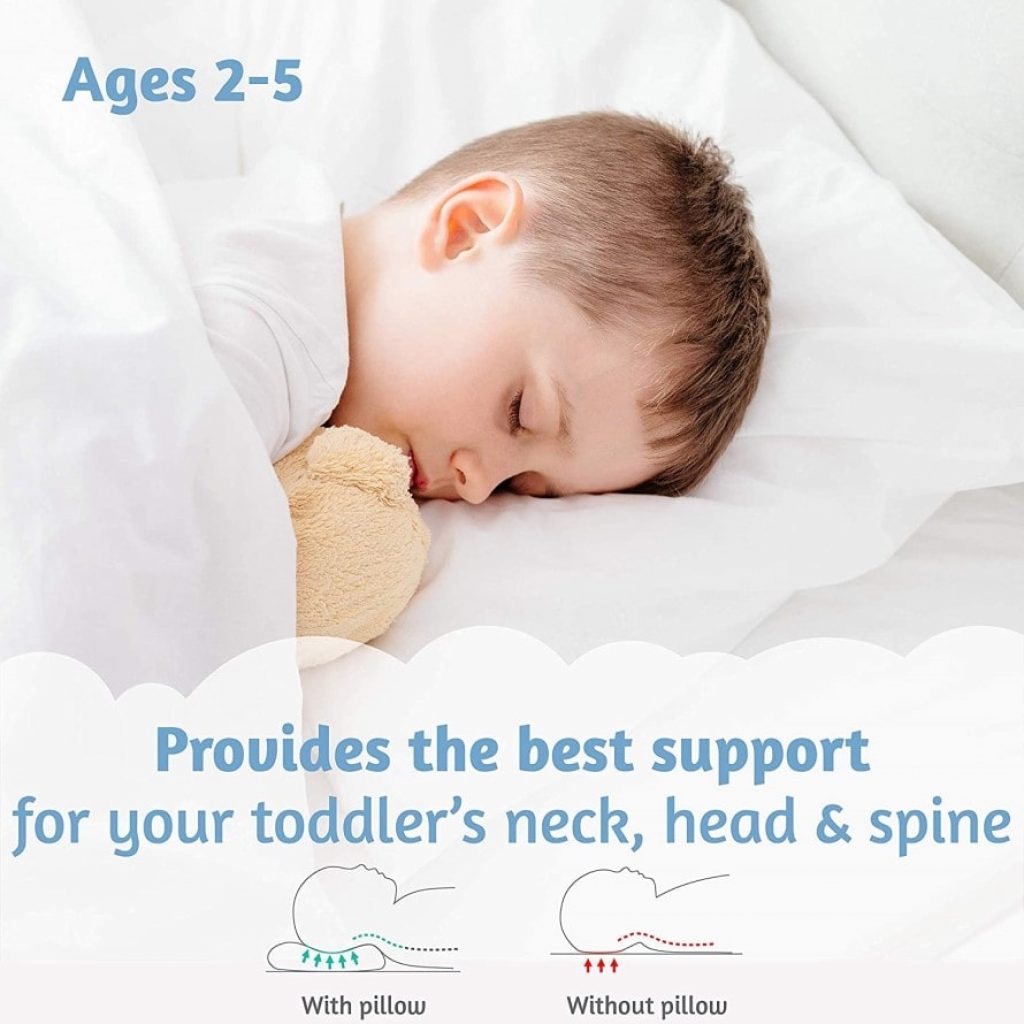 If you are looking for certified products to be sure that your child is in a safe pillow hug, this option is for you. It is made with organic materials without using chemicals, with no risk of an allergic reaction or discomfort for the child. This pillow is ideal for children with sensitive sleep. It is 13×18 in size, so it will be comfortable for your child to sleep on it for two to five years. I bought it for my first-born, and now I am using it again for my second child. By being quite soft, but flat it creates the ability to sleep comfortably without risk to the neck or back.
Both pillowcases and a pillow are easy to wash and clean at home – throw it in the washing machine, and it is clean and ready to serve again. Dry and cleanse the main thing at the minimum settings. The pillow materials will not allow any tears or mold to start so that the child will be completely safe during sleep.
Neither the surface nor the filler contains toxic substances, latex or BPA, and the fabric itself is not treated with anything, as is often the case with cotton. Therefore, the pillow will last a long time and will not lose its appearance due to washing. At the same time, the fabric is very soft, pleasant to touch, and it is a pity to leave it in the morning.
PROS:
Natural organic, untreated fabrics;
Suitable for children 2-5 years old;
Soft and comfortable shape for sleeping;
Easy to clean, machine washable.
CONS:
Can't be used as a pillow for newborns.
Best Toddler Sleeping Pillow: W WelLifes Baby Pillow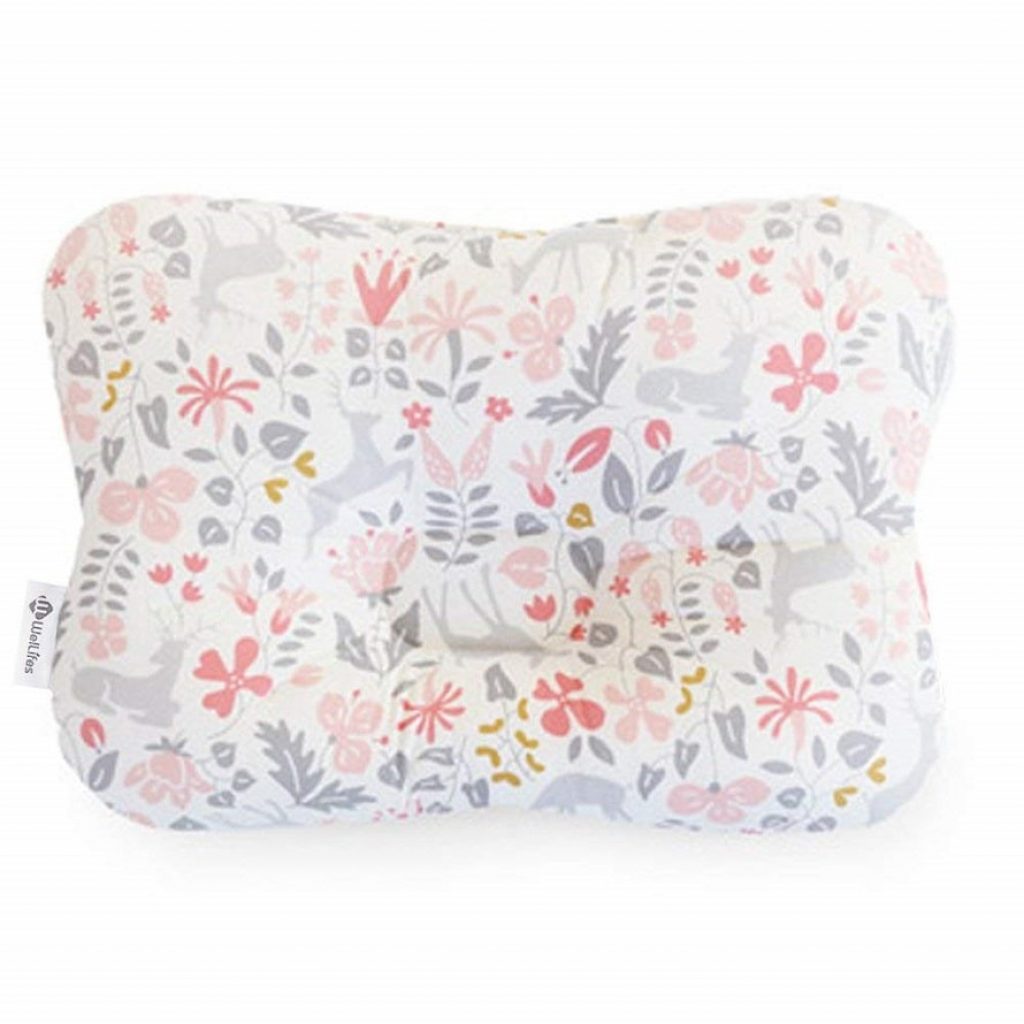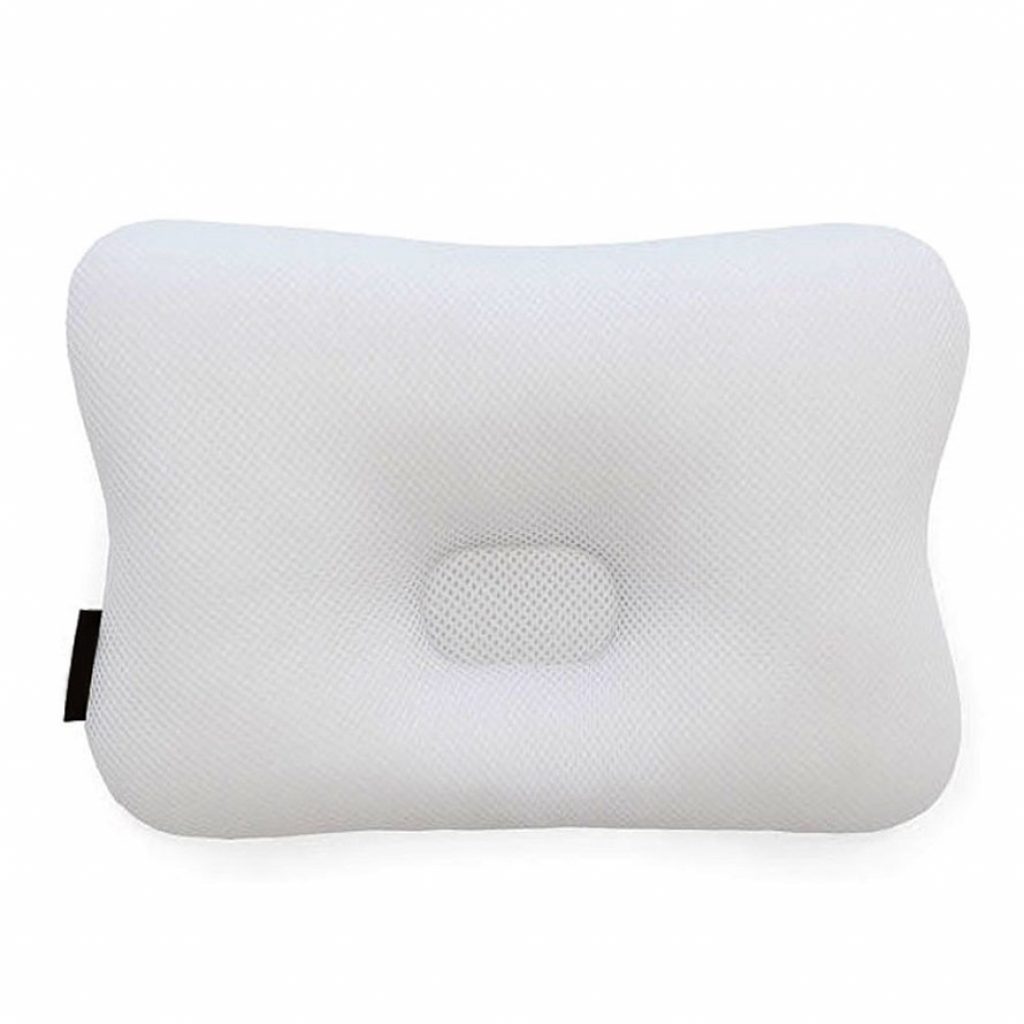 High-quality cotton as the primary material of the pillow will hardly surprise you. But what will surprise you is the breathable 3D Air Mesh, with which air circulates between the tissues, maintaining the shape of the pillow. At the same time, it will help to maintain a neutral pillow temperature in winter and summer and will give your baby's back rest. The child's health is secured, as the material used in the pillow is organic cotton approved by GOTS (Global Textile Standard).
The pillow's concave center protects the baby's fragile bones from deformation and the risk of flat head syndrome. 12.6 x 9.5 inches is an ideal compact size for children from birth to 5 years. You will get the maximum for the money you pay for the pillow. It means maximum safety and comfort.
The pillow will provide the necessary comfort and support for the head, given the baby turning over in a dream, this pillow ensures a safe position of the head. The pillow is soft and airy as if the child was sleeping on a cloud. But at the same time, it does not sag and quickly regains its shape. I bought it because I used to travel quite often in the first couple of years with a child, and the child did not want to fall asleep in the portable cradle. With this pillow, he obviously felt much more comfortable, he did not slip and could sleep on his side. And he slept without waking up for many hours, which was just a miracle!
PROS:
3D Air Mesh System;
The concave center protects the healthy shape of the head;
Suitable as a liner in a swing, or while traveling.
CONS:
Softest Small Kids Pillow: KeaBabies Toddler Pillow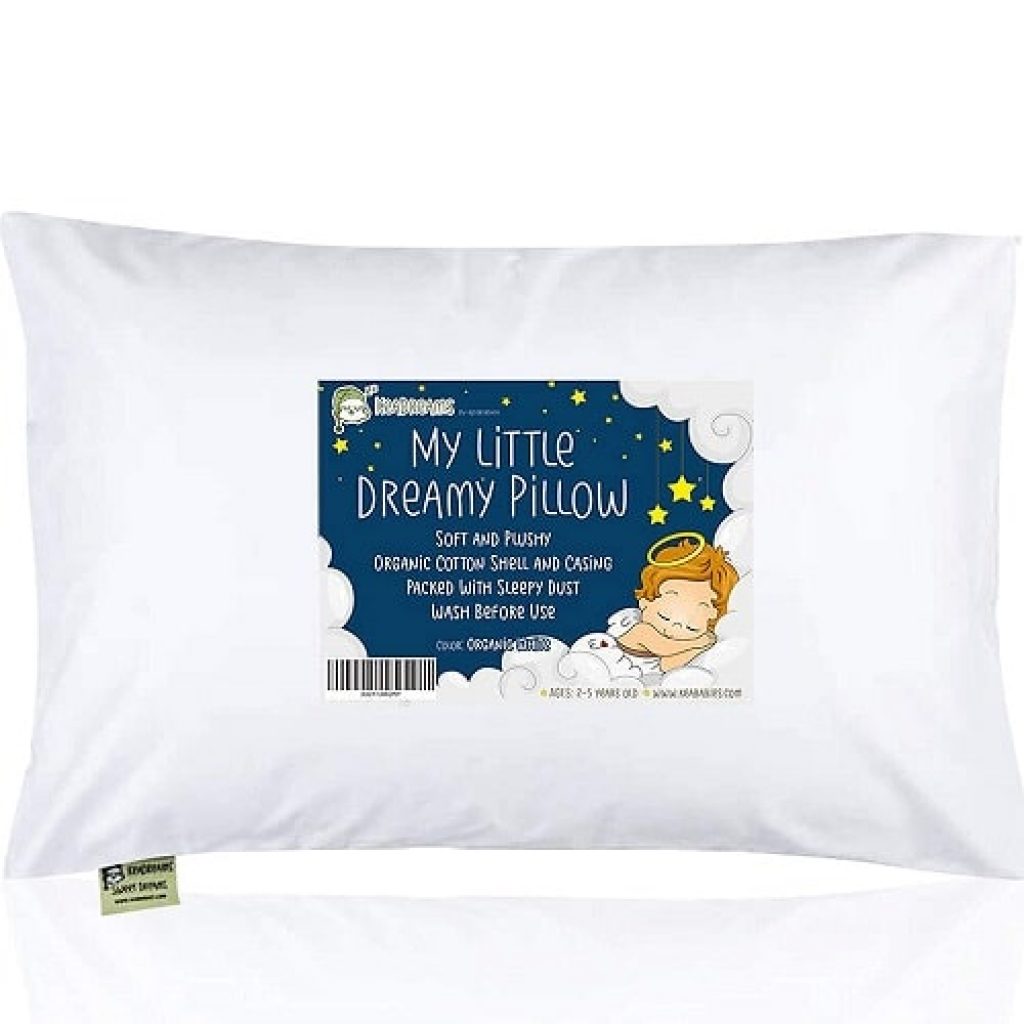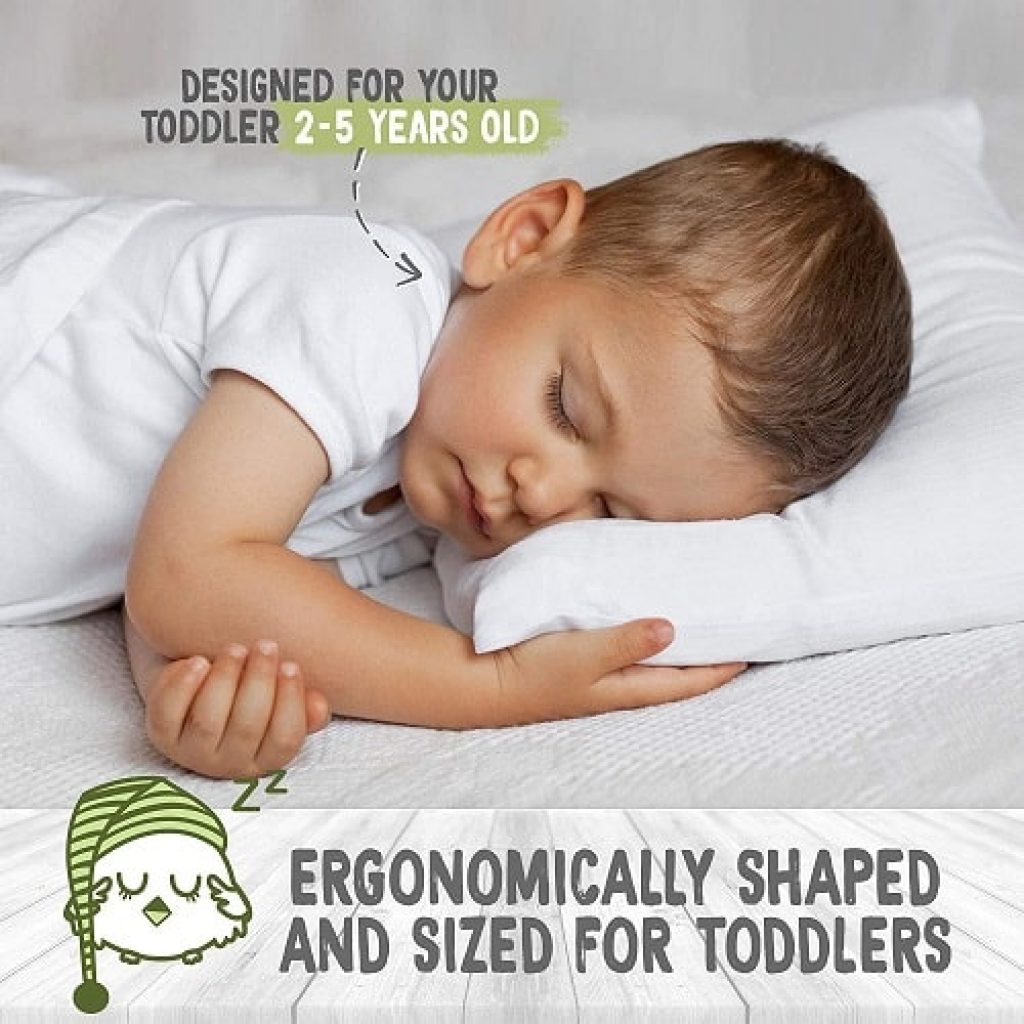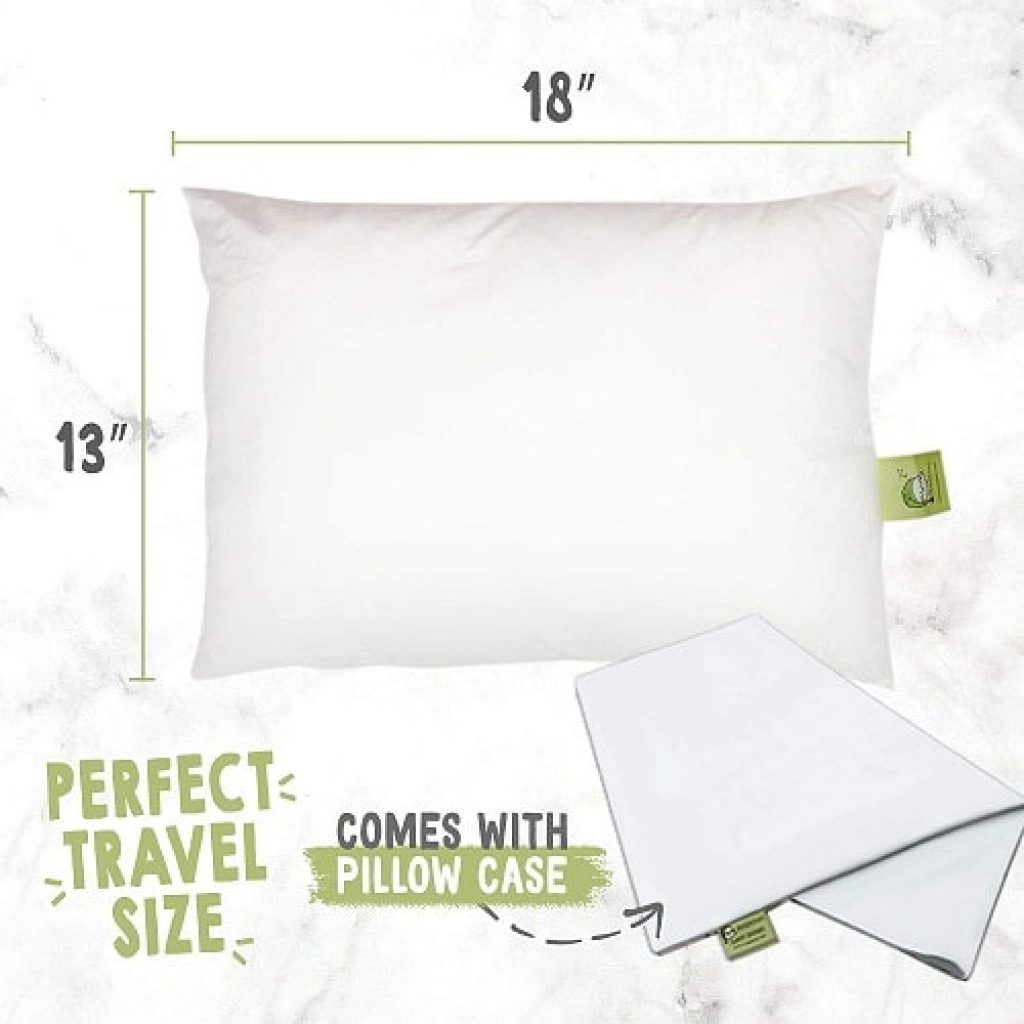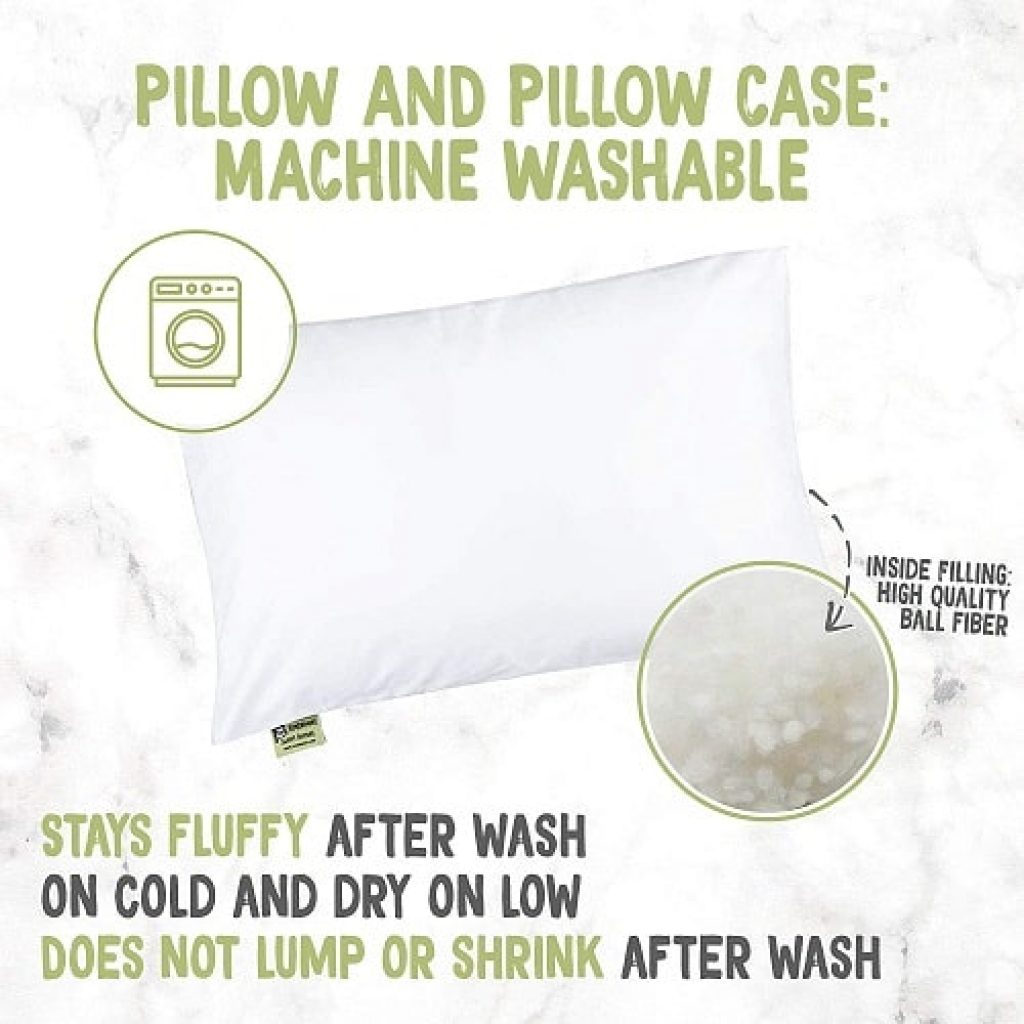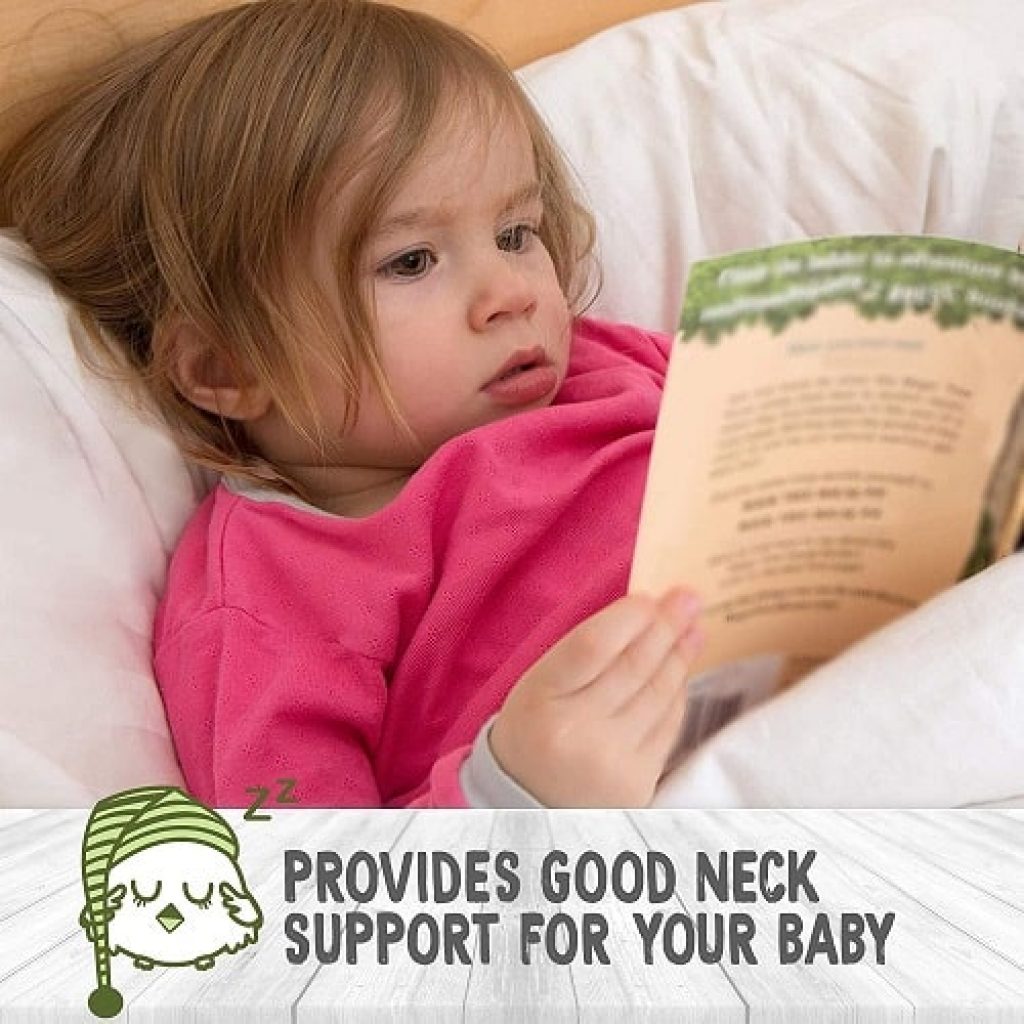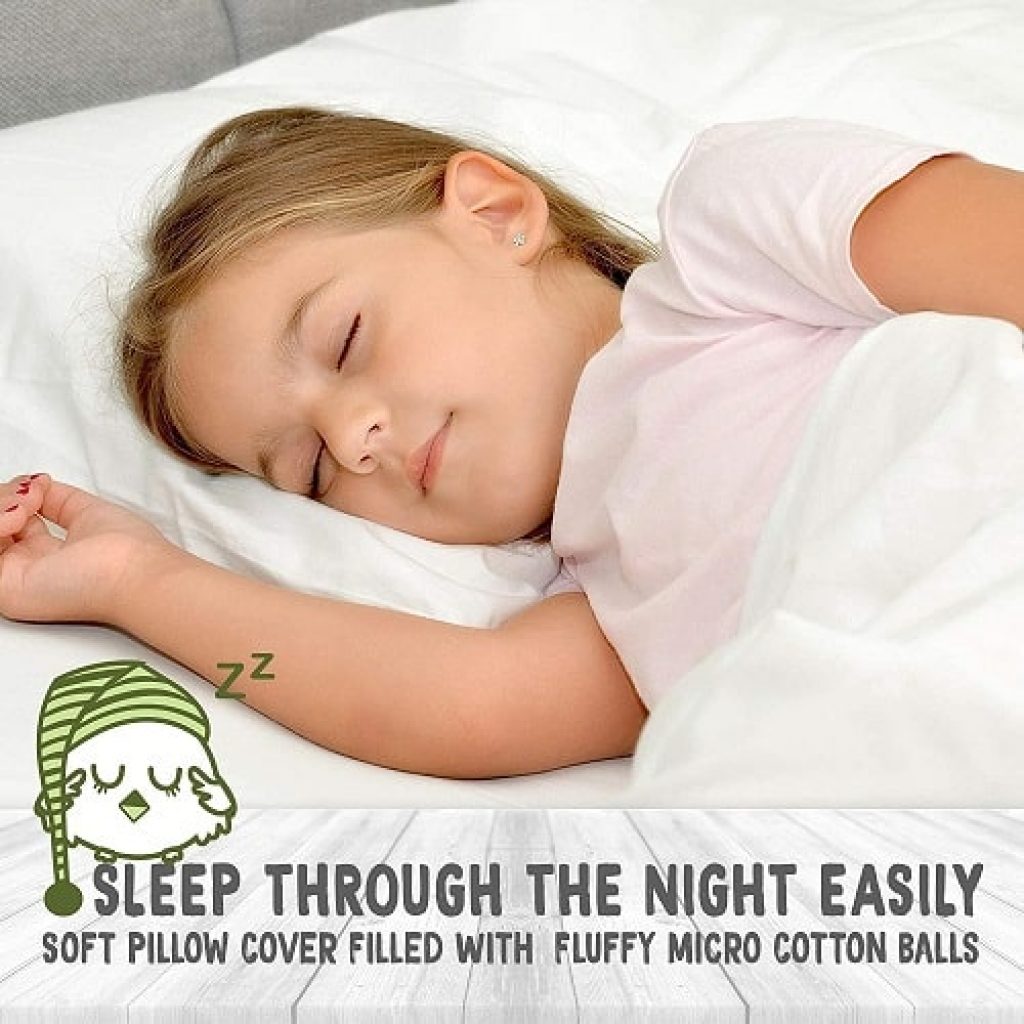 KeaDreams is a company that does not put things on sale if they are not tested for quality and comfort. That is why they are so loved by many parents, including me. This pillow supports the spine, gently taking care of the position of the child in a dream. The ergonomic shape of the pillow provides maximum comfort for the baby. Besides, if you have a child, you know that everything gets dirty with regular frequency, so you should pay attention to the ease of washing and caring for any little thing in everyday life. This pillow does not tear and is quickly erased.
Stains and smells will not linger on the fabric, just wash it regularly in the machine. Besides, durable and ultra-breathing cotton will retain its appearance even after numerous washes, and at the same time, it does not harm the baby's health and does not overheat in the summer. This pillow can also be taken on trips so that the child can sleep comfortably everywhere. Besides, you can choose a favorite print for the baby on the pillow, and he will fall asleep with her in an embrace.
PROS:
Machine washable;
Quality tested on children of different ages;
Perfect for traveling.
CONS:
Suitable for children over 3 y.o.
Toddler Pillow Size Baby Pillow for Sleeping to Ensure Sound Sleep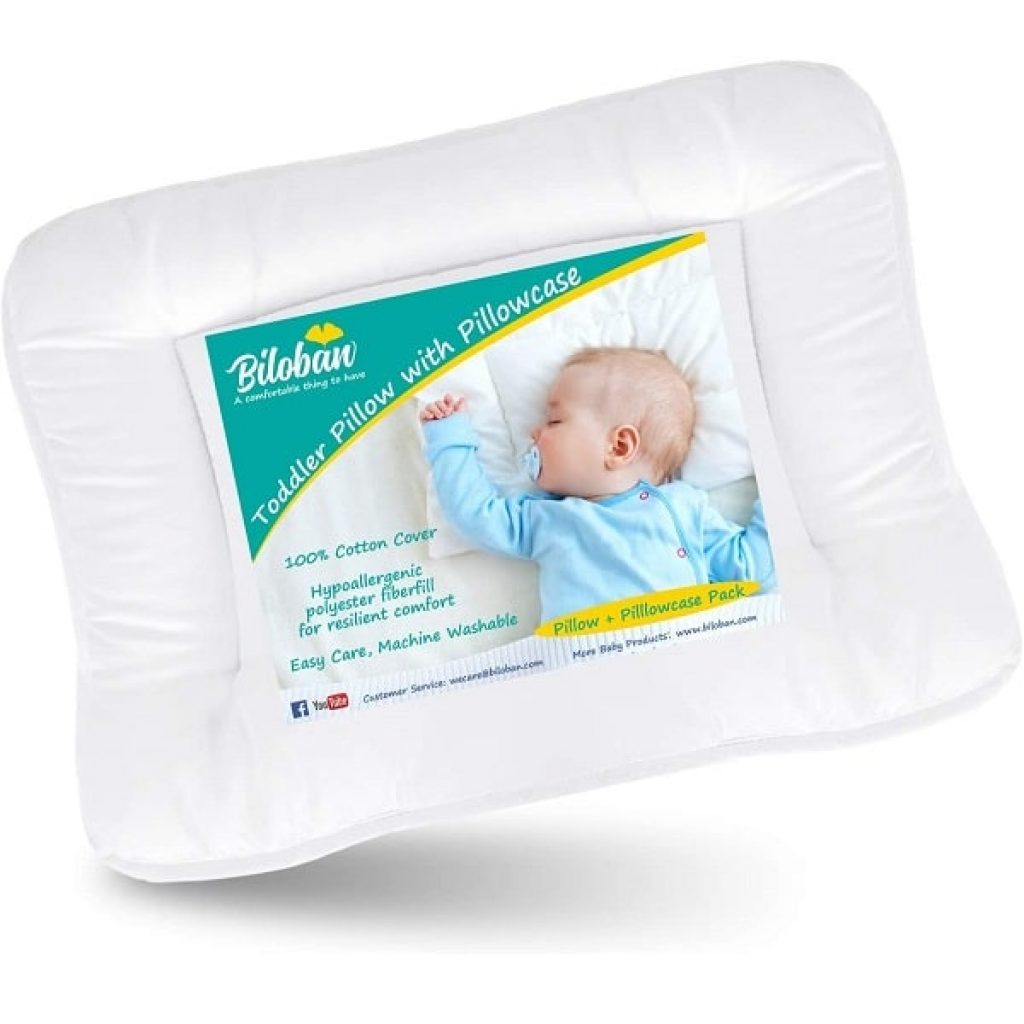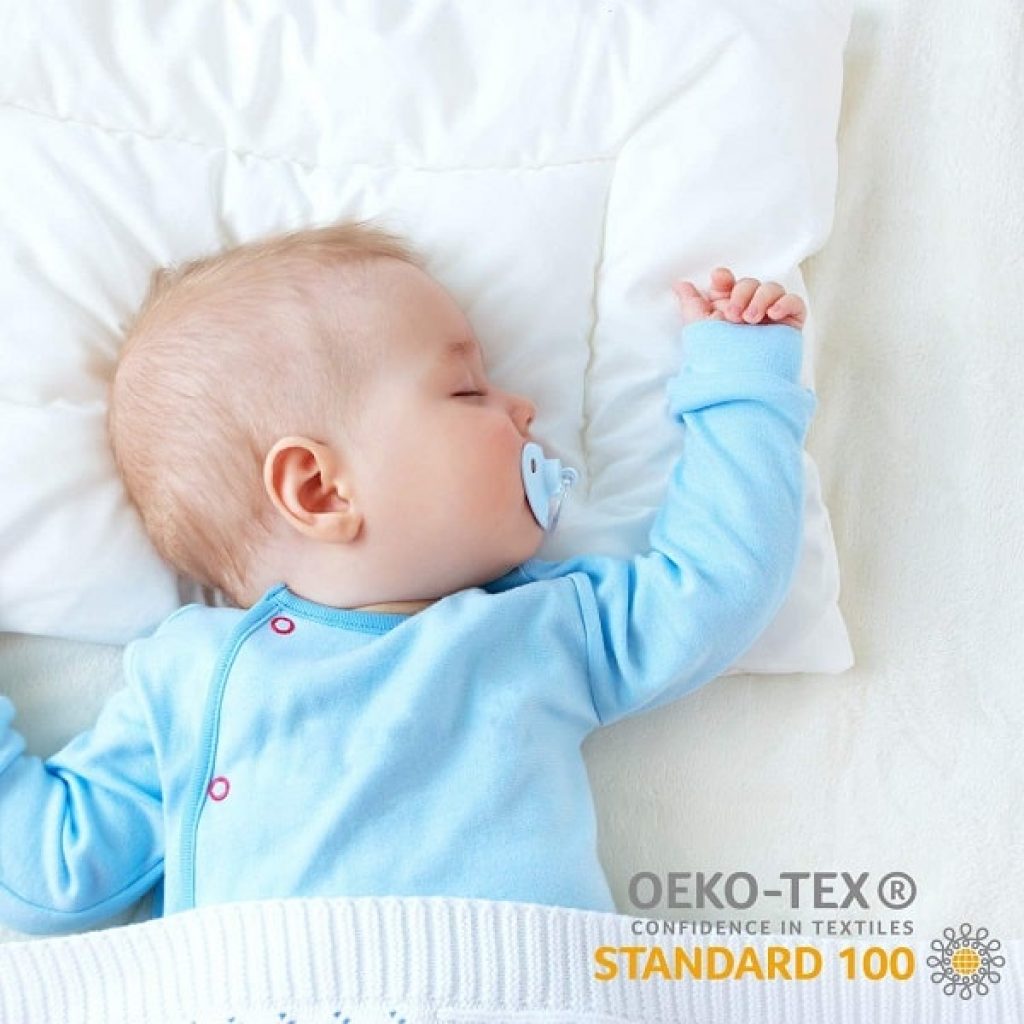 Due to its compact shape and size 13 X 18, this pillow is more suitable for small children up to two years old. So if you are looking for a proper first pillow to teach your child a good and healthy sleep, this is a perfect option. In addition to its size, the pillow is quite flat and wide, so it will only be slightly raised, but enough to ensure that the body takes the correct position for sleep. Biloban has developed a pillow with a perfectly balanced filling that does not make it too soft or hard. Plus, poly cluster fiber and cotton are entirely safe for your baby's skin. Fabric pillowcases are hypoallergenic and easy to care for.
The pillowcase itself is made in a simple envelope design so as not to use not very pleasant or safe fasteners. You should not buy a fluffy and large pillow for your baby, he may just not like it, or it may even interfere with a comfortable sleep. A flat pillow will provide an ideal body position, where neither the neck nor the back will be in an uncomfortable position. The child will learn to determine the top and bottom of the bed and will toss and turn less in a dream. A sleepy child will be much less sensitive and irritative, and your day and night will be calmer. Besides, you will not suffer from hand washing. The material is easy to wash in a delicate circle in a washing machine.
PROS:
Hypoallergenic materials, do not harm the baby;
Comfortable and full pillow shape;
Good fit for the first pillow.
CONS:
Not suitable for older children.
Soft Childrens Body Pillow: Lofe Large Size Kids Pillow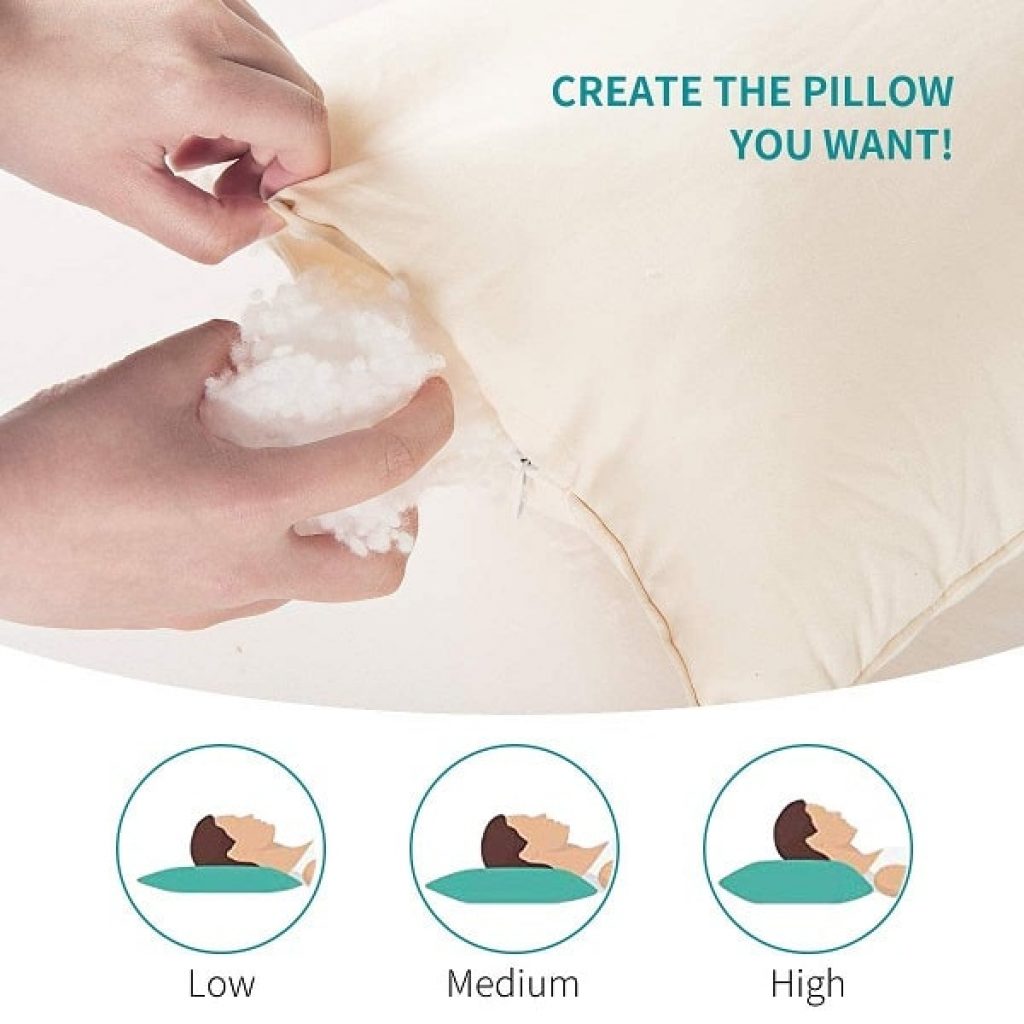 I did not include a single pillow made of harmful materials on this list. Almost all of them are made using high-quality organic cotton for pillowcases and surfaces. This pillow is no exception. Lofe does not contain harmful fillers that can cause an allergic reaction in a child; its sensitive skin is protected from unpleasant itching because the fabric is soft and pleasant to the touch. The material is not snow-white because it was not dyed or treated with harmful substances before use.
What is unique about this pillow compared to others? It is suitable for slightly older children from 5 to 10 years. It will last for a long time because you can adjust its fullness and height. You can simply open the pillow with a zipper and adjust the filler's density and height. They are compact and convenient to take with you when traveling. My son takes her to a campsite and on long trips in the car.
Along with this, you get a pillowcase that is very easy to machine wash. It's easy to get used to the pillow, and it is pretty difficult to switch to some other. It comfortably supports the babies' heads during sleep, and the child sleeps more soundly. Since there are always differences in the degree of softness and the height of each child's pillow, I consider it an ideal solution to adjust the pad to fit your needs.
PROS:
Height adjustable pillow;
Natural quality materials;
Suitable for children 5-10 years old.
CONS:
Not suitable for newborns.
Best Kids Memory Foam Pillow: Snuggle-Pedic Toddler and Kids Pillow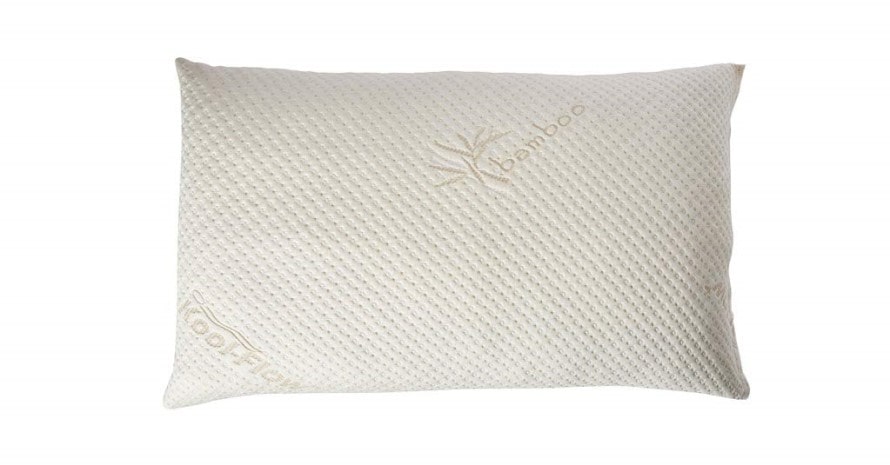 If you are looking for an even more personalized pillow that will fit your child and last for long – this is Kool-flow. It is soft and comfortable; it is pleasant to sleep on it because it keeps cool and does not heat up, thanks to a breathing system with micro-ventilation. It is suitable for both babies and older children, so with proper care, you won't have to replace it as often as the rest of the pillows.
It adapts due to the memory effect so that it is neither flat nor high, it simply takes the shape of a head, making sleep comfortable. It is all thanks to the use of eco-friendly Biogreen foam and CertiPUR-US. This material is also anti-allergenic. However, it does not require special care, like the rest of the pillows, you can easily wash it in the machine. It is small in size and has orthopedic properties. Therefore, you will immediately feel the difference with an ordinary pillow.
Outwardly, it looks like a regular down pillow, but it is more comfortable, lightweight, and has the effect of your body's memory. You can put it in a car or in a chair to read or play on the phone more comfortably. At the same time, the filler material makes the pillow extraordinarily soft and light. It is comfortable to sleep on both its side and stomach, and it is breathable and fresh all night.
The orthopedic support adjusts to the position of the baby's body and provides a calm, comfortable sleep. The pillow manufacturer guarantees 20 years of effective pillow action. I have this pillow all year, but it serves the same way as on the first day. They do not strain the neck, and I took it for myself to travel comfortably.
PROS:
Adapts to each individually;
The ventilation system keeps it cool;
Memory foam;
Durable and maintains its look.
CONS:
Everything You Need to Know About Perfect Toddler Pillow
Although we have mentioned that the baby's pillow is different from the pad for an adult, we have not fully discussed why. Let's go directly to the discussion of the topic – what the right baby pillow should look like. This question cannot be answered unequivocally.
Firstly, a lot depends on the age. The teenager's bedding does not fit the baby. Does a baby even need a pillow? This question is also often asked by parents. And pediatricians answer it in different ways. Starting from a year and a half, the child is old enough to start learning how to sleep at the crib and on his pillow.
Note that a pillow cannot be bought simply on the basis of the material and age of the child. You need to consider a variety of factors to make the right choice. This includes weight, height, birth defects, and allergies. The pillow should be individually matched and replaced with age. The pillow for the newborn will be too small and not useful for a child of 5 years old. Here are some questions parents often ask themselves before buying a pillow for their child.
When Babies Use Pillows?
Kids can use the pillow as a toy for hugging, or they may not show the need for a pillow at all. But the first pillow of the baby will help not only to support his body in a more comfortable posture for sleep but also to serve as a navigator, teaching him not to toss and turn and spin in bed and understand where the top is and where the bottom is. Many mothers are wondering if a newborn needs a pillow, as many pediatricians say that this is not necessary.
But it is not always the case. A small, flat and wide pillow of small height will help the child avoid strangulation in a dream, as well as develop the back and head without distortion. The pillow should be more breathable than the mattress because the child can sleep face down. In addition, you need to choose a pillow that will not cause allergies, will not be too high so that the child can lay down with his whole body.
Which Pillow Is Safe for Children?
As we have already said, the best pillow for toddlers should not be wide and too high so that the child is comfortable lying down. In addition, the pillow should be breathable so that the child does not suffocate. The filler should be hypoallergenic because children are more sensitive to all external irritants. It is also worth taking care that a pillowcase is antistatic, especially if you have an eco-fiber filling. Static electricity that some materials accumulate can shock a child. In most cases, the manufacturers take into account all dangerous situations that can happen during sleep, and all you need to do is to select the pillow made specifically for babies.
How Often to Replace Baby Pillows?
Even the best pillows for children must be changed as the child grows. One that suits them at the age of 2-5 years is unlikely to go any further. Therefore, monitor the level of comfort and ask whether it is convenient for your child to sleep. Replace the pillow if it gets inconvenient for a child to sleep on it. Try pads with orthopedic base, bottom, or soft ones. The main thing is that the baby pillow should be small and comfortable.
What Is the Best Time to Buy a First Pillow for Your Baby?
According to pediatricians, it is better to postpone the acquaintance of crumbs with new bedding until your child is at least two years old. If there are no deviations and special indications, you can wait for up to 3 years.
After three years, you can place small children's pillows in a crib without hesitation. Of course, the baby can refuse to use it at first, as he is already used to a flat surface. Do not insist on a child sleeping on a new household item; give them time to get used to and get acquainted with the pillow.
Last update on 2023-12-02 / Affiliate links / Images from Amazon Product Advertising API