I welcome you to my blog! For years, I have been studying sleep medicine with the sole intention to find out what really helps people sleep better. From personal experience, I know that even the most advanced medications or relaxation techniques alone cannot drastically improve the quality of your sleep.
To get the best and most consistent results, you need to work on your bedtime routine as well and make sure that your mattress, pillows, and even the bedding textile are of top-notch quality and in line with your individual needs.
If you want your sleep to be truly restorative, a good down pillow is a must-have. Today, I will teach you to pick the right down pillow for your sleeper type, tell you about how all-down and blended products are different, and introduce the top seven models that I personally find most reliable and worthy. Also, don't forget to look into the buyer's guide for helpful tips and tricks on how to care for your natural down pillow.
What is a down pillow?
Down pillows have been around for many centuries and remain one of the most comfortable and well-liked types of this sleeping accessory. These are products made of animal-based natural materials such as feathers and down.
The wing and back feathers of a goose or a duck are normally used to obtain the feather fill for such pillows, while the smaller and softer down comes from the bird's undercoat and chest area.
One of the main reasons why people enjoy down pillows is that they are super-soft, fluffy, and very accommodative.
These products come in a multitude of sizes ranging from standard to king and can be of varying density to suit the needs of different types of sleepers. Unlike pillows comprising synthetic fibers, down and feather products can be restored and re-wrapped in a new casing to prolong their lifetime.
Top 7 Best Down Pillows
Below, we'll provide you with a list of seven finest down pillows that we laid our hands-on. They come in no particular order since the pillows in our list vary in their softness and price range.
Luxury Style White Down Pillow: Continental Bedding 100% White Goose Down Pillow

The slightly above-the-average cost of this premium-quality goose down pillow is completely justified by the luxurious feel of all-encompassing softness and supportive comfort that the product gives you.
Comprising 26 oz. of high-grade goose down instead of the traditional duck down, the White Goose Down Pillow by Continental Bedding is designed to provide you with an exceptionally soft and plushy sleeping experience.
This 100% hypoallergenic product boasts 550 fill power, which means it has just the right level of loft and firmness to ensure years of comfortable and relaxing sleep for all types of users, especially side and belly sleepers. The pillow is wrapped in an Egyptian cotton cover with 400 total thread count, which promises extended durability and perfect breathability of the surface.
When sleeping on the White Goose Down Pillow, you will not get the hot or choking sensations that other all-natural down products sometimes give.
This extra soft down pillow is available in the standard, queen, and king sizes in the soft or regular levels of firmness, so everyone is guaranteed to find an option that fits them the snuggest.
Like all Continental Bedding products, the White Goose Down Pillow offers an incredible balance of comfort and spinal support even to the most particular sleepers and those who like to switch between their sleeping positions often throughout the night.
The White Goose Down is a classy product made of the highest-quality natural materials, which ensures absolute comfort and proper relaxation for its users. Here, you will not find any unnecessary frills or extravagant designer choices – everything is kept deliciously simple and straightforward to give you the best possible rest and satisfaction.

PROS:
Comes in a wide range of sizes;
100% hypoallergenic, all-natural materials;
Available in the soft and regular firmness options;
Great comfort/spinal support balance;
Breathable cotton cover for a cool sleep.
CONS:
A bit costly;
Not as flexible as some other down products.
The Best Firm Down Pillow: Royal Bedding Luxury Down Pillow
The Royal Bedding
offers a splendid 2-piece pillow set made of 100% goose down wrapped in a soft and comfortable cotton cover of 500 total thread count. Piped with a silky double trim around the perimeter, this royal goose down product provides a much cleaner finish edge than most other down feather pillows in its class.
The product bundle features two brand-new, factory-sealed luxury down pillows. Each Royal Bedding Luxury Down Pillow has a 42 oz. fill and measures 20 inches by 28 inches. The fill power is 750, and the down ratio is set to 75%. The latter means that the volume of handpicked premium white down in the pillow contents is 75%, and the rest is smaller feathers of good quality.
The Royal Bedding Luxury Down Pillow is a relatively firm product perfect for people who want the utmost comfort without the feeling of sinking into a pillow or being suffocated by it.
Its firmness ensures that your spine will have proper alignment during sleep, so you will not wake up feeling tired or having neck pain. Made of all-natural, bacteria-free materials, the product has a pretty decent loft and will be most suitable for people who sleep sensitively.
Based on multiple down pillows reviews found online, the Luxury Down Pillow by Royal Bedding is one of the most durable models in its pricing tier. With minimal maintenance and care efforts, this plump pillow will last you for years, bringing joy and comfort to your night's sleep.

PROS:
Comes as a set of 2 pieces, also available in king size (20*36 inches with 56 oz. fill);
Silky piping at the edges for a cleaner finish;
100% cotton cover;
Nice firmness for proper spinal support;
Safe materials only, perfect for sensitive sleepers and allergy sufferers.
CONS:
Its level of firmness might be too much for people who prefer a softer feel.
No information about the warranty is present.
The Most Comfortable Down Pillow: Lincove 100% Goose Down Luxury Sleeping Pillow
Lincove
100% Goose Down Luxury Sleeping Pillow will grant you an ultimate sleeping experience fit for royalties. Made of top-grade, hypoallergenic materials, the pillow will ensure a deep and restorative sleep for many years to come. With several different sizes and firmness levels to choose from, people of any age and sleeping preferences can benefit from the Lincove product.
The pillow is produced using premium-quality white goose down for fill, and its 800 Fill Power is enough to ensure the luxurious softness of your sleep, and also provide proper spinal support and pressure relief.
The product has an impressive loft and will restore its initial shape soon after the weight has been removed. For greater comfort and durability, the Lincove 100% Goose Down Luxury Sleeping Pillow is encased in a 100% cotton white cover with a thread count of 600. The soft stitched rimming skirting the pillow ensures that the goose down stays safely within the casing.
One of the best things about the Lincove 100% Goose Down Luxury Sleeping Pillow is that it is available in three different fills to pick from – soft, medium, and firm. The low-density setting is best suited for belly sleepers, while back and side sleepers will be more comfortable with a higher-density option that offers enhanced support for the spine and neck.
Eco-minded users will also be pleased to know that the goose down used in this Lincove product is certified according to the Responsible Down Standard (RDS), meaning it was collected from animals who did not suffer unnecessary harm.

PROS:
Top-quality, durable design;
100% cotton, highly breathable cover;
Hypoallergenic, RDS-certified materials;
800 fill power provides a very decent loft;
Variety of sizes and firmness options to suit every sleeper type.
CONS:
No pillow protector is available;
Most users characterize it as 'medium-soft.'
100% goose down pillows: Continental Bedding Hungarian White Goose Down Pillow
This Hungarian White Goose Down model that comes in the standard, queen, and king sizes and is considered firm, will be a great match for back and side sleepers in need of extra spinal support and back pressure relief.
The product bundle features two pillows of 21, 25, or 32 oz., depending on the chosen size. Each piece is filled with 100% RDS-certified goose down and stands at 700 fill power, which is a wonderful balance of softness and support for your neck and shoulders.
The Hungarian white goose down in the pillow offers an impressive degree of comfort and proper loft, so the product will not feel too springy or too soft for a good night's sleep on it.
This US-made pillow utilizes top-grade, allergen-free materials and is, therefore, perfectly safe for allergy and asthma sufferers. Moreover, its soft outer layer made entirely of 300 TC Egyptian cotton not only provides a deluxe sleeping experience but also guarantees enhanced breathability of the product and ensures a much cooler sleep. The cotton fabric here is highly durable and down-proof enough to prevent any feathers from poking out of the pillow casing and disrupting your sweet dreams.
Note that the Hungarian White Goose Down Pillow is on the firmer side, which means you may not feel well-rested after sleeping on it if you are used to much softer surfaces that make your head and shoulders sink in deeply.

PROS:
100% white goose down of highest quality;
Hypoallergenic;
Comes in a 2-piece pillow set;
700 fill power for exceptional fluffiness and softness;
Well suited for back and side sleepers.
CONS:
Lack of warranty information;
High price.
Best down pillows with Natural Duck Feather Core: Pacific Coast Double Down Around Pillow

If soft goose down pillows usually feel too squishy and lacking decent spinal support for you, try the Pacific Coast Double Down Around pillow manufactured by Pacific Coast Feather, and you will immediately see the difference.
Its ingenious pillow-in-pillow design featuring an inner core of natural duck feathers and a thin upper layer of softer and fluffier duck down strikes just the right balance between support and comfort that sleepers of all types will find very appealing.
With your Pacific Coast Down Pillow purchase, you get a luxury set of 2 top-notch pillows, each boasting a fill power of 550. The cover of the pillow is 100% cotton with 300 thread count. The top-notch materials used in the production of these items excludes the possibility of your sudden exposure to dirt, dust mites, and allergens.
Other advantages that place these among the best down feather pillows on the market include the ability to machine-wash the product if needed and a convenient 30-day money-back guarantee, which promises to give you a full refund if you do not like the pillows and send them back.
The pillow comes in a variety of sizes, and its firmness levels are also many. You can choose between the soft, medium, and firm options depending on your particular sleeping needs.
The design of the product offers a delicious mix of simplicity and taste. The delicate snow-white cotton makes the pillow look and feel extremely posh, and the thin navy-blue cording at the perimeter provides it with a nice and clean finish.

PROS:
Original pillow-in-pillow design for superb comfort/support balance;
100% natural duck feather and down;
Excellent hypoallergenic properties;
Medium support is suited for all sleeper types;
Machine washable.
CONS:
A bit pricey;
The outer fabric is prone to fraying after multiple washes.
Best goose down pillows with blended filling: Wenersi Premium Goose Down Pillow
All the materials utilized in the manufacturing of the Wenersi pillows are 100% hypoallergenic and picked to provide you with a tender and nicely contouring foundation completed with a durable and plush cover.
The well-chosen combination of micro feather and goose down in this Wenersi product ensures that the fill is always properly distributed under your weight and lasts you for a much longer time.
The Wenersi high quality down pillows are supplied in a set of two and can be of the queen or king size, measuring either 20*28 or 20*36 inches. The queen-sized, firmer variant of this pillow containing 42 ounces of goose feather and down filling is considered a more popular option. The sturdier feather gives the construction durability, and its 15% of goose down is enough to ensure a very decent loft and overall softness.
The pillow is covered in a naturally breathable, 100% hypoallergenic cotton casing and further reinforced with a double stitched piped edge that helps keep the feather filling inside and does not let it poke out through the seams. The silver piping gives the pillow a clean and fine look.

PROS:
A superb mix of goose feather, down, and micro feathers for a super-cushiony feel;
Accommodate a variety of sleep positions nicely;
7-inch loft plumps up excellently after the weight is removed;
Airy and supportive surface, perfect for cool sleepers.
CONS:
Belly sleepers may find it too lofty;
Not recommended for a machine wash.
Most affordable king-sized down pillows: Puredown Natural Goose Down White Pillow

Despite what its name suggests, the Puredown Natural Goose Down White Pillow is not made purely of goose down. The volume of the down here is just 15%, and the central filling is a stronger goose feather. It is not only needed to keep the price of the pillow low, but also to provide a slightly firmer, more supportive base to the sleeper.
The 47 oz. king-size pillows measure 20*36 inches, and come vacuum-sealed and rolled in a PVC bag. When sourcing feather and down for its products, the manufacturer strictly follows the provisions of the Responsible Down Standard, which regulates how the down should be collected to minimize the harm for the animal. The product is also available in 32 oz. Standard (20*26 inches) and 39 oz. Queen (20*30 inches) sizes.
The cotton fabric of the double-layered encasement is 100% natural and possesses outstanding breathability and durability properties. The peach skin inner layer of the cover made of plush polyester protects the sleeper from feather pricking. Puredown offers a month-long sleep trial and promises to return and fully refund your purchase if you are not happy with it at the end of this period.

PROS:
A very competitive price for a 2-piece goose down and feather pillow set;
High-quality, breathable cover made of 100% cotton with a protective inner layer;
Recyclable and eco-friendly RDS-certified filling;
Passed Oxipower certifications;
The product provides decent overall support as well as nice conformity to your neck and shoulder contours.
CONS:
Rather heavyweight;
May emit a slight odor at first.
Buyer's Guide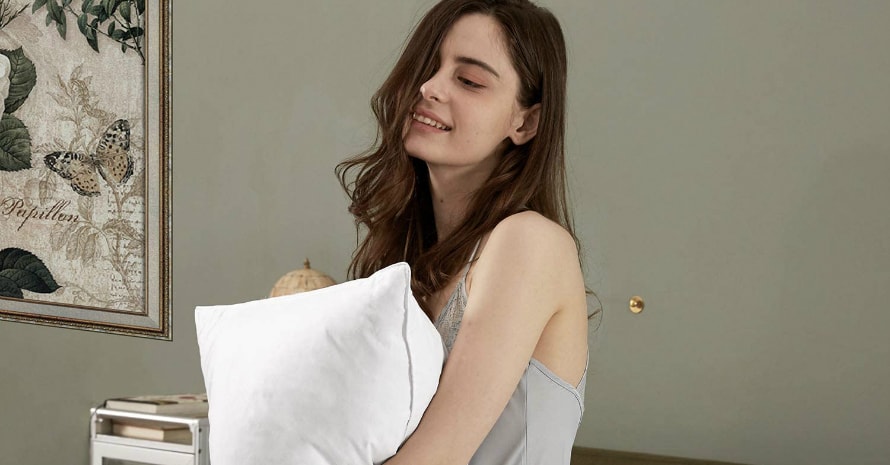 Since you're spending one-third of your life with your head resting on a pillow, you might as well take your time in choosing a pillow that perfectly suits your tastes.
Things you should consider before buying a down pillow
We spend a lot of time in bed, so making sure your pillow is comfortable and gives you a good night's rest is essential. Here are some useful tips on how to choose the best down pillow.
To choose the right down pillow, start with identifying your preferred sleeping position. Remember that when you are lying down, your neck and shoulders should always feel relaxed and aligned with the rest of your spine; otherwise, health problems are guaranteed.
Side sleepers will benefit most from a firmer and thicker pillow that will prevent their neck from extending in any direction, causing extra pressure.
Belly sleepers will feel most comfortable resting on a thinner and softer pillow that keeps their neck in a neutral position during sleep and ensures proper spinal alignment if they put their shoulders on the pillow too.
Back sleepers need a product of medium firmness that will keep their neck in alignment with the rest of the spine and prevent their head from bending forward.
Combo sleepers will want a plush pillow whose filling moves inside as they toss and turn, switching their position throughout the night.
The filling you choose will determine the softness of the product, its durability, whether or not it can be machine-washed, etc. Natural pillows can be all-down or down and feather. Those made entirely of down are soft, lofty, sleep warmer, and will last you longer. However, they do not provide the kind of targeted support for your neck that the blended feather/down fill offers.
Consider shopping for pillows with a higher fill power since such products are fluffier, possess better insulation properties, have a higher loft, and keep their shape better. The fill power usually ranges between 300 and 800, where 600 is thought to be a product of prime quality.
Finally, I recommend opting for a down pillow in a 100% natural cotton cover with a thread count of 300 or higher. This material is very air-permeable and keeps your sleeping surface cool and fresh.
Benefits of using down pillows
Real down pillows can be a wholesome investment that comes with many advantages. Not only are they comfortable and good-looking, but also aid your sleep and improve your overall well-being. Here are the most prominent benefits of using down pillows in your bedroom:
Down pillows conform to your body contours. They frame your head, neck, and shoulders, providing targeted support and pressure relief where it is needed most.
Excellent breathability makes down products suitable for all-year use. Down is a great and very breathable insulation material, which is why such pillows possess perfect temperature control capabilities.
Good down pillows will last you for years. Down pillows boast superior quality, which means they will continue to serve you well where cheaper synthetic products become unusable.
They improve sleep quality. Their impressive ability to conform to body contours and regulate temperature makes down pillows great sleep aids.
Disadvantages of down pillows
Despite the said advantages, a down pillow is not a one-size-fits-all solution. Some people may find that even the most top rated down pillows lack certain qualities necessary for a good and restful sleep.
Some down pillows may carry an unpleasant odor of the sanitizing agent used to disinfect the future fill or the ready-made product.
Quills can sometimes stick out of the encasement, making you uncomfortable.
Down pillows may be too soft for people who need enhanced spinal support.
Allergy sufferers may sometimes find that natural feather and down trigger attacks.
Questions from customers regarding the use and care for down pillows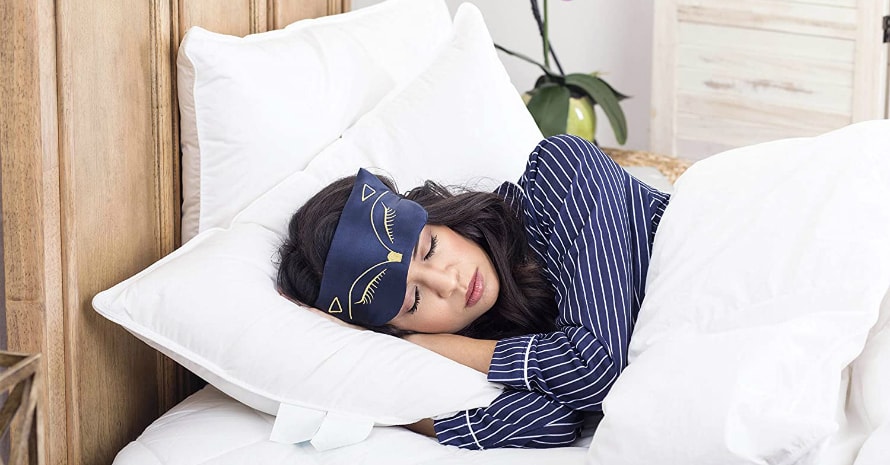 f you're going to buy a down pillow, you should know that there are a few things you should consider before making your purchase.
How to wash down pillows?
Washing a down and feather pillow is not that hard, and doing it at least once a year can help keep this sleeping accessory clean and fresh for a very long time. Before you start, carefully read the care and maintenance instructions provided by the manufacturer. If a home wash is possible, inspect the product for any tears and rips and mend those before you put it into the machine.
***Note that based on the multiple Downlite pillow reviews, the delicate down and feather products of this manufacturer are to be dry-cleaned only.
Always set your machine to a gentle washing cycle and keep the temperature cold when washing a down and feather product. Use HE detergents only, and avoid adding any fabric softeners.
When the wash is done, add an extra rinse cycle to make sure all the detergent has been removed from the feathers.
Fluff up the wet pillow and do not forget to add wooden dryer balls (or tennis balls) to the dryer machine to prevent any clumps from occurring. Set the dryer to the medium heat mode.
Stop the dryer every 20 minutes and take out your pillow to fluff it up manually. Keep the machine going until your down pillow is completely dry.
How long do down pillows last?
If washed regularly and taken good care of, down and feather pillows can easily last you 8 to 12 years. The durability of such all-natural products will ultimately depend on the fill you choose, your preferred sleep position, how restless a sleeper you are, etc.
Are down pillows good for side sleepers?
Down pillows tend to compress a bit more than synthetic products, but if chosen well, they can offer sufficient cushioning and comfort to the majority of side sleepers. Best suited for this category of sleepers will be firmer down and feather pillows with a fuller shape that can keep the neck properly aligned with the spine.
Are down pillows hypoallergenic?
Unlike down alternative pillows, natural down products are not necessarily hypoallergenic. Only those of them that are properly cleaned and sanitized at the production stage can be considered allergen-free and safe for sensitive users. Note that very few people are allergic to down as such, the majority of allergy sufferers react to the dust that gathers in the down clusters of the pillow. Products with higher fill power are less likely to collect dust, as there is simply not enough space for that. Cleaning a down pillow routinely and wrapping it in an eco-friendly hypoallergenic cover will also help reduce allergy symptoms.
Is There a Clear Winner Among the Best Down Pillows Reviewed?
It goes without saying that all the pillows reviewed in this post are the very best I could find, and the ones, I believe, will bring you the most comfort and joy. However, there is one particular product on my Top-7 Best Down Pillows list that I favor most.
I name Continental Bedding 100% White Goose Down Pillow the winner because of its versatility, excellent durability, sleeper-friendly design, and outstanding natural down qualities such as great insulation and temperature control, a perfect balance between comfort and support. It is a 100% safe and well-manufactured product that will not disappoint you.
If you have already bought a down and feather pillow that you enjoy, the care and maintenance tips and tricks presented in this guide will help you keep the product clean and functional for a much longer time.
What is your favorite type of a down pillow? How well does it suit your sleeping needs? Have you ever tried a down alternative pillow? Feel free to tell me what you think in the comment section below this post! I will be glad to hear from you!
Last update on 2023-09-27 / Affiliate links / Images from Amazon Product Advertising API