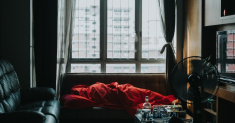 Best Fans For Sleeping: A Shopper's Guide To Cool & Therapeutic Rest
As both a therapist and a former insomniac, I can wholeheartedly state that a super quiet fan is a quintessential element of one's beauty sleep on a hot night.
Alas, determining the best fan for sleeping is nothing short of a Herculean feat.
Most fans are incapable of cooling the air in the room without causing an earsplitting helicopter-like uproar.
Here's the thing: a fan needs large blades in order to provide sufficient airflow. The larger the blades, the more noise they make. If you are anything like me, this clattering is a definite snooze-stopper.
It may seem like the issue is easily solvable with a more powerful motor. Smaller blades that spin faster should do the trick, right? Well, these kinds of motors can arguably produce as much (if not more) noise bringing us back to square one.
That's why I've decided to come up with a handy little guide that combines the solutions I've tested myself (the ones I could actually sleep with). Below are the factors I take into account:
Safety and power consumption
The level of produced noise
The power of the airflow
I hope I'll help you find the best fan to sleep with.
Amazon Bestseller
Top 8 Best Fan For Sleeping Nominees
Welcome to the meat and potatoes of today's post – my hand-crafted list of superb coolers that'll get you through the devastatingly hot summer nights.
Stay tuned though, as I'll be answering some of the most popular questions my patients have asked in the FAQ section under the reviews.
Lasko Wind Curve Electric Oscillating Tower Fan – The Best Tower Fan For Sleeping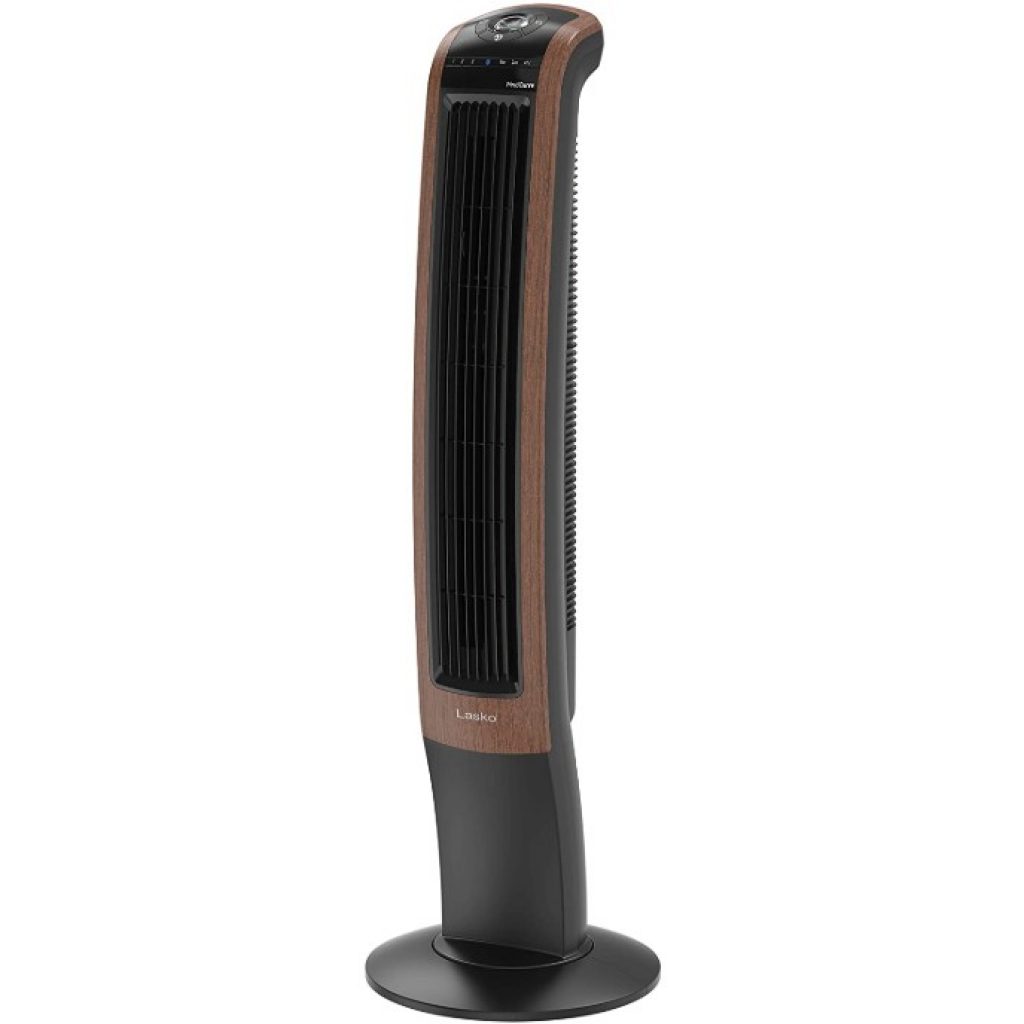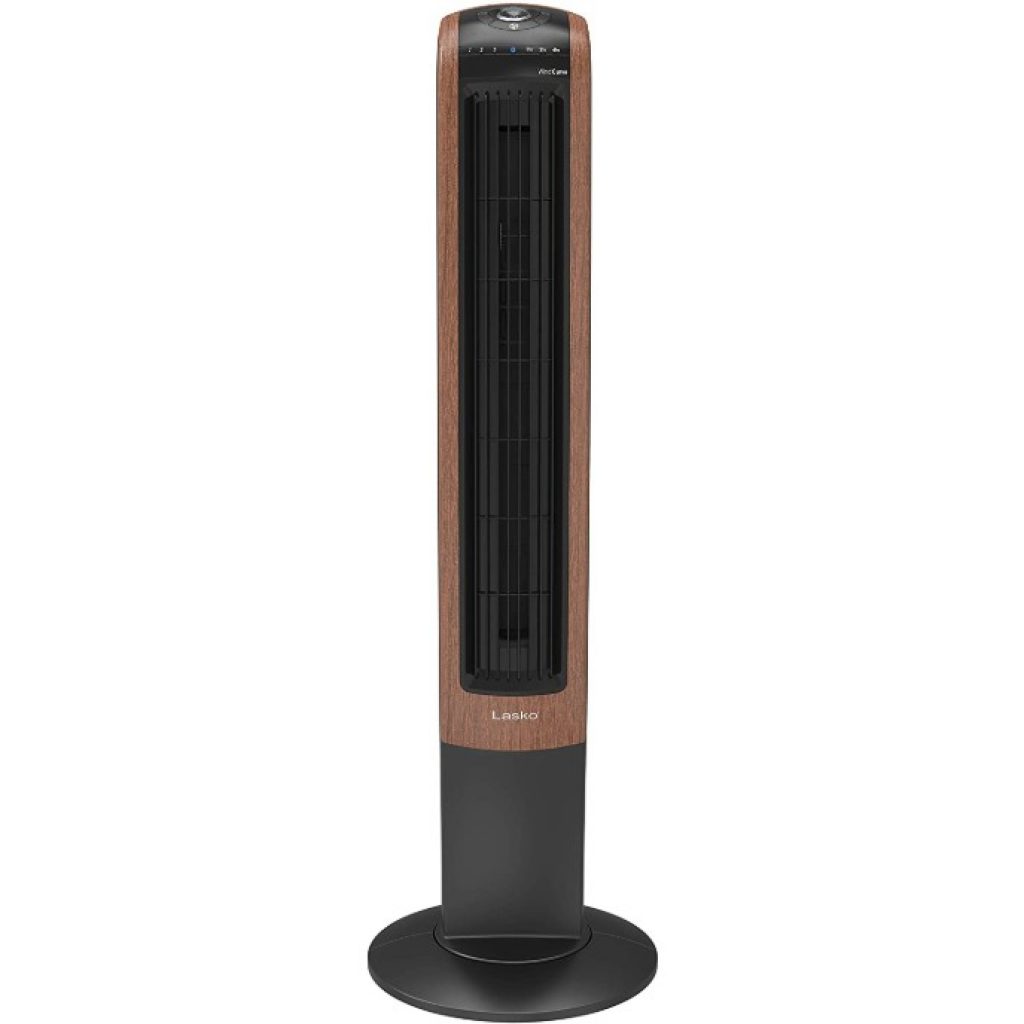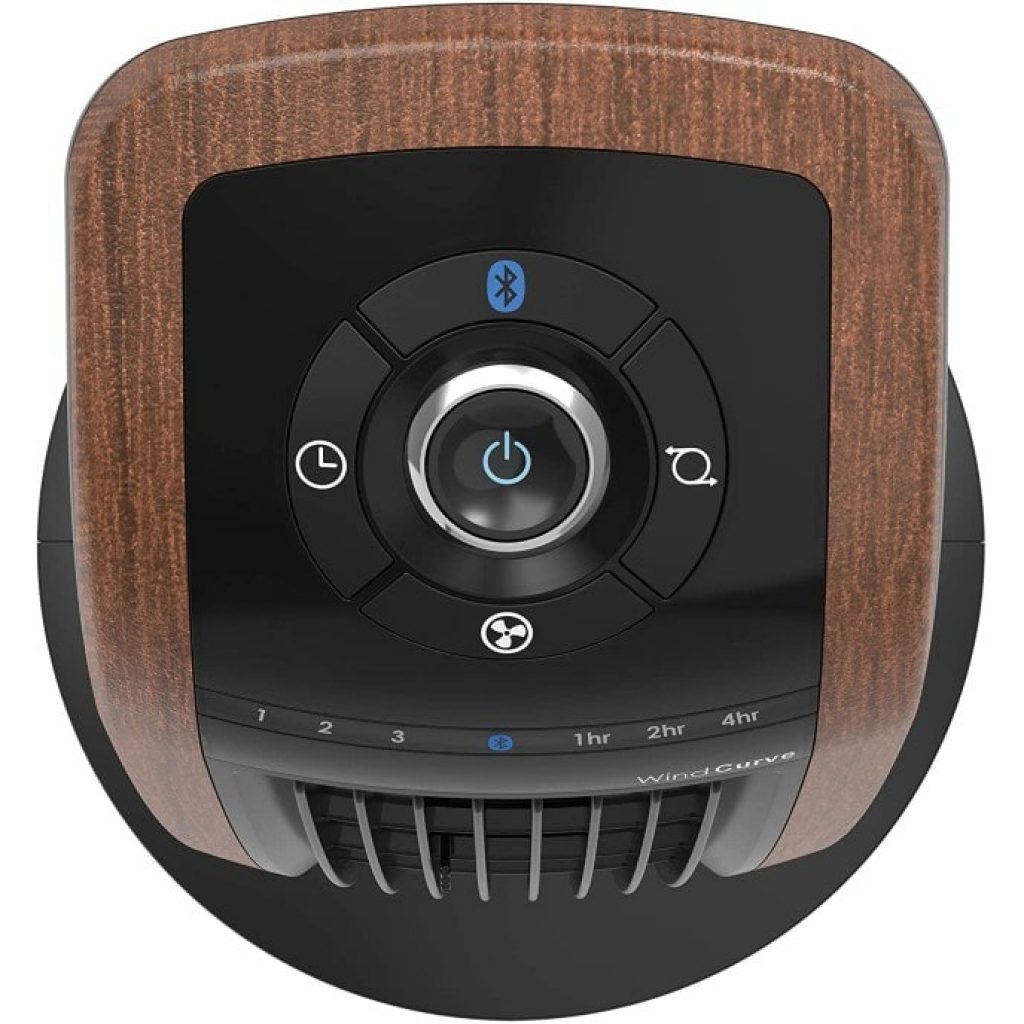 The Lasko Wind Curve is a slick electric fan with an interesting, slim design that can fit easily into almost every bedroom. This device comes in several color schemes but, sadly, I've found that most of them are rarely available.
On the bright side, the Lasko Wind Curve comes with a built-in Bluetooth receiver so you can easily control the device from your smartphone switching between modes from the comfort of your cozy sheets.
You'll want to set this bad boy up facing your bed as, despite its many pros, the fan lacks the versatility and mobility of pedestal fans. I'd also like to notice that the consistent flow of air may give you the chills even when it's a blazing oven outside. Stay away from the "H" option when going to bed, ok?
The fan does produce a certain amount of noise, especially when it is set to high, but I have found it to be more of a soothing white noise than anything else so yeah, take of this as you will.
Dimensions: 42'' tower with only a 13 x 13'' footprint.
Noise levels: The fan works in 3 quiet speeds and a high-power mode.
Security: ETL listed fans that are designed with Blue Pug safety fuse tech.
Sale
Lasko Wind Curve Electric Oscillating Tower Fan...
BLUETOOTH ENABLED – Control your tower fan using your smartphone and never worry about losing the fan remote again. Setting up and using the Bluetooth function on your fan is quick and easy. Simply download the Lasko Connect app from the App Store or Google Play to your mobile device and follow the step-by-step instructions.
BEAT THE HEAT – If you live in the heat with no central air or window AC units do that a poor job of moving air around your whole house or apartment, this high-reaching stand fan with 3 speeds and optional oscillation provides maximum air delivery and full-room coverage to help you beat the heat.
VERY QUIET – Fan produces a powerful breeze, but even on H, you can still hear the TV. Creates just the right amount of white noise for sleeping so you can get some rest. Easy to assemble and operate. Built-in carry handle makes it easy to move from bedroom to living room. Electric timer option automatically turns the fan off after a period of up to 7 hours of use.
---
PROS:
Bluetooth controller;
Nice ergonomics;
3 quiet speeds and a high-power mode.
CONS:
Not as potent when it comes to cooling the entire room;

Some of the color options may be out of stock

.
---
Honeywell QuietSet Whole Room Tower – A Quiet Fan For Sleeping
Honeywell QuietSet is a tower fan with 8 speeds, slick design, and fans designed with the circulation of air in mind.
What's cool about this particular model is the availability of settings you can control from a remote. It doesn't just let you switch between speeds, but you can also swap the sound this fan makes. This is a handy feature for those of us who enjoy sleeping with that pitch-perfect level of white noise. This bad boy even has a dedicated white noise mode.
The availability of modes can also save you a couple of dollars when it comes to the power bill, which is nice.
Lastly, there's the adjustable thermostat that helps keep the temperature in your bedroom on the same level.
On the downside, the touch-screen that's on the device is quite bright so you probably wouldn't enjoy the fan standing directly in front of your bed. I also don't like how the Honeywell QuietSet looks in white, but that's just a personal preference.
Dimensions: 10'' x 8'' x 32''.
Noise levels: 8 modes that include "white noise" and "whisper".
Security: Basic security measures implemented.
Sale
---
PROS:
A variety of power and noise settings;
Oscillation;
Remote control;
CONS:
Few color/design options;
Limited airflow versatility.
---
Woozoo Whole Room Circulator Fan – A Slick Little Nightstand Fan
This tiny fan can pack a punch – much more than I originally expected. I guess the trick lies in the exclusive design of the fan blades. They are optimized for maximal airflow circulation.
How does this work? The blades essentially blow out cool air in a spiral pushing the heated air and moving it into the back of the device. This level for potency is impressive for what is essentially a small device.
Sure, Woozoo won't be able to cool your whole house or even a considerably large room, but it is enough to keep you comfortable under the sheets which, for our intents and purposes, is more than plenty.
Unfortunately, the low-speed mode that's the quietest option this model can offer is even less potent. I'd recommend investing in two and putting them on each nightstand if you are snoozing with a significant other.
Dimensions: 11.42'' X 7.48'' X 11.42''.
Noise levels: Only one non-interruptive mode.
Security: Basic security measures implemented.
Sale
IRIS USA WOOZOO Air Circulator Fan, Vortex Fan,...
Air Circulation: Not just a fan. This circulator whips up and mixes the air throughout the room, to give you fresh air with less temperature variations. The modern aesthetic will fit in your bedroom, bathroom, kitchen, office, or any medium or small room.
AERODYNAMIC DESIGN: Our simple and lightweight fans doesn't compromise airflow. WOOZOO deep pitch fan blades offer more air with every turn while minimizing noise. The spiral grid fan design allows better control of airflow, and superb precision in delivery.
Quiet: Circulate the air without breaking your focus. The motor of the fan emits only 35 dB of noise, so there's no need to worry about disturbing the peace while you sleep or study.
---
PROS:
Slick, minimalistic design;
Creative fan blade design;
A variety of vertical settings;
The polished finish is easy to clean.
CONS:
Lacking in power on quiet mode.
---
PELONIS Pedestal Efficiency Adjustable Fan – The Quietest Fan For Sleeping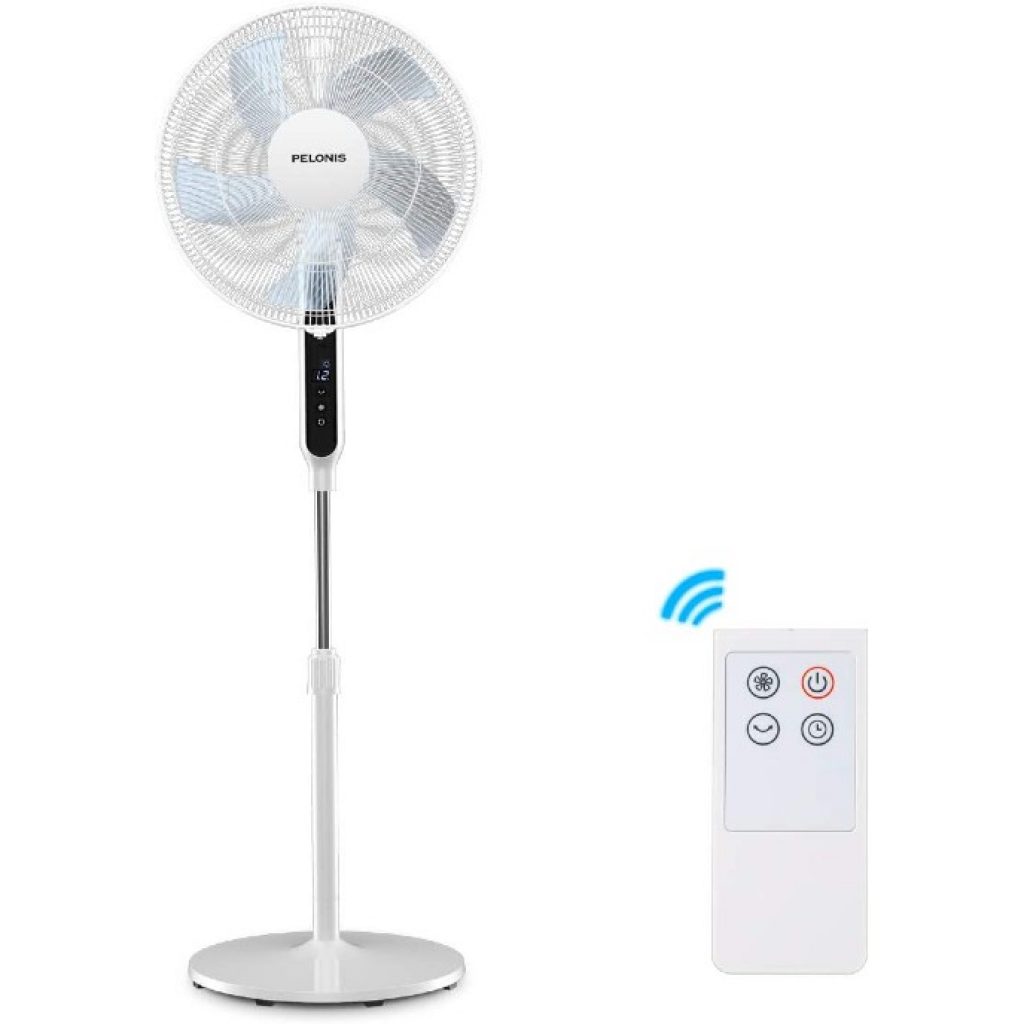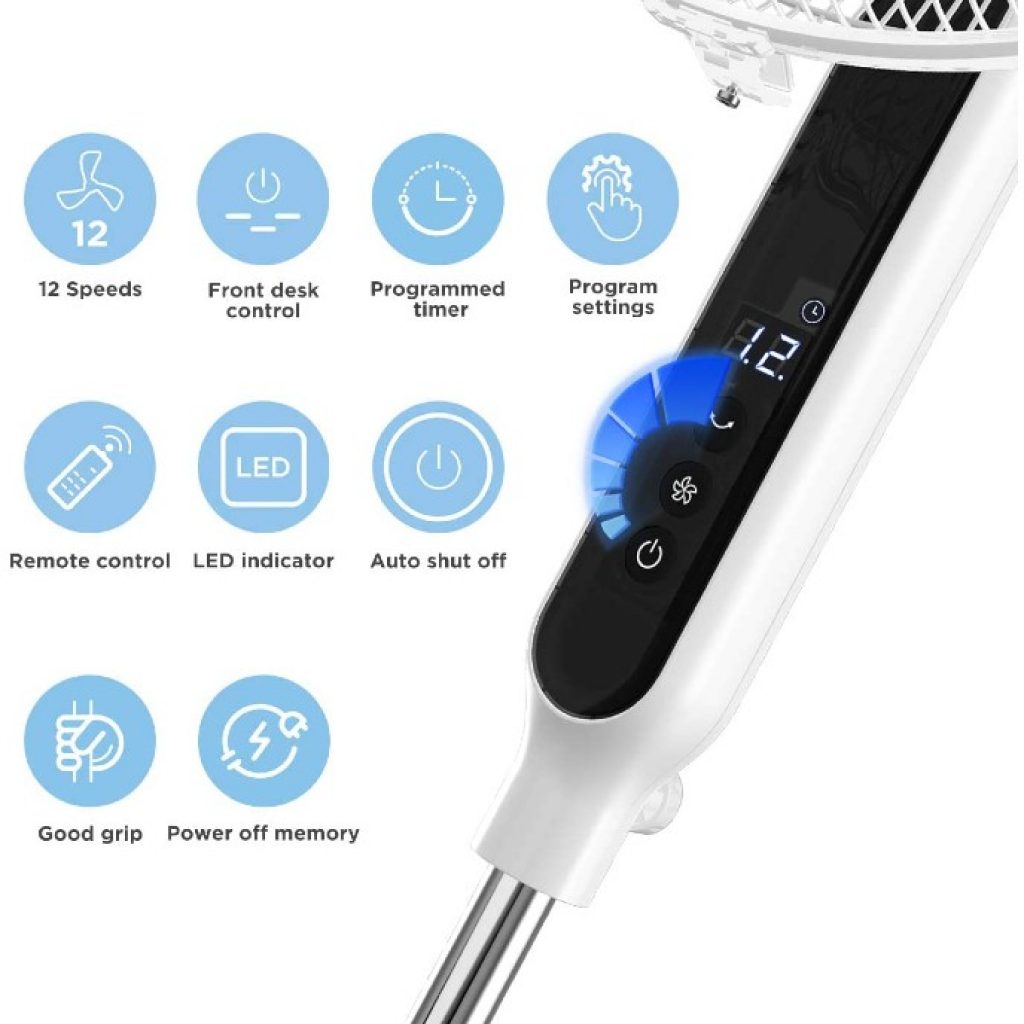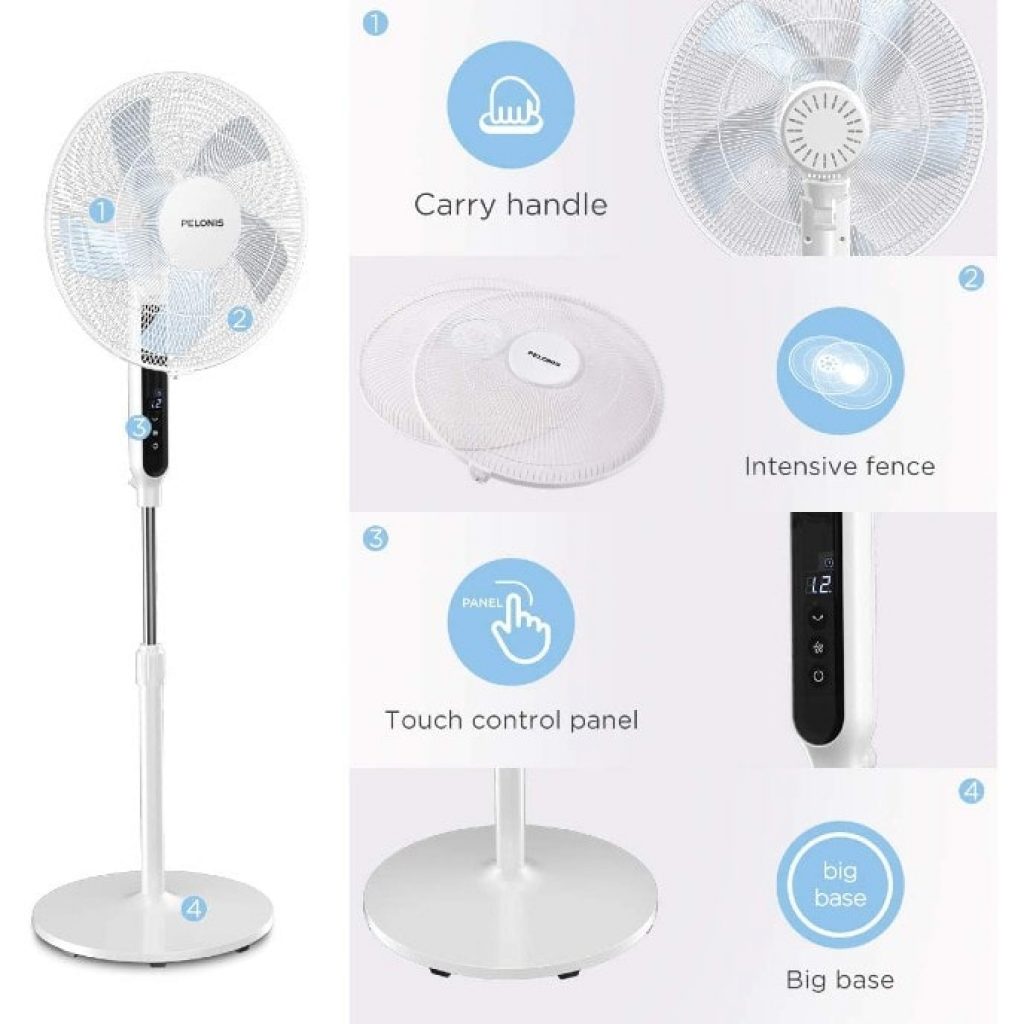 PELONIS pedestal may look like your run in the mill pedestal fan, but it has the words "Sleeping" and "Baby" in its name for a reason. The device rocks a signature DC silent motor that doesn't go above 38 decibels. To put this into perspective, the fan is as loud as a PS4 under peak load.
The other thing I like about pedestal fans is that they rotate. This helps with airflow circulation (which is especially important when you are sleeping).
PELONIS Pedestal comes with a super minimalistic remote and a misleadingly simplistic control panel. Both can do a lot in terms of customizable settings with as little as three buttons.
The base is a bit too heavy for my taste, but there's no denying it makes the fan as sturdy as an oak.
Speaking of the base, PELONIS Pedestal suffers from the same problem as most of its counterparts – the design is nothing to write home about. This fan looks like something you'll see in a store or an office.
Dimensions: 15.75'' X 15.75'' X 51.18''
Noise levels: 12 speeds that go up to 38 dB
Security: The fan comes with a sensor that turns the device off if the engine is overheating. The heavy-duty stand offers additional stability to a construction that's constantly in motion.
Sale
PELONIS 16" Oscillating Pedestal Stand Up Fan |...
ULTRA QUIET & ENERGY EFFICIENCY: Equipped with DC silent motor, the Pelonis pedestal fan is engineered for quiet operation (as low as 38 dB) which is less than half as loud as most standard fans. It is perfect for your bedroom or nursing room. The DC motor also offers greater energy efficiency and save up to 35% of the energy cost than its AC counterpart
POWERFUL WIND & WIDE OSCILLATION ANGLE: 12 speed settings and 12-hour timer design allow you to customize your breeze needs in your house, living room and office. With 5 high-quality blades and a strong motor, this Pelonis oscillation fan could provide strong wind to boost the cooling effect when using with air conditioner. The 85° oscillation angle and 24° tilt angle will extend wind the coverage to every corner of the room
EASY TO USE: Featuring blue LED display, remote control and auto power off functions, the floor fan is designed for long-range and full function control (up to 6 meters). With the height adjustable between 3.5 and 4 feet, it could get you fully covered no matter you are sitting on the couch or lying in bed
---
PROS:
Great flexibility and airflow management;
Powerful motor;
Sturdy stand;
Intuitive controls.
CONS:
The design might not fit into one's interior.
---
COSTWAY Pedestal Fan – The Best Floor Fan For Bedroom And Living Room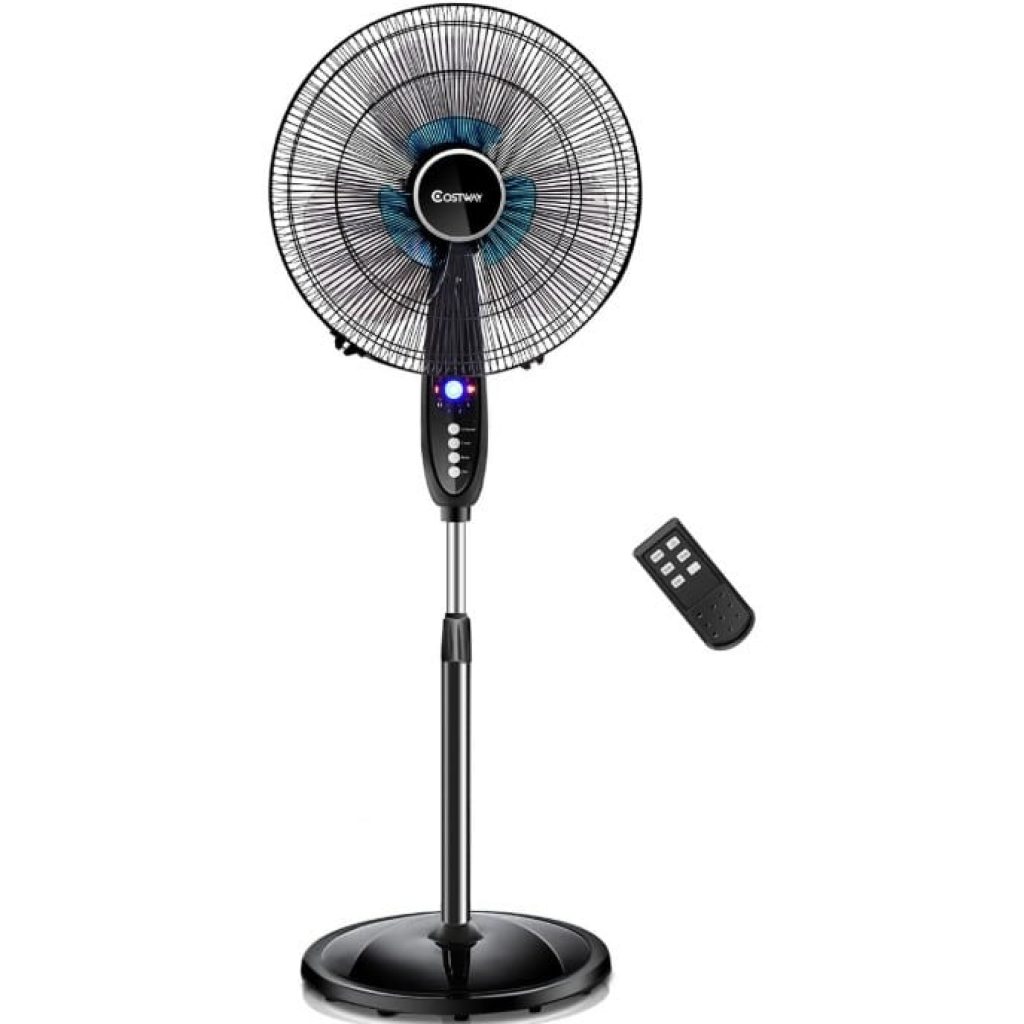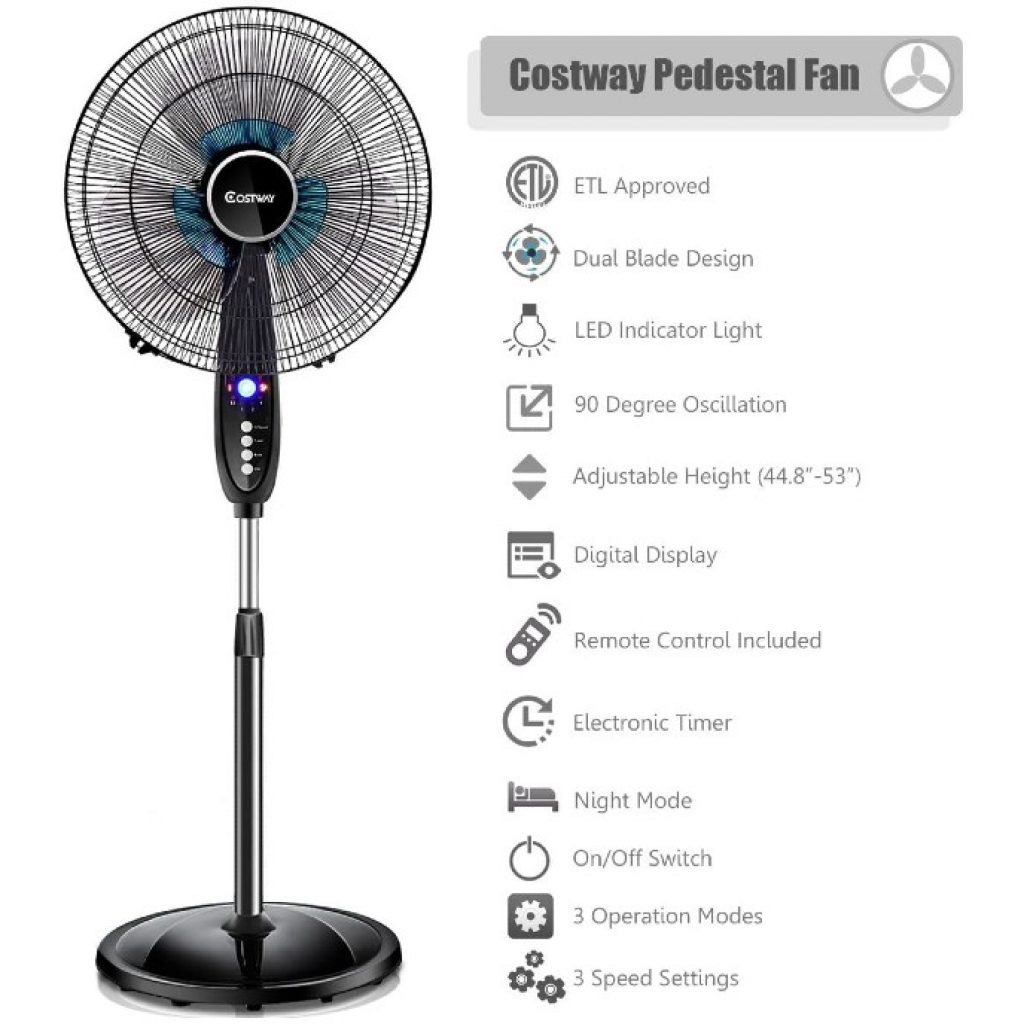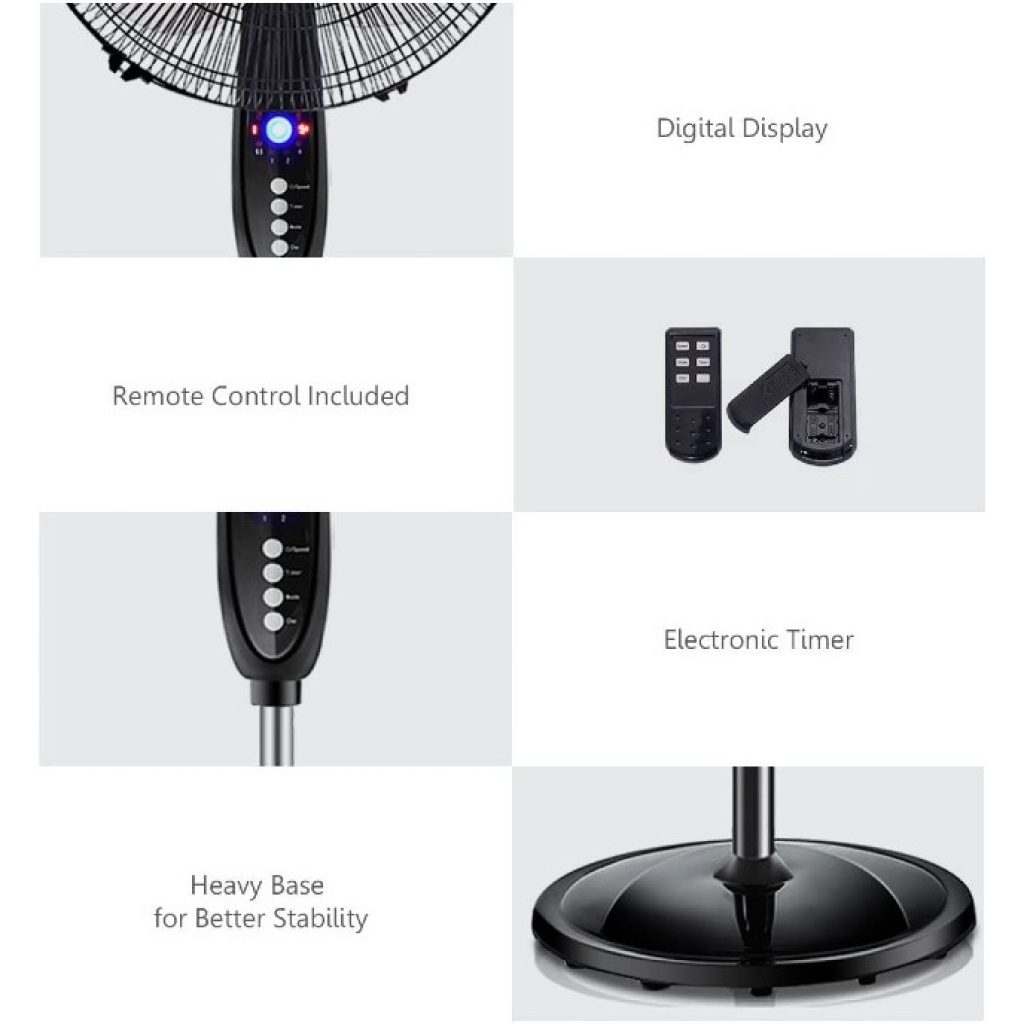 COSTWAY Pedestal Fan my not look like anything too fancy, but it is actually the best addition to one's bedroom from this entire list from a purely technical point of view.
Sure, the device is somewhat limited with only three modes, but we haven't gathered here to pinpoint the most potent leaf blower. Two of the three modes are designed for your comfort. The nature mode turns this device into a noise canceling fan, while the sleep mode is the quietest I've ever heard (or should I say not heard?).
In addition to that, this Pedestal is rocking a dual blade design. There are two sets of three blades that help diffuse the airflow. Top this feature off with an oscillating head, and you will be getting a cold breeze in every corner of your room as a result.
I guess my only complaint is regarding the design. There's nothing wrong with it per se, but there isn't anything special as well. Let's just call it a minor nitpick and leave it at that.
Dimensions: 17'' X 16'' X 53''.
Noise levels: 3 power modes, two of which are "nature", and "sleep".
Security: This fan is ETL-approved. The stand has a wide enough base to support the rotating head.
Sale
COSTWAY Pedestal Fan, 18-Inch Adjustable Height...
🍃 【Hi-Tech Involved】Fans are mainly made of the motor and swing equipment, blower fans, the network covers and wall-or floor-stent components. As hi-tech involved in this fan, you could choose to use remote control or manual one to change condition of the stand fan. RC can be valid within 3.3 feet. The digital LCD display makes you could catch it easily about the condition.
🍃 【Mute Dual Blades】Dual-Blade-design utilizes large and small fan blades to create a full and satisfying breeze. The fan has 6 blades in total to powerfully circulate the cool air. The blades are equipped with an oscillating head. Also dual blades keep the gathering wing in closer, but providing diffusive wind in far place, which is mute and very thoughtful!
🍃 【Long-Lasting Fan Blade Cover】Double metal rings on the front fan cover, making the top of the fan anti-shock, anti-pressure. Considerate design of longitude line guarantees your safety that well prevents your fingers from getting in it accidently. Focus on self locking buckle now, this is the point to allow you assemble and disassemble.
---
PROS:
Perfect modes for sleeping with white noise on and off;
Dual blade system;
Sturdy stand;
Convenient controls.
CONS:
Uninspiring design and limited color options.
---
Prominence Home 80092-01 Alvina Ceiling Fan – A Nice Low Noise Fan For Bedroom
The Home 80092-01 is probably the best fan for bedroom or living room spaces that have little to no room to spare. It will not do much in a space that's larger than 10 cubic feet, but if you are short on real estate meters, this is more of a pro, isn't it?
For starters, this fan combines nice cooling capabilities with a frosted opal globe light, so it can substitute as a lamp.
The blades are available in 4 colors with the finish being stylized to match either one of three types of wood or plain white.
The blades themselves are adjusted in a way where they'll disperse and get rid of warm air. You'll be able to choose from three speeds, all of which are pretty quiet.
This fan has pull chains, but they aren't too handy, which would be a minus if 80092-01 didn't come with remote control.
Dimensions: 19.5'' X 10.5'' X 8''.
Noise levels: The fan runs on a 3-speed reversible motor. All of the modes are quiet.
Security: The fan has the necessary security measures implemented.
Prominence Home 80092-01 Alvina Ceiling Fan, LED...
LOW PROFILE DESIGN: Hugger ceiling fan, built for rooms where extra space is needed.
SMALL TO MEDIUM SIZED ROOMS: Perfect for rooms around 350 square feet such as living rooms, bedrooms, dining rooms or family rooms.
QUIET, REVERSIBLE MOTOR: Conveniently quiet, 3 speed - reversible motor. Can be run in the winter to aid in rotating warm air and cutting down on energy costs.
---
PROS:
Nice minimalistic design;
Availability of several finishes that can fit into almost any interior;
Decent cooling capabilities;
Quiet motor.
CONS:
Only viable for small to medium rooms.
---
BANBAN Fandelier Modern Ceiling Fan with Lights – A Slick And Stylish Ceiling Fan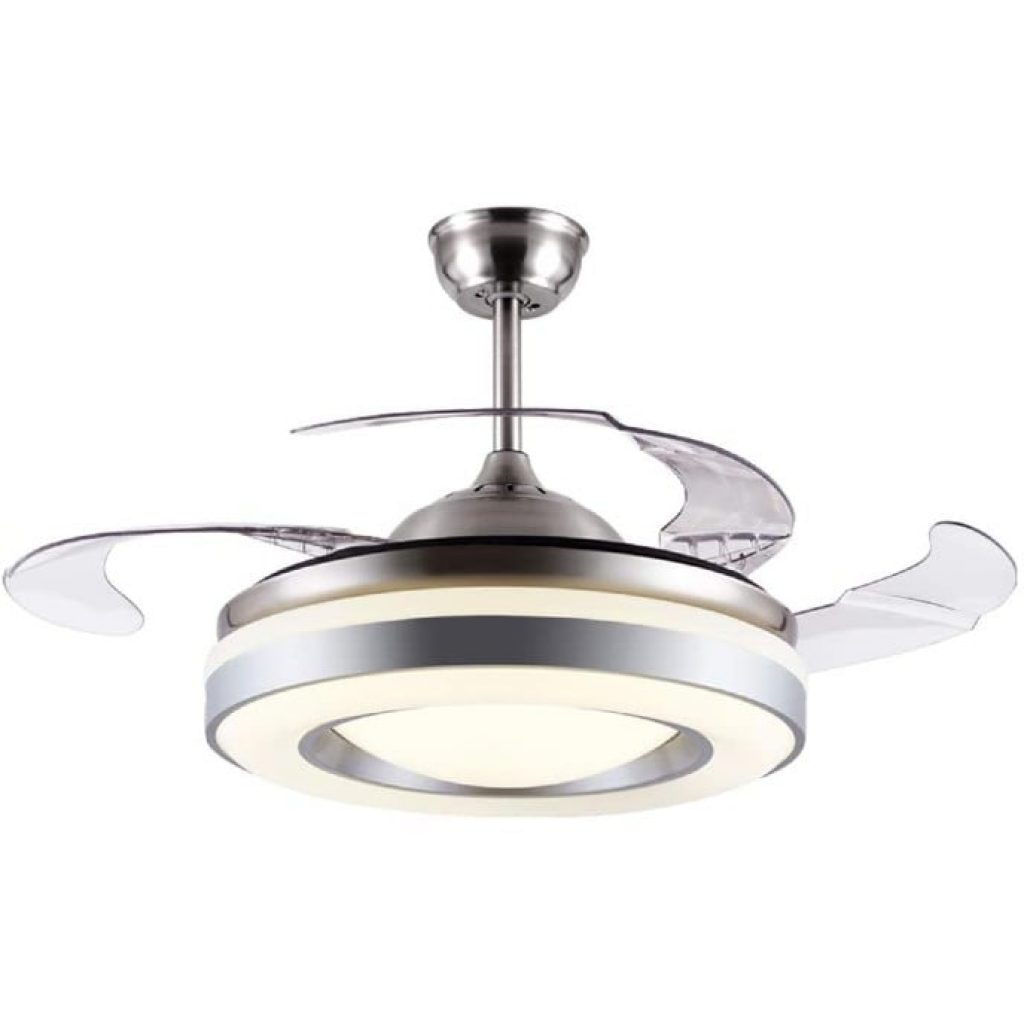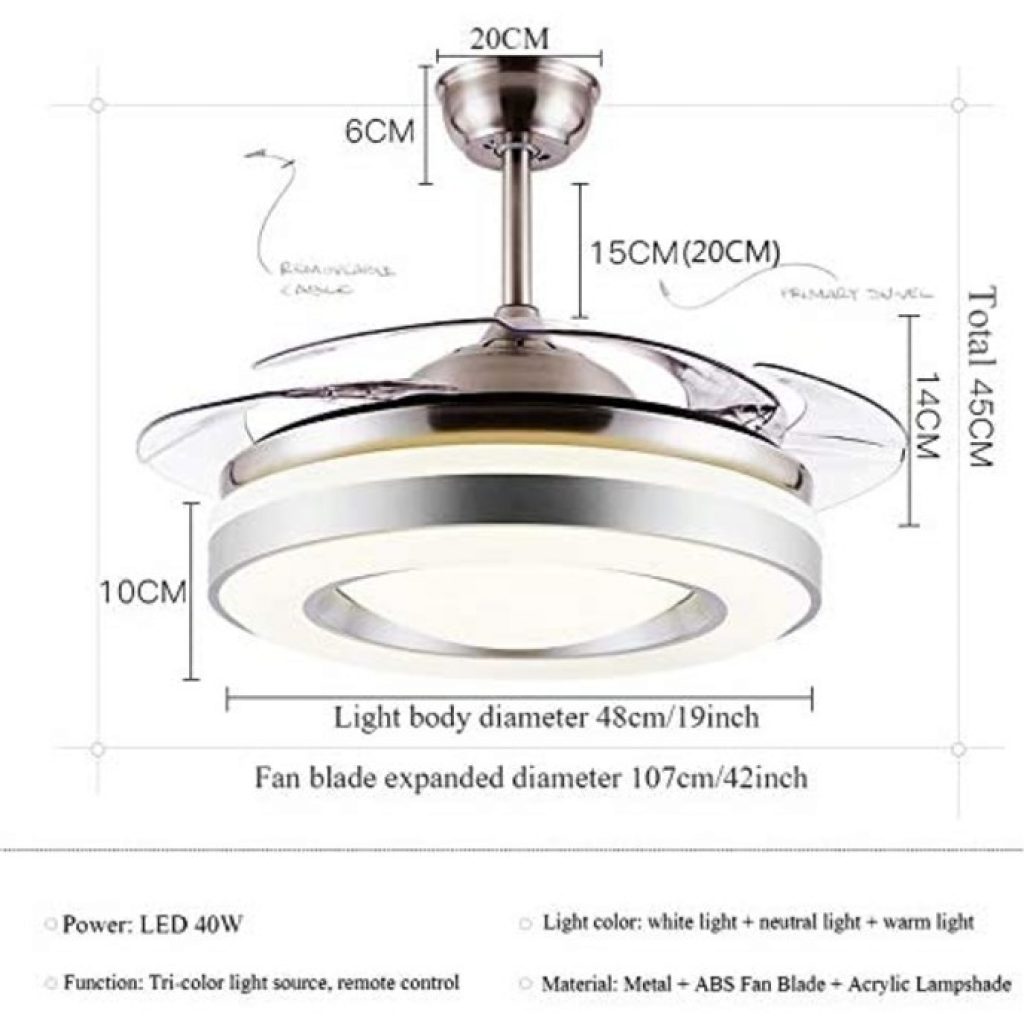 This BANBAN offers a full-blown LED chandelier with retractable fan blades that can be hidden behind the lights. The choice to go for the looks does compromise the airflow capabilities a little bit, but it also ensures the quietness you can expect to hear (or not hear) in a bedroom.
I mostly enjoy the design of this neat fan – it looks like a flying saucer from a sci-fi movie. Even more so when the blades are spinning.
Please note that while I like the futuristic design of this fan, I get that it won't probably fit into a lot of interiors, so keep that in mind.
The chandelier comes with a remote control you can use to switch between three blade speeds and several brightness/color modes for the lights.
Lastly, I'd like to notice how open the seller is on Amazon. They realize that the fan can be damaged after the many stages it goes through during the delivery process and they encourage people to leave feedback in order to resolve their issues.
Dimensions: 42'' X 42'' X 20''.
Noise levels: The "mute motor" was sound tested to eliminate all rattling, wobbling, or clicking sounds.
Security: The fan has the necessary security measures implemented.
Modern Ceiling Fan Fandelier Ceiling Fans, 42...
★Modern Fan Chandelier: Metal fan and LED chandelier 2 in 1, modern style, Perfect for living rooms, bedrooms, dining rooms or family rooms
★Retractable Blades: Diameter 42", when Shrinking blade 20'', Vertical height 16" /20", 4" and 8" downrods included
★Remote Control: 3 Light settings(White/Warm/Yellow), and 3 speed settings (Low/Mid/High).The remote control can control lights and fan speed
---
PROS:
Interesting design with a large lamp and hidden fan blades;
Quiet engine;
Customer-oriented seller;
Bright lamp.
CONS:
An interesting design that might not fit in your interior;
Large size.
---
Honeywell HT-908 TurboForce Room Air Circulator Fan – A Quiet Fan For Bedroom Or Office Space
Honeywell HT-908 is essentially the Woozoo Whole Room Circulator Fan on steroids. The device is somewhat larger and rocks a much more aggressive design.
The TurboForce follows the aerodynamic turbo design philosophy (hence the name) that is intended to maximize air movement in a wide area – you will be able to feel the fan blowing while standing 30 feet away.
HT-908 is wall-mountable so you can save a little bit of space if you feel like it. To top things off, the 90-degree pivoting head adds this device an upper hand when it comes to small bedroom fan flexibility.
The only disadvantage I can see is that the aggressive design of this device may not be to everyone's liking.
Dimensions: 15.2'' X 8.1'' X 14.4"".
Noise levels: 3 power modes and a statement that this fan works 25% quieter than similar models on the market.
Security: Basic security measures implemented.
Sale
Honeywell HT-908 TurboForce Room Air Circulator...
MEDIUM FLOOR OR TABLETOP FAN – Honeywell HT-908 TurboForce Room Air Circulator Fan provides cooling with quiet operation. It's can be a table or desk fan or be wall-mounted, and is powerful enough to provide cooling in small to medium sized rooms.
FEEL THE POWER – Honeywell TurboForce fans have an aerodynamic turbo design to maximize air movement and power for intense cooling or energy-saving air circulation. You can feel the power of this medium floor or desk fan from up to 35 feet away.
CUSTOMIZE YOUR COMFORT – With 3 speed options and a 90 degree pivoting/adjustable fan head, you'll always be comfortable and cool! Customize your cooling to however you like it with this powerful and quiet fan.
---
PROS:
Small but powerful;
Flexible rotating head;
Wall-mountable;
Great aerodynamics.
CONS:
Only comes in black;
A bit larger than most bedside fans.
---
Most Frequent Questions From My Subscribers
Now that we are settled on some of the quietest options of fans even an insomniac can have in their bedroom, it's time to answer several common questions a lot of my patients and subscribers had after discussing the topic of white noise and cool air and their effect on the quality of sleeping.
Can a fan help people with sleeping disorders?
By classification, a fan produces white noise when it is working. These types of sounds are calming and they help the brain avoid sudden distractions such as a loud bang coming from your roommate's bedroom. So, if you are looking for a soothing and meditative experience, a fan might be the perfect tool for the job.
What size fan for bedroom do I need?
Generally speaking, the size of the blades have the heaviest impact on the overall airflow a fan can offer. The same may not be true if you have trouble with falling asleep due to the fact that the larger the device, the more noise it produces.
I suggest following this overall rule of thumb when shopping for a silent fan for bedroom:
You can go for anything below 40 inches if your room is around 100-130 square feet.
Medium to large rooms such as dining rooms, kitchens, and bedrooms that are in the range of 130 – 200 square feet might require a 50'' fan.
Anything above and beyond will require more than one large fan and/or an efficient air-conditioning system.
That said, I recommend investing in a fan with a proven motor and nice build quality as these are the main culprits when it comes to rattling, wooing, or whistling noises.
What are the disadvantages of sleeping close to a fan?
I'd argue that the disadvantages of sleeping in a hot, stiff room surpass the ones of resting under a fan by a large margin, but it's only fair to mention the cons in this review. If not for anything else, this knowledge will empower you to make an educated decision.
Sore muscles: What does a fan do? It blows cold air on you in order to make a hot night much more tolerable, duh. That being said, consistent exposure to cold wind can (and will) tense up your muscles. This, in turn, can lead to cramps. I don't recommend sleeping directly under a fan for this exact reason. Keep the device a little bit further from your bed and you'll avoid waking up as Pinocchio.
Dry air: I've had patients who sleep with their mouths and even eyes open. A fan is definitely not an option for them, as a consistent breeze will dry away from the much-needed moisture from these vital areas, once again resulting in a poor sleeping experience. I also recommend applying a moisturizing solution to your skin before and after bedtime for the same reason.
Allergies: A fan is designed to create a circulating airflow in one's room. In simpler words, it is sucking up the air from the environment. If you were to eave an open window during the pollination season, you'll end up with a room fool of allergens from the outside.
Noise: fans are noisy. Yes, even the quietest ones produce some noise that can be intolerable to patients with severe insomnia. On the upside, a fan makes for an excellent white noise machine so feel free to invest in one if this is your cup of tea.
Which is better for sleeping, white noise, or fan noise?
For starters, fan noise is classified as white noise alongside radio/TV static, the humming of an air conditioner, or the hissing of a radiator.
White noise encompasses elements coming from several frequencies. All of them are produced with equal intensity. Hearing a noise like that can help your brain avoid distractions which is why a lot of therapists recommend white noise to sleep-deprived patients.
And as for the benefits, they do not depend on the type of noise you will be hearing, but rather on your whole preparation routine. Switching off the lights, pulling the curtains, and turning the fan on is a ritual. Repeat it enough times and the same order of action will put you to sleep during the day.
This approach brings in a series of benefits for insomniacs as the process offers relaxation through calming stability. It helps your body (and mind) anticipate what's going to happen. In simpler words, you will be able to force of habit yourself into sleeping.
That being said, the white noise itself is not an integral element of the "ritual". You can come up with any other trigger such as drinking a glass of warm milk, etc.
Can a fan catch fire overnight?
Some fans can. Most of the cheaper options on the market don't undergo the required testing and certification.
I can only recommend investing in a more advanced fan model. Most of the up-to-date solutions have designated triggers that will automatically turn the fan off in case the engine is overheating. Most of the solutions on today's list have an additional timer feature meaning they all shut down after a preset period of time. There are all sorts of triggers and safeguards on top of the ones I've mentioned but all of them work similarly. You probably get the gist of the built-in anti-fire security by now.
Sleep Tight, My Friends!
I sincerely hope that this little guide has managed to help someone find a perfect fan of sleeping in a nice, cool room (both literally and figuratively).
I am also curious if any of you are enjoying the sound of a fan when falling asleep. Truth be told, I am conducting a little research for a personal project and, as such, I would appreciate all of your opinions and insights. Kindly, share them in the comment section below. Your intake may very well change the lives of many of my patients. Thanks in advance!
Last update on 2022-07-04 / Affiliate links / Images from Amazon Product Advertising API