How often do you read in bed? Are you spending nights with your favorite book? Then you need a good pillow for sure. I like to read exciting stories, but I also like to feel comfortable when reading. It is better when you keep your back and hands in the right position. Actually, I'm not talking about comfort, rather about your health. Reading in bed causes different achiness if you don't have a professional pillow. Luckily, there is a wide range of products at a low and high price, with arms and without, big and small – all for you. Read on to choose the best one!
Top 7 Best Pillow for Reading in Bed
A good foam and cover are the most important things in reading cushions. There are many low-quality pillows that won't serve you for long. Sometimes, it's hard to draw a line between good and bad pillows. But I did this, and there are the results.
Linenspa Shredded Foam Pillow – Best Pillow for Reading in Bed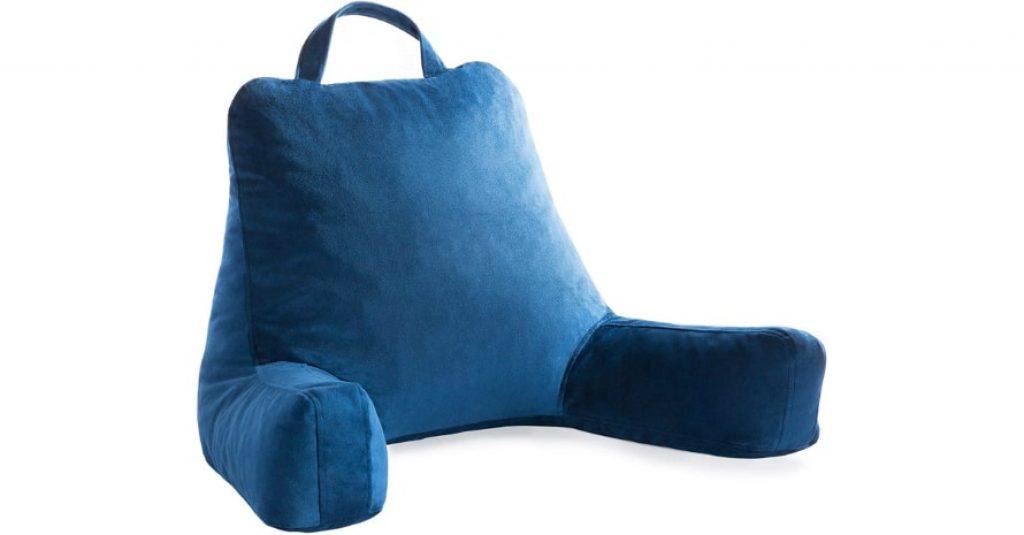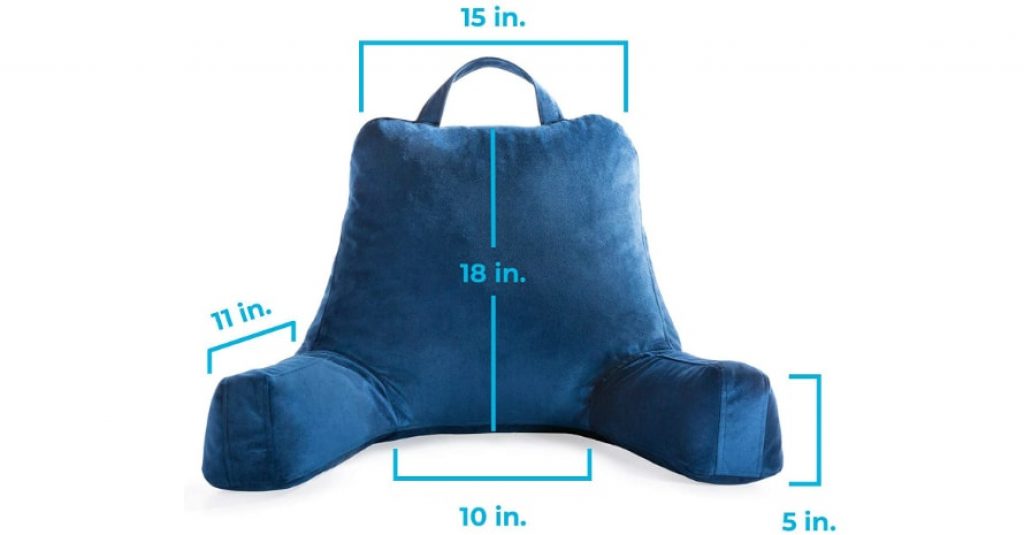 When your bed is doing its job right, it becomes the place of the good memories. I believe that everyone can make his bed a nice place. Linenspa also believes in this. Its founders decided to create a company that provides high-quality sleep products at the lowest price.
They started with the best mattress on the market. Now, they have everything you need for sleeping, relaxation, watching films, or reading books. Check out by yourself.
Many old reading pillow models have a polyester filling. It makes them low-priced but not very comfortable to use. Linanspa offers you a happy medium. Their pillow is filled with shredded memory foam and support foam for the durable design. This product will take the shape of your body, but it won't shift. Such construction allows you to feel soft and supported to avoid backache or neck pain.
Besides, the material doesn't clump at all. When the pillow arrives, it is compressed and rolled in a box for easier transportation. In 48 hours, it will become fully expanded without your help.
So, you can press the filling, but it still returns to the cushion form, and the foam won't gather in a heap. It also has better airflow. This feature allows you to mold a pillow as you like for individual comfort.
The velour cover is so soft! You may choose from the two luxurious colors – navy and stone that will perfectly suit any room design. A pillow has a top carry handle. So, if you would like to move to another room or to go to the park to read a book and enjoy the beauty of nature, it will be easy to do. You can clean the covering from spots. But this material requires a careful attitude.
Do you search for a present for a small girl or a tall man? This pillow will suit them both because there are two sizes. Standard size is perfect for children and teens. They can not only read a book but also watch TV and keep their back healthy. By the way, the pillow is great for recovering from surgery or injuries. I think both children and older people will be happy to get such a present.
Large size is good for everyone. If you have a big family that loves to relax with a book or play video games, this pillow is what you need. As well as the standard-sized cushion, this one also has arms. But you can also choose a model with neck support for the 100% relaxing.
It will also take the shape of your body. Be careful – you may not want to leave this soft pillow and go to work.

PROS:
Shredded memory foam;
Two sizes;
Comfortable arms and neck support;
Soft covering;
Has a convenient handle.
CONS:
Husband Pillow – Best Memory Foam Reading Pillow with Arms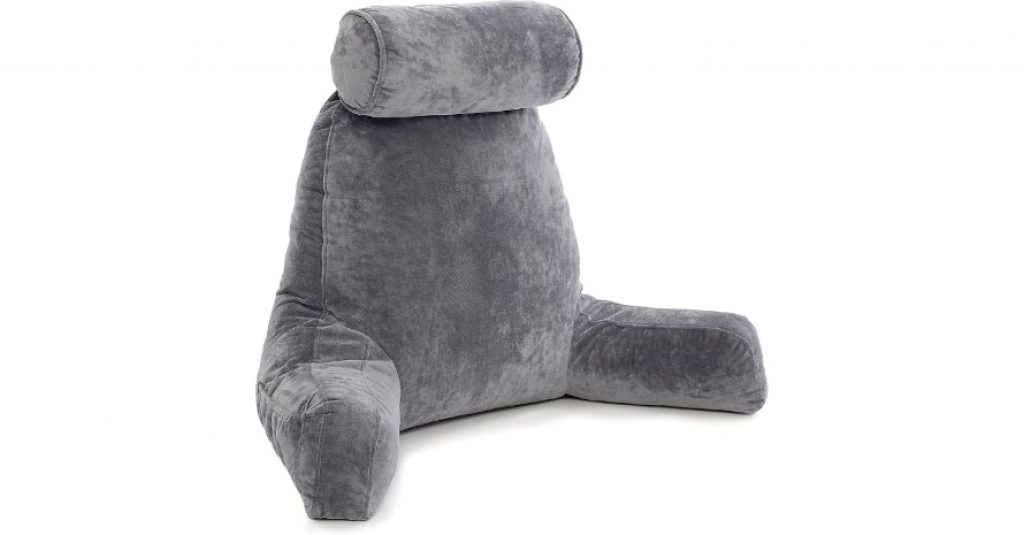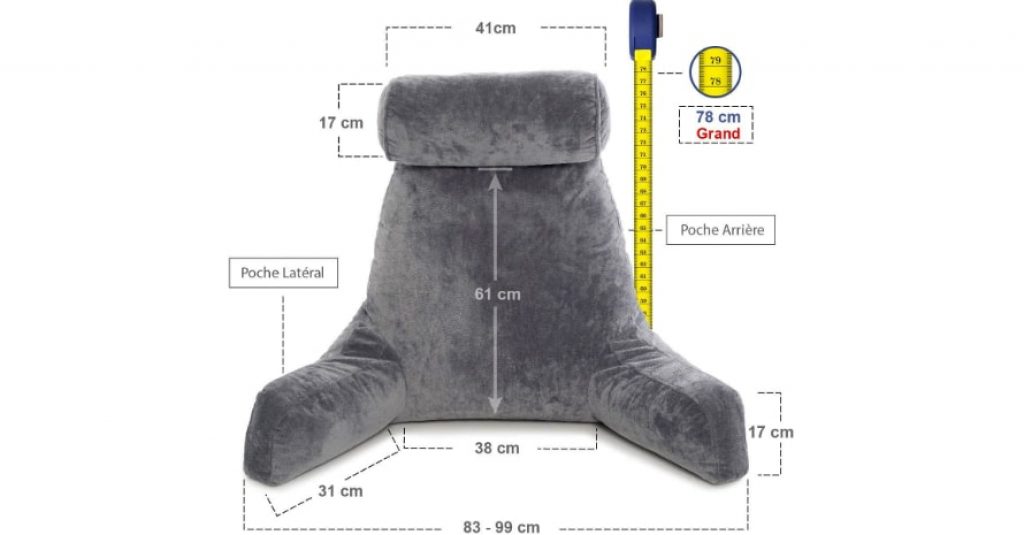 A large pillow – is the best pillow for reading in bed ever. Husband Pillow won't offer you a low-quality product. They believe that what is worth doing is worth doing well, or in our case, it is worth doing large. This pillow has arms and neck support. When you lay on it, you feel like someone is giving you a big hug.
It will support your entire upper body. With a small reading cushion, you often feel uncomfortable, you don't know what position to take. Husband Pillow has solved this problem.
Premium shredded memory foam repeats the shapes of your body and gives you maximal comfort thanks to the micro plush covering. And you can change a cover if you want! There are more than fifteen different colors. So, you can have several removable coverings for every mood or every room design. By the way, the neck roll is also detachable.
Do you forget where you have put your book or TV remote control usually? Because I do. And I think the pillow pockets are a great solution to this problem. Husband Pillow product has back and side pockets for your glasses, magazine, or phone. Everything you need will be with you.
This pillow also has a unique feature. It has a zipper that allows you to remove the foam or put some more if you feel you need more comfort. Hard to imagine something better. And also, the removable covering can be washed in the machine, so you can drink coffee when watching TV and not worry about spilling your drink on the pillow.

PROS:
Large dimensions;
Removable and washable covering;
Detachable neck roll;
Two pockets;
Has a zipper to remove or add foam.
CONS:
Vekkia Premium Soft Pillow – Highly Soft Bed Reading Cushion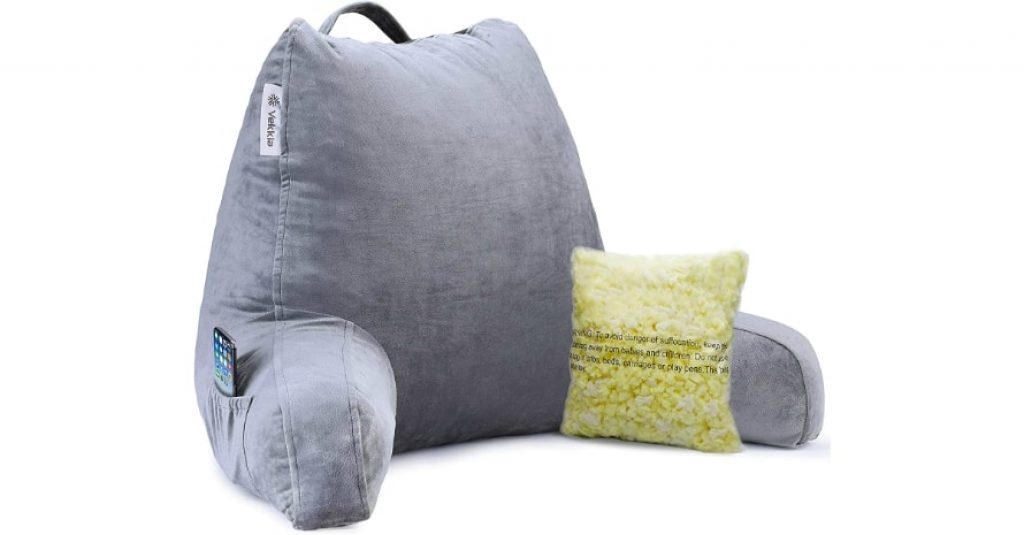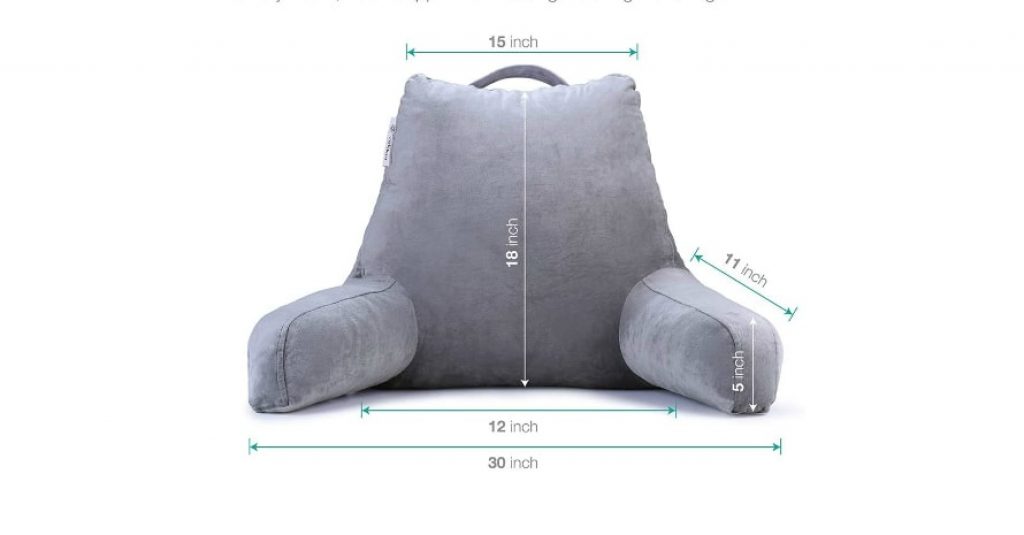 The combination of the memory foam and the ordinary foam provides the best back support for reading in bed. You won't slouch with the Vekkia pillow. So you can sit with a book, watch TV for hours and your body will feel great, thus you will feel happy!
Is a bed reading cushion not comfortable enough for you? No problems – there is extra 200g foam. You can open a zipper and add or remove as much foam as you need. If you want, you can also shift the foam in some places. For example, your shoulders are aching, and you need more support for them. Vekkia took care of this too.
The velvet covering is ultra-soft and easy to clean. You can take it off and wash it in a machine. Sounds great, right? If you have spilled your tea on the pillow, but you don't want to wash it all, you may spot clean it with a damp cloth. Don't worry – you won't damage the covering.
There are arm pocket and carrying handle for additional comfort. A pocket has a perfect size for little things like phone or TV remote. Now, you won't lose them. Thanks to the handle, you can carry your cushion wherever you want, even on the lawn near your house. Vekkie pillow allows you to feel comfortable everywhere!

PROS:
Supportive foam;
You can add or remove foam;
Covering is soft and easy to clean;
Arm pocket and carrying handle.
CONS:
Milliard Reading Pillow– Luxurious Reading Pillow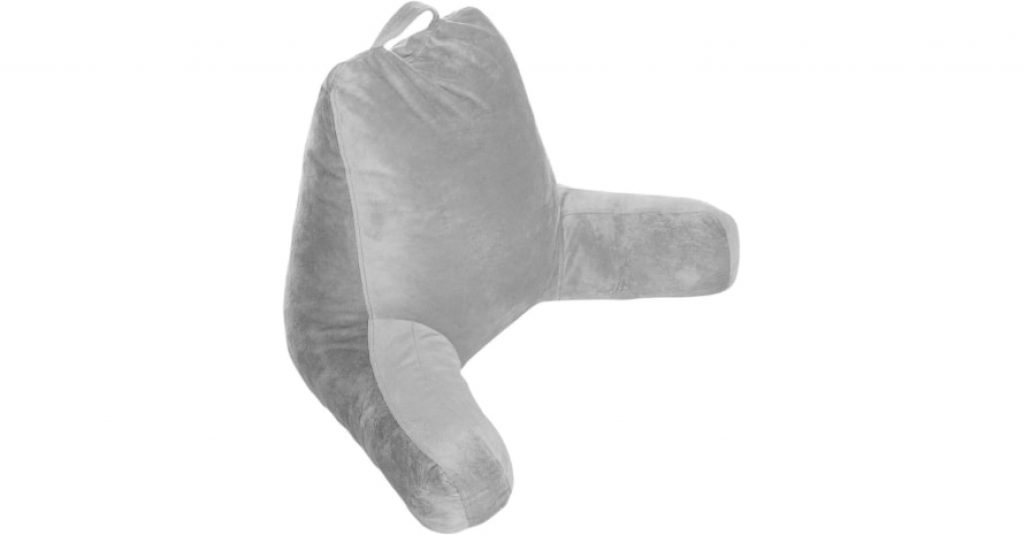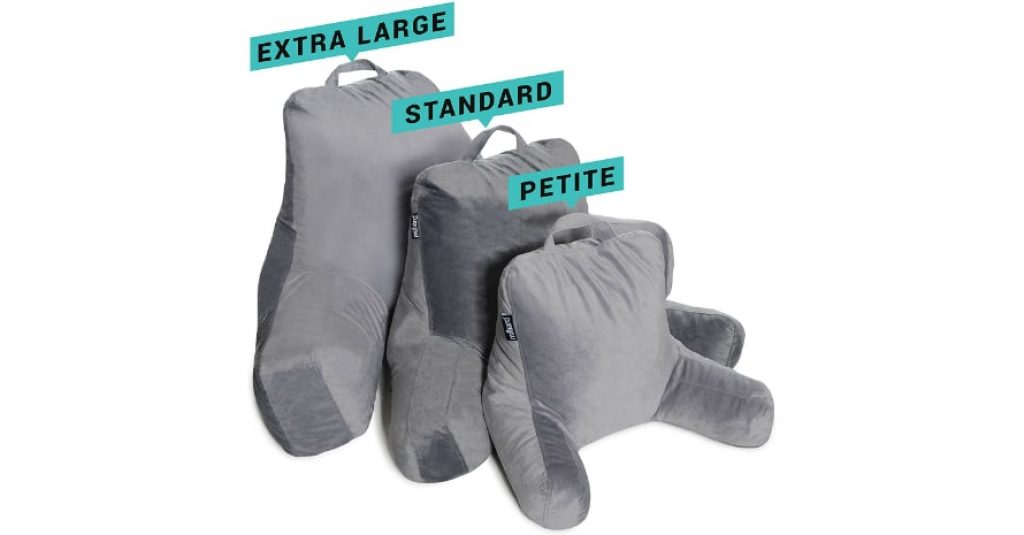 If we talk about comfort, you don't have to search for compromise. Especially when it comes to a Milliard company. "We believe that the millions of nights were made better by Milliard," – they say. You can make millions of reading books hours better with the premium pillows this company manufactures. All the products go through testing. It means they are highly comfortable and durable, and good even for your children.
You can choose from three sizes: petite, standard, and extra-large. The smallest size is ideal for children or if you want a good pillow for outdoor usage. An extra-large model has a removable neck roll. A standard one is a happy medium – a good size at a good price. The stone color looks luxurious and will suit any room design.
Milliard bed rest reading pillow is ideal for long hugs. If you feel uncomfortable and too firm, you can remove some foam, or add some more. This feature also makes the pillow durable. When you use a product for a long time, the foam can lose its shape. In this case, you can easily replace the old one with the new light foam.
Just remove the covering and put it in the machine if there are spots on your pillow. After washing, the velour outer will look even better. If you have unexpected guests and you lack chairs, the Milliard pillow will replace one. You can easily carry it where you need, using a handle.

PROS:
Has three sizes;
Removable neck roll;
You can change the foam;
Has a handle.
CONS:
Bed Wedge Pillow – Bed Rest Reading Pillow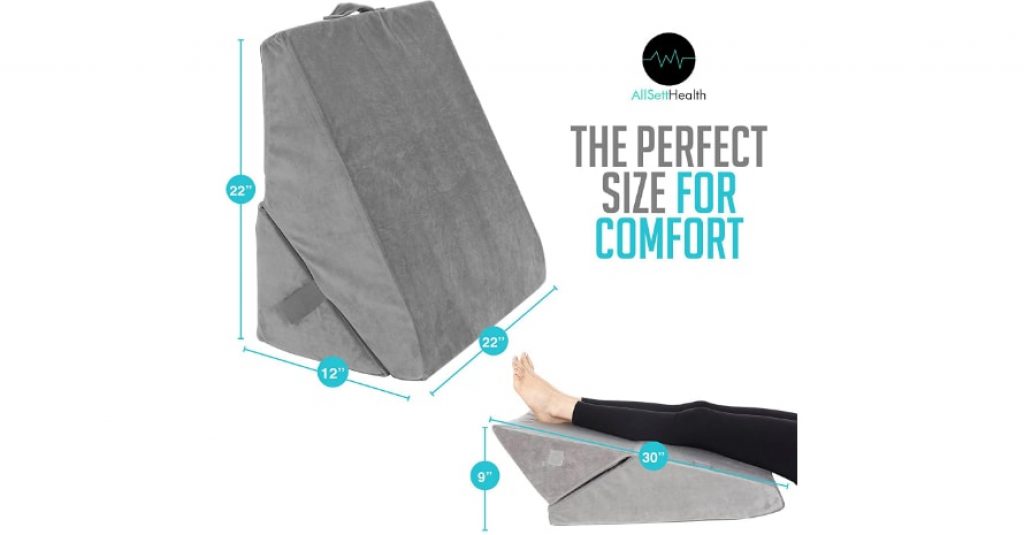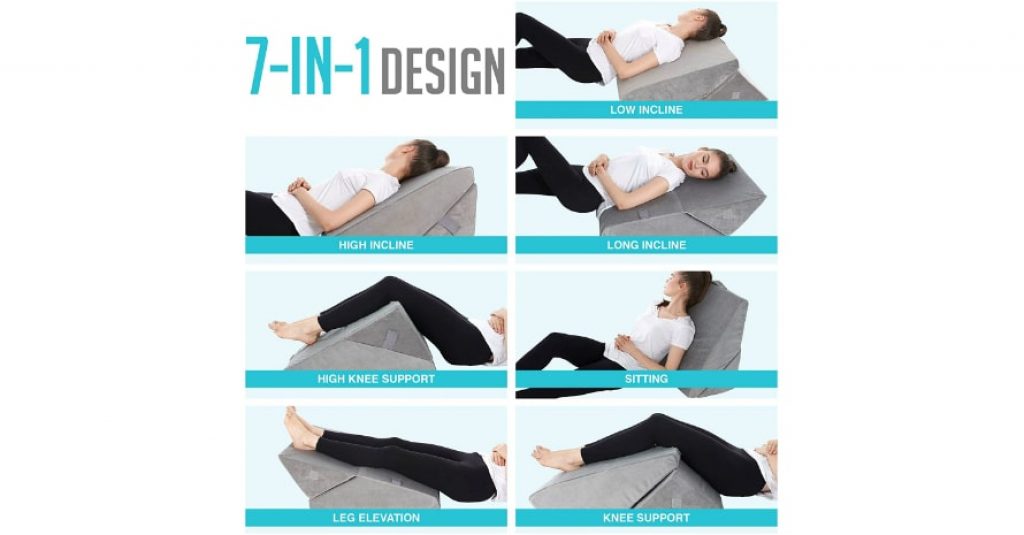 Close your eyes smoothly and imagine a life without muscle pain. Yeah, it can be real, no doubts! All Sett Health may offer you a wedge pillow (or anything you need) that will put a period to all your pains. Sometimes a small tool can change your whole life.
I mean, it will be easier to enjoy reading when you don't need to change your position every five seconds, right? All Sett Health continues to create innovative solutions to improve your health. I'm sure you will be satisfied with their products.
Laying on this bed wedge reading pillow doesn't only satisfy you but also improves the way you feel. The best thing is that you can use it for the back, neck, or legs. You can even sleep on it. A cushion can reduce the pain in your knees or back, increase blood flow, promote breathing, etc. If you snore at night, try to sleep on this perfect pillow – you will see the difference on the first night.
People have different sleep and sitting positions. This provider cares about you and can offer a 30° or 60° degree angle to have a nap or read and watch TV. Your head will have the right amount of pressure. A pillow doesn't shift that allows you to keep one position for long. It's great when you want to focus on your favorite book chapter.
Some wedge pillows can have an unpleasant odor. This happens when the foam is low-quality. Luckily, this cushion is completely odor-free, so you or your children won't get an allergy. Besides, you can take off the cover and wash it in a machine. And when your pillow is clean, you can take it with a handle and go wherever you want to have a great relaxation time.

PROS:
Improve your health;
Provide different body positions;
Odorless;
Machine washable.
CONS:
DMI Wedge Pillow to Support and Elevate Neck – Best Pillow That Improves Your Health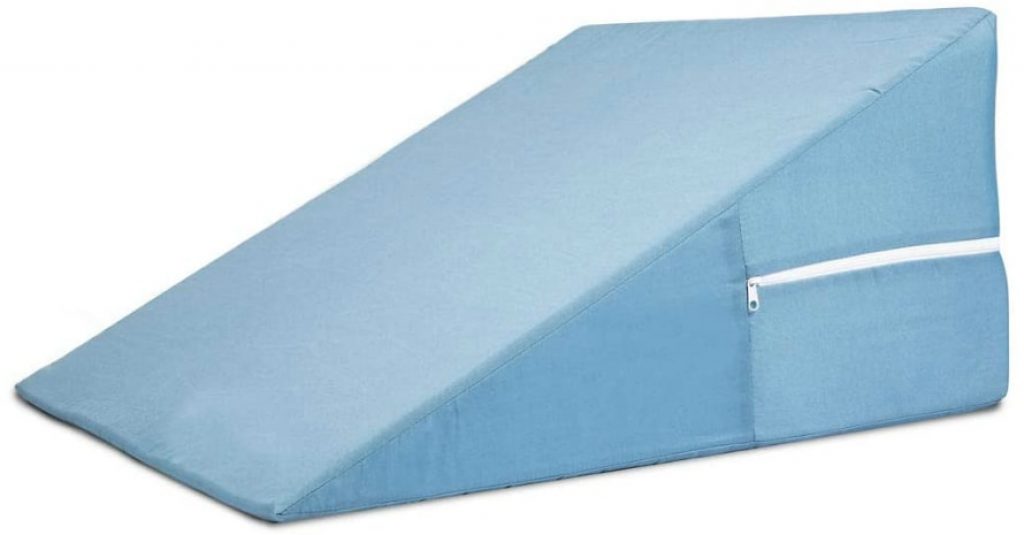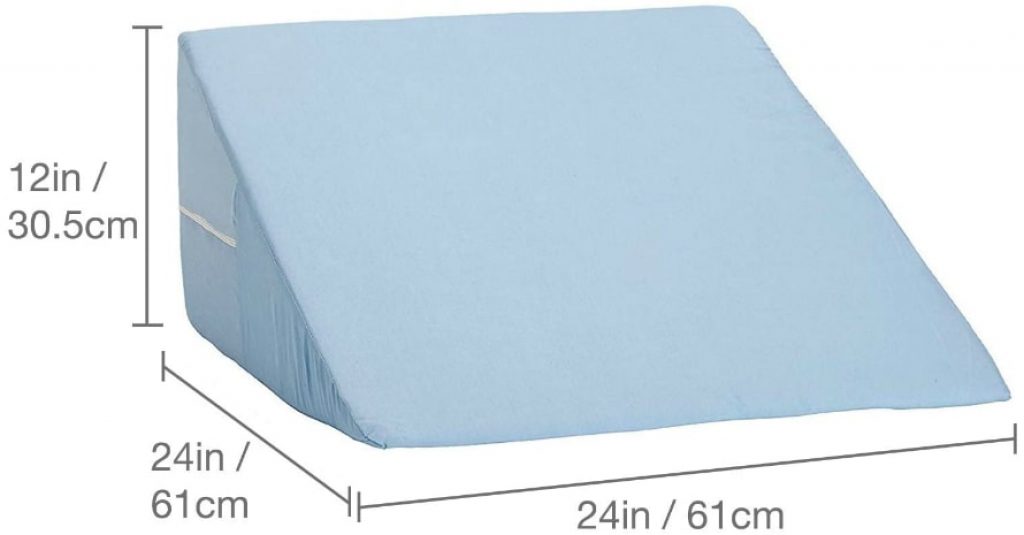 HealthSmart thinks about both: comfort and design. A few decades ago, people didn't even think about the pillows for reading in bed. How lucky we are! Nowadays, we can have a healthy, happy, independent lifestyle with a little effort. HealthSmart can become a part of this.
They offer not only sleeping goods but also a wide range of products that can improve your life. People around the world trust them, and there is a reason for it. This company really cares about your health.
It is perfect when the foam is soft but keeps its shape. HealthSmart has found such material! The foam is comfortable and also durable – it can last for several years and won't wear out. The cover is made of poly-cotton.
Thanks to this, the pillow is highly soft, and you can wash the covering in a machine. But I don't think you will do this frequently. The cover is waterproof, so you can easily remove a spot if you have poured something. Material is hypoallergenic in addition.
You don't even need a handle to carry this reading backrest pillow because its weight is only about 1 pound. The construction is amazing! Your back and legs will have good relaxation.
If you fall asleep during the reading, you will wake up fresh as a daisy. What is more important, your pain will go away. And all this with a pillow that has a stylish design and four beautiful patterns. Choose your best.

PROS:
High-quality foam;
Lightweight;
Durable;
Waterproof.
CONS:
Doesn't have arms and pockets.
Xtra-comfort Bed Wedge Pillow – Bed Wedge Reading Pillow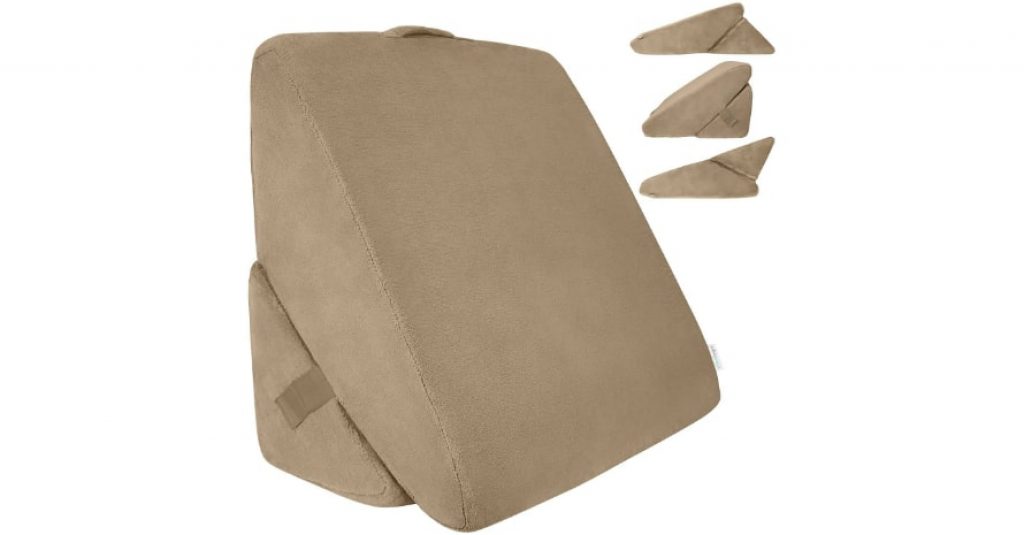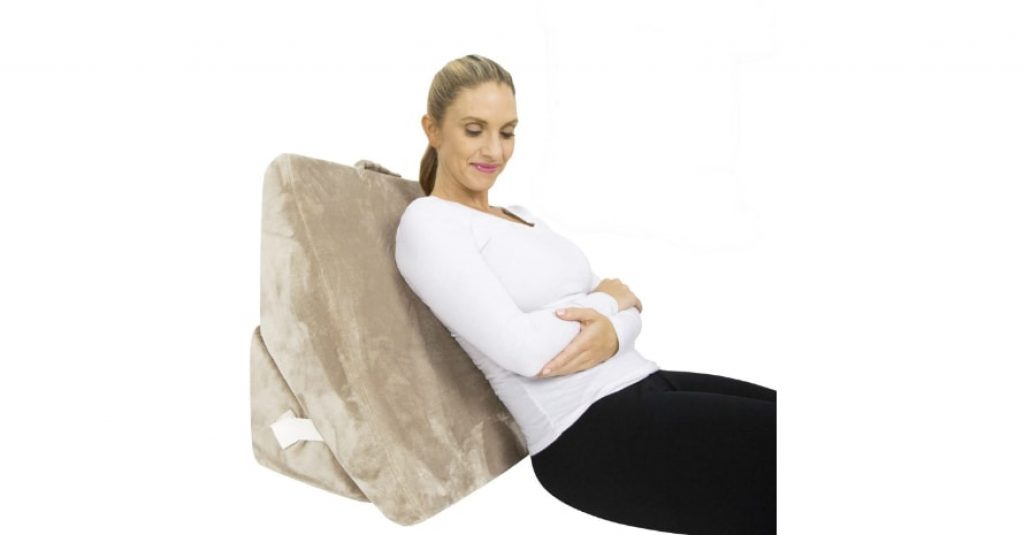 This memory foam reading pillow really provides extra comfort for your whole body, starting with your head and neck, ending with your legs. It has a construction that will fit every bed. Of course, you can also use it on the floor or your sofa.
After reading a book, you can easily fall asleep. Try to regulate the slope and find your perfect sleep position, and the pillow will help you to remove back and neck aches.
You can wash the cover in a machine, as most providers offer. A pillow will stay fresh for long because it consists of the breathable memory foam. The support is guaranteed. I think this cushion will work great when used with other bed pillows. It will be the softest place in your house where you will be able to take a rest.

PROS:
Has a handle;
Soft, breathable material;
Washable cover.
CONS:
Why Do You Need a Reading Pillow?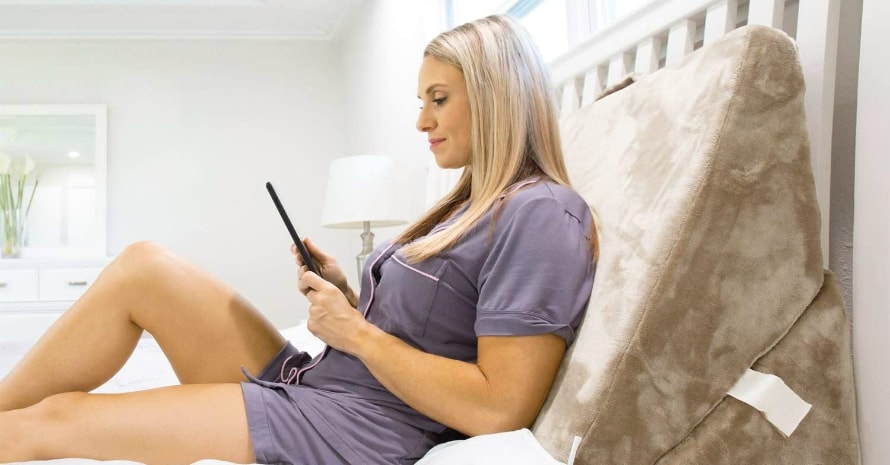 Someone can ask: "Why do I need to buy an additional pillow for reading?" Actually, you can use your bed pillow if you want. If your back will ache, remember my words.
Reading pillow can be used not only for reading. It's great for having a nap, watching TV, working on the laptop, etc. Your kid will like it because it is very soft. Some of them are also good for sleeping and recovering from injuries. And all this without the pain. Got any other questions?
What are reading pillows?
Bed support pillows for reading started appearing on the market long ago. Now they have improved a lot and gained new features for you to feel more comfortable. Such pillows have a supportive foam to follow the shapes of your body. It differs a little from the standard filling. The foam should be soft but durable enough to support your back and neck.
Many reading pillows have arms. It feels good to put your elbows while reading or to lay the whole arms when you're just relaxing. They also have a soft covering. In most cases, you can wash it in the machine or even change it with another cover.
The only minus of the reading cushion is its weight. Such a pillow is usually heavy due to the material type. But it has a convenient carrying handle if you want to transfer it.
So the reading pillows are made for a comfortable sitting, without the back pain. If you don't read books but like to watch TV or work on your laptop with a soft cushion, this model will be great for you too.
What size wedge pillow for reading in bed?
As for me, the best size for a wedge pillow – is extra-large. But many of my friends prefer a small one because it is easier to transfer. In a short word, the size depends on your needs.
There are three standard sizes. If you're searching for the kid pillow, the best variant will be a 14 inches product. Your child will like it for sure. However, it is harder to find such a small pillow, not all the manufacturers provide them. But on my product list, you will definitely find those.
Want a standard-sized reading pillow? You will find it anywhere. It's usually 19 inches in height and 8 inches in width and length (arms included). Some of them are not that long, especially those that are also for sleeping. Most of the standard pillows don't have a neck roll. That's why my favorite type is the large one.
The biggest reading pillows are 24 inches in height. They provide not only the back but also neck support. Thanks to this, your whole upper body is in the right position for reading. You can detach a neck roll and place it under your feet. Believe me or not, you can use a reading pillow for all your life occasions no matter what size it is. So choose the right for you and start a new life without back pain today!
How to choose a reading pillow?
What is the best pillow for reading in bed? A cushion with good foam. The best one is the shredded memory foam combined with the standard supportive foam. Such a combination will provide better support. If you have children, the hypoallergenic filling will be a good variant for you. Mostly all the manufacturers I have described offer high-quality material.
It will be much easier for you if the covering is machine washable. It's not hard to find such a pillow. A lot of providers allow you to remove or add foam. I think it's great, and you should choose a cushion with this feature. To buy bed reading pillows with arms and neck roll or not – you should decide for yourself. The only thing I can say: maybe the price will be a little higher with them, but that is worth it.
How to wash backrest pillow?
As I've noted before, choose those pillows that have a washable cover. You can put it in a machine and wash it at a low temperature (it is better to wash separately). And of course, you can use a damp cloth to remove small spots. There is no need to clean the foam. If you use a pillow for a long time, you can change the foam if it went bad. But I can assure you it will rarely happen.
Summing-up the Results
Nothing can be more important than your health. It's great when you find a product that not only takes care of your body but also is comfortable and can be used in many ways. As you see, the reading pillow will be useful in your house. I'm glad I was able to share my experience with you and help you find the best reading pillow.
There are many models, so it's easy to choose a low-quality cushion accidentally. You don't need this, right? Have you ever bought an uncomfortable pillow? Do you know how to avoid this? Share your thoughts with us in the comments section below.
Last update on 2023-10-02 / Affiliate links / Images from Amazon Product Advertising API