Welcome to my blog! I specialize in solving sleep problems. There's plenty of reasons why people have chronic insomnia. Why they have neck pain or migraine in the morning. And why they feel exhausted after a 9-hour sleep.
A wrong pillow might be one of the reasons. The way your head is positioned at night and how much physical stress the neck and shoulder muscles receive may bring excellent or catastrophic results.
In turn, these nuances depend on:
Air circulation.
The pillow's fill.
Adjustable sleep angle.
Extra orthopedic features.
Material quality (allergic or not).
If a pillow fails to meet any of these criteria, your sleep will be poisoned and sabotaged. Even if you get no neck stiffness or pain while dreaming, a sticky and hot pillowcase may ruin it all for you. And if it's toxic at least a bit — itchiness, coughing or asthma will be your guests.
So, I've prepared my top 10 picks of the best pillows on Amazon. With good sleep qualities combined, they have good chances to tackle insomnia, fatigue, and depression. Or just give you a good time nap.
Top 10 Best Pillows on Amazon
And now, let's review some models that I personally like. Remember: picking one that will suit your needs depends on your style of sleeping, as well as problematic body areas that feel sore upon waking up. Let's see what might help you.
Coop Home Goods Adjustable Pillow: The Best Pillow for Side Sleepers on Amazon

Our first item, Coop Home is a real beast of comfort and monster of relaxation. First, like any legit semi-orthopedic pillow, it's filled with memory foam.
You might've seen this smart foam at work in sneakers and mattresses. It literally remembers the contour of your foot/spine, diminishing stress that your muscles would usually get from a regular, stiffer surface.
So, I can recommend this pillow to people who suffer from back or neck pain. Especially if it was caused by trauma from the past: cervical vertebrae displacement, etc. First, the pillow's memory foam allows your neck muscles to go as soft as dough.
Second, it guarantees better sleep. As you know, our productivity, mood, and energy level during the day heavily depend on the blood supply that our brain receives. Your neck is the channel, so to speak. And a healthy, well-rested channel maintains better blood circulation.
What I also like about Coop Home is that it's made from eco-friendly stuff. The pillowcase is made of the hybrid material: bamboo viscose and polyester.
Bamboo is known for its sturdiness — it takes a grown, muscly panda to break a bamboo stem. So, the case will serve for a long time, as the tiny bamboo threads are immune to getting torn or worn out quickly.
As for polyester, it guarantees that your sleep will be soft and cool. So, this hybrid material is long-lasting but loft and breathable at the same time. If you sweat in your sleep, Coop Home will reduce some temperature — an especially cool feature if you live in a hot climate.
All in all, I'm pleased with this little cushion. It's orthopedic, soft, treat your skin nicely and makes muscle fatigue go away. It's probably the top Amazon best-selling pillow right now. And there's a good bunch of reasons for that.

PROS:
Nice case material;
Memory foam filling;
Prevents pain, stiffness & muscle fatigue;
Made of eco-friendly materials;
Affordable.
CONS:
May have a 'factory' smell upon arrival.
Misiki Orthopedic Pillow: An Amazon Contour Pillow
The pillow is stuffed with polyurethane, a.k.a. memory foam. You already know what it means: the cushion will remember the silhouette of your neck, shoulders, cranium, and so on. As a result, you get a better and deeper muscle relaxation.
However, Misiki has unique know-how I really like. And it's the butterfly shape. The thing is, that tricky form factor allows the pillow to provide excellent side and back sleeping.
While you're lying on your back, your head will be nicely supported. It minimizes the stress that your back neck gets plus prevents snoring. (At least some of it).
If you're more of a side sleeper, this pillow will support you with one of its wings. Besides, there's a special cleft for your shoulders and an armrest, which prevents that obnoxious hand numbness. (And it's not good at all if your arm falls asleep right after you).
The case is made of polyester. This is an intoxic, skin-friendly material. However, it could've used some bamboo threading to make it last longer, in my opinion. As for washing, Misiki's case is easily detachable and can be thrown into the washing machine.
To sum up, I'm really impressed with what Misiki can do. It's innovative, soft, and really protective of your vertebrae and muscles. A splendid neck pain pillow from Amazon, this orthopedic butterfly will fly you to the Slumber Land and back.

PROS:
Butterfly shape.
Armrests!
Memory foam filling.
Satisfying height.
Skin-friendly case.
CONS:
Chance of putting it upside down.
Lincove 100% Goose Down Luxury Sleeping Pillow: For Snoozy Gooseys
First, its fill is unusual for an orthopedic cushion: it's goose down. And pillows stuffed with this fluffy stuff have been in huge demand for centuries!
However, this model's fill is a bit modified, as it meets the patented 800 Fill standard. What it means is that the pillow will last longer, retaining the maximum softness at the same time.
Due to goose feathers and classic pillow construction, Lincove provides unparalleled back/neck positioning. It prevents that unpleasant neck stiffness that we sometimes have in the morning after a good, long rest. In the long run, it can even cure migraine.
What I also like about this goose down pillow from Amazon is that you can customize it to your individual sleep style. Stomach, side, back — choose an option and then pick the fill. Depending on your preferences, stuffing can be Soft, Medium, or Firm.
Pillow's cover is crafted from cotton sateen. It's a pretty smooth material. So, I can't complain about my facial skin getting scratches or any discomfort whatsoever during the sleep.
Sweet cherry on top is the Lincove's package. Pillows arrive in a nice briefcase with handles, with the company's logo printed on it. So, if you ever plan to move, packing them won't be a problem. Besides, such a presentable package makes them a cool gift.
I'm really satisfied with what Lincove has to offer. It provides a pleasant bedtime and solid neck relaxation. Besides, there's a good chance that a pillow stuffed with such a loft material as goose down can cure headaches. Plus Lincove sells king size pillows on Amazon.

PROS:
Goose down filling;
Soft pillow cover;
Fancy packaging;
Three fill options.
Helps with migraines.
CONS:
Pricier than other pillows.
Puredown Natural Goose Down Feather Pillow: One of the Firm Pillows on Amazon

Puredown is another pillow filled with goose feathers and down. Memory foam isn't worse in the direct sense of the word when compared to the feather cushions. But goose pillows have one undeniable benefit: they are easily shapable. So it's a great stomach sleeper pillow from Amazon.
Depending on how you prefer to sleep — tummy, side, back — you can flatten such a pillow or make it puffier with just one move. Consequently, you can regulate the angle at which your head will rest, as its comfort degree differs for various people.
Puredown itself is as soft as merengue. At the same time, goose feather thickness doesn't allow the pillow to turn into a mini quagmire that will suck your head in. So, the subtle balance between fluffiness and firmness is gingerly preserved here.
Puredown's case is also praiseworthy. It's made of a hybrid material, which combines cotton and plush polyester. So, prepare your cheeks for intoxicating smoothness and extra comfort. Plus, such a fabric nicely protects you from the goose feathers poking through occasionally. (A trifle, yes, but still annoying).
Puredown claims that their pillows are 'odorless'. Which isn't exactly true. Absolutely all pillows, upon arrival, have a certain smell that they contract either from a storing facility or during delivery. So, I suggest you give Puredown a go in the dryer (the softest mode).
To sum up, it's a marvelous neck support pillow from Amazon. Easily moldable, loft, and smooth to touch, Puredown can give you some happy nappy hours. And of course, you can use it to support your back when watching TV or reading.
PROS:
Goose feather fill;
Solid case;
Recyclable materials;
Easy to adapt to your favorite angle.
Ample firmness.
CONS:
A bit pricey;
May have a smell.
EnerPlex Never-Flat Pillow: Magic of Customization

Our next item, EnerPlex is a memory foam pillow from Amazon. The brand itself claims to be a holistic lifestyle company. And according to their website, they make the best pillows and mattresses imaginable. So, let's see if they stick to their word.
The first thing that grabs your attention is the package. Pillow arrives in a nice box that also includes a manual, extra foam, and even a travel bag. So, if you're always on the road and hate parting with your favorite pillow — this comes in handy.
EnerPlex is filled with memory foam based on polyurethane. This organic polymer material is soft but also firm enough to preserve your favorite rest angle through the night. Besides, it learns the contour of your head, neck, and shoulders.
Upon arrival, EnerPlex may seem not so puffy as it's portrayed on the promo pic. But don't panic, you haven't been deceived. All you need to do is to give the pillow a go in the dryer for about 5-10 minutes.
First, it helps to get rid of that odor that absolutely every new pillow has. Second, the procedure will fluff the pillow up, making your tonight's sleep even more enjoyable and comfy.
Polyurethane is heat-resistant, so don't worry about damaging the cushion. But still: set the minimal heat level and let it cool down afterward for an hour or so.
As for sleeping, EnerPlex is truly universal. You can sleep on your back, spreading arms and legs like a starfish. Or you can sleep on your side, curling up like a kitty. No matter which way you like it, memory foam will provide orthopedically wholesome sleep.
Thanks to the extra portion of the foam, you can make your pillow even puffier. Or, by contrast, remove some from the case, if you prefer flatter pillows. The zipped case allows that flexibility.
And another little feature I like is that you can wash EnerPlex in the machine. The case seems to be durable as it's made of Viscose Rayon and polyester. That means on one hand we have the bamboo-based sturdiness and on the other irresistibly gentle smoothness.

PROS:
Extra memory foam;
Bamboo-based case;
Manual included;
Nice customer support;
Travel bag.
CONS:
Belly Sleep Gel Infused Memory Foam Pillow: Meet the Perfect Gel Pillows From Amazon

Belly Sleep isn't just a model. Seemingly, it's a brand entirely dedicated to people who sleep on stomachs like badgers. Don't get me wrong, it's good for other sleeping positions as well. But its gel filling is aimed at providing a better nocturnal experience for belly-sleepers.
As I mentioned, it's a gel pillow. Basically, it does the same trick as a memory foam fill and captures the contours of your body. However, the gel doesn't trap warmth — something that polyurethane foam usually does.
That means that gel particles will absorb excessive heat. And your sleep will be cooler. Literally. So, if you sweat intensely during the dream hours, perhaps this is your chance to escape the curse of abundant nighttime perspiration.
I also like the spinal support that Belly Sleep provides and neutral cranium positioning. Plus, we have here curved edges. That means that pressure that your neck and spine receive is evenly distributed and becomes much less harmful.
At the same time, this trick allows you to breathe freely. So, if snoring, due to belly sleeping, has been an issue lately, this pillow could be an answer.
A few more words about sweating. The pillow's case is resistant to liquid and doesn't let the nasty, stinky sweat infiltrate its fabric. As a result, you won't have to worry about the case of getting smelly after just one hot night. However, washing it is still necessary — hygiene is a capricious lady.
All in all, Belly Sleep is one of the cool pillows on Amazon. It decreases heat, minimizes perspiration, and brings some charming comfort to the belly sleepers. If sleeping like a bear cub is the only way you can do it — Belly Sleep is among the Amazon sleeping pillows you should try.

PROS:
Gel serves as a coolant.
Curved edges;
Perfect for belly sleeping;
Sweat-resistant pillow;
Ample softness.
CONS:
DreamNorth Gel Pillow: Checking the Fluffy Pillows on Amazon
DreamNorth is stuffed with poly gel-filled fiber. It's a light, yet thick and breathable material. Fiber allows a smooth airflow, which sort of ventilates the pillow, banishing excessive heat. As a result, you don't have to wake in the middle of a night to flip the pillow.
This 'coolant' feature is enhanced with the case. It's entirely made of cotton. And it's a light, breathing material perfect for hot climates. Besides, being fully organic, cotton doesn't provoke allergic reactions. (It's a nasty thing that makes your face itchy all night).
As I said, firm and soft balance is nicely preserved. It's cushiony enough to rest your neck muscles in just a few seconds. Yet, it prevents your head from 'drowning.' Drowning isn't just unpleasant but can be possibly dangerous if you have any respiratory problems.
All in all, DreamNorth keeps its promises. It nicely relieves stiffness and pain in the neck area. It allows you to fall asleep in a matter of minutes. And my favorite part: it really cools hot heads down.
PROS:
Fiber stuffing;
Pleasant softness;
Hypoallergenic materials;
Cotton case;
One-year warranty.
CONS:
May no suit side sleepers.
Epabo Contour Memory Foam Pillow: One of the Best Amazon Pillows

The next pillow in question is a therapeutic cushion released by Epabo. It's a pretty affordable unit that costs around 16 dollars, which is much cheaper than other units. So, why is it good exactly?
I assume, Epabo was designed as an orthopedic assistant for people who have had injuries. The pillow does a mighty job at relieving neck and shoulder pain. As well as irksome after-sleep stiffness that many suffer from.
There's a special back-tilt that provides room for your shoulders. The center part of the pillow gives a nice little dip, so to say, which lets you relax the neck muscles completely. And sufficient firmness and height of the pillow's edges make it a good option for side sleepers too.
Plus, head and neck alignment is pretty satisfying thanks to the contour of Epabo. It relieves the muscle pressure, as it becomes uniform. So, nothing will disturb your rest. Besides, it minimizes chances of you snoring like a drunk beaver.
The pillow's height may seem insufficient to some sleepers. So I recommend putting something like a folded towel underneath. Or a smaller cushion.
As for sweating issues, Epabo is also a good pick. First, the foam it is stuffed with allows good air circulation. Second, the case is made of the Rayon and polyester hybrid fabric. It's also breathable, as well as resistant to liquid and inhospitable to dust mites.
All in all, I hugely recommend that item to all sleepers who have post-traumatic neck pain. I can't guarantee it will miraculously cure you overnight. But it sure can give some enjoyable Z-z-z time.

PROS:
Good for people with limited neck mobility;
Help relieve shoulder/neck pain;
Affordable;
Organic materials;
Breathable case.
CONS:
May not be high enough for some people.
5 Stars United King Size Bed Pillow: The Most Comfortable Pllow from Amazon?
Again, the gel-infused stuffing retains an amazing ventilation level. It prevents the pillow from turning into a frying pan on a hot summer night. Or hot autumn, winter, spring night if you live somewhere in Sacramento.
Its case is made of eco-friendly material: cotton sateen. Just like the fill, it prevents heat accumulation. Trouble-free, cool sleep is a nice bonus of such technology. Plus, I can't really say it's capable of provoking allergic reactions like asthma, and so forth.
Orthopedic value is also present here. The pillow provides some good neck alignment, which is responsible for energy and a good mood in the morning. Plus it positively affects your cognitive abilities, as the well-rested brain that gets enough oxygen with blood supply can run at the speed of light.
Upon arrival, 5 Stars will be placed in a vacuum package, tightly squeezed. You need to give them some time to puff up first, about a couple of hours. (Using the dryer will speed things up). And after that, the pillows are fully at your disposal.
Also, it's a practical pillow unit. When it's time for 5 Stars to get squeaky clean, you can just throw them in the washing machine. Their sturdiness won't allow any physical damage to happen.
PROS:
Affordable price;
Nice neck & shoulder alignment;
Easy to clean;
Soft & firm;
Don't get too hot.
CONS:
May not suit belly sleepers.
Royal Therapy Queen Memory Foam Pillow: Orthopedic Relaxation
Royal Therapy
pillow, is a true piece of luxury. At least it looks that way thanks to its fancy design with the brand's golden logo. But is it good enough to be in your palace?
For starters, Royale Therapy is filled with shredded memory foam. It produces an interesting effect of 'nestling' your head, neck and shoulders. This feels pretty nice and even soothing, as it helps muscles go as loose as an old woolen sock.
Second, this know-how provides efficient resistance that won't let your heat sink. In turn, this means that the spinal alignment will remain stable through the night. Better blood circulation rested muscles and relaxed neck — these are the pleasant bonuses to come along.
For those who are concerned with allergy threats — worry not. The foam inside the pillow isn't toxic at all. The same goes for its case, which has bamboo threading. It's cool thermally, long-lasting and just nice to feel with your face.
To sum up, I think RT is really a therapeutic pillow. It supports your spine and neck like a pro, doesn't let shoulders or arms fall asleep and can really mitigate neck pain (if you have any).

PROS:
Shredded foam fill;
Nontoxic;
Glamorous design;
Soft to touch;
Provides relaxation & good sleep.
CONS:
FAQ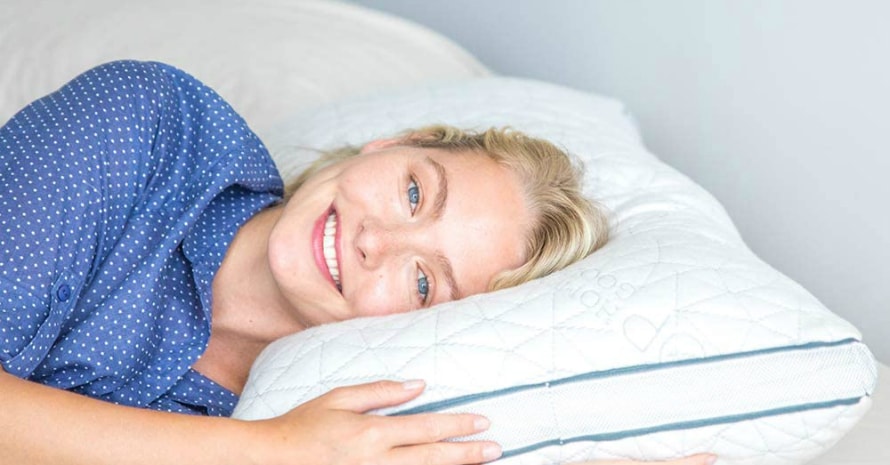 Now let's review a few common questions about the pillow game.
How to choose a pillow for my sleeping position?
Okay, first analyze which sleeping position is your favorite. And then pick a pillow type for:
Back sleeping. Memory foam is probably the best pick. You should aim for a flatter pillow with a bit of extra thickness, a.k.a. loft, at its bottom. This will prevent your neck from overstressing.
Belly sleeping. You will need the thinnest pillow possible. An orthopedic one with gel-infused memory foam could be an answer. Or you can try to sleep without a pillow at all and see how it goes.
Side sleeping. A pillow with a wide gusset is a must-have for side sleepers. It fills the distance between your ear and shoulder, which guarantees better spinal alignment.
You also might be a universal sleeper who constantly changes pose. A butterfly-shaped pillow with memory foam, like Misiki, could satisfy your needs.
What things should I consider before buying a pillow on Amazon?
There's no definite answer to What is the best pillow on Amazon? Every sleeper is different. So, you should choose one according to your needs. Also, consider:
Soft/firm balance. Your head can't sink like a pirate ship when you rest — it piles up stress and causes frustration. At the same time, your pillow mustn't be as hard as a brick. Polyurethane and goose down filling seem to keep that balance intact.
Thermal balance. The hotter your pillow is, the stronger your insomnia gets. Search for materials that support a good airflow: gel-infused fiber, cotton, polyester, etc.
Longevity. If a pillow has some bamboo-based elements, it's a great thing.
Hypoallergenic. Make sure your new pillow is non-toxic and won't trigger any allergies.
And of course, don't forget your budget. Some brands, like Epabo, sell great orthopedic pillows cheaply.
What materials are the best for a sleeping pillow?
Memory foam is a great choice for stuffing if you have neck pain. However, some types of polyurethane can preserve the warmth. So, shredded memory foam does the same trick and keeps your head cooler at night. If there's some gel particle infusion — even better!
As for cases, the bamboo-polyester combo is great. It both wicks sweat away and brings ventilation. Plus bamboo is pretty much immune to physical damage. Cotton is good too, as it's organic. Additionally, you could pay attention to latex as dust mites can't stomach it.
How soft should my pillow be?
A perfect balance between soft and firm is somewhere in the middle. As I've said many times, you can't let your head sink in the pillow — it's harmful, unpleasant, and just unhealthy. At the same time, it must have gentle firmness to support spinal alignment.
I recommend that back sleepers stick to Medium Density. Side sleepers best stick to Firm Density. And Belly Sleepers will benefit from Soft Density. Or you can get an adjustable pillow-like Lincove and experiment with it a bit.
Pillow Talk
That sums up my reviews for today. I hope you've found a pillow of your dream — even the cheapest one of the above offers some undeniable benefits. Just figure out what kind of sleeper you are, get yourself a suitable cushion and forget about twisting and turning.
What is your favorite pillow brand? Do you prefer memory foam or goose feathers? Do the orthopedic pillows really help banish insomnia? Let us know in the commentaries!
Last update on 2023-10-02 / Affiliate links / Images from Amazon Product Advertising API