As a sleep expert, I can say that many people neglect their pillows as a serious part of their bedroom. This discrimination is absolutely unfair, as the night cushion that you put your head on can give you licorice-sweet dreams. Or, by contrast, turn your nocturnal rest into an inescapable nightmare.
Overheating at night is actually one of the reasons that bring insomnia. And it comes in one package with such 'goodies' as extreme fatigue, anxiety, depression, decreased cognitive abilities and just flavorless life.
Apart from having good ventilation or an AC unit in your bedroom, you may also need a gel-infused pillow. Let's review the top 8 models I've found so far. They are made from various materials and may suit different sleeping styles. But they all share one common thing — gel infusion that keeps your head cool at night.
Top 8 Best Gel Pillow
Such a pillow is a clever invention that:
Includes gel. Fiber gel particles are often added to the pillow's fill — memory foam most of the time. Being a liquid substance, the gel absorbs a portion of your body heat, redistributes and radiates it — expels it, in other words. As a result, you will sweat much less in your sleep.
Has good airflow. It is possible thanks to a breathable pillowcase and a special structure that its filling has. Air doesn't get trapped, as it usually does with feathers, and carries the unwanted heat out.
Made of the right stuff. Materials are super important when it comes to any pillow, let alone those with gel. They must be breathable, organic, washable, liquid-resistant, and hypoallergenic.
Not rocket science, as you can see. But still picking the right gel pillow can be a whole quest. That's why I've prepared my 8 gel pillow reviews to help you find the best sleep companion.
Sleep Restoration Gel Pillow: A Simple Gel Infused Pillow
mattresses
, etc.
As the name implies, here memory foam is infused with fiber gel. This little tricky component serves as an extra coolant.
As you may know, the gel-infused foam provides much better air circulation. In return, it doesn't let your comfy pillow build up excessive heat during sleep. As a result, its surface is much chillier than that of a pillow stuffed with feathers, goose down, buckwheat hulls, and so forth.
Often, insomnia can be triggered by thermal disbalance in your bedroom. And a warm, if not stove-like hot, a pillow can quickly become a torture weapon. So, if you've been twisting and turning a lot lately and counting sheep never helps, your pillow could be the main suspect.
As for its materials, Sleep Restoration offers some good nontoxic stuff. Its case is seemingly made of cotton sateen with a liquid-resistant component. As a result, mildew and mold won't plague your cushions. Plus they promise full protection against allergies and dust mites.
The balance between softness and firmness is also pretty solid. It prevents neck scrunching and cradling — these two nasty nuances that cause stiffness and pain in the morning. So, if you're on a quest for a comfort gel pillow — perhaps you've found an affordable Grail.

PROS:
Gel-infused foam;
Hypoallergenic materials;
Dust mites protection;
Affordable price;
Satisfaction warranty for 1 month.
CONS:
Classic Brands Reversible Gel and Memory Foam Bed Pillow: A Gel Top Pillow
So the first thing to notice about the pillow: it's a reversible type. That means on a hotter night in July you can use its blue side. If it's a colder January night, then flip it like a pancake and let the memory foam keep your head a bit warmer.
Thanks to the bluish gel beads, you can enjoy chiller slumbering. The pillow provides better ventilation and literally disperses heat that your body emanates. Eventually, it inhibits extreme sweating that many sleepy heads suffer from.
So, not only Classic Brands guarantees a deeper, pleasant slumbering but also prevents the pillow moving to the side or down from under your head. (It won't get slippery from perspiration).
It has a medium-density, so I could recommend it to the back sleepers. Also, if your muscles happen to be soft or you're recovering from some sort of neck trauma, this pillow may seem too hard for you.
You need to be warned: this pillow will heat up in a hot bedroom quickly. The problem is the pillow won't have enough 'headroom' to give off the warmth in a room that is already pretty hot. So, keep your place where you sleep ventilated. Otherwise, blame it on Newton and his thermodynamics.
As for the rest, it's a pretty good purchase. Its materials aren't toxic, as it's mostly polyester and foam. It can keep your hot cranium cooler if the room is ventilated enough. And the final reward of it all: you will sleep like a log.
PROS:
Two sides for hot & cold temperatures;
Interesting design;
Can suit back sleepers;
Nontoxic materials;
Provides good sleep if used properly.
CONS:
May have an industrial odor.
Snuggle-Pedic Gel-Infused Memory Foam Pillow: Soft Like a Cloud?

Snuggle-Pedic is a brand that was launched to help people solve problems, with which they usually visit chiropractic. And also to deliver quality Zzz, according to the company's mission. So, this Snuggle-Pedic pillow is a peculiar beast.
First, I've never seen that a single pillowcase contained so many materials: bamboo viscose, Lycra, and polyester. And I really like anything that contains bamboo elements: it's skin-friendly stuff, which also can last for a long time as this Chinese plant is quite sturdy.
Lycra and polyester garner both softness and better airflow. Besides, you won't have to worry about any possible allergy threats — these materials are nontoxic.
Inside this soft gel pillow is stuffed with shredded memory foam. That means that this snugly cushions easily adapts to any sleeping position automatically: back, side, or belly. That's the first perk of that stuffing type.
The second bonus is that it's way more heat-resistant. Thanks to the 'crumbled' state of the pillow fill, it doesn't ensnare heat — something that solid memory foam can do. And admixture of the gel coolant allows Snuggle-Pedic to stay as cool as a glass of mint lemonade.
Now, if you ask which sleeping position this snugly guy is best for… One of the reasons the shredded foam pillows are popular is that they are easily adaptable.
You can remove some fill to make it flatter, lay down on your stomach, and slip into the Morpheus' realm. Or make the pillow puffier by adding extra bio green foam and rest on your spine like a tired koala. It really remains fine no matter which way you use it.

PROS:
Very adjustable;
Pretty cool thermally;
Designed to maintain spinal alignment;
Nontoxic;
120-night warranty rule.
CONS:
Coop Home Goods Memory Foam Pillow with Cooling Gel: A Very Cool Gel Pillow

Coop Home Goods is an American brand based in Los-Angeles. So, they must know a thing or two about how to fall asleep on a hot night without turning your bed into a mess due to all twisting and turning.
And it seems true. Coop Home is one of the gel pillows for hot flashes. Or rather extremely hot flashes. All thanks to a good ratio of infused coolant fiber gel and foam that supports your head like a polymeric cloud. It nicely captures the contour of your body and allows some quick muscle relaxation.
So, I think people with scoliosis, osteoarthritis, kyphosis, and even hyperhidrosis could benefit from a Coop Home pillow. Its foam just has that amazing soft/firm balance that lets you rest and has a wonderful morning free of pain or stiffness.
According to the company, it has a Gold certificate from Green Guard. It's an institute that tests stuff to check if it's eco-friendly enough. Plus, Coop Home Goods assures that all of their pillows were made according to cruelty-free principles.
The cases are crafted from Lulltra fabric. Its name probably means it lulls you to sleep. It's another hybrid material that blends bamboo viscose and polyester. And you know what it means: Lulltra warrants some nice breathability and softness. Plus, this blend isn't favored by the nasty dust mites and other tiny parasites.
What I also like is that together with pillows you get half a pound of free foam. You will need it in case you prefer more loft while sleeping. Or just enjoy slacking off in the company of puffier pillows in general.
And one more nifty thing. Coop Home sticks to the 100-night policy. That means that if you're not satisfied with the pillows after a hundred tries, you can return them and get your pennies back. How cool is that?

PROS:
Nice coolant;
Well-balanced firmness;
Certified ecologic materials;
A bag of extra foam;
100 night policy.
CONS:
Costly queen & king sizes.
Hotel Collection Gel Pillow: Exotic beast from the East
Despite having the classic pillow shape, the Sormag pillow also has some innovative qualities. It has a three-point curve that provides cervical protection as well as correct spinal alignment during the night.
The stuffing is poly gel fiber. It has an interesting feathery structure that makes it look like fluff collected from baby geese. Based on the gel, which is a liquid substance, it does a good job as a coolant. Air circulation is at a satisfying level, so the pillow can do a solid job of absorbing your body heat.
Besides, this hotel collection pillow has some cool elasticity. After you press on it, it re-assumes its original puffy shape in a matter of seconds. Such a good rebound quality means that the pillow will serve for a long time without losing its shape.
The case is made of Egyptian cotton, as Sormag assures us. Now, I'm not an expert at cotton strains. I can judge it only by how it feels when pressed against my face. And all I can say it's pretty nice. Soft and whatnot.
No allergic stuff ensued either. So, I guess it's a safe one. Although it wouldn't hurt to have an Eco certificate. All in all, I find Sormag's product to be legit. It's pretty cool for sleeping/resting on, especially if you prefer lying on the side.

PROS:
Cotton cases;
Fluffy fill;
Coolant included;
King size is available;
Provides nice rest time.
CONS:
Some pillows may have little cuts.
Zamat Gel Memory Foam Pillow: King Size Gel Pillow

Our next contender — Zamat memory foam pillow. And I should confess, I'm pretty impressed with its size, puffiness, and overall softness. This is one of those gel fiber filled pillows that make you forget all the stressful stuff for a moment and just chill like a naughty sloth.
The first thing that grabbed my attention with Zamat is that it has a double pillowcase. Two are better than one, they say. And in Zamat's case, this know-how does a pretty good job of keeping your pillow protected from sweating and unwanted smells.
They are crafted from polyester fiber and tencel fabric. This tandem provides a nice, soothing softness. As well as it doesn't make the pillow 'choke' and supports airflow for as long as you prefer to stay in the dreamland.
Now, let's see what's hiding inside. Zamat is filled with supportive memory foam that is enhanced with a coolant gel. So, thanks to its construction, fiber gel, and foam structure, the pillow can stay crisp for a pretty long time. (But only if your room is ventilated enough).
Next, we have here quite an elasticity. Zamat is a bouncy pillow that supports its firmness nicely. It keeps your head, neck, and spine properly aligned through the night. Especially if you're a back/side sleeper.
At the same time, there's a good portion of softness. Despite being bouncy, Zamat isn't like a trampoline. Its resilience is just enough not to let your cranium drown in its squishiness. But once you test its softness first-hand, it will kick in better than Tylenol.
To sum up, Zamat is a likable product. I like its design, big size and softness. And with the gel-infusion that takes away excessive heat, this pillow will literally sing you lullabies.

PROS:
Gel-infused filling;
Good firm/soft balance;
Queen size available;
Pretty bouncy;
Double pillowcase.
CONS:
It can take a day before the pillow fluffs up.
DreamNorth Gel Pillow: A Comfort Gel Pillow

DreamNorth is a well-known brand, whose motto is your dreams will be unforgettable. Memory gel pillows are their expertise as well. So, let's check what northern dreams have brought us.
First, this gel pillow is amazingly plush. Once you lay your head on its smooth surface, you have a burning desire to keep it there in that very position till the Second Coming.
It is really soft, yes. But at the same time, its firmness is like a life-saver that keeps you securely on top. No drowning down to the mattress. No, your cervical spine will be fully protected from unhealthy curvature. Which means, no pain or stiffness in the morning.
Dream North doesn't belong to the pure gel pillows league. Its primary material is cotton, both inside and out. The cotton filling is as soft as a lamb, but it doesn't let your head sink — something you don't want when having asthma or other respiratory problems.
Besides, its stuffing is modified with the cooling gel. Your body heat will be evenly distributed and ventilated, so you won't feel like fish on a stove.
The pillowcase is also pure cotton. And you can never have enough of that stuff! It's one of the most hazard-free, body-friendly and generally nice materials to interact with your skin intimately.
Cotton origin makes Dream North pillow an easy thing to take care of. Any washing machine can handle them with ease and grace. And also, this is a pretty breathable material that does help the pillow stay cooler. But again: let some fresh air in before going to sleep.
In conclusion, I really think that Dream North is one of the best pillows on the market. Soft, plush, refreshingly cool — this is your surest ticket to the slumber kingdom.

PROS:
Addictive softness;
Pure cotton pillowcase;
Warranty for a whole year;
Nonallergic materials;
Coolant gel.
CONS:
Sleep Restoration Gel Pillow: A Pillow That Keeps Your Head Cool
First, you can't help but feel how comfy and plushy this gel cloud pillow is. In this model, Sleep Restoration brings some magic level of comfort that instantly relieves your muscles stress. There's a fat chance that 2 minutes later, your bedroom walls will resonate with quiet snoring.
On the menu, we have polyester fill. I'd say, it's a bit squishier than other fills I've tested before. But still, there's some sound firmness that won't let your head sink like a cannonaded brigantine.
Besides, I can recommend this pillow as an anti-pain remedy if your neck has been giving you business lately. Fiber and gel-infused foam make this night cushion an ideal choice for back and side sleepers: it nicely redistributes cervical pressure.
The pillow's 'clothes' are made from pure cotton. It's one of my personal top materials as it's organic, comfy and skin-friendly. Besides, allergies triggered by cotton are more of a super rare abnormality than a common thing. So, it's a risk-free deal.
Another thing to adore is that the pillow is quite practical. Cases are easy to wash, so maintaining hygiene isn't much of a drag with Sleep Restoration. Simply remove them and throw them inside the drum. As for the foam, deodorizing and spot-cleaning with a piece of cloth will do the trick.
All in all, Sleep Restoration did a great job. The pillow is enjoyable to sleep on. It is designed to be thermally wise. And maintaining the thingie isn't arduous. Definitely a must-have hydrogel cooling pillow.

PROS:
Gel-infused foam;
Amazing softness;
Pillowcases are easy to clean;
Can be returned for 30 days;
Hypoallergenic.
CONS:
May have the factory odor.
Buyer's Guide
And now, let's learn some tips that will help you find the best gel foam pillow. There are just a few nuances, so don't worry about getting confused.
What is a gel pillow?
Gel pillow is a pillow that has gel beads infused in its fill. It can be anything: cotton imitated goose down, etc. But regularly it's made of memory foam. This clever stuff may have varying structure and can even be shredded, resembling popcorn, to provide more coolness.
The main purpose of the memory foam is to give you full muscle relaxation. As well as providing orthopedic help, all-night spinal support, relieving pain, and bringing a sound sleep.
But a major downside of memory foam is that it can trap warmth. As a result, your pillow will heat more and more, until the sweat comes down like rain.
Fiber gel's job is to be a coolant and redistribute heat evenly. Then, like an air conditioner, it expels a portion of the heat. So, it's radical to have your bedroom cool and ventilated to maintain heat exchange.
Who should use a gel pillow?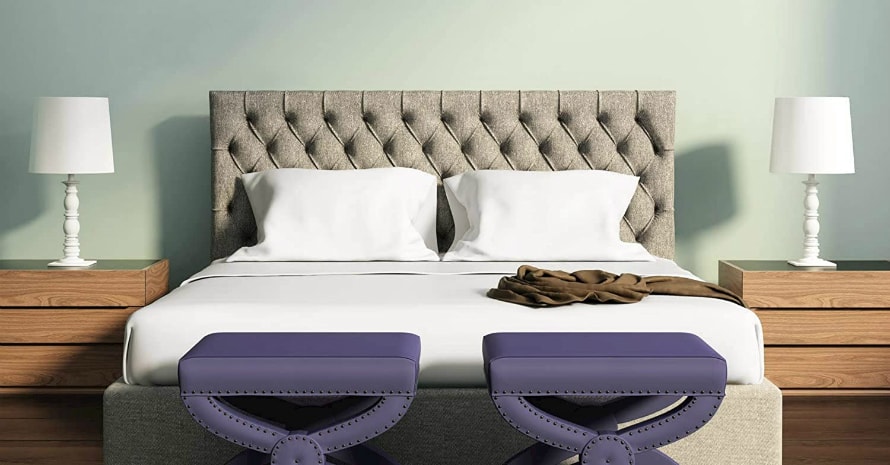 Really anybody. Gel foam pillows don't represent a major threat to your health. Some people refuse to use them only because these pillows aren't their thing. But here are also some reasons to consider:
Too much heat
If you suffer from things like hyperhidrosis, a.k.a. Intensive sweating, such a pillow could be a lifesaver as it reduces heat. People living in hot places, like Georgia or Alabama, could also benefit from such a nippy pillow.
Allergies
Others may be allergic to certain things: goose feathers, buckwheat, or latex. It can trigger an allergic reaction from mild to aggressive.
You don't want to have your face itchy all night. You don't want a sudden asthma attack. And you certainly don't want to suffocate because of the wrong fill.
Gel pillows are made from hypoallergenic stuff mostly. Also, don't forget to check if they have Green Guard or other legit certificates.
Comfort
As I've said many times, memory foam pillows retain a great firm/soft balance. This brings muscle relaxation. You'll fall asleep faster than usual. And it can prevent chronic neck or shoulder pain from coming back. (As well as migraine).
Adjustability
Finally, a memory foam pillow is an obedient servant. You can adjust it to your preferences and remove foam or add some more so the pillow gets puffier. It all depends on your individual sleeping style.
Things to consider before buying a gel pillow
Okay, there are few nuances to know before ordering a gel pillow of your dream.
Mattress
Before getting a gel pillow, you need to listen to your mattress. Mattress + pillow tandem can be partners in crime or your loyal allies. And it all depends on the firmness degree.
Check how firm the mattress is. If it's a softie, you will need a flatter pillow. This will reduce the distance between your cranium and mattress. If it's too high, discomfort, neck strains and insomnia will follow.
A tight mattress requires, a pillow with more fullness (a.k.a. loftiness). This will help you avoid an unnatural angle that can cause the same unpleasant symptoms.
Maintenance
Sadly, not every gel pillow can be machine-washed. Sometimes, it's only the pillowcase that's eligible. If you're okay with scrubbing the memory foam once three months — it's great. If not, check its label to know if machine washing is an option.
Customer support
As I've said, foam pillows aren't for everyone. While some call them 'miracles' others may have a tough time to fall asleep on one. It depends on numerous factors: sleeping habits, individual physiology, certain traumas from the past, etc.
Check the company's return policies. Ideally, you should buy a pillow from a brand, like Coop Home Goods, that has a 100-night warranty. Sometimes it can be even 150 nights. Either way, you'll have a chance to get your monies back.
Airflow
Now, every gel-infused pillow has higher breathability compared to regular pillows. But it's not about gel only. Sometimes, they make pillowcases that barely let air through — blame it on cheap synthetic fabric.
And while gel does a good job at drawing heat from your body, you also need a breathing pillowcase. Cotton, polyester, bamboo viscose — these are great.
Sleeping habits
Depending on your favorite sleeping pose, you should pick the right pillow density. If it's back, then your choice is medium. If it's side — stick to firm density. Stomach — soft density.
FAQ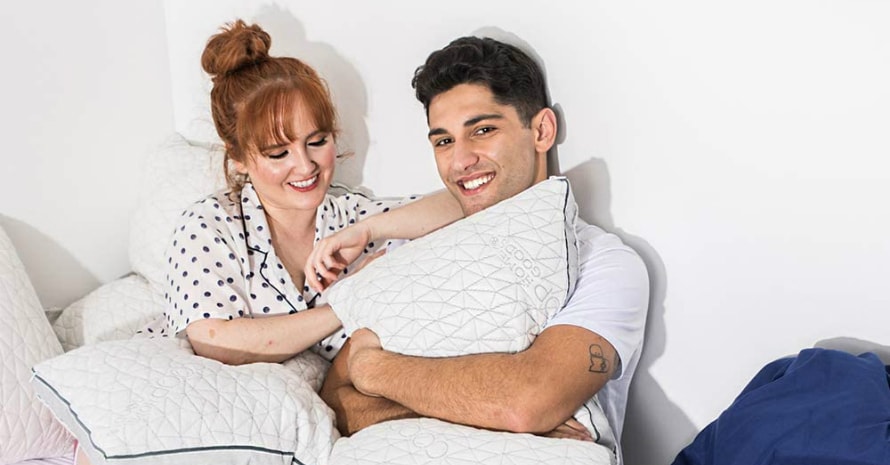 Here I answer some of the most frequently asked questions about gel pillows.
How does cooling gel pillow work?
Gel, as a liquid agent, attracts heat and then radiates it, straight out of the pillow. Giving your pores a chance to rest.
How to clean a gel pillow?
Most of them can be washed in a machine. But if yours isn't compatible with automatic washing, then you will need a piece of cloth soaked in the dish soap. (A bit of vinegar will help you get rid of the stink). Do lifting, not scratching moves to get rid of the stains on the foam. Then let it dry in the air.
When should I replace my gel pillow?
It's always individual, as different brands make different pillows. Mostly their life span is about 16-18 months. If your pillow has a manual, check it first to learn about its longevity.
Does a gel pillow help to reduce hot flashes?
Of course, it does! In fact, it's a very nifty tool to have at hand if you have any hot flashes. But a gel pillow is just a helpful tool, not a cure. Consult your doctor to find out what causes them in the first place.
Get Gel, Sleep Well
This sums up my guide for today. I hope you've found a gel pillow that will bring a fresh wave of coolness to your nocturnal rest. Just follow my tips, remember to keep your bedroom ventilated and have some fantastic sleep!
Have you ever used a gel pillow? Has it improved your sleep quality? What is your favorite pillow fill? Let us know in the comments!
Last update on 2023-12-02 / Affiliate links / Images from Amazon Product Advertising API