Hello! This time on my blog about healthy sleeping, I want to teach you how to sleep well during your next journey. From this article, you will learn how to choose the best travel pillow for your particular needs.
Besides, I provide an ultimate travel pillow review compilation of the most convenient models that I've tested over the past few years. Each review includes detailed product description and my personal recommendation so that you can see what product is the best for you.
Making the right choice can be a rather difficult task as there are so many well-marketed offers that may both provide good value for money or be a total bust. That's why I'm strongly convinced that my readers should learn all the needed tips before making a choice.
Reading will take you less than 15 minutes, but your quality of sleep during the next trip will be much higher as a result. In the end, you will know everything about the best products and will be able to choose the most convenient one. In fact, there's a variety of shapes, materials, and functions that are designed for different purposes. Read on to know which set of features is the best for you.
Benefits of Traveling Pillow
Headache, muscle pain, back pain, misalignment – most of us face these problems during long flights and trips on land transport. Using travel pillows is the only way to avoid these inconveniences and achieve proper spinal alignment and muscle support. A properly selected item will become your travel companion for years. It will help you avoid fatigue and stiff neck.
If your doctor recommends you use a neck support pillow to treat particular issues, you can keep doing with a reliable pillow while traveling. Even if your case requires a cumbersome model, I recommend you take it along anyway as your comfort and health mean a lot more than space in your luggage. The right travel cushion can be used in any transport, so it's definitely a must.
Top 10 Best Travel Pillow – Reviews & Recommendations
In this section, I compiled my travel pillow reviews of the most convenient and effective pillows for traveling. I've tested each of them at least once during my flights over the last 4 years. Of course, I compared my experience with the reviews of other users, and I excluded the models that have serious therapeutic contradictions.
MLVOC Travel Pillow – Top Rated Travel Pillow
I ordered this neck support travel pillow by MLVOC when it was around 800 lines lower than it is now on the list of best sellers. When I had started writing this review, it has already been the best-selling pillow in the entire category. There are several reasons for that.
The first pleasing aspect is the kit. It includes not only the pillow, but also a convenient travel bag that will help you to keep it compact on your way to your seat, an ergonomic sleeping mask with a unisex design, and a pair of universal-size earplugs. It's very nice to get all these items in the same package.
But what about the quality? The memory foam filler consists of high-quality therapeutic foam that has a 5-second return. It's also not too soft so that your head is always supported, and not too hard so that you can adjust it for your sleeping position. The curvature of the upper side of the item will help you to keep your head at an appropriate angle. At the same time, you can adjust the neckline with a rope lock to make the pillow sit tight on your neck. It also lets you change the angle to match your neck length and diameter. The rise on the backside supports the back of your head, making it less stressful to have long journeys.
The pillowcase is made of 2 breathable materials that have a high soaking ability. As a result, your sweat will be fully absorbed. You can easily remove the cover after the trip and machine wash it. If you sweat a lot, the memory foam remains clean even after multiple uses.

PROS:
Extra items: earplugs, a bag, and a sleeping mask;
Low weight;
Breathable and sweat-soaking;
Relatively cheap;
#1 in the category.
CONS:
The rope lock is rather fragile.
Huzi Infinity Pillow – Flexible Travel Neck Wrap
I used to be rather skeptical about this sleeping on a plane pillow as it looked rather hot and cumbersome to me. Fortunately, the actual result was satisfying. The pillow is really lightweight and easy to roll into a compact shape.
The cover of the cushion is made of breathable bamboo fabric, while the filler consists of multiple microfiber layers. Due to this, you can bend the pillow to achieve any shape you find comfortable for sleeping. There's no need to worry about sweating as the materials don't accumulate body heat. If you sweat anyway, just toss your cushion into the washing machine after every 1-2 uses.
The flexible design of this model lets you sleep conveniently in six main postures. You can:
wrap it around your neck for soft full head support;
wear it as a U-shaped pillow for neck and back relaxation;
adjust it for resting on the window;
achieve all-around comfort;
sleep at your desk (not recommended);
wrap it around your head for noise reduction.
I recommend you try this item if you're not sure which sleeping posture is yours or if you like changing your position every 5-10 minutes or so. It's flexible, soft and makes you feel almost like lying under a duvet at home.
On the other hand, it's not the best choice for people who have therapist's recommendations to use firm support for full muscle relaxation. It may be quite hard to achieve permanent alignment with this model. But if memory foam and hard foam make you feel bad, Huzi may become a remedy.

PROS:
Flexible and breathable materials;
Easy to adjust for different sleeping postures;
Fully machine washable;
Lightweight materials.
CONS:
Not for firm neck support.
Inflatable Travel Neck Pillow for Kids – Friendly & Compact Kids Travel Pillow
Kids need travel pillows too. Even if they don't know about it and don't feel bad after long trips, their necks may suffer from sitting in the same position for hours. This small travel pillow is designed to provide firm support for your child's neck. Similarly to the previous item in my listing, this one is equipped with a small air pump that lets you inflate the cushion in around 1 minute without the need to blow.
In addition, the pump's button works as soft cheek support on the right side, while the cute plush cat muzzle on the right offers the same function. The back of the head is supported by a slightly concave part that lets the user lay back without rolling from side to side.
The pillow is available in blue and pink colors so that your children can choose the one that they like more. The covers on both designs have hidden zippers so that you can remove them easily and machine wash. The pillowcase is made of breathable fabric that offers effective ventilation and sweat absorption at the same time.
I recommend this item as a starter option for your small children. They can easily take it along in their backpacks. It will work well on planes, trains, buses, and cars. If your children don't feel comfortable enough, ask your family therapist to recommend an alternative solution or try the softer travel pillow by TRTL. The review of this product is 3rd from the bottom.

PROS:
Compact enough for children's backpacks;
Equipped with a pump;
Removable cover;
Breathable material doesn't generate warmth.
CONS:
May appear too firm for some children.
Zoylee Twist Memory Foam Travel Pillow – Flexible Memory Foam Travel Pillow
This cushion by Zoylee is made of flexible memory foam. Due to the bendable contour, you can easily adjust it to achieve the most convenient shape. While using it, I figured out that it can be curved in almost any direction without tensioning.
Unlike polyurethane foam and other flexible materials, memory foam doesn't lose shape or turn into dust. It can return to its initial shape in less than 10 seconds. Due to such durability and flexibility, you can use it for shoulder, neck, chin, leg, and lumbar support in any type of transport. Using the snap lock, you can secure it around your neck or clip it to your car seat for extra stabilization.
The pillowcase is made of smooth cotton and offers a velour texture. The cloth is thick enough to keep the filler from absorbing sweat and dust. You can easily remove it for cleaning.
The kit also includes a pair of universal-size earplugs and a flexible sleeping mask that will fit any adult face. In addition, the product is supported by a 30-day money-back guarantee and 12-month service support.
I recommend this item to adults and teenagers who travel a lot and for long hours. This cushion lets you experiment with positions to find the one that suits you better at the moment. It really works independently from your sleeping habits.

PROS:
Surprisingly flexible design;
Durable memory foam filler;
Good for those long trips;
Removable velour cover;
Snap lock for fixation.
CONS:
MyPillow Roll & GoAnywhere Pillow – Best-Selling Compact Travel Pillow
For some people, U-shape and cylindrical memory foam are not comfortable enough, and they prefer a domestic experience. MyPillow is designed exactly for such cases. It's a compact 12"x18" cushion filled with a soft patented material.
The founder of the company, Mike Lindell, said that the idea to create a new material came after years of frustrating experiences. He collaborated with professionals to create something that would be suitable for him, and now it's one of the best-selling products in the category, and #1 on Amazon. MyPillow Inc. is a US-based manufacturer with proprietary factories and full production line control, the longest warranty on the market (10 years), and a 60-day money-back guarantee.
As for the comfort of use, it's an excellent option if you like soft cushioning and need flexibility for long journeys. You can actually adjust it for neck, back, and lumbar support without difficulties. The pillowcase and the filler are breathable enough to prevent sweating even if you sleep over 5 hours.
By the way, there are 24 pillowcase designs available at the moment, so you can personalize your cushion look or choose one to make a gift. The filler is very soft so that you can roll the pillow to make it around 3 times smaller for transportation. It's a convenient item for people who don't like firm U-shaped support, but it's a bit harder to adjust it because of softness.

PROS:
Flexible soft filler;
Easy to roll for transportation;
24 cover designs available;
Easy to clean;
10-year warranty.
CONS:
A bit too soft for people who need firm support.
Travelrest Neck & Body Pillow – Best Airplane Pillow with Fastening
This model by Travelrest offers an unusual form-factor preserving the compactness of an inflatable pillow. A coma shape is a convenient option for side sleepers who need firm head support.
The elongated base of the pillow lets you hug it with your arms while the round part supports your head on the right or on the left, depending on your habits. In addition, the item is equipped with an adjustable strap so that you can attach it to your seat for stabilization and additional support.
As the size of this inflatable cushion is significantly bigger than standard U-shaped models, it takes a bit longer to inflate. Unfortunately, there's no air pump, but the valve is broad enough for fast inflation. It takes just 2-3 puffs to fill it to the full, so it's not really a problem. The cover is made of soft velour with short lint, so it doesn't accumulate warmth, soaks sweat, and prevents skin irritation.
Unlike U-shaped pillows, this one doesn't have strict age limitations. Both children and adults can benefit from it on any transport. Small kids can hug it and feel more secure during the journey. As for the downsides, this Travelrest pillow is not as versatile as some other models in this listing, though it's an excellent alternative for each of them too.

PROS:
Roll-and-go design;
Easy to inflate;
HQ removable velour cover;
Suitable for all ages;
Keeps your head from leaning forward.
CONS:
Quite pricey;
Not the most versatile model.
TRTL Kids Travel Pillow – Soft Neck Support
There's always a chance that your kids won't like firm-support travel pillows. This scarf-like TRTL pillow is very soft and squishy so that you can easily wrap it around the neck and adjust the tightness with a sticky strap. The shape of the "scarf" makes it easy to soften the cushioning on any side and achieve support only where you need it at the moment.
The fleece material is soft and breathable at the same time. There are no allergenic components in the composition, so that you can offer it. You don't have to remove the filler to wash it, which is a very convenient and quick way. You can also roll it for compact transportation and pack it into the built-in pocket. In fact, it's as compact as an inflatable model, but not as firm when you use it.
However, the built-in hidden ribs keep fleece stretched all over the length of the "scarf" and support young heads, keeping them from tilting from side to side. If you want to try the same technology on your adult neck, look for the same model in bigger dimensions.

PROS:
Flexible fleece with hidden ribs;
Lightweight and compact;
Hypoallergenic fleece;
Many colors available.
CONS:
Not firm enough for alignment control.
Everlasting Comfort Memory Foam Travel Pillow – Best Neck Pillow for Long Flights
Everlasting Comfort is a US-based UEP brand that collaborates with doctors to create therapeutic solutions for traveling. Their neck pillow offers enhanced 360° support due to the thickened U-shape. Unlike inflatable models, this one feels much softer, but your head won't tilt too much.
The memory foam filler conforms to the shape of your head without leaving marks on your face, while the plush velour cover cares about ventilation and sweat absorption. As a result, it's suitable for long flights. Inflatable U-shape isn't flexible enough for alternative postures, but this pillow breaks the rule by letting you place it in different positions.
Additional amenities include adjustable straps with a lock. You can make it tight to secure the pillow on your head. Besides, there's a phone pocket on the side so that you can put your smartphone there. It's just impossible to sleep deeply when your alarm clock is so close.
The pillow is very light, but a bit cumbersome as it's impossible to deflate memory foam. On the other hand, it's notably cheaper than most options with similar characteristics but more compact materials. The package also includes a soft black bag for transportation, a sleeping mask with adjustable straps, and two sets of memory foam earplugs. I recommend this product to those who need firm U-shaped support but with much more softness than inflatable models. It's good enough even for 10+ hours of flying.

PROS:
Good for long distances;
Boosted support area;
Durable memory foam;
Good value for money;
Relatively cheap.
CONS:
Phixnozar Memory Foam Travel Pillow – Versatile Therapeutic Pillow
This pillow by Phixnozar, a popular iPad case manufacturer, has proven that it's possible to be a leading manufacturer in totally different realms. The item is designed to combine 2 U-shape pillows in one. You can sleep on both sides and achieve different effects.
The main side has high cervical support, which helps you keep your head straight without leaning back. If you flip it, you can lean back, while the lower part of your neck is supported with soft cushioning. You can also put it on the table with the high part down to achieve a convenient neck posture.
The pillowcase is made of sweat-resistant fiber that can keep your neck from sweating for hours. It's easy to remove and clean it in the washing machine. I recommend you buy it if you need a convenient combined solution and the softness of memory foam.

PROS:
Softened memory foam;
Double-sided design;
Quick magnetic lock;
Smooth, washable cover.
CONS:
Not many colors available.
Purefly Inflatable Travel Pillow – Ergonomic Inflatable Travel Pillow
If you need the most compact traveling solution, an inflatable pillow is the best choice. Purefly's pillow offers a comfortable ergonomic design and high-quality velvet cover that makes it feel soft and absorbs sweat effectively.
Such a cover also adds elasticity and makes it very easy to clean the pillow. You can easily remove the pillowcase and machine wash it. I also asked some of my friends who have skin types different from mine to test if they had irritation or not. This material didn't cause irritation in any of 5 tests, but you have to wash it after every 2-3 uses to keep the effect.
Unlike the majority of inflatable pillows, this one has support for the back of your head. It provides proper and firm neck alignment. If you don't feel comfortable on soft pillows, this one will give you a new experience and relaxation.
Due to the built-in air pump, you don't have to blow to inflate it. Just press the pump button multiple times to do it. When the cushion is not in use, press the center button of the valve to deflate. Remember that you don't have to inflate it to the full all the time. If you want a softer cushion, you can pump less air in.
This headrest pillow for an airplane is good enough for average traveling needs. As for me, I use it only during 2-3 hour flights as I can't wrap it around or use to lay on the side on the plane. Still, if you like sleeping in a fixed position or your therapist recommends it to you, this is one of the best options.

PROS:
Takes a bit more space than your smartphone;
Built-in air pump;
Ergonomic shape;
Easy to deflate;
The removable cover from high-quality velvet.
CONS:
Not the best material for very long flights.
How to Choose the Best Travel Pillow for Your Needs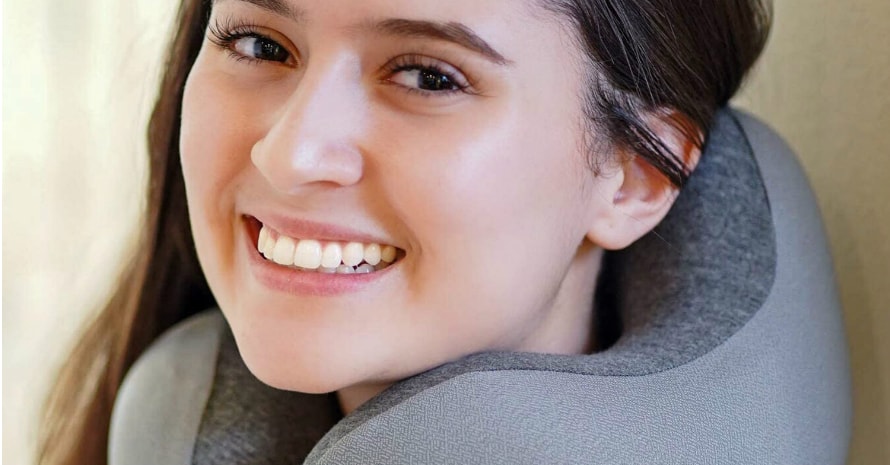 To choose the most comfortable travel pillow, you have to take several characteristics into consideration. It's essential to know the benefits of each shape and material. Here is my concise buyer's guide.
Shapes
U-shape – this one will help you to keep your head upright. A basic U-shaped pillow is good if you want to stop rolling your head while sleeping and get rid of neck pain.
Wedge pillow – these pillows are designed to mimic your back's natural curvature and fill the gap between your back and the seat.
Ring shape – I recommend this pillow for full neck support. Due to total stability, it lets you relax your entire neck. For some people, it's too hot or constricting, so you can use a U-shape instead.
A pillow with a fastening – this type includes several shapes, but they all can be fixated on your seat or another structure to keep you in the same position.
Block pillow – this one is for stomach sleepers. It's not a very good position for sleeping, but if you cannot quit doing it, a block pillow will reduce back pain and mimic stomach sleeping.
Classic rectangular pillow – some travel pillows look exactly like those you have at home, but they're much more compact. They usually offer great flexibility, but not the best neck support.
Material
First of all, you should avoid travel pillows that cannot be machine washed or don't have a removable cover. It's crucial to have a cleanable product. Otherwise, it's a one-off item, and you don't really need one. Here are the best materials:
Fleece, velveteen, suede – these materials are good for covers. They are soft, durable, and easy to wash. However, you can use any other material too if you can sew;
Memory-foam – I recommend this material if you need a pillow that conforms to the shape of your neck and head rather than supports it;
Hard-foam – this material will help you keep the right position. Unfortunately, they're not compact;
Inflatable – you can adjust the hardness of such a pillow by controlling air pressure. Besides, it's the most compact option, and you can easily wash it under the tap.
Answers You Should Know

What seating position is the best for airplane sleeping?
According to research by Dr. Alan Hedge, a professor of ergonomics at Cornell University, you should always avoid a folded-forward position and train yourself to lean back. Otherwise, you may hurt your lower back. The best way to sleep on an airplane is to flip your seat into the sleeping position and rest on your back.
Besides, you can lean on the side of the plane if you have a place near the window. If these variants are still too uncomfortable, you may use a special pillow that lets you lean forward without stressing your back and keep you from folding. You should also keep your legs straight and with a little bend in knees to avoid blood flow restrictions.
Can airplane travel pillows cause neck pain?
During my therapeutic practice and after my own travel pillow use experiences, I figured out that even the best airplane pillow can be a reason for the terrible neck pain. That's why I always insist on the thorough selection and testing of the products you purchase. There's always a chance that a pillow won't match your body type and sleeping habits.
Can I use a travel pillow as neck support while working?
You should understand that travel neck pillows are designed to let you lay back and rest on them. That's something you cannot do while working. If you work at home and you have a habit of lying on your sofa with a laptop, you should stop doing that and train yourself to sit at the desk properly.
In fact, it's the only way to work healthily. The only case in which you can use a neck pillow while working is if your therapist recommends you to do this. I'm strongly convinced that neck support during work can be prescribed only to people with neck injuries, muscle overextension, and central nervous system issues that require exterior support.
What travel pillow is good for kids?
Among all the models for kids that I have tested, only two are worth recommending:
TRTL Kids Travel Pillow;
Inflatable Travel Neck Pillow for Kids by BestMaxs – a classic U-shaped travel cushion that provides firm 360° support and helps to keep proper neck alignment all the way long.
Sleep & Go
Now you know all the aspects of choosing an appropriate travel neck pillow. It's important to match this knowledge with your actual needs and make a purchase only after that. I also recommend you to order a pillow beforehand to test it at home.
Do this to understand whether you selected the right shape or not. If you are looking for travel pillows for your children, you should do this even earlier. If the shape and material are right, you will feel a lot less tired after long trips. It's always better to take travel head pillows along as they're designed to make your traveling less tiresome.
Have you ever used travel pillows before? What models did you have, and were they helpful? I'll be happy to see your stories in the comments section below the article. We can also discuss your problems, and I will answer your questions related to the topic. If you want to know more about healthy sleeping tips and the best products tested by me, just keep browsing the website. I regularly post science-backed articles about sleeping disorders, supplements, accessories, and high-quality beddings. Take care and sleep well!
Last update on 2023-09-24 / Affiliate links / Images from Amazon Product Advertising API