Good quality rest is, indeed, an essential part of human health. Not only does it boost your physical and mental energy, but it also helps you regulate the mood after a tiring day. But you cannot always get your beauty sleep at home, right? Sometimes, there happens to be a row of outdoor activities that force you to cozy up in a camping tent, inside your car, or simply on a grassy meadow. All of them, regardless of how relaxing they may seem, can turn into a real challenge for your body and mind. As a handy solution, I always advise my clients to rely on a hiking pillow that is easy to carry and will prove useful.
For this, I've prepared a short but very helpful camping pillow review that, surely, contains all possible options to choose from. Let's dig in!
Top 7 Backpacking Pillows and Covers for Wherever You Go
Though there is a myriad of outside camping bedding pieces, I've managed to compile a list that can serve as a guide through all varieties of products. Remember, when picking an orthopedic pillow or pillowcase for yourself, it's crucial to pay attention to what feels right to you and your body.
Therm-a-Rest Trekker Backpacking Pillow Case — Useful Small Camping Pillow Cover
Term-a-Rest
Pillow Case designed specifically for traveling and outdoor rest. This ultralight pillow cover is made of pure hypoallergenic Polyester for comfortable and safe use.
The wonder of the product lies in its versatility since its stretchy and form-keeping fabrics allow the user to come up with any kind of filling they find appropriate. Using an old down feather pillow or even a jacket to fill in, the cover maintains its shape and softness. As a result, the pillowcase preserves its orthopedic properties and feels just right for the neck.
Combining a classy look and multifunctionality, the product can be utilized as an easy-to-carry sack where you can keep your clothes while traveling. By stuffing the case with your clothing, you're ensured from losing anything since it's all kept in one place. As an addition, the piece is equipped with a small but spacious back pocket. When the pillow is filled in, it is used for storing a towel or other essentials.
I really enjoy taking this item along on trips because it doesn't take much space in my car. When folded completely, the cover comes to the size of a handkerchief or a golf ball that you can put in your shirt pocket or simply keep in the gloves compartment until the time comes.

PROS:
Extremely lightweight;
Can perform multiple functions, including using it as a sack;
Doesn't stretch over time;
Allergen-free;
No synthetic odors.
CONS:
Doesn't come with filling.
Cocoon AIR CORE Hood/Camp Pillow Ultralight — the Best Inflatable Camping Pillow
The Cocoon Air Pillow has been around for a while, and it has received nothing but positive feedback. The item has been elaborated as a special add-on to camping kits for long and short travels.
The inflatable and airy pillow is a great option for tents due to its adjustable dimensions and lightness which makes it a perfect sleeping bag pillow.
As a proportionate combination of Nylon and Polyester, it provides comfort and breathability and is completely allergen-free. Its synthetic components guarantee warmth and coolness preservation, making it suitable under any weather conditions. In addition to its softness, the pillow has proven safe for any complexion and doesn't irritate the skin.
Microfiber, which covers the front part of the pillow, is pleasant to the touch and resembles actual home bedding.
Moreover, synthetic fabrics are very moisture-resistant so you don't have to be afraid of a little rain.
Based on close to the shredded memory foam technology, the product acts as a firm but tender neck support and stabilizes the upper spine vertebrae. This alines the spinal cord with the head providing the best sleeping position for people with incidental or underlying neck conditions.
I find it rather comfortable to carry the item thanks to the pillow's drawstring bag and a nice water-resistant cover.
Also, when the pillow is not needed anymore, it can be easily compressed to the size of the pants pocket or put away in your vehicle for a rainy day.

PROS:
Created from durable and eco-friendly materials;
Suitable for both indoor and outdoor use;
Suitable size for hammocks, sleeping bags, tents, etc;
Can be compressed to a comfortable size.
CONS:
TREKOLOGY Ultralight Inflating Pillow — the Best of Air Pillows for Camping
I've received a recommendation on the Trekology Pillow not so long ago from one of my clients as the best camping pillow for people who tend to toss around while sleeping.
The product is designed with a slight curvature that works perfectly for sleeping on the back, sides, as well as on the belly. Due to the non-sliding approach in the design, the pillow isn't slick and doesn't allow the head to dive in when moving around at night.
The dimensions are ample enough in extent for placing comfortably both your head and the neck. The pillow has two modes, inflate and deflate, which ensure the simplicity of use. Inflating the item generally requires up to three minutes and doesn't take you out of breath. On the other hand, deflating is completely automatic and is activated simply by opening the air valve.
It's many-layered, and unlike lots of memory foam products found in bedrooms, this one doesn't have the sink-in feeling. On the contrary, it's reasonably bouncy and self-sustainable, thus giving nice support to the body. Also, the pillow is very unlikely to deflate in cold weather due to its little or no air compression property.
The item comes in a variety of colors that you can match to your sleeping bag, tents, or taste. Moreover, the storing sack is completely insusceptible to water and can be folded to a minute size.

PROS:
Not slippery; supports your head during the night;
Fast to inflate and even faster to deflate;
Suitable for placing on sleeping pads.
CONS:
Gives off a little synthetic scent.
Sea to Summit Aeros Ultralight Pillow— a Superb Travel Pillow Camping Option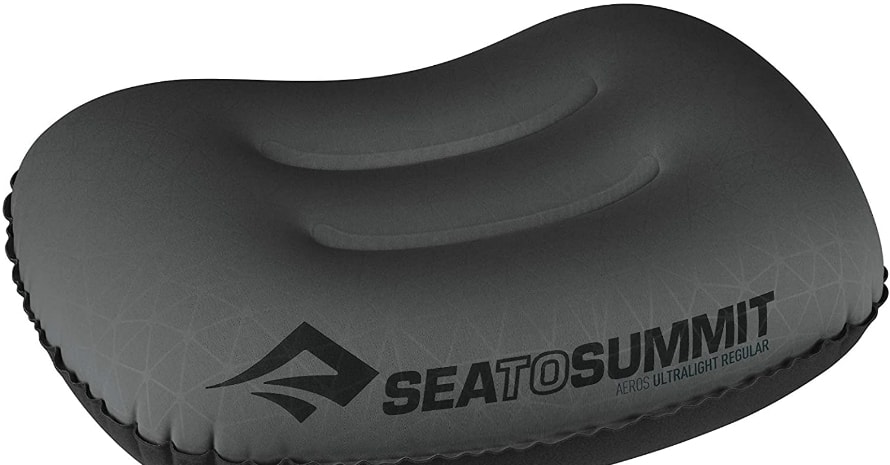 Lighter than your smartphone, the Sea Pillow is a bland of the modern style and comfort. The product stands out due to its convenient size and orthopedic functions that make it completely unnoticeable during trips or moving from place to place.
The fiber is created by another formula of pure Polyester and other synthetic, non-allergen elements. You don't need an air pump since you can bring it to shape with fewer than 6 breaths. The TPU bladder has proven to endure harsh weather conditions and is extremely difficult to damage. The surface of the product is wrapped with a thin lamina layer that resembles leather to the touch. Moreover, it can withstand the double weight of an average adult human making it a perfect fit not only for the neck but also for the lumbar.
Apart from using it for sleeping, the pillow can also be utilized as a seat or leg support, and you don't need to worry about accidentally squishing or folding it. As the weight distribution is actually very well-regulated, there is no chance of popping or exploding.
The pillow comes in two different editions, i.e. Deluxe and Regular, and in three different colorings that you can choose from. The product is designed to be compatible with sleeping bags and pads, therefore it's equipped with lock-patches that can be fixed to bedding.

PROS:
Floatable and waterproof;
Damage and pressure-resistant;
Doesn't have any synthetic odors;
Can be easily matched with other camping bedding equipment;
Very wide.
CONS:
The deflation valve is hard to open and close.
Sea to Summit Aeros Pillow Premium — the Essential Hiking Pillow
This product by Summit Aeros is another honorable mention. The pillow is covered with brushed Polyester fiber like that of a common house pillow. Thanks to it, there is no more rubber feeling or plastic screeching upon putting your body weight on it.
The dimensions are enhanced and mostly suitable for people who are taller or bulkier. Though it's a little bigger, the product fits well in its storing bag and, if done properly, can downsize to the measurable proportions of a dollar bill.
Your neck and back comfort is secured with a specially contrived space that holds them steadily but doesn't clench them. Therefore, there is no stiffness or strain in the morning.
It might not seem that way at first, but it's a very comfortable and compact pillow for a person who likes to travel. It's a great option for both weekend trips and long beach vacations.
Again, inflating the item won't make you faint like with the rest of similar products, it's nice and easy. No dizziness guaranteed.

PROS:
Suitable for people whose height is above average;
Allergen-free;
Compact and easily downsized;
Bouncy and flexible.
CONS:
Memory Foam Camping Pillow— a Vitalizing Ultralight Pillow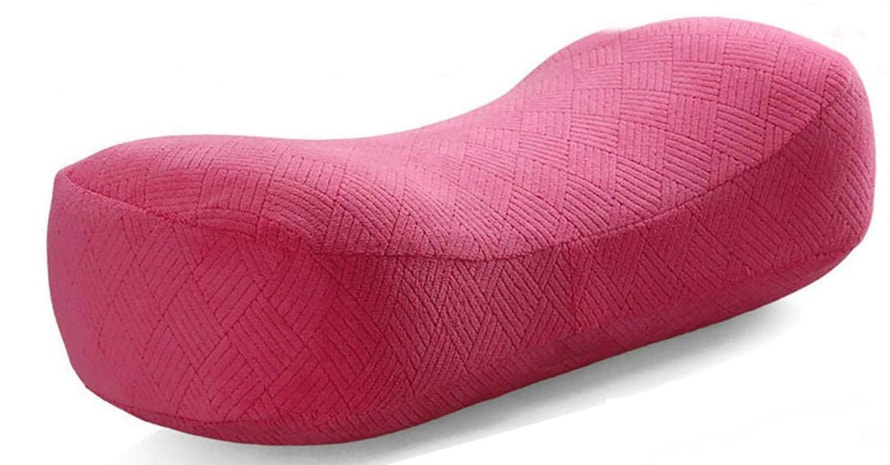 Right, it's a memory foam pillow, but hear me out first. I like it because of a couple of reasons that I hope you'll find sensible too.
First, the item is really versatile. Apt for both indoors and outdoors, it can be a nice compliment to your house interior, as well as a loyal partner during your outside activities.
Second, the pillow size is almost minute compared to regular house cushions. If you put it in your vehicle, you won't even notice it's there. It's compatible with sleeping bags and tents and can be easily carried since its weight is less than 14 oz. Moreover, the product is compressed into a compact package and, before the first use, is two times smaller than its actual size. It's surely a down camping pillow for your backpack.
Third, it's covered with a washable case that is made of dirt-resistant materials and doesn't need constant cleaning. Shredded memory foam acts as a shape-taking, customizable filling that will never go flat; but will always provide good support for your neck, upper spinal cord, lumbar, or legs.
Besides all of this, it's cheap. You don't have to waste money on any untested products. The manufacturer, who is acknowledged as one of the Top 100 best outdoor and sports suppliers, is so confident in their goods that they even offer a satisfactory return policy.

PROS:
Very affordable;
Multifunctional;
Washable and antibacterial;
Odor-free.
CONS:
Wise Owl Outfitters Camping Pillow — a Classy Compact Pillow
The closing product for our Top 7 is the Wise Owl Pillow. I have one for myself, and I've been using it mostly for my car trips.
The manufacturer has released a whole range of pillows and cushions that vary in size. You can choose your own best camping pillow to provide comfort and coziness.
The most beneficial feature of the product is its breathability and lightness. The core technology used for the item is microsuede fiber. The technique is a substitute for cotton-woven materials so often utilized for house comforts and is almost five times cheaper and easier to modify. You can bravely and restfully lie with your face down, and not be afraid of harming the skin in any way because the pillow excludes any possible course or allergenic components.
Just like other compressible bedding pieces, this one can be effortlessly folded to the size of a cup and carried around in the backpack, purse, or even simple pocket. When unfolded, it shapes into a 4-inch thick head and back supportive cushion that challenges any other inflatable camping pillow.

PROS:
Comes with a water-proof storing sack;
Very light and tender to the face;
Completely safe for pets and young children.
CONS:
Can become flat over time.
FAQs
How to Wash a Backpacking Pillow?
Depending on the type of pillow, there can be different ways to clean it up. If we're talking in terms of a regular inflatable cushion, you can apply common soap or other non-residue washing supplies. When the whole surface is covered with foam, make sure to rub it in properly to get rid of any possible dirt. Moreover, be careful with the valve. You don't want any water to get inside the pillow, otherwise, it may become a problem. Then, wash it off and leave it to dry for some time.
How to Keep a Backpacking Pillow Attached to the Mattress?
Most backpacking pillows are not attachable to regular mattresses. In case you have an air mattress and an air pillow, you might be able to join them by using sticky patches on the back of the pillow. However, an inflatable camping pillow can be sized up to fit in a hammock or a sleeping bag. In this case, you can slide it right into space specifically designed for such purposes.
How to Compress a Pillow for Backpacking?
As a technical property air pillows, the deflating process can be done either manually or automatically. If your pillow is equipped with a regular valve, all you need to do is press the valve firmly and wait for the air to leave the air bladder. If your valve is automatic, find the button located near the output circle and activate it.
On the other hand, if you have a memory foam pillow or any other kind of cushion at your disposal, get acquainted with the instruction to find out how to compress it properly.
The Bottom Line
While traveling with the family or climbing the mountains, camping in a forest, or going to the beach, a small lightweight backpacking pillow can be a great helper on your way there. I'm quite a traveler myself, and wherever I go, I always make sure to take along a comfortable piece of bedding.
I hope I've shed some light on the 'pillow problem', and I wish you to choose wisely and carefully, for you're not choosing just an accessory but a guarantee of your sleep and rest. And what can be a better investment in your trip than a thing that will definitely ensure your rest and relaxation?
Now, what properties do you think the best backpacking pillow has to possess? Do you find them effective or just a waste of money? Feel free to comment what you think below!
Last update on 2023-12-02 / Affiliate links / Images from Amazon Product Advertising API