Snoring is a common problem for many people. If you type "how to stop snoring" in Google search bar, most probably, you'll find thousands of pages that describe various methods, including the usage of various devices to prevent snoring. But in the vast majority of cases, it will be sufficient to just buy one of the best pillows for snoring. Of course, if you have a serious sleep disorder, the pillow is not enough for solving this problem, but in other cases, it is the best choice. And believe me, one of the cheapest.
So, today we will discuss everything related to the snore relief pillows:
How to choose the best one;
How it works;
Is there a pillow that stops snoring safely;
When should you think about buying the snore less pillow;
In what cases the cushion will not help you, etc.
In addition, I will also mention some points that can be a cause of night snoring. But I suggest starting with the rank of the best seven anti-snoring pillows. Each of them was tested many times by my relatives and friends, so you can be sure of their quality and long term use.
Top 7 Best Pillows for Snoring
Before we move on, I'd like to say several words. Despite the fact that we take a closer look at what is snoring, I know that many people are skeptical about no snore pillow, especially when they hear about it for the first time. In short, snoring is no more than just a blocking of the part of your nasopharynx where the air should move.
In other words, you have something that prevents the normal airflow from the mouth or nose to the lungs. There are many different reasons for it to happen, but one of them can be an uncomfortable pillow. It can tilt your neck in the direction that blocks the air move. In such cases, the special pillows for snorers can be your best friends.
Next, we will consider the TOP-7 best pillows for snoring. I propose to stick to the following plan:
First, I will tell you more about the brand and the company that manufactures the pillow. In my opinion, it is very important to purchase the products only from checked and trusted companies;
After that, I will tell you more about the cushion and its characteristics;
Finally, I will describe the pros and cons of a particular item. Let's start!
Xtreme Comforts 7″ Memory Foam Bed Wedge Pillow — Best Wedge Pillow for Snoring

Xtreme Comforts is the company that was established by people who were seeking the method to relieve pain and discomfort they felt in various body areas. The main reason for the vast majority of cases was simply an incorrect posture while people were sleeping or working.
In my opinion, the companies the founders of which were seeking the answer to their own pain are the best because the purpose of their creation was not money. This is the case with Xtreme Comforts. Doing the deep survey, the founders realized that they are not alone in their pain.
According to the studies, around 80% of all Americans suffer from body pain. Since that time, Xtreme Comforts have been making high-quality products that aim to eliminate everyday discomfort.
This anti-snoring pillow has the hypoallergenic cover made from bamboo that is easy to remove and clean. It supports not only your neck but also the upper back to enhance breathing and blood circulation. It is due to the pillow's shape elevating the entire torso.
As such, your stomach acid stays down and the neck, head, and spine are properly aligned. Also, you can use this pillow to support the knees and legs during maternity, or simply when reading. The pillow is compact.

PROS:
Multi-use;
It reduces back pain very fast;
Has an easily-removable bamboo cover.
CONS:
Quite expensive;
Not lightweight.
Relax Home Life 7.5 Inch Bed Wedge Pillow — Bed Wedge Pillow for Acid Reflux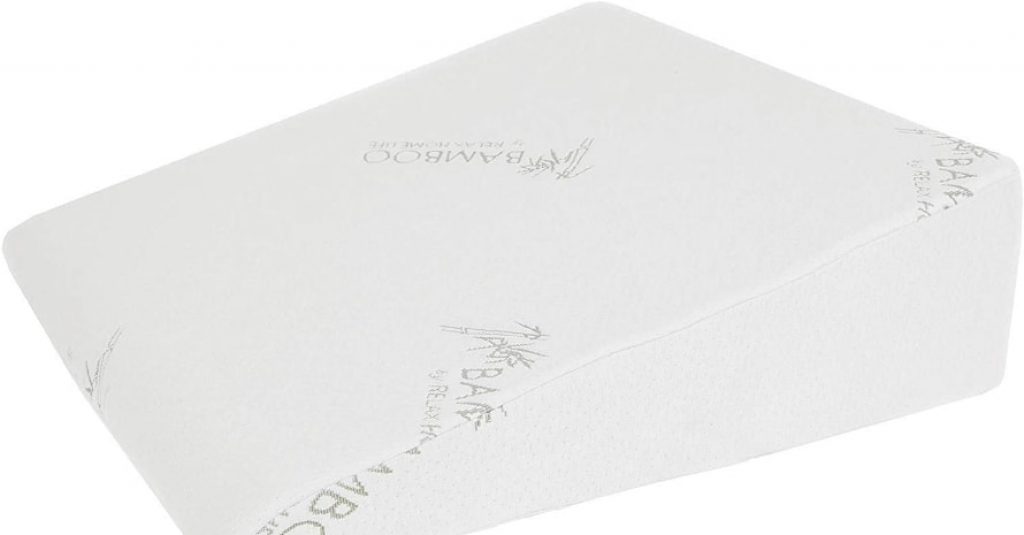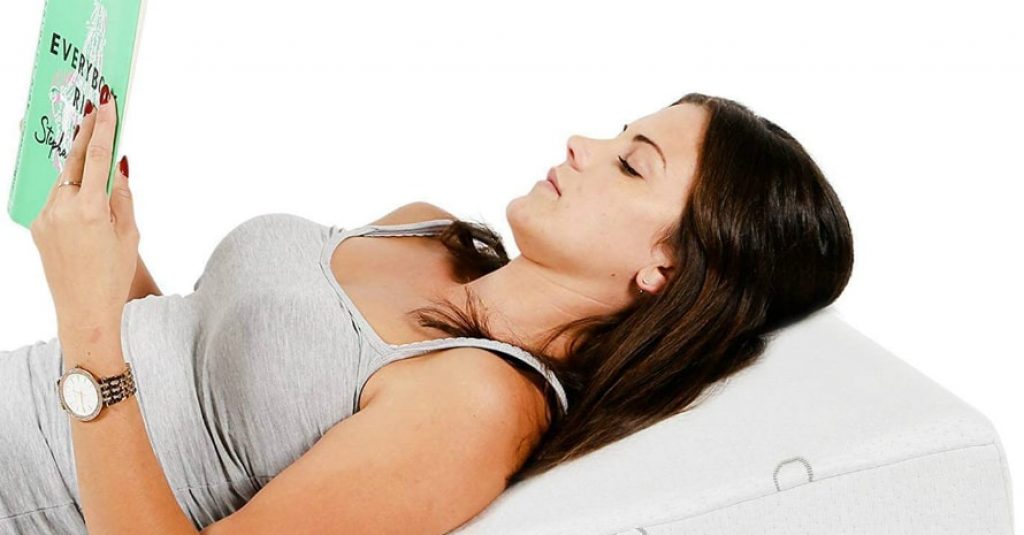 Relax Home Life
is an American-based company that manufactures the wedge and bed pillows. In their assortment, you can find memory foam and contour cushions. All products are of high quality, and customers say that they can be used for a long time.
The main Relax Home Life advantage is that they make their pillows only from extra soft and durable fiber. Therefore, you do not have to worry about the washing: it will not lose its color or quality even after hundreds of washings. Also, each pillow has a cover that you can easily remove for cleaning.
Another advantage is that Relax Home Life imports its items to many countries and regions. So, even if you do not live in the USA, you can still purchase the pillow and have no trouble with the delivery.
This pillow that stops snoring is made of bamboo and polyester in the proportion of 40% and 60%, respectively. The cushion has the shape of the triangle with the 1.5-inch memory foam layer on the top. It ensures the pillow's softness.
It is one of the best pillows to help with snoring in the Relax Home Life assortment, as the company adapts and changes its design many times based on the customer's feedback.

PROS:
Very soft;
It has the memory foam level on the top;
Made of super-quality fiber.
CONS:
LuxLift Support Therapy Bed Wedge Pillow — Multi-Use and Adjustable Pillow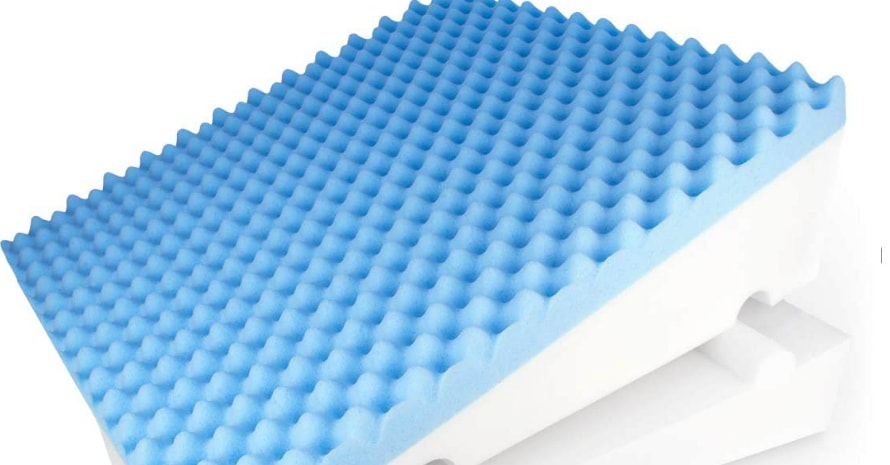 Zenesse Health, the company that stands behind the manufacturing of this contour anti snore pillow, does not have a large assortment. They produce only ten items, among them, four pillows, one sleep mask, three cushions for shoes, one dental mouth guard, and a sleeping guide. Such a narrow assortment allows the company to focus on each product and make it as good as possible.
Zenesse Health was established by three siblings — Andrew, Sarah, and Christian Toft. They suffer from Autism, ADHD, Epilepsy, Hypermobility & Insomnia. Therefore, they decided to make a company that will produce everyday things that can help people to improve their well-being and life.
By the way, one of the main Zenesse Health pluses is that it provides every customer with the three-month free warranty that you can extend on the site (for this, you have to register).
Returning to the LuxLift Support Bed Wedge Pillow, it is important to say that the cushion's top layer is made of the gel-infused memory comfort foam. It provides better blood circulation for your neck, head, and upper back.
The pillow's case that is easily removable and soft is made of the extra soft bamboo fiber. The pillow can help you not only with the snoring but also with acid reflux, neck or shoulder pain, hiatal hernia, pregnancy aches, respiratory problems, post-surgery recovery, etc. The cushion has a five-year warranty (if you are registered on the site).

PROS:
The top layer consists of memory foam that improves blood circulation;
Comes with a five-year warranty;
Helps you to have a deal with various sleeping disorders, not only snoring.
CONS:
The pillow costs more than $50.
Mkicesky Side Sleeper Contour Memory Foam Pillow — The Best Anti Snore Pillow for Side Sleepers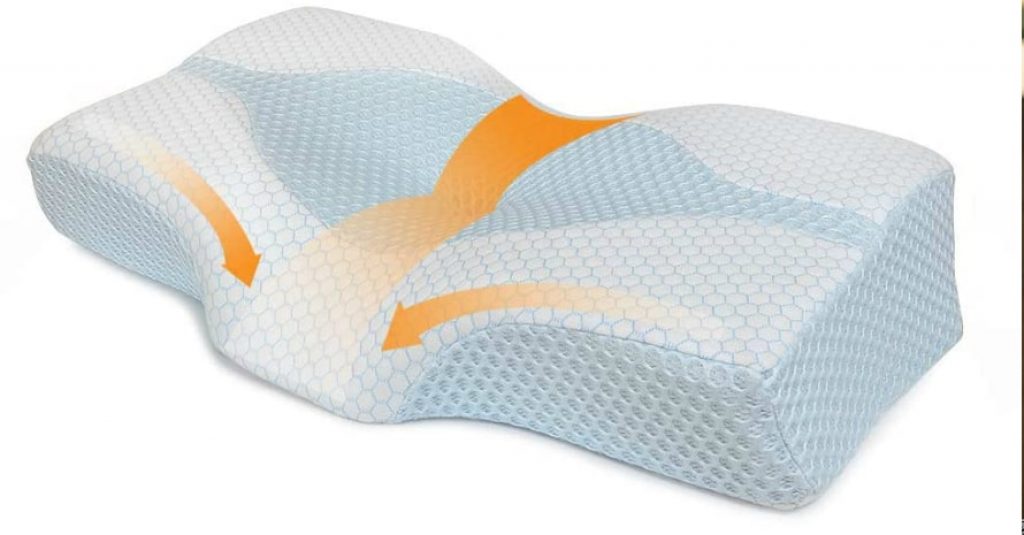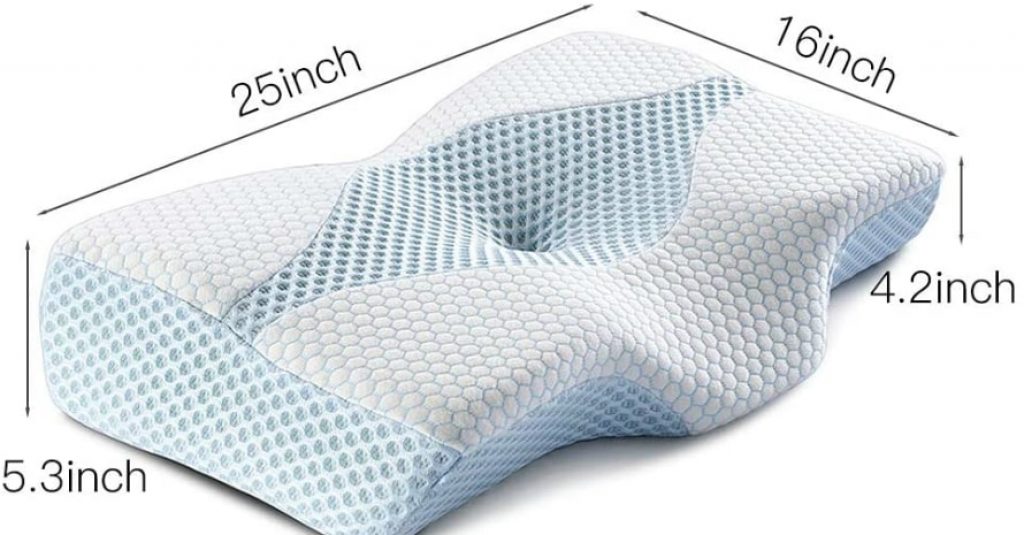 Mkicesky is a company that specializes in manufacturing products in three directions: bed pillows, seat or back cushions, and magnetic screen doors. I first discovered this company when I purchased one of their seat pillows.
When I realized that the company is using high-quality materials, I decided to buy one of the bed cushions. My choice was this side sleeper contour memory foam pillow about which I want to tell you more below.
In fact, based on tons of snore pillow reviews, it is one of the best cushions for people who snore. The cushion is made from the 100% memory foam. The unique shape allows you to sleep long and deep at night. The contour memory foam pillow accurately supports your neck, shoulders, and back. The cover is made of bamboo fiber. You can easily remove it for cleaning.
In addition, the pillow is available in three colors: gray, silver-gray, white & blue. Also, the company often makes special offers for this item. For example, at the time of writing, there was a $5 off coupon.

PROS:
Made from the memory foam;
Eco-friendly;
Small-sized and lightweight;
Available in three colors and four sizes;
The company makes special offers and discounts on this product very often.
CONS:
Not shipped to all countries and regions.
DMI Wedge Pillow to Support and Elevate Neck — The Best Pillow to Prevent Snoring at Affordable Price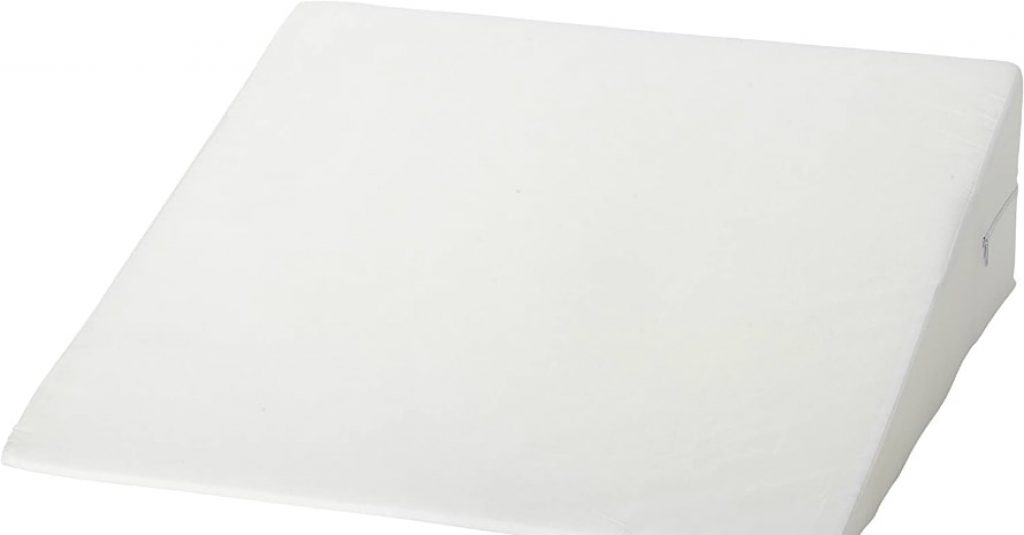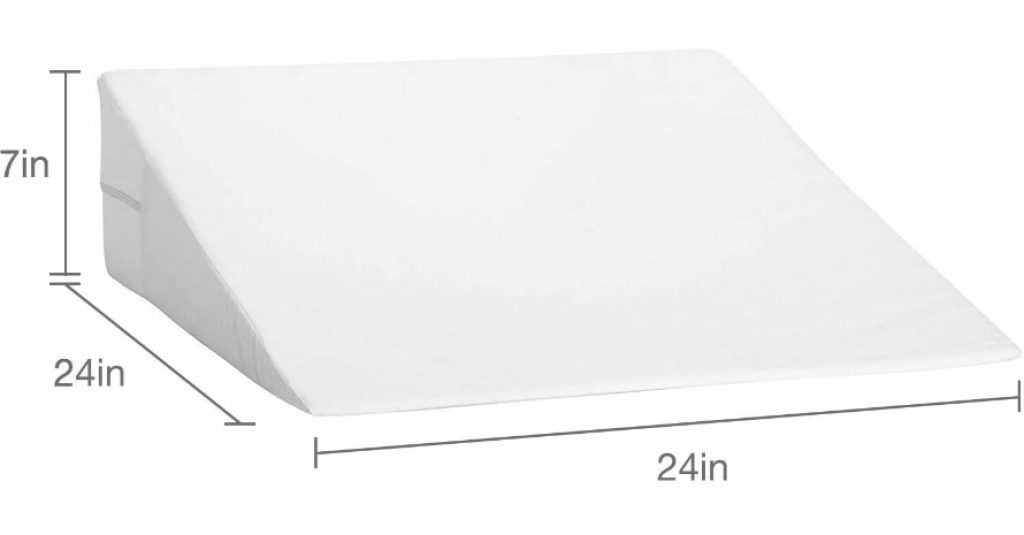 HealthSmart is one of the leading American companies that has been operating for more than 65 years on the market. It produces unique healthcare products with innovative design. Their product assortment includes items for children, adults, and seniors.
As HealthSmart is a multi-brand company, DMI is just one of such brands. Among other brands are Brazos, Heelbo, Switch Sticks, Mabis, and Steins. The DMI company manufactures the products in the following categories: digital blood pressure monitors, premium bed wedges and covers, digital thermometers, and travel pill cases.
Despite the fact that DMI specialized in the premium segment of sleeping products, this pillow has an affordable price. You can purchase it for less than $50 per item. In addition, the cushion is available in three sizes: 7, 10, and 12 inches, and in four colors: Blue, Blue Moroccan, Gray Links, and White. Unlike the previous pillows, this product uses cotton as the main fabric for the cover.
It has a zip, so you can easily remove it to clean. Inside the pillow, you'll find the high-density foam.

PROS:
The parent company has been on the market for more than 65 years;
Affordable price;
Available in three sizes and four colors.
CONS:
Shipping to other countries is expensive.
Royal Therapy Queen Memory Foam Pillow — One of the Best Adjustable Side Sleeper Pillow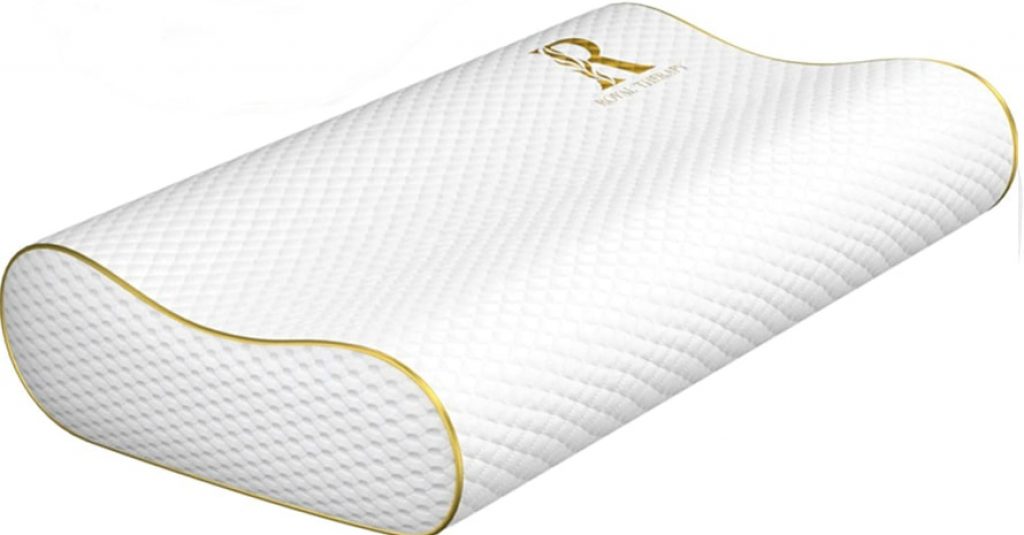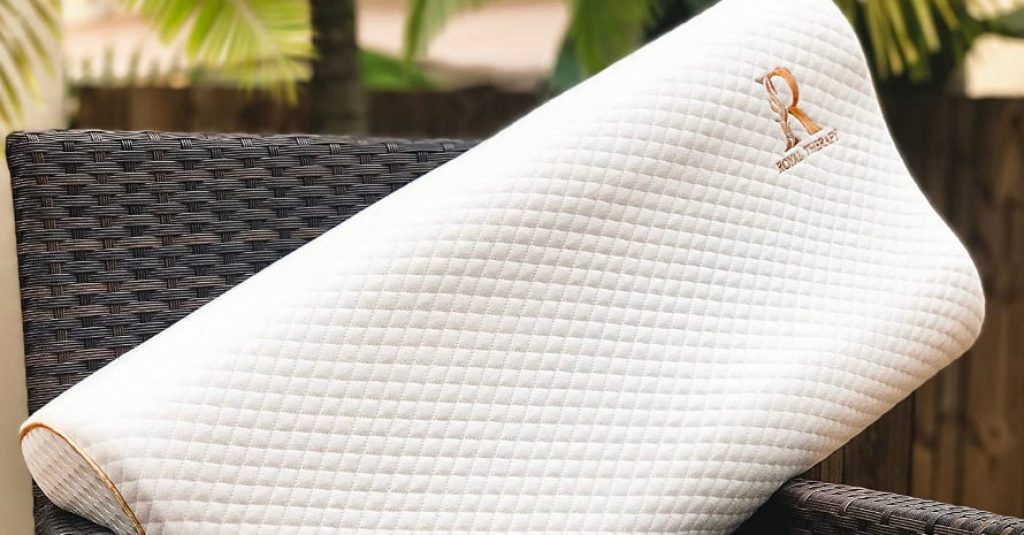 The
Royal Therapy
company manufactures various types of bed pillows, including the pillows for snoring and sleep apnea. Most of their cushions come with the ergonomic curve that aims to reduce your neck and shoulders pains. Royal Therapy pays special attention to the fiber and other materials their pillows are made from. Therefore, you can be sure that these fibers are hypoallergenic and completely safe for both adults and children.
Probably the best pillow for snorers, it has the 100% bamboo cover available in two sizes: king and queen. The ergonomic curve in the middle of each pillow ensures the best support for your neck. The bamboo cover is machine washable, and it is very easy to remove it.

PROS:
Made from super quality materials;
Comes with the removable bamboo cover;
Eco-friendly;
The cushion is available in two sizes.
CONS:
It is not shipped to all countries and regions.
EPABO Contour Memory Foam Pillow — One of the Best Pillows for People Who Snore

EPABO is one of the leading American-based companies that manufacture various pillows and neck supporters for better sleeping. Each item has a unique design and aims to prevent snoring and other disorders. Due to the ergonomic curves and special shapes, the pillows improve your blood circulation and relieve the neck, shoulder, or back pains.
This contour memory foam pillow is available in one color only (white) but in two sizes: queen and standard. Being perfectly designed and ergonomic, the pillow ideally supports and correctly aligns your head and neck.
With this body posture during the sleeping, you will wake up without any discomfort or body pains. The cushion is made from memory foam. The company also provides you with a 30-day warranty.

PROS:
Comes with a one-month free warranty;
Made from the 100% memory foam;
Affordable price.
CONS:
The pillow is very popular, therefore, it is sold out very quickly.
FAQ Section: The Answers on the Most Popular Questions
During my research on the best pillows for snoring, I found lots of curious questions that were left without answers. Therefore, I decided to select the TOP-5 question and provide short answers to them.
How to Choose the Best Pillows to Reduce Snoring?
There are three main parameters: materials it is made from, the manufacturer, and durability. The last point depends on the materials very much. As you may have noticed, the most popular materials are memory foam, cotton, or bamboo fiber. I recommend you to choose only 100% natural and hypoallergenic fabrics. Besides these three factors, it is also important to know your sleep position:
If you prefer to sleep on the back then consider purchasing thin pillows;
The side sleepers should buy the firmer cushions;
Finally, if you are a stomach sleeper, I recommend you buy a thin, almost flat pillow.
What Causes Snoring?
Actually, there are many possible reasons for your snoring. Sometimes the cause can be serious health problems that are hard to solve without the doctor's intervention. Moreover, the reasons can be either permanent or temporary. The most spread causes are:
Alcohol intoxication. Alcohol produces relaxing effect on all muscles of the body, including the larynx;
Sleeping pills and sedatives. They produce similar effect on the muscles to that of alcohol;
Smoking which leads to swelling of the nasopharyngeal mucosa;
Inconvenient posture during sleeping.
All the reasons described above are temporary. The permanent reasons can include serious health problems, including heart diseases. In such cases, you should ask for help from a doctor.
Does Anti-Snore Pillow Work?
No matter what is the reason for snoring, it is nothing more than the interference of the airways. Something is preventing the proper passage of air. Very often, the cause may be an incorrect sleep position, which blocks the flow of air. It is where anti-snore pillows start to shine in flying colors. Due to the ergonomic design and curves, they provide the correct support for your neck and head. As such, the air can pass through the mouth or nose to the lungs without interference.
How Effective Are Wedge Pillows for Snoring?
Usually, the wedge pillows are made of dense fabrics and are quite large and heavy. Due to their size, they can easily support your back, neck, head, and, at the same time, leave them in a slightly tilted position. Moreover, thanks to various materials, they also keep your body in this position throughout the night, so you won't roll down. This body position is correct and prevents airway blockage. The wedge pillows are designed for the back sleepers and can be used even by overweight people. In conclusion, the wedge pillows are effective in such cases:
You are a back sleeper;
You are overweight (it is not a necessary condition);
You do not tolerate (or just want to eat) anti-snoring mouthpieces;
You suffer from acid reflux.
Are Anti-Snore Pillows Safe?
Yes, the anti-snore pillows are completely safe. Commonly, they are made from natural and hypoallergenic fabrics, such as cotton, bamboo, or memory foam. Moreover, they do not affect your internal state, for example, they do not change the hormonal balance like pills. All they do is change your body's sleep posture. In addition, the anti-snore pillows are ergonomic and can be used in several configurations, even by people who do not suffer from snoring. It is very comfortable to place them under your back when you sit up in the bed or put them under your legs.
Ready to Buy the Pillow Today? What You Should Remember
This is the last paragraph in my review, so I'll just summarize everything I said before. Anti-snore pillows are completely safe for both kids and adults. Due to their ergonomic design, they can be used not only by snorers but also by people that suffer from the shoulders or neck pain after waking up. Look for the pillows made from the natural fabrics, for example, those that I have mentioned in my rank. Also, remember that the cushions for snoring do not solve the deep health problems, only the ones that are permanent and related to the incorrect body postures during sleeping.
If you have serious sleeping disorders, I strongly advise you to go to the doctor. Have you ever tried these pillows to stop snoring? Did it help? Share your experience in the comments below. Also, if you have some questions about the products mentioned in the rank or other issues related to this article, feel free to ask them in the comments. I will answer them as fast as possible.
Last update on 2023-09-24 / Affiliate links / Images from Amazon Product Advertising API