Who cares what you do in your bed, except yourself and your family? Pillow manufacturers certainly do, and not to be judged for curiosity, but to provide the best sleeping experience. How do you like to sleep: on your back, on your stomach, or on your side?
The latter is preferable to many people who just like it. Others simply can't feel comfortable in any other position. Anyway, the most comfortable pillows for side sleepers have some specific properties (I'm speaking from my own experience). Not necessarily as wide as that for back sleepers, they should be thicker, as the body rests on the shoulder, leaving the head lifted. A regular pillow won't be enough to fill the gap and let the head rest.
Good pillows for side sleepers are often adjustable. If this position is a forced choice, one can return to normal back- or stomach sleeping manner after the delivery or fitness time. So versatile pillows are also quite a choice: make it thicker to sleep on your side and thinner for your back.
Top 8 Best Pillows for Side Sleepers
Therefore, let's review some pillows I found worth considering. Maybe one of them will bless you with endless sleepy nights and deliver you from neck pains and wasting hours, tossing and turning. Lay back (or side): I've got some side sleeper pillow reviews, let's read them.
Sleep Artisan Side Sleeper Pillow: Just a Top Rated Side Sleeper Pillow
A small Californian family-owned brand focuses on pillows and invests all of its expertise into it. The item I review is called a "side sleeping pillow", but it's clear at first sight that it's more than a regular one. Its curved lines and gray sides make it look more exquisite than it actually is, like an artifact from the past.
As for functionality, this contour pillow for side sleepers has a curved shape for a reason. As you lay your head on it, side-sleeping, the pillow embraces and supports it without lifting up your neck (like a back-sleeping pillow would). Look here, Apple: that's what notches are for!
Filled with foam of latex and polyester, this pillow has a breathable cover of organic cotton, hemp, and polyester blend. Yes, I said "hemp", and it will keep your head high. As for the filling, it's also hypoallergenic and easy to reshape. You just need to remove some filling to make it flatter, and then take it back if you want to keep your head up higher. Alas, extra filling doesn't come with the pillow itself.
The price is also far from the most democratic, especially given that pillowcases are bought separately. But the unusual shape and (as the vendor states) exclusive materials are probably worth this. At least, it does deliver comfortable sleep. Still, if your mood and mindset as you wake up do matter to you, one night of bad sleep is totally unaffordable.

PROS:
Unusual shape for better support;
Adjustable thickness;
Exclusive materials for filling and cover;
Special pillowcases available.
CONS:
Quite expensive;
Personal compatibility not granted.
Coop Home Goods Adjustable Pillow: A Full-Size Bed Pillow for Side Sleeper
And this one by Coop Home Goods, an American brand I have already noticed when reviewing bamboo pillows, is also worth a look (or a sleep). A body pillow is a special sort of it. If you need one not only to rest your head on it but also to hold it like a teddy bear, this is your type.
The body pillow by Coop Home Goods is 54 inches long (or tall?), so you can rest your head as well as most of your body weight on it. There are many people that prefer this sort of pillow to sleep on side because it turns out to be quite comfortable to distribute your weight over it. Like most modern pillows of this sort, it has a zipped hole that lets you add or remove the filling to adjust the thickness.
It's filled with an exclusive sort of foam (again, yes). Along with hypoallergenic property, dust mite resistance, and all the other common virtues, this one has something really interesting: this body pillow is completely machine washable! Yes, it means that you can put it into your washing machine and push the button, and you won't have to hang it out to dry for a week.
The price of this pillow is affordable: as for the summer of 2020, it's under $70. Still, comparing it directly to other soft pillows for side sleepers is not fully correct: body pillows are quite a subgenre in its own right. It only matters whether you like it.

PROS:
Body pillow format;
Hypoallergenic foam filling;
Adjustable thickness;
Machine washable;
You can hold it in your arms.
CONS:
Body pillow format;
May feel hollow if underfilled.
Misiki Orthopedic Pillow: More Than a Curved Pillow for Side Sleepers
While the previous item felt like a teddy bear you can hug in your sleep, this one looks like a smaller bear ready to hug YOU!! Or like a butterfly you might become in your dreams (and on waking up, you'll wonder like Zhuang Zhou): it depends on what you prefer to see.
Despite its exquisiteness, the shape of this pillow is mathematically calculated and anatomically defined. There are support areas for your neck, for the back of your head, and even for your arms if you put them (or one) under the back of your head. Seemingly made for back sleeping (due to its symmetry), the pillow is at the same time quite an ergonomic pillow for side sleepers. At least, to me, pressing it with a cheek felt completely natural.
As for the materials, this pillow is filled with 100% polyurethane memory foam, and the cover is made of staple rayon and polyester fiber blend. The foam is not removable, but the shape itself lets you use the pillow in two different ways, so its height can be different. Being of moderate hardness, it won't be soft enough for your head to sink in, but if you suffer from neck pains or something similar, you may miss fine adjusting options. The only drawback is its recognizable smell that usually goes away after several days.
The price seems quite reasonable: under $50. But this sort of pillow is very specific. Some may reject it just because they haven't got used to this shape of art. Others may really feel discomfort while sleeping on it.

PROS:
Unusual shape;
Equally suitable for side- and back sleeping;
Two positions with various height;
Hypoallergenic materials;
Affordable price.
CONS:
The shape may look and feel too bizarre;
The smell may feel hard;
The vendor is hard to learn about.
Avana Uno: A Traveler's Pillow at Its Best
When you see the shape of this pillow and start wondering, you won't have to go far for question marks: the pillow itself looks like one. At second sight, it resembles the road pillows travelers put under their heads when flying or traveling by train.
As for the vendor, Avana is well known as a manufacturer of sleep support devices. Along with Uno, arguably the most popular of its models, it also makes side-support pillows, mattress elevators, knee rests, and so on. None of these items can be found in a healthy person's bed. None of this can be neglected when something goes wrong.
Uno is the pillow that you can lay under your head, no matter if you're sitting or lying, in your bed or armchair, and in whatever position you want it to be. The bizarre shape lets the pillow just support your head from below (exactly where you want this support to appear), or embrace your neck, supporting the head from sides.
The filling is made of plush memory foam. It can be removed or added in a regular way; anyway, hardly will one need to, due to flexibility provided by the very shape of it. As for the cover, it's made of fine polyester and is machine washable (unlike the pillow itself, alas).
This curved pillow for side sleepers is just a lifesaver when traveling. It will do you good both on a plane or a train and in the hotel suite where good pillows for side sleepers are rarely found. Inflatable ones may be easier to carry, but if you want to feel good after you wake up wherever you appear, taking this one with you is a certain Avana-tage.

PROS:
Unusual shape with lots of options;
Adjustable thickness;
Quality materials;
Few rivaling options;
Can be used for traveling.
CONS:
Rather heavy (3 lbs);
Only the cover is machine washable.
Royal Therapy Adjustable: A Contour Pillow for Side Sleepers with Layered Foam Filling
The one by Royal Therapy looks considerably traditional. As you look at its curved surface, you understand how it works: sleeping on your side, you pay your head on it, and, following its shape, the pillow provides the best support for it. Alas, even a closer look reveals too little about the actual vendor; neither does googling.
The manufacturer says the pillow is made of bamboo. As we know, it means that the cover of the pillow is a blend of bamboo rayon and polyester; not purely natural, but it's a decent breathable and washable combination. The filling is traditional memory foam, not hard, but firm enough to provide good support for head and shoulders.
But what makes this pillow really remarkable is the way you adjust its thickness. Instead of removing shredded foam mass and storing it into a pocket, with this pillow, you just take out one of the four foam layers. Adding the fifth one (even if you have it left from the same pillow), alas, is not supported.
It's quite often regarded as the best pillow for neck pain side sleeper; at least, it's among the most conventional-looking ones, something you're used to putting your head on. The two-slope design, though, is just the most obvious of its features.

PROS:
Anatomically correct curves;
Foam layers easy to remove or replace;
Firm but not hard;
Stylish looks and a sloped shape.
CONS:
Rather expensive;
Little is known about the vendor.
Snuggle-Pedic Body Pillow: Among the Best Soft Pillows for Side Sleepers
And here comes another body pillow by a well-known vendor (if its name obviously inspired by Tempur-Pedic doesn't make it a mockstar to you). This body pillow shares its dimensions with the one by Coop Home Goods, being just as long a pillow as the former. Its shape is simple, but it's long enough to lay your entire body weight on it, not just head and shoulders.
What makes this one a more exotic (and sometimes more required) option is the possibility to redistribute the filling. If you want it to support your shoulders more and be softer below your head, you can manually move the shredded memory foam inside from the pillow. And yes, you can do it right in your bed as you're preparing to sleep, adjusting it to your liking.
As for the cover, it's made of a specific blend: along with traditional bamboo rayon (56.4%) and polyester (40%), it has 0.6% Lycra. That makes the cover both durable and soft, preserving its breathability and washability. Both the cover and the filling are CertiPUR-US certified, proving non-toxic and hypoallergenic. (Hey, maybe you don't need me to write it any time again? Toxic ones are just not included to the list).
Partly because of its construction, partly because of the quality materials, this is a top-rated side sleeper pillow. Its price is above average too, slightly above $60. Still, it comes with a 20-year warranty that sounds much longer than an average pillow lives.

PROS:
Body pillow size;
Redistributable filling;
Unique blend for the cover;
The entire pillow is machine washable;
Compatible with standard body pillow covers.
CONS:
Quite pricey;
May need frequent refluffing.
Cushy Form Knee Pillow for Side Sleepers: It Takes Two Pillows to Sleep on Side
When it comes to supportive pillows for side sleepers, it doesn't mean that they necessarily support the head. The knee pillow by Cushy Form can support you from various sides. You can lay it between your knees to let the upper leg rest while you're side-resting.
It's the reason for its shape: its curves fit human knees as well. It's an irreplaceable accessory during the pregnancy or for those suffering from hip joint pains and restless leg syndrome.
This pillow can have other uses as well. One may use it while lying on the stomach (for example, while reading a book or a magazine), resting one's chest on it. The vendor specializes in therapeutic pillows, making such specific designs that most of us don't even think of… until the trouble knocks.
Along with being as hypoallergenic, breathable, and dust-mite free as others, this pillow also features special visco-elastic memory foam filling. This makes the pillow hard enough to support the upper leg when you're lying on your side, but not cause any discomfort. As for its curves, they are designed for average people; if you feel it too small or too big, you cannot adjust it. Take it as it is, or search for something else.
As for the price, it's quite affordable, just slightly above $20 (as for the summer 2020). The matter is that you don't need this pillow at all unless you're really in need of knee support or foresee such a necessity soon. It can be used in other ways, but a regular pillow (or a butterfly by Misiki) does the work just as well.

PROS:
Great for the specific mission of supporting legs;
Firm foam filling;
Machine-washable cover;
Very affordable.
CONS:
Necessary only in special cases;
The curves are made for average people.
Oubonun Premium Adjustable Loft Quilted Body Pillows: An Affordable Body Pillow
The most remarkable thing about this body pillow by Oubonun (Richmond, Canada) is that it's basically a cheaper alternative to one by Snuggle-Pedic. The vendor specializes in various bed accessories, including mattresses, regular pillows, covers for all its assortment; it also has its own body pillow.
It has a zipper on its back through which you can remove some filling or add some more to adjust the thickness of the pillow. Redistributing it within the pillow won't work the same way, alas. But the regular way has also proven effective.
The other pro of the materials is that the pillow is fully machine washable. Put it in and then keep it out until it dries. After the procedure, it gets even fluffier than before. That's the method of refluffing it when necessary, bу the way! The default removable pillowcase is made of cotton, but you can get others.
As for the filling, it's not the foam used in others, but polyester fiber. It will be softer and provide less support; if you're after a pillow that will support you strongly from below, this one will hardly satisfy you. The rest of this pillow is mostly great. Its size is traditional for the class, making it compatible with most covers, both by Oubonun and by other vendors. A bonus pillowcase comes with the pillow itself; if it's not enough, you can order more.
Its price is among the sweetest parts, being just a bit higher than half of that by Snuggle-Pedic. If you need an affordable yet reliable bed pillow for side sleeper, that's quite an option. But fiber is less supportive than foam; good as a regular body pillow, this one can be of less therapeutic value then.

PROS:
A full-size body pillow;
Adjustable thickness;
Compatible with various covers;
Fully machine washable;
Very affordable.
CONS:
Can be softer than you expect;
Comes without extra filling.
Buyer's Guide Section on the Best Pillow for Side Sleepers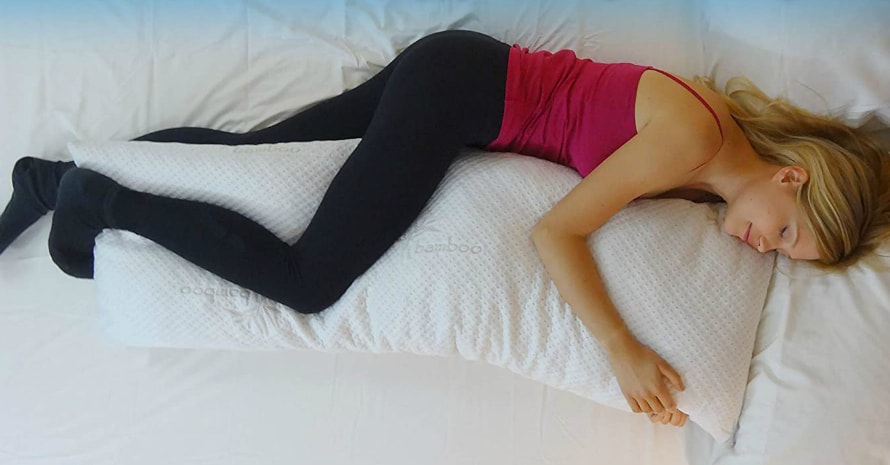 Now that I have recommended pillows for side sleepers for long, I learned one thing: there is no perfect one-size-fits-all option. Each one is an individual. If you need a special pillow for therapeutic purposes, first of all, consult your therapist. But if you want to prepare for the visit and at least learn the basics, here is a little guide.
Pillow Types for Side Sleeper
While all pillows for side sleepers should be firmer and thicker than those for back sleepers, that's all they have in common. Size and shape may vary, as well as usage. Along with traditional neck support pillows for side sleepers, there are also body pillows and even knee pillows like those I have reviewed above.
When speaking of the most common types, though, there are several specific variations:
Curved (or contour) pillows. When you're sleeping on your own shoulder, there is always a gap under your head, and it has to be filled. That's where curved pillows enter. Under your cheek, they provide enough support. There are many various designs, from just a bit curved version of a regular pillow to a traveler's one that embraces the neck of a sitting sleeper.
Body pillows. These are usually 54 inches long, so they can distribute most of the body weight. They are popular, and because being as adjustable as big, like those I've reviewed: some let you remove or add the filling, some let you redistribute it within. In addition, they are so huggable!
Firm memory foam pillows. Well, in fact, many of them are filled with shredded memory foam. But to provide extra firmness, some models feature solid or layered memory foam filling. In order to adjust thickness, memory foam pillows for side sleepers allow for removing one or two layers or putting them back. These aren't the most popular type, but if you need all the support your head can get, these (like one by Royal Therapy) are irreplaceable.
Almost regular. Some consider that the best pillow for side sleepers is a bigger version of a regular pillow. It has to be firm and thick enough to provide all the support for your head, and if it gets too fluffy and soft, the head can just sink in it. On the other hand, it's just as good for regular sleeping, being closest to the perfect compromise.If your therapist insists on some specific type, there must be serious reasons to prefer this particular type. The rest, however, still depends on you. If you like it exotic and making your guests go wow, there is a butterfly type. A body pillow is great for hugging at night, feeling like you're a kid again. Any type has its pros.When trying, don't forget that you can return the pillow within 120 days after buying if it doesn't feel comfortable enough. You don't need other reasons. Better spend a day or two for returning and getting another one than spend years on the wrong pillow.


Things to consider before buying side sleeper pillow

If you have selected your type of product just by description, you'll go on buying a particular item. And here you cannot go with just "I like it". There are certain parameters that affect your sleep, and, trying a pillow, you need to pay attention to how it feels and looks.
Size
Humans are not created equal – at least physically. Some are taller and bigger; some are smaller; anyone who ever wears any clothes knows that size matters. So it is with pillows. The wider your shoulders are, the thicker the pillow should be to provide you comfort as you sleep. The bigger your head is, the larger the pillow should be.
That's why, if your dimensions are unconditional in any sense, you won't be satisfied with just a regular pillow – especially with a firm one, filled with foam layers instead of shredded foam or fiber. If you're lucky to find one that fits you, it can be your best investment for years.
Materials
American standards (like the aforementioned CertiPUR) grant that no toxic or allergenic materials make it to the market. But there are parameters that can't be regulated – like, say, washability, durability, or breathability (especially important if you want to keep your head cool while sleeping).
Again, it's like the shape: you better try before you buy. As for me, vendors describe their products correctly, though every one of them can have a defective item shipped to you. These defects are usually about materials; if you're good with the overall feeling but disappointed with the way it's made, just send it back for replacement.
Adjustability
Today, most memory foam pillows are adjustable in a simple way: you can remove or add filling right into them. Some pillows come with extra foam pack that can make it thicker than supposed or used when some original filling is lost. This sort of adjustability is versatile, but dealing constantly with the volume of filling, through trials and errors, can be exhausting.
Other options include layered foam filling (some consider this sort the best firm pillow for side sleepers) and redistributable filling. The former items are well known for firmness and ease of adjustment, but they don't allow for such a fine setting. The latter are mostly body pillows, the sort you either like or dislike.
Special features
Not speaking about pillows for specific purposes (like, say, knee support), there are some products that have extra features not shared by the entire class. For example, there are pillows that are fully machine washable; but it's not a total requirement. If it's important for you, just limit your search to products that can be washed in a washing machine.
There are other features not necessary but pleasant to have, like an extra filling or another cover included. If it's important, search for this particular feature.
Questions Frequently Asked Before Going to Bed about Good Pillows for Side Sleepers

Are down pillows good for side sleepers?
Yes, they are, but only if they are big enough. Down pillows are well known for their softness; as you lay your head on one, it bends under it, taking the shape of your head and shoulders. If you are the tossing and turning type, though, this pillow will lose its shape soon.
How high should a pillow be for side sleepers?
It depends on your body parameters. While in general, the recommended height is 4 to 6 inches, side sleepers may require even a higher one with firm filling.
What firmness is best for side sleepers?
For most persons, the average firmness will do. If your weight is over 230-240 lbs, you may opt for a firmer one, because the pressure of your head is partly defined by your entire body.
What type of pillow is best for side sleepers?
The correct question is not "what is the best pillow for side sleepers," but "I am a side sleeper. What type of pillow is best for me?" As I have said, all the people are different, with their pains (or no pains), manners, preferences. The entire post is about choosing what you like (in case of therapeutic purposes – what you require).
Are contour pillows good for side sleepers?
Yes, in general, they are. But you should try one first because contours are mostly calculated for typical human parameters. If it feels good to you, you're lucky. If not, you better opt for something you can personalize.
Good Night, Side Sleepers!
It took me several nights sleeping on various pillows to write this (thanks!) Not that I liked all of them equally (though I realize these were not bad products; they were just not for me). What matters is the difference I felt. In the morning, after jogging and a cup of coffee, I sat at my laptop and typed (not particular this post, but any). If I had spent the night before on the wrong pillow, the words came harder. On the contrary, if the pillow was my type, they flew easily, and I felt elated from the very moment I had awoken.
And how does it feel to you when you have spent the rejuvenating night? Do you feel empowered and inspired? Do you acknowledge how the pillow contributes to it? And what sort of pillow do you prefer?
Let's speak personally. The memory foam in your pillow remembers your dreams and feelings; do you believe it? If you think you're still better at it, let's recollect your pillow time stories and share them in comments.
Last update on 2023-09-27 / Affiliate links / Images from Amazon Product Advertising API