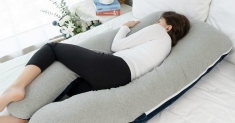 Best Pregnancy Pillows: Full Buyer's Guide
Being pregnant is not easy, you can't even sleep the way you used to! Therefore, there are many tools that can help make life easier for pregnant women. One of such things is pregnancy pillows. They can help you to sleep on the side, supporting your body. Believe me, with the best pregnancy pillows, your sleep will be as sound as it was before pregnancy. But note that not all pillows have such an effect. There are many nuances and pitfalls you need to consider when selecting the pillow. So, after reading this article, you will know:
What types of body pillows for pregnancy exist;
How to choose the best one;
What is the difference between the traditional body pillows and pillows for pregnant women;
How pregnancy sleeping pillows can reduce back pain.
As a bonus, I also gathered the list of TOP-8 pregnancy pillows. I will tell you about all the advantages and disadvantages that each pillow has. After that, I will answer the most popular questions related to this topic. I suggest starting with the rank of the best pillows for pregnant women.
Top 8 Best Pregnancy Pillows
In this section, I'll describe the best pregnancy full body pillows that I have ever tried. My rank is based on the personal evaluation and my friends' reviews. The plan is as follows:
Firstly, we will talk about the brand;
Next, I will share some information about the pregnancy pillows (what are the materials the pregnancy pillow is made from, how to use it, what is the durability of this product, etc.);
After that, I will provide the table with the product's pros and cons. Let's start!
Queen Rose Pregnancy Pillow — The Best Pregnancy Pillow for Back Pain

This pillow was made by the Queen Rose company. The main brand's specialization is the production of high-quality pillows. Today, it is one of the leading US brands on the market. In addition, Queen Rose also makes pillows for infants and kids and other related bedding products.
Among them, there are bed mattresses, gravity blankets, breastfeeding pillows, baby care products, and others. Buying pillows from Queen Rose, you can be sure of their quality and durability. Also, the company has a very flexible return policy.
This U-shaped top-rated pregnancy pillow supports all your body: from head to toes. I know that many moms, even after pregnancy, continue to use such pillows for reducing back pain and additional comfort.
The product is made from soft materials and does not contain allergic materials and is completely safe for future moms, infants, and kids. Queen Rose's pillow is very flexible, and you can easily change its shape. In addition, it is available in several colors:
Green;
Gray;
Blue and grey;
Blue and pink;
Purple;
Dark grey;
Purple and white.
---
PROS:
Made from soft materials;
Available in several colors;
Multi-purpose.
CONS:
Costs more than $50;
The pillow is not shipped to all regions and countries.
---
Meiz Pregnancy Pillow with Jersey Cover — Pregnancy Support Pillow for Women

Similar to Queen Rose, Meiz specializes in manufacturing pregnancy pillows as well. In addition, they produce the pillow covers too. Their pillows are designed to follow the body shape of any woman and support it in the best way.
When I am asked about what to give as a gift to a pregnant woman, I always recommend buying body pillows by Meiz, as I am sure of their quality. There's one nuance: on average, the Meiz's pillows are a little bit expensive compared to other pillows for pregnant women. The average price is $60 – $70.
This pillow is made from soft velour with a jersey cover. Therefore, it is one of the softest pillows I have ever tested. This top pregnancy pillow is very easy to clean as it has double zippers. By the way, although the pillow was designed for pregnant women, it can be used in a variety of different situations.
Among them are hypertension syndrome, leg swelling, fibromyalgia, Sciatica, tossing and turning, or recovering after injury. As such, the pillow is available in several color palettes that suit both men and women.

---
PROS:
Makes a great gift;
Made from soft velour;
Follows your body shape;
Can be used in various situations, not only during pregnancy.
CONS:
Expensive (on average, it costs more than $60);
It is not shipped to all countries.
---
Leachco Back'N Belly Pregnancy Contoured Body Pillow — Great Full Body Contoured Pillow

The Leachco brand is the company that creates the products for sleep and relaxation for both kids and adults. It is a family business that has quite an interesting story of creation. Many years ago, the boy named Alex nearly fell out of a faulty chair in one of the restaurants.
His mother quickly solved this problem with the help of a wallet, but she also understood that this was only a temporary solution, and something more durable was needed.
Returning home, she created special protection for Alex with adhesive tape, dental floss, and a hand towel. People liked it so much that after a while the company Leachco appeared. The woman's name is Jamie. She and her husband Clyde are the founders of Leachco. By the way, Jamie is the main designer of all of the company's products even today.
This pillow for pregnant belly provides you with equal support for both back and belly. It is a very flexible product that takes the shape of your body. In addition, the pillow is very easy to clean. It is made of cotton and polyester – 35% and 65%, respectively. Also, the Black'N Belly pillow comes with the removable cover.

---
PROS:
It is very soft;
The pillow is very easy to clean;
Available in several colors.
CONS:
For adults use only;
Contains polyester.
---
PharMeDoc C Shaped Full Body Pillow — Total Body Pillow for Pregnancy

The PharMeDoc company was established in 2013. They specialize in the manufacturing of two product lines: fitness and bedding. According to the PharMeDoc mission, every person who wants to have a harmonious life should balance between these three "pillars": work, recovery, and rest.
Therefore, the products in the fitness line aim to help you to recover, while the products in the bedding line — to relax. The PharMeDoc company invests the large part of their profit to do surveys and finding the innovations to make your sleeping more comfortable.
This C shaped pillow supports your head, neck, back, belly, and legs at the same time. In addition, it comes with a travel and storage bag. The pillow is made from the super-soft polyfill blend that easily changes the pillow's shape according to your body.
Also, it has a removable cover that can be washed in the machine. The company said that even after the 300 washes, the fiber will not lose its softness and color.
By the way, you can purchase the pillow in four different colors: light blue, grey, light pink, and mint green. The PharMeDoc's pillow is much cheaper than the previous items and costs about $40.

---
PROS:
It has an affordable price;
The pillow comes with the travel and storage bag;
It has a removable and washable cover.
CONS:
It is only available in four different colors;
The pillow can lose its form after long term use.
---
Boppy Side Sleeper Pregnancy Pillow — Best Maternity Pillow for Belly Supporting

This pillow differs from the four products described above. But let's follow our plan, and at first talk about the company. Boppy is a socially responsible brand that manufactures pillows for both moms and infants. In their assortment, you can find the pillows of different shapes, sizes, and purposes. When I said that the company is socially responsible, I mean that Boppy develops its own 'The Momkind Project' that focuses on three main directions:
Support all mothers without judgment;
Educate parents on safe practices;
Empower women to create the motherhood journey that is right for them.
All Boppy's products are simple in use, safe, and comfortable. This Sleeper Pregnancy Pillow is not an exception. But unlike other pillows, it is not a full-body. It consists of two connected pillows that help you to stay on your side while sleeping.
The compact design allows you to carry the pillow with ease and without hassle. Also, you can use it not only for the belly but for the neck and legs too. By the way, the pillow is the finalist of 2017 What To Expect – The Best Body Pillow. It is made from the polyester that provides reliable support of your body parts and long term use.
---
PROS:
This small pregnancy pillow is compact and suits for traveling;
Multi-use: you can use it to support the neck, legs, or belly;
Machine washable.
CONS:
It is not a full body size;
As for the small pillow, it is quite an expensive product.
---
Leachco Snoogle Original Maternity — Best Pregnancy Pillow for Side Sleepers

Another pillow made by the Leachco company. As I have already told you about the brand's history, I will not dwell on this too much here. Instead, I will say a couple of words to share with you my impressions about this company. The first time I heard about Leachco was several years ago.
At that time, there were not so many products in the assortment yet, and the main form of advertising was customer recommendations. I also heard about this brand from one of my good friends.
From the first minutes of use, I realized that the company makes really high-quality products. Years have passed, the assortment of goods and the number of customers have expanded greatly, however, these factors did not affect the quality of the goods. Therefore, I still recommend Leachco to all of my friends.
This Snoogle pillow can replace several pillows at once as it serves perfectly well for supporting the neck, legs, and belly. It is very soft and follows the shape of your body.
By the way, this pillow is one of the most popular products in the Leachco assortment. The company event patented the design, so there is no chance to meet a similar pillow of other brands. The pillow has a removable cover that you can wash in the machine.

---
PROS:
Removable and machine washable cover;
Follows the contour of your body;
Patented design.
CONS:
Expensive shipping to other countries, not the United States;
It is available in three colors only.
---
PharMeDoc Pregnancy Pillow — Best Rated Pregnancy Pillow

As I am passionate about the new products and technologies that can help to make the moms' life easier, I always do personal reviews and read many articles in this sphere. Therefore, I have three of the most popular ways of how I discover a new product:
The friends' recommendations: it is the most popular way;
From the recommendations I find on the Internet from people that I trust;
From the reviews on the Internet.
To tell the truth, the last point is the most dangerous one. I had many situations when I purchased the product based on the numerous positive reviews, and it was really awful. The purchase of this PharMeDoc pillow was one of such experiments. And you know, it turned out to be a successful purchase.
Since that, I have presented this pillow to my friends and always heard only positive feedback. Now, I decided to share this finding with you.
It is made from the zipper-removable jersey-knit cotton that is completely safe and has no allergens. This u-shaped pillow is very soft and has a detachable extension. Due to this, you can put the main pillow body near the back or belly for additional support.

---
PROS:
Detachable body pillow;
It has a lot of positive reviews;
100% organic fiber.
CONS:
The pillow is available in one color only;
It is not shipped to all countries.
---
Bamibi Multifunctional Pregnancy Pillow — Use It for Sleeping, Breastfeeding, and Rest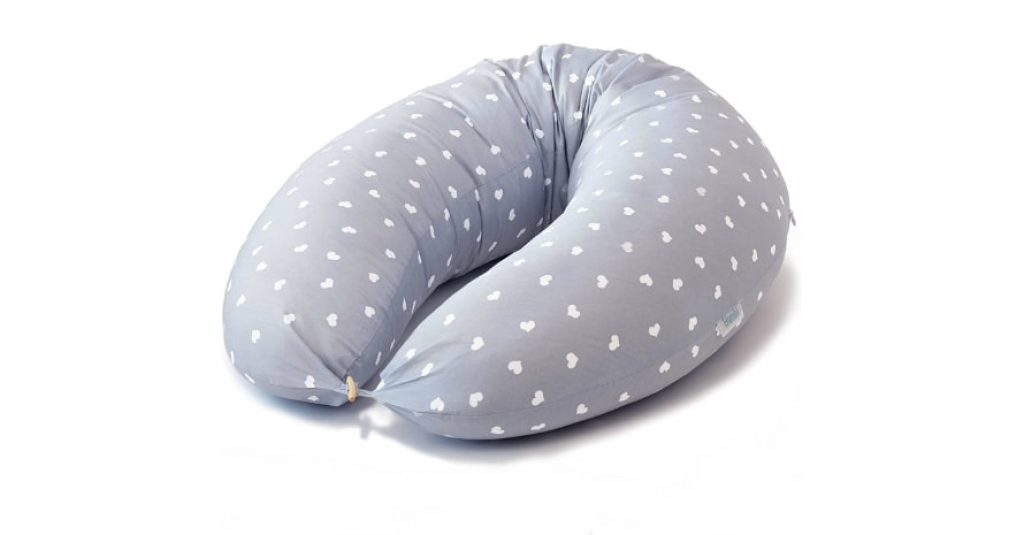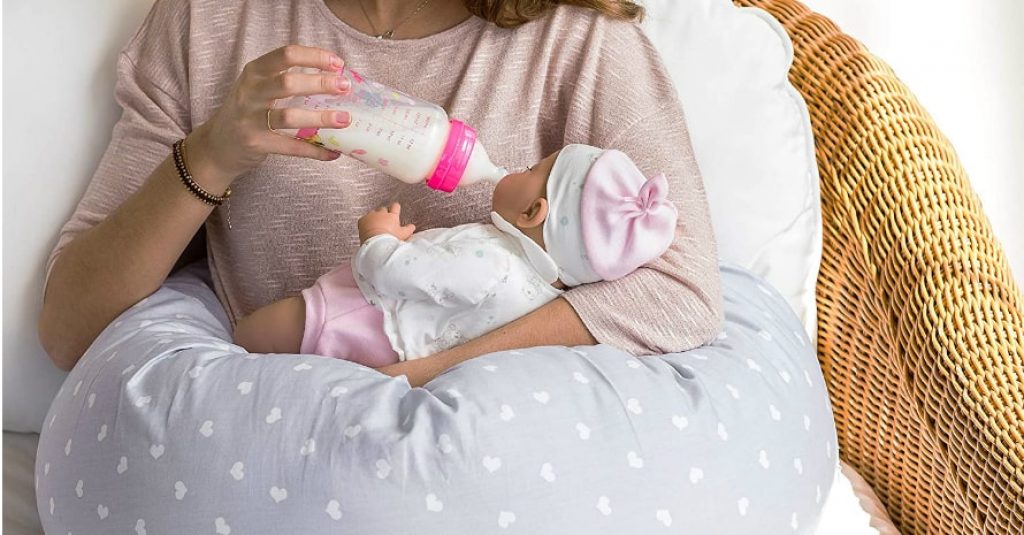 To tell the truth, Bamibi is not a popular brand. Even if you type its name in Google, most probably, the search engine shows the result for Bambi. However, despite the fact that the company is not very popular, I strongly recommend you to purchase this pregnancy cushion. It has lots of advantages. Among them:
High-quality and 100% organic fiber (the pillow made from cotton);
It easily converts into anti roll cushion;
The pillow can be used by adults and babies. I know that many moms after the pregnancy use it for infants. The pillow is very soft and safe for kids.
The pillow supports your neck, belly, and legs. Therefore, if you feel discomfort in these areas, I advise you to lay on the pillow for a certain period of time. It will reduce the pain.

---
PROS:
The pillow is made from the cotton;
It is very soft, supports the belly, and reduces the back pain;
The cushion can be used as a baby nest too;
Invisible zipper to remove the cover safely.
CONS:
The brand is not very popular;
It is a very popular item, so the pillow gets sold out fast.
---
Buyer's Guide and FAQ Section: What You Need to Know Before Buying the Pregnancy Pillow
As I wrote in the introduction section, apart from the rank of the best pillows for pregnant ladies, I also provide the guide where you can find the answers to the most popular questions in this field. So, after reading the Buyer's Guide, you will know:
The difference between traditional body pillow and pillow for pregnant mom;
The types of pregnancy pillows and how to choose the one that perfectly suits you;
What are the main rules of using the pregnancy cushion;
When you need to think about purchasing a pregnancy pillow.
Pregnancy Pillow vs Body Pillow
First of all, pregnancy pillows are designed to adapt to your new body shape. If you look closer at the maternity cushion, you, probably, will notice that it doesn't have a square, instead, it has lots of curves and contours. It is made to get you the most comfortable support for your belly, neck, or legs. Almost all pregnant women suffer from back pain. Body pillows for pregnant women help you to relieve this pain and improve blood circulation.
The second difference between the traditional pillows and cushion for pregnant women is the materials they are made from. The manufacturers of the last pillows worry more about the fiber, as it must be safe for kids and does not cause allergies. Buying the pillow designed especially for pregnant women, you can be sure that it is made of the 100% nature fiber.
Finally, the body pillows for pregnant women are much more comfortable. It is due to the shape, the materials, and other design tricks.
Types of Pregnancy Pillows
Knowing the differences between the traditional cushions and pillows for pregnant women is only half of the battle. It is also important to know the pillow types to make the right choice. There are four main types: C-shaped, U-shaped, wedge, and foam pillows. Let's look at each type closer.
The C-shaped and U-shaped pillows are long and support all your body. The main difference is that the first cushion type is designed to sleep on only one side while U-shaped (or Back 'N Belly) pads cover you from all body sides and support the back. The wedge pregnancy pillow is a great choice when you are on a budget. It has a compact design so you can take it on a trip.
The foam pillows, usually, measure about 60 inches in length. Unlike C-shaped and U-shaped cushions, these pillows do not have the curves.
What Factors Should You Consider When Choosing a Pregnancy Pillow?
I recommend you to take into account the following factors:
The materials the pillows are made from: choose only the natural fabric;
The size of your bed: do not forget that the vast majority of pregnancy pillows are large;
Your body size.
How to Use a Pregnancy Pillow?
Body pillow during pregnancy has some rules you need to know before using it. If you stick to them, you will get the maximum effect from their use.
If you sleep primary on one side only and do not move a lot, then buy the full-length pregnancy pillow. You should place it onto your bed and wrap the hands around it.
If you buy a U-shape long pregnancy pillow, then place it on the bed and spread your weight so you can easily climb the pillow.
The C-shaped pillows should be placed on the one side only. Hug it. If you want to turn on the other side, then you should change the pillow's position too.
The wedge pillows should be placed under the area where you feel discomfort or even pain.
When to Buy Pregnancy Pillows?
There are four main indicators when you should think about purchasing the best pregnancy body pillow:
You use multiple pillows to support your body;
You experience body pain;
You want to sleep as used to before the pregnancy: on the right or left side;
You suffer from some medical conditions – for example, Sciatica.
If you noticed at least one factor, then my recommendation is to start looking for the pregnancy pillow. By the way, as I have repeated many times, you can use it even after the pregnancy as the vast majority of pregnancy pillows are multi-use.
How Does Pregnancy Pillow Help With Back Pain?
During pregnancy, many women suffer from back pain. This happens due to the additional weight. Pillows for pregnant women are specifically designed to support your body parts, such as the belly, back, legs, hips, and so on. Due to this, blood circulation is improving, and the pain will disappear soon. But to achieve the best result, you should lay on the pillows several times per day.
The Last Words Before Purchasing
It was quite a long guide about the best pregnancy pillows. I hope that you find the information useful, and it will help you to make the right choice. To sum up:
You should buy the pregnancy pillow if you experience pain – use cushions to support your body parts in order to sleep as good and comfy as used to before pregnancy. There are four main pregnancy pillows types: full-length, U-shaped, C-shaped, and wedge cushions;
After giving birth to your child you can still use this pillow for other purposes, for example, you can lay the infant down on it;
Take into account your body features, bed size, and the materials the pillow is made from before purchasing one.
The last recommendation is – if you have some doubts and do not know whether you want or to buy a particular cushion or not, you can always read the pregnancy pillow reviews written by other customers. Have you ever used the pregnancy cushion? If so, what was the reason that made you buy it? Share your answers in the comments below.
Last update on 2022-12-01 / Affiliate links / Images from Amazon Product Advertising API