Twin pregnancies are usually trickier compared to regular ones. If you're a future mom of twins, multiple (failed) attempts to get comfy while resting can be downright frustrating.
No worries, I've got you covered. In this post, you will get the possibility to choose the best body pillow for twin pregnancy without even leaving the comfort of your room.
Below, you will find my pregnancy pillow reviews from some of the most trusted brands. I will cover their pros and cons, as well as their general characteristics. Keep reading and enjoy the freedom of choosing the item you really need.
Top 7 Best Body Pillows for Twin Pregnancy
It may sound surprising, but pregnancy cushions come in an array of sizes, shapes, and colors. Ready to finally get your good night's rest back? Read my twin pregnancy pillow reviews below, grab the right body pillow for you, and make the most of some expert tips on how to shop for and use a high-quality maternity pillow.
INSEN: Best C-Shaped Body Pillow for Twin Pregnancy
You will enjoy taking a nap on this wonderful, soft 'cuddler' on your bed, couch, and even on the floor. The pillow can be used in so many different ways. If you're experiencing back pain during pregnancy, the thing will bring the long-awaited relief. The pillow gives your back and belly all the needed support!
As a matter of fact, this wonderful product is great for anyone who's struggling to get a comfy night's sleep. There is no need to line your bed with tons of pillows and constantly feel them getting away as you lean against them. With INSEN, you get the support you crave, everywhere.
This highly versatile pillow is so comfortable, it's even going to make you sleep through your alarms from time to time. Furthermore, your spouse may think that you're married to your pillow now, while your doggy may decide that the pillow is his, and you're going to need to purchase another pillow.
With all that said, INSEN might turn out to be the greatest investment ever. By the way, this pillow will be a huge help when the babies are born — particularly during those late-night feedings. At the end of the day, this pillow is a great buy even if you're not (twin) pregnant.
PROS:
Velvety-soft-yet-firm and comfy;
Incredibly versatile: both for pregnancy and nursing. Your pet (and kids) will love it, too;
No bad odors or chemical smells;
Great for post-surgery support;
Reasonably priced.
CONS:
The middle may seem less stuffed than the ends, but you can easily fluff it up.
PharMeDoc: Best U-Shaped Twin Pregnancy Pillow
Are you browsing tons of twin pregnancy cushions in search of the perfect one for you? Take a look at PharMeDoc pregnancy pillow  , for it may seriously tickle your fancy. This multi-option, all-around comfy supporter, is a twin pregnancy must-have. It excels at providing you with maximum back, hip, and belly support, while effectively aiding you in relieving pressure.
The full, thick, and soft, comfy hugger keeps its shape perfectly and saves you from tossing and turning at night. You can unzip the jersey cotton cover and wash it whenever necessary. The cover is stretchy, so putting it back on afterwards is a cakewalk. And it's so soft, you'll love it. Bear in mind that this pillow gradually fluffs up after you take it out of the box. So don't let the first impression of it seeming non-supportive fool ya.
To cut a long story short, if you're pregnant with twins, this outstanding pillow might be your best bet. In fact, even if you're not pregnant (or not even a woman), the item has chances of becoming your favorite thing in the house. It alleviates lower back pain like a champ.
PROS:
Instantly soothes some of the most common discomforts during pregnancy;
Doesn't look, smell, or feel cheap;
Won't engulf your whole bed;
Comfy and just soft enough;
Comes with a handy bag for storage and/or traveling.
CONS:
May seem a bit short, especially if you like to stretch out.
AngQi: Best L-Shaped Pregnancy Pillow for Twins
Whether you're a mom-to-be or postpartum, this pillow might become a game-changer for you. The pillow was created to reduce pregnancy-related aches and discomforts, helping side sleepers get the good night's rest they deserve. It supports your aching body parts like a champ and is such a pleasure to cuddle.
You can utilize the thing in a variety of positions and still feel exceptionally comfy. The filling is non-noisy, while the inner cover is delicate yet durable. The outer case is soft velvet, which is a breeze to take off, machine-wash, and put back on. On an additional plus side, you can adjust this L-shaped twin pregnancy pillow exactly how you need it each night.
Need a giant pregnancy pillow to support your back, belly, shoulders, and knees? Consider you've found one. With this giant honey, you won't have to use a pile of regular pillows to prop you up.
AngQi will give you all the comfort you require, without taking up too much space on your bed or couch. And the price is very appealing, too.
PROS:
Comfortably soft and supportive;
Holds its shape very well;
Makes resting with neck or back pain easier;
Affordably priced;
Not just for expecting moms.
CONS:
Hugging the thing all night can get pretty hot, but that's not a deal-breaker.
AS AWESLING: Good Pregnancy Pillow Overall
If you're a mom-to-be who wakes up at night every hour trying to find a comfortable position — and then wakes up in the morning feeling sore either on your lower back or legs, take a look at this wonderful, highly customizable item.
This complete maternity pillow set consists of 4 separate pillows (3 of which can be zipped together). Feel free to configure the thing in any way you want or just use the pieces separately. Irrespective of the trimester you're in, this hug-you-all-night-long pillow might be just what the doctor ordered. As a matter of fact, your husband and your pets will love the pillow, too.
With an array of side options and the possibility to attach/detach the parts (as well as add/take out some of the filling from the main piece to suit your needs), this holy grail of body pillows is supreme for pregnancy, nursing, and various other purposes. It holds its shape brilliantly, and the size is just the ticket. And it's going to retain its soft texture even after going through multiple washes. Such a game-changer!
PROS:
Provides soft cushioning and comfy support;
It's great for adults of all ages and sizes;
Comes with a small belly pillow for maximum comfort;
Washes extremely well;
Perfect gift for expecting moms.
CONS:
A bit on the bulky side, but that's not a deal-breaker.
Chilling Home Pregnancy Pillow: Zzzing on a Cloud
This highly supportive pillow is a terrific balance of softness and firmness. Its convenient shape gives you the possibility to get comfy, as well as feel cradled and supported in any position you choose. The pillow will hold your bump up perfectly when you shift from one side to the other while in the arms of Morpheus. And the cover is a breeze to put on and washes so nicely.
Want the pillow to be slightly softer (or firmer)? Take out (or insert) as much stuffing as you prefer, and you will get that perfect cuddling buddy you've always wanted. I know you probably have a hubby for cuddling, but chances are he will love that cuddling buddy just as much as you (and your twin pregnant belly) do.
The bigger you get, the harder it is to get comfy and cozy due to the constant soreness — but it's only natural. Therefore, if you get this pillow, you will most likely stop tossing and turning, and will finally sleep well at night. Overall, this pregnant belly support pillow is awesome for comfy rest while pregnant with twins. It will definitely add up to your deeper, sounder sleep.
PROS:
Moderately soft and 100% comfy;
The wash-and-put-back-on cover is a breeze to use;
Perfect size for a twin mommy-to-be;
Excellent choice for post-surgery relaxation;
Neutral, beautiful color.
CONS:
May seem on the flat side, but fluffing it up is as easy as ABC.
Meiz Big Pregnancy Pillow: Life Saver!
Seeking some huggable relief from a variety of twin pregnancy-related aches? This hugging honey might be your best choice. The thing snuggles your whole body the natural way, giving you that heavenly feeling of comfort and relief. Feel free to fluff the thing up or down whenever you're up for giving it the new contour or planning a shift of position.
Filled with premium-quality (100% odorless) polyester stuffing, the Meiz body pillow boasts top-notch fluffiness, performance, and longevity. What you'll also love about this pillow is that it's just soft enough, and it won't make you overheat. The thing will make a great Christmas gift for that special side, back, or tummy sleepy head in your life.
This wonderful U-shaped body pillow is a must-buy for future moms of twins, as well as for adult people of all ages who've had surgeries or continually suffer from all possible discomforts. Meiz is also great for sitting upright in bed reading or watching TV. This honey is definitely among the best inventions in the pregnancy pillow realm.
PROS:
Neither loose nor wobbly: just firm enough;
Relieves hip discomfort and prevents back pain during twin pregnancy;
Comfortably soft microfiber cover and stuffing: excellent for sensitive skin;
Great item for comfy reading and watching TV;
Top-of-the-line customer service.
CONS:
May take up a generous portion of your major sleeping space;
May take a few days to fluff up.
Leachco Snoogle Total Body Pillow: Investment Worth Every Dollar
If you're on the hunt for a superb twin pregnancy pillow, this honey might fit you like a glove. This item is easily customizable. You can curve it, adapting the pillow more or less to your liking. Leachco pillow is a game-changer for zzzing while preggers.
And you will enjoy utilizing it for nursing long after the baby is born. Just keep in mind that your husband may hate the thing, for the pillow may end up becoming your best buddy every night.
Actually, if you're a future daddy who's looking for a Christmas gift for your pregnant wife, believe me, you better get your wife this pillow.
Snoogle is the perfect solution for sleepless nights, swelling, back pain, as well as waking up every two hours at night just to prop up at least 10 smaller pillows in the make-your-pregnant-wifey-comfy configuration… Seriously, if you want all this to feel a lot less stressful, opt for this item. This body pillow for twin pregnancy is not the cheapest on the scene, that's a fact. However, it's a one-stop-shop for all moms- and dads-to-be.
PROS:
Relieves discomfort and helps you relax;
Comfy and effectively supportive;
Stays 'in shape' throughout your whole pregnancy;
Can be utilized as a fine nursing aid;
Best pregnancy-related purchase.
CONS:
Doesn't come with an extra pillowcase;
A bit on the expensive side, but worth the money.
Tips on Laying Your Bump on the Best Pregnancy Pillow for Twins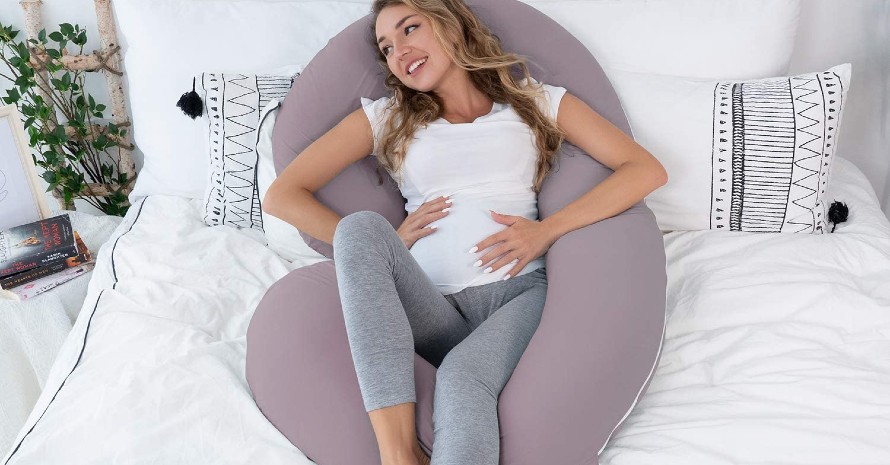 Your two buns in the oven come with very few safe night's rest positions — and some additional pressure for those few positions that are still available. If you're a stomach or back sleeping lover, alas, you're going to have to convert into side sleepers during your twin pregnancy. To ease the process (along with your twin pregnancy pains), you're going to need a high-quality twin pregnancy pillow.
Here are the main criteria according to which you can grab the best body pillow to cater to your needs:
Size: as you've already figured out, twin pregnancy pillows come in an array of sizes. If you have a king bed and are ready to sacrifice a considerable amount of space, feel free to purchase a big U-shaped body-size friend;
Shape: the best shape for your twin pregnancy pillow is determined by your most sensitive discomfort zones; for instance, if you want more support for your bumpy tummy, opt for a pillow with a dip for cradling; or, if you're into switching the side as you rest, stick with a smart U-shaped cuddling buddy;
Material: cotton covers are more breathable, while polyester covers are soft and cozy. When in search of the perfect body pillow material, look for quality stitching and fabric that's nice to touch.
What Type of Pillow Do I Need for Twin Pregnancy?
If you're a future mommy of twins, you're struggling to get comfy, that's a given. Therefore, a reliable C-, U-, or L-shaped pillow might be your best bet. These honeys hug your whole body, taking care of your most vulnerable body parts and discomfort zones.
Avoid opting for an excessively soft body pillow. Just the right amount of firmness (or the perfect combo of firm and soft) is what you need. Furthermore, a maternity 'hugging buddy' with a nice stretchy cover you can take off, wash, and then put back on is the best option, particularly if you're prone to sweating throughout the night.
Maternity Cushions: Answering Your FAQ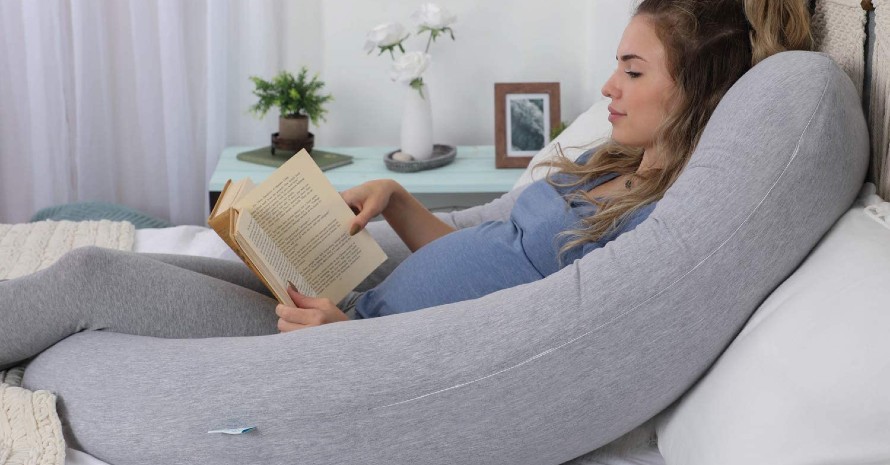 Have questions left about body pillows for twin pregnancy? Browse through the answers to my readers' most frequently asked questions below and enjoy learning all there is to know on the topic.
Feel free to ask your questions in the comment box below. I'll get back to you with answers as soon as possible.
When should you start using a pregnancy pillow?
Since there's no strict time frame according to which you should begin using your padded cuddler, you can choose your own timing based on your level of pregnancy-related discomfort. As your twin pregnant bump starts to show and your weight increases, consider getting yourself this supportive (preferably U-shaped) life-saver.
Do pregnancy pillows really help?
Yes, they do. But only if you manage to stick with the best pillow type for your situation. So, if you struggle to find a comfortable position at night and feel that putting a regular pillow (or five) under your pregnant (and aching) body is just not enough, get a good twin pregnancy pillow ASAP.
How do you sleep with a pregnancy pillow?
If you're a side sleeping enthusiast, stick with a fine U-shaped body pillow. With regard to the C-shaped pillow, feel free to wrap it around your back — or your front, for better bump support.
While you can adapt your maternity cushion to prop your body parts the comfiest way, your main focus should, naturally, be on bump support and the possibility to wrap your legs around the pad.
Why do you put a pillow between your legs when pregnant?
Whether you're preggers or not, positioning a pillow between your legs comes with some vital benefits. First, it facilitates blood circulation. Second, it eliminates excessive pressure. And it's great for people (read as future mommies) who experience lower back pain.
The Highest Rated Pregnancy Pillow in Your Rating System
As future moms, we don't always put our comfort first. Therefore, many expecting families often put baby needs over maternity needs. But you should ultimately come to realize that the latter makes a universe of a difference. Naturally, even your best padded-and-huggy friend won't save you from twin pregnancy complications.
However, finally catching some soothing Zzzs while you're pregnant is paramount for your health, and i.e., for your baby. So don't forget to get yourself a fine and comfy supporter before your bump is too big to get up. Have anything to add on the topic? Make the most of the comment section below. Your opinion is very important to me.
Last update on 2023-10-02 / Affiliate links / Images from Amazon Product Advertising API