During pregnancy, it may be complicated to find a position that brings you a feeling of comfort. Especially when you're sleeping. It is not that simple, even for people without a baby in their belly.
However, the best pregnancy pillow for a small bed may change this situation.
The cushions may differ in shape, size, and material – there're many convenient and durable models. So, today I want you to take a look at the top products on the market for now. A simple design but premium materials and accurate work make them worth your money or, at least, your attention.
Top 8 Best Pregnancy Pillow for Small Bed
Here are the pregnancy pillow reviews with all advantages and disadvantages. Choose the one that suits you the most.
Bamibi Nursing Pillow and Positioner – Best Multi-Use Pregnancy Pillow for Small Bed
You will find this pillow helpful during your pregnancy, and even after the baby's birth. It gives you the feeling you need the most in this period – the sense of comfort. The pillow lifts your belly to the relaxed positing. When you sleep, it will reduce back pain that is a common complaint in pregnancy.
Another way to use the pillow is to put it behind your back when you're sitting, reading, or watching TV. It is flexible and adapts to your body shape. Such a design allows the arms to relax and the spine to reach the right position. It is a significant feature to help you feel better during pregnancy and save your energy for everyday life.
The Bamibi cushion is perfect for breastfeeding. It is breathable and durable because it is made of premium polyester filling and cotton covers. They won't harm the baby's skin. Despite, your kid won't feel the difference between this pillow and mother's body warmth. By the way, you can remove the cover and put it in the machine.
PROS:
Soft and nice thanks to the premium materials;
Reduces arms and back pain;
You may use it for any purpose;
Machine washable.
CONS:
Larger than other models.
OCCObaby Pregnancy Pillow – Top Rated Pregnancy Pillow with Double Design
A pillow with a supportive foam for your belly is a good tool, but the cushion that combines two diverse materials is a great option. This OCCObaby product has two sections. On one side, there is soft memory foam, and on the other side – a firmer foam for different support levels.
Some pillows collect a lot of dust and can warm you too much. Thanks to the micro-holes, this product has air ventilation. It not only reduces the number of dust mites but also gives you a cool feeling during the day and night. Pillow's size is suitable for many cases. You may put it under your knees, belly, or behind back – it will help you to cope with various pain and swelling in arms and legs.
Although the cushion will absorb less dust, different situations happen, and the pillow may become dirty. It's not an issue at all. You just need to take off the cover and put it in the washing machine at the low temperature. It is made of durable fabric, so it hardly gets damaged. By the way, there is also a travel bag, so you can take a pillow with you while traveling in a car or plane.
PROS:
Has two diverse materials inside;
Reduces pain and swelling;
Easy to transport;
The cover is machine washable.
CONS:
Doesn't suit the baby feeding process.
Boppy Side Sleeper Pregnancy Pillow – Maternity Sleeping Pillow for Back Sleepers
I know how difficult it can be during pregnancy for the women who like sleeping on the back. With a big belly, such a position becomes a bad idea. However, the Boppy manufacturer offers a solution. Its two connected pregnancy back pillows support the belly and back at the same time while you're side sleeping.
This cushion is a multi-use product. It allows you to rest not only when you're sleeping but also when you sit or lounge. By the way, it is a great growing baby nest. Thanks to its small size, you can take the item for traveling, and it suits a small bed or chair.
You should not be afraid about the allergic reactions that some pillows may cause – this model is filled with the natural fiber. It lasts for several years with the right supervision. And it's quite easy to take care of this cushion because the cover and two pillows are machine-washable. The product is lightweight and soft, so it brings only relaxation without any discomfort.
PROS:
Perfect for back and side sleepers;
A multi-use pillow;
Made of natural fabric;
Durable;
Easy-to-clean.
CONS:
Not a full-body size;
Not for breastfeeding.
Aifusi Pregnancy Pillow – Supportive Small Pregnancy Pillow
If you're looking for a pillow with a nice design, Aifusi has created the one that combines beauty and comfortability. Actually, it is two connected cushions. Such a construction provides perfect support for your back and the baby – it will reduce pain and discomfort during sleeping.
During pregnancy, not only your back but your legs also experience stress a lot. So, you may put this pillow under your feet to allow them to rest or to cope with swelling. Also, if you like reading in bed, this pillow can make this process more pleasant. It is suitable for small sofas and traveling.
You may think that the space between the two pillows will be too small at some point because the belly is growing all the time. But Aifusi has found an excellent solution. They added a stretch panel that allows elongating the interval between the cushions. The item is vacuum packed to keep it safe from damage. You just need to tap on it, and the pillow will return to the standard look.
PROS:
Nice design;
Reduces back, legs, and feet ache;
Has a stretch panel;
Perfect for sleeping and sitting.
CONS:
Boppy Pregnancy Support Pillow – Small Maternity Pillow for Side Sleepers
This pillow has an ideal size – it is compact but large enough to let your belly rest at any gestational age. While you're sleeping, you can lay in two positions. You may support your back and legs – or your baby bump and feet. In both cases, the pillow will reduce the swelling or make your body more relaxed.
Besides, the pillow can also help your head and neck to relax. In a short word, it is a lifesaver for the side sleepers. An item works perfectly while you're reading, watching TV, or just having free time lounging. By the way, its size allows easy breastfeeding. Your baby can also rest calmly in the comfortable nest made of this cushion.
The bigger a pillow is, the more dust it can collect. That's why you need to clean it at least once at two months. If you put the cushion into the machine, it may lose its shape and won't give you the needed support. However, if you wash the cover, it will be more than enough. Boppy has made an easy zip on and off pillowcase to simplify the cleaning.
PROS:
A medium-size pillow;
Allows various sleeping positions;
Supports back, belly, legs, and head;
Easy-to-clean.
CONS:
You can take it for traveling.
Boppy Pregnancy Wedge – Compact Pregnancy Comfort Pillow
If you need a small pillow that reduces the back pain and legs swelling, a Boppy maternity wedge is a model that has these characteristics. Its design is simple but works perfectly. The cushion is made of the fabric that provides softness but is firm enough to give you the wanted support. The best way is to use it for the back, knees, and belly.
Even women with babies may travel – and the Boppy pillow can make this process easier. This item is small and lightweight. It is perfect for long car journeys or inconvenient plane voyages. The ultra-soft jersey slipcover provides better relaxation. By the way, you can remove it easily and put it into the washing machine. But apply only the delicate cycle and low temperature.
This pillow is suitable not only for traveling but also for sleeping. You are able to support your legs, feet, belly, or back – try different positions and choose the most comfortable for you. It is also ideal for sitting. Especially if you work during the day on the chair without moving, the pillow will protect you from backache.
PROS:
Small size;
Ideal for traveling;
Has an ultra-soft removable cover;
Reduces backache.
CONS:
PharMeDoc Pregnancy Pillow – C Shaped Pregnancy Pillow for the Entire Body
Most large pillows are not suitable for traveling. However, PharMeDoc decided to change this stereotype. This item is lightweight, so you can transport it in the bag easily. You may take it to rest in the park or to have a picnic – a great way to rest outdoors. The pillow also makes your sleep much better.
Pharmedoc cushion increases your well-being because it supports your entire body. So, it copes with the pains anywhere you feel it. You will see the result after the week of usage. Thanks to the adjustable polyfill materials, the pillow wears out slowly and can give you the needed support not only during pregnancy but years after.
PROS:
Supports the entire body;
Copes with any pain type;
Perfect for traveling;
Durable.
CONS:
Hiccapop Pregnancy Pillow – Pregnancy Back Support Pillow with Soft and Firm Foam
Sometimes, you need reliable support, and in other cases, you need comfort and softness – this pillow can combine both. On the one side, it has a soft foam that allows your body to rest. The firm part can reduce pain quickly. You can change the purpose of the pillow just by turning it on the other side.
You don't need to wash the cushion often because it has airflow ventilation. Such a design protects the item from dust. Also, it keeps the pillow cooler. This feature increases your sleep quality and allows you to fall asleep quicker. By the way, if you want to wash the pillow, you can remove the cover and put it in the machine.
Hiccapop cushion is a great addition to your small bed because it doesn't take up too much space. But it could make a big difference during your pregnancy. Also, it has a bag which you can use for traveling. The design of the pillow is convenient because it doesn't warm you as much as large pillows can.
PROS:
Increases the sleep quality;
Has airflow ventilation;
Machine washable cover;
Good for traveling.
CONS:
How to Choose the Best Pregnancy Pillow for Small Bed
On the first side, choosing a pillow doesn't seem to be difficult. But some professional recommendations may come in useful.
Things to consider before buying pregnancy pillow for small bed
When you're purchasing for the pillow online, it's complicated to understand whether it suits you or not. So here are the main characteristics you need to take into account.
Pillow size
If you have a small bed, the best pillow size starts from the fifteen inches and ends near the fifty inches. The second one could even be too large. So, you need to know how big your bed is and choose the cushion model that won't take too much space.
Material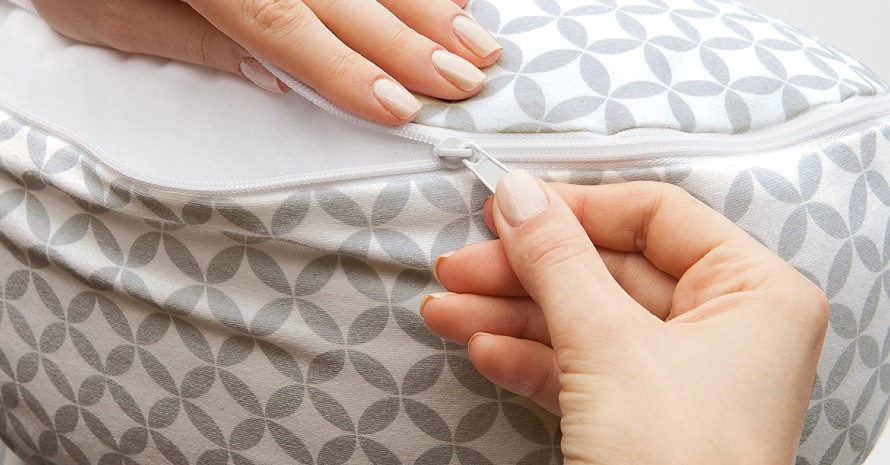 When you're pregnant, your body may react specifically to some materials. That's why you should choose the pillows that are made only of natural fabrics. They cause allergies less often. Also, when your baby is born, you will be able to use the cushion for breastfeeding calmly. Cotton and eco-friendly polyester are the most popular materials among high-quality pillows.
Shape
Your shape choice should depend on your needs. C-shaped pillows are better to support your belly and back. The doubled cushions are perfect for the legs and head. In all cases, the pregnancy pillow will reduce your stress – it is significant because the stress worsens the effects of toxic chemicals in pregnant women. Just one pillow can give you the needed rest.
How to use small pregnancy pillows?
Small maternity pillows are applied in many cases. If you have bought the pregnancy pillow, I recommend you to sleep with it every night. The quality of your sleep affects your and your baby's health. You may change the positions according to your feelings in the evening. You need to understand where your body requires support right now – on your back, legs, or head. Also, you can use it while sitting or lounging.
Pick up the Right Pillow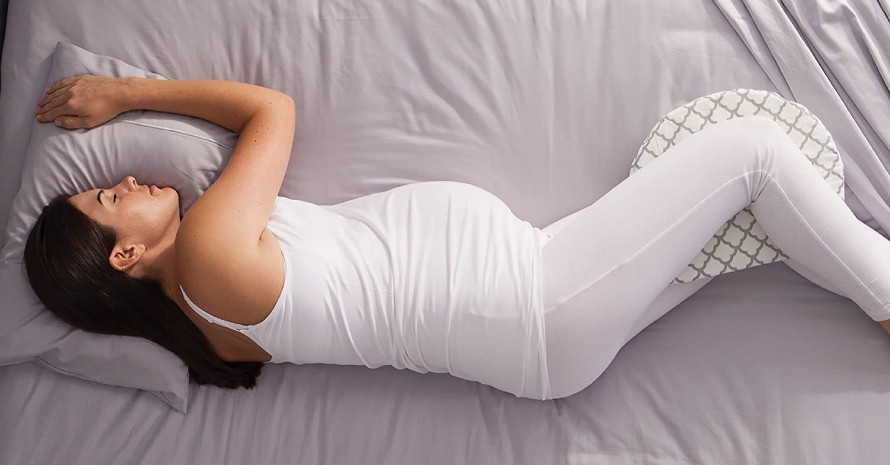 People usually underestimate the benefits of pregnancy pillows. However, they may be a lifesaver for many women.
Do I need a pregnancy pillow?
Such cushions are usually made to allow your body to rest during the day and night. When you carry a small life inside you, the muscles get tired much faster. The pillow is the quickest way to reduce the pain. Also, it is so awesome that you will use it after the pregnancy for sure.
What type of support can a pregnancy pillow provide?
Most maternity pillows support the whole body. So, it can be under your belly as well as for legs, back, or even head. The cushion for a small bed usually supports only one or two body parts. Your sleeping will become much better with such a pillow. Thanks to this, you will be more active during the day.
How do I pick the right pillow shape?
The pillow shape depends on your needs and preferences. If you're a back sleeper, two connected cushions will be the best choice for you. C-shaped items are for the side sleepers. In case you want to support the whole body during sleeping, you should choose bigger pillows. The fifteen inches product will be enough to reduce the pain in the back or legs.
Make Your Pregnancy Comfortable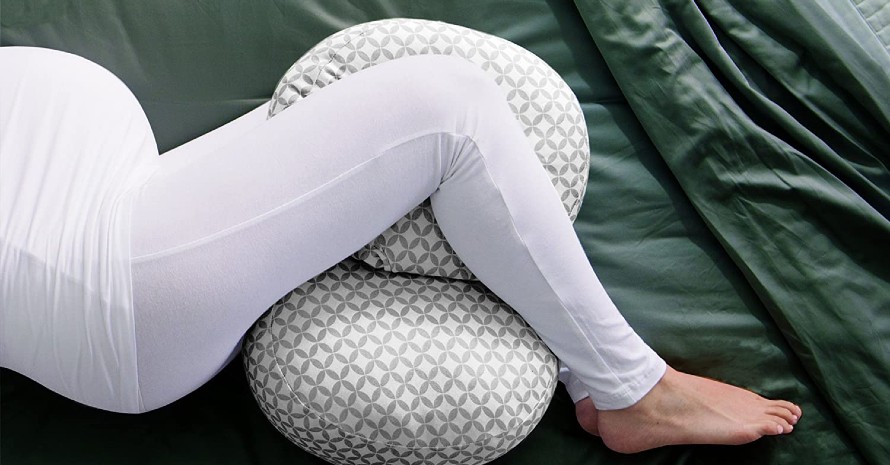 When you take care of your health, you protect your baby. You may be surprised, but one small pillow can make a huge difference in your well-being. But you need to choose the right option. Most products I have described are recommended by the specialists because of their high-quality. I think you may find a suitable cushion among them.
Don't forget to read the description carefully and choose only natural materials. Have you ever used a pregnancy pillow? Or you want to try it for the first time? Please, share your comments in the section below.
Last update on 2023-12-02 / Affiliate links / Images from Amazon Product Advertising API