Not every pillow has healing abilities which are vital when you are pregnant. It is hard to find the best pregnancy pillow for pelvic pain among multiple offers on the market. Even though the pregnancy period is a joyful and special time, insomnia and pain in your pelvis, back, hips, and head can ruin everything. Instead of concentrating on your baby, you quickly feel discomfort and lack of energy. This is why the proper pelvic pillow is a must-have. It lessens the pressure of your growing belly on other parts of your body and helps you to sleep comfortably every night.
Top 7 Best Pregnancy Pillow for Pelvic Pain
I've made these pregnancy pillows reviews specifically for moms-to-be. All these cushions were checked and tried by me, my friends, or clients. They are all best-selling products around the country and abroad, so I hope you may find my recommendations useful.
1. INSEN Pregnancy Pillow – C-Shaped Full Length Pregnancy Pillow
The most comfortable pregnancy pillow should grant you peaceful sleep during the night and remove the pressure on the pelvis. Due to this 100 percent natural and smooth jersey cover, you may relax your body. The cotton fabric provides you with a feeling of freshness since it is not overheating like velvet. Its length is 58 inches, which is great even for tall women to press their whole body inside the C-shape.
Press your head to the upper corner of the pillow and place the bottom of it between your knees. You can hug the pillow with your hands if you want to, so it will not slide anywhere. The height of the pillow is 7.8 inches, so your legs will be slightly lifted, which lessens the pressure on the pelvis. The whole product weighs only 6 pounds. INSEN company offers this bestselling cushion with a warranty. You can easily transform this product into the comfy chair whenever you want to lift your spine. Besides, the cover on the pillow is washable in the washing machine. I recommend you to use gentle washing modes to extend the lifespan of this pillow.
PROS:
Comfortable C-shape;
Can be transformed into the chair;
Washable cotton cover;
Affordable price;
Suitable for the tall women.
CONS:
There is only one cover in the package.
2. NATUMAX Knee Pillow – Firm Pregnancy Pillow for Your Knees and Pelvis
This pillow was designed specifically to bring instant relief to the tired back, hips, and knees. It takes care of pelvic pains, lowering the whole tension that your body experiences during the pregnancy. However, this is not just a pregnancy pillow, and everyone who loves to sleep on the side and faces a problem with tired legs and back can order it. I use this pillow mainly because I love the firmness of the memory foam inside and the fixing band that keeps it still while I am sleeping.
The length of the pillow is 9.45 inches, and the height is 6.5 inches, which makes it impossible to lay your head on it. However, it is wide enough to put both legs on it if you need. It restores blood circulation, healing the tired body. The memory foam is covered with two layers of fabric. The cover is washable in the washing machine. To take care of the latter, simply unzip it and put the cover in the machine. In the pack, you receive a sleep mask and earplugs, apart from the pillow with the cover.
PROS:
Lightweight and compact;
Leg strap is attached;
Firm memory foam inside;
Washable cover;
Affordable price.
CONS:
This pillow is not intended for the head or the whole body.
3. Leachco Snoogle Total Body Pillow – Lightweight Pregnant Support Pillow
Among all pregnancy cushions on the list, this one probably has the most extraordinary shape. It is neither a perfect C, nor L, or I, but something in-between. The form is perfect for side sleepers. This particular pillow is represented only in one pale gray color. It weighs even less than a pound (0.9 pounds) and is incredibly pleasant to hug and carry around. The length of the item is 60 inches, which is good news for tall women who want to spread their arms and legs around. The width is 7 inches, and the height is 25 inches.
If you want a replacement cover, you can also order it from Leachco company. The original pillow does not have a zipper, so you need to buy the removable and washable case. This item can be easily transformed from a pillow to a chair. You can fold edges down or up if you need them. Snoogle pillows are on demand nowadays, as many women and men who experience problems with back or pelvic pain order them for themselves. I recommend this item to my fellows who suffer from insomnia. However, I also advise ordering additional pillowcases together with this product.
PROS:
Unique shape;
Great for tall people too;
Lightweight;
Natural fabric cover;
Can be transformed into a chair.
CONS:
It is pricier compared to similar pillows.
4. AS Awesling Full Body Pillow – U-Shaped Pelvic Support Pillow
This pillow does not have any specific validity period. It can be used during the whole pregnancy time or anytime you want. It is a full-length body pillow made in U-shape, so you can comfortably place your back and belly on it, lessening the pressure and pain. It holds your whole body, offering back, ankle, pelvis, and belly support. Besides, there is an extra pillow of small size attached to it, so you may fix your position properly. The cover is made of hypoallergenic velvet. It is washable in the washing machine after you unzip the cover.
The length of this pillow is 60 inches, and you can easily press it between your ankles. The product can easily be transformed into any shape you like. Besides, the small 45 angle cushion grants you extra comfort. Soft velvet is pleasant for your skin, and there are double stitches to keep it from getting flat. The pillow can be unzipped, and you may add more filling inside or remove it if you want. I personally like the possibility to disassemble one big pillow into 4 smaller parts.
PROS:
The pillow disassembles in 4;
Pleasant velvet cover;
Extra stitching;
Washable cover;
Affordable price.
CONS:
Velvet cover may be warm during the summer.
5. ComfiLife Orthopedic Knee Pillow – Pregnancy Comfort Pillow with Memory Foam
The pillow restores the healthy blood circulation in your body. It is not for your head but for hips and knees. The filling of the pillow is a memory foam, which is quite dense and does not lose its shape for many years. There is a special gap inside the pillow where you can easily place your legs. It weighs only 0.5 pounds. The pillow comes with a washable and durable case of white color and breathable fabric.
ComfiLife offers a lifetime warranty. It produces bestselling ergonomic pillows and is well-known in the USA and around the world. This pillow is 6.3 inches high, and 9.8 inches long. I use it to lessen the pressure on my knees and pelvis after a working day. The pillow will be a perfect gift to people who suffer from chronic pains in their legs as well.
PROS:
High-quality memory foam;
Breathable and washable fabric;
Affordable price;
Lifetime warranty;
Ergonomic design.
CONS:
This pillow is not good for your head, as it is made for knees.
6. Abco Tech Memory Foam Knee Pillow – Memory Foam Pregnancy Body Pillow for Knees
The pillow is stuffed with memory foam and cooling gel which helps you to sleep peacefully and healthily. This is a small but comfortable pillow for SPD (symphysis pubis dysfunction). It is totally hypoallergenic as well, so nothing will distract you from the rest you need. The shape of the pillow allows you to set your legs in a perfect position without losing it during the night. Press it between your legs to get rid of the ankle, hip, knee, or pelvic pain. You can sleep on your side or back; take all the comfort for your position.
Abco Tech is a leader on the market of ergonomic pillows. Yet, I have to warn you that this pillow is meant for your lower part, not for the head. It is 5.9 inches high, and 8.2 inches wide. If you want a pillow for your head, you can pick one among other products of this company. The pillow is covered with a washable white case. Since you will use it a lot, I recommend you clean it at least once a week. My favorite feature of the pillow is a durable feeling of freshness, thanks to the cooling gel inside of it.
PROS:
Perfect for pelvis, knees, and ankles;
Firm smart memory foam;
Cooling gel inside;
High quality of the pillow;
Affordable price.
CONS:
This pillow is not meant for your head.
7. PharMeDoc Pregnancy Pillow – Helpful U-Shape Pelvic Pain Cushion
The cushion comes with a travel bag in a pack, and it is really perfect for traveling. You may take it with you to relax anywhere you go and use this gigantic but comfy item as your bed, chair, table. The cover is made of pleasant-to-touch cotton that is soothing during the warm summer nights. It easily supports your whole body, from the head to the ankles. The U-shape provides you with the extra support for the back, lessening the pressure on your pelvis.
It is 53 inches long, 7 inches high, and 31 inches wide. The pillow is also lightweight, and a pregnant woman can easily carry it around. This is a top full body pillow for everyone who suffers from body pain. PharMeDoc company offers the warranty and total refund if you find any faults. Besides, they suggest this pillow not only for pregnant women but for men and the elderly who recover from surgery or have chronic pains. I recommend this pillow to anyone who has insomnia. The cover is entirely washable. Unzip it and wash at least once a week to keep the pillow fresh. Don't worry; the material is quite durable.
PROS:
U-shaped pillow;
Pleasant-to-touch cotton cover;
Lightweight;
Lifetime warranty;
Affordable price.
CONS:
There is only one pillow case in a package.
The pregnancy period is a stressful time for any woman. Besides, constant pain in the back and pelvis from a growing belly does not make it easier. This is when a pregnancy pillow comes up as a lifesaver. It lessens the pain and brings you desirable sleep during the night.
Pelvic girdle pain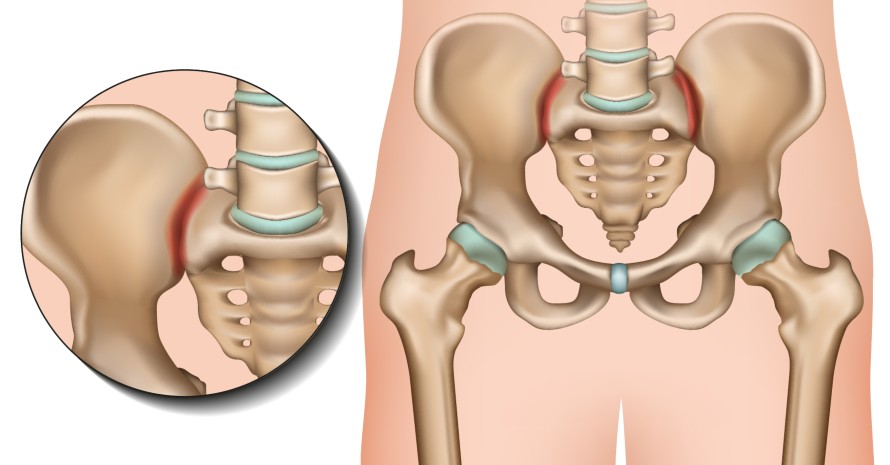 Pelvic girdle pain or PGP, in short, is something that some women experience during the pregnancy period. Usually, it happens during the last two trimesters. Many doctors call it symphysis pubis dysfunction or SPD, so don't get scared when you hear the name.
Normally it is just a set of symptoms that cause you discomfort and pain. They appear because of the stiffness of your joints. Sometimes it is caused by uneven movements of the pelvic joints. The main symptoms:
Pain around the pubic bone;
Discomfort over both or one side of the lower back;
Pain between your legs;
Discomfort and pain around your thighs.
Preventive measures
To prevent the possibility of pelvic pains, you have to learn what causes them. The obvious reason is the weight of the baby in your baby. However, it is not just that. The most common reasons for the pain:
The baby is getting bigger and stronger;
SPD symptoms;
The ligaments are getting softer because of the relaxin, the hormone secretion.
Many doctors believe that this pain helps women to prepare for the childbirth process. However, it does not mean you have to feel exhausted because of it. So, the main possible preventive measures are:
Perfect pregnancy pillow under your hips, knees, back, and ankles;
Vitamins that help you to keep the natural balance in your body;
Lots of rest;
Specific exercise in the water;
Supportive shoes without heels.
Easing the pain
If you can't prevent it, don't worry. You still can ease the pain without any extra medication. The main recommendations from doctors are:
Aqua aerobics for pregnant women will help you to stay in shape and lessen the pain;
Massage from a professional doctor. Do not trust chiropractors who don't have any diploma;
The specific supporting belt for your pelvis. You can easily find it in any drug store or mom's-to-be shops;
Lots of rest, as I have mentioned before. Yet, many women still ignore this recommendation. Don't do anything withstanding the pain;
Flat shoes during the whole period of pregnancy. You may harm yourself and your baby by walking on high heels. Besides, you may feel more comfortable when your swollen feet will be wrapped in something pleasant;
To eliminate the inflammation, you can place the pack of ice on your joints. Don't hold it for too long, just until the pain goes away;
Take your pillow and lay your legs upon it;
Fewer moves during the period of pain.
Using pregnancy pillow against the pain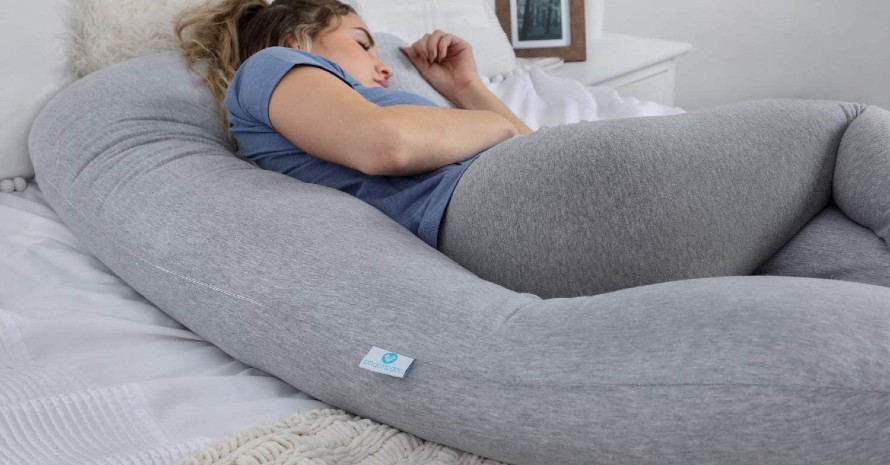 A pregnancy pillow is made specifically to lessen your pain. It is helpful when it comes to taking away the pressure from your pelvis. It can also restore the blood circulation, so you forget about the pain. Depending on the shape of the pillow you have, press it under the pelvis, hips, and knees. Lay there for some time, until the pain goes away.
Popular Questions About Pregnancy Pillows
I have gathered several questions that many women are curious about. I try to give brief detailed answers. I hope they may help you.
What causes pelvic girdle pain?
PGP is usually caused by the growing fetus in your belly. Joints in the pelvis receive extra pressure from it. Now, they are moving unevenly, which causes pain. Even the slightest change in your position may cause pelvic pain. Women with back problems or injuries are more likely to have PGP.
When does pelvic girdle pain start?
The pelvic girdle pain may start any time during the pregnancy, but on average, it starts in the third trimester, which is the last one. The fetus is already big in your womb, and it continues to push your pelvic joints. But sometimes, these pains may start during the first trimester. The pain may not appear at all.
How firm should be my pregnancy pillow to help with pelvic pain?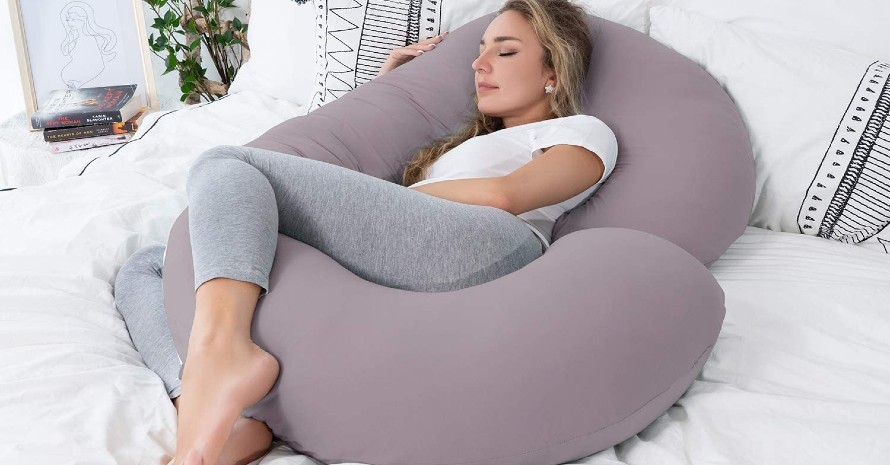 You have to make sure that the pillow is not too firm under your legs, so you would not feel discomfort. It must not be too soft either as there will be no effect from it. However, since many pillows are made with memory foam, there is no problem with their firmness as they simply adjust to your weight.
Choosing the Right Pillow
I don't have any specific pillow in mind. I dearly love all the pillows on my list and keep using them after the pregnancy to this day. They help to relax and offer relief for my body after a long working day. Whenever I want to forget about the daily routine and enjoy healthy sleep without pains or stress, I use these pillows. If you still don't know which pillow to choose, I suggest you read the pros and cons, pay attention to the quality of the filling and cover, and the price. Don't hesitate to write your personal recommendations about the pregnancy pillow here. If you have tried one of the items before, share your opinion.
Last update on 2023-09-27 / Affiliate links / Images from Amazon Product Advertising API