I know it can be very difficult for tall people to find the right maternity cushion model, so this article was written especially for them. Chilling Home U Shaped Zootzi Pillow is the best pregnancy pillow for tall person I've ever tried. It provides maximum comfort not only while sleeping, but also while reading books, watching TV, and even nursing your baby after giving birth. However, it is not the only model that deserves your attention. Here, you will also find seven more reviews on great products that can compete with Chilling Home one, as well as a quick guide on what to look for when choosing the perfect extra long pillow.
Do not underestimate the need for such an accessory. During pregnancy, a female body experiences increased stress. It applies to a musculoskeletal system, internal organs, circulatory and nervous systems. High-quality pillows of suitable size will help cope with many difficulties, relax muscles, and especially eliminate sleeping problems. During that period, the importance of healthy sleep increases because a child's normal development and health depend on its duration. Using a cushion makes it much easier to find the perfect sleeping position.
Top 8 Best Pregnancy Pillow for Tall Mom
A maternity pillow should be sized according to your height. For those with a height of 5 feet 3 inches and above, I recommend looking for a model with a length of 65 to 75 inches. These cushions are mostly complex in shape, and their size is calculated based on the fact that they should partially surround the body of mom-to-be or be located along.
1. Best Extra Long Full Body Pillow: Chilling Home U Shaped Zootzi Pillow
The Chilling Home pillow is completely natural. It is made of 100% hypoallergenic cotton and has a soft cover that can be easily removed and washed. Bionic polyethylene is used as a filler. It does not roll or deform over time. You can take out some of the stuffing if you want to make your pillow softer, or vice versa, add it if you prefer to sleep on a stiff one.
The item is oversized, so it is perfect for tall people. The small leg is 40 inches long, the big one is 60 inches long, and the whole body is 28 inches wide. The entire product weighs 7.13 pounds. It's firm enough but folds down easily if you want to sit down. Warp-resistant padding and removable cover guarantee a long service life of this item.
The accessory is U-shaped and can be used without additional pillows. It provides support for all parts of your body: head, shoulders, spine, belly, hips, and legs. It helps to get rid of pain in joints and muscles, normalizes the exchange of fluids in your body, decreases swelling, and improves sleep. Because this item keeps joints in a neutral position, not only pregnant women can use it.
PROS:
Provides full-body support;
Hypoallergenic;
Multifunctional.
CONS:
Takes up quite a lot of space.
2. Best U-Shaped Pregnancy Pillow for Tall People: AngQi Pregnancy Body Pillow
U-shaped cushions provide the maximum level of support for all parts of your body, especially a pregnant belly. AngQi Pregnancy Body Pillow has an average level of firmness and is suitable for sleeping in any position. This accessory will be useful for pregnant women and any tall people, elderly, athletes, nursing mothers, who have sleep problems, and just lovers of comfortable sleep.
The item is 70 inches long, 35 inches wide, and 7.8 inches high. The product`s weight is 10.18 pounds. This model is the biggest body pillow on my list. The manufacturer offers two zippered pillowcases with the product: a velvet and cotton one. So you can take it off for washing and change it depending on the season. The manufacturer recommends washing the cover on a delicate cycle and drying it in the fresh air.
The cushion itself also has a zipper through which you can take out some of the filler (polyester hollow fiber) or, conversely, add it if necessary. It is convenient because, during pregnancy, the belly grows, and the mother's weight changes. But the additional filler is not included in the set.
PROS:
Filler volume can be adjusted;
Multi-purpose;
Replaceable pillowcase included.
CONS:
Might seem a bit lumpy at first as the pack is vacuum-sealed.
3. Budget-Friendly Super Long Body Pillow: Marine Moon Pregnancy Maternity Pillow
Marine Moon Pregnancy Maternity Pillow is another extended-length model that will be comfortable for those who are tall. It is U-shaped, has a total width of 31 inches, and both legs are the same length, 69 inches. The height of the accessory is 6.5 inches. Its total weight is 12.17 pounds. In my opinion, the main advantage of models of this shape is that at night you do not need to turn them to change position since they are symmetrical.
Like previous models, it is quite versatile. You can sleep comfortably with your foot on it, read a book, or feed your baby on a pillow. It is quite dense to the touch. Therefore, it provides reliable support for the back and the whole body. If you have lower back pain, hip pain, or other joint problems, this product will help you get rid of any discomfort.
The item is completely made of hypoallergenic materials that do not contain PVC, phthalates, vinyl, etc. So it is suitable for those who have sensitive skin or are prone to allergic reactions. The pillowcase is made of a soft jersey, which is easy to remove and clean. The manufacturer uses 7D hollow fiber as a filler, which can be partially pulled out if you need a softer accessory.
PROS:
Keeps its shape well;
Budget-friendly;
Comes with additional filler.
CONS:
4. Extra Lightweight Large Body Pillow: Leachco Snoogle Total Body Pillow
Leachco Snoogle Total Body Pillow item is shaped like a C and has the same function as a U-shaped pillow. Only the C shape has a "tail" on which you can put your legs or stomach. It will be really convenient for pregnant women at a later date since they are advised to sleep on their side. This accessory ensures the correct fixation of the abdomen during sleep. Also, a big plus is that it takes up less bed space than U-shaped models.
The pillow is 60 inches long, 25 inches wide, and 7 inches high. Since poly fiber is used as a filler, it is very lightweight (only 0.9 pounds). The pillowcase is made of cotton and can be removed and washed. In my opinion, the manufacturer should have made it with a zipper, and not with a folded opening. To take it off and put it back on, you have to put some effort.
Overall, it is a very comfortable sleeping pillow. It is quite flexible and easily takes the desired shape. So with it, you can comfortably sit in bed to read a book or feed your baby. The filler is easily redistributed inside it, so if the head part is too high for you, you can move the padding down.
PROS:
Very lightweight;
Ideal for side sleepers;
Adjustable.
CONS:
The pillowcase is difficult to remove and put on.
5. Multi-Combination Long Body Pillow: AS AWESLING 60in Full Body Pillow
This item is a real multifunctional transformer. Each part is detachable and can be used individually, depending on your needs and favorite sleeping position. Besides, it is quite flexible so you can fold any of its legs in two or even three times. The accessory is suitable for everyone who strives for the most comfortable rest. If, due to joint pain, cramps, and other problems, you have trouble while sleeping, consider this model.
When fully assembled, it is U-shaped and quite large: 60 inches long, 30 inches wide, 7.5 inches high, and 8.28 pounds. Just what tall people need. High-quality 7D cotton is used for the filling, and the pillowcase is made of soft velvet material. Although it is quite pleasant to the touch, it is a little hotter than you would like for the summer.
What's interesting is that this model is complemented by a small 45°bevel pillow that provides extra support for your belly. It is very handy in the third trimester, when a woman's body experiences high loads, especially in a lumbar spine. Despite all its versatility and excellent performance, it has a reasonable price. And high-quality materials and reliable seams guarantee long-term use.
PROS:
Easily transforms;
There is an additional pillow for your belly;
Affordable.
CONS:
The cover is too warm; you may need to replace it.
6. Supersoft Tall Pillow: AngQi Body Pregnancy Pillow with Velvet Cover
If you are a side or side-stomach sleeper, then this L-shaped pillow is just for you. It provides excellent support for your head, neck, shoulders, belly, and is also comfortable to hug with your legs.
The very soft velvet cover ensures a good sleep as it does not keep your body warm and stays cool throughout the night. The pillow is 65 inches long, 31 inches wide, and weighs 7.04 pounds. As you can see, it does not take up much space and is suitable even for narrow beds.
Of course, this product can be used not only by pregnant women. If you are experiencing lower back problems, you can pinch this cushion's tip with your feet to lock the joints in a neutral position.
Unfortunately, these shaped pillows only support the body on one side, so you have to roll over with it. But it is suitable for those who prefer to sleep on a separate head cushion.
7D PP hollow fiber is used here as a filler. It is quite dense and stable, though at the same time, soft. This material provides a sufficient level of support, even in the third trimester. If necessary, you can pull out some of the filler or add it to adjust the pillow height.
PROS:
Very soft coating;
Compact;
Stays cool.
CONS:
Supports the body on one side only.
7. Customizable XL Body Pillow: AS AWESLING 60in Full Body Pillow
It is another U-shaped pillow from AS AWESLING. Just like the previous model, it is transformed and can be used both in its entirety and disassembled. Its U-shape guarantees reliable support for the whole body, both from the back and belly. You can open the zippers, detach all the elements and place one under the head, and the other under the knee, for example.
The item is 60 inches long; the top is 30 inches wide and 7.5 inches high. The product weighs 8.36 pounds. The most popular 7D PP cotton filling is used as padding. The volume of the pillow can be adjusted by adding or subtracting it. The outer pillowcase is made of a combination of velvet and jersey. It is very soft and nice to the touch. The zip closure makes it easy to take off and put on after washing.
The option of customizable pillows, in which you can not only change the volume but also unfasten some elements, seems to be one of the best ones. So you don't have to choose which shape suits you, but you can adjust it yourself during pregnancy and after childbirth.
PROS:
Durable;
Multifunctional;
Adjustable shape and volume.
CONS:
8. The Most Affordable Full Length Pregnancy Pillow: INSEN H-Shaped Pregnancy Pillow
This pillow stands out for its shape from the rest of the products on my list because it has an unusual H-shape. It looks like a regular L-pillow, but with an additional clip-on cushion. What is convenient, this element moves freely, and you can put it higher to your shoulder blades, lower it towards your ankles, or even remove it and use it separately. The distance between the small pillow and the main body is also adjustable, depending on your needs.
The main part is 57 inches long, and the small cushion is 23.6 inches long. The head part is 29 inches wide, and the distance between cushions can be changed from 6 to 13 inches. The total item weight is only 6.7 pounds. A mixture of cotton and silk is used as a filler. It keeps the pillow fluffy and soft, even after many months of use. The pillowcase is made of velour, which becomes softer after each wash.
This model is one of the most inexpensive on my list. On average, customizable items cost more. So it is a great option for those who care about the family budget and want to find a quality product with excellent characteristics.
PROS:
Unique design;
Lightweight;
Inexpensive.
CONS:
It is difficult to find a replaceable cover for a small pillow.
Oversized Body Pillow Buyer's Guide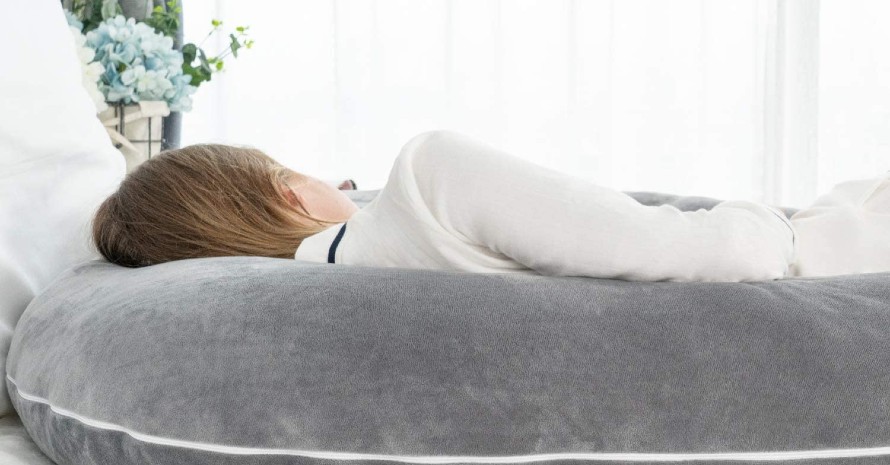 Among modern models, there are universal options that can be used by women during pregnancy and after childbirth, as well as by other people who need additional support during sleep. In this section, I would like to briefly explain what to look for when choosing a pillow for a tall person.
Shape
Now on the market, you can find models of almost any shape: from small pea-shaped to huge ones, on which you will lie like on a cloud. Choose a form based on your needs and your favorite sleeping position. The most commonly purchased are C- and U-shaped cushions. These models provide the greatest body support.
Size
Tall people should pay special attention to product size. Depending on your favorite position, you may want to put your leg on a cushion, so its body should be long enough. I recommend that you also remember to check the item's height. Tall people usually have wider shoulders, which means that the cushion should be larger. Improperly fitted pillow height can lead to health problems.
Comfort
Of course, comfort should come first. A pillow should not only be nice to the touch, but it should also be firm enough to provide the proper level of support. If you don't know for sure which shape suits you best, opt for customizable cushions. It is also advisable to choose a pillow with a zipper, so that, if necessary, you can add filler or remove some of it.
Common Questions About Choosing Extra Long Body Pillow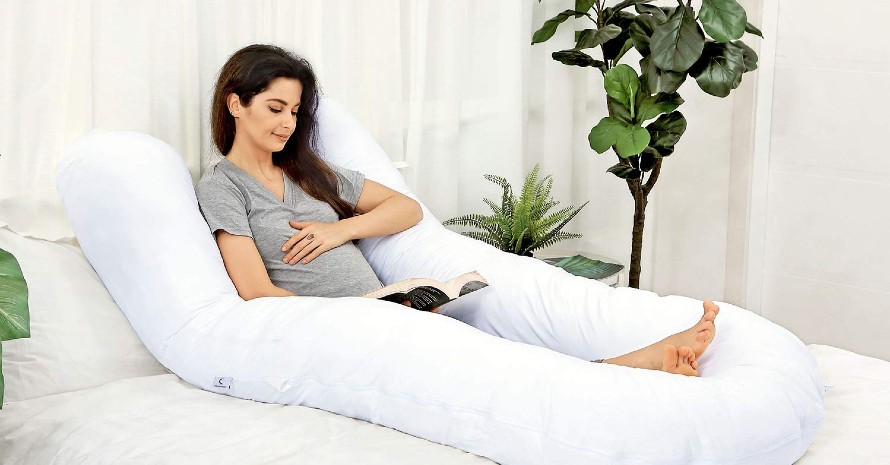 If you still have questions after reading my article, you can find the answers to the most popular of them here. If not, feel free to ask your question in the comments section below.
How long are standard body pillows?
On average, most manufacturers produce models that are 50-55 inches long. It is quite enough for average height people, but it can be extremely uncomfortable for tall persons. That is why they are advised to choose longer products (e.g., a 6 foot body pillow).
Do I need a full-body pregnancy pillow?
Many pregnant women have difficulty sleeping due to pregnancy, so they really need these pillows. However, they can also be used by those who have some kind of health problems, athletes, and the elderly. These accessories help keep joints in a neutral position, thus reducing stress and pain.
When should I start using a pregnancy pillow?
You can start using it when you begin to feel discomfort while sleeping. It all depends on the individual characteristics of your body. Usually, from 16-18 weeks, the belly starts to grow, preventing you from changing positions easily, and the doctor may recommend avoiding sleeping on your back.
Improve Your Sleeping with Pillows for Pregnant Tall Moms
I believe the benefits of using pregnancy cushions are clear. Of course, they are primarily intended to alleviate moms-to-be's condition, but anyone who needs additional support during sleep can use them. The main thing is to find the right accessory. I hope my reviews pregnancy pillow for tall person will help you make your choice, and a short buyer's guide will tell you what to look for first.
Do you use a pregnancy pillow? What is the best shape for you? Please share your favorite model with other users and me in the comments below the article.
Last update on 2023-10-02 / Affiliate links / Images from Amazon Product Advertising API