The biggest organ of the human body is – right! – the skin. The more a thing contacts your skin, the more it impacts the way you feel. Especially when your eyesight or taste are idle. That's why when you've gone to sleep, your sheets take control of you. Not the factor to underrate, is it?
In the summertime, as hot as it is, the sheets are also responsible for providing enough cool for your body. Sweaty nights are fun to hear about in some r'n'b lyrics, but in real life, sweating in the night is neither funky nor romantic. And it's hard to tell whether it's worse if you're sleeping alone or not. So the best sheets for summer are those removing extra heat, deserving the name of no sweat sheets.
As an experienced insomniac, I understand the importance of comfort when you're trying to fall asleep at night, and sweat is never your friend in that. Your AC can do the work, but it makes noise while consuming your money. Cooling sheets, on the contrary, require no extra resources and provide even better feel.
Amazon Bestseller
Top 5 Best Cooling Sheets Reviews: Your Sort of Coolness
There are sheets that stay cool, and you actually feel it with all your skin; but how do they work? There are several ways to provide enough coolness to fight the heat of the night. But we will only focus on those that require no power. Otherwise, you may turn on your AC as well, but probably you want something better.
Cooling gel isn't an option either. If you do some search, you will find no full-size gel sheets: what works with pillows due to their thickness doesn't work with finer things, alas. The only ones I have seen are small, thick, and made to place on the forehead in case of sunstroke or fever. These aren't the sheets you're looking for.
Most modern cooling bed sheets utilize either so-called breathability or moisture wicking effect. The structure of the fiber enables air circulation, so the air gets away when warmed by the human body. The air from around, cooler than that under the sheet, replaces it when breathed in. The circulation prevents overheating and sweating, and all the other effects of hot nights. In addition, it makes breathing easier for the sleeper. It works regardless of whether there are one or two (or maybe more) sleepers under the sheets.
There are various materials with this breathing effect, both natural and synthetic. In the following cooling sheets reviews, I will give you the descriptions of various sorts of them, with their pros and cons. A spoiler alert: there will be polyester, special cooling materials, and even bamboo fiber! All of these, though, provide enough airflow to keep you cool all night.
Anyway, I'd recommend visiting your local store and touching the sheets you intend to buy. You may read descriptions by vendors, reviews by other users, look at photos and watch videos, but nothing tells more than touch. Sheets are made for physical contact, and it's crucial to decide which of them feels the best on your skin.
PeachSkinSheets Night Sweats: The Sheets That Keep You Cool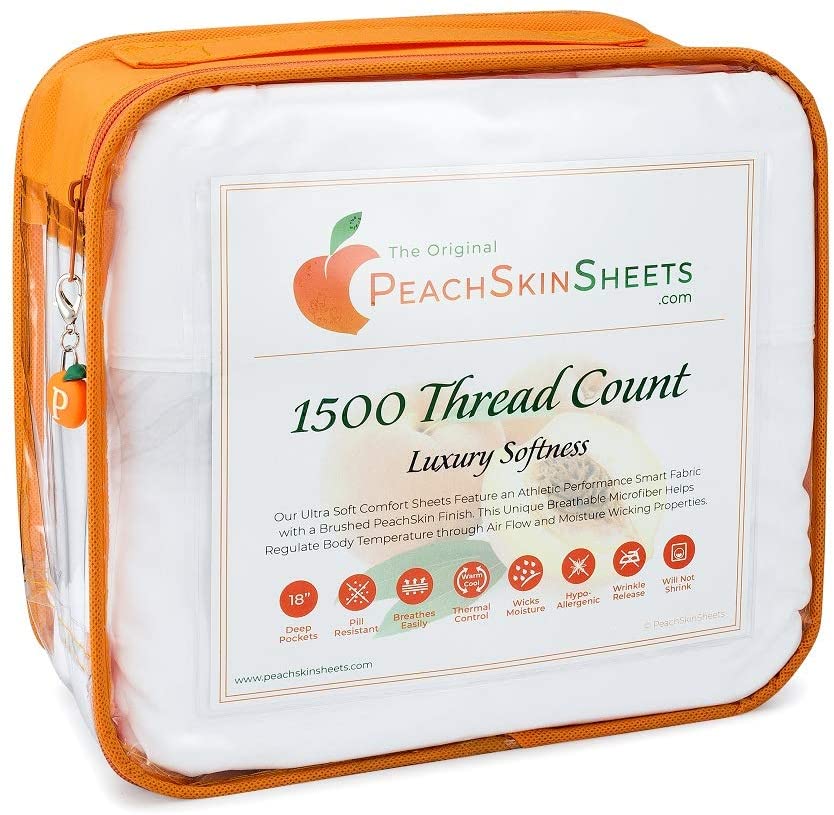 Claiming the #BestSheetsEver hashtag may be a sort of chutzpah for a brand established in 2013. But PeachSkinSheets has its reasons. The vendor from Atlanta, Georgia spares no words to describe the endless advantages of its technologies. Not the finest work in the industry, its fabric is equal to 1500 thread count by the feel. Frankly speaking, the manufacturer doesn't claim to have reached the actual 1500 TC.
This line of sheets is advertised as the best sheets for hot sleepers. Made of poly microfiber, it's said to be athletic grade, with all the expertise of professional sport clothes design concentrated in these items. PeachSkinSheets is proud of its exclusive fabric, soft, airflow-friendly, lightweight, and more breathable than most microfibers around. This enables the vendor to offer temperature-controlled sheets for reasonable prices.
Other virtues the material boasts include being hypoallergic and anti-microbial. It's also said to be quite durable – at least, you won't tear it if you just toss and turn like most of us do. All in all, it depends on the way you treat them.
It comes in various sizes: from twin or full to Queen and King (standard and California). Colors include mint (my favorite option!), grey and white, yellow and blue, and also sweet titles like Georgia Peach (no doubt!), Vanilla Bean, Toasted Marshmallow, and so on, 24 colors in total.
Still, there's no guarantee this one is for you. Like with mattresses or pillows, the feel is very subjective. As good as this experimental microfiber gets, you may suddenly find anything about microfiber intolerable for you. Its unbreathability is still here, though thinness and innovative structure struggle to recompense for that. For most of us, nevertheless, PeachSkinSheets will be a good option.
PROS:
Special microfiber fabric;
Lots of size and color options;
Equal to 1500 TC;
Special anti-slip finish;
Reasonable price.
CONS:
Less breathable than natural materials;
Suffers from bleaching.
Comfort Spaces Coolmax Bed Cooling Sheets: The Best Moisture Wicking Microfiber Sheets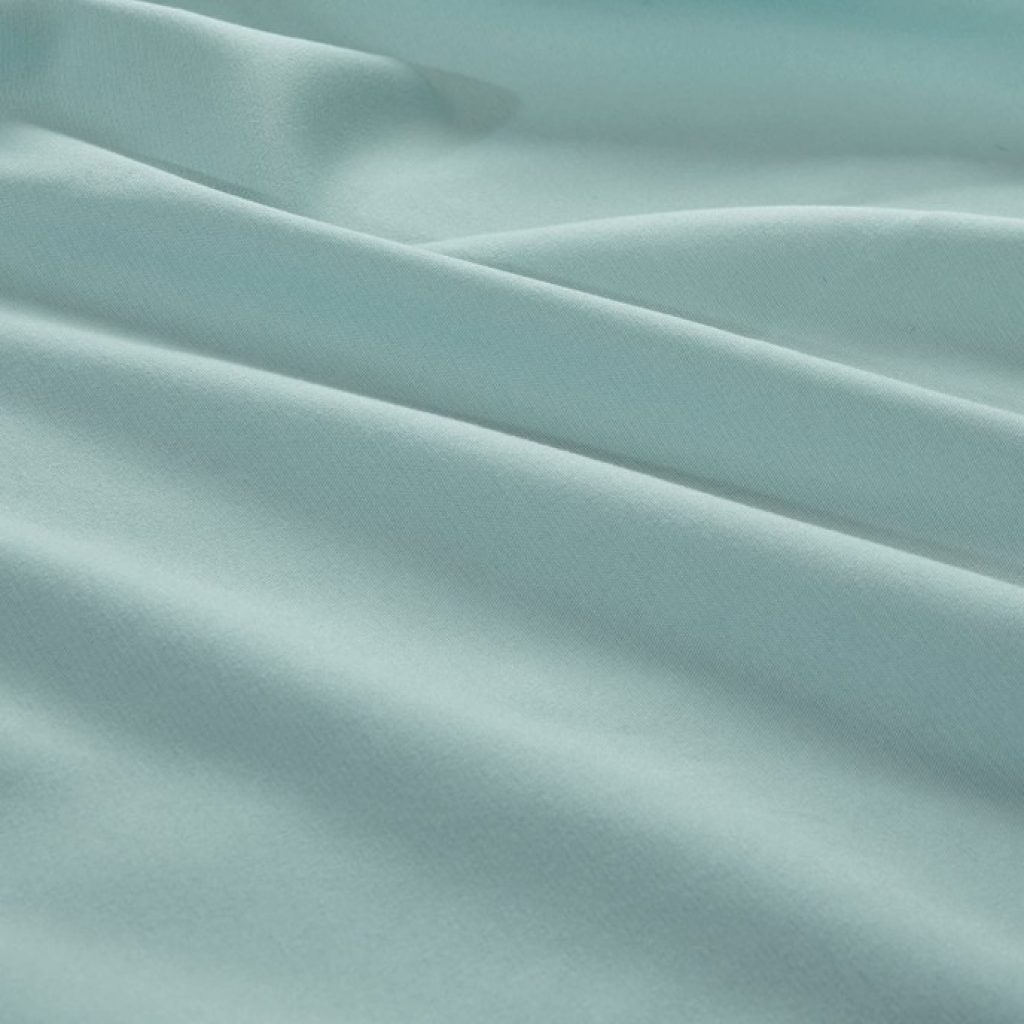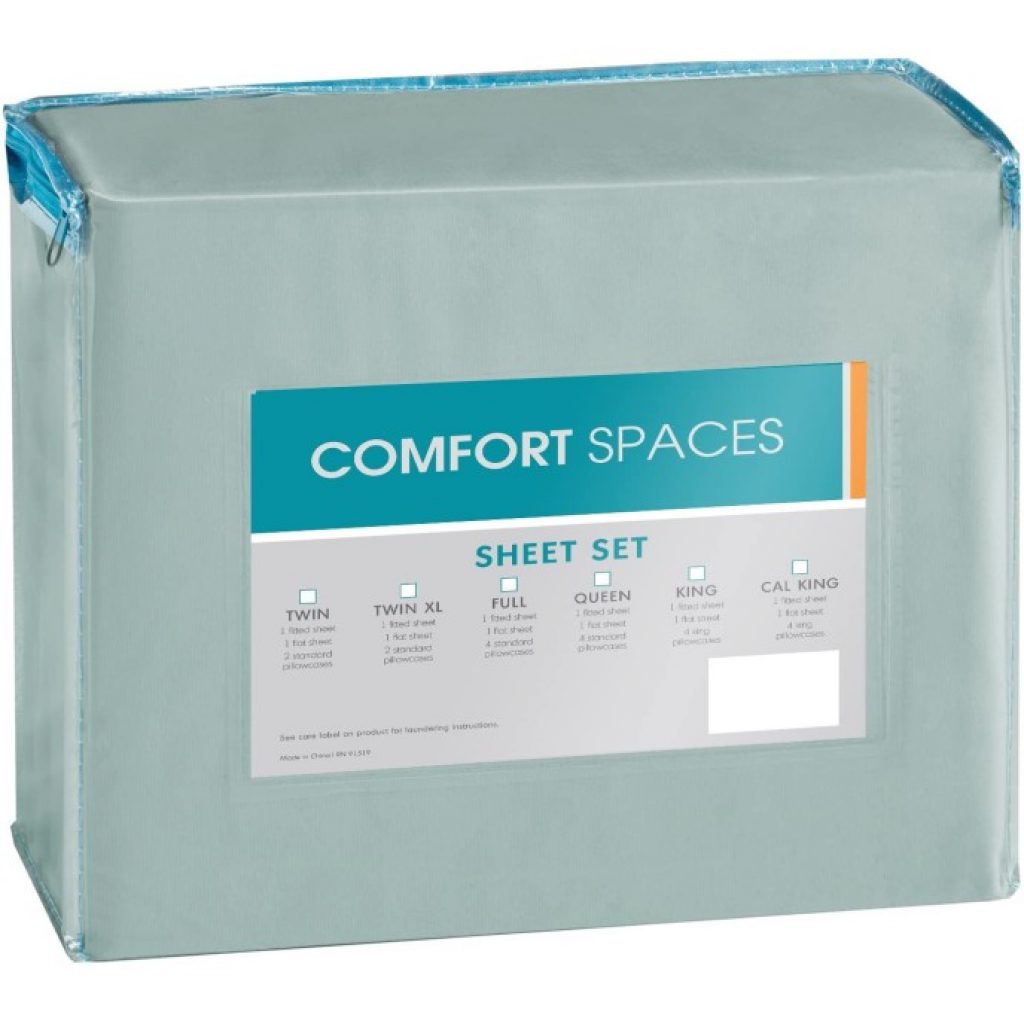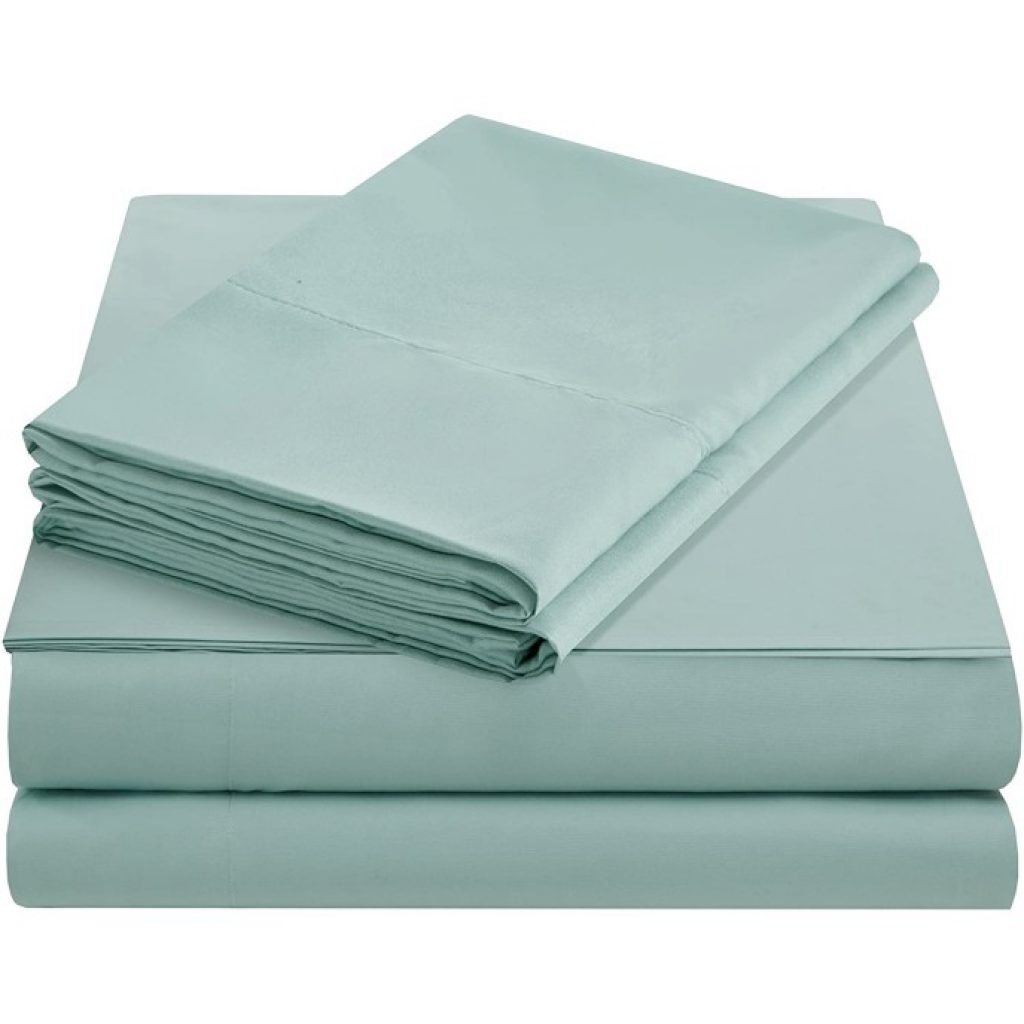 Comfort spaces, what are we sleeping on? The brand reveals little information about itself, and I have made a little research and found out that its official website is inactive now. It still tries to redirect you to its official page on Shopify that doesn't exist, though. So probably, retailers still selling its goods are the best source of information on it.
As for the sheets, they are made of a special sort of microfiber. It consists of 80% polyester and 20% Coolmax Microfiber that gave its name to the model. This mix is assumed to deliver water from under the sheet with special CoolMax Moisture Wicking Technology. Whatever it is, it is meant to overcome the traditional inability to breathe microfiber is well known for and produce microfiber sheets that keep you cool regardless.
The moisture-wicking feature is here to move the moisture from the inside to the outside while you're sweating. It's done within fibers, acting like wicks, hence the name. The hydrophobic features of synthetic fibers guarantee the moisture will be all taken out, causing little damage, if any, to the microfiber itself.
The set of sizes is similar to that by PeachSkinSheets: Twin (+XL), Full, Queen, King (+California King). As for colors, there are only six, from white to tan, including also blue, aqua, grey and charcoal. Any of them looks quite stylish, so you may easily find your own. Any set includes a flat sheet, a fitted sheet, and two pillow cases compatible with standard pillows.
Again, similarly to the previous one, this set doesn't tolerate bleaching or ironing. It's common for microfiber structures, whatever fashionable name one wears.

PROS:
Thin and comfortable;
Moisture wicking feature;
Comes in various sizes and colors;
The price is just a bargain.
CONS:
Requires special handling;
It's still microfiber;
There's little information about the manufacturer.
TEKAMON Queen Bed 6 Piece Sheet Set: The Best Cooling Sheets of 100% Polyester
Little is known about TEKAMON as a brand. Its official site gives no info on its whereabouts and is based on Shopify — that is, soon it may be gone, like that of Comfort Spaces. But the sheets it offers are available on respectable stores like Amazon; so it may deserve some trust.
As for the sheet set, it's again made of microfiber fabric; this time, though, it's 100% polyester. As unbreathable as it is, it allows for making bedding that keeps you cool, with some tricks applied. TEKAMON has some, allowing it to call their fabric "1800" – that is, it feels extra fine.
The microfiber the manufacturer uses is Double Brushed (both words capitalized, as if others didn't offer the same). That – as far as the ad has it – makes the fabric durable and thin. It survives regular washing procedures well unless you bleach it or violate the handling rules any other way. And, what we care about the most, it acts regular way about the moisture, with no capitalized Wicking.
Unlike natural analogs, these sheets are not really breathable. On the other hand, they handle the moisture well. Being thin enough, they simulate breathing – like your windows in winter make you feel like the cold air is leaking from the outside, while they only cool down the air next to it, that from the inside. That's why they are here, among the best cooling sheets.
What some might appreciate the most about this set are deep pockets. That means you won't get your sheets from your mattress at night, even if you're tossing and turning like you have a party hard dream. It's especially precious if you hate to remake your bed.
While the size options are the six standards I've already mentioned, colors differ. There are sixteen colors available, and the only one missing is yellow or golden: some would prefer it, but the palette is mostly cold. And that's logical, given the purpose of this particular sheet set.

PROS:
Extra thin and soft fabric;
Airflow and moisture removing features;
High durability;
Each piece available separately.
CONS:
The vendor is almost unknown;
Not truly breathable;
The price is not that low.
SLEEP ZONE Bed Sheet Sets: Cooling Bed Sheets Almost for Nothing
SLEEP ZONE is, of course, less mysterious than the Twilight Zone, despite the obvious reference. But still, there is some mystery. The official site of the vendor gives no hint about the actual location of its office or facilities, though mentioning that it's operating in Northern America. In fact, retailers give just the same share of information or even more. The absence of contact information, along with numerous typos and mistakes on the site, lead to the conclusion that the company may have its reason to conceal its origin, most probably Chinese.
As for its cooling bed sheets, they are made of 100% polyester microfiber, like most of those above. Their structure, though, is advertised as even more moisture-wicking than others. The engineers added some breathability to the fabric, trying to overcome that eternal flaw of the material. They even say that NANOTEX Coolest Comfort, the technology they use with such a basic and common name, makes this fabric dry out faster than cotton. Together with the airflow fostered by the thinness of the fabric, this should provide that enjoyable coolness at night.
The vendor says softness other manufacturers pursue is not everything. In order to achieve this softness, the company uses double brushing on each side of the fabric. As for pure technical details, like thread count, the support team avoids answering such questions even when asked directly.
In other aspects, sheet sets by SLEEP ZONE resemble others because (surprise!) there's little left to invent beyond materials. They include four pieces, like all those above — a regular flat sheet, a fitted sheet, and two pillow cases. Sizes vary too, with all the options from Twin to California King. There are deep pockets to make sure you can fix it under the mattress.
The price of this set is a complete bargain (another Chinese trail behind it). Still, it's not so great about SLEEP ZONE; some customers are heavily disappointed by its quality, and some even report headaches these sheets are causing (quite a possible case of personal incompatibility). Probably it's all about quality control failures. But, given its price, most its owners feel quite lucky.

PROS:
New cooling technology;
Highly washable;
Various colors and sizes;
Extremely affordable.
CONS:
The quality is unstable;
The origin is unclear.
Tafts Bamboo Sheets Queen Size: The Best Bamboo Viscose Sheets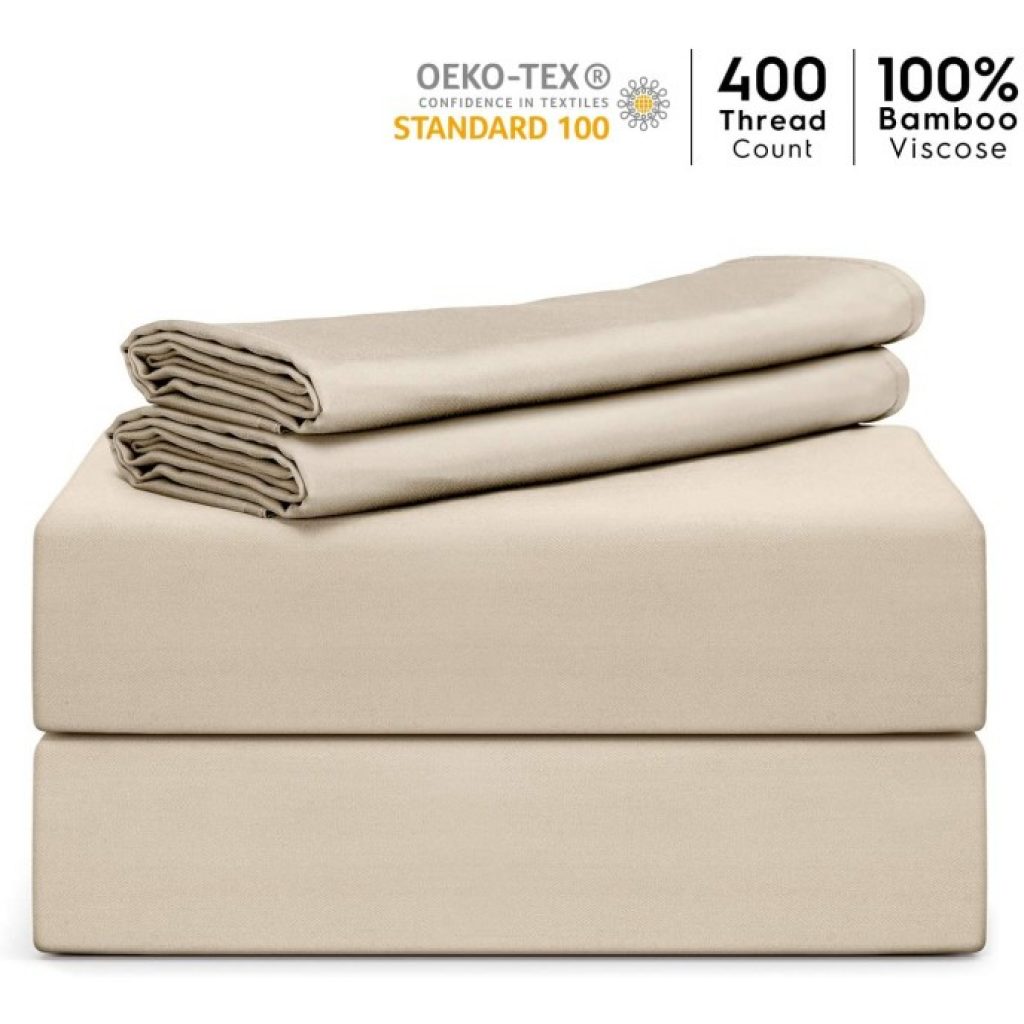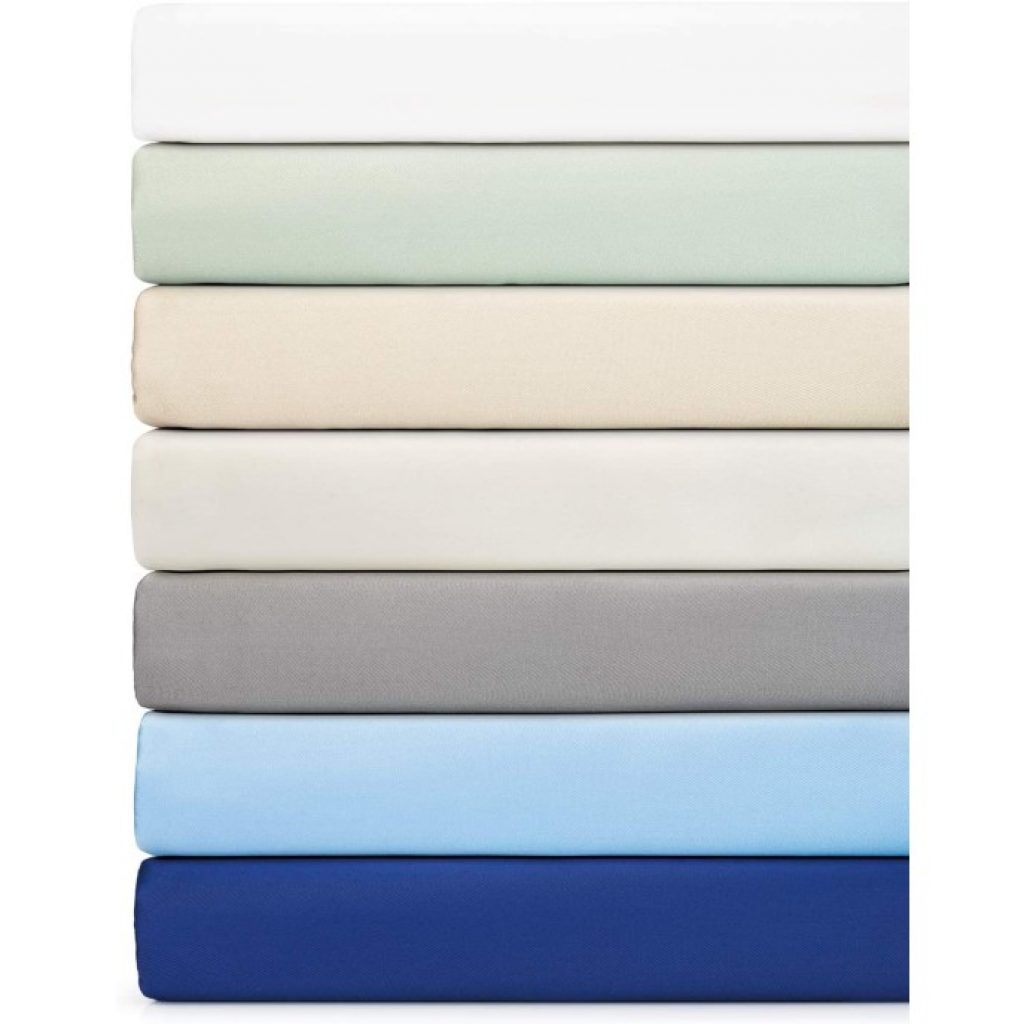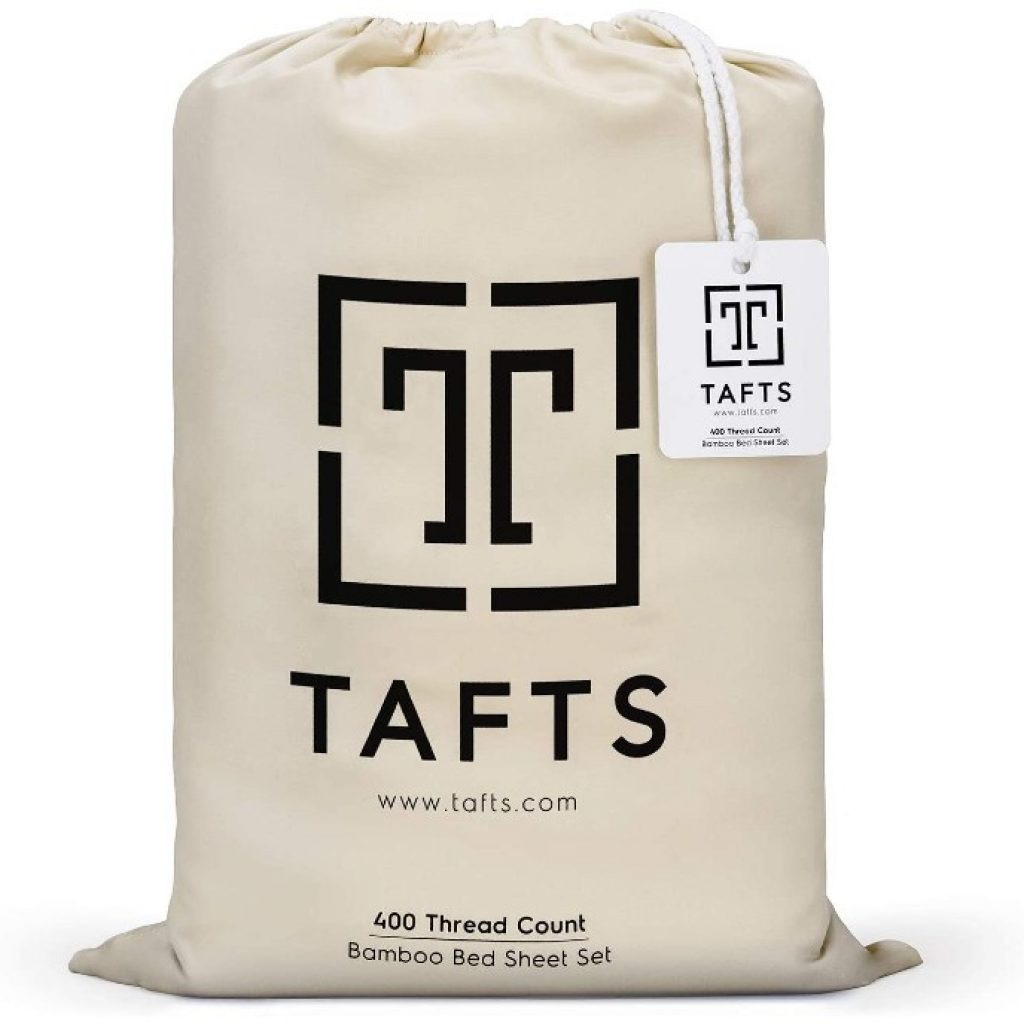 Where is Tafts from? Its official site says nothing. The Instagram account mentions Houston, TX. The rest of the content, I thought, hints the actual location may be different, even if Tafts does have an office in Houston. In addition, they are specializing in making sheets of a material that is considered an Asian one now as well as silk was a thousand years ago: bamboo. And yes, the support team confirms that the actual facilities are located in China. That's where Moso bamboo – the sort to make fibers of – grows for us to have the best sheets for night sweats.
Bamboo viscose is a relatively new material, younger than the Internet. Still. it's already popular among vendors, and, though it's pricier than microfiber, it's trendy and pleasant. Natural bamboo is great at cooling, and that's the reason to prefer it to cotton, silk, or other natural fibers popular in producing fabric. Some even consider that the best sheets for staying cool are made of bamboo. This makes certain sense.
As for thread count, it doesn't try to shock and awe with incredible numbers. The claimed TC is 400 – quite a decent meaning, given that the actual TC for natural fibers is rarely above 500. Another good trace of this product is getting softer after washing, drying and ironing, so familiar from other natural fabrics.
The cooling effect of bamboo fiber is considered to be way stronger than that of cotton. It's as breathable as a natural product should be. On the other hand, it's a matter of personal feel. Some report that they didn't experience any cooling effect at all.
The set of 4 pieces (a deep-fitted sheet, a double-stitched sheet, and two pillow cases) is available in various size options, though not all of them can be bought now that easily. For example, California King size is not available yet on its store. On the other hand, if you need an extra sheet or case, you can order it separately from the complete set.

PROS:
Natural bamboo fiber;
Great look and feel;
Gets softer after washing;
Quite affordable.
CONS:
Little is known about the vendor;
Less sizes and colors available.
FAQ on Cooling Bedding
I have mentioned some thongs that might have seemed obvious to me. But if you have never cared about them, probably some explanation is required. Here is some.
What are the coolest sheets?
The coolest are not those providing the lowest temperature, or it would have been necessary to keep one in the fridge. If you mean the best cooling sheets, you will have to do some research and compare various sets. But in general, those above are worth your attention and even a try.
What do 1500, 1800, and other numbers mean?
They mean the number of threads per inch – so-called thread count. The greater the thread count, the finer the fabric. In general, greater numbers mean softer sheets, but in practice, it depends on manufacturing methods and materials used. It's said that a layer is hardly over 500 TC, so numbers like 1500 or 1800 may mean three 500 or four 450 layers.
It can be compared to digital screens: in general, the higher is the pixels per inch rate, the more detailed is the picture on it. But, say, iPhone 11, with its 336 PPI, looks way better than LG G3 at 538 PPI, due to better overall display production. When it comes to sheets, this happens too, partly because of different technologies, partly because there are various counting methods.
Do cooling sheets really work? I mean, do they save me sweating under them?
As strange as it sounds, they do. The effect of breathable sheets is all about improved airflow that ventilates the space around them. Vaporizing the sweat makes sleeping more comfortable, and breathing – or wicking – takes the water away, reducing the humidity. The mission of researches is to provide the best natural conditioning, given constants like normal body temperature, summer night temperature range, gravity, wind, and other factors of physical impacts on the airflow. They're all calculable.
What is the best material for sheets to keep you cool?
It depends on technology as well as on material. Probably, you have experienced sweating in polyester clothes. But here polyester becomes the material for cooling sheets when processed properly. The same goes out to other materials. After all, it's a matter of feel.
Are bamboo sheets cooler than cotton?
At least, they are unusual. But when it comes to features, bamboo fabric is more breathing. In addition, as some researches prove, bamboo fiber can absorb up to 40% more water than cotton. That means there will be less sweat left anyway. Isn't that what really bothers us during those sultry summer nights?
Do microfiber sheets breathe?
In fact, that's not what they're made for. The fabric is thin but dense, repelling liquids and forming sold structures. On the other hand, under a thin microfiber, you can still feel the airflow. The air above the sheet gets warmer from your body and gets blown up, replaced by the cold air from around. Due to thinness, this sort of circulation is stronger. So they don't have to breathe in order to condition your body.
Are cotton sheets good for summer?
In our reviews, there was no cotton sheet. If you like the feel, though, you may sleep on them. But I'd recommend trying at least one different option. As I said above, bamboo sheets are just as natural, but their cooling effect is stronger. Switching to polyester may seem too radical, but who says it's bad?
Conclusion: Things to Think About under Cooling Bed Sheets
Today's technologies suddenly affect the most intimate episodes of our lives. And isn't it great to escape sweaty tortures in the heat of the night? Here are various versions of cooling bedding: natural or synthetic, 100% polyester or that with additions, varying in structure and technologies used to provide the best breathing experience.
Alas, there are always too many variables in the equation these sheets are to solve. This means that your skin is the best advisor, and unless you experience the touch of a sheet yourself, you will never get the picture. Luckily, most stores let you return your purchases in 90 days after the date. Make sure your sheets are undamaged and clean, though; otherwise, the store staff will have a right to refuse you.
As for the battle from the headline, the synthetic technologies win… so far. They are not breathable, but wicking technologies recompense for that. On the other hand, we may suddenly find new fibers made of natural materials we'd never consider. If you're short of budget, you can find quite a decent polyester set. If you prefer natural products, bamboo is so far the best option for cooling.
And what would you recommend from your own experience? Have you tried any of these? Maybe you know something more about the vendors mentioned? Or you can recommend similar or better products? I'd like to read your comments, stories and suggestions, and probably other readers would too. So let's have a nice bedroom talk!
Last update on 2023-12-02 / Affiliate links / Images from Amazon Product Advertising API