Healthy sleep depends not only on the chosen mattress but also on the quality of bedding. If you have already decided on a mattress and got one of the great products from Purple, then it's time to start looking for suitable sheets.
Of course, this company produces not only mattresses but also other sleep accessories. In their stores, you can find sleeping masks and even beds for pets. But in this article, I would like to dwell on the sheets. According to the manufacturer, their sheets are specifically designed to provide the efficient work of their patented Purple Grid technology used in the mattresses. It's great that the company cares about consumers and produces auxiliary products, but does Purple mattress need special sheets? I believe that any other stretchy sheets can also perfectly cope with the task; they just should have certain characteristics.
Product
Top Pick
Runner-Up
Premium Pick
Title
Amazon Basics Cotton Jersey 4-Piece Bed Sheet Set,...
Great Bay Home Extra Soft Jersey Knit T-Shirt...
Sheets & Giggles 100% Eucalyptus Lyocell Sheet Set...
In this article, I will examine the quality of the sheets that Purple offers and pick four alternatives from other manufacturers. All these products are made from natural materials, meet high-quality standards, and are suitable for use with Purple mattresses. Of course, if you like some sheet from my list, you can use it on a regular mattress. But if you have trouble sleeping, I recommend you try Purple mattresses, though. Below I will tell you why they are so good.
Top 5 Best Sheets for Purple Mattress: Reviewed
Some readers may wonder why so much attention is paid to choosing sheets for Purple mattresses. The answer lies in a Purple unique technology in which memory foam is combined with a honeycomb-like grid. Thus, the mattress' surface adapts to your body, supports the spine, and provides a comfortable airflow. That is why it is important to choose such bedding that will not be too dense, thereby creating the drum effect, and will not interfere with the effective work of this technology.
The models on my list have several common characteristics that make them perfect for Purple mattresses. They are distinguished only by price and feel to the touch, which is more likely a subjective factor. So, I think every reader will find a sheet that suits them.
1. Amazon Basics Heather Cotton Jersey Bed Sheet Set — Budget-Friendly Stretchy Sheets for Purple Mattress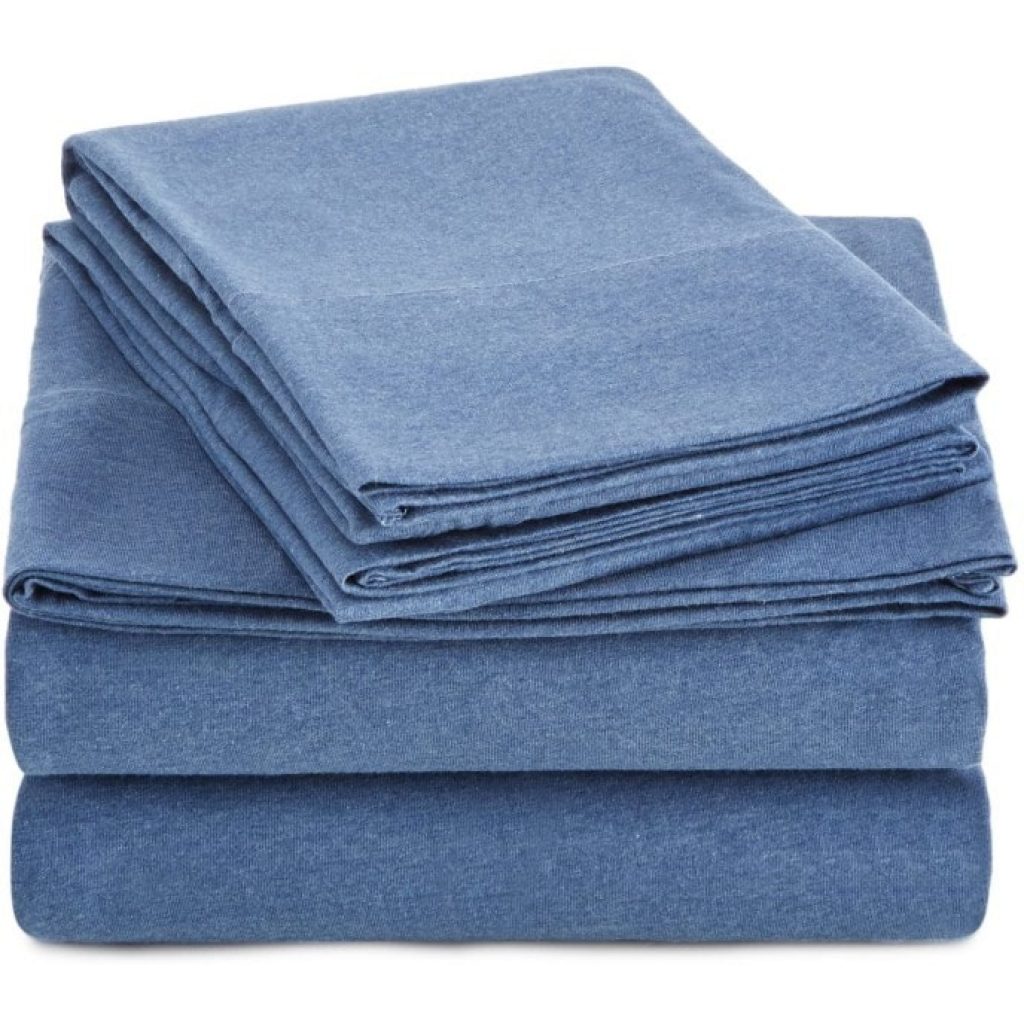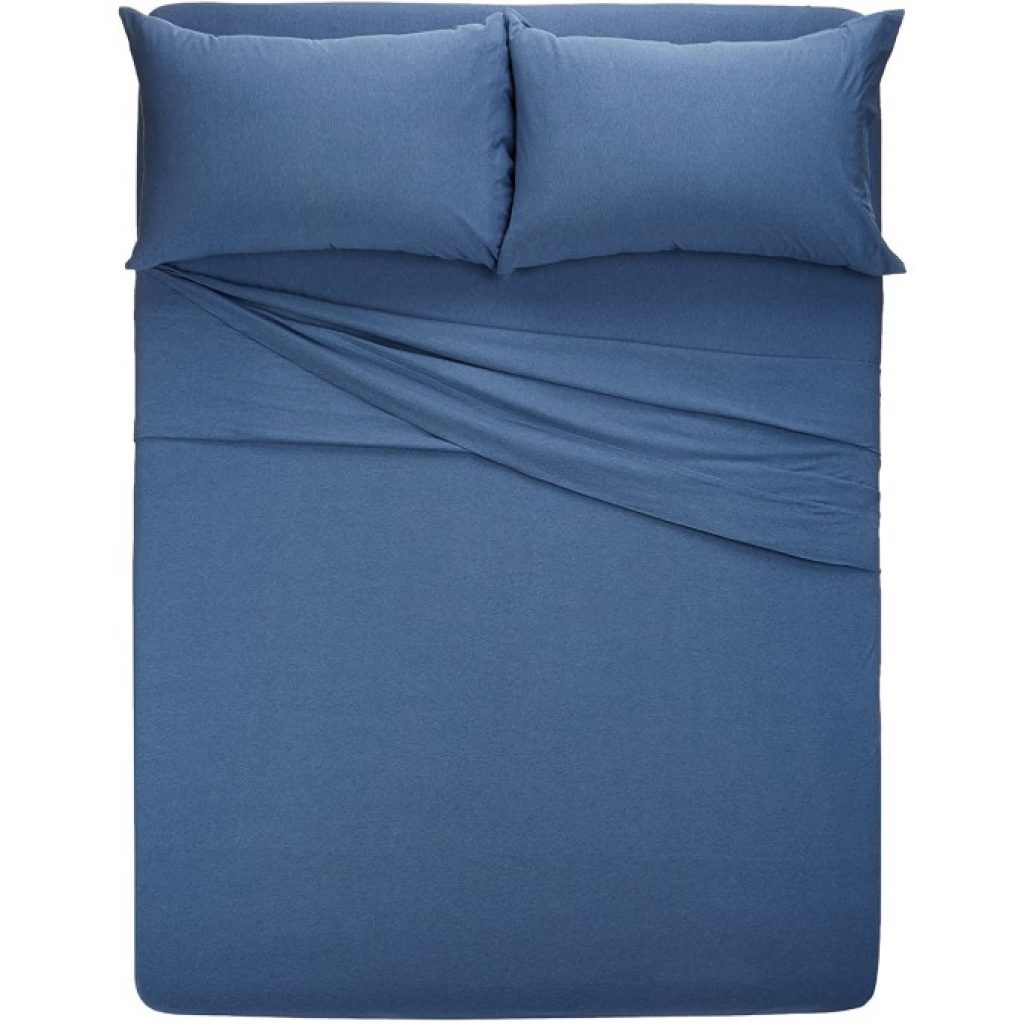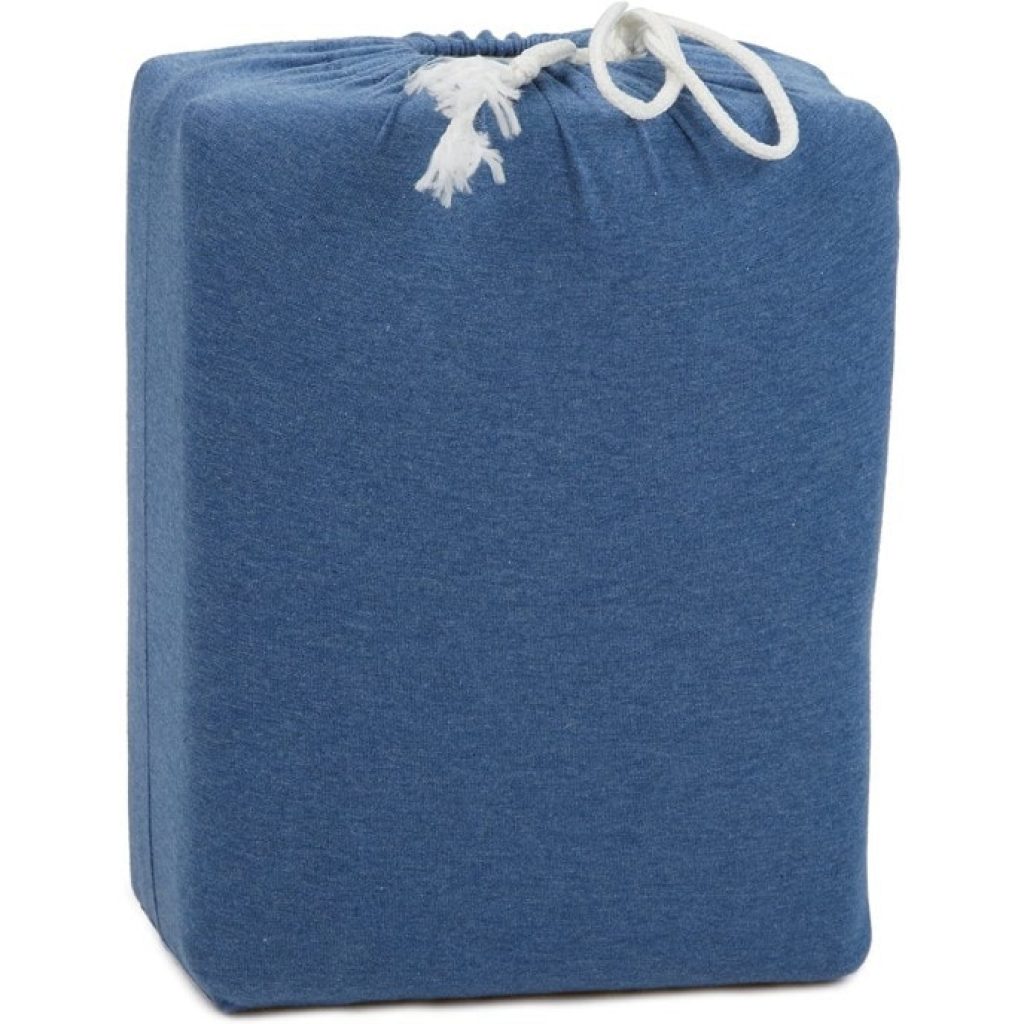 Compared to other models from my list, AmazonBasics' Heather Cotton Jersey Bed Sheet Set has the lowest price. Despite this, the sheets are also soft and nice to the touch, although there is only 100% cotton in the composition. Jersey knit sheets are moderately stretchy and flexible. And though they seem quite warm, they can be used both in summer and in winter, as they provide good ventilation.
They are very cozy, like T-shirts from the same material. I cannot say that they are lightweight since the fabric itself is quite dense, but this does not interfere with the effectiveness of Purple mattresses. Sheets may not appeal to those who like smoother bedding, silk to the touch. Especially if you sleep in pajamas, clothes can "stick" to the sheet.
The set includes two pillowcases, one flat sheet, and one fitted sheet. It is available in five sizes. Moreover, in my opinion, it suits Purple mattresses more than their own sheets. So, the Purple king size sheets are quite difficult to pull on a mattress of the relative size, while the Amazon sheets fit perfectly. But they are not designed for high mattresses (pockets are only 16 inches deep). Elastic is sewn around the perimeter, which keeps the sheet from shifting. You can buy this bedding in five colors; they are not very bright, but pleasant and calming.
You can take care of these sheets at home. Just remember that, like any stretchy products, they need to be washed and dried at low temperatures. In this case, they will not shrink and become even softer after washing. It is worth noting that some users complained about the appearance of pills after some time of use and several washes even at the right temperature.

PROS:
100% natural;
Budget-friendly;
Comfy and soft.
CONS:
Cling to other fabrics

;

Pills may appear after some time

.
2. Great Bay Home Jersey Knit Sheets — Affordable Alternative for Purple Bed Sheets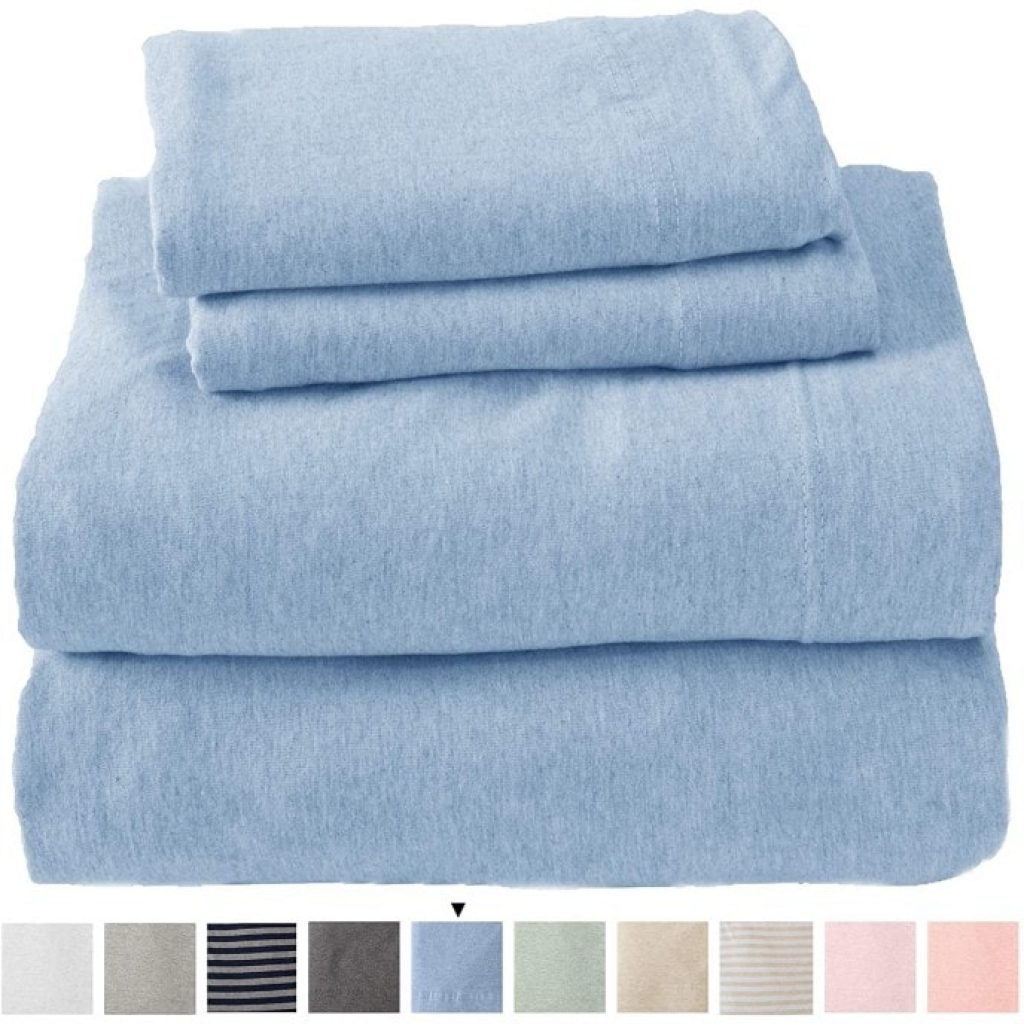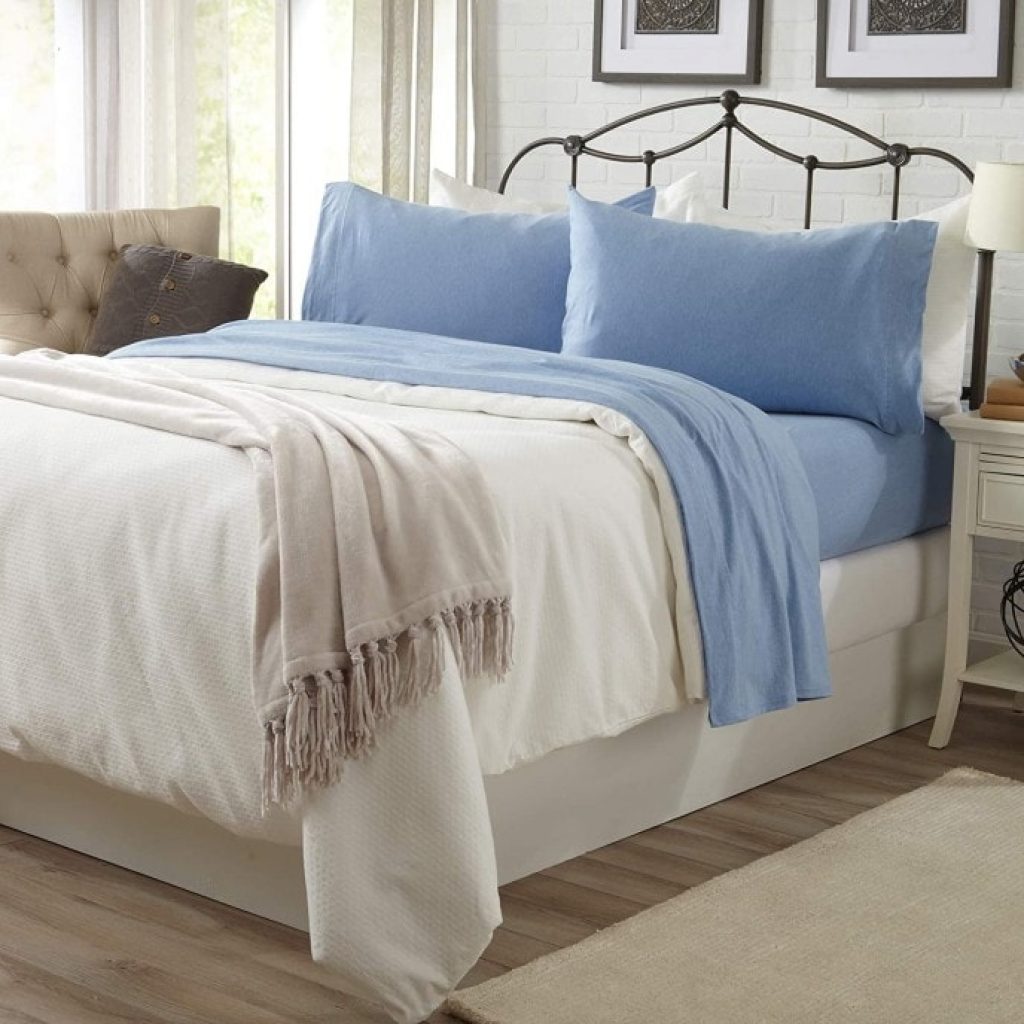 Great Bay Home's Jersey Knit Sheets are made of a blend of cotton (80%) and polyester (20%). They are suitable for use at any time of the year since the fabric is light and, at the same time, comfy (density is 150 GSM). According to the manufacturer, these sheets feel like your favorite T-shirt. However, if you sometimes freeze in sleep, this bedding will not warm you like the flannel one.
Since these sheets are made from cotton, they do not require special care. They can be washed and dried at home. It is generally believed that over time, cotton sheets become even better: the fabric gets softer and more elastic. Compared to Purple brand sheets, this model seems thicker but does not reduce the benefits of Purple mattresses.
The presence of polyester provides the elasticity and strength of these sheets. As stated, they have a deep pocket and are suitable for mattresses up to 17 inches high. But the practice has shown that you will have to pull a sheet very tightly for this. Therefore, I recommend that when buying, focus on much less depth (10-12 inches should be just right).
The set includes two pillowcases, one fitted sheet, and one flat sheet. The manufacturer releases this kit in six sizes (from Twin sheets measuring 39 by 75 inches to California King measuring 78 by 84 inches). This model is one of the few for which you can purchase additional pillowcases. Unlike with the previous model, here you have a much wider choice of colors, although they are all quite calm.
These sheets are budget-friendly and have a reasonable price, so they can be a good alternative to the Purple brand bedding. However, when compared to other jersey-knit sheets, it seemed to me that the seams were not made very tidy.

PROS:
Can be used year-round

;

Many colors and sizes

;

Reasonable price.
CONS:
Not suitable for high mattresses

;

Not 100% natural

.
3. Sheets & Giggles Eucalyptus Lyocell Sheet Set — More Breathable Than Purple Fitted Sheets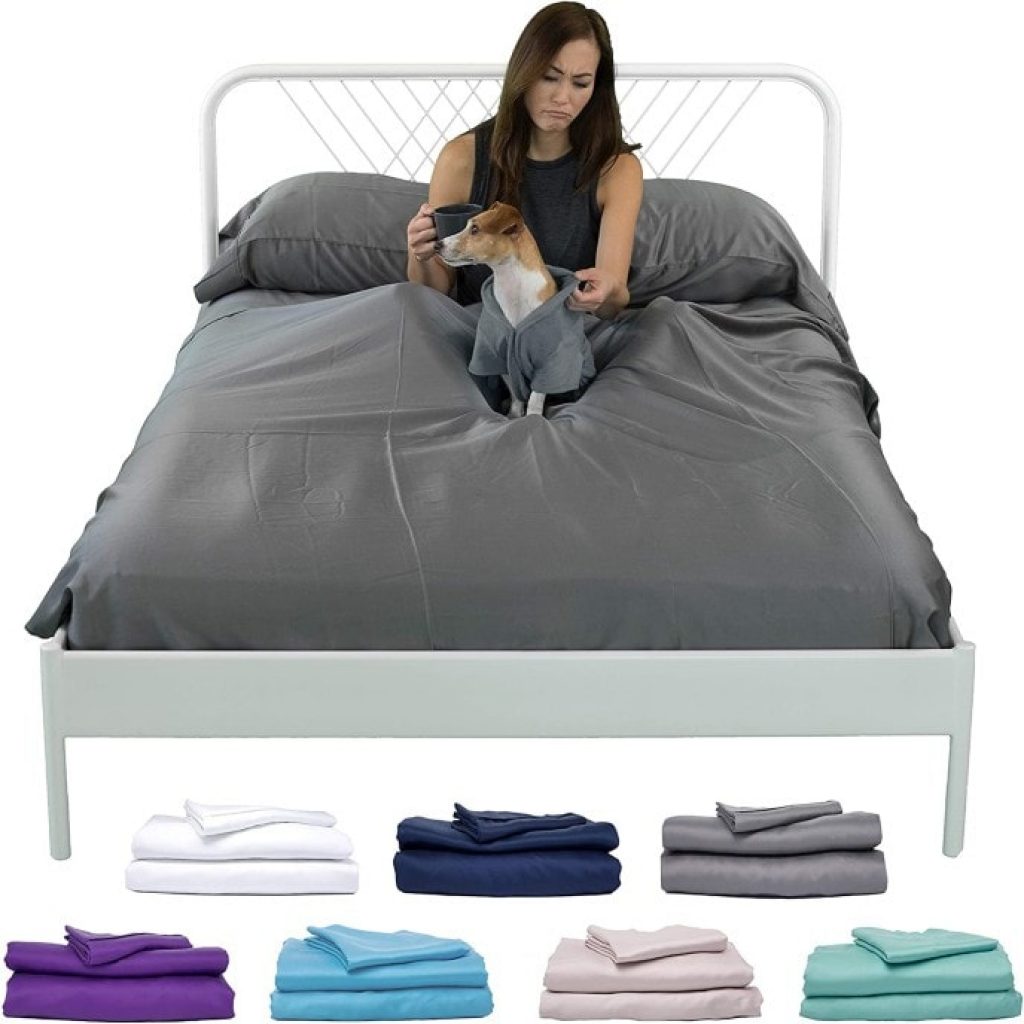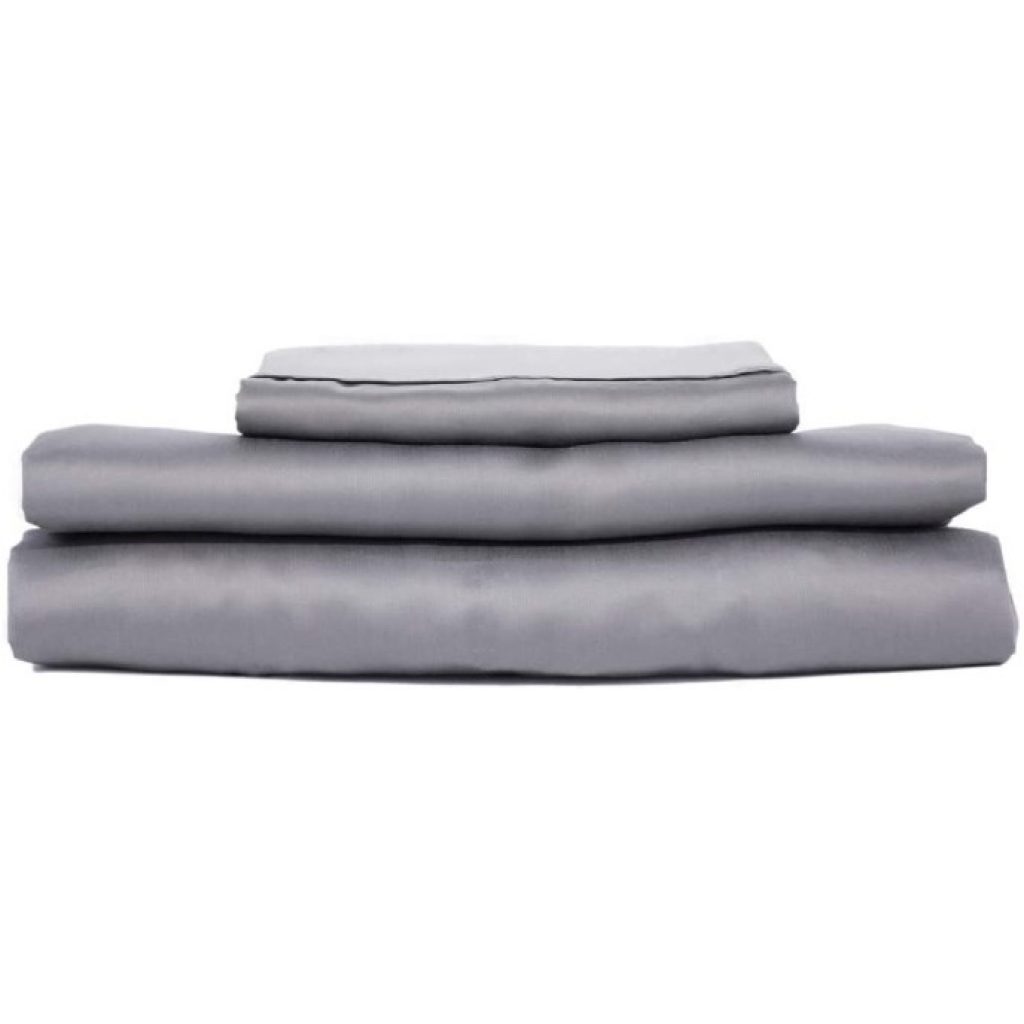 If you are hot at night or live in a warm climate, Sheets & Giggles sheets will be a real salvation. They are made of 100% eucalyptus lyocell. Compared to cotton or bamboo, this material is more breathable, absorbs moisture well and keeps your body and mattress cool. To the touch, such sheets are softer and more silky than cotton. They are hypoallergenic and suitable for people with sensitive skin and hair.
The company stands for responsible manufacturing and emphasizes that the production of bed linen from eucalyptus is much more environmentally friendly. The company uses less water, electricity, and chemicals (compared to the manufacturing of cotton products). Sheets & Giggles also tries to use recyclable materials for most of its packaging and grows eucalyptus trees on special farms.
The Eucalyptus Lyocell Sheet Set includes two pillowcases, one flat sheet, and one fitted sheet. The product range is presented in six sizes (from Twin XL to Split King) and six colors. They are suitable for mattresses up to 20 inches high, as they have pretty deep pockets. Due to this, as well as good elasticity, Sheets & Giggles full size sheets may fit even Queen beds and, for example, can be used instead of Purple sheets queen size. A nice bonus: a useful tag is sewn into the bottom left corner of each sheet, so you will not have to look for the right corner for a long time.
This set is more expensive than cotton or bamboo sheets, although it is much more durable. Eucalyptus bedding is easy to clean: wash it at low temperatures with similar colors without bleach. Although washing under the right conditions does not affect the product color, some users note that sheets lose their original gloss. The manufacturer recommends hanging the sheets for drying, but if you decide to use the dryer on low heat, this will not ruin them. After washing, the already soft bedding becomes even more delicate and silky.

PROS:
Breathable;
Hypoallergenic;

Eco-friendly manufacturing.
CONS:
May not be suitable for those who are freezing at night

;

A bit pricey

.
4. Purple the Sheets — Recommended Sheets for Purple Mattress
First of all, I want to consider the sheets that Purple offers itself. The Purple Sheets are made of viscose based on bamboo (90%) and spandex (10%) mix. It is believed that bamboo products are breathable, hypoallergenic, durable, and absorb moisture well. Thanks to the use of this material, the sheets retain a pleasant softness, lightness, and breathability to maintain a comfortable temperature of your body during sleep. They are a little cool to the touch, so they will be a great option for those who are always hot at night. However, if you like crisp or silk bedding, you might want to check out other items.
You can be sure that these seamless Purple bamboo sheets will not crumple under you and will not shift. Rubberized stretchy elastic holds it in place. The model has a very deep pocket, is very flexible and easy to stretch, but at the same time, it is quite durable and easily retains its original shape. It is the properties described that allow it to fit the Purple mattress snugly. Suitable for any mattress up to 13 inches high and is available in four sizes.
To make sheets serve you for a long time and not lose their look, follow the care instructions. Although this product does not require any kind of particular treatment, there's a chance of spoiling it by operating in high temperatures. You better wash it in a machine at a low temperature with other things of similar colors without using bleach and dry it on low heat. The manufacturer claims that the fabric practically does not shrink. These sheets can shrink by only 2.5%, which is much lower than products from other companies.
When ordering, you can choose one of five available colors; the sheets themselves are plain, without a pattern. Each pack comes in the following kit: pillowcase, fitted sheet, and flat sheet.

PROS:
Breathable and moisture-absorbing;

Very elastic

;

Easy to care.
CONS:
Not many colors to choose from

;

Unusual to the touch, overly stretchy

.
5. Oasis Fine Linens Island Bamboo Collection — Non Stretchy Fitted Sheets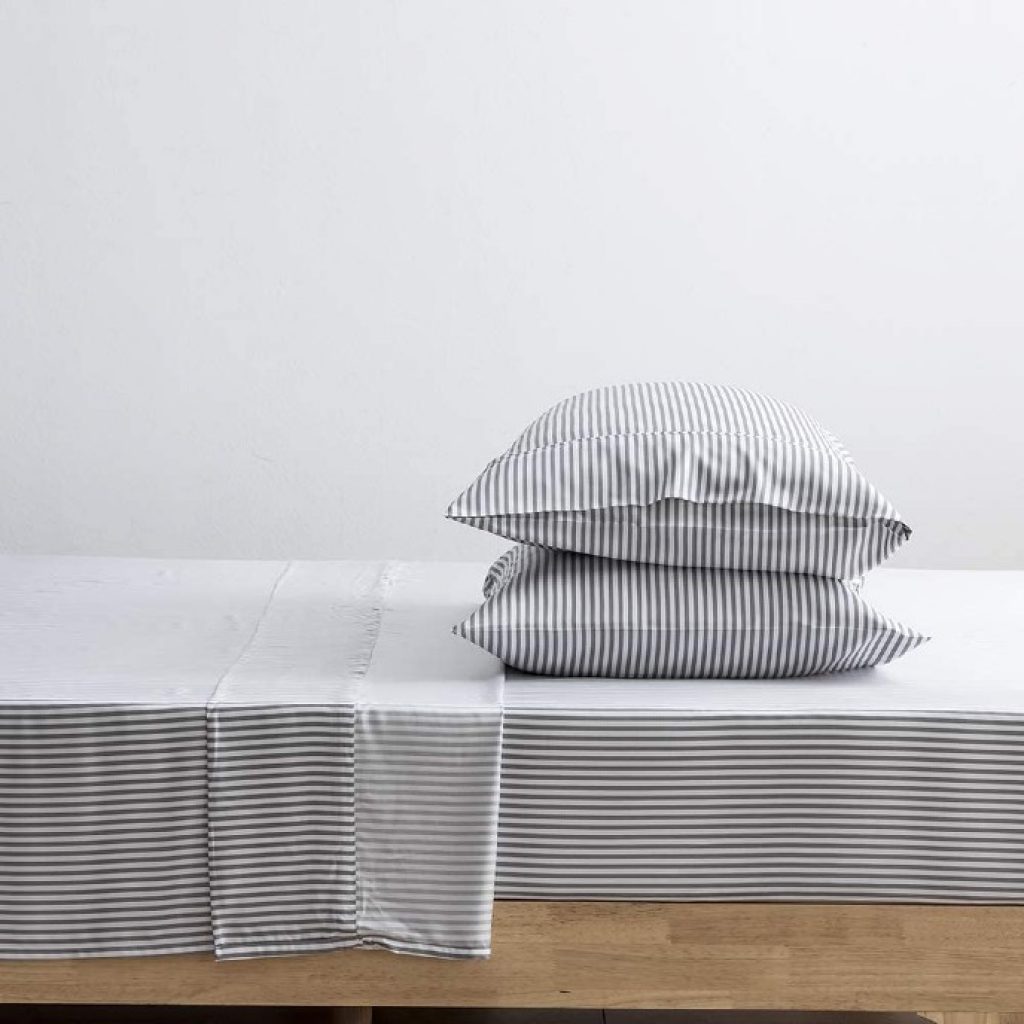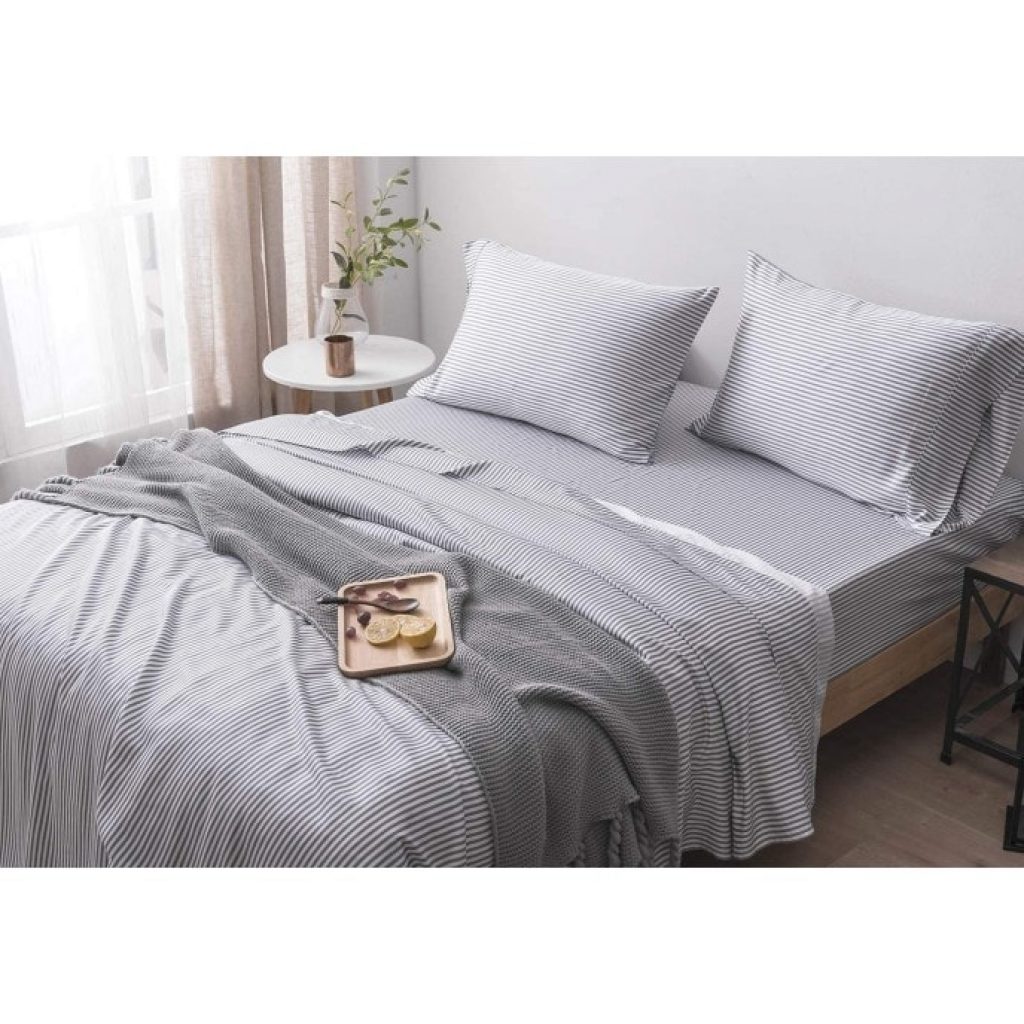 Oasis Fine Linens Island Bamboo Sheets are made from 100% bamboo rayon. They can be used at any time of the year, as they have good insulating and moisture-absorbing properties. Although there is no spandex or polyester in their composition, they aren't inferior in softness to Purple microfiber sheets.
Oasis Fine Linens sheets are hypoallergenic, stain and odor resistant and can be used by people with sensitive skin. Like all products on this list, they have good thermoregulating properties. On hot days they provide coolness and proper ventilation, and in winter, they keep your body warm. And thanks to a special treatment that prevents the appearance of pills, the sheet can be used for a very long time.
The set includes two sheets (fitted and flat) and two pillowcases. And although these sheets do not have such elasticity as previous models, they have full elastic, which does not let the sheet to roll, even if you actively move during sleep. The set is available in four sizes and seven neutral colors. Suitable also for very high mattresses (up to 22 inches) and can fit even larger beds, unlike Purple full size sheets, which come in size to size.
Caring for bamboo products is not difficult. Home washing and drying at low temperatures is enough. You can quickly get rid of wrinkles if you simply smooth the sheet out with your hands as soon as you pull it out of the dryer. Some buyers noted that after a wash, the product faded a little. Not crucial, however, unpleasant.
Despite all the positive characteristics, it is still worth noting that, due to the complex manufacturing process, bamboo rayon (viscose) products lose most of the beneficial properties of the bamboo plant. Besides, it is difficult to call such a technology eco-friendly, since it uses aggressive chemicals and leads to a large amount of wastewater.

PROS:
Wrinkle-free

;

Deep pocket

;

Robust value for money.
CONS:
The production is not eco-friendly

;

Color may wash out a little after some time

.
Popular Questions Regarding Purple Mattresses and Sheets
In this part, I will cover up the three most popular questions that readers ask me about Purple products. At one time, their mattresses simply blew up the Internet, which means that it's worth figuring out what they're all about.
What Is a Purple Mattress?
It is a mattress made by an American company Purple, which is known for its innovative approach to the production of various sleep accessories. The Pearce brothers, founders of Purple, have patented several technologies over the past 20 years of their collaboration. These have been used by major companies such as Nike, Johnson & Johnson, and Hill-Rom. As you can see, the scope of their inventions is quite wide.
Purple mattresses are more than just orthopedic or memory foam mattresses. All thanks to the scientific approach of the Pearce brothers to their developments. Their mattresses have three layers. The base is a support polyurethane foam (2 pounds and 4 inches high). In the middle, there is comfort polyurethane foam (1.8 pounds and 3.25 inches high). And on the top, there is a 2 inches honeycomb-like grid made using proprietary technology and material Hyper-Elastic Polymer. The whole construction has a coating made of SoftFlex material that is nice to the touch.
This structure of the mattress contributes to a truly high-quality rest. It simultaneously supports your body and evenly distributes its pressure across the entire surface. Also, the mattress perfectly consumes movement, so you can sleep peacefully, even if you or your partner are actively tossing and turning in a dream. You will get rid of the neck and back pain, numbness of the limbs, and night sweats. It is crucial because regular lack of sleep affects your state of health and life in general.
The manufacturer claims mattresses can be suitable for any type of sleepers. Whether you sleep on your side, stomach, or back, they will provide support in the right places. However, in my opinion, if you sleep mostly on your side during the night, these mattresses will seem a little stiff because they do not let your shoulders and hips plunge deeply into them. The same goes for light-weighted persons (up to 150 pounds). Their weight is not enough to fully interact with the Purple Grid.
As for heavy persons (250+ pounds), on the contrary, they will find the mattresses too soft. Such people exert more pressure on the surface and sink into the mattress a little deeper than light and medium ones. When choosing a mattress, it is important to keep in mind your weight. The top layer of Hyper-Elastic Polymer is only 2 inches high, which means that when deep sinking, the body will interact with the second polyurethane foam layer.
Why Stretchy Sheets for Purple Mattress?
When choosing suitable sheets, it is worth considering the features of Purple Mattresses themselves, which I described above. The material of which the top layer is made and its shape provides free movement of air, maintaining comfortable body temperature. Unlike the more common memory foam, Hyper-Elastic Polymer does not accumulate heat and does not transfer it to your body. Besides, the elastic grid folds under your body weight, relieving pressure, and responds to every movement.
Thus, the sheets for Purple mattresses should not be too thick to block the air inside, and elastic so as not to create the drum effect. If you lay a regular stiff sheet on it, most likely, it will not stretch enough and reduce the effectiveness of the technology used. It will also increase the movement transmission, which will cause discomfort to the partner who is sleeping on the other side of the bed. Elastic bedding will be more comfortable. As many users say, it feels as if it hugs you in a dream, taking the shape of your body. Elastic bedding stretches well, which means it does not crumple, even if you often toss and turn in sleep, reducing the interaction of the body with the mattress.
In order not only to prevent the mattress from doing its work but also to improve its properties, choose sheets made of natural materials. They should pass airflow well, but at the same time, warm you in the cold season and absorb moisture if you sweat at night. The manufacturer of mattresses does not produce branded Purple cotton sheets, only bamboo ones. However, you can pick cotton, jersey knit, or lyocell sheets from other companies.
How to Wash Purple Sheets?
Purple branded sheets should be treated the same way as most elastic things. Remember that heat affects the fabric badly, it becomes less durable, begins to pill and tear. To extend the life of Purple sheets, the manufacturer recommends washing them in cool water. As with other bamboo products, it is better to use a delicate mode and a mild detergent.
Do not use bleach or fabric softener during washing. Bamboo products are, therefore, quite soft, and spandex absorbs all substances well, which can be bad for those with allergies or sensitive skin. If a hard stain appears on the product, you can first apply a paste from a mixture of dish soap and baking soda on it, and only after that put it in a washing machine.
You can dry the sheets by hanging them outside in good weather, but if you don't have this opportunity, you can use a dryer at a low temperature. It is advisable to get the products out as soon as possible to avoid wrinkles.
Summarizing the Above
The Purple mattresses are a real find for those who have insomnia, back pain, and night sweats. Innovative technology and unique Hyper-Elastic Polymer material make them truly special for their price range. That is why it is important to wisely approach the search for suitable bedding to maintain the effectiveness of the mattresses.
I hope you will find my Purple bed sheets review useful and pick the model that is perfect for you. When choosing bedding, just keep in mind all the valuable properties Purple mattresses provide. I recommend that you follow Purple's advice and not focus on the number of threads in sheets. Of course, there is an approximate number of 200+ threads, which is considered to be an indicator of a high-quality product. And you can keep it in mind when you choose a bed sheet, but you should not focus only on it. It is a really outdated way to determine the quality of bedding. More threads do not mean better and more comfortable bedding. It is preferable to focus on your own feelings regarding the softness, elasticity, and breathability of sheets.
Please share in the comments below your experiences with Purple products. What sheets do you use, and which materials do you prefer for your Purple mattress? Have you encountered the negative consequences of using unsuitable sheets? Let me know!
Last update on 2023-09-25 / Affiliate links / Images from Amazon Product Advertising API