The stressful pace of life in a modern city affects you and knocks down your biorhythms. As a result, you become gloomy, nervous, and irritable. The calming melodic music helps to return the lost peace and inner harmony, which creates excellent conditions for falling asleep and restoration of strength. Of course, if you live with someone, the only way to fall asleep with music is by using earbuds.
I often try different pairs of headphones, as for some reason, I magically lose them whenever traveling. At the same time, I have several pairs of different headphones, convenient for sleeping and working, and a special pair for sports. I used to be afraid of falling asleep with headphones because this is not considered very useful.
As a therapist, I searched for facts indicating the harm of sleep in the headphones for a long time, but there is no real evidence or research. Moreover, when you have insomnia and you are annoyed by any extraneous sounds that cause anxiety, it is ideal for including soothing music or an audiobook. That is why If you need a nice pair of earbuds, here are the best solutions to make your sleep safe and sound.
Amazon Bestsellers
Top 5 Best Earbuds for Sleeping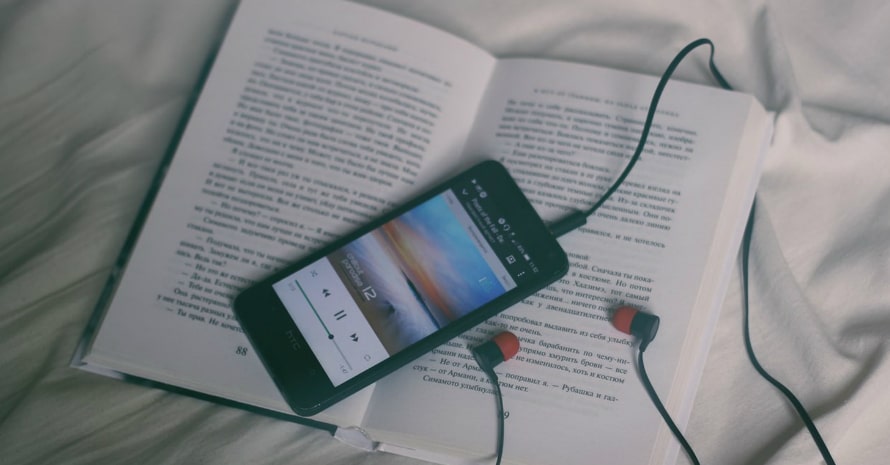 If you cannot fall asleep with all the noises distracting you, be sure to find the perfect headphones for sleeping. These are my tried-and-true noise cancelling earbuds for sleeping, which I can recommend for everyone without hesitation.
TOZO T10 Bluetooth 5.0 Wireless Earbuds – Wireless Earbuds for Sleeping
If you're looking for a budget option for sleeping headphones, check out these wireless headphones. Surprisingly, they are in no way inferior in characteristics to the premium options. If soundproofing is important for you to sleep, check them out. These headphones can be proud of the sound quality and the removal of unnecessary extraneous noise. They connect to your device quickly and are suitable for many brands of devices. Just connect the left and right earphones to the device one by one and turn on your playlist.
Another function these headphones are proud of is IPX8 waterproofing. If you decide to walk with headphones on a rainy day or do sports suddenly, the water will not harm them.
Hi-Fi sound quality allows you to hear music from a professional device, with the perfect bass balance. At the same time, the adjustable sound will allow you to choose the ideal volume that will not interfere with sleep but remove extraneous sounds. It makes them the best option for noise cancelling earbuds for sleep. At the same time, if you do not need wireless charging and prefer to charge from a USB cable, the latter also comes in a set.
They indicate Bluetooth v5.0 technology. It means that you can listen to music or podcasts at a fairly long distance from your phone. You can leave it on the bedside table and calmly walk around the house (for a distance of 30 feet without thick partitions)
These headphones work for approximately four hours of active use. The charging case is very stylish and convenient while it lasts for 4 full charges.
Positives:
Hi-Fi sound quality
Bluetooth v5.0
IPX8 waterproofing
Negatives:
Active work for up to 4 hours
Purity True Wireless Earbuds – Great Soundproof Earbuds For Sleeping
This pair of wireless earbuds for sleeping is almost as good as the previous position on the list. It has the same features as Bluetooth 5.0 technology, which increases the quality and clarity of sound. They are wireless and have moisture protection with a high IPX5 rating (but do not immerse them in water to check this feature).
Purity True wireless headphones are indispensable both for training, at work, and when one goes to bed. I often listen to podcasts before going to bed and often fall asleep while listening to music. Falling asleep with this pair in my ears, I do not feel discomfort, and the charge lasts for a long time. They have a very easy and intuitive charging system. As soon as the headphones are charged, the stand turns off the red light. I like the case for charging, it is durable and charges quickly, and is enough for about three full charges.
These earphones have good sound insulation and noise reduction. The sound is clean and soft, minimal bits are heard, so the fullness of the sound is provided. I'm not a specialist in the music field, but the sound is balanced, and my eardrums do not feel the pressure, as usual.
Positives:
Bluetooth 5.0 technology
Charges quickly
Soundproof
Negatives:
The price is a little bit high
Apple Earpods with Lightning Connector – Noise Isolating Earbuds for Sleeping
There is a lot of fuss about Apple earpods, and it seems that the majority of users have either love or hate relationships with them. Yet they are considered a classic among headphones. If you prefer the design and sound of the Apple headphones, then this pair will be ideal for ensuring you a good night's sleep.
The design of these headphones is not traditionally round. The developers made the form focusing on the shape of the ear so that the earphone holds better, and the sound is distributed as accurately as possible. At the expense of sound, the speaker system in the earpods is tuned so that the sound is not lost, and the outer noise is suppressed, so you surely get high-quality sound.
These earpods have a Lightning connector and an integrated remote mode. This allows you to adjust the volume, answer calls, and switch tracks to the playlist using the cord.
Of course, this option is more likely for people who are not afraid to fall asleep in the vicinity of the wires. Otherwise, I do not see the minuses from using these ones. Ears do not get tired of them, they hold well and do not fall out. And the main reason for people to choose wired headphones is that they will never suddenly turn off when discharged.
Positives:
High-quality sound
Compatible with all Apple devices
Comfortable for ears
Negatives:
Apple haters don't like them
Boltune Bluetooth 5.0 IPX7 – Best Earbuds for Sleeping on Side
These Bluetooth earbuds for sleeping seem incredible. I didn't believe that wireless headphones for such a price can work for more than 15 hours. But this is true, and now it is my permanent couple for the night. I try to recharge them during the day or right after returning from work, so they will work all night. One of the minuses – these headphones are a little loud, although their sound insulation is quite good.
In terms of sound, these headphones provide HD Stereo with all the highs and lows of the range, which allows you to listen to the music of the highest quality and enjoy it. Extraneous sounds are well suppressed. There are a microphone and volume controls, they are very intuitive and comfortable.
There are three options for earbuds, so you can choose the most comfortable ones. At the expense of all the professional features, Boltune headphones confirm their top-level equipment.
They support Bluetooth 5.0 technology, which transmits a signal as quickly and cleanly as possible, but it saves energy, so your phone will not run out of charge quickly.
Positives:
Bluetooth 5.0 technology
Work up to 15 hours
Negatives:
PANASONIC Ergofit Earbud Headphones – Most Comfortable Earbuds for Sleeping
Here is another option of good wired headphones for people who focus on sound quality, rather than on the lack of wires. They are rather ideal headphones for sports, but as an option for sleep, it is also quite suitable.
There are three sets of earbuds for different sizes (Ergofit Earbud Design), so pick one that fits perfectly in your ear. This way, you get soundproof, perfectly-held headphones. They are suitable for almost all types of devices, like Apple, Android, and Blackberry.
Good news for fashionistas is these headphones have more than 11 color options. Be sure to choose your favorite one or match them with your pajamas.
They are durable, I have had them for almost three years, and they're still running smoothly. The sound is clean and moderately loud. Panasonic headphones do not have a built-in microphone, but since I use them only during sleep and flights, the lack of this function does not bother me. No matter how many wireless earphones I tried, nothing laid as comfortable in the ear shell as these headphones. They are maximally ergonomic, are well fixed, and felt incredibly fine.
Of course, these headphones are not for lovers of perfect sound. But for this price they provide the maximum necessary for comfortable listening to anything. Maybe the headphones do not catch all the nuances of sound, but they are quite balanced.
Positives:
Compatible with any device
11 color options
Comfortably fit ears
Negatives:
Sound quality is not superb
Listen to Your Favourite Music While Sleeping!
Psychologists often recommend music as a non-pharmacological tool to facilitate sleep. In particular, this refers to cases if you have anxiety, sleep disturbances, or insomnia. So if you feel comfortable when you sleep with music, everything is in order. In the end, harm to hearing from the use of headphones at night and during the day is equivalent.
There is no perfect pair of earbuds for sleeping. If you toss and turn in bed, wired headphones may bring just discomfort, and wireless ones can turn off at any time as their usual duration of work is quite limited, and 5 hours can be short. Waking up from an artificial voice saying that the battery is low can be very stressful. Knowing about all these inconveniences, I tried to come up with a list of earbuds that will be comfortable to use while sleeping.
So do not worry about listening to music in your bed, just be sure to pick a pleasant playlist and a pair of comfortable earbuds for sleeping.
Last update on 2023-10-02 / Affiliate links / Images from Amazon Product Advertising API