As a therapist with years of experience in sleep research and fighting against insomnia, I can't recommend adjustable beds highly enough.
A frame that is capable of changing its profile as you adjust certain sections of it to better fit your needs at the moment is truly a godsend, especially if you suffer from chronic pain in the back or other conditions that require increased comfort. Split king is a configuration that takes this bliss to a whole new level by dividing the bed into two autonomous sleeping spaces. Your half, your rules.
However, a perfect bedframe needs perfect sheets in order to deliver what it's supposed to. Regular bedding won't do nearly as well since it tends to come off the mattress every time that the frame is tilted, and I'm pretty sure you don't want to spend half the night tucking it in. Apart from the ability to stay put, it's essential that your sheets are nice to the touch and comfortable to sleep on. Size and shape are other things to factor in if you've chosen a split bed over a regular king-sized one.
7 Best Sheets for a Split King Adjustable Bed Review
In case you've been wondering what linens will work best with your adjustable bed, here are my 7 best split king sheets reviews.
CGK Unlimited Split King Sheets for Adjustable Beds: Top Microfiber Bedding for a Split King Adjustable Bed
Headquartered in Clearwater, Florida, CGK Unlimited is a highly specialized brand that's dedicated entirely to producing high-quality cotton and microfiber beddings. Special importance is attached to keeping the price reasonable while also ensuring maximum softness.
The company's adjustable sheets series includes a number of split king sheet sets made of 100% microfiber, a material well-liked as a hypoallergenic and way more affordable alternative to quality cotton that also feels incredibly soft as compared to some common bedding materials. The first thing you'll notice about these linens is how amazingly lightweight they are. In fact, it's a matter of taste whether something that's light as a feather feels good to sleep on, as some people seem to appreciate the weighty feeling brought about by natural fibers.
However, microfiber is a popular choice that buyers don't normally regret. This set is made of what is commonly referred to as double-brushed microfiber, meaning that it was brushed on both sides to make it feel somewhat silky, although considerably less slippery than genuine silk. You'll probably like the set if you're a hot sleeper looking for bedsheets that will keep you cool at a reasonable price.
The Split King set consists of two 39 x 80 inch deep pocket fitted sheets that will accommodate a mattress up to 16 inches deep, a 108 x 102 inch flat sheet, and a pair of standard 20 x 40 inch pillowcases. Each fitted sheet features an all-round elastic band to prevent it from coming off the mattress during the night. The only problem I've been able to find with the linens is that they aren't completely wrinkle-free. Fortunately, they don't seem to be prone to pilling or filling after multiple washings, which is excellent durability for the money.
The set comes in 18 colors, mostly somewhat cold tones or neutrals, and I should say I'd appreciate greater diversity such as a warmer blue added. There's also a hem detail on the pillowcases that does add to their aesthetic appeal.
PROS:
Fair price;
Cool;
Extremely soft and lightweight;
Allergy-free material;
Pill-resistant.
CONS:
Few warm colors;
Might wrinkle.
Nestl Deep Pocket Split King Sheets: Beautiful Microfiber Sheets for a King Size Adjustable Bed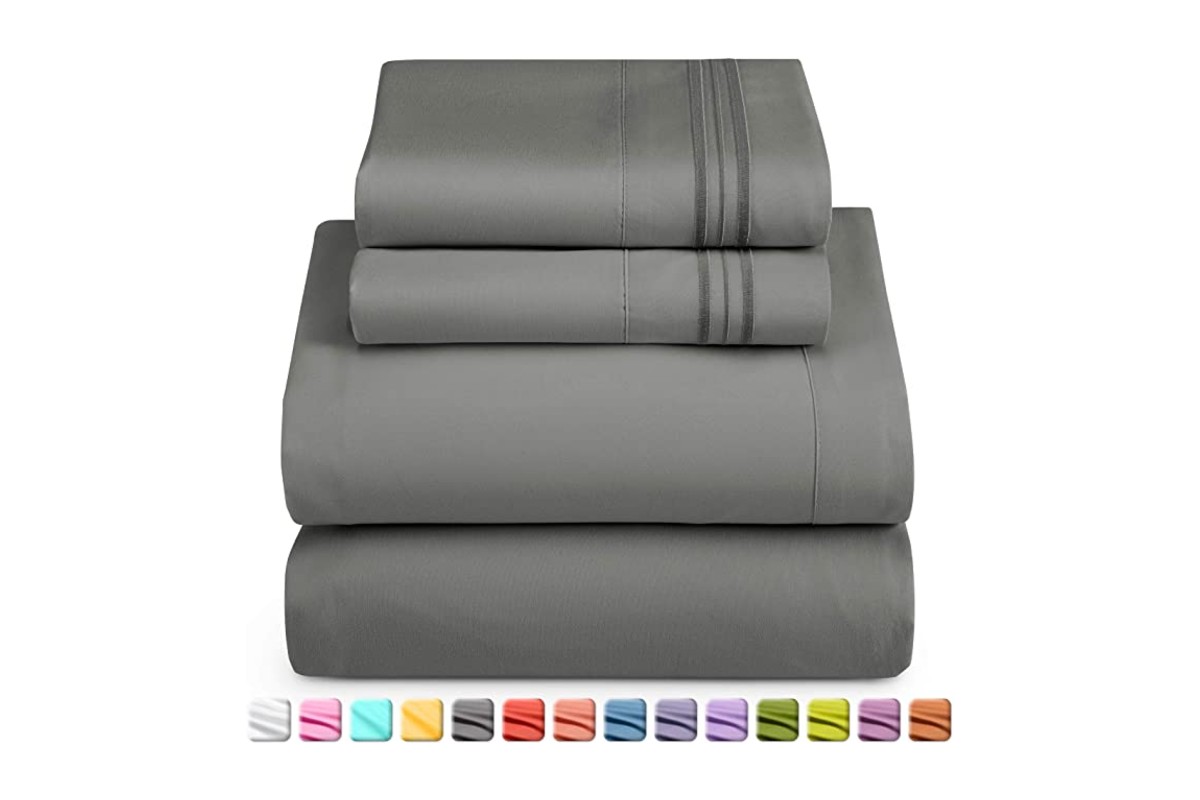 Nestl Bedding is another specialized brand focused exclusively on bedding linens. According to the manufacturer's website, it seeks to offer maximum value at a reasonable price by reducing the supply chain and thus the markups to provide the customers with good-looking products to last. Indeed, the quality-price ratio seems exceptional when you look at these sheets.
The brand offers a relatively wide variety of sizes and configurations, including Split California King and Short Queen, which might be difficult to find, but our focus today is the classical Split King Version. This is a standard five-piece set of a 102 x 108 inch flat sheet, two 20 x 40 inch pillowcases, and two 39 x 80 inch fitted sheets.
The fitted sheets feature a deep pocket that's the right size for a 14 to 16 inch mattress and have an elastic band around the perimeter to prevent unwelcome shifts during the night.
This another set of high-quality microfiber bedding, made with an impressive thread count of 1,800 for increased softness and durability. You need to understand, however, that the figure is not nearly the same as 1,800 TC for cotton, as microfiber has different fiber properties. It's still true that the bedding is soft and smooth to the touch, in particular to the double brushing of its surface. It's also highly unlikely to give rise to allergies. As for the texture, I'd say that this set is more slippery than the previous one and has a more satiny, glossy finish compared to it. It's also quite cool to the touch.
The color palette includes as many as 44 colors, all solid, from neutrals and nudes to brighter colors like my favorite beach blue. They also have black and deep purple if you like darker beddings. The classic striped hem detail can be found on the pillowcases as well.
One flaw I've found with the set is that it does pill after some time, although not at all dramatically. The risk can be minimized if you launder it separately, as microfiber is known to attract all kinds of dirt from whatever clothes you're washing it with.
PROS:
Affordable price;
Very lightweight and soft;
Cool to the touch;
Impressive color palette;
Satisfaction guarantee offered by the manufacturer.
CONS:
Feather & Stitch 500 Thread Count 100% Cotton Stripe Sheets Set: Best Split King Cotton Sheets for an Adjustable Bed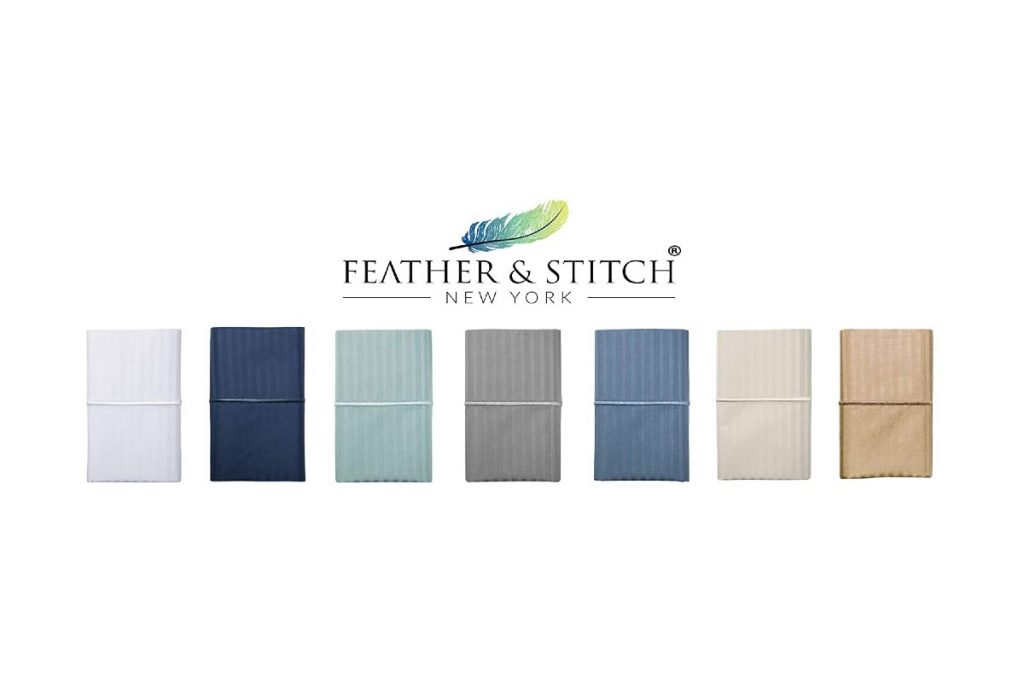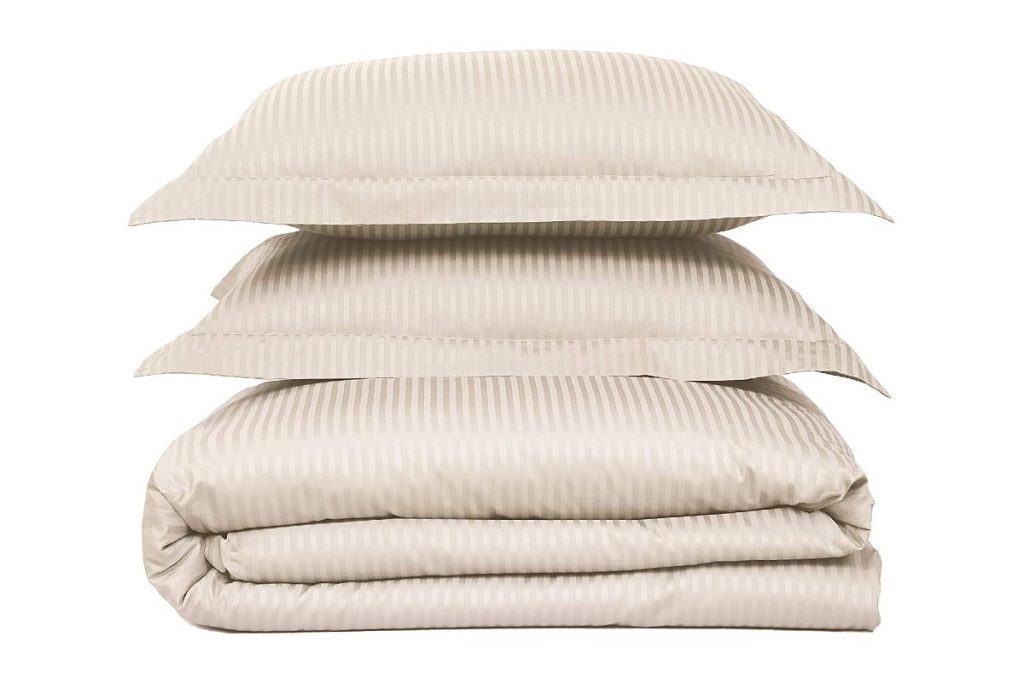 Just like the previous manufacturers, Feather & Stitch is a business fully concentrated on home textile, offering goods such as upscale beddings and bath towels.
The 500 TC cotton line is what the company presents as its hotel collection, and I must admit the linens do look like ones you get at an expensive hotel. The material combines all-natural long staple cotton, providing a luxurious soft feel, with the sateen weaving technique for beautiful luster. The fabric is thus environmentally friendly and quite durable to the relatively high thread count per square inch. Unlike cheaper cotton sheets, these linens don't get stiff after washing and don't fade. They are also very breathable and cool.
The Split King configuration consists of two 39 x 80 inch fitted sheets, a flat sheet measuring 102 x 108 inches, and a pair of 20 x 40 inch pillowcases. What I really appreciate is that Feather and Stitch sells pillowcases from the same collection in pairs, so you can easily get four if you feel like one pillow per person is not enough.
Another advantage of this set is that the fitted sheets can accommodate a mattress as thick as 18 inches as compared to the standard 16" pocket depth. This makes them a likelier option if you're using a mattress protector or simply prefer higher-than-average toppers. There are even direction labels on the inside of the sheets to help you put them on, which I've found very helpful.
The bedding comes in seven colors that I find incredibly stylish and elegant, all enhanced with satiny vertical stripes and a single-stripe hem detail. Semolina is my personal favorite as its way deeper than the beige that cheaper brands normally offer and makes the bedroom look super cozy.
PROS:
Durable 500 TC natural cotton;
Incredibly soft;
Cool and breathable;
Stylish design;
Deeper-than-average fitted sheet pockets.
CONS:
Royal Hotel Split-King: Luxury Split King Sheets for Adjustable Beds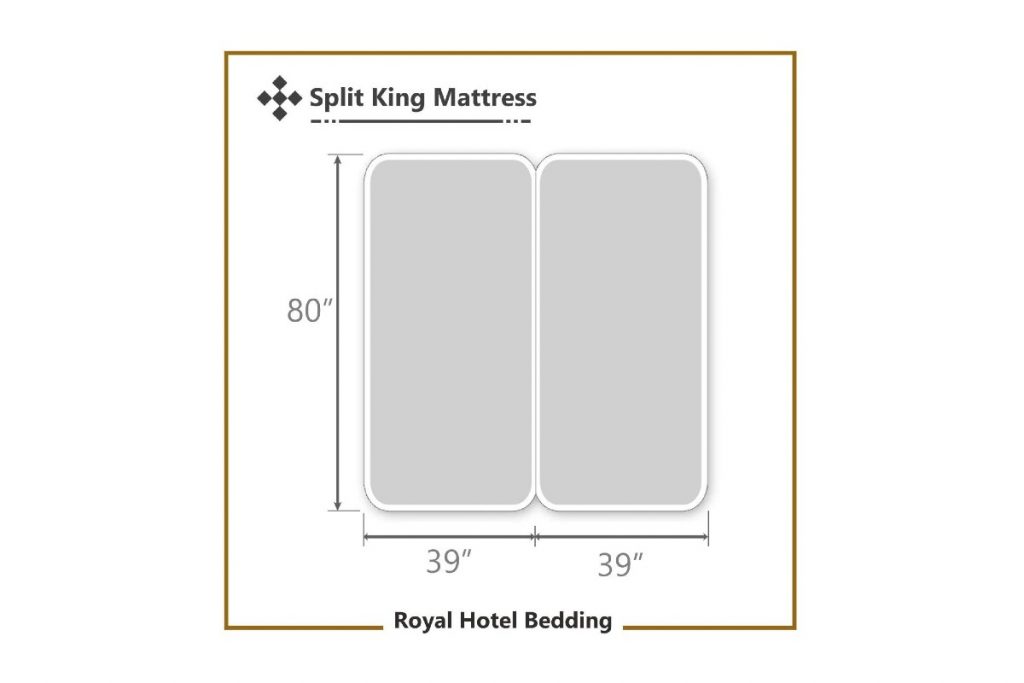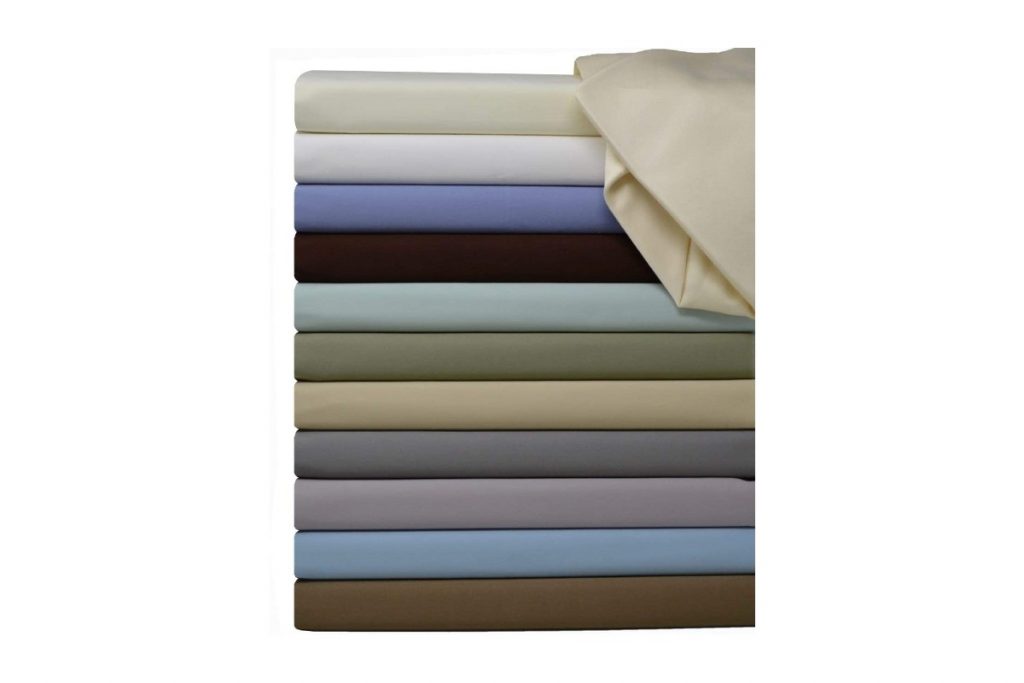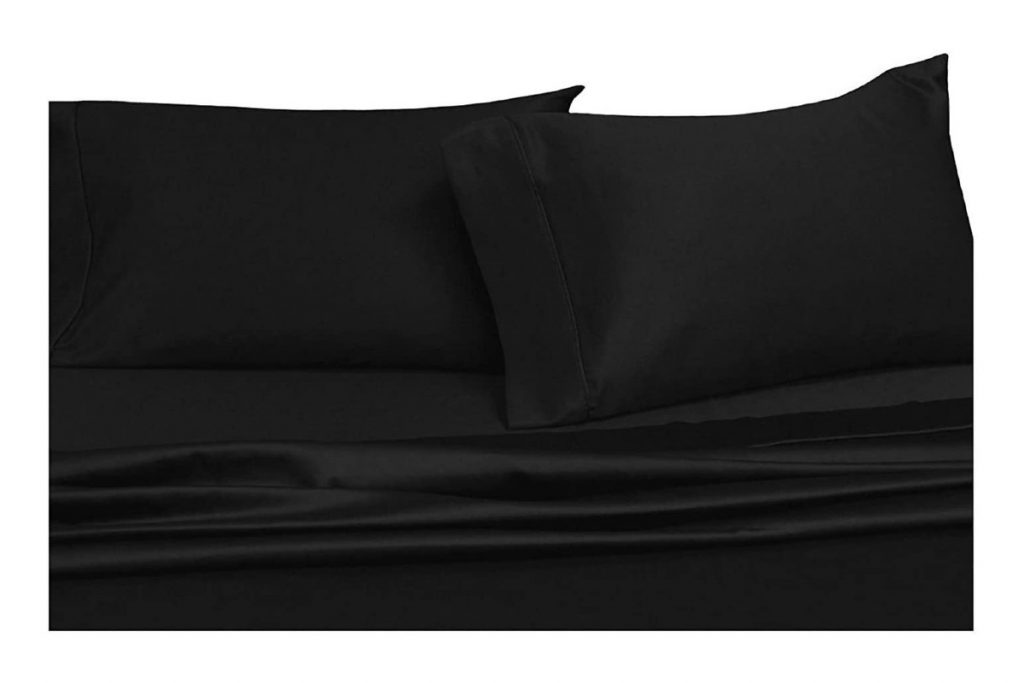 I must admit that Royal Hotel is a fitting name for what the brand offers – amazingly good-looking beddings made of premium materials to ensure maximum comfort. This set has everything you'd expect at a fine hotel, from noble satiny luster to supple, cool feel.
The main reason why the bedding is so gorgeous is that it's made of 100% long-staple cotton with a thread count of as many as 600 threads per square inch of fabric. It is otherwise a standard five-piece set that will fit a split king adjustable bed, consisting of two 39 x 80 inch fitted sheets, one 110 x 102 inch flat piece (note that it's just a little longer than usual) and two 20 x 40 pillowcases. Just like the previous seller, Royal Hotel offers additional pillowcases in case you need more than a couple.
This set has an absolutely minimalistic design. There are 17 solid colors to choose from, including a number of darks such as black, chocolate, and a deep taupe, and a variety of nude to pastel shades. Once again, I wish they made a warmer shade of blue and pink. The beddings don't have any additional detail to them, which adds to versatility greatly. The unfussy design will surely fit any interior without overwhelming you.
Apart from the premium price, the only drawback I've discovered is that the sheets are extremely prone to wrinkling. While the elastic band works really well to prevent sliding, the fabric can crease dramatically, especially after tumble-drying.
PROS:
Made of 100% 600 TC cotton to last;
Soft and supple;
Cool feel;
Versatile design.
CONS:
Quite expensive;
Likely to wrinkle.
LuxClub 7 PC Sheet Set Bamboo Sheets: Quality Split King Sheets of Bamboo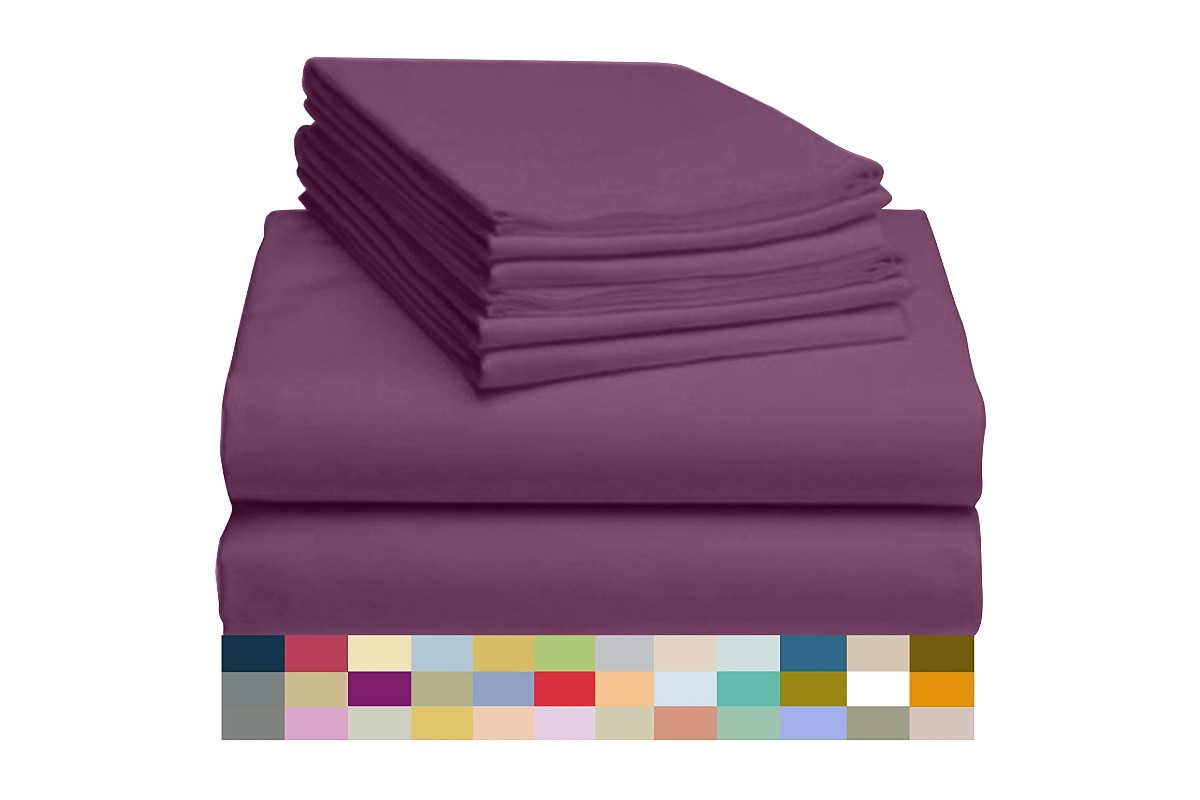 LuxClub Inc. offers a broad variety of home textile, from beddings to baby goods. The company uses a special microfiber and bamboo viscose blend to produce durable yet breathable linens that will give you a feeling of luxurious softness. Another advantage of the mixed material is that it has antibacterial properties.
Apart from being soft to the touch, these sheets are highly wrinkle-resistant, which is a great plus if you feel like creases can affect your rest. The fabric's structure ensures adequate air circulation to keep you cool during the night, also preventing moisture accumulation. Finally, it's a low-maintenance material that doesn't fade easily. I haven't noticed any pilling either, although I've washed the bedding several times.
The Split King set includes a pair 39 x 80 inch fitted sheets with a deep pocket that will accommodate a mattress up to 18 inches deep, a 108 x 102 flat sheet, and four standard 20 x 40 pillowcases. That is, it is a 7-piece set and that makes me really glad. What I'm not particularly happy with, however, is that the pillowcases look somewhat flimsy around the sews. Still, they haven't ripped over months.
The color palette includes as many as 43 solid options (beautiful greens and an aqua blue to die for are included). The design is absolutely minimalistic with no fine detail.
PROS:
Affordable price;
No wrinkling;
Fade- and pill-resistant;
Soft and cool with a moisture-wicking technology;
Huge color palette.
CONS:
 I'd appreciate better-made pillowcases.
Empyrean Bedding 7 Piece Split King Sheets: Sleep Number Split King Sheets on a Budget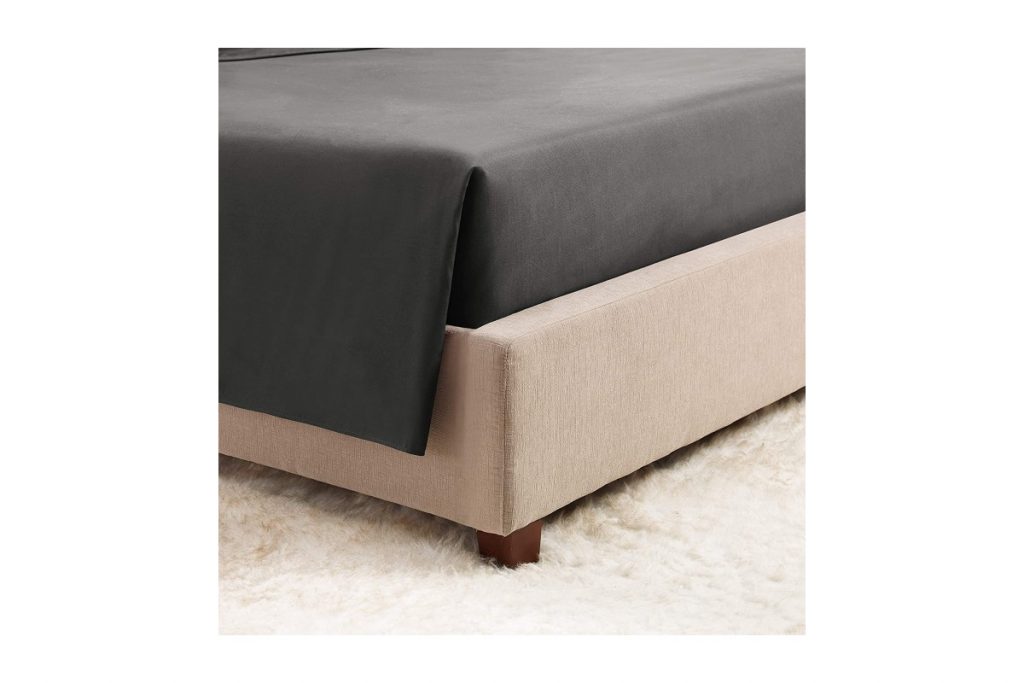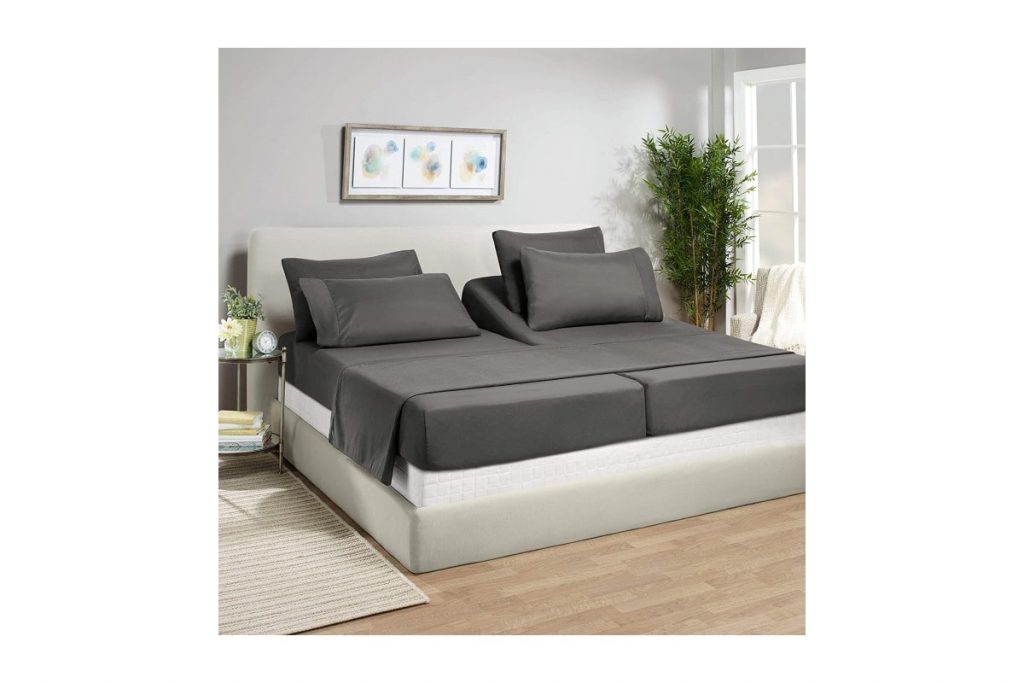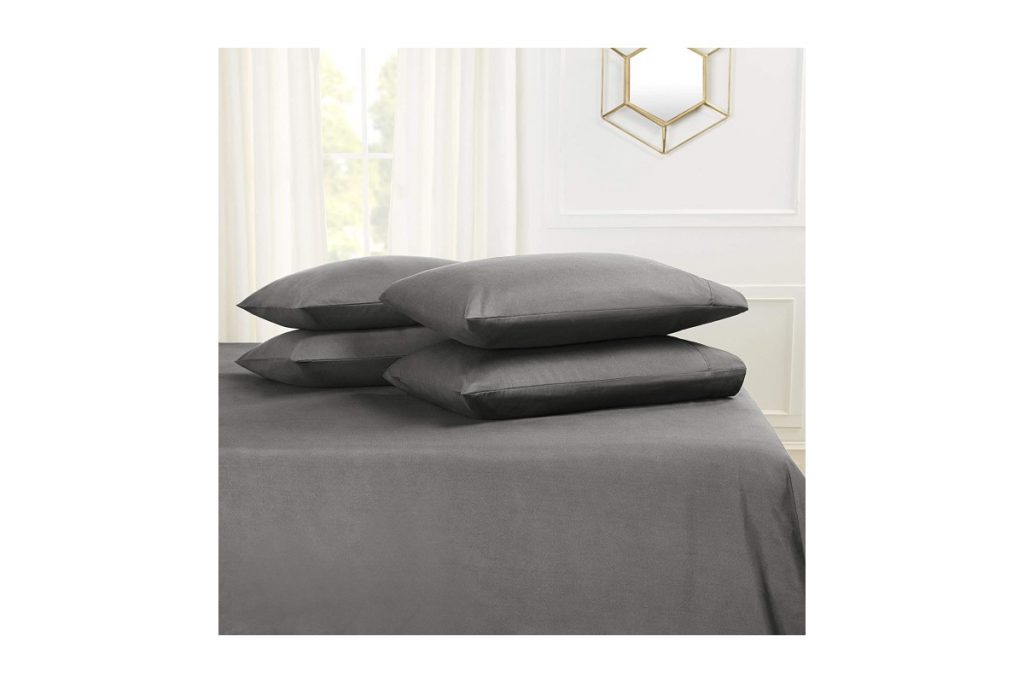 Another dedicated bedding manufacturer, Empyrean Bedding is a brand specializing in microfiber linens that offer great sleeping experience at a relatively low price. The collection boasts high-quality fabric that's double-brushed for increased comfort while also ensuring the lightness and breathability that are characteristic of the material. The fabric is also resistant to fading, pilling, and wrinkling.
This 7-piece set is a truly money-saving option as it includes four, not two, 20 x 40 inch pillow shams along with a pair of 84 x 39 inch elasticized fitted sheets and a flat piece that measures 108 x 102 inches. It's a deep pocket configuration that will fit mattresses up to 16 inches thick.
Apart from excellent performance, this product boasts a variety of vibrant colors that aren't easy to find in beddings, in particular a beautiful teal blue and two shades of lavender. Sensible neutrals are also included and look great due to the glossy finish that these sheets have.
Although really nice to sleep on, I find the linens somewhat flimsy in terms of the elastic corners. They do stay on throughout the night, however, and the band hasn't come off yet, so I believe it's very good quality for the money.
PROS:
Very affordable;
Lightweight and cool;
Silky to the touch;
Durable, fade- and pill-free if you follow the directions;
Great color selection.
CONS:
The sews fixing the elastic band don't look particularly reliable.
Royal Hotel's Meridian Brushed Sateen Cotton Sheets: The Best Sheets for a Split King Adjustable Bed with Pattern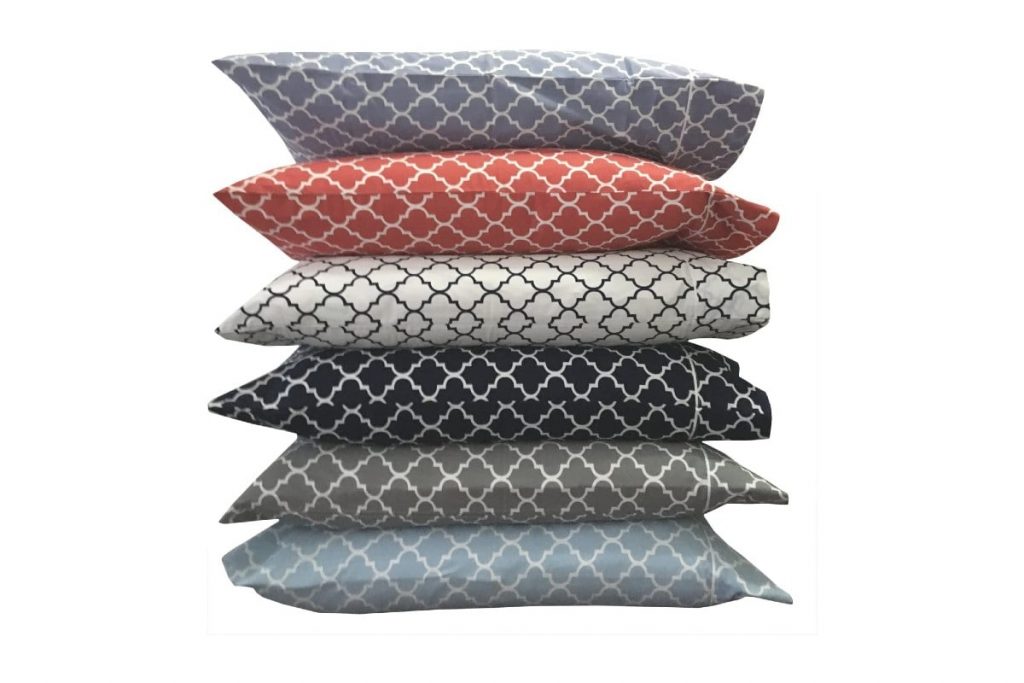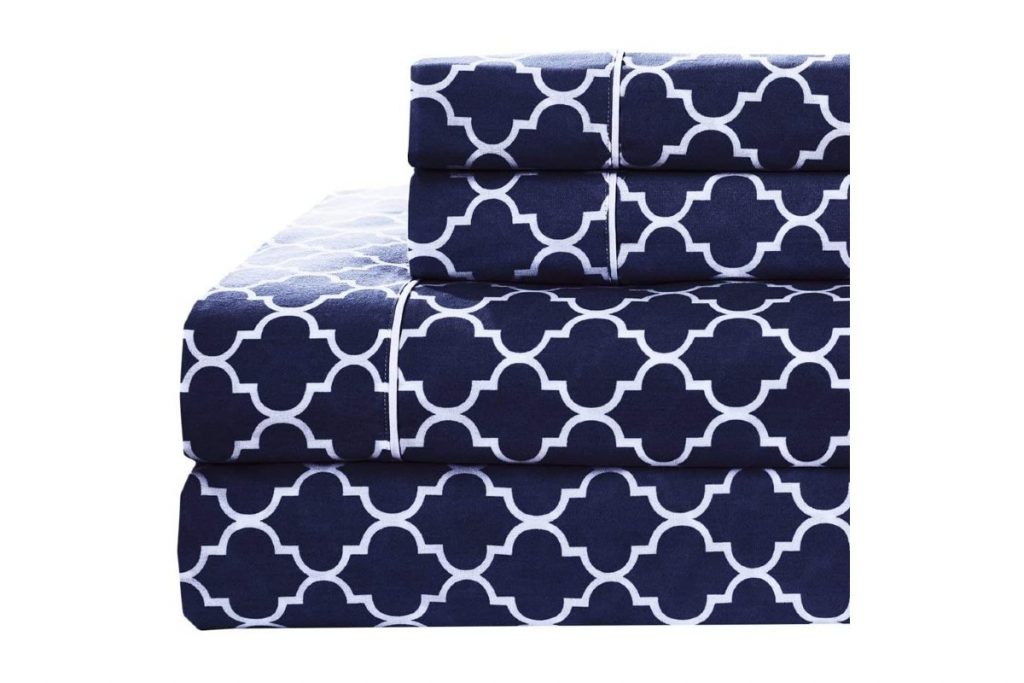 It's not the first product by Royal Hotel to be included on the list, but it confirms once again that the manufacturer is true to its formula of affordable luxury.
I find this set to have the perfect quality-price ratio as for cotton linens. Although definitely on the pricy side, it's more affordable than most high-end cotton bedding sets and combines the merits of the natural material with an impressive design.
Meridian uses 350 TC long-staple cotton. Although the number might look unassuming compared to other thread counts you've seen in this article, it's simply enough to make a product that will last. These sheets are very soft to the touch and don't get too warm during the night. Sateen weave is used to give the bedding an elegant sheen, which looks far less glossy compared to microfiber.
Apart from the traditional Split King configuration with a 110 x 102 inch flat sheet, two 39 x 80 inch 18" pocket fitted sheets, and two 20 x 40 inch pillows, there are rarer varieties like Top Split King sheets, meant to cover a single mattress split in the top section. If you've been searching for split queen sheets for an adjustable bed, look no further – there is such a set in the Meridian series.
The product comes in six colors, all with white added to form an elegant geometric pattern.
PROS:
Cool and breathable natural long-staple cotton;
Durable due to a thread count of 350;
Exquisite design;
Comes in a number of rare configurations like Top Split King.
CONS:
Limited color palette;
Not inexpensive.
Commonly Asked Questions
What are split king sheets?
The first two words in the phrase refer to the bed configuration that the bedsheets will fit. In this case, it's the so-called split king bed, which is the same size as a regular king one with an important difference – instead of a single mattress, two twin XL ones are used side by side.
This provides the autonomy that some people would otherwise lack sharing their bed with another person. If you often wake up in the middle of the night because your partner is tossing and turning in their sleep, split king sounds like the perfect solution, as the use of separate mattresses eliminates motion transfer. If your bed is adjustable, it also means you can change the shape of your half without any effect on the other, potentially solving common problems like snoring or waking your bedmate with smartphone light while reading.
Split king linens differ from regular king sets in that they include two separate mattress sheets instead of just one. Talking about adjustable beds, these sheets should also be fitted, that is, have elastic corners or an elastic band around them to fit snugly and thus accommodate more easily to the tilting of the mattress.
How do split king sheets work?
First and foremost, split king sheets are bedsheets. That is, they serve to protect the mattress and keep it clean while also creating a smooth, cool surface to lie on (and under, if we are talking about the flat sheet).
A split king bedding set will normally consist of a pair of pillow shams, two separate fitted sheets to accommodate the two mattresses that define what you call a split king-sized bed, and a single flat sheet that you normally place between yourself and the blanket or the duvet, whichever you prefer. The purpose of this extra layer is to prevent the latter from getting dirty and make your slumber a smoother, cozier, and warmer experience. The same applies to pillowcases. Some split king bedsheets include four or more of those in case you are using more than a pair of pillows.
In the context of adjustable beds, it's important that the fitted sheets have a tight grip on the mattress without coming off as you change your position. This is achieved by adding a stretchable band around the perimeter or straps in the corners that go under the mattress to fix them in place.
Is a split king the same as two twins?
The short answer would be no, it isn't. Although a very common belief, it's wrong to think of a split king bed or bedding set as a double twin one. The standard dimensions for a twin bed are 39 x 75 inches, while in a split king configuration, each mattress is about 39 inches wide and 80 inches long, with some measuring as much as 84 inches in length. This is much closer to what is commonly known as twin XL, a single bed configuration that is 80 by 38 inches.
The same applies to the so-called top split king beds, that is, king-sized beds that only have one mattress but where the mattress is split into two in the upper section (which is exactly where most of adjustment takes place).
Since a lot of confusion exists around this subject, it should be noted that not every double bed can be referred to as a king-sized one. Other common varieties include 72 inches wide by 84 inches long Californian king and queen, which is 60 inches wide by 80 inches long and thus one size narrower than the regular king option.
Finally, there's what you refer to as full, or full size, a bed that's 54 inches wide and 75 inches long. These shapes require respective bedding configurations, so make sure you purchase split top queen sheets for adjustable beds if you have a 60 x 80 inch split top variety and so on.
What size sheets for split king adjustable bed should I use?
As a rule, the split king sets consist of two fitted sheets measuring 39 inches wide and 80 inches long. Longer instances also exist, like the Empyrean Bedding example above, which doesn't mean you can use the bedding on your regular-sized split king bed. In fact, bigger fitted sheets are likely to have a better grip on the mattresses – a welcome feature if you own an adjustable bed.
Standard flat sheet dimensions are either 110 x 102 inches or 108 x 102 inches, while most pillowcases measure 40 x 20 inches. I suggest that you check the numbers very thoroughly, however, as exceptions like reduced pillow shams do happen. Besides, most fitted sheets are only compatible with pockets up to 16–18 inches thick, so consider getting an extra deep pocket set if you have a higher mattress.
Luckily, the linens that are meant for split king beds usually have the respective labeling, so it's specifically split king sheets that you need to look for. Remember that the top split king is a different variety (see above)!
Takeaways
When it comes to choosing split king fitted sheets for your adjustable bed, there are several factors that matter. First of all, you need to make sure the set is meant specifically for the split king variety, which is two separate fitted sheets with one top sheet and some pillowcases. Don't forget to factor in the thickness of your mattress for a really snug fit!
Secondly, it's important to choose the right material depending on your budget and preferences. While most people appreciate the cool feeling that microfiber and quality cotton linens give them, cold sleepers might find flannel sheets for split king adjustable beds to be the best option.
Finally, I strongly recommend that you read the manufacturer's maintenance directions before placing an order. Otherwise, you might end up with a beautiful piece of cloth that you just don't dare use.
Now that I mentioned cold sleepers, which type are you? Do you usually feel hot or cold during the night? Please share in the comments section down below!
Last update on 2023-10-02 / Affiliate links / Images from Amazon Product Advertising API