An adjustable bed is truly what you call a modern luxury. With a multi-hinged frame that allows you to customize the lying surface according to the desired position, from reclining to sitting up to lying to everything in between, it is a great way to get the satisfying rest that you deserve. Yet, the flexibility often comes at a cost. As a proud owner of an adjustable bed, you'll also need bedsheets that can adjust to its changing profile without coming off or wrinkling too much.
Apart from the ability to simply stay in place, it's essential that the sheets look and feel good. This depends largely on the fabric, with lots of options to fit every taste and budget. From 100% cotton to microfiber, there's a whole range of materials that might ruin your sleep or take it to a whole new level if you invest in the right product.
If you've been wondering about adjustable bed sheets with straps on an adjustable bed, here are my reviews of well-fitted sheets that will stay on throughout the night. I've tried quite a number of products and made up a list of six best sheets for adjustable beds depending on their fit, material, and design.
So, what are the best sheets for an adjustable bed?
Amazon Bestseller
Top 6 Sheets for Adjustable Beds: Have a Cozy Night
Nestl Deep Pocket Split King Sheets: Amazing Split King Adjustable Sheets at a Reasonable Price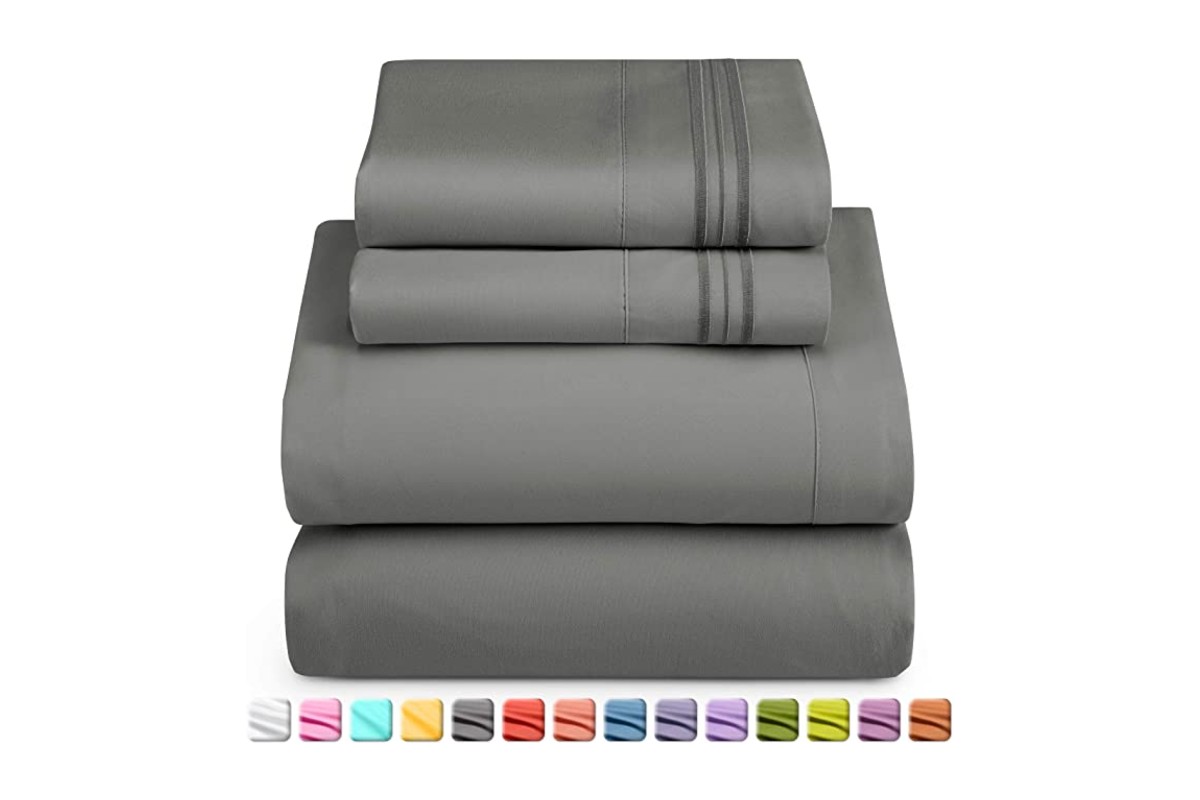 Nestl Bedding is a brand that's dedicated solely to bedding linens. Its approach is centered on offering a fair quality-price ratio to bring about affordable yet durable and aesthetically appealing products that are good at doing their job.
A true Amazon hit, this bedding set consists of five pieces provided that you order the Split King version, namely a 102 x 108 inch flat sheet, two 20 x 40 inch pillowcases, and two 39 x 80 inch fitted sheets. More configurations are available to choose from, including a number of single bed options.
The model boasts a deep-pocket design that will readily accommodate a mattress that's 14 to 16 inches thick, fitting snugly due to the elastic lining stretching accordingly. This feature means enhanced flexibility, and the manufacturer emphasizes proudly that the sheets can be used on memory foam toppers as well.
The sheets are made of microfiber, which is probably the most affordable option, but also have a number of merits such as light weight and resistance to wrinkling. This is a thin, somewhat glossy material that is also hypoallergenic, a great bonus for someone plagued by allergies. The microfiber used in these sheets has an astronomical thread count of 1,800, which is the number of horizontal and vertical threads per square inch.
Although this is generally interpreted to mean increased comfort, the impressive figure seems to be partly due to smaller threads. I'm still inclined to think of it as a durability measure, though, and my experience proves that this bedding will last.
Nestl uses double brushing to make its sheets softer to the touch. According to the manufacturer, the bedding should feel softer as compared to Egyptian cotton, which is a way more luxurious option, and I've found this to be true. To me, however, the material feels somewhat too slippery, and I believe there are people who want their bedding to have just a little more weight to it.
The bedding comes in 44 solid colors, including a palette of neutrals and nudes as well as brighter colors like my favorite beach blue. Darker options are included as well, in particular black and aubergine purple.
The only fault I've been able to find with these otherwise excellent split king adjustable bed sheets is that the material starts to pill after some time. I do believe, however, that this can be avoided by laundering the sheets separately since microfiber tends to collect whatever dirt there is on other pieces washing with it.
As a bonus, Nestl Bedding offers a satisfaction guarantee to its customers, promising a full refund if you aren't happy with the purchase.

PROS:
Affordable price;
Very lightweight;
Perfect fit, no coming off ever;
Nice color palette;
Satisfaction guarantee.
CONS:
Southshore Fine Living, Inc. Vilano Pleats: Extra Deep Pocket Sheets for Adjustable Beds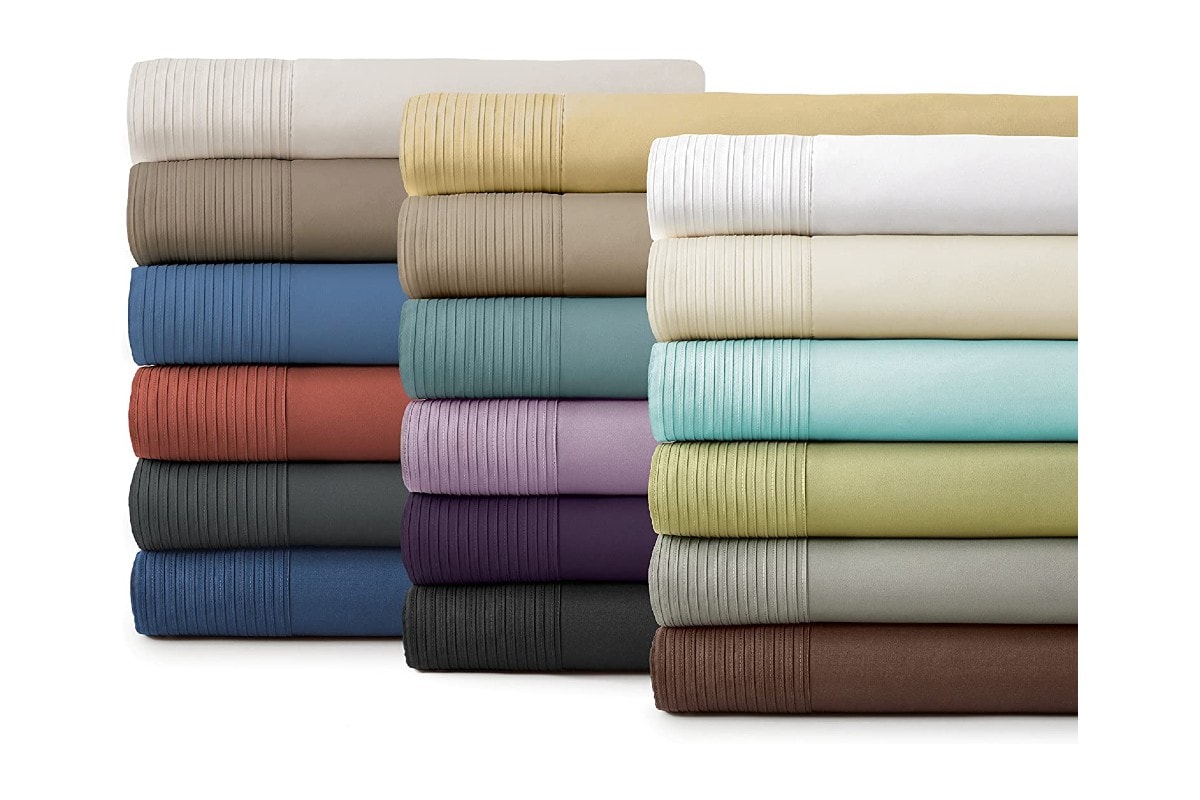 subsidiary of a large US company, SouthShore Fine Living operates out of Las Vegas, NV, specializing solely in the manufacturing of high-end bedding. The brand also attaches great importance to customer care, offering a 100% refund in case you aren't satisfied with the product.
Vilano Pleats is another excellent set of sheets at a reasonable price. Unlike the previous model, the bedding is designed to have what is called an extra deep pocket, i. e. a pocket that's big enough for a mattress with a thickness of up to 21 inches. This is a welcome feature since it's not just a bigger mattress as such that can require such a configuration but additional layers such as mattress protectors.
These fitted sheets for adjustable beds come in a number of sizes, from Twin to Queen to Split King. The latter set includes 39in x 80in x 21in fitted sheets, one 112 x 102 inch flat sheet, and a pair of 20 x 40 inch pillowcases. All the items except for the flat sheet feature a pleated hem, which in my opinion adds a lot of aesthetic appeal to the set.
The sheets are fully elastic, meaning that there's an all-round stretchable band that prevents them from coming off as you turn and toss during the night. Just like the previous model, this is a 100% microfiber bedding set, combining all the benefits that this material has to offer with a pill- and fade-resistant technology. They are made of extra-dense 110 GSM microfiber, brushed on both sides for increased softness and comfort. I can confirm from my experience that the fabric doesn't fade or pill provided that you follow the care directions (don't wash it in hot water or use bleach!).
The product comes in 18 colors, mostly expensive-looking darks and nudes with a number of neutral greens and blues added.
One problem I've found with the set is they tend to get somewhat too warm when it's hot inside, so this is probably not the best option for the summer.

PROS:
Reasonable price;
Pill- and fade-resistant;
No coming off the bedframe;
Amazing colors;
Satisfaction guarantee;
CONS:
Probably too warm for the hot season.
Cosy House Collection Luxury Bamboo Sheets: Cool and Breathable Adjustable Bed Sheets with Straps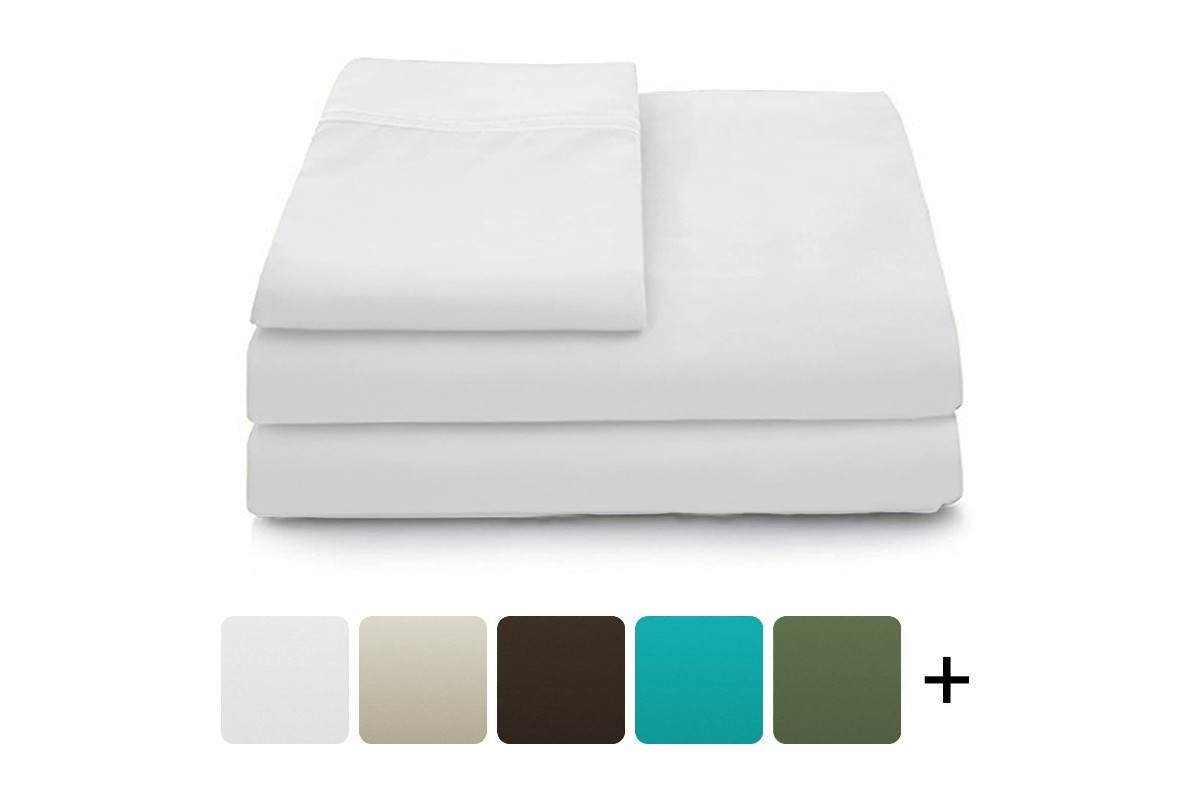 Cosy House Collection is a highly specialized textile manufacturer that focuses primarily on microfiber and bamboo beddings. The company's profile highlights the price-reducing approach based on cutting on the number of mediators between the manufacturer and the customer, which enables it to offer premium-quality goods at reasonable prices.
Luxury Bamboo combines the traditional affordable and lightweight microfiber (40%) with the so-called bamboo-derived rayon (60%), which is a term for bamboo fiber in textile. Apart from being soft and extremely lightweight like most microfiber products, these sheets are breathable and offer excellent thermal regulation to prevent excessive heating on warm nights. You'll surely appreciate the choice of material if you happen to experience night sweats.
Not only does the fabric keep your body cool; it's also highly stretchable. The sheets feature an all-round elastic band, which is paired with enhanced corner straps to prevent sliding and wrinkling (plus, the material is not prone to wrinkling as such). What you get is an absolutely smooth sheet that doesn't come off your mattress as long as it's not extra thick (please note that this is a deep pocket model, not extra deep).
The sheets come in a variety of sizes, the Split King including two 80 x 39 inch fitted sheets that will accommodate a mattress up to 16 inches thick, a 105 x 102 flat sheet, and two standard 20 x 40 pillowcases.
Cosy House Collection will readily refund the purchase if you find it unsatisfactory, which scenario I highly doubt. The only thing I don't quite like about the collection is the color range. Although there's a number of good-looking solid darks and classical options such as cream and beige, I feel like the green and purple included aren't the right shade for the bedroom. I know that tastes differ, but I wouldn't describe the colors as particularly calming, and I wish they had a warmer undertone, too.

PROS:
Good price for the quality;
No coming off due to additional corner straps;
Soft and cool to the touch;
Refund offered if you aren't satisfied.
CONS:
I wish there were more colors;
Might pill after some time.
SONORO KATE Bed Sheet Set: Quality Sheets for Sleep Number Beds on a Budget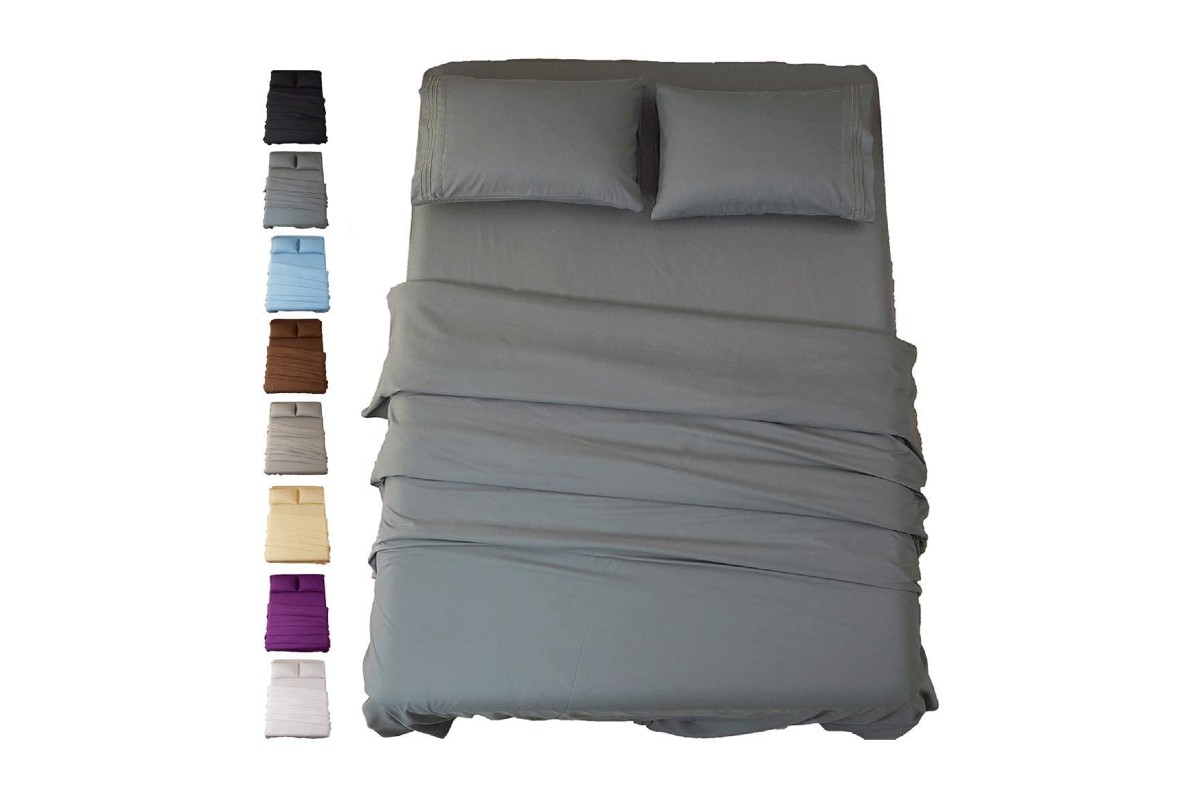 SONORO KATE is a Chinese brand focused entirely on affordable yet highly functional beddings. It offers a wide range of microfiber sheets made with hot sleepers in mind. This set is no exception, since it's made of highly breathable lightweight fabric with a thread count of 1,800 for extra durability and softness, brushed on both sides to make it even more pleasant to the touch. Another merit of the material is that it's highly unlikely to cause allergy. Finally, the fabric is declared to require very basic care like washing in cold water. Indeed, I haven't noticed any fading or pilling after laundering the bedding several times.
The sheet fits the mattress really snugly and holds throughout the night due to the elastic band that goes all around the fitted piece. The pocket is 16 inches deep, which is just enough for most regular toppers but might be a bit too little for those using additional layers. Apart from being great sheets for Sleep Number beds and the like, this model doesn't seem to be a magnet for lint and pet hair, if any, while this is a very common problem with microfiber.
One considerable limitation is that SONORO KATE doesn't offer any split king option, not to mention split queen sheets for an adjustable bed – that is a rare find indeed. The regular King configuration consists of a single 78 x 80 x 16 fitted sheet, a 105 x 102 inch flat one, and two 20 x 40 inch pillowcases. The bedding comes in 16 colors, most of which I find to be quite appealing, although the purple that I purchased was definitely on the light side. There's a striped hem detail attached to the pillowcases, but it doesn't feel rough against the cheek.

PROS:
Very affordable;

Excellent grip;
Soft, cool, and breathable;
No hair sticking to the sheets, pill-free;
Returns accepted.
CONS:
The actual color may differ from that in the photo;
No split option.
LuxClub 7 PC Sheet Set Bamboo Sheets: Bamboo Blend Deep Pocket Sheets for Adjustable Beds that Will Accommodate 4 Pillows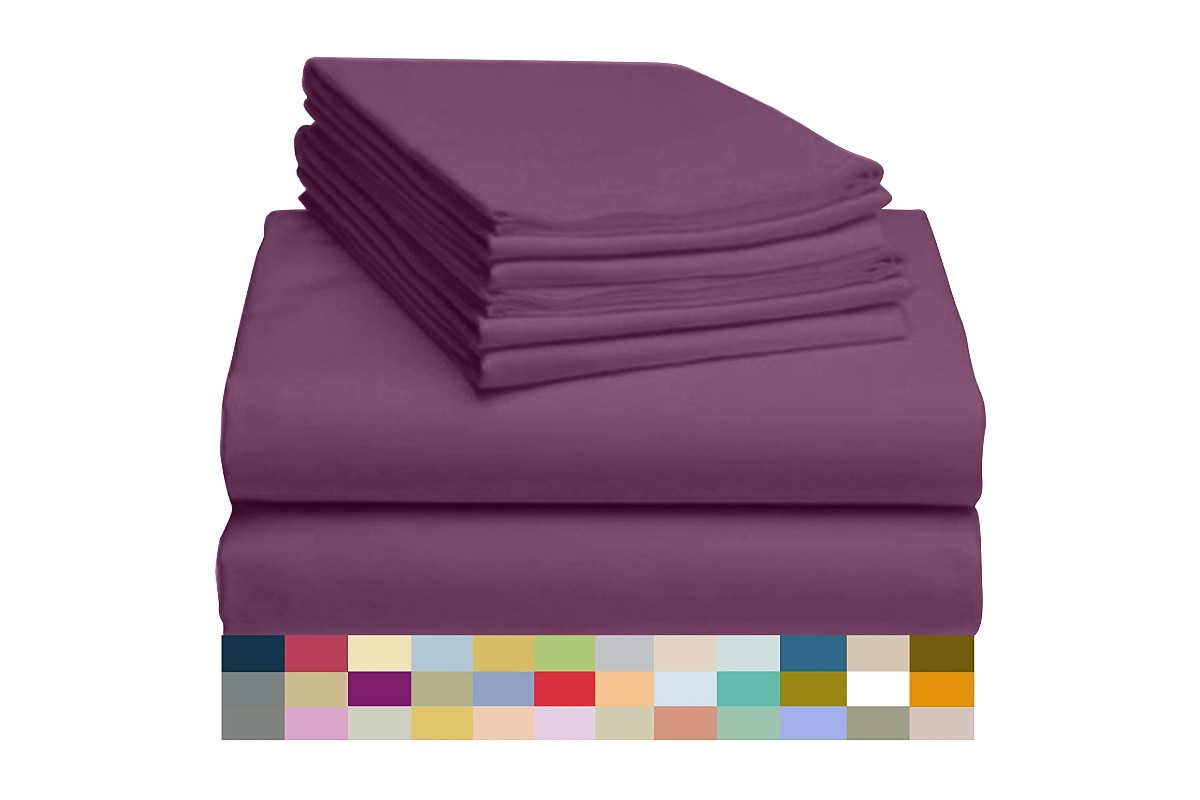 LuxClub Inc. produces a wide range of home textile products, from linens to baby blankets and more. It uses a blend of microfiber and bamboo viscose to produce strong yet breathable sheets that are also soft to the touch. The company also claims that the material is not just allergy-free but also antibacterial.
Indeed, the fabric has a thread count of 850, which is way more than cheap material usually has, and feels amazingly soft even after washing. The bedding is cool to sleep on and, more importantly, uses a moisture wicking technology to disperse sweat and other kinds of moisture very much like fancy activewear does.
The Split King version consists of two 39 x 80 inch deep pocket fitted sheets that can accommodate a mattress up to 18 inches thick, a 108 x 102 inch flat sheet, and four – that's the point! – 36 x 20 inch pillowcases. Unlike most manufacturers that only offer two-pillow sets, LuxClub will spare you the need to buy additional pillowcases from another brand just to find that the colors don't really match. It should be noted, however, that the pillowcases are somewhat shorter than the regular 40 x 20 inches.
The collection has an incredibly wide color palette of over 30 solid colors, including classical nudes and pastels as well as a bright red and several shades of gray.
Finally, the company feels confident enough to offer a life-time warranty with a 100% refund if you don't like the purchase.

PROS:
Stay on throughout the night;
Soft and cool to the touch;
Moisture wicking technology;
4 pillowcases included;
Life-time warranty.
CONS:
Royal Hotel Top-Split King: Premium Sheets That Fit Sleep Number Beds Perfectly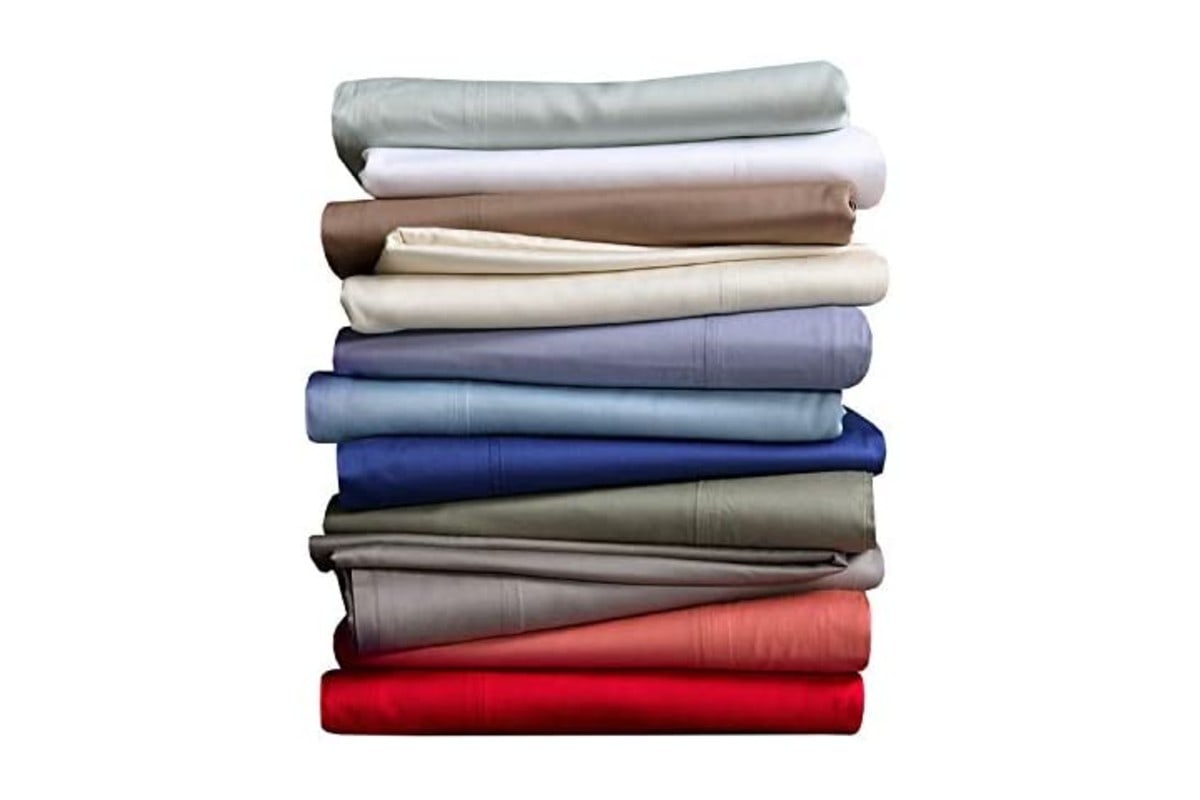 s the brand's name suggests, Royal Hotel offers a variety of premium beddings that combine aesthetic appeal with superb fabric performance.
Unlike the previous bamboo plus microfiber blend products, this model is made of 100% bamboo rayon, making it unbelievably soft to sleep on. Just like microfiber, bamboo is a hypoallergenic material that's recommended to people prone to allergies and exhibiting chemical sensitivity. I find that these sheets look less glossy than most microfiber beddings. Instead, they have a noble satiny finish that looks especially elegant in periwinkle and sage colors. A more extensive color palette would be very welcome, though, as there are only 14 options to choose from (no black included!).
The fabric has a thread count of 300, which might sound unimpressive compared to the figures you've seen before but is more than adequate given the material since bamboo fiber is naturally soft and supple. It also feels very cool on a hot night, and that's precious if you're a hot sleeper.
The beddings come in a number of sizes that include the unusual top-split configuration. This means that there's a single 39 x 80 x 18 inch fitted sheet split at the top to accommodate mattresses like the one used in Sleep Number's FlexFit adjustable bed. Besides, you can purchase pillowcases separately in pairs, as the set includes 2 of those. The flat sheet is 110 x 102 inches.
Apart from the premium price, one thing I don't quite like about these sheets is that they are somewhat prone to wrinkling. The quality is otherwise excellent, with no coming off the mattress or ripping, and I haven't had any pilling problem as I follow the manufacturer's product care directions.

PROS:
Perfect grip;
Beautiful satin-like finish;
Top split configurations available;
Cool, soft, breathable 100% bamboo rayon.
CONS:
Not inexpensive;
Might wrinkle.
How to Keep Sheets on an Adjustable Bed: Bed Sheet Fasteners (Bonus)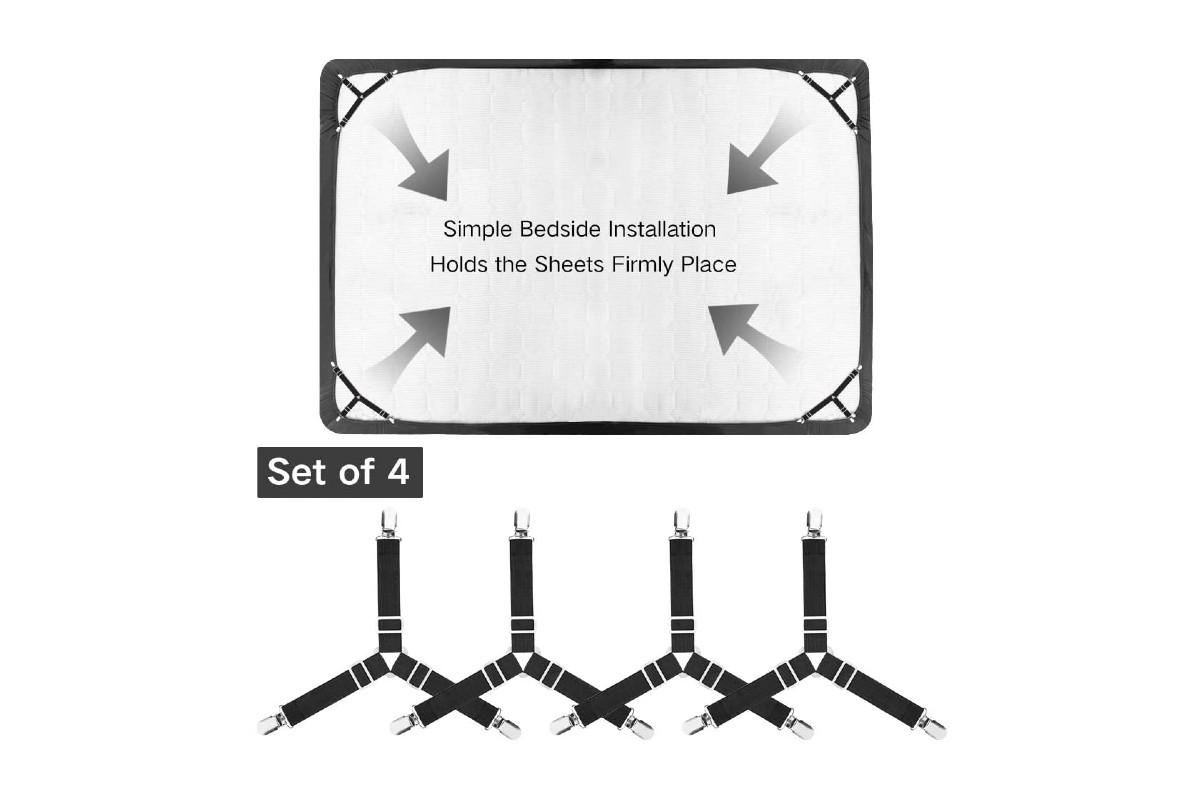 If you are tired of your regular linens coming off the mattress in the middle of the night, there's an affordable yet effective solution that will keep them in place.
The suspenders come in a set of four, one for each corner. They are essentially elastic triangles with adjustable stretchy suspenders with clips on their ends for attaching them to the sheets. What you do is simply fix the corner at three evenly spaced spots underneath the bedframe. The metal clip is enhanced with a rubber to make it stronger and prevent damage to the fabric.
Quite impressively, the seller offers a 1-year warranty for the product.

PROS:
Do a good job of keeping the sheets in place;
Enhanced stability due to the triangular shape;

Firm clips don't damage the fabric;

No need to buy specialized sheets.
CONS:
Popular Questions
Do you need special sheets for an adjustable bed?
Although purchasing a new set of linen when ordering an adjustable bed is not a strict necessity, it will surely make your rest a lot more comfortable. Please note that such bedding doesn't have to be labelled adjustable bed sheets to perform well on a flexible bedframe.
It's a common problem with adjustable beds that the linen just won't stay in place, rolling down as you turn in your sleep or change the frame's profile. This can be prevented by either using fitted sheets or fixing them with suspenders like the ones I've mentioned above. While the latter option is surely less expensive, it usually takes a lot of effort to attach the device, and poor-quality clips can damage the fabric. I should say that purchasing sheets that are reasonably compatible with your adjustable bed is a key to comfort and good sleep and thus a worthy investment.
The trick here is to find linens with just the right features. I wouldn't trust the label in this case as I've heard people complain about their Sleep Number sheets ripping, and those were actually designed to pair with adjustable beds. As a rule of thumb, fitted sheets made of somewhat stretchy materials do the best.
How to keep sheets on an adjustable bed?
Adjustable beds are essentially beds where part of the frame can be tilted to achieve a body position other than lying. While regular sheets are normally tucked under the mattress, this solution offers little protection for such scenarios. You just need to make sure the sheet and the mattress remain one thing.
This can be achieved by fixing the corners with elastic straps or suspenders like the product reviewed above. Common designs include a crisscross or diagonal shape as well as a triangle, which is generally more stable. You can find such fasteners online or at hardware stores.
Alternatively, you can invest in sheets that are fitted. These are commonly marketed as adjustable bed linens, although there's nothing to prevent you from using them on regular frames.
What is a fitted sheet?
Fitted sheets form a pocket around the mattress to make sure they fit snugly despite any movement of the frame. Make sure you choose the right pocket depth for your mattress as a sheet that's too tight will most probably come off sooner or later. If you are using an extra thick topper or additional layers such as protectors, consider the extra deep pocket option as an alternative. The principle is the same regardless of the configuration – there's an elastic band around the sheet that presses it against the mattress, thus preventing major displacement.
Just in case you've been wondering how to put sheets on an adjustable bed, it's actually easier than with regular beds since you can use the tilting frame to relieve your back and arms while holding the mattress up. All you need to do is to put a fitted sheet over the mattress and pull the sides down so they cover the mattress snugly. The elastic band will normally go beneath the mattress.
What is the best material for bed sheets?
Today's market offers a broad choice of linens that are made using various materials, natural and artificial, to ensure optimum performance under certain conditions. Which to choose depends largely on your budget and personal preferences as to the touch and feel of the perfect bedding.
The most common choices include cotton, which is classified into common and Egyptian, bamboo, polyester, microfiber, and silk. If you are shopping for linens on a budget, cotton, polyester, and microfiber are most probably the perfect option as they normally cost way less than the rest of the fabrics. The key difference is that polyester and microfiber are both artificial, while cotton is a plant-based material and thus offers increased breathability.
While polyester is the cheapest option, it tends to be irritating to sensitive skin and feels extremely hot during the night, so I wouldn't recommend it except for the sole purpose of saving money. Although a man-made material, microfiber is moderately breathable and soft to the touch, which merits are combined with the durability of polyester.
It's generally softer than common cotton and more durable while also being less prone to wrinkling; however, it pills more easily. I generally recommend microfiber against cotton if your budget is somewhat tight since good cotton that feels lasts and won't feel soft is more of an upmarket option. Both qualities require a larger thread count per square inch of fabric.
Egyptian cotton is a premium version of the popular material that has a smoother texture and gives you a supple, luxurious feel at a luxurious price. Unlike silk, which is another upscale linen material, it doesn't feel slippery against the skin, which some people like and others don't. Both options are great for hot sleepers as they will keep you cool and dry during the night.
Finally, bamboo is a fairly affordable bedding material that feels cool and light without being either too slippery or too harsh. It's also durable and will last very long provided that you give it the delicate care that it needs. Bamboo rayon plus microfiber blends are also used to reduce the price without compromising the texture. What you get is usually soft and cool linens that don't get moist easily and won't cost you a small fortune.
Takeaways
Adjustable beds generally require fitted sheets that will hug the mattress snugly to stay put or, alternatively, money-saving solutions such as under-mattress sheet straps to keep the linens in place.
If you feel like treating yourself to new sheets that stay on adjustable beds, be sure to purchase the right size for your bedframe depending on the design (split or single-piece for double beds). Another factor to take into account is the material, so pay attention to how soft and cool the sheets are as well as what kind of care they need.
Speaking of texture, opinions differ greatly as to whether slippery fabrics feel good against the skin. While some people love the smoothness of silk, others prefer rougher cotton. Which type are you? Feel free to share in the comments section!
Last update on 2023-05-30 / Affiliate links / Images from Amazon Product Advertising API