As a therapist, I have learned one thing: one's health is affected by things we don't notice. And probably among the most unnoticeable things the prior is the way we sleep. In fact, you notice nothing when asleep; it all comes in the morning, with pain in your neck and back muscles, a hard to concentrate feeling, and other things that make you want to stay in bed for more – and hurt yourself some more. It's a sort of sleeping hangover.
Are there solutions for that? Yes, and one of the most recommended is a Tempur-Pedic pillow. Advertised and praised a lot, the manufacturer has indeed done a lot of research on sleep ergonomics, and the goods it makes is a good result. But it's not enough to get yourself a good original pillow. There are above 30 pillows by Tempur-Pedic (including the discontinued models), so it may take a guide to select the one you need.
Have I tried all these models personally to write my Tempurpedic pillow reviews? To tell the truth, even if I did, it would grant nothing. The matter is that insomnia and discomfort are very personal matters. Finding a perfect Tempur-Pedic for me grants just one thing: that it's the one for Catherine Rodgers, and for a few more people, but they all should try it to find out. On the other hand, I had a lot of clients and patients interviewed (and not only mine), so when it took more necks and backs that I'm given – their owners helped me readily.
Top 6 Best Tempur-Pedic Pillows: Tempurpedic Pillow Reviews
Though I have encountered "tempurpedic" as a common word a lot, it doesn't mean that it should be one. We live in a world where you can google things in Bing, swallow aspirin by any vendor but Bauer, move up and down escalators not made by Otis, and so on. Trademarks getting common are common (pun intended). But I'll focus on the real Tempur-Pedics: all you other tempurpedics are just imitating (like those sold by Mattress Firm a couple of years earlier, and not only).
There is a grand history behind the trademark, though it's not as old as one might imagine. In fact, the Tempur as we know it appeared in the 1990s, after NASA made its exclusive pressure-absorbing materials (like memory foam) public, and some scientists refined them for home use. That's the answer to those believing space exploration is useless! As you're enjoying your better sleep on a new pillow, think about stars.
But what should this new pillow be? I have done some work and found the best pillows for various needs that you may appreciate. They all share the best traces of the trademark, being, in fact, solid pieces of memory foam in various designs. Hope there is one for you below.
Tempur-Pedic Ergo Neck Pillow: The Best Tempurpedic Back Sleeping Pillow
What we know from space exploration is that Earth isn't flat – though so it feels. Ergo Neck isn't flat either, but only on top. This Tempurpedic contour pillow is meant for regular sleeping in your bed (on a Tempur mattress, though not necessary). Its shape follows the natural curves of the human head and neck, so when you rest your head on it, its curve supports your neck as well.
The magic memory foam work is seen in the morning. After a night, the pillow gets noticeably deformed. But it takes surprisingly little time for it to regain its original shape.
One size would never meet the demands of various people equally, as physically, we're all different. The Ergo Neck pillow comes in three sizes: small (3" at highest), medium (4") and large (4.75").

Among special options, there is a travel version of this pillow, lighter and easier to transport. A cooling edition is a 3.9-inch high, and it contains cooling gel as additional material. If you are the one to keep your head cool literally, a tempurpedic pillow with cooling gel is your option. It's less firm than other options, but that's unavoidable.
Being fit for back and side sleepers, tempurpedic back sleeper pillow is, alas, no option for stomach sleepers. Even if you spend half an hour reading a book on your stomach with this pillow under your chest, it may cause pains in your loins that become apparent in the morning.

PROS:
Follows the curves of human head and neck;
Comes in three sizes, plus cooling and travel options;
Good for sleeping both on your back and on your side;
One of the most affordable Tempur-Pedic pillows.
CONS:
Not the option for recovering or problem sleeping;
Bad smell (takes washing to remove);
Not for stomach sleepers.
Tempur-Pedic Tempur-Cloud Breeze: A Tempurpedic Pillow with Cooling Gel
If you prefer regular shaped pillows, there is one that has a shape (instead of traditional ones that lose it after a single touch). Tempur-Cloud Breeze is a symmetrical pillow that can be laid either side up. It consists of the same memory foam, so its shape remains in the morning, after just a little time with your head off it.
The name is defined by the fact that this model is a cooling option for hot nights when extra cooling is necessary. Two layers of cooling gel, one on each side, provide you comfortable temperature regardless of how you toss and turn in your sleep.
This Tempurcloud pillow comes in two sizes named "Queen" and "King." Not that it's really kingsize compared to other models, but it really makes a difference. It's quite comfortable even if you are a bigheaded one. After all, the foam bends under weight, so it's better to have it bigger. There are smaller, 5-inch high extra soft versions; bigger ones, 6.4- and 6-6 inch high, are medium-soft and medium. Initially, though, they are firmer, but after some usage period, they get just as soft as necessary.
Some consider it the best tempurpedic pillow for side sleepers. Given its symmetry, it's quite logical that it's versatile. If you are a bulky person, though, you better select its bigger versions: 5-inch ones won't provide the desired support.

PROS:
Quite big in any size;
Suitable for any sleeper, regardless of position;
Cooling gel in one or two layers;
Get softer to the most comfortable level after some time.
CONS:
Too big for travelling;
Feels quite heavy.
Tempur-Pedic Body Pillow: Maybe the Best Tempurpedic Pillow for Side Sleepers
It's, in fact, a set of shapeable miniature cushions in a sleeve, forming a body pillow to place whatever your parts you want on it. Though body pillows are still quite an exotic option, you may find it perfect for you if you try. Especially if you are a side sleeper and thus make your choice between various Tempurpedic side pillows.
Like all Tempur-Pedic memory foam pillows, it restores its shape in the morning after you get off it. It's quite big and hard, so your weight distributes all over it, and the deformation is not as serious. It's recommended for expectant mothers as well, due to weight redistributed within their bodies, forcing them into side-sleeping.
In addition, it's a perfect one to hug like a big teddy bear, in case you spend this night alone (or just want to turn your back on someone, hehe). The feel may get even better if you get yourself a different cover; luckily, the original one is removable and washable. You won't have to search for long; sure even your local Walmart has it, if you insist on seeing before ordering.

PROS:
Great for side sleepers;
Big and comfortable for anyone;
Can be used as a double pillow for two persons;
Changeable covers.
CONS:
It's quite heavy;
Not for everyone.
Tempur-ProForm Cloud Pillow: For Everyone
Its rectangular shape is symmetrical, so no matter how you turn it in your sleep, it will provide you comfort. It's made of a single piece of the famous foam, restoring its shape in the morning. So it's still a Tempur-Pedic cool pillow, despite lack of gel.
Like other T-P pillows, it has a removable washable cover. And if you wish, you can have more than one, changing them according to your mood, like you change cases on your phone. Probably you'll have more than one of these. It makes sense, given that they are versatile and among the most affordable models by this vendor. Maybe it's better even to have a spare one.
If you have no special requirements or intention to buy the most expensive option, this is the best tempurpedic pillow for an average user. Otherwise, you better opt for a cooling version or for one specifically shaped.
Last but not least: as it's the most generic and affordable of Tempur-Pedic pillows, and so the easiest to copy, you can run into a counterfeit version. To avoid fakes, check the seller you're buying it from. It's the matter of your health, after all – too sensitive to neglect.

PROS:
Versatile shape and size;
Changeable covers;
Symmetrical;
Quite affordable;
Does help with neck pains.
CONS:
Not suitable for side sleepers;
Fake ones reported.
Tempur-Pedic Adapt Symphony Pillow: Both Sides of the Story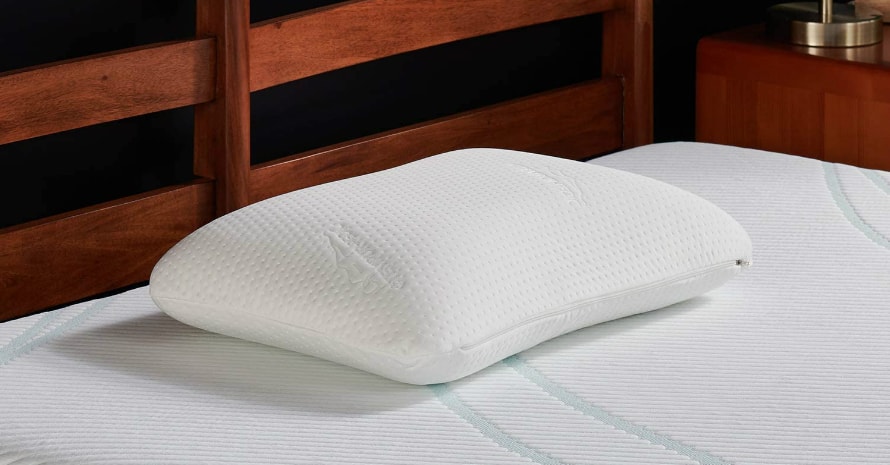 The most personal thing about T-P pillows, as they all utilize the same memory foam technologies, is the shape. Do you like it flat or curved a bit? Adapt Symphony offers you the best of both worlds. It's just a matter of which side you turn it up. One of them is quite flat (not perfectly, of course). The other is curved – though not as physiologically detailed as the Ergo Neck model.
It's easy to tell the sides visually just by their material when looking from above. From a side, the sides are very different. The traditional side offers regular feel; the curved one provides more support for your head and neck. The surface is also varying, making it easier to tell sides by touch in the dark. The pillow is 5-inch high, making it suitable for using any side up.
The vendor recommends the flat side for side and stomach sleepers and the arched one for back sleepers. You may find your own way of handling this pillow, though, as everything about comfort is individual. There are some neck pains that require special handling, and some other one may be a better option.
This pillow is quite soft (though not as soft as the previous one named Soft Pillow), getting 4 out of 5. It doesn't impact its memory properties, though. It still takes seconds for the pillow to return to its original shape after you rise. And it will take years for it to get really seriously deformed. This quality, though, is shared by all Tempur-Pedic pillows.
Last but not least: the 2017 version of this pillow is almost twice as heavy as its 2018 version. The new one is also seriously cheaper. Other properties remain almost unchanged, due to the new Memory Foam used to manufacture the fresher version. So if you have a choice, you better opt for the 2018 version, unless you have your own reasons to sleep better on the 2017.

PROS:
Two sides with various curving to provide more sleep modes;
Versatile, regardless of how you prefer to sleep;
Very soft;
Retains its shape;
Quite affordable.
CONS:
If you have got used to 2017 edition of it, you may feel uncomfortable with 2018 edition.
Tempur-Pedic Soft Pillow: The One to Drown In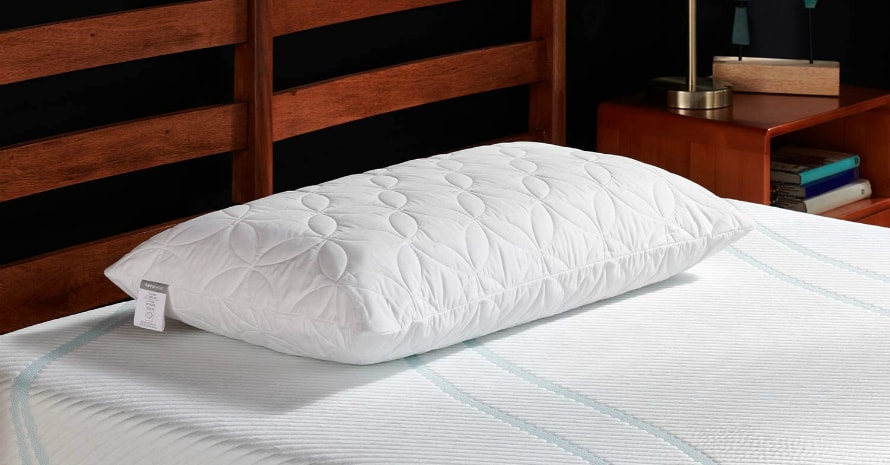 If you're searching for a Tempurpedic stomach sleeper pillow, this is probably the best option. Like Breeze, it comes in Queen and King sizes, the latter being significantly bigger. While Breeze model comes with gel layers, though, this one is simpler.
Tempur material it's mostly made of is characterized as "Cloud", obviously hinting at its extreme softness. Yes, it is really the softest of all the Tempur-Pedic models. They call it a conforming pillow, though "Tempur-Pedic comfortpillow" is also a suitable definition.
Being 5-inch high, it's comfortable enough to lay your head on it in any position, regardless if you're a stomach, back, or side sleeper. Despite its extreme softness, it doesn't go flat when pressed, and it takes seconds to restore its shape when you're up.
This model may provide a different feel if you have got used to other pillows by this vendor. Its softness is sometimes even surprising, and, if you're new to this, it can be hard to fall asleep unless you get familiar. But once you catch this feeling, it may become your absolute favorite.
This soft touch also makes the model the best Tempurpedic pillow for neck pain. Whatever position gives you release, you can find it with your head on this little cloud.

PROS:
The softest of Tempur-Pedic pillows;
Removable washable cover;
Versatile, regardless of the way you sleep;
The height is perfect to keep the neck from pains.
CONS:
If you like it smaller, take something smaller;
Not for traveling.
FAQ on How to Choose a Tempur-Pedic Pillow
Which Tempurpedic Pillow Is Right for Me?
Alas, you cannot have a test sleep, though it would have solved the problem. But the reviews above might get the point of what's your stuff. If you suffer from pains, though, you better inquire your doctor about that.
Are Tempurpedic Pillows Worth It?
Not that they are cheap. But the lifespan of an original Tempur-Pedic is at least five years (in fact, it's usually way longer). So you actually pay way less than you would for a cheaper one that lasts a year or two. Well, all-natural pillows may be an option to consider. But not the lookalikes that cost five or ten times less.
What Is Memory Foam?
It's a special material developed for NASA, to make a pillow that has its own support, regardless of gravity. Mostly it's specifically structured polyurethane processed with special chemicals that make it denser and more viscose. Its memory shows when you lift the weight off it: it takes up to 10-15 seconds for the foam to restore its original shape it had before you laid your head (or whatever) on it.
What Technologies and Materials Does Tempur-Pedic Use?
It picked NASA developments in the 1980s; now the company has its own labs. It specializes first of all in materials and physiology, providing the best supportive materials for a sleeper's head in weightlessness. In the 1980s, reports on these developments were published.
Along with memory foam, Tempur-Pedic studies sleep physiology, explores diseases caused by wrong position while sleeping and methods of curing these.
How Do I Correctly Spell Tempur-Pedic?
Like it's written in the headline – hyphenated. It's still a trademark. I intendedly used alternative spelling sometimes for you to get to know the material better.
Really Good Night!
It should come as no surprise that Tempur-Pedic pillows are now the most popular in the world, even given their not-the-lowest price. Have you ever used one? Do you have any T-P's now? How does it feel for you to sleep on it? Have you consulted the doctor before buying it? And what are you dreaming about with such a cloud under your head? Share your experience, as private as it is, in comments. Or complain that Tempur-Pedics are not what they used to be; why not? Let's have a nice bedroom talk here!
Last update on 2023-09-27 / Affiliate links / Images from Amazon Product Advertising API