Women looking for the best pregnancy pillow for hip pain may be exhausted from insomnia and discomfort during the nights. It is extremely important to provide you with the most trusted options to soothe the pain and bring back healthy sleep. During the pregnancy period, to rest every night sufficiently is vital. If you can't, perhaps, you need to change sleeping accessories. Pregnancy pillows, made specifically to help you relax, will decrease the pressure on your back, legs, stomach. If you are only at the beginning of your journey, take care of the pregnancy support pillow in advance, as you may require it during the second and third trimesters.
Top 8 Best Pregnancy Pillow for Hip Pain
The baby inside you is growing together with your belly, which means your body is changing and requires extra care. For many women, sleep becomes something desirable, but hard to get, especially in the last months of pregnancy. I have gathered here the top pillows created specifically to reduce hip pain when sleeping on side during pregnancy.
PharMeDoc Pregnancy Pillow – The Best C-Shaped Body Pillow for Hip Pain Relief
This pregnancy pillow comes with the storage and travel bag for comfortable transportation. It is made in C shape, which is incredibly convenient for women during the last trimester. This shape removes the pressure on your back, knees, head, neck, apart from hips. Even your belly feels comfortable inside the pillow. I love the model because of its adjustable form, as you can simply transform it into a sofa to sit and watch movies, read books.
PharMeDoc is a well-known company developer from California. They offer multiple pregnancy pillows made from organic textiles. This pillow is filled with polyfill, soft, and adjustable to any shape. It is also lightweight. The cotton cover is removable and washable, and even after 300 washes, it is still soft. Pay attention to the durable double stitching on the seams. The pillow will serve for a long time, even after the baby is born. You may use it even if you are not pregnant, but feel the pain in the back or head. Besides, the whole pillow weighs only 6.64 pounds, so it is comfortable to carry around.
PROS:
Organic cotton cover;
Affordable price;
Lightweight;
It serves for many years;
The pillow relieves pain from the head, neck, hips, knees, back, and whole body.
CONS:
The package does not include another changing cover.
AS Awesling Full Body Pillow – Large Pillow Between Legs Pregnancy Type
If you are looking for an extra-large pregnancy leg pillow, this one is likely to fit your demands. It is slightly more expensive than the previous item on the list but still affordable. The cover is pleasant to touch and made from high-quality velvet with a 7D PP fiber cotton stuffed inside. It is lightweight and adjustable completely to all your needs. You may even transform it into a comfy armchair while feeding a baby.
AS Awesling is a well-known brand that produces pillows for pregnant women. However, you can order this product if you feel pain in your back or hips anytime. It will lessen the pressure on the body during sleep. I've seen that people with chronic pains and all those post-surgery patients order the pillow for extra comfort during the night. The cover of this pillow is washable. The upper part of the pillow is ergonomic and great for those who suffer from headaches. It is 60 inches long, and you can comfortably squeeze the item between your legs.
PROS:
Ergonomic pillow;
60 inches long;
Adjustable to any angle;
Suits well for post-surgery cases;
Pleasant to touch velvet cover.
CONS:
It is slightly pricier than similar pillows.
INSEN Pregnancy Pillow – The Best H-Shaped Side Pillow for Pregnancy
The unique design makes this pillow one of the most reliable helpers during the two last trimesters of pregnancy. It offers comfort during sleep, relieving the pressure from the hips, knees, and back. Besides, you can switch positions by adjusting the small pillow up to your needs. I personally prefer to push this pillow behind the shoulders, but it also depends on your individual preferences.
INSEN produces pregnancy pillows of versatile shapes. They all are highly durable as the material of the cover is of a top class. The cover is made of velour, which is washable in a washing machine with double zippers. The pillow is lightweight, of 6.7 pounds for the whole pack. The distance between the main part of the pillow and the small one is adjustable as well and can be extended to 7 inches. The main height is 57 inches. The length of the extra pillow is 23 inches. And the part where you can lay down your legs is 29 inches long. However, I need to warn you that if you feel hot during the night, you may require to place an extra sheet on the pillow that is already warm.
PROS:
Comfortable design;
Extra pillow that is adjustable;
High quality material;
Lightweight;
Affordable price.
CONS:
The velour can warm up during the night.
AngQi Body Pregnancy Pillow – L-Shaped Hip Relief During Pregnancy
The soft velvet cover of this pillow makes it so pleasant to hug that you can't resist it. You don't have to be pregnant to buy it, this shape fits perfectly for daily use, as you get rid of the pressure on your head and neck, hips and angles. It is 65 inches long, so even the tall person will feel comfortable lying on it. If you are used to sleeping on your belly, this pillow will help to avoid this position, while you still feel comfortable. I love how I can hug this pillow and never feel cold. However, if you experience hot flashes, this product may be too hot for your body temperature.
The cover of the pillow is made of the washable 100 percent velvet, and the filling is 7D PP hollow fiber. It is soft, breathable, and lightweight. AngQi produces multiple body pillows for pregnant women, but I love this one because of its unique shape and length. I've seen that many women transform this pillow in some kind of table while they are sitting on the bed. I also adjusted it to my shapes and used it as a chair to watch TV shows. I have to confess; it was incredibly pleasant.
PROS:
Unique design;
High-quality fiber inside;
Washable cover;
Easy to transform in various shapes;
Price is affordable for anyone.
CONS:
Velvet cover may be too warm for women with hot flashes.
Queen Rose Pregnancy Pillow – The Head and Hip Support Pillow from Velvet
This 55 inches long and 31 inches wide pillow works well for both pregnant women during the last two trimesters and everyone who suffers from chronic or post-surgery pains. It is available in grey, white, and blue colors, and lengths varying from 55 inches to 65 inches. Yet, I believe 55 inches is the classic one. The whole pillow is ergonomic, so if you have headaches, just lie down for half an hour. It suits people who usually sleep on their backs or bellies. The support is separated equally between your head, neck, spine, belly, hips, and knees.
Queen Rose is a bestselling producer of pillows for women. They offer 100-percent velvet for a cover, and polyester as filling. The cover is washable in the washing machine. However, I recommend you to use the cold water mode or a sensitive one to avoid any damage. There is a full refund or your money in case you find any damage to the product. Another perk is that the pillow weighs only 7.04 pounds.
PROS:
This product grants comfort of 5 pillows;
Lightweight polyester inside;
The cover is made of durable velvet;
Affordable price;
Brings relief to your hips.
CONS:
You should be careful to use only gentle modes for washing the cover in the washing machine.
Cushy Form Knee Pillow – Knee Pillow for Hip Pain Relief with Memory Foam
This pillow was created for your legs mainly. Press it between the legs to remove the tension from the hips and knees. It helps to comfort your back and spine in general whenever you feel the pain. Inside the pillow is memory foam, lightweight, breathable, and hypoallergenic. The whole pillow weighs only 0.9 pounds. Its length is 10 inches, while the width is 8 inches, and the height is 5.5 inches. You may use it as a support for your legs, back, belly. The cover is washable, so the item will always stay fresh.
Cushy Form Company is famous for its unique and extraordinary shapes of pillows. They produce items for different parts of your body. This cushion is recommended by doctors and therapists. It is made of visco-elastic memory foam. According to developers, this pillow is a great helper for people who suffer from arthritis and sciatica, apart from troublesome sleep during pregnancy. I love to put this pillow under my knees and between the hips and knees to get rid of daily fatigue.
PROS:
Great for the knees and hips;
Neutral design, compatible with other pillows on your bed;
Smart memory foam inside;
Simple to wash;
Price is affordable for anyone.
CONS:
This is a small pillow that you can use only for knees and hips. It can't be put under your head.
Cushion Lab Extra Dense Knee Pillow – One of the Top Rated Pregnancy Pillows for Hips
The pillow is designed to fit perfectly between your knees and hips. It is made of hypoallergenic materials. The pillow is firm, which makes it a great support to your legs. There is a medium and large size of the pillows, but I recommend you to use medium, as it is standard. The length of this product is 9.5 inches, the height is 5.5 inches, and the width is 8.5 inches. This is not the kind of a pillow intended for the head. However, Cushion Lab developers offer other products made specifically for the head or the whole body.
This pillow restores the right blood circulation in your body and helps you to get sleep faster. The memory foam inside it is 35 percent denser than in similar products. Therefore, it will hold the shape for a long time and not loosen the form after several years. The cover is soft, pleasant to touch, and hypoallergenic. While it is made in a special fabric, resistant to dirtying, this cover is still washable in the washing machine. Developers offer a 100 percent guarantee of money back in case you find some flaws.
PROS:
Two layers of cover;
Dense smart memory foam;
Affordable price;
The refund is guaranteed;
Great for hips and knees.
CONS:
This is not a pillow for your head.
NATUMAX Knee Pillow – Lightweight Pillow to Reduce the Hip Pain While Sleeping Pregnant
This ergonomic pillow is available in white and blue colors, and since white can get visibly dirty in no time, I recommend you to go for a blue one. Apart from the color, they are the same. The pillow was created to be placed between knees or under the legs to restore the blood circulation and help the muscles to relax. It is 6.5 inches tall and 9.45 inches long. As for the cover, it is washable.
Natumax is a popular developer of pillows for any demand. They offer a 60-day full money return and 18 months warranty. Besides the pillow, you will find earplugs and a sleep mask in the package. It will hold strictly on the place where you put it due to a special rubber band. Inside of this pillow is a memory foam of high quality. Also, the item is covered in breathable fabric.
PROS:
Breathable fabric of the cover;
The cover is washable;
Smart memory foam inside that keeps its shape;
Relieve the ache and chronic pain;
Affordable price.
CONS:
This is an additional pillow for you.
Sleeping Comfortably Without Hip Pain During Pregnancy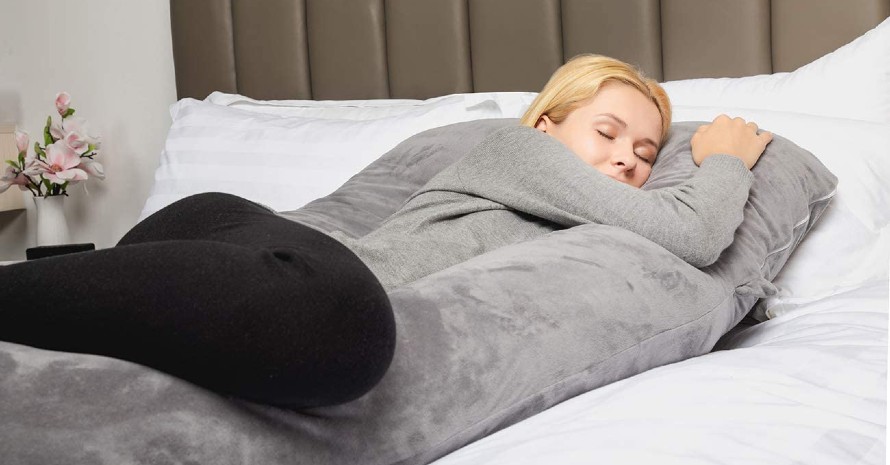 No matter whether you choose the most comfortable pregnancy pillow in the world, you will not be satisfied without learning how to sleep properly. Depending on the type of pillow, you have to push your body against its parts. The major requirement for all pregnant women is not to roll onto the belly. The L, H, and C-shaped pillows are designed specifically for everyone who would like to but can't sleep on the stomach. To reduce the pain in the body, you have to spread the pressure on your body evenly and restore the original blood circuit. That is why all the pillows I have described are made this way so you can raise your hips, knees, and ankles up, to reach the most comfortable position.
Tips on Choosing the Pillow
To find the best maternity pillow is not as easy as it may seem at first. You have to consider versatile factors. Even if you use my list of pillows, you may want to narrow it down to a few. What to consider when you are looking for a perfect pillow?
Material
There are only two types of cover I recommend. One is a 100-percent cotton cover; another is of pure velvet. Velvet is warm and incredibly soft for the skin. But if you are suffering from the hot weather, it is better to go with the cotton cover. Both of them must be durable and washable in the washing machine. The most reliable items are stitched several times.
Firmness
There are no extra soft pillows on the list, mainly because they quickly lose their shape and don't provide you with enough support. I recommend using medium firmness in case you love softer pillows, and firm if you use the pillow mainly for your hips and knees.
Shape
There are different shapes of these pillows. To provide you with the variety, I've put all of them on my list. Apart from the square shape for the knee pillows, you may also want to check out:
U-shaped;
C-shaped;
H-shaped;
L-shaped.
Size
The size of the pillow is also an important factor to consider. If you want to put your entire body on the pillow, you can go for U, H, and L-shaped pillows which are 50-60 inches long. However, the most important aspect is to be able to put your knees and hips upon the pillow.
Important Questions About the Pregnancy Pillows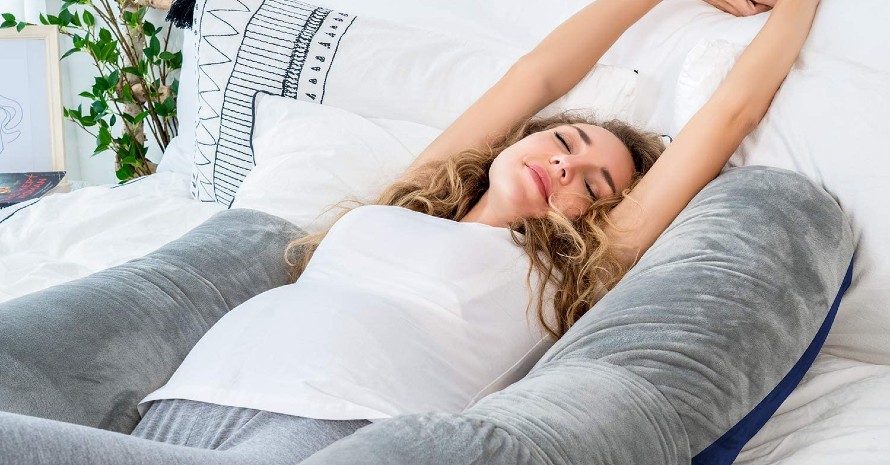 Here, I've gathered the most frequently asked questions about these pillows. You may find the answers helpful, and I recommend reading them before you order the product.
Is it normal to have really bad hip pain when pregnant?
It is normal to experience pain in your hips during the pregnancy since the pressure is increased on them. And women usually do not need to go to the doctor unless the pain is severe. I still advise you to notify your doctor about any problems you experience during sleep.
How to sleep with a body pillow for hip pain?
Place this pillow under the hip when you feel the pain or pressure. To prevent the discomfort and pain in your hips, you can sleep better by placing the pillow between the knees. It will lessen the weight of the belly and spread it equally.
Why does sleeping with a pillow between your knees reduce the pain in your hip?
Sleeping in this position is helpful not only for knees but also for the hips. It increases the comfort that you feel during sleep. The pressure is eliminated and removed not only from the knees but from the hips as well. Besides, the blood circuit is also restored while your knees are up.
Your pillow must improve your sleep.
What if the pillow doesn't reduce hip pain?
If this happens, I suggest you go to the doctor. There are maybe different reasons that cause pain. However, if the doctor says that the problem is with your sleeping position, you may try to change it, using the pillow properly.
Also read:
Which Pillow to Choose?
I have made the list of the prime products specifically for you. I've gathered the best examples of different shapes and lengths, covers, and features. Besides, I made sure that there were pillows only at affordable prices for any woman. However, I can't narrow down this list for you, as I believe you have to pick the one or several items based on your personal demands. If you checked out some of these pillows before, please share your opinions about them in the comments below. How helpful were these pillows? Don't hesitate to express your thoughts, whether they are positive or negative.
Last update on 2023-10-02 / Affiliate links / Images from Amazon Product Advertising API